9 Most Scenic Mountain Bike Trails in Crested Butte
(Last Updated On: July 28, 2017)
If you love scenery just as much as the ride itself, you may be wondering what the most scenic mountain bike trails in Crested Butte are. And while beauty is in the eye of the beholder, I think that most people would agree that all of these trails are scenic in one way or another. The scenery is varied- it might mean alpine vistas, or it might mean so many wildflowers you can scarcely believe it's real. What's your favorite?- let us know in a comment below.
---
401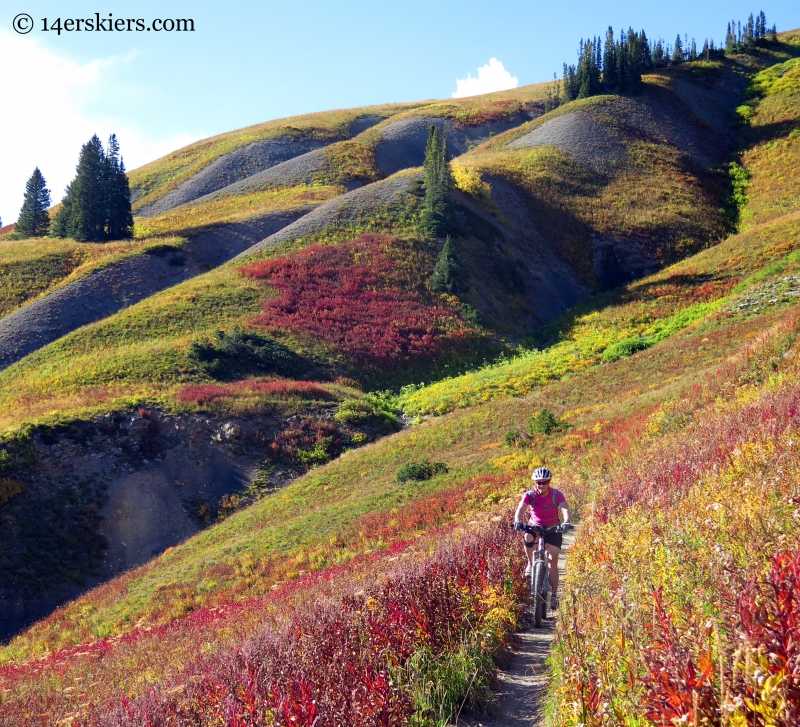 Distance: 25 miles
Level: Moderate
Description: Everyone visiting Crested Butte with a mountain bike aims to ride "the 401". And with good reason- it's beautiful, traversing flowered hillsides with views that go for miles. When the foliage is head high and you're zooming through it, this is also one of the most fun.
---
Lupine Trail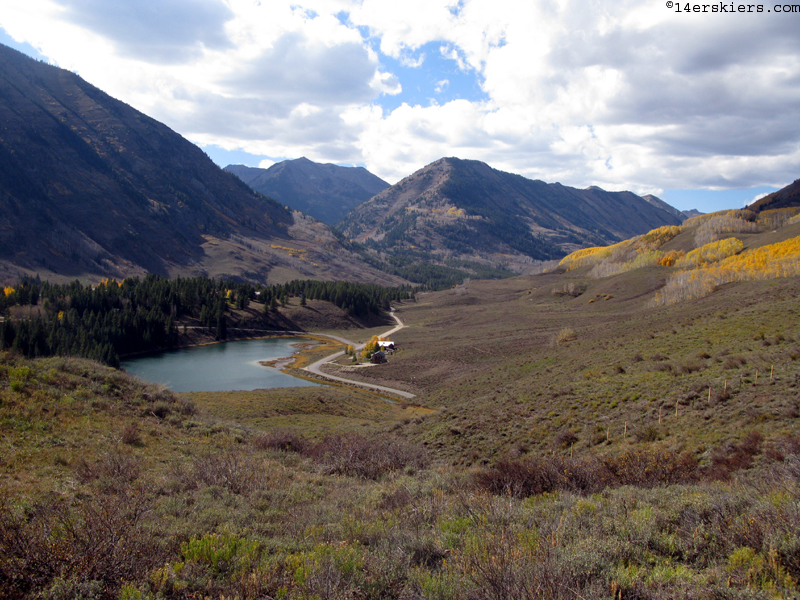 Distance: 18 miles with the lower loop
Level: Easy.
Description: This is another new trail that ranks highly on the scenery scale. The start of the trail has great views of Whetstone mountain and the town of Crested Butte. Near the end, aspen groves give way to views of the Slate River and Oh-Be-Joyful valleys. Another new extension to the Lupine trail, the Gunsight Connector, is just as scenic. And let's not forget that in the springtime, this trail is covered in Lupine flowers.
---
Star Pass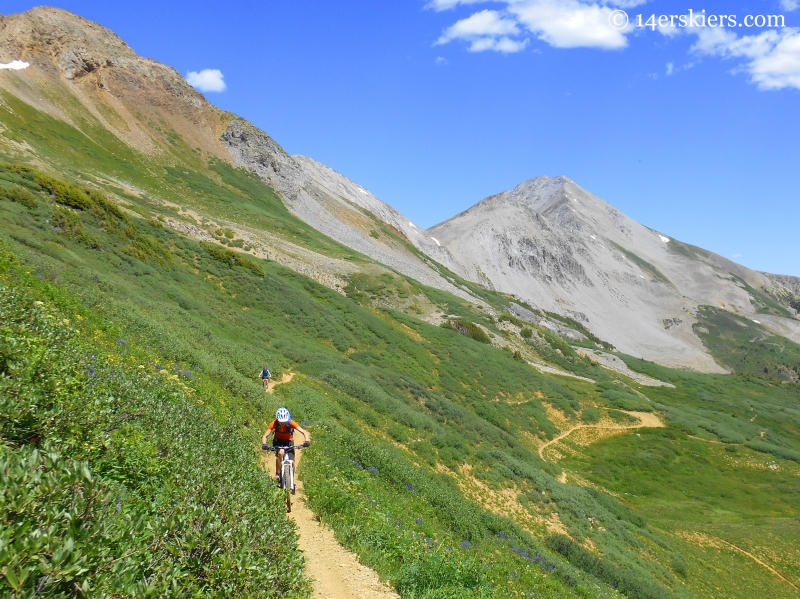 Distance: 20.5 miles
Level: Difficult, with some hike a bike, and high altitudes.
Description: This entire loop goes to 11 on the Spinal Tap Scenery Scale. 583/ Crystal Peak is a flowery paradise, and it remains that way as you wrap around the alpine towards Star Pass. Meanwhile, views of peaks such as Star Peak, Taylor Peak, and Italian Mountain dominate the skyline.
---
Teocalli Ridge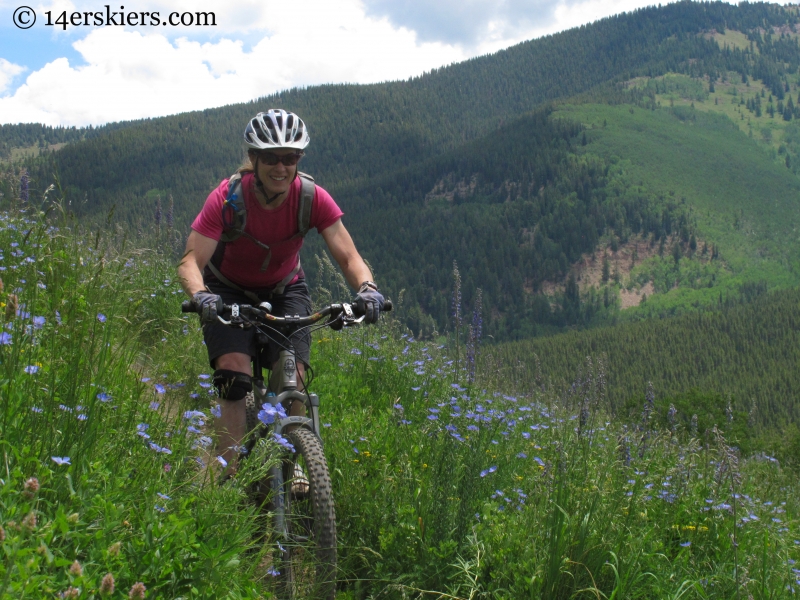 Distance: 20.5 miles
Level: Moderate-difficult with a steep climb.
Description: The farther you go in this ride, the better the views get. The traverse across the face of Teocalli mountain is an improbable wildflower meadow, with the red rock towers of Teo looming above. At the top of the ridge, a rest stop is nearly mandatory to take in middle Brush creek, Pearl Pass, and the fourteener Castle Peak. Teo keeps on giving, too- the bottom of the ride goes through yet another spectacular field of flowers.
---
Meander
Distance: This is a shorter ride, and depends on the exact route taken.
Level: Easy.
Description: This newer trail is near the top of the list for scenery. The trail winds its way through head high wildflower meadows that are some of the best, but that isn't even the highlight. The trail eventually finds its way on a high bench above the green valley of the East river, complete with its signature meanders and oxbow lakes. Not to be missed.



---
Point Lookout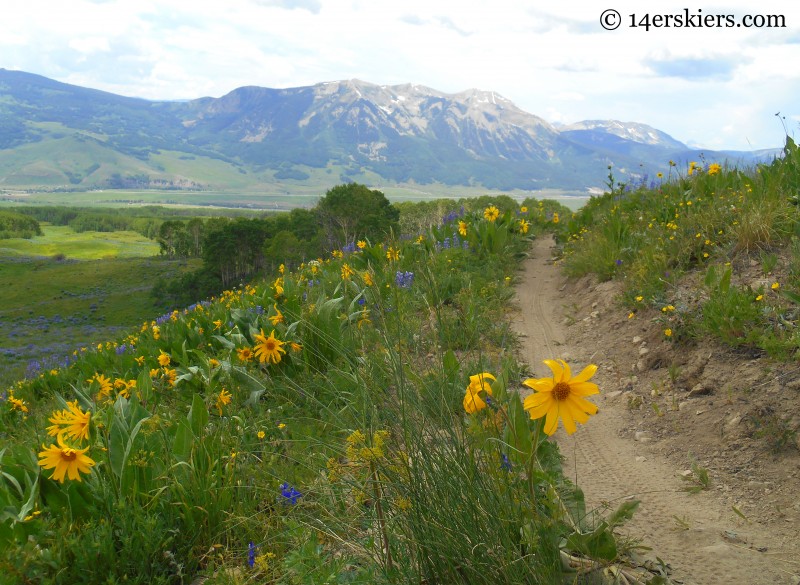 Distance: varies
Level: Moderate-Difficult depending on route choice.
Description: Point Lookout is another newer trail that beautifully winds its way through the meadows above Crested Butte South and leading towards Farris Creek. At many point along this trail, you can see nearly the entire length of the East river valley. Not only that, but this hillside is covered by wildflowers throughout the summer. This is a good connector trail between 409, 409.5, and others.
---
Snodgrass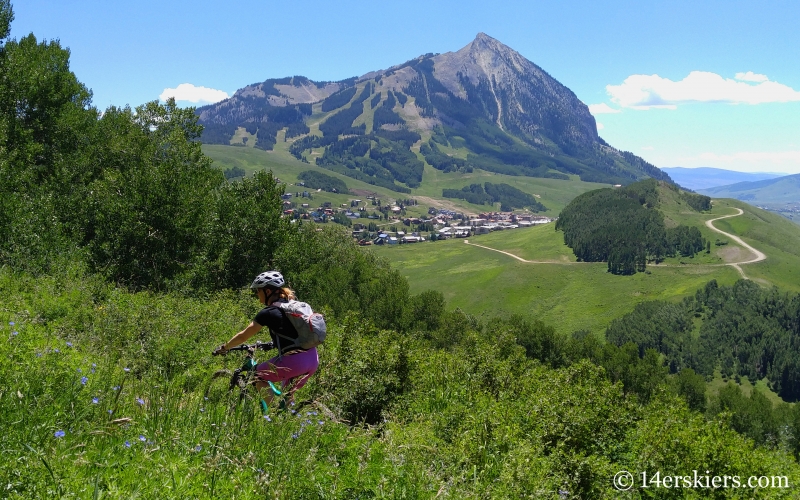 Distance: 7 miles out and back, longer options available
Level: Moderate.
Description: Snodgrass is undoubtedly a Crested Butte classic. From amazing wildflowers to fairy-like aspen forest to scenic vistas, this trail has it all. While portions of the trail can be steep and a little technical, most of it is fun and flowy. You may like exploring some of the other off-shoot trails from the main route, like "Teddy's Trail" and the connector trail that leads to Snodgrass Mountain Road. Snodgrass also makes a good connector with Meander and Lupine, and a great extension to 401. Either way, you're bound to have fun on this scenic trail!
---
Monarch Crest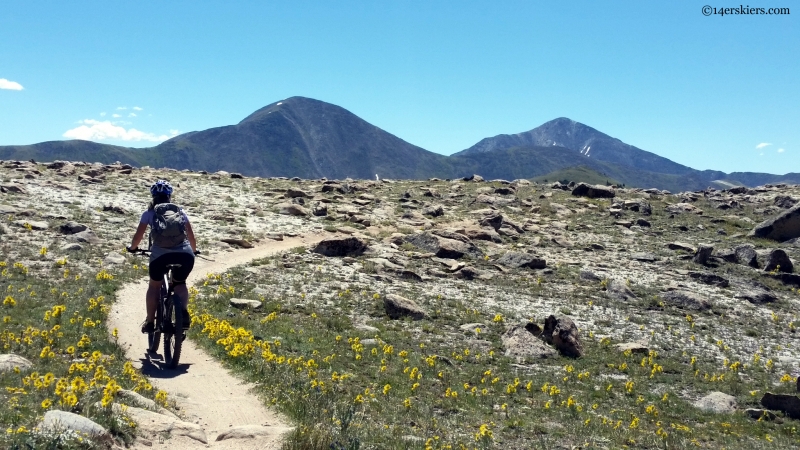 Distance: 36 miles, plus a car shuttle.
Level: Difficult.
Description: While not exactly in Crested Butte, the Monarch Crest is still an easy day trip, and often done on the way to or from Crested Butte, so it makes the list. The Sawatch range has a different feel compared to the Elk mountains of Crested Butte, and Monarch Crest is no exception. Instead of head high flowers, you have vistas that go on for miles as you traverse the continental divide on the Crest. Popular for good reason, this trail should be on every rider's bucket list.
---
Lowline trail
Distance: 30 miles
Level: Moderate-difficult, with very difficult route finding.
Description: This trail traverses across the West Elks, high above Ohio Creek. The best timing for this trail is in the fall, when the aspens are gleaming gold underneath the amazing Castles formation. I have yet to ride the Lowline Trail without getting off route at least once. Bring your map, your GPS, and a camera, of course.
Thanks for your support!

Frank
loves snow more than anything... except his wife.  He ensures his food is digested properly by chewing it 32 times before swallowing.He is a full-time real estate agent serving
Crested Butte and Gunnison
and would be honored to send you his
monthly newsletter.
Latest posts by Frank Konsella (see all)
Summary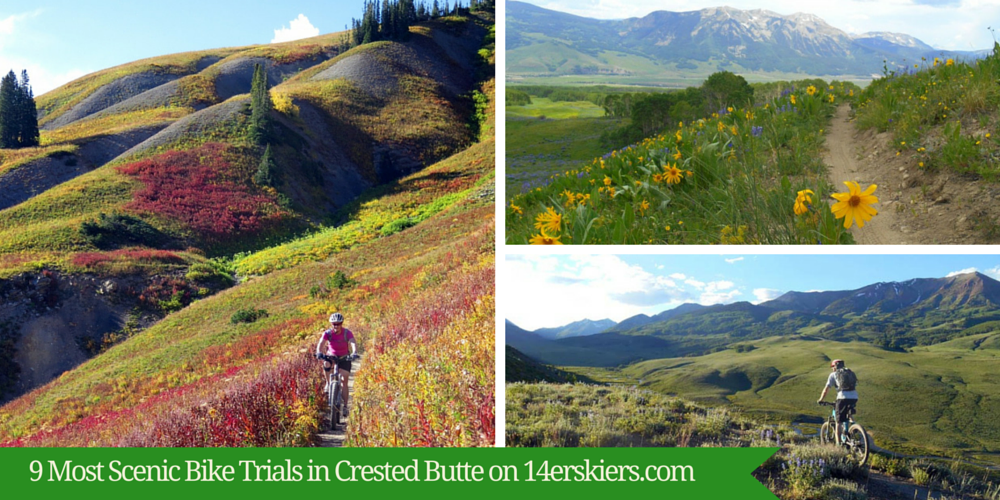 Article Name
9 Most Scenic Mountain Bike Trails in Crested Butte
Description
Looking for the most scenic bike trails in Crested Butte, Colorado? Get photos, descriptions, and directions for the best of the best...
Author