14erskiers is a blog hosted by Brittany Konsella and Frank Konsella, specializing in skiing backcountry skiing, hiking, mountain biking, and other outdoor activities in Crested Butte, CO and beyond.
We are a couple of folks who live in Crested Butte and enjoy skiing Colorado's fourteeners. In fact, we both have completed skiing all of the fourteeners in Colorado – Frank finishing in 2008 (4th person) and Brittany in 2011 (9th person, 2nd woman). Frank and Brittany met while Brittany was in the midst of her fourteener-skiing project and looking for solid ski mountaineering partners to help her complete her goals.
But 14erskiers don't limit our skiing to just fourteeners. We at 14erskiers also seek out stashes and thrills in all types of backcountry and resort skiing. When we aren't skiing, we are busy having fun in our outdoor playland. We dabble in ice climbing and our favorite summer past-time is mountain biking. But, we also enjoy hiking and many other mountain activities. Be sure to regularly visit our blog to view our reports on backcountry skiing, skiing, hiking and mountain biking as well as our gear reviews. We also have useful guides for backcountry skiing, mountain biking, and hiking in the Crested Butte area!
Thanks for playing!
Summary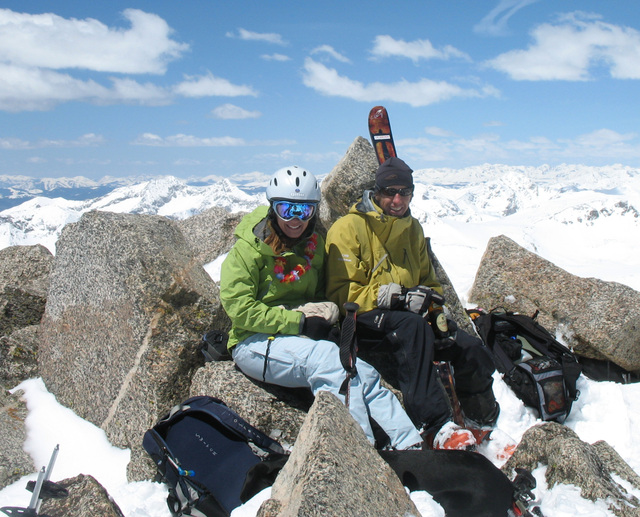 Article Name
Description
14erskiers, hosted by Brittany Konsella & Frank Konsella, specializing in backcountry skiing, resort skiing, hiking, mountain biking in Crested Butte, CO.