Bluebird Backcountry Ski Area
(Last Updated On: February 14, 2020)
This weekend, Colorado's newest ski area will open for the first time. It's called Bluebird Backcountry and it will be significantly different from other ski areas because it will have no lifts. That's right, paying customers will have to earn their turns at this new ski area, located between Kremmling and Steamboat. Many of Colorado's other ski areas also started this way before ski lifts were a thing, with local residents hiking up hillsides to ski back down. It was only later that ski lifts and groomed runs became the norm. For years now, much of the growth in skiing has been in backcountry skiing, with skiers taking up backcountry as a way to get fresh tracks or avoid crowded ski areas. At the recent OR show in Denver, we were able to sit down with Erik Lambert and discuss the concept-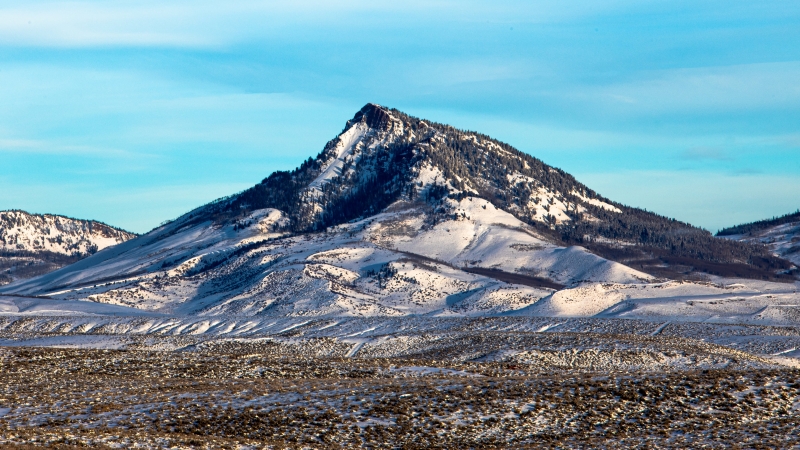 How do you start skiing in the backcountry? Many of us have some story of a rough first day, perhaps postholing around or dealing with hopelessly frozen skins because we didn't know any better. Or worst of all- snowshoeing. One of Bluebird Backcountry's founders, Jeff Woodward, had similar experiences, including when he took his brother skiing on one of Crested Butte's more well-known backcountry runs- Coney's. When he got back, he started thinking, "maybe there's a better way". In fact, Jeff and I sat down and had a beer at the brick Oven while he outlined his general ideas for a backountry ski area. Years later, he we are with Bluebird Backcountry.

Climbers will often learn at a climbing gym- a relatively safe environment before ever trying natural rock or natural protection. With skiers, it's usually trial by fire, or they'll simply stick to skinning up ski areas and roads as a way of getting exercise. Bluebird is hoping to serve that void and introduce people to backcountry skiing in a similarly controlled environment. Beginners can actually learn how to use their gear (and even rent skis, boots, shovel, beacon, and probe), without also trying to avoid avalanches and pick the best route up the mountain. If you're not supposed to venture out into the backcountry without Avy education, how are you supposed to learn the basics, like skinning. Many a course educator can tell stories of students who really weren't ready to do an avalanche course, but can you blame them for wanting to learn before they go off on their own and kill themselves?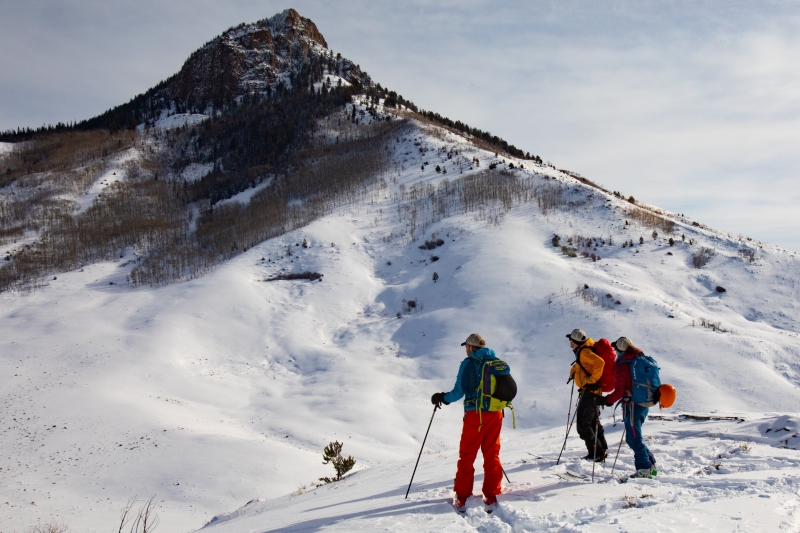 After some trial runs at both Mosquito Pass and Winter Park, the Bluebird team started looking for a location. Public United States Forest Land would take years and a significant investment. There's a reason that the last ski permit in Colorado for a brand new ski area was Beaver Creek in 1980. Additionally, they didn't want to take away an area that was already being used by backcountry skiers. Could you imagine the backlash if they decided to "close" Berthoud Pass for their own use? Which isn't to say that public land is totally off the table- if their model proves successful, and they found an area that would perhaps work but only if they were able to thin trees and create runs to make an area skiable, that's an option.
Instead, they looked at private land, with over 100 different potential sites. In the end, they chose Peak Ranch- it had an amenable owner, good terrain, and enough snow (they asked Joel Gratz of OpenSnow his thoughts and he gave it the thumbs-up). The area has 1500 acres, but for now, they'll only open 300 acres without a guide. The other terrain is potentially too steep and they're not quite ready to do explosive avalanche control- but perhaps down the road.
So for now, you can show up at Bluebird Backcountry, skin up, and ski down. You'll need a beacon/probe/shovel, since they want to instill good habits. But you don't have to have a partner. One of the things we've noticed when we've done our book tour events is that a lot of people ask us- "How do I find partners?". That seems to be a common problem, after all, who wants to take on a new backcountry skier, and feel responsible for their safety as well as your own. Bluebird may prove to be a great spot for meeting people. They're also hoping to add educational components, like clinics on route choices, gear, skintrack technique, or how to be efficient at transitions and packing, etc.
Bluebird Backcountry will open tomorrow, February 15th for the first time, and their season is expected to cover the following dates: February 15, 16, 17, 22, 23, 29 and March 1, 5, 6, 7, 8, 12, 13, 14, 15. Additionally, there are volunteer opportunities from ski rentals to ski safety, ski area operations to customer service, guiding, and instruction for those interested.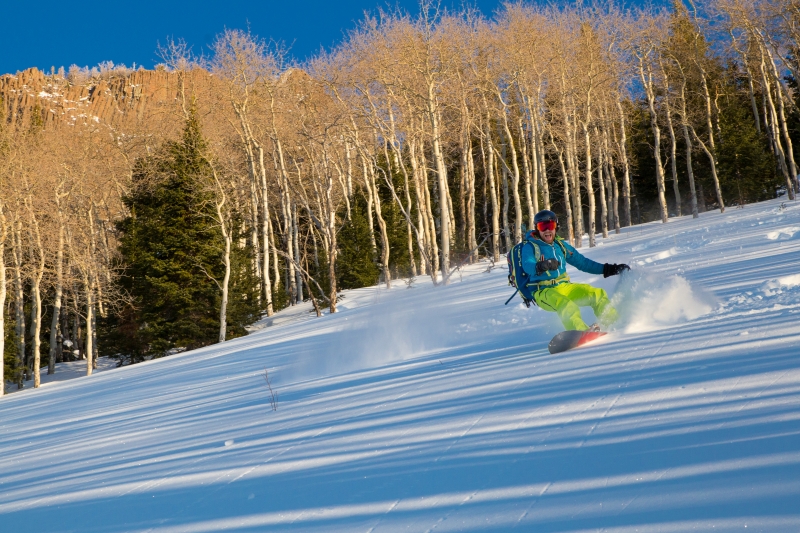 Our Thoughts
We think this is a great concept, and we think it will prove to be a successful model. Learning how to backcountry ski isn't easy, unless you're one of the lucky ones that find a mentor to show you the ropes. For most skiers, they'll figure it out on their own or with a few friends. That often works, but it's a steep learning curve. Bluebird Backcountry should smooth that curve out significantly. And who knows, perhaps someday the model will include terrain for more experienced backcountry skiers like ourselves. I know I wouldn't mind skiing some lightly tracked steeps in mid-winter that I would otherwise consider off-limits if it hadn't been controlled. Will the current location prove to be the one? I'm sure they'd rather be a little closer to Denver, and have a little more snow than what the photos have been showing thus far. But it seems like a good start. We wish them the best of luck and perhaps we'll even be up there some day, just to check it out.
Frank
loves snow more than anything... except his wife.  He ensures his food is digested properly by chewing it 32 times before swallowing.He is a full-time real estate agent serving
Crested Butte and Gunnison
and would be honored to send you his
monthly newsletter.
Latest posts by Frank Konsella (see all)
Summary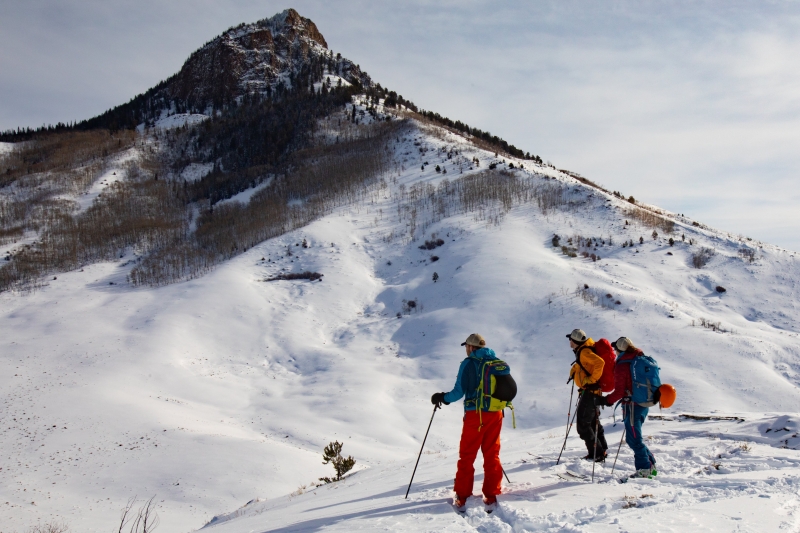 Article Name
Bluebird Backcountry Ski Area
Description
We sat down with one of the founders of Bluebird Backcountry Ski Area, and this is what we found out about Colorado's newest ski area.