Mount Rainier – Skiing the Fuhrer Finger (14 May 2018)
(Last Updated On: January 10, 2019)
I have a long history with Mount Rainier. I was just 14 years old when our plane flew alongside her and I was mesmerized – so much that I decided I wanted to go to college in Seattle, just so I could be close to Mount Rainier. But, after visiting the University of Washington campus and being disappointed, I set my sights elsewhere and ended up in Boulder. Still, Mount Rainier hung in my mind. My dad and I eventually climbed her in the mid-90's, fully guided with RMI. The famed Dave Hahn was our lead guide.
But, then became a ski mountaineer and my eyes gazed back to Mount Rainier. I needed to ski her. Two previous volcano-skiing trips to the Pacific Northwest were fruitful, but did not give ample opportunity for skiing Rainier. After missing last ski season due to injury, and coming back to a rather mediocre season in Colorado, I needed something. I needed a big goal, something that would be the highlight of my season. I decided that would be Rainier.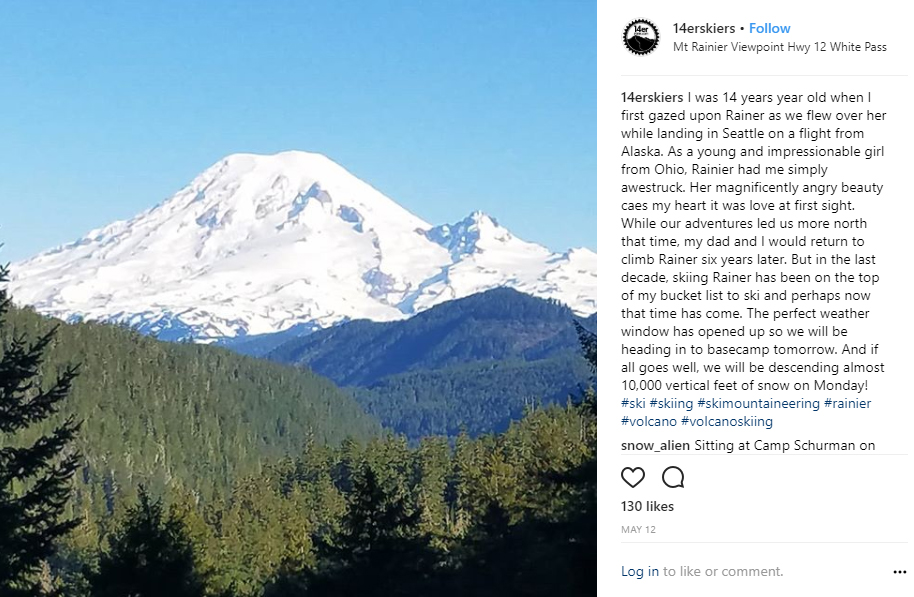 The Fuhrer Finger is one of the routes featured in Fifty Classic Ski Descents of North America, by Davenport, Newhard, and Burrows. But, it's been on my list for much longer than this book has been around. Although the first ascent of Fuhrer Finger was o July 2, 1920 by Hans Fuhrer, Joseph Hazard, Heinie Fuhrer, Peyton Farrer, the first ski descent did not happen until May 3, 1980 by Dan Davis, Tom Janisch and Jeff Haley.
My friend Zach Taylor, whom I'd known when he lived in Colorado, is a now a travel nurse stationed in Washington. So, I reached out to him to block out some time for skiing in that general direction, with Mount Rainier being the primary objective. As the time came closer, we realized that the perfect weather window was about to happen – three days of open blue skies. My trip would start out with a bang – skiing the Fuhrer Finger on Mount Rainier.
With the bulk of my ski mountaineering experience being in Colorado, I had limited glacier experience. So, Zach and I set aside a whole day to practice glacier travel and crevasse rescue techniques on the slopes of Mount Rainier.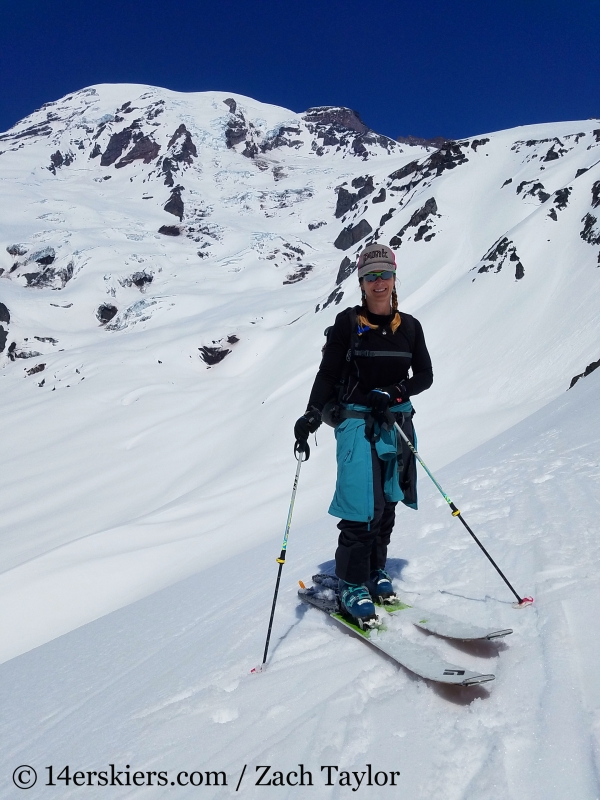 We used an area near the Paradise parking lot to practice prusiking while we headed up further to set up z-drags.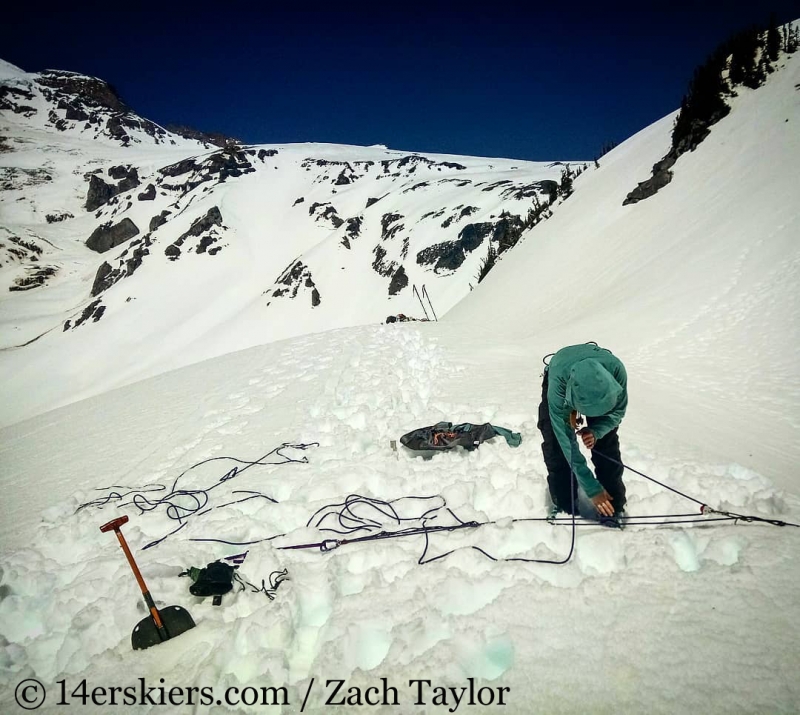 The next morning, we met Zach's friend Justin in Ashford, who would be our third partner. We then headed up to Paradise where we would begin our route. From Paradise, the summit of Mount Rainier doesn't look so far away. But, it's over a 9000 vertical foot climb from there. Appearances can be so deceiving.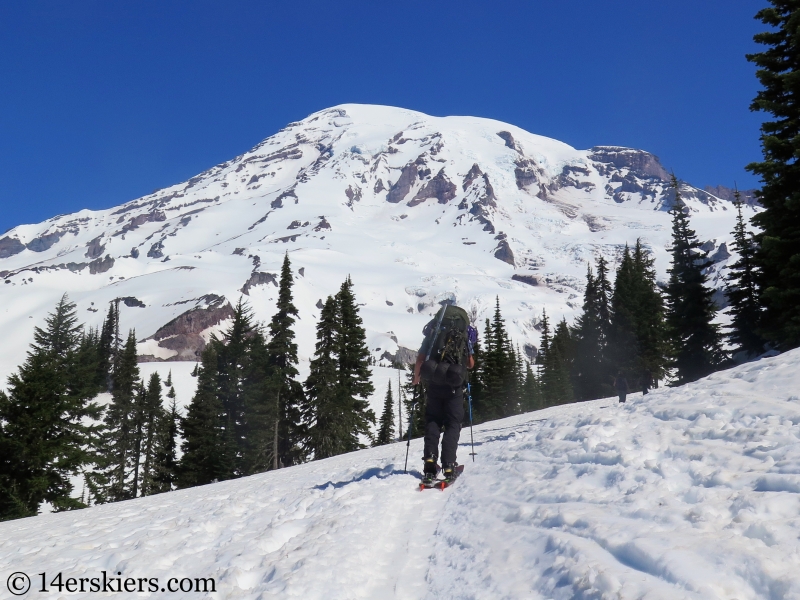 To get to the Fuhrer Finger, we first needed to cross the lower Nisqually Glacier. Justin and Zach.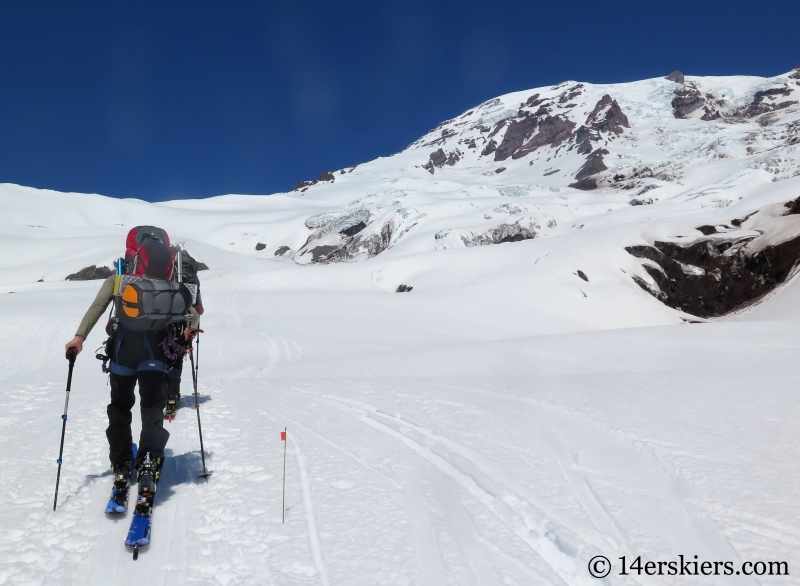 Gnar lingered above us and we watched seracs fall as the temperatures warmed during the day. Me and Zach.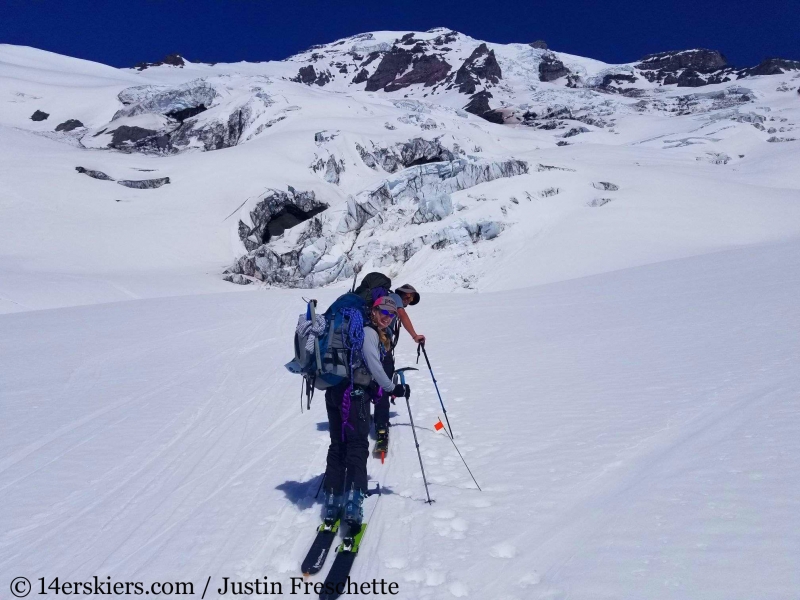 With overnight and glacier gear stuffed in our packs, they were rather heavy. But we charged on.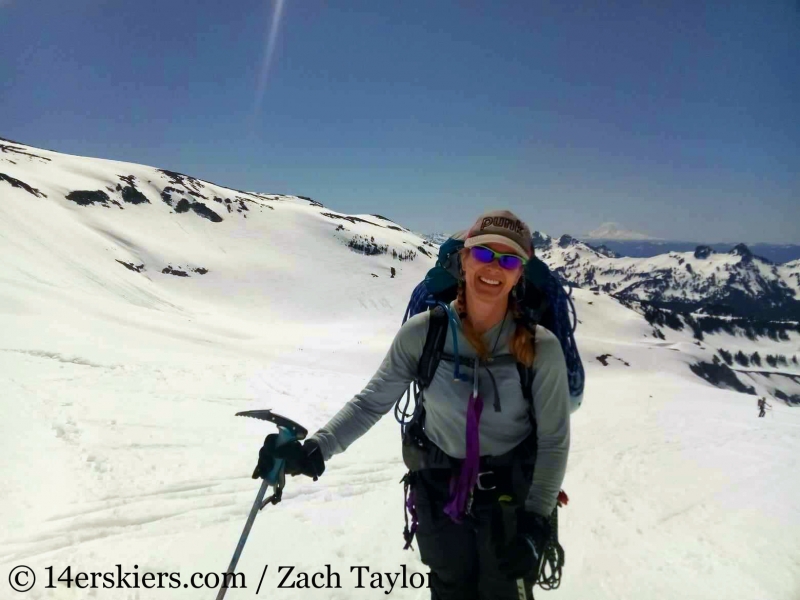 We then followed a ridge that lies between the Wilson and Van Trump Glaciers, ascending to about 9200 feet where we found rock formations that blocked the wind. We set up our basecamp here. Looking below our camp.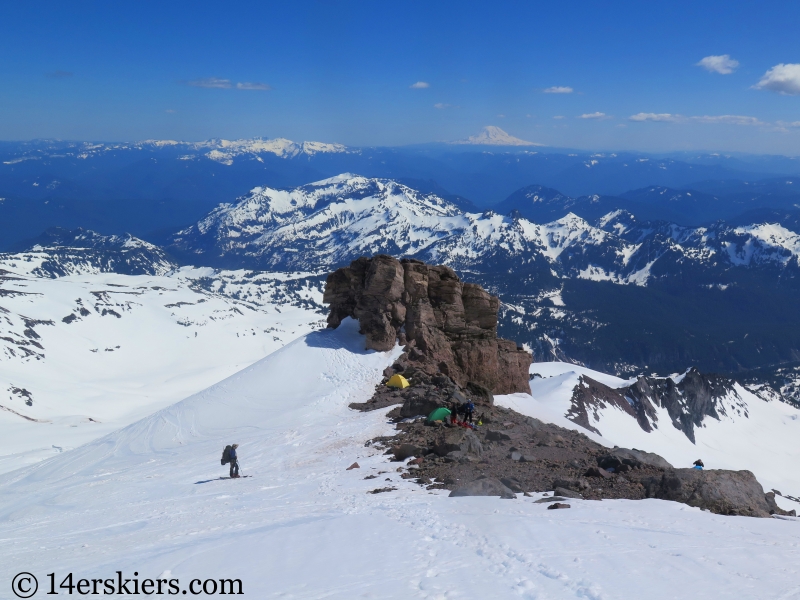 We got to work digging out snow platforms for our tents, drying our gear, melting snow for water, and cooking dinner. Our camp was warm and comfortable.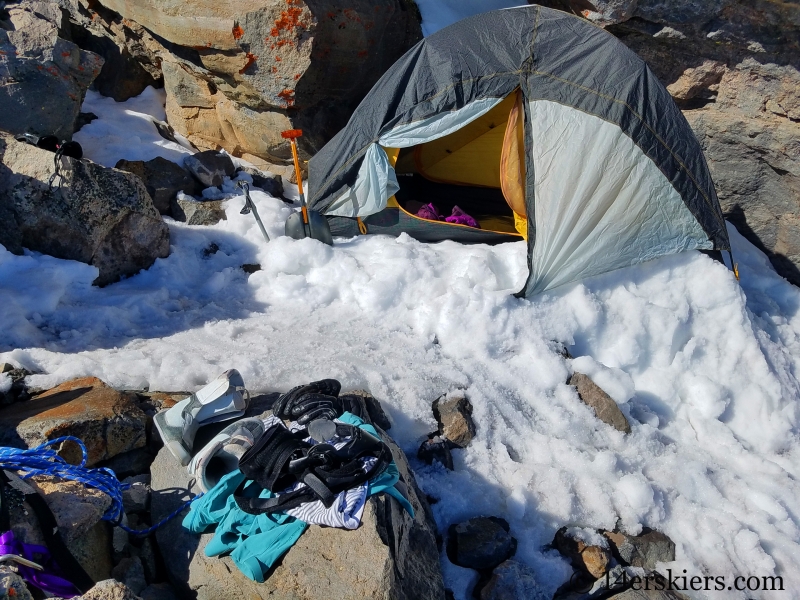 Beautiful view from my tent window! Mount Hood in the distance.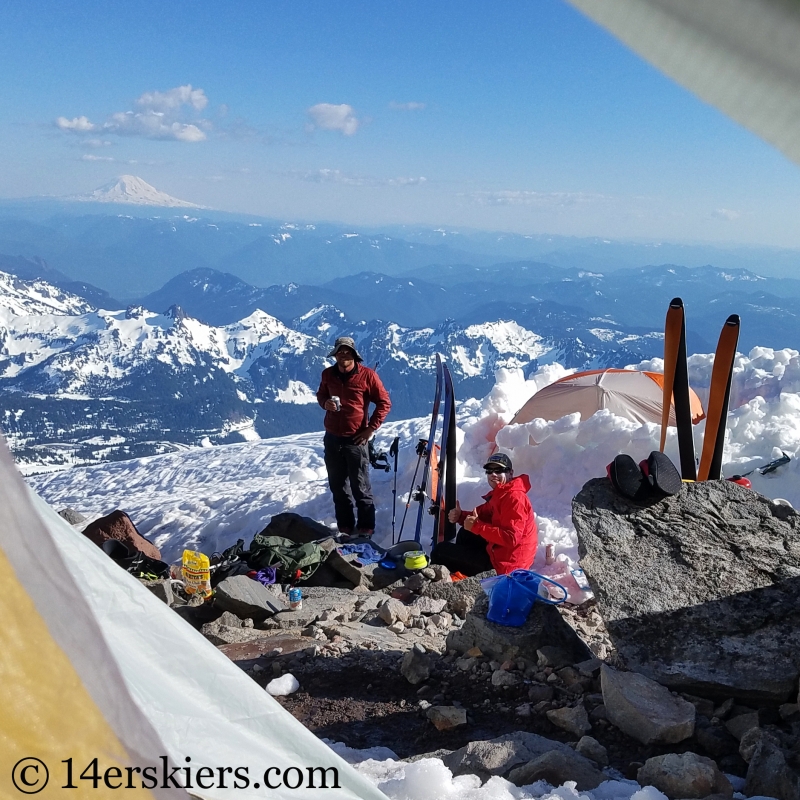 Justin and Zach enjoying a Rainier beer on Mount Rainier. Had to happen 🙂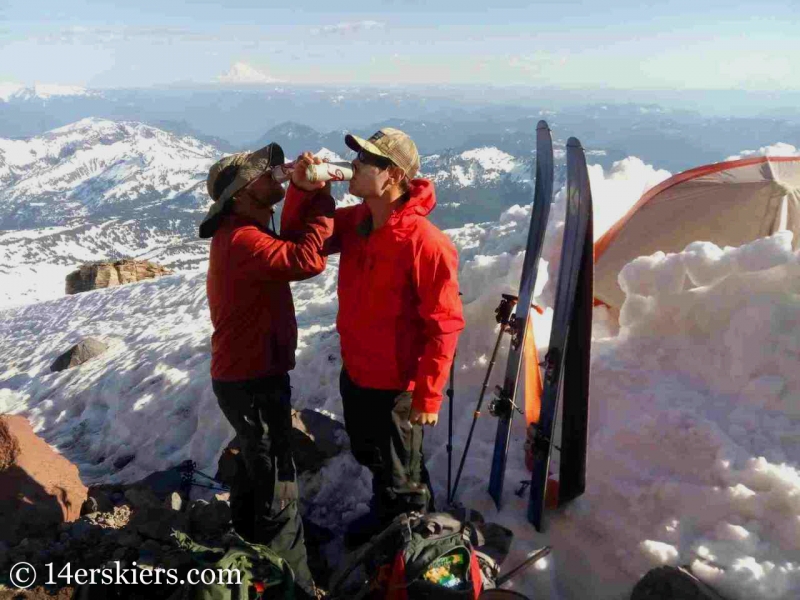 The light softened as the sun lowered in the sky.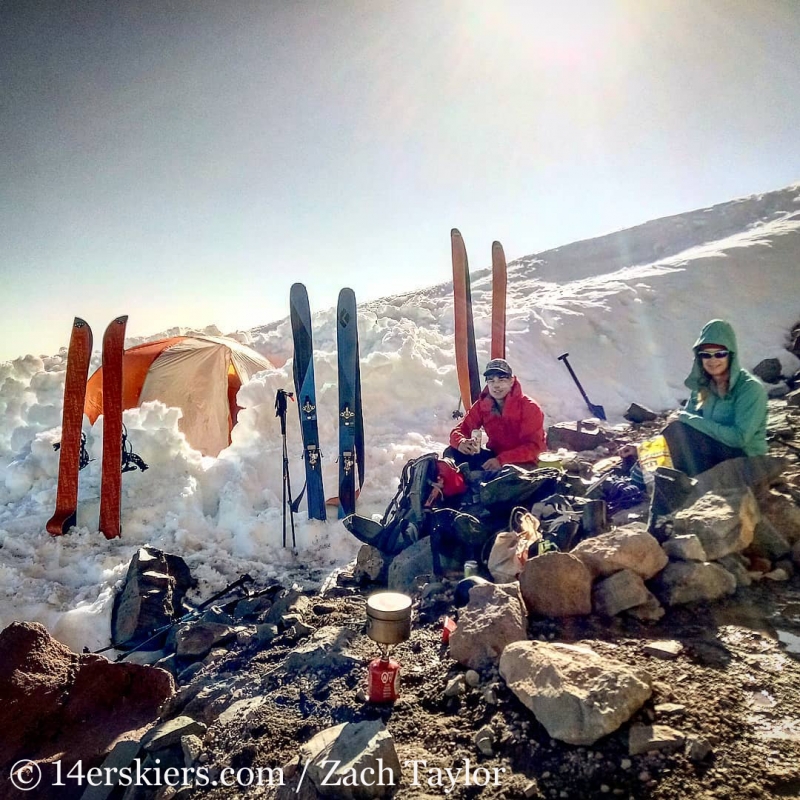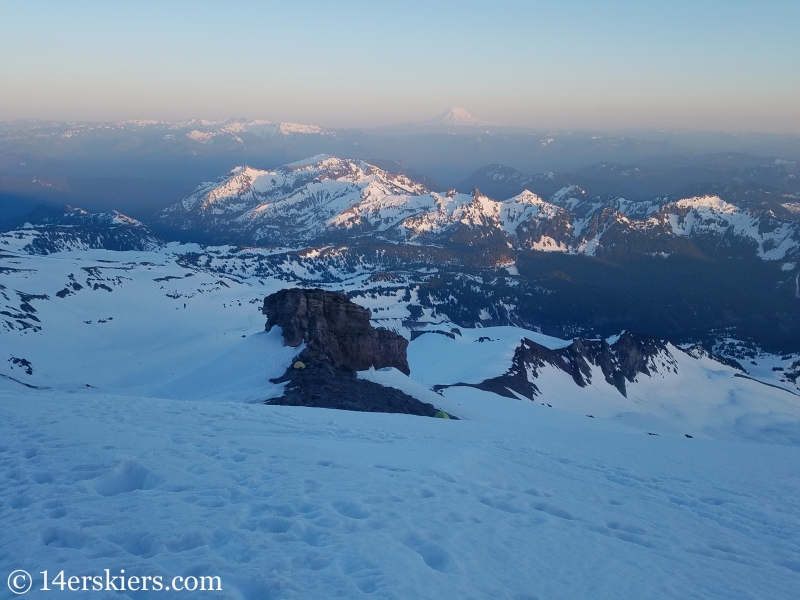 The scene was simply surreal. Once the sun set over the horizon, the temperatures quickly dropped. We retreated to our tents, anticipating and early start the next morning.
It's hard to say which is more beautiful. Sunset, or sunrise.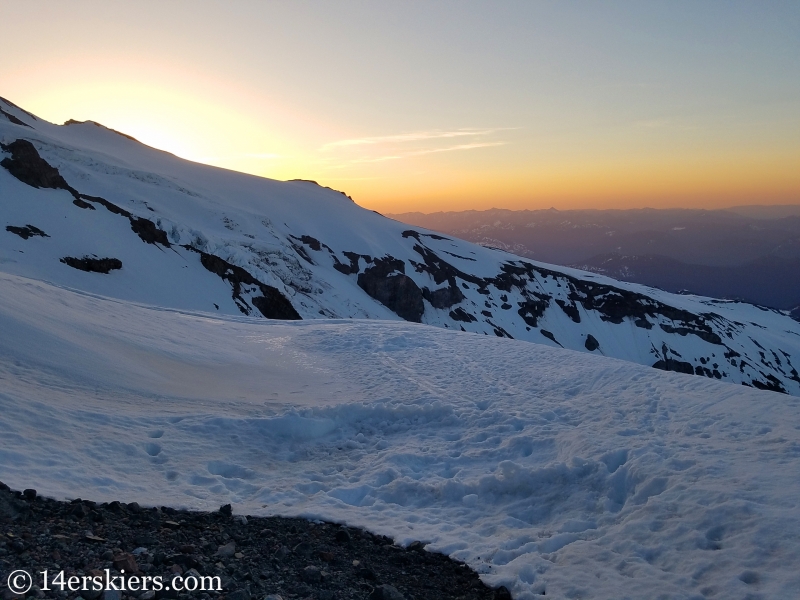 From camp, we headed over toward the base of the Fuhrer Finger.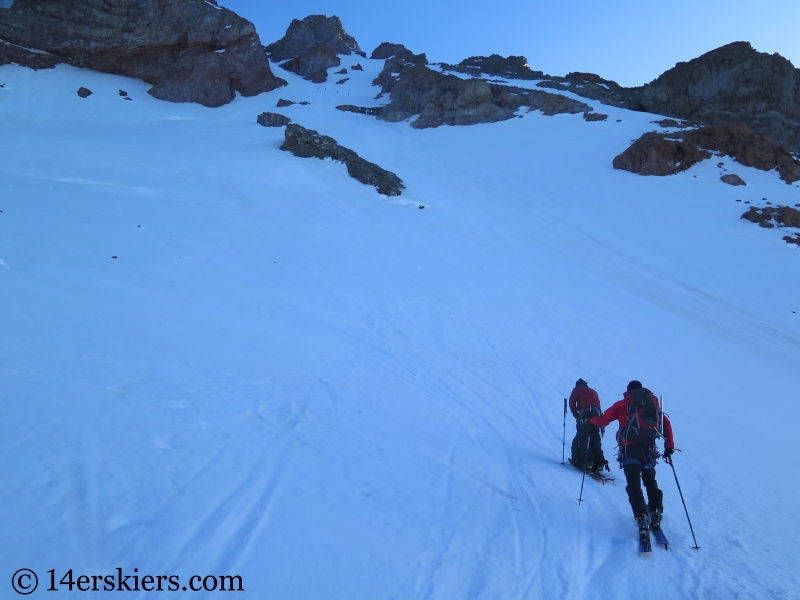 We had crossed several crevasses the day before and today would be no exception.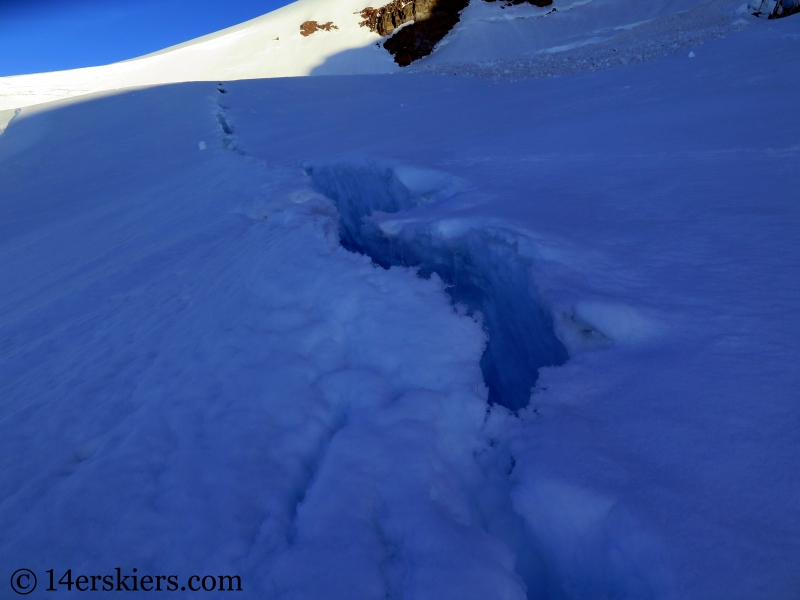 Although we had gotten and early start, we quickly realized it wasn't early enough. We'd heard about the rockfall danger in the Fuhrer Finger, but I'd never experienced rockfall like this before. About 60 seconds a rock came whizzing down at us – most of them golf-ball sized but ranging up to the size of a baseball. After awhile, we stopped yelling "Rock!". Because we just assumed there was always one coming down. I tried to seek the protection of a rock wall along the side of the chute, and found myself falling in waist-deep into a moat – and the moat went down a lot further just another foot away. I worked my way out of the moat and we continued onward. There really was no other choice. Finally, near the top of the Fuhrer Finger, we hugged the climbers right side, giving us a reprieve in the rockfall where I was able to snap this photo.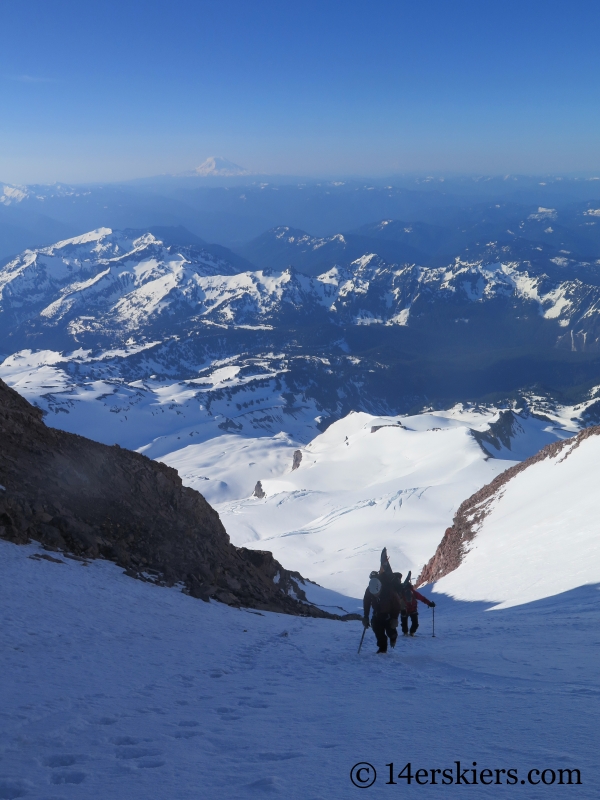 At the top of the Fuhrer Finger, we re-entered the upper Nisqually Glacier, which was heavily crevassed.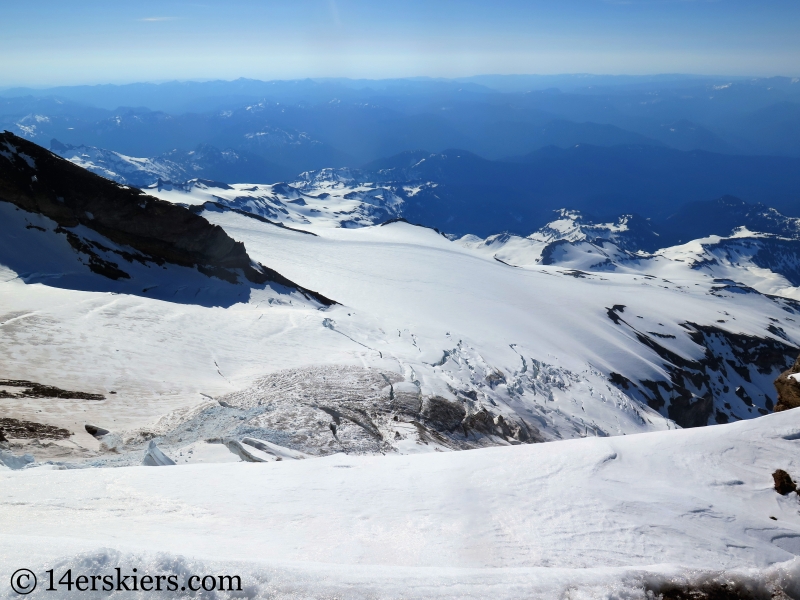 Seracs hung above us.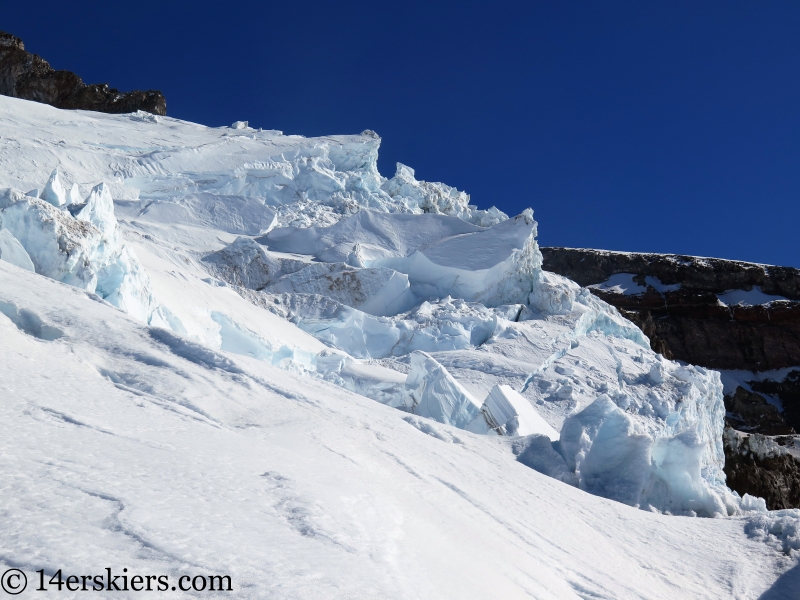 We opted to rope up due to these crevasses.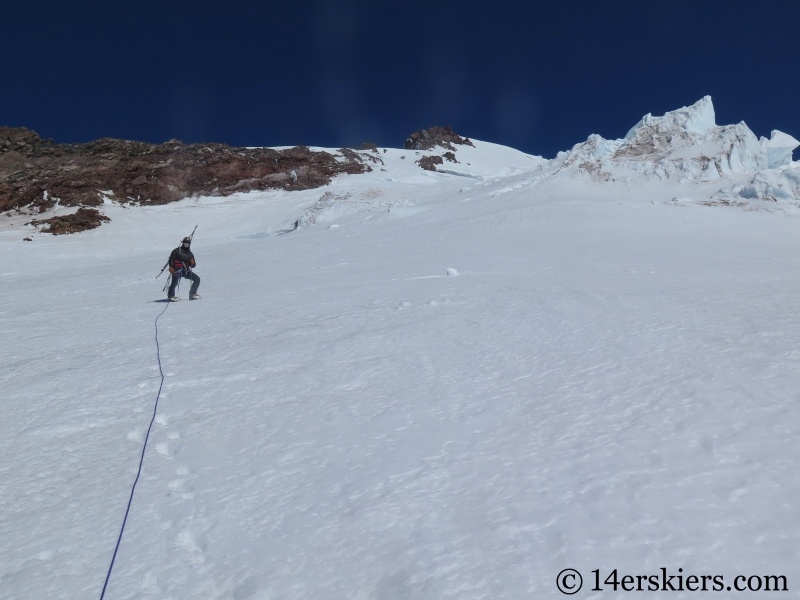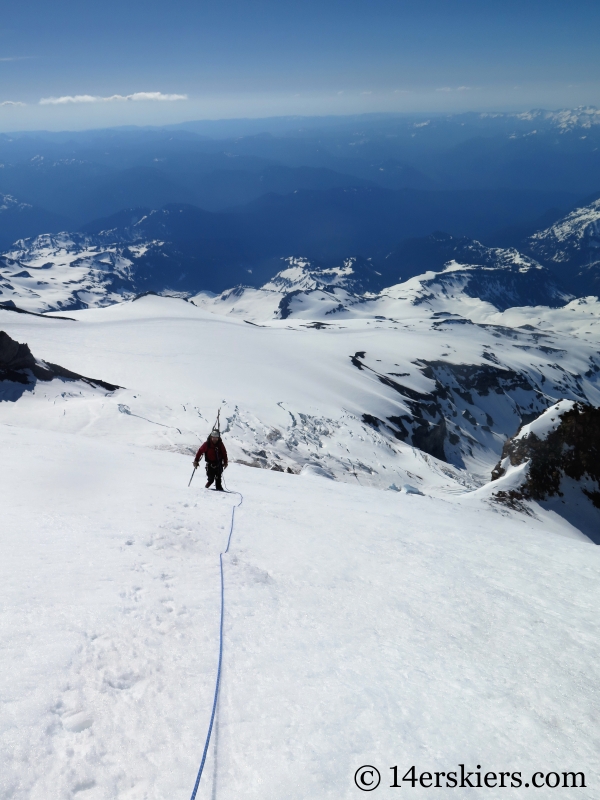 The upper reaches of the Nisqually Glacier are tedious. The view constantly seems to roll over to something ahead, and the glacier just keeps going and going. Once the slopes reduced in steepness enough that we all felt comfortable skinning once again, we dropped the rope. This photo shows Justin on the upper reaches of the Nisqually Glacier with Zach behind.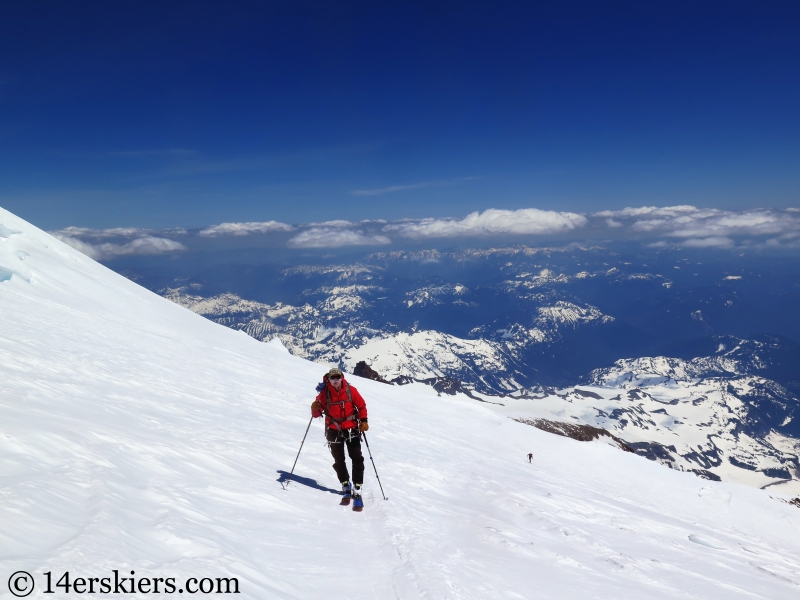 Zach was tired, and opted to stop in a safe spot while Justin and I charged on to the summit. The summit crater is pretty amazing, labeled on the map as Colombia Crest.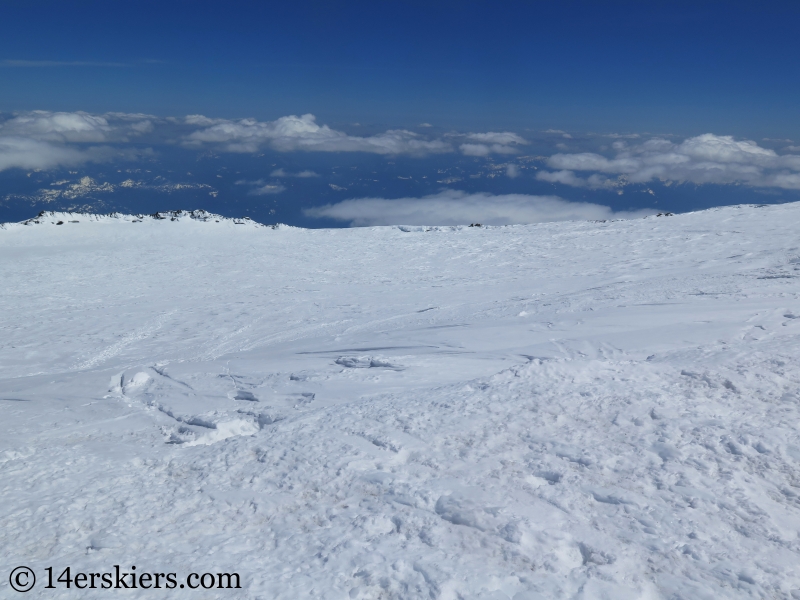 The true summit stands at 14,410 feet, a mound alongside the crater.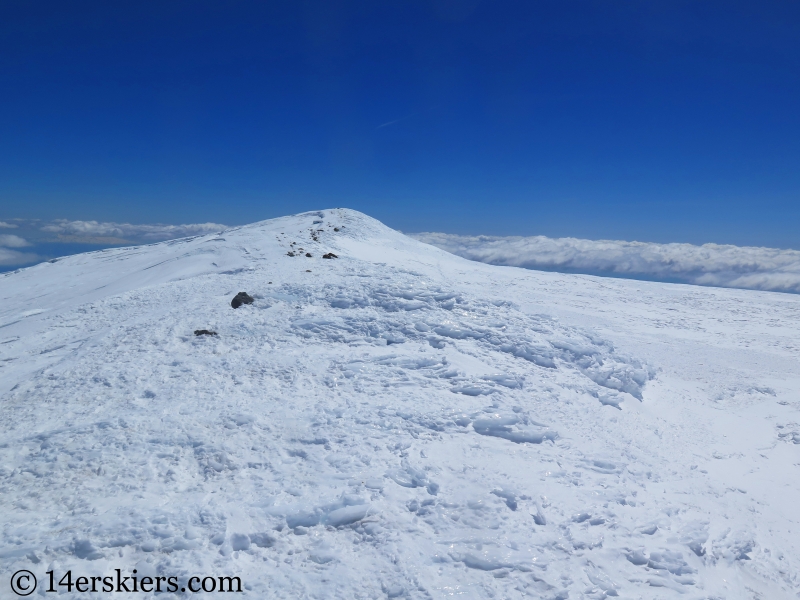 Justin and I exchanged photos of one another.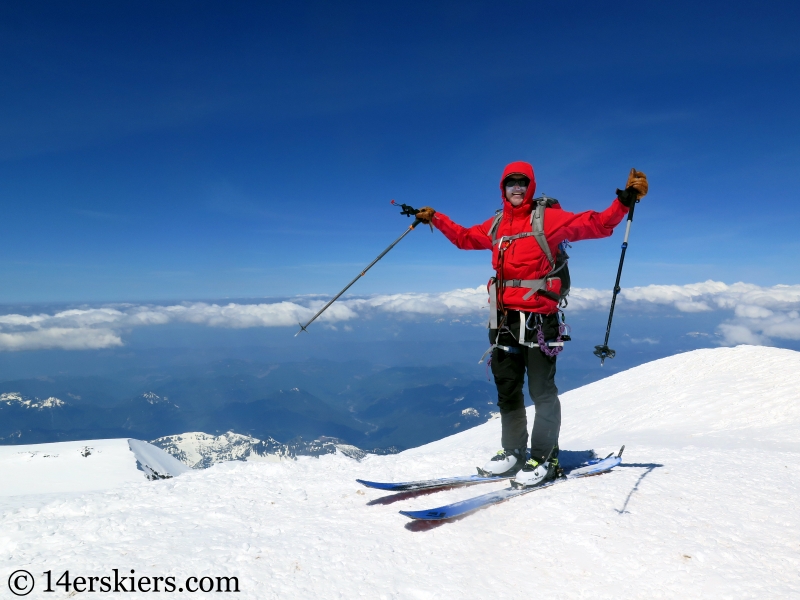 Me mimicking Michael Jackson on the summit with Liberty Cap in the background.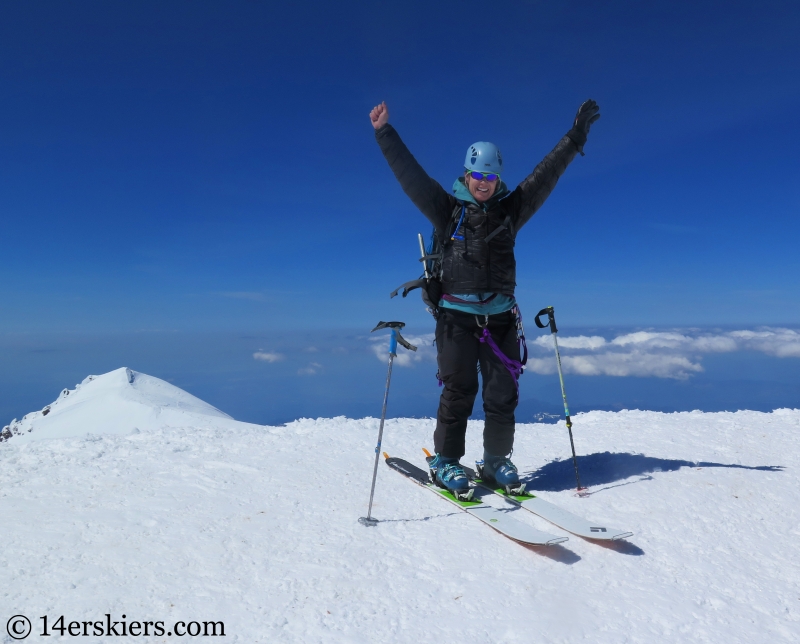 We then skied back down to Zach where we descended our ascent route back to camp. Zach.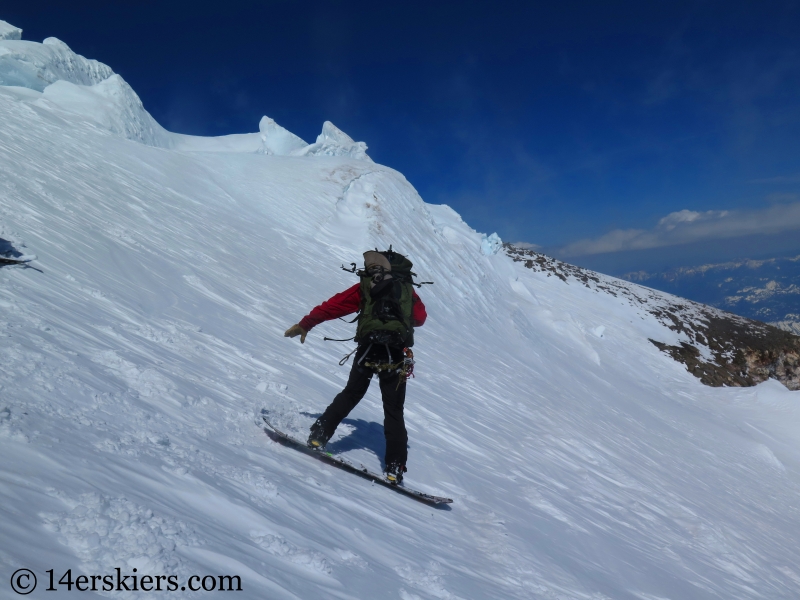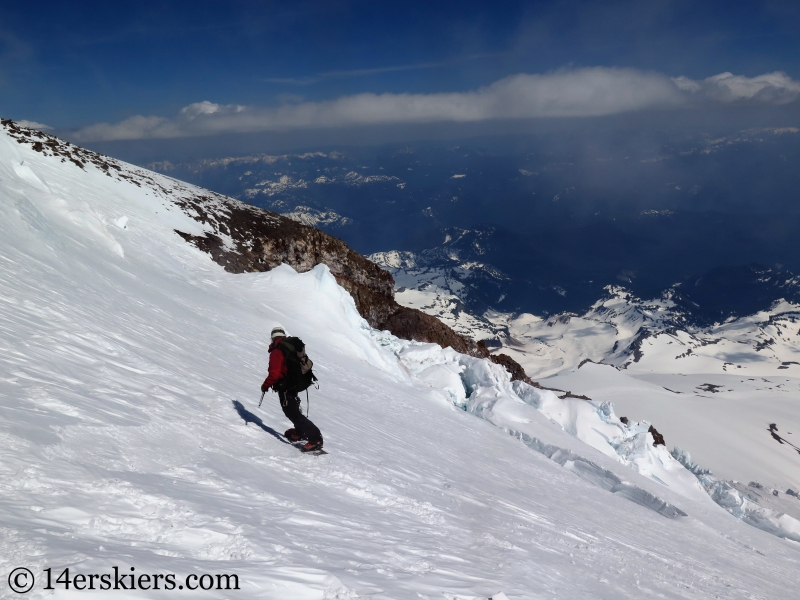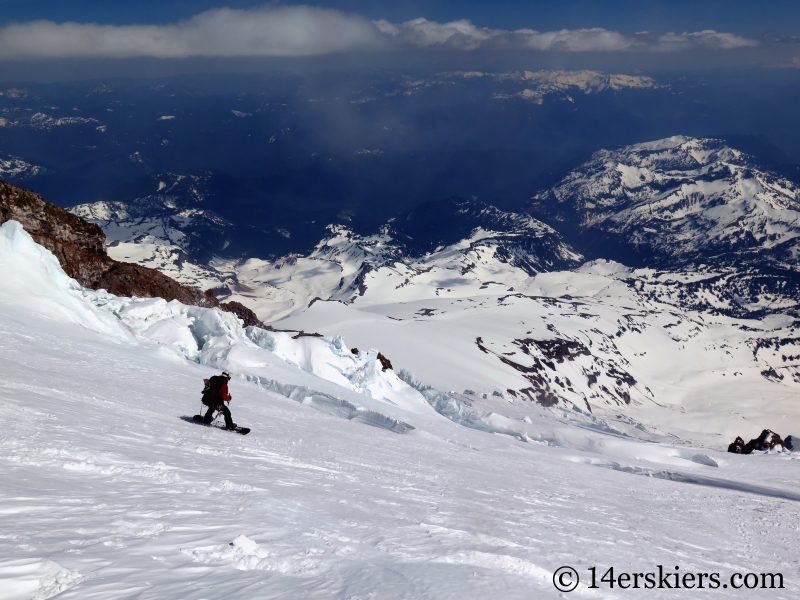 Skiing among all the crevasses and seracs was surreal. Justin.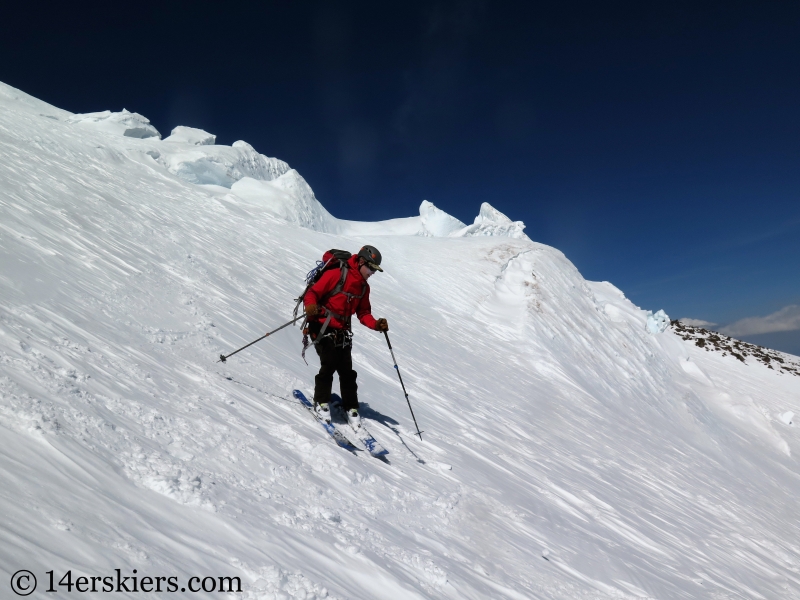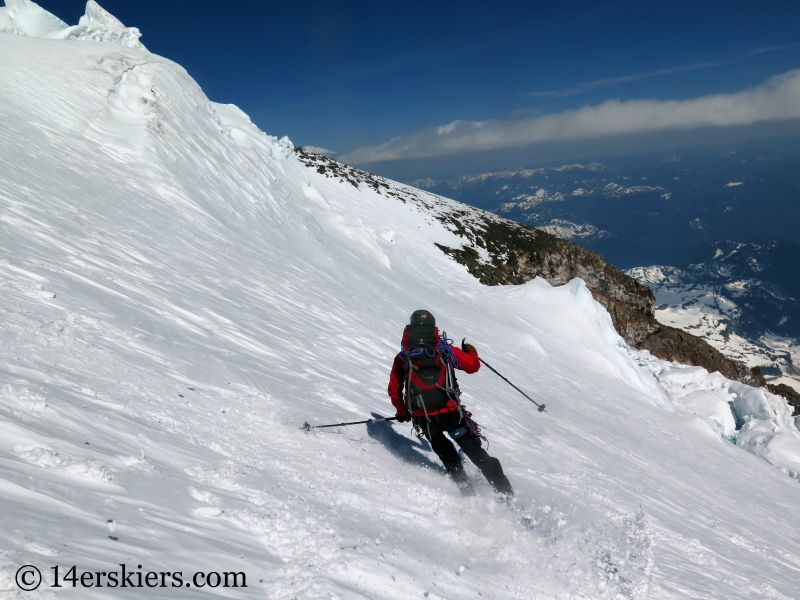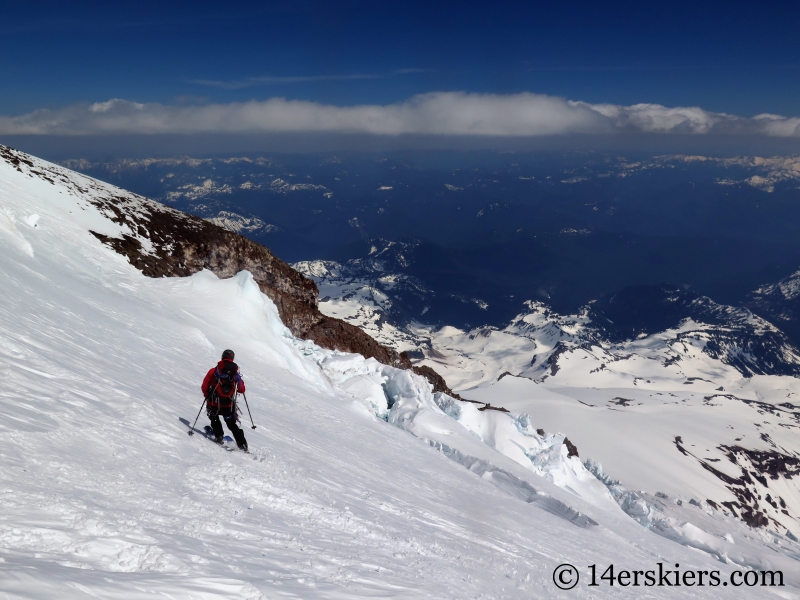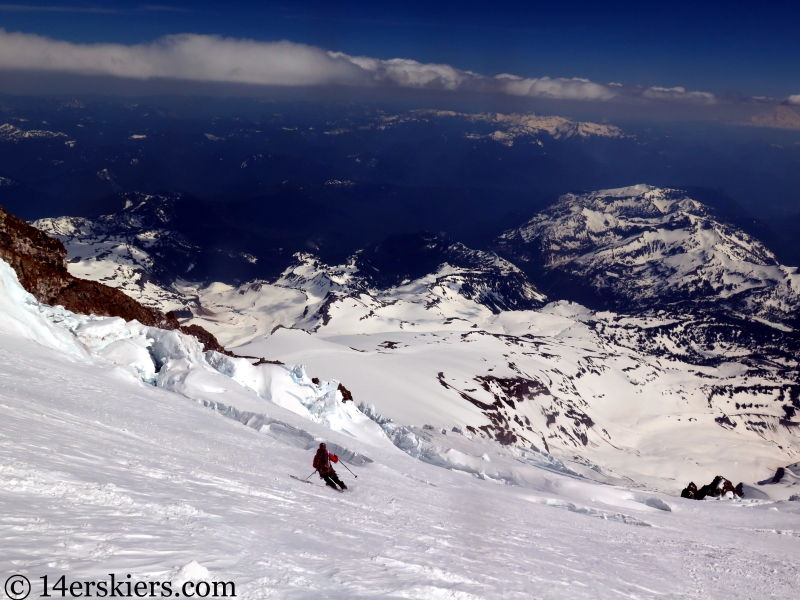 The upper reaches of the Nisqually Glacier are not steep, but I'll admit I was glad about that as there were plenty of crevasses to make navigation challenging. Me.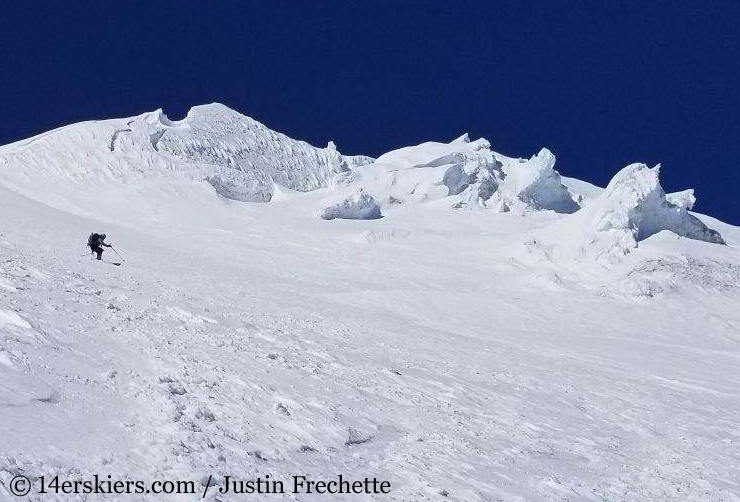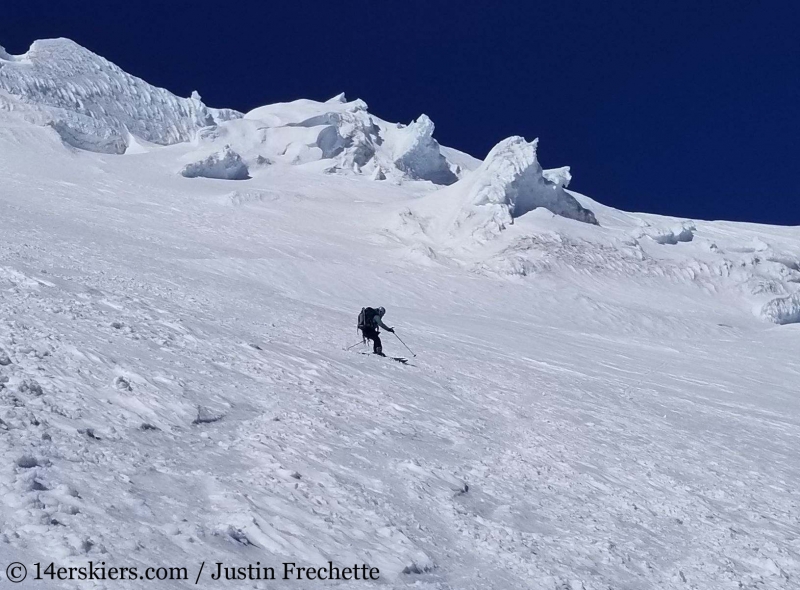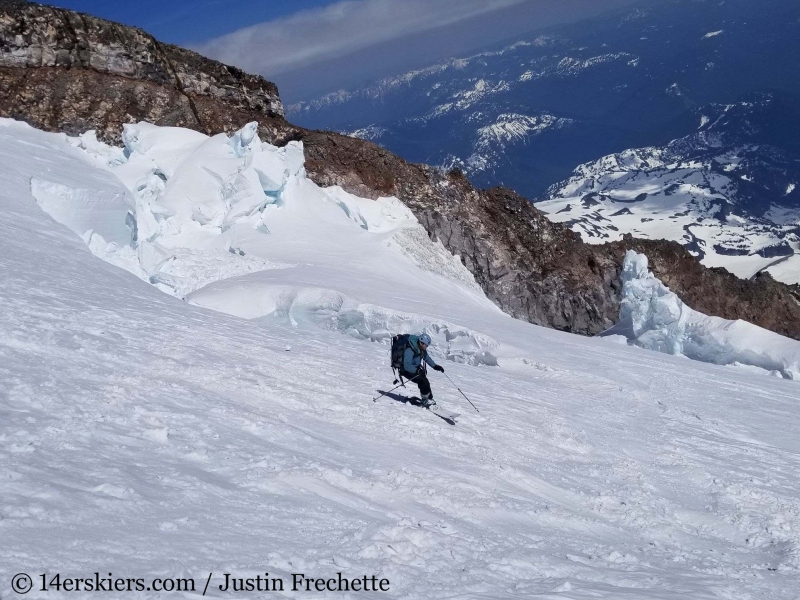 Zach making his way to the upper Fuhrer Finger.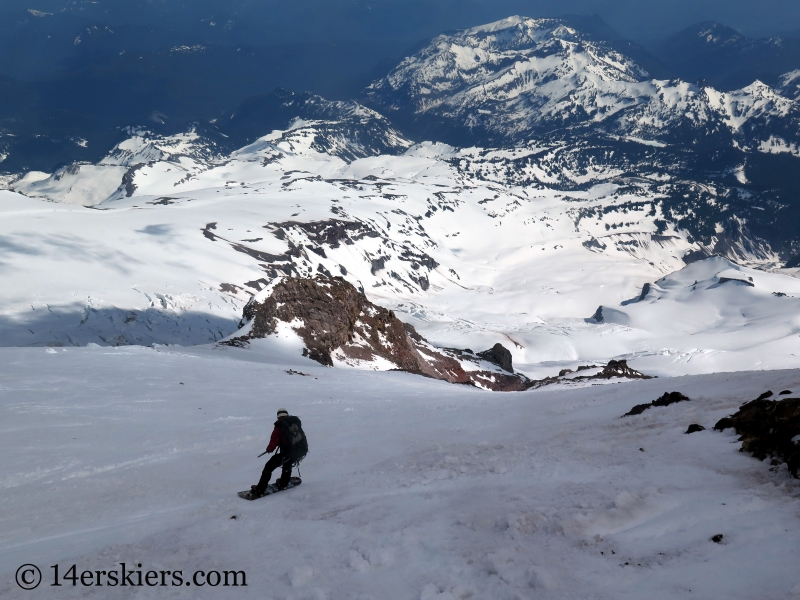 Justin and Zach in the distance.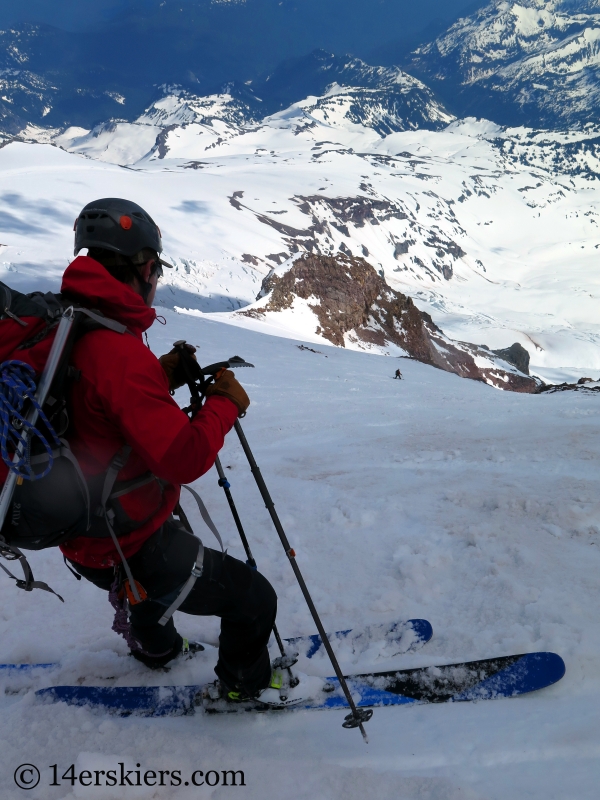 Looking down the Fuhrer Finger. Thankfully, we encountered no rockfall during the descent.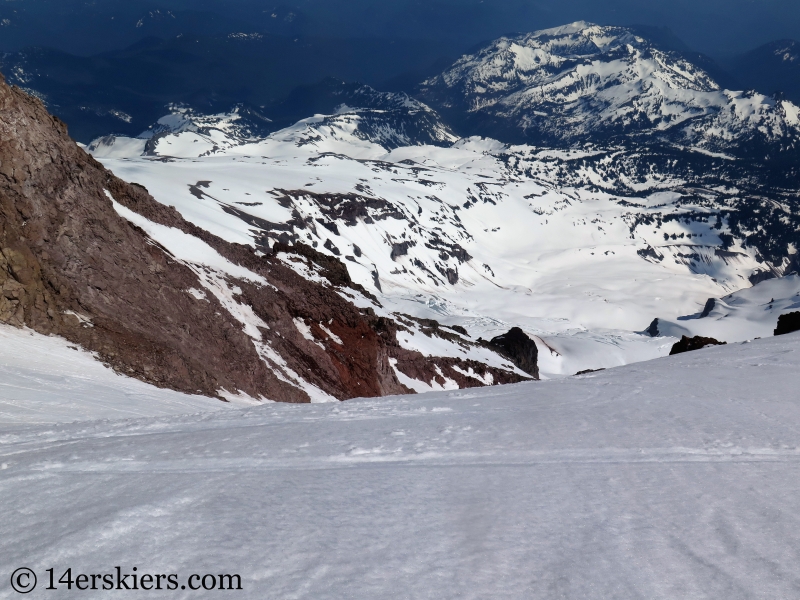 Zach in the Fuhrer Finger.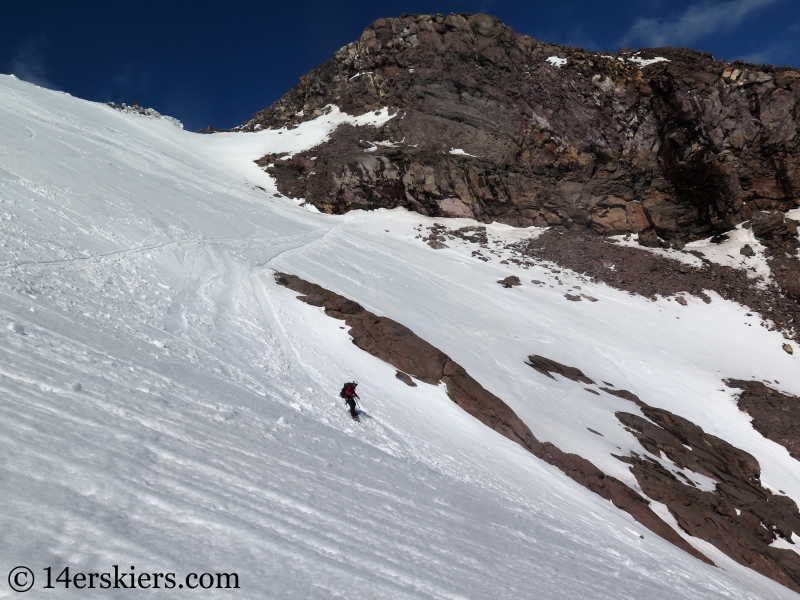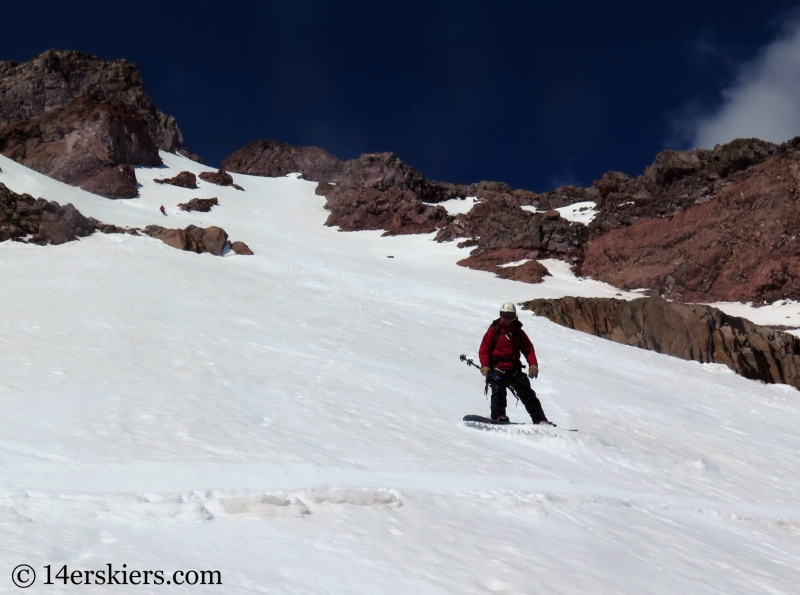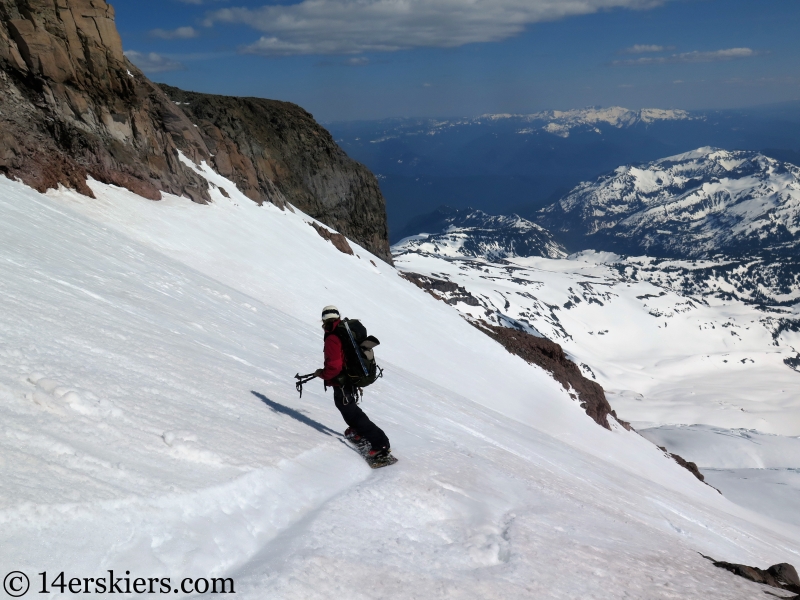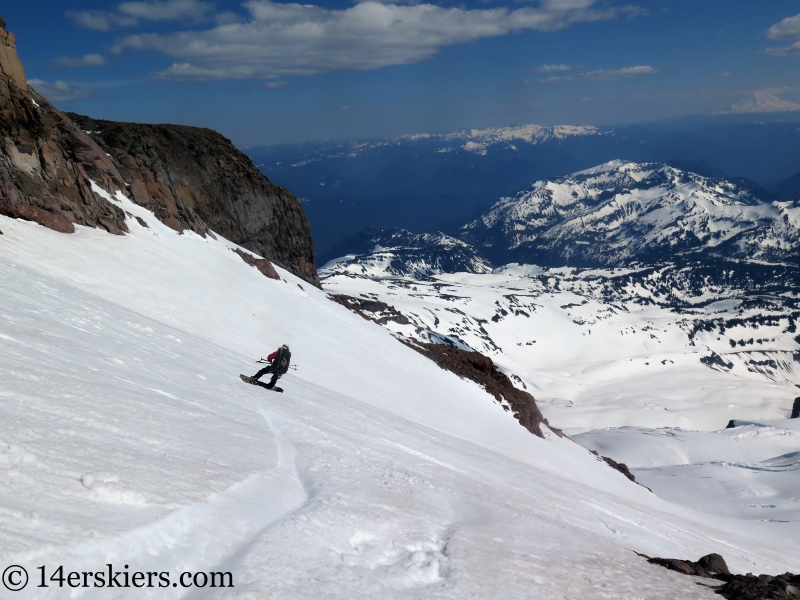 Me.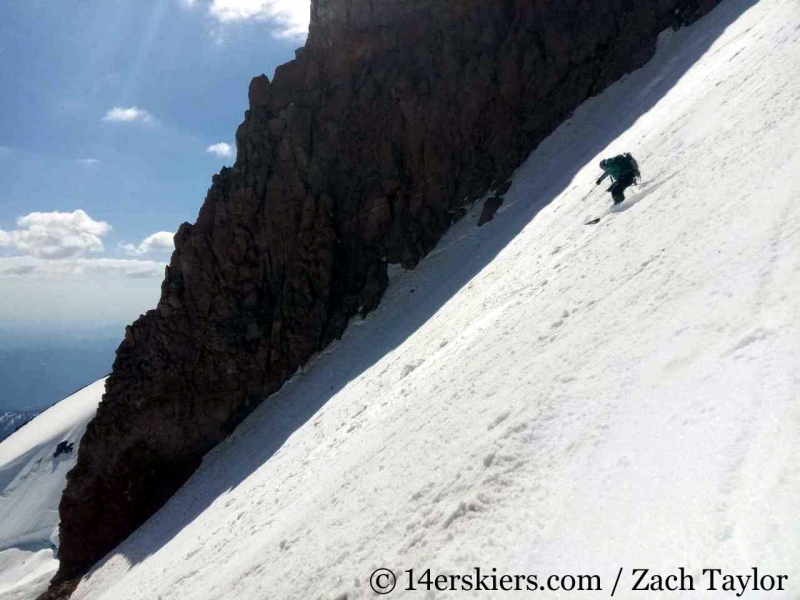 Justin.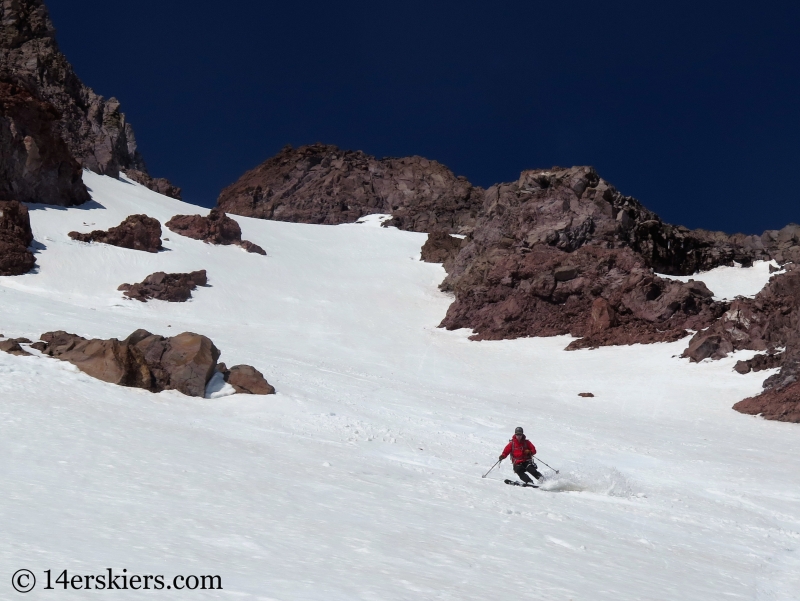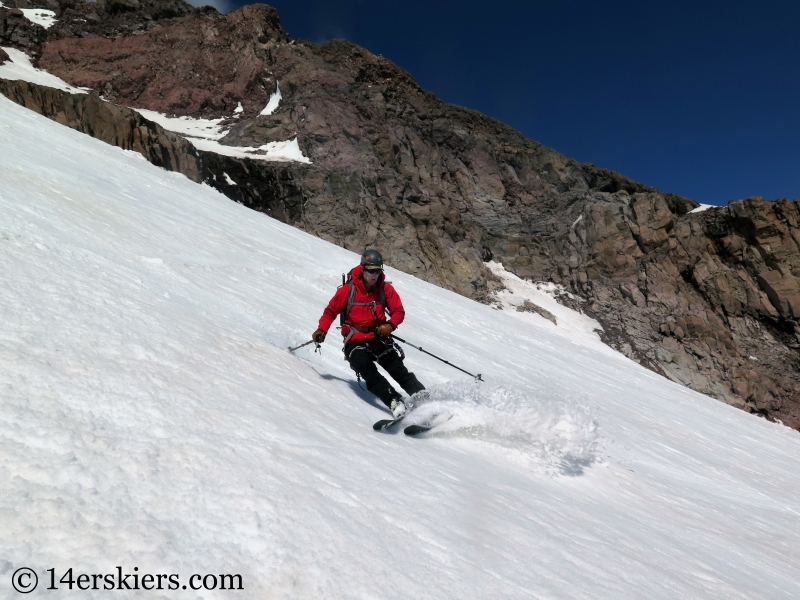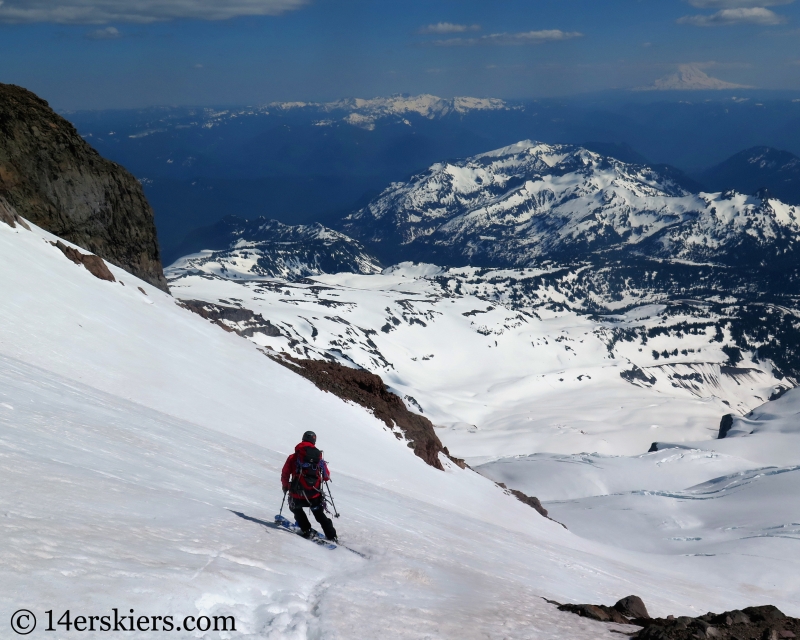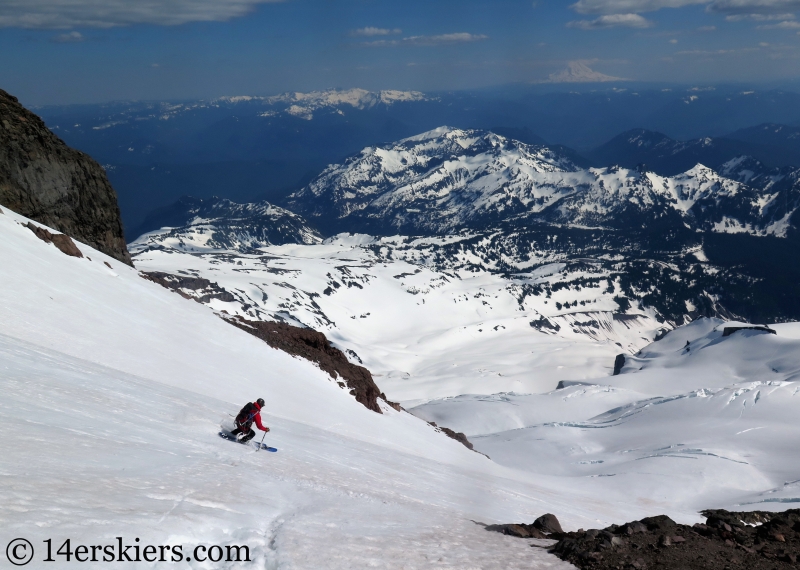 We descended back to our basecamp where took some time to relax and pack our things before continuing on with our descent down the mountain. We mainly retraced our route across the lower Nisqually Glacier. Justin.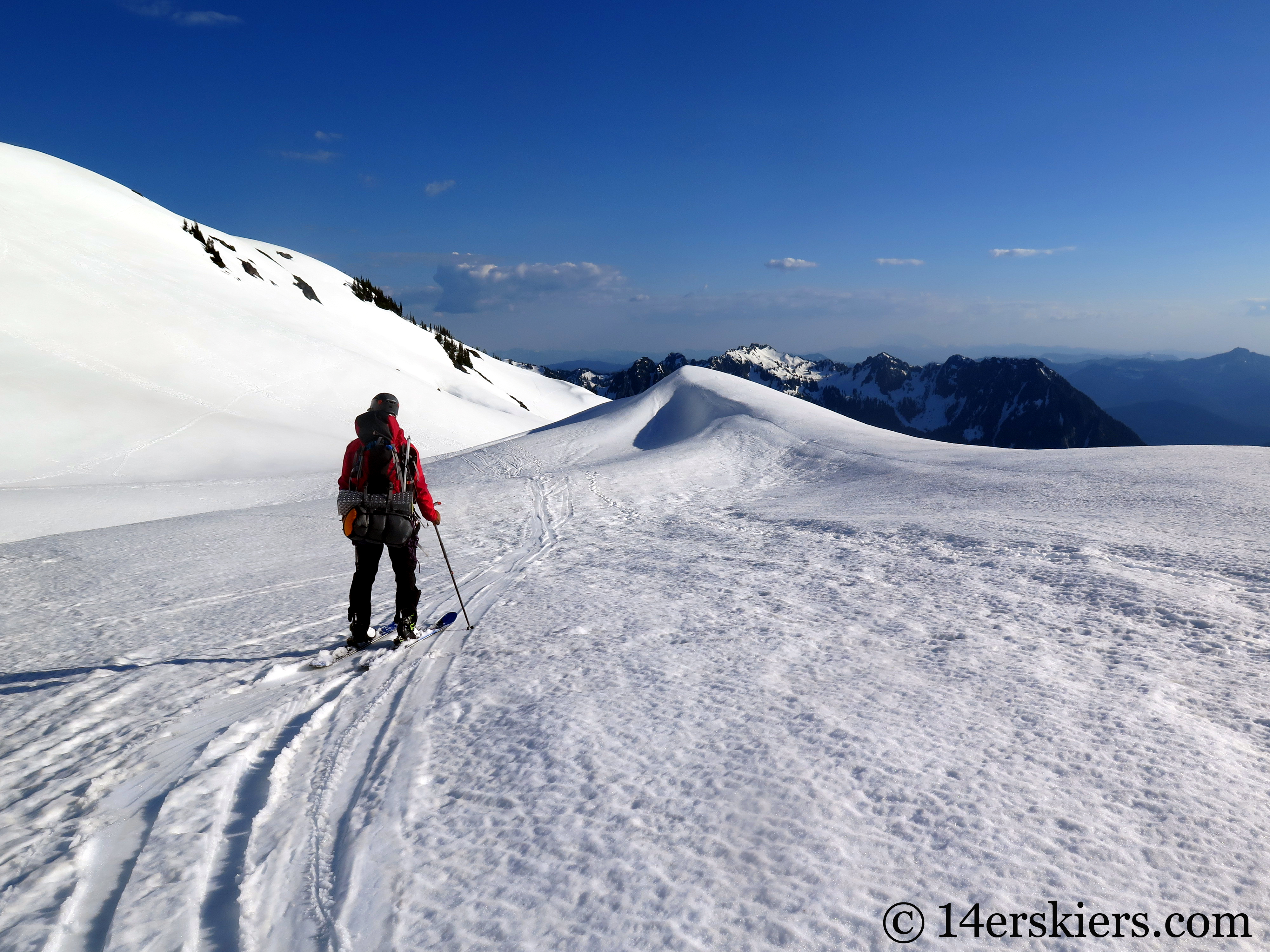 And as we did, I captured this parting shot of Mount Rainier, with Zach in the forefront.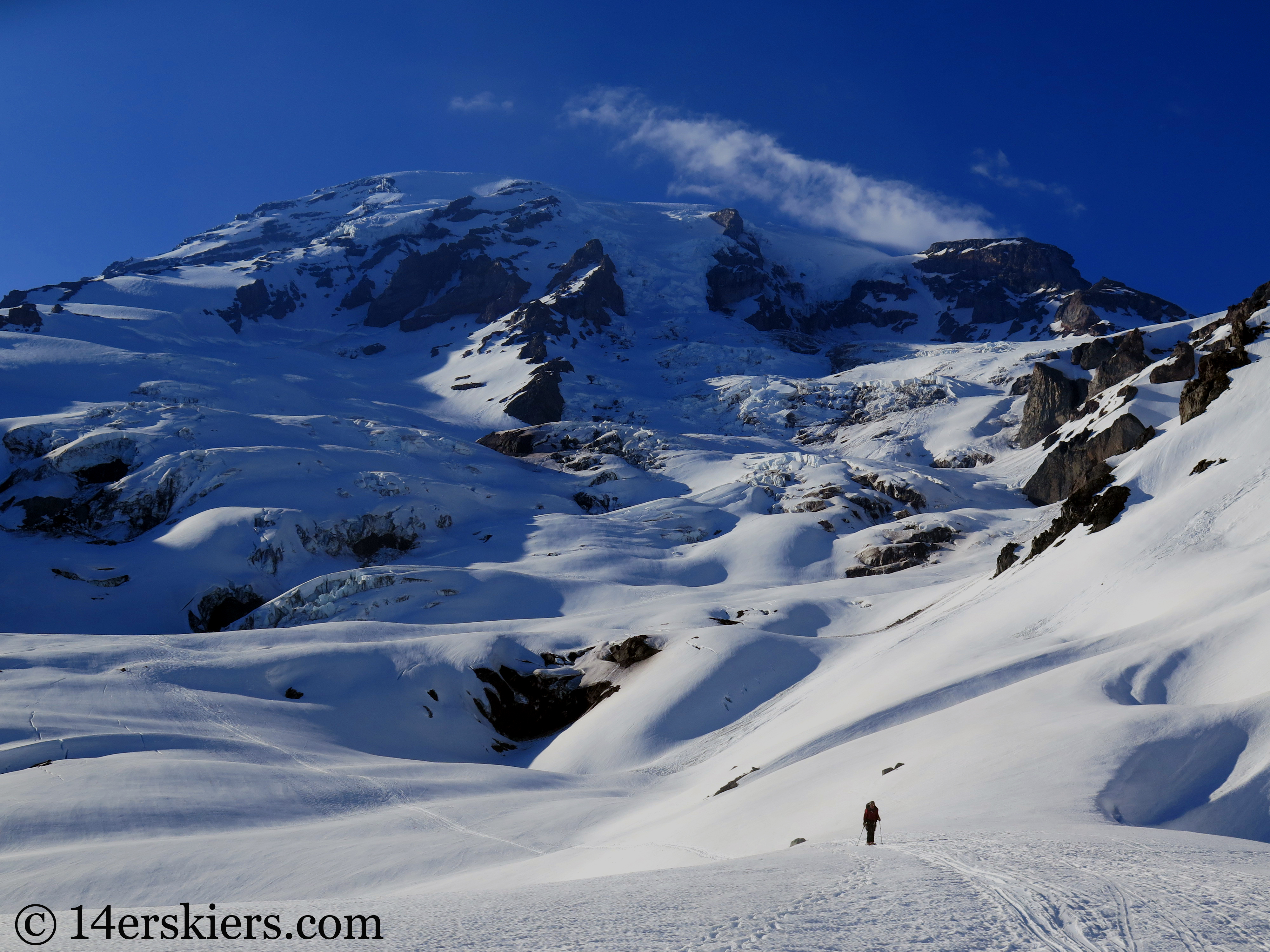 Our descent was over 9000 feet, all the way back to our vehicles – incredible!
After doing this route once, I now know that it would be entirely possible for those used to traveling at 10-14,000 feet to complete this route in one day instead of two. Maybe next time 🙂
---
Want to do this yourself? Among appropriate avalanche and glacier travel/rescue gear, you'll also need:
– $25 entry fee to Mount Rainier National Park
– $48 for Mount Rainier NP Annual Climbing Fee (good for a year, even if you only need it for a couple of days)
– free camping permit
– A window of great weather!
Aside from skiing, biking, and all outdoorsy things,
Brittany Walker Konsella
also loves smiles and chocolate 🙂 Even though she excels at higher level math and chemistry, she still confuses left from right. Find out more about
Brittany
!
Latest posts by Brittany Walker Konsella (see all)