14erskiers Brittany Walker Konsella is an avid backcountry skier, mountain biker, hiker, and traveler, living in Crested Butte, Colorado.
"Life isn't measured by the number of breaths you take, but by the moments that take your breath away."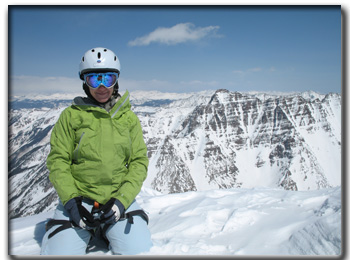 Here in Crested Butte, moments take my breath away daily. I am finally living my dream. Every day I look look around in awe and suddenly realize, I actually live here.
I grew up in the flatlands of Ohio, on the coast of Lake Erie, where water skiing and sailing were my typical summer activities. So, how did a flatlander make her way to a small ski town in Colorado? Read on.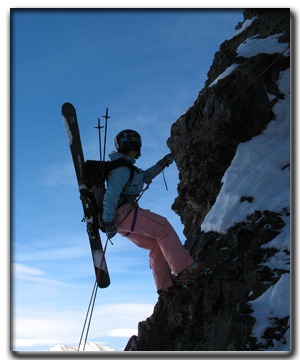 I began skiing in Ohio at the ripe old age of 4, skiing slopes that were piled with ice with a whopping vertical drop of sub-250 feet. Somehow I still grew to love it. Maybe it happened when my dad brought me out to Colorado for the first time when I was a little kid. I remember the Colorado sky so vividly, still. I'd never seen sky so blue before. I was at home in the mountains. I suppose it was only natural that I made my way out to Colorado as soon as I could- to go to college at CU in Boulder.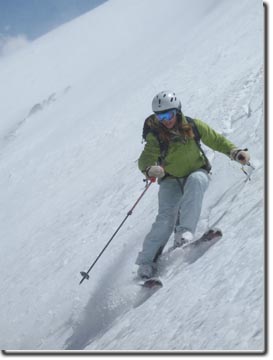 During my time at CU, while studying Chemistry, I also began competing in freestyle skiing. I loved it and found much success in the sport. I had large ambitions of perhaps making the US Ski Team, but came a bit short. Finally, it was just time to move on in life.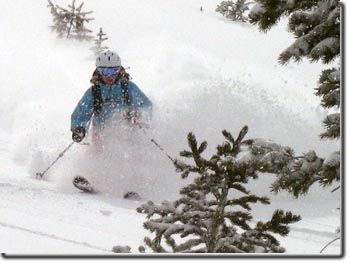 Since graduating college, I've experimented in multiple career paths. First, I worked in a Chemistry lab. But, I quickly returned to CU to pursue a licensure in education and became a science and math teacher.
During that time, I also stumbled upon an incredible job where I could integrate two of my top passions – coaching freestyle skiing. I spent four winters as a part-time coach for the Competition Center at Winter Park, loving every moment of it.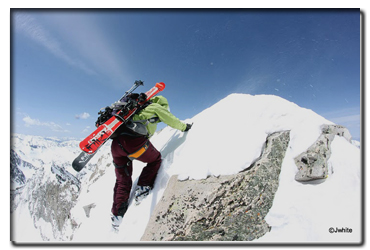 Over the last few years I have found a renewed passion for skiing which stems from my experiences in the backcountry. I have always loved skiing, but the added challenges and rewards of the backcountry and ski mountaineering have made me love skiing now more than ever.
With this renewed passion came a need for renewed goals. In the spring of 2006, I decided to take on the challenge of skiing all of Colorado's 54 fourteeners- a task that only one person (Lou Dawson) had accomplished at the time. Shortly after setting this goal for myself, I met Frank Konsella. He helped me ski over 30 fourteeners before becoming only the fourth person to ski them all himself in May 2008.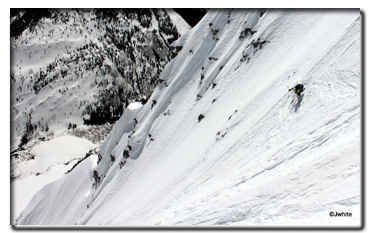 While I loved my jobs in the Denver area, something was slowly nagging at me, and it was growing more and more every year. It was a feeling of unrest and discontent. I was outgrowing the Front Range. My heart was in the mountains and while I could gaze upon the mountains every day, I did not live in them. I had to drive at least 30 minutes to go ride my mountain bike on single track and an hour and a half to ski at a resort. It was not unusual for me to drive my car 40,000 miles a year. And while this was fine at first, the stresses of travel and traffic gradually began to wear on me. Waking up to smog-filled sunrises and the "Denver brown cloud" was getting old and hurting my health, causing me to develop asthma over time. I longed to wake up in the mountains every morning, where the air was fresh and cool. I also knew that to finish skiing the rest of Colorado's fourteeners, I would need to train, and that training had to happen in the mountains.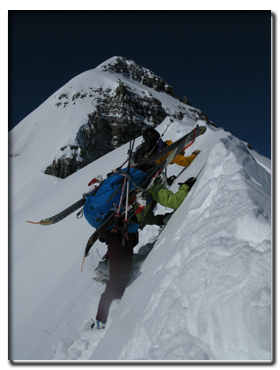 I finally moved to Crested Butte in June 2008. This move was the best decisions I've made in my whole life. I am much happier in Crested Butte than I was in the Denver area. I'm not rich – at least in terms of money. But, I'm rich in so many other ways. My car is happy that I don't drive it nearly 1000 miles a week. I can ride my bike on epic single track right outside my door and the ski area is only a five minute walk across the street. People make an effort to say "hello" to you here. Most are friendly and easy-going- a relief from the stress-ridden rudeness of the city folk. I love living in a community where my vote can actually make a difference, where my doctor's office is in a log-cabin, where the bus is free, and where mere acquaintances will help you out just because they know you.
After I moved to Crested Butte, I continued my goal working toward skiing all of Colorado's 14,000 foot peaks. On May 14, 2011, I slid my skis down the slopes of Pikes Peak with several friends and supporters by my side, skiing my last 14er, becoming the 2nd woman and 9th person overall to complete this goal. Shortly after, Frank and I were married, on June 18th, 2011.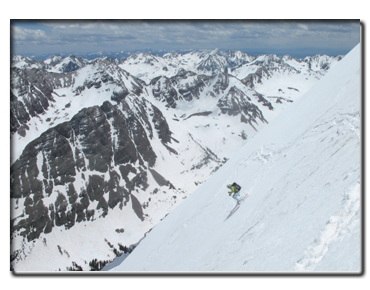 I am finally living my dream. I have embraced the small-community mountain lifestyle and balanced multiple jobs, from teaching to tutoring, and painting to house cleaning. I currently am employed at the historic Elk Mountain Lodge & also working toward becoming a web developer/designer. My jobs allow me a flexible schedule which allows me ample time for play. I love spending time in the outdoors skiing, backcountry skiing, mountain biking, hiking, and backpacking.
I don't know where life will take me next, but I've had an excellent ride so far. I know I'll enjoy the journey the whole way!
Email: brittany@14erskiers.com

Please visit my website: www.backcountryskiergirl.com

See what fourteeners I've skied:http://www.backcountryskiergirl.com/fourteeners

Aside from skiing, biking, and all outdoorsy things,
Brittany Walker Konsella
also loves smiles and chocolate 🙂 Even though she excels at higher level math and chemistry, she still confuses left from right. Find out more about
Brittany
!
Latest posts by Brittany Walker Konsella (see all)