Unlucky Lucky – Part 4 – My journey home
(Last Updated On: August 8, 2019)
I was discharged from the hospital on Friday, July 19th. But, we didn't feel like it was good for me to go all the way home to Crested Butte right away. Both Frank and I felt like it was a good idea to stick around the Front Range for a few days with family so that I could see how I was doing out of the hospital, yet have medical services nearby if I needed it for some reason. I also had a follow up appointment with the orthopedic surgeon who put the rod in my femur scheduled for the following Tuesday morning. So, it didn't really make sense to go home until after this appointment.
We stayed with Frank's mom in Golden. I immediately was happier and more comfortable. I didn't miss being constantly connected to IV's and woken up in the middle of the night multiple times by nurses. And I was able to enjoy more time with family. My pain subsided considerably and I stopped taking all opioid based painkillers in place of CBD oil.
<
blockquote class="instagram-media" data-instgrm-captioned data-instgrm-permalink="https://www.instagram.com/p/B0KQ6e5F5cb/" data-instgrm-version="12″ style=" background:#FFF; border:0; border-radius:3px; box-shadow:0 0 1px 0 rgba(0,0,0,0.5),0 1px 10px 0 rgba(0,0,0,0.15); margin: 1px; max-width:540px; min-width:326px; padding:0; width:99.375%; width:-webkit-calc(100% – 2px); width:calc(100% – 2px);">
<
div style="padding:16px;">
View this post on Instagram
Update 7/20 – Amazing progress. Haven't taken an opioid-based drug since leaving the hospital and my neck pain and strength continues to improve. I was even able to hold my head up long enough to have a family dinner at the table. Down to one crutch for walking. Feeling so good to be out of the hospital! #imgonnabestrong #trauma #traumasurgery
<
p style=" color:#c9c8cd; font-family:Arial,sans-serif; font-size:14px; line-height:17px; margin-bottom:0; margin-top:8px; overflow:hidden; padding:8px 0 7px; text-align:center; text-overflow:ellipsis; white-space:nowrap;">A post shared by Brittany Walker Konsella (@brittanykonsella) on <time style=" font-family:Arial,sans-serif; font-size:14px; line-height:17px;" datetime="201
In Golden, I was able to be more independently mobile, which helped my healing and strength. But being disconnected from the IV's also made me realize that my left arm was considerably weakened still from the injury. Though I had good grip strength, some movements, like pushing down on a soap dispenser, were unusually hard.
My dad and stepmom left early on Sunday morning to return to Ohio. I continued to work on physical therapy and regaining my independence through daily functions and routines. More friends came to visit, which I was thankful for. But, I was still really yearning to get home.
Finally, Tuesday morning came… It was time for me to follow up with the orthopedic surgeon about my femur. In the hospital, I wasn't exactly given a choice as to who performed any of my surgeries. It was emergency care, after all. The femur was supposed to have been done by another surgeon, but then a couple hours before the actual surgery, I was given another surgeon. But, in the end, I'm thankful, because Dr. Roland did a great job on my femur. He normally practices out of Panorama Orthopedic in Golden (convenient for us for the follow up), but he spends some time at St. Anthony's helping out with cases like mine. I am forever grateful that he performed the surgery in such a way that allowed me to be weight bearing on my femur right after surgery. How is that possible? I certainly did get a lot of questions about that! I addressed some of that below:
Another thing I didn't mention in that post – if you look closely you can see a chunk of bone still in my thigh. That was leftover from the trauma. Dr. Roland explained that he chose not to remove it because he was trying to minimize the damage to my muscles, and it would be likely that my body would naturally absorb it eventually anyway. Currently, I don't notice the bone in my thigh or feel pain from it.
After the appointment, we headed back to Golden where Frank proceeded to pack up the car. It turns out after a two week stay in the Front Range, we had acquired a lot of things. A lot of it was necessary items to help me in my recovery – like a pillow wedge to sleep on, a shower chair, etc. Either way, it took awhile for Frank to pack up. But, eventually we were on the road.
Driving…. Well, riding as a passenger anyway, is uncomfortable for me at the moment. My neck feels every acceleration and deceleration, every turn and corner, every stop and go, and of course every little bump. Putting a pillow behind my head alleviates some of this, but it is still painful at times. But, I dealt with the pain because it was worth it to get home.
When we arrived in Crested Butte, I made Frank take me to one of my favorite overlooks – before we even stopped home. I wanted to see our town, the wildflowers, and soak in the sky.
I was finally home. Ever since I was admitted to the hospital on the morning of July 6th, that had been my goal – to get home…. At home I could heal better, be more comfortable, sleep more soundly, cuddle with my cat, enjoy the fresh air on our deck, hear and see the hummingbirds at feeder. It was good to be home.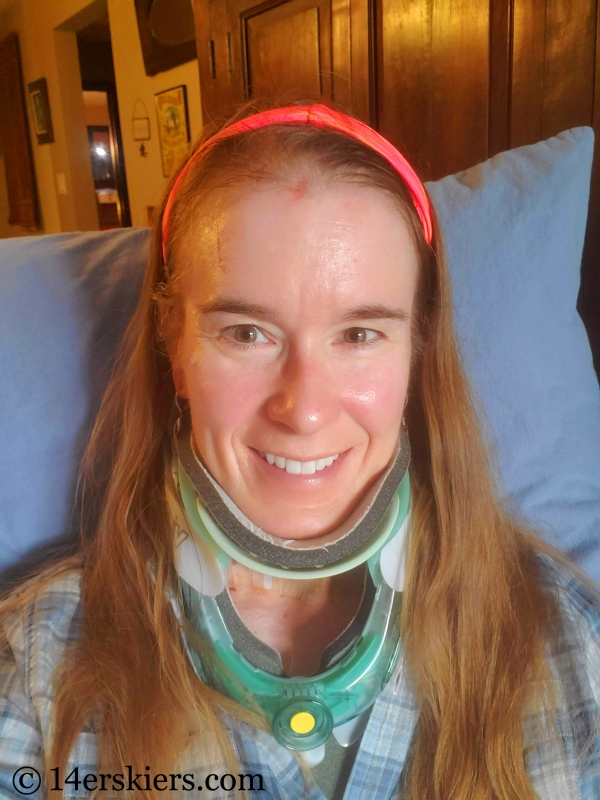 I knew my recovery was just really starting, and that this particular road to recovery was going to be the hardest one yet. But, being home made any challenges that I faced ahead seem a little easier.
Back in the hospital, a doctor had told me that I would be there for up to weeks, and would probably spend some time in a rehab facility upon discharge too. No one was with me when I spoke to him, but I wish they had been. It was maybe that conversation that drove me the most… I told him, "I'm strong. You just wait and see. I'm going to surprise you."
Perhaps I surprised nearly everyone by my quick recovery given the extent of my injuries…. everyone except for myself 🙂
Aside from skiing, biking, and all outdoorsy things,
Brittany Walker Konsella
also loves smiles and chocolate 🙂 Even though she excels at higher level math and chemistry, she still confuses left from right. Find out more about
Brittany
!
Latest posts by Brittany Walker Konsella (see all)
Summary
Article Name
Unlucky Lucky - Part 4 - My journey home
Description
Post-trauma incident, Brittany describes her follow up with her orthopedic surgeon and her journey home to Crested Butte, where true healing could begin!
Author