Mt. Moran Skillet Ski – My Bucket List (5 May 2019)
(Last Updated On: January 3, 2020)
The Skillet. I don't remember how this line caught my eye. But, I know it happened about 15 years ago – before I met Frank, just when I was starting to backcountry ski. The 5500 vertical foot line that strikes down Mt. Moran dominates over Jackson Lake – beautiful, intimidating, and alluring. When I was injured in 2009, Frank had the opportunity to ski this and I was incredibly sad to miss out, perhaps making the draw of the Skillet even stronger. I have made a handful of trips up to the Tetons over the years, but the Skillet was never an option since Frank had already skied it and the Tetons have a lifetime of lines to ski. But, this year, I put it on my 2019 Bucket List. The Mt. Moran Skillet was no longer something I would do someday – it was something I would make a point to ski this year. That's how I found myself heading north one Friday evening, on my way to Steamboat to scoop up my friend Larry. We were Skillet bound!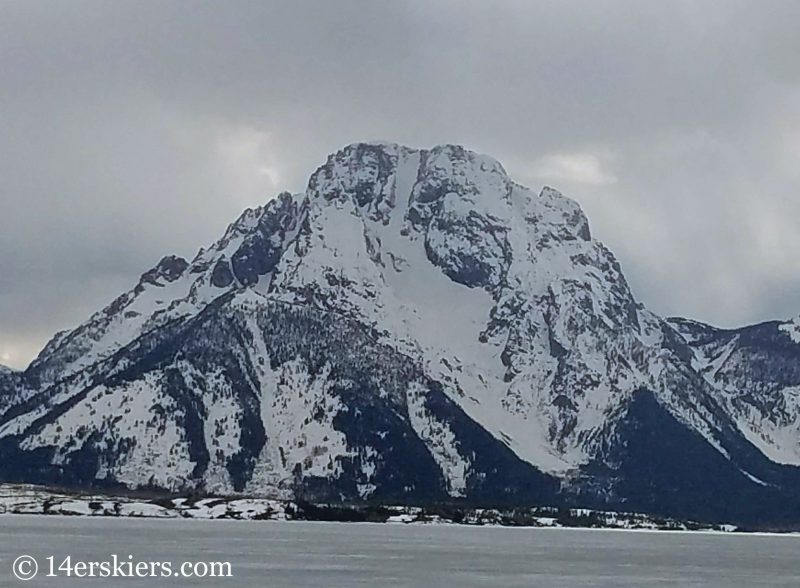 The Skillet has always been a bit elusive to me because the traditional approach is difficult. Jackson Lake presents the main issue. Either you wait until late spring or early summer until Jackson Lake thaws so you can row a boat across. But, later in the season, freezes stop happening and the east facing line becomes more prone to wet slides. The other option is to go earlier in the season and skate-ski across the fully frozen lake. But, getting to the lake early in the season is a chore as the road into Teton National Park is closed all but a few miles from the southern boarder. So, approaching Jackson Lake early season requires a snowmobile (if there's even snow) or a long bike ride. I've known people to do both, and both are hard.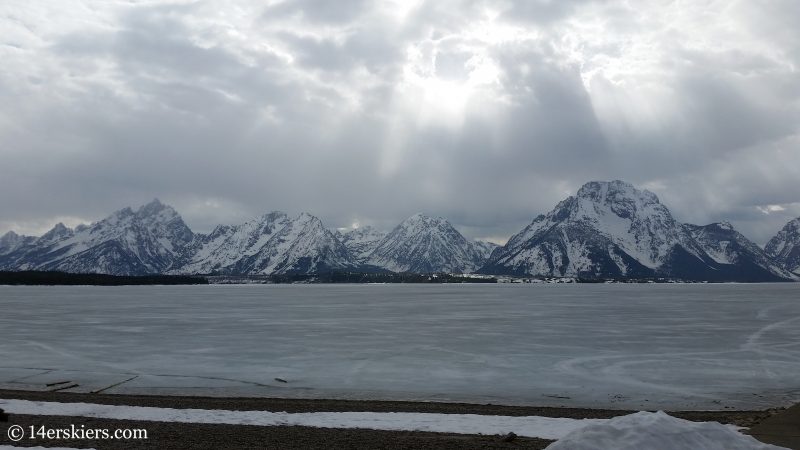 Really, the best time to ski the Skillet is early to mid-May. But, Jackson Lake is not frozen enough to cross, and not thawed enough to row. But, as I mulled over the idea of the Skillet with our friend Hans, I learned something new. Hans had moved to Jackson from Colorado in 2014, but we knew him from skiing in Colorado. He told me that he thought Mt. Moran could be approached from the String Lake Trailhead via Leigh Lake Trail, and that the road to String Lake opened up on May 1st. He hadn't known anyone who had done it. But, looking on a map, it seemed easy enough – a 5 mile, mostly flat, approach to the bottom of the route and then a 5700 vertical foot climb from there. This would be a long one, but I've done longer, harder, steeper routes with greater vertical before. Avoiding Jackson Lake seemed like the way to go.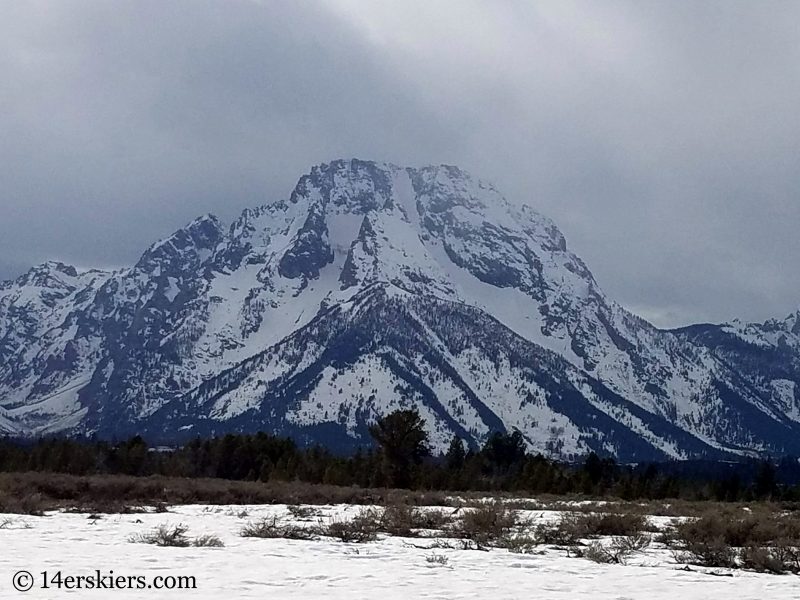 The approach was one that seemed to favor camping on the approach, especially since the line is east facing and requires and early start. It seemed that making the 5 mile approach and camping near Jackson Lake was the best option. But we decided it would ultimately be easier to do it in a one-day push, keeping our gear light, and using less energy overall. We slept a few hours at the String Lake trailhead, set the alarm for midnight, and began skinning before 1 am.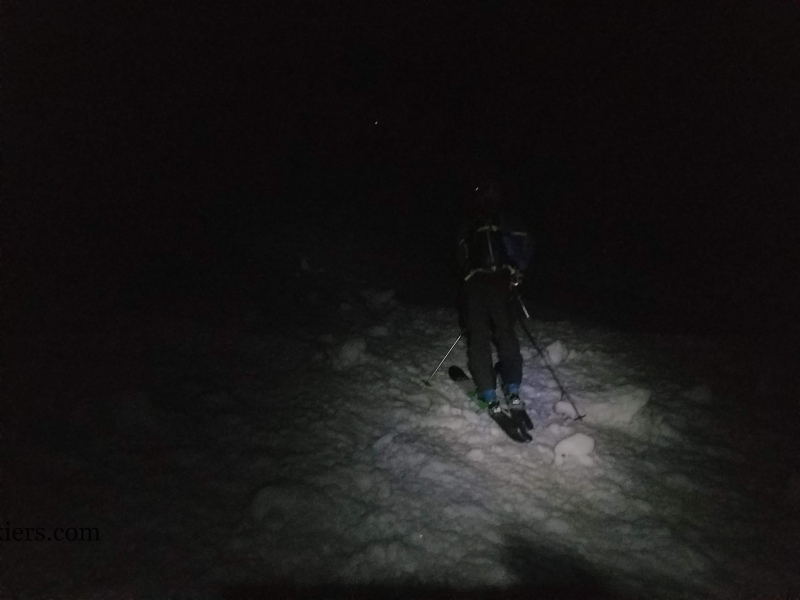 We used a pre-planned route marked on Gaia to help us find our way on the Leigh Lake trail, which was difficult to see in the dark, eventually leaving the trail and b-lining toward Jackson Lake. My track also helped guide us up the correct drainage on Mt. Moran to approach the Skillet. We had a bit of difficulty navigating our way around a group of cliff bands and steep terrain near the base of the mountain in the dark. But once we got past that, it was smooth sailing. And the sunrise was beautiful.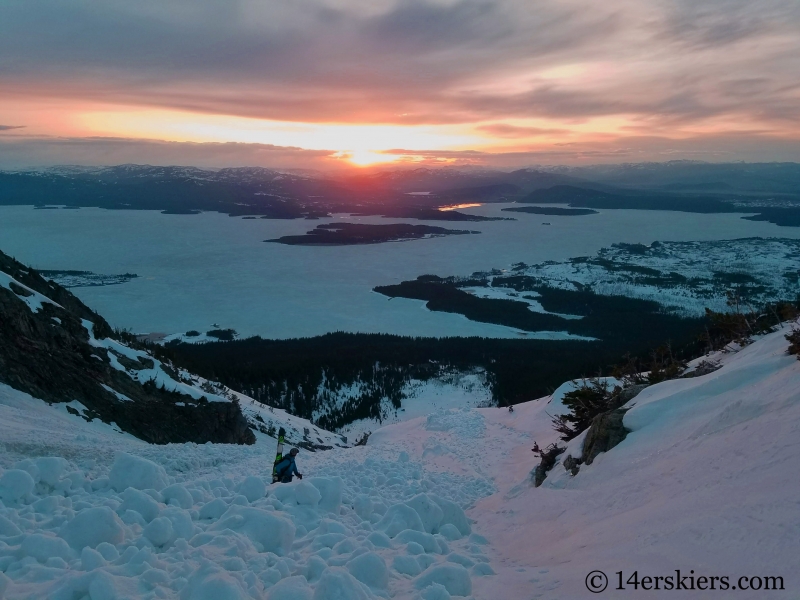 The main gut of the route had quite a bit of avy debris which made us switch from skinning to booting.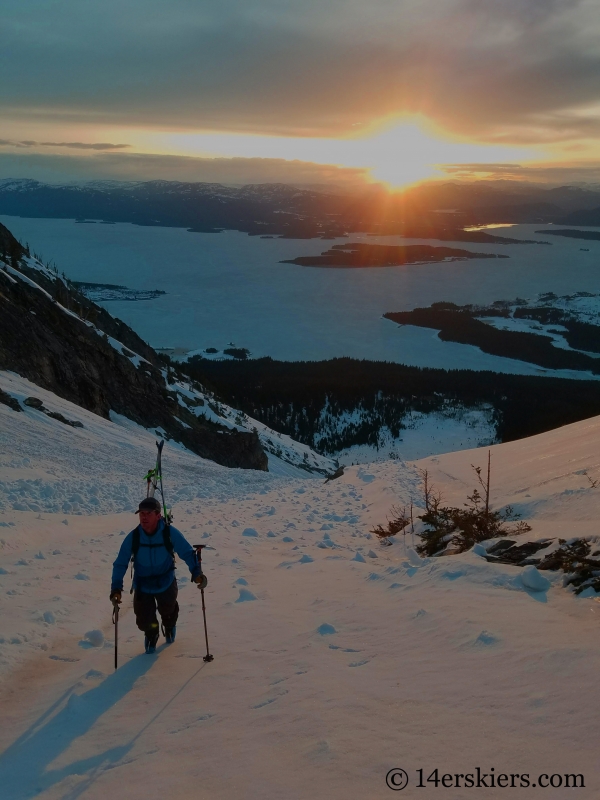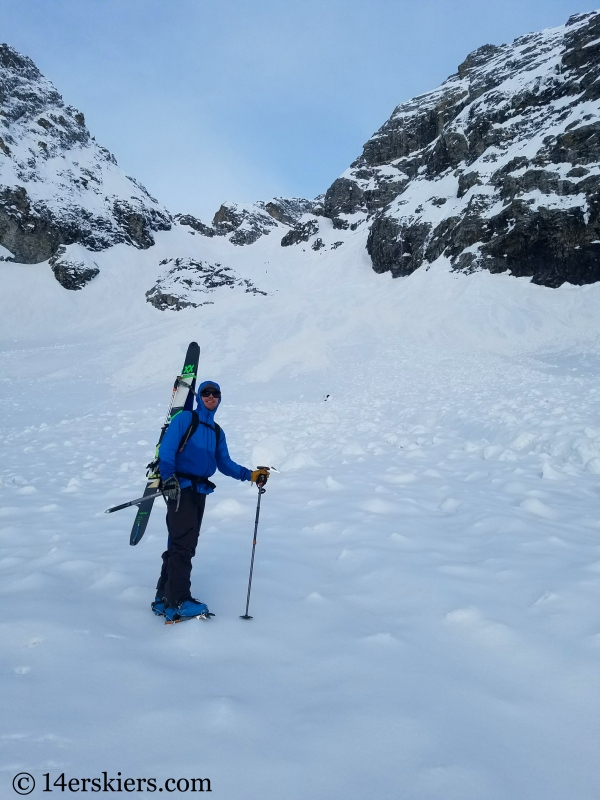 What a beautiful place to be.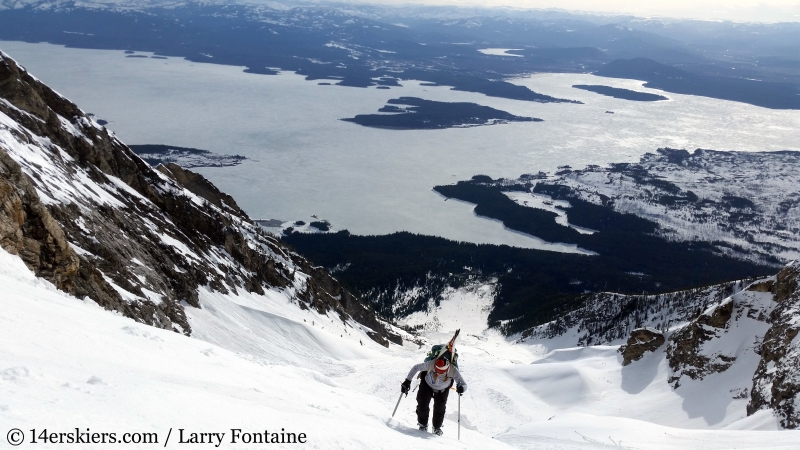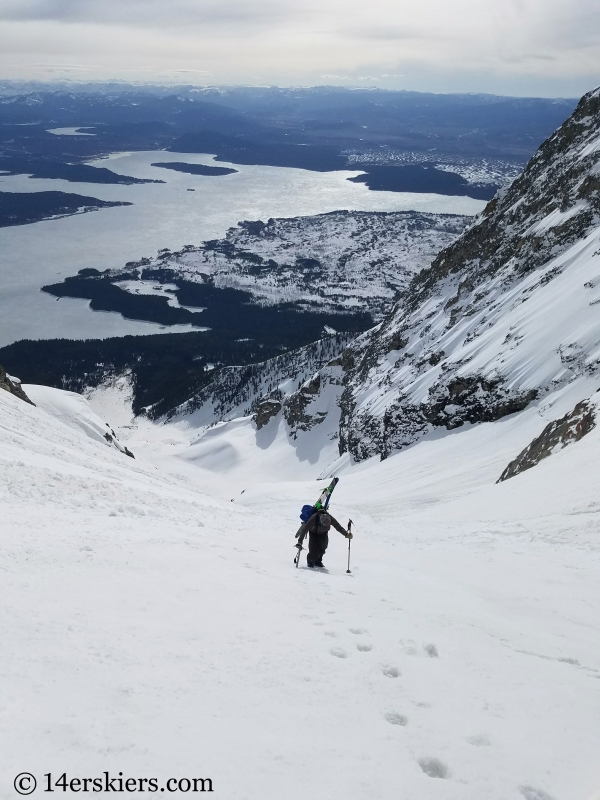 A group of 3 was in front of us, but decided to turn around about 1000 feet short of the summit. We kept passing pair from Salt Lake City back and forth until they took the lead at the end. Both parties had camped near Jackson Lake the night before.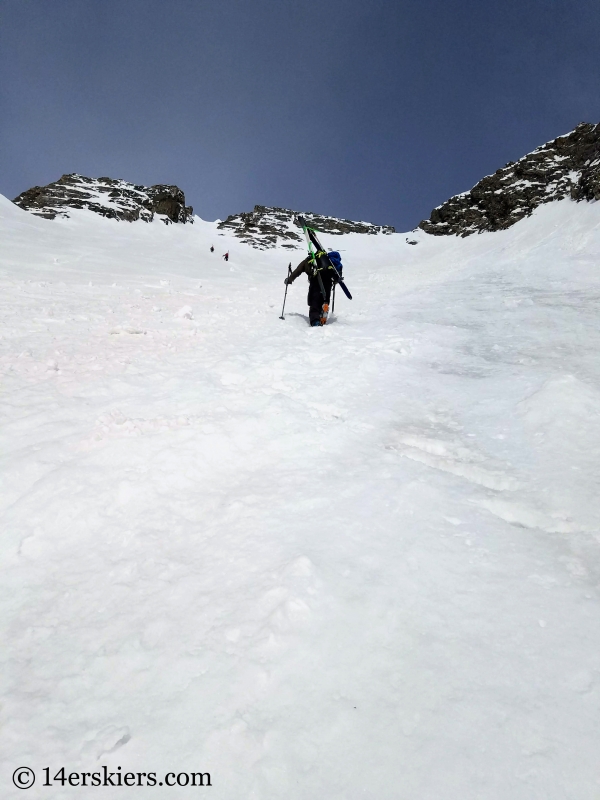 And the climb kept going and going…. I mean, it is about 5700 vertical feet…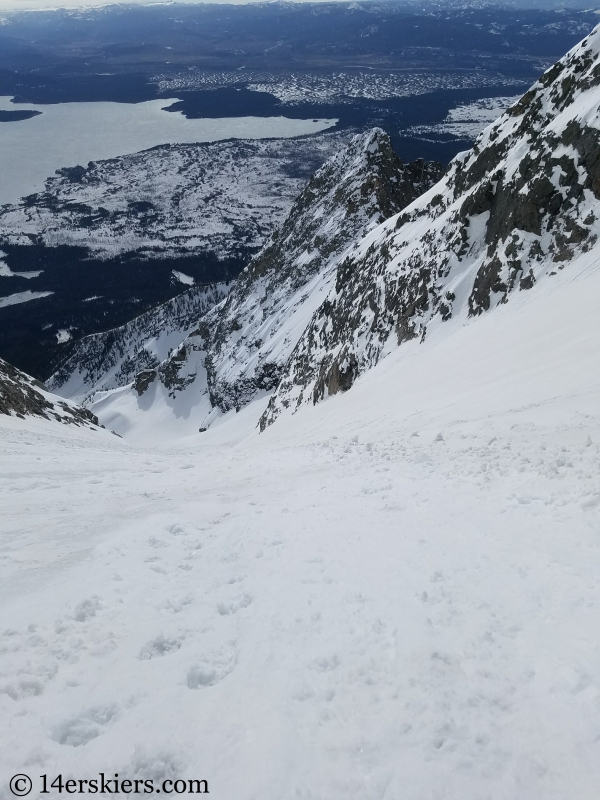 When we rounded the top of the Skillet, we still had a couple more hundred vertical feet to make our way to the true summit of Mt. Moran at 12,605′.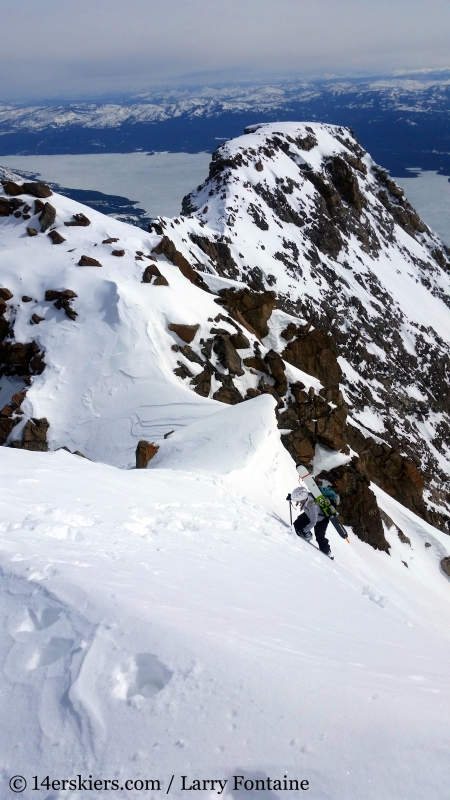 Me rounding my way to the top.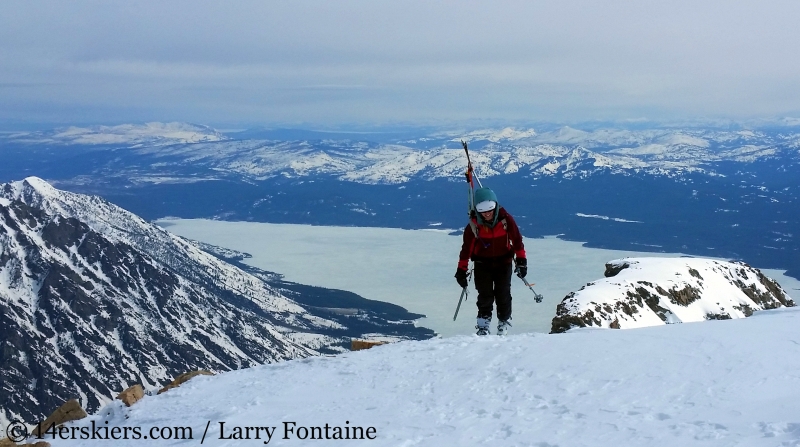 Transitioning with the Grand Teton taunting us from a distance.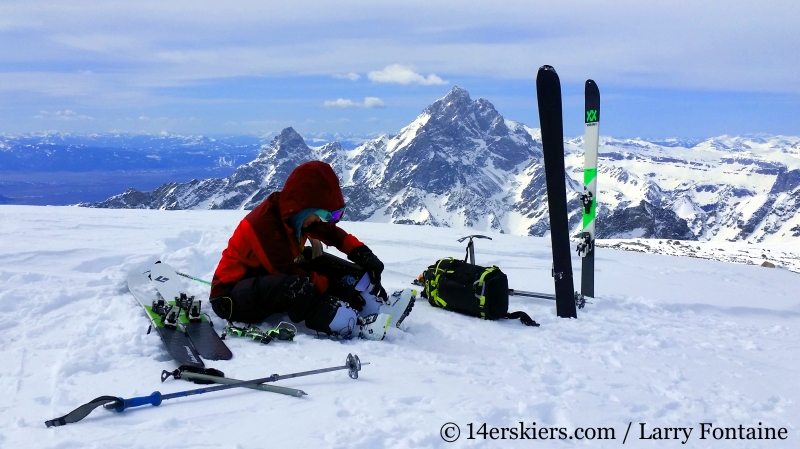 Looking southeast.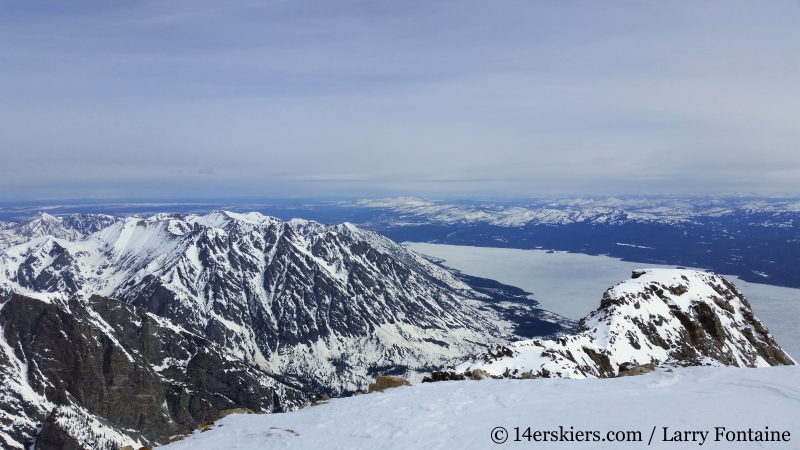 The thing about standing on a summit is that you see at least a dozen other summits that you want, like this one – Thor Peak.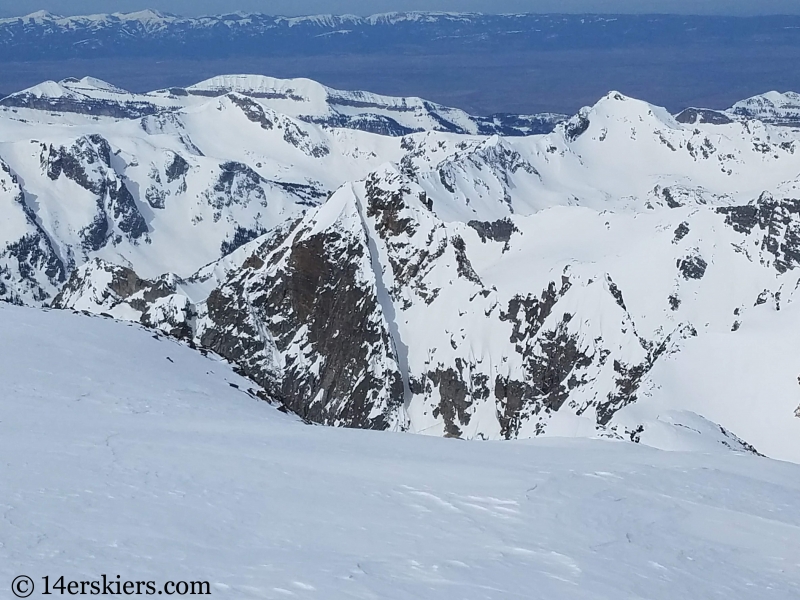 Larry, ready to go!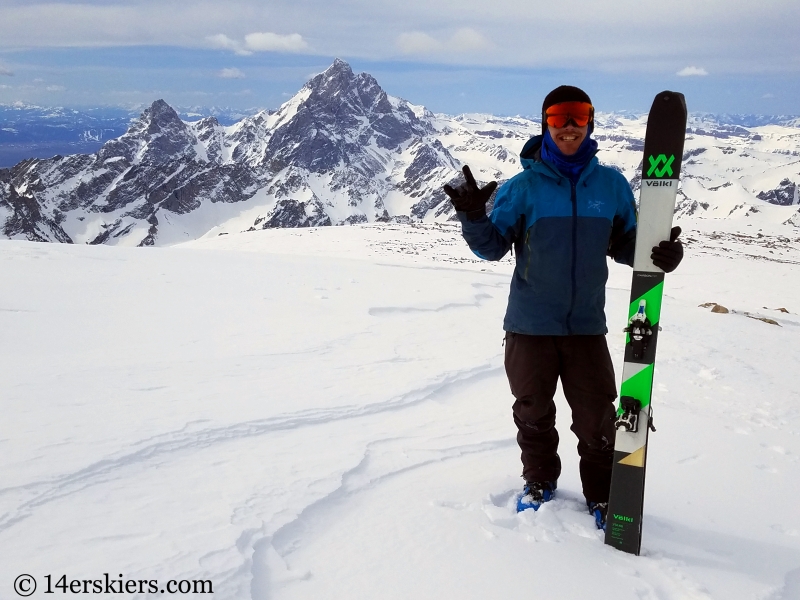 Time for the ski! We skied from the summit back to the Skillet, but had to take off our ski for a small downclimb through some rocks. And then the real skiing started. Larry dropping in to ski the Skillet.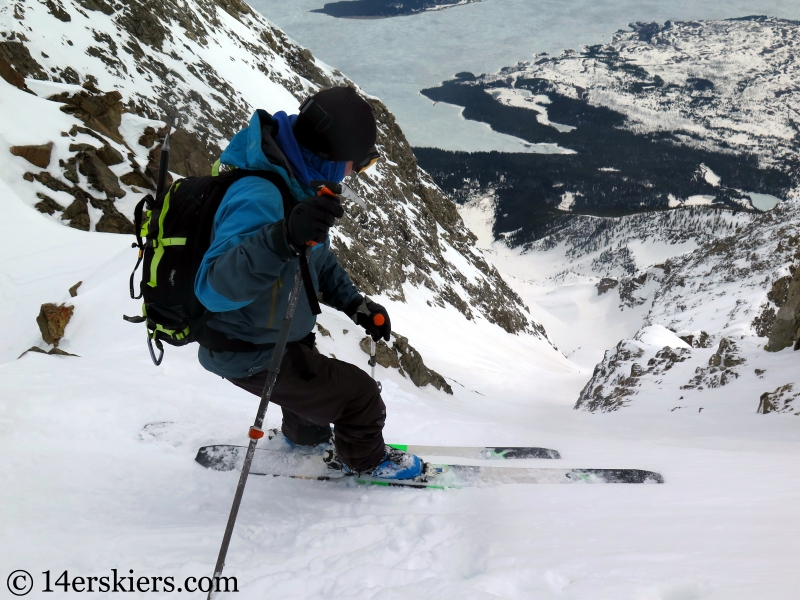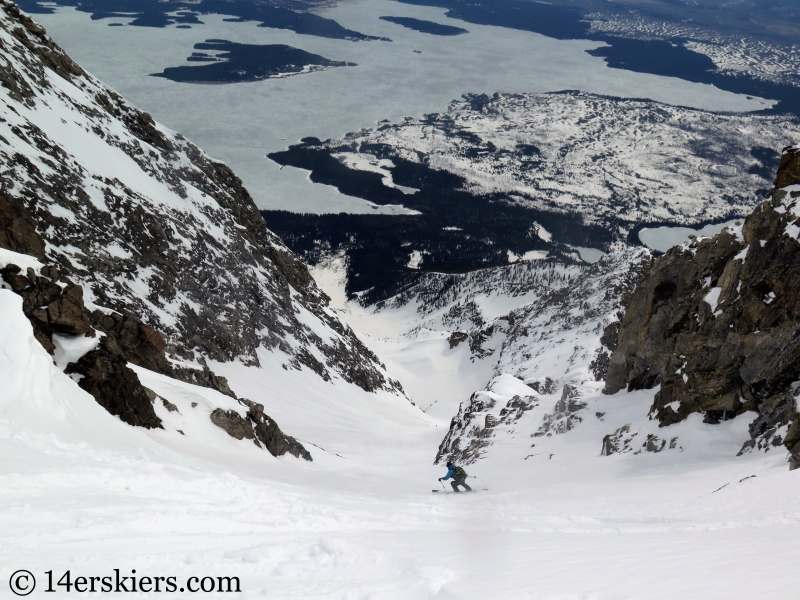 Me.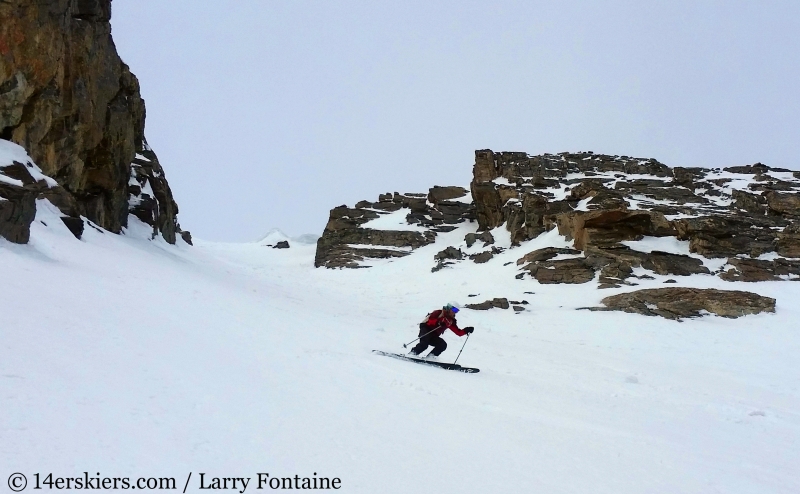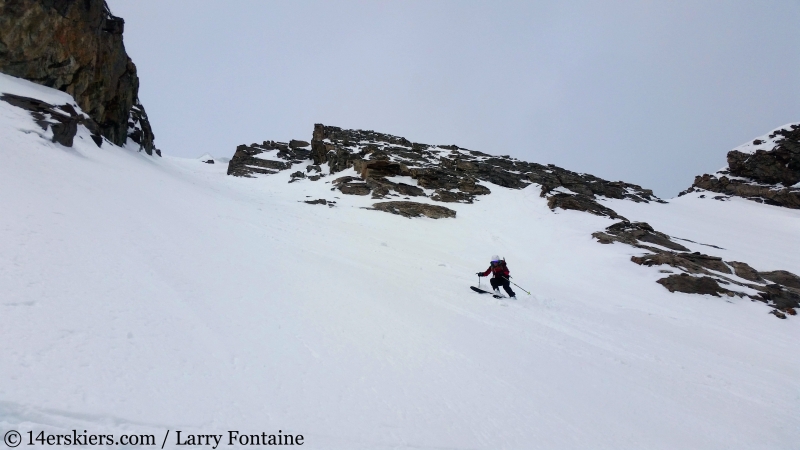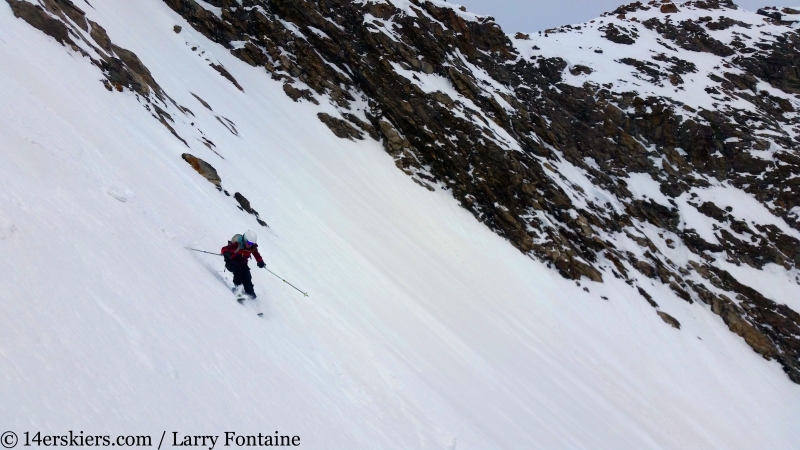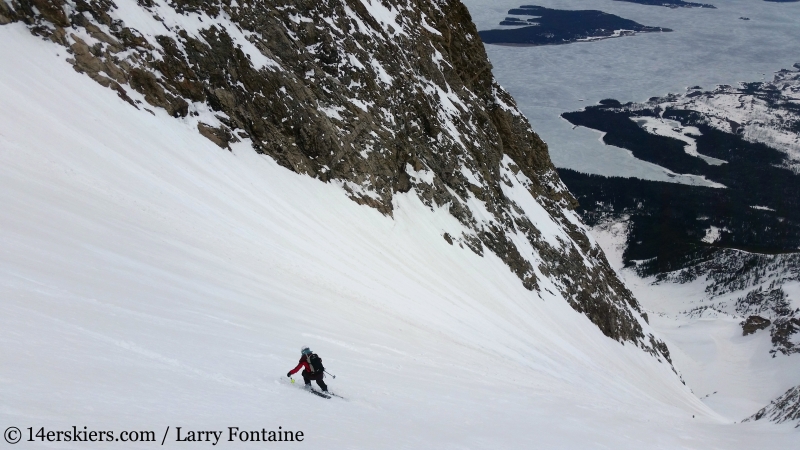 Larry.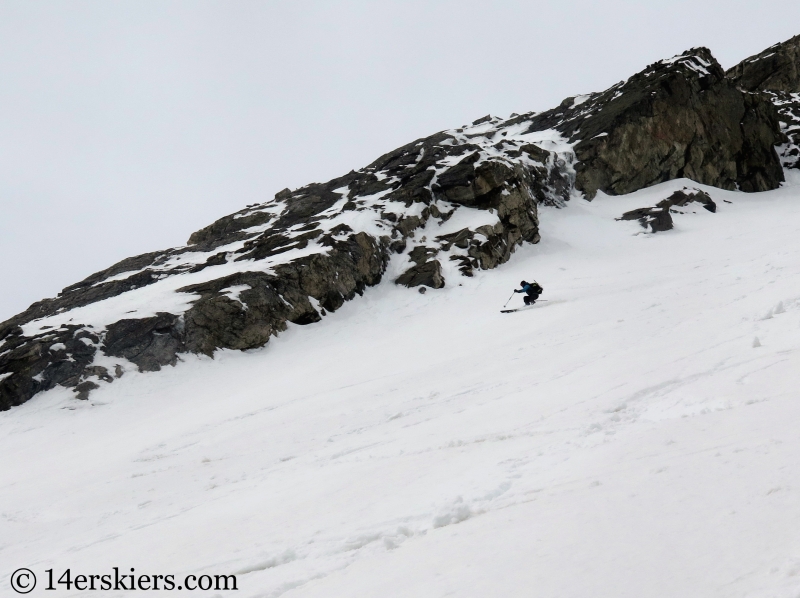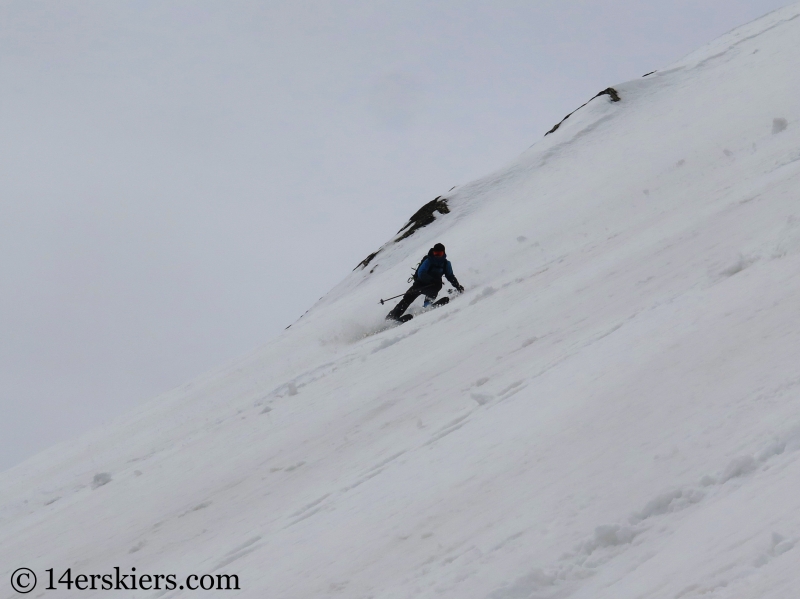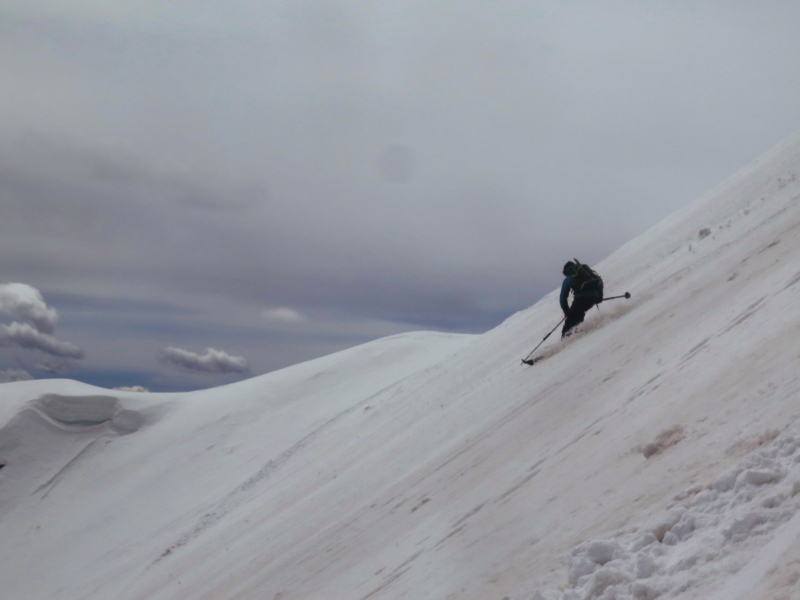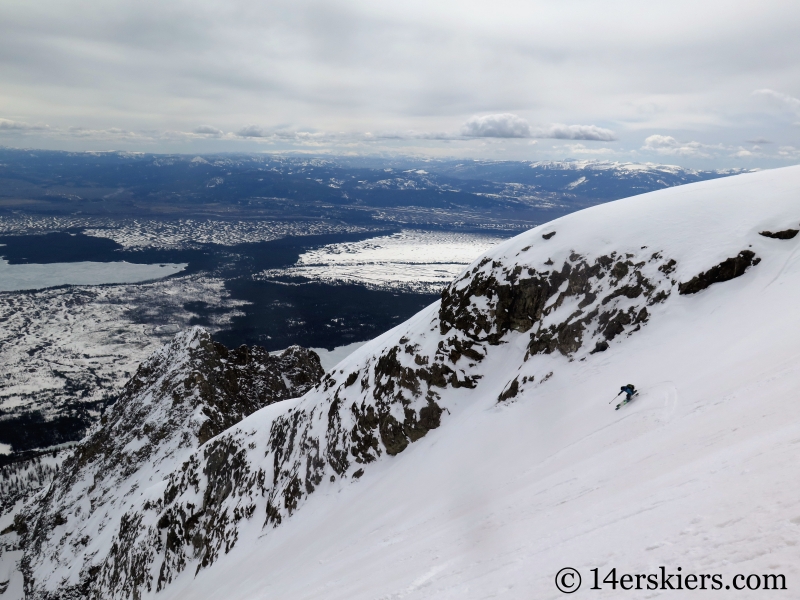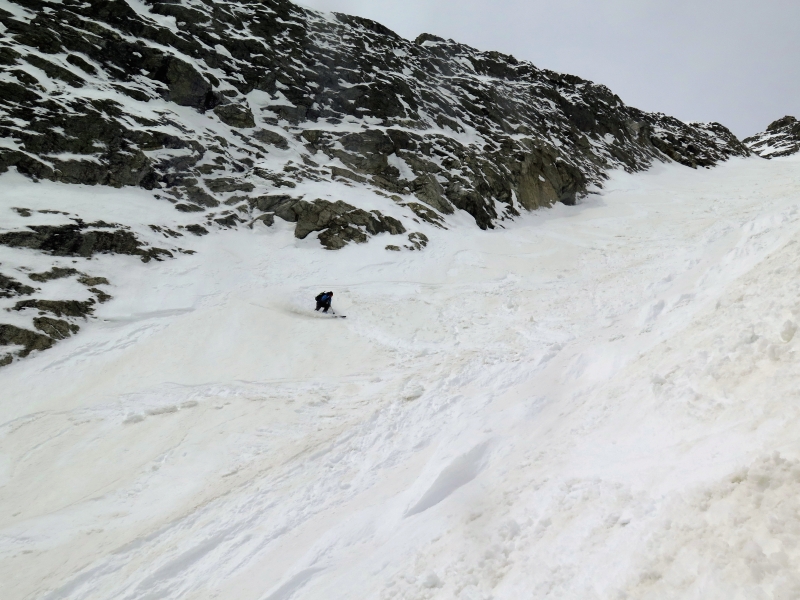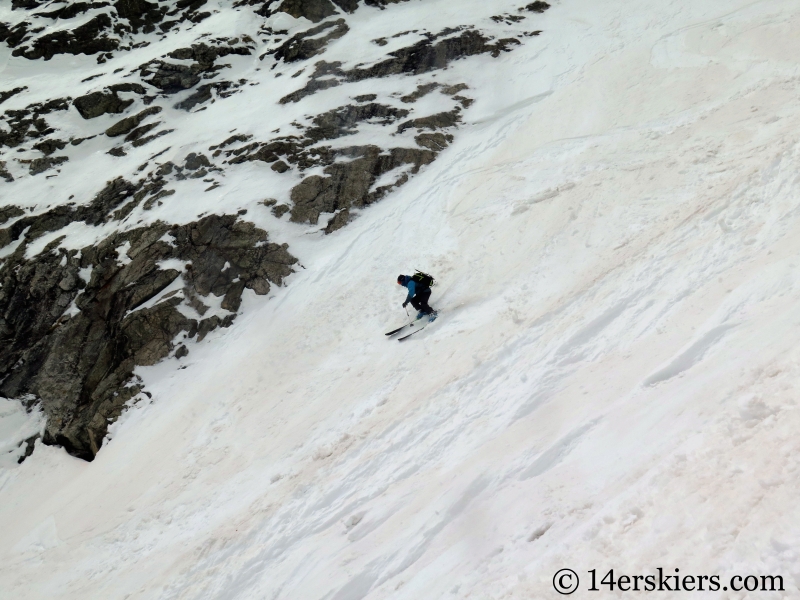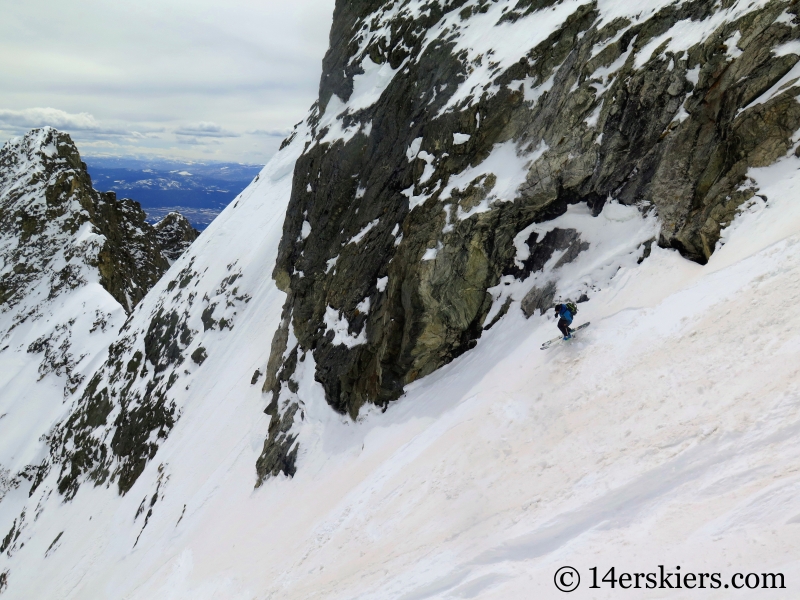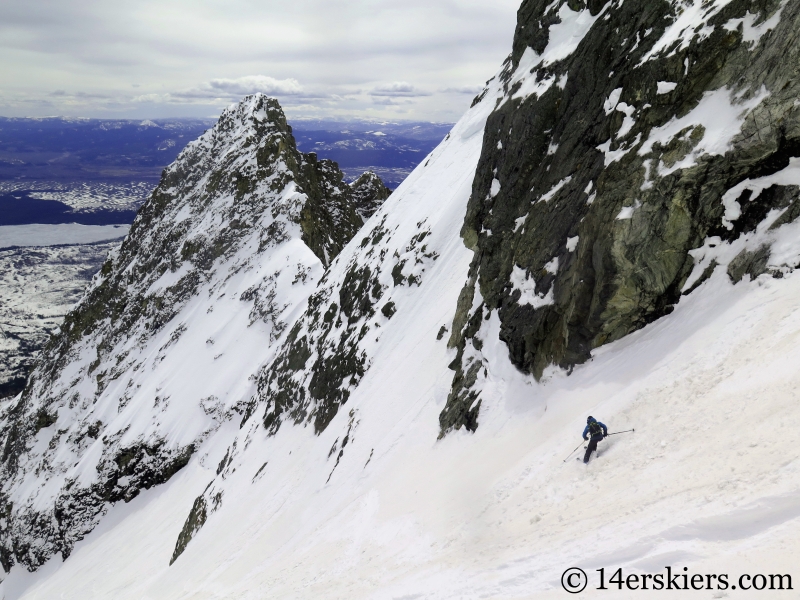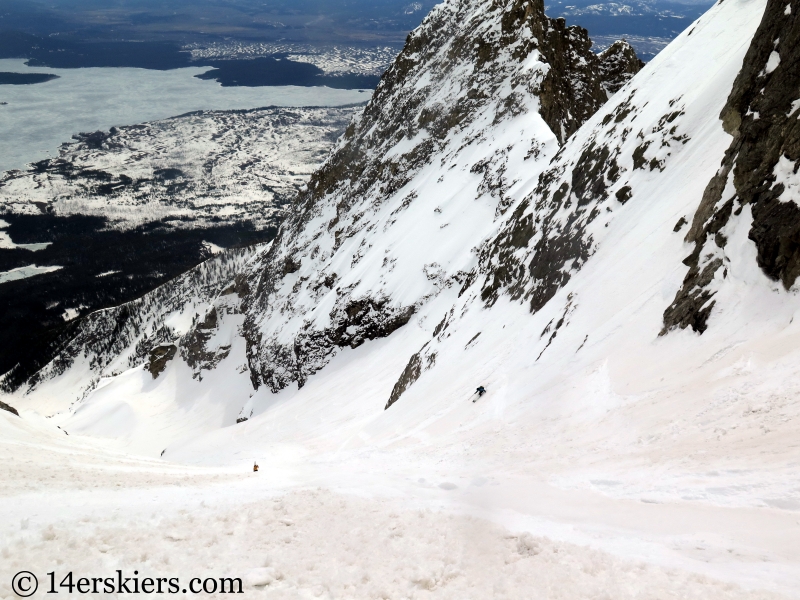 Me.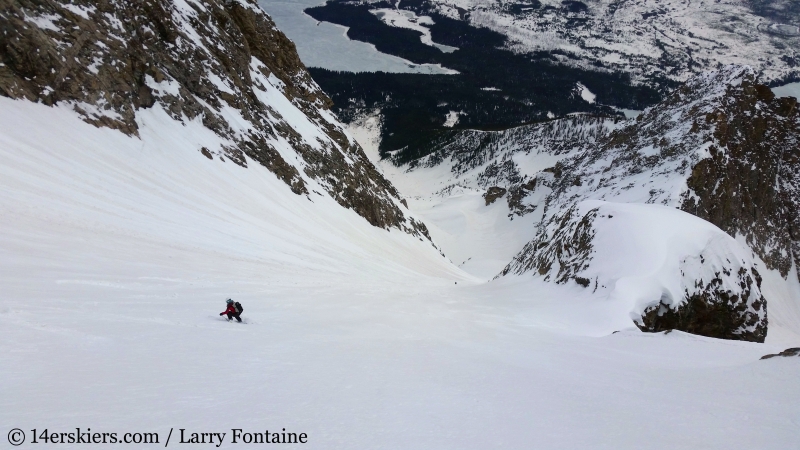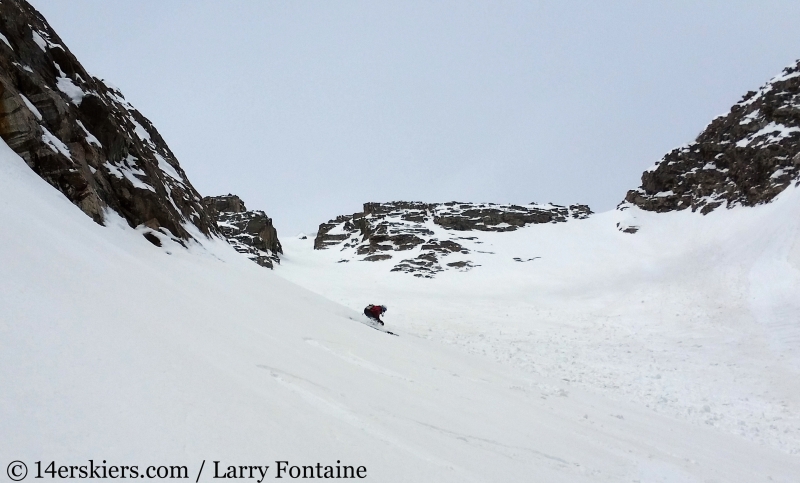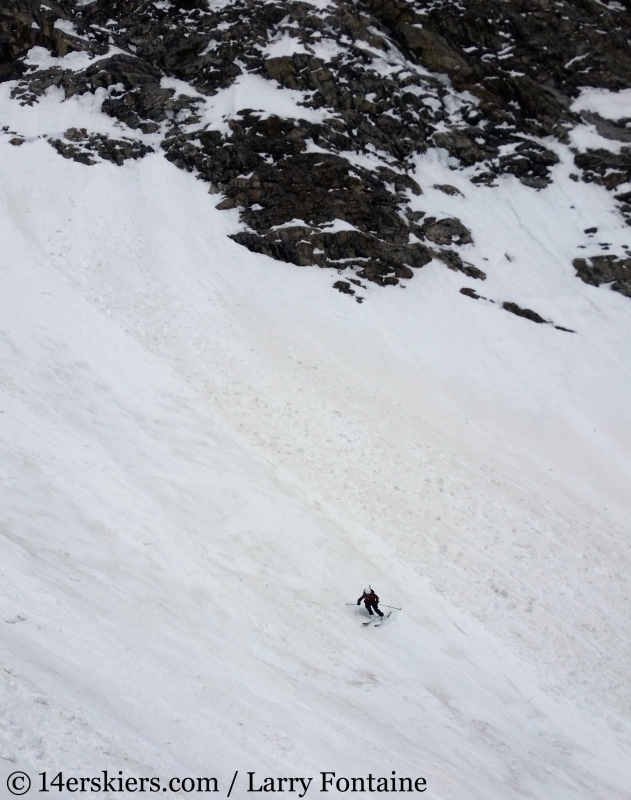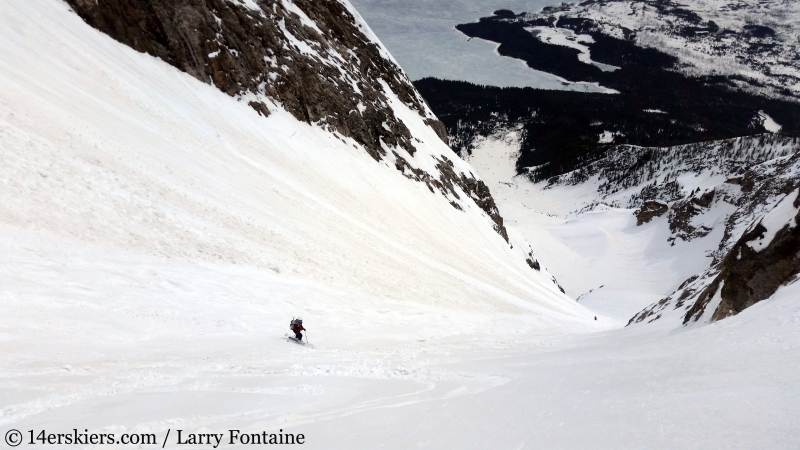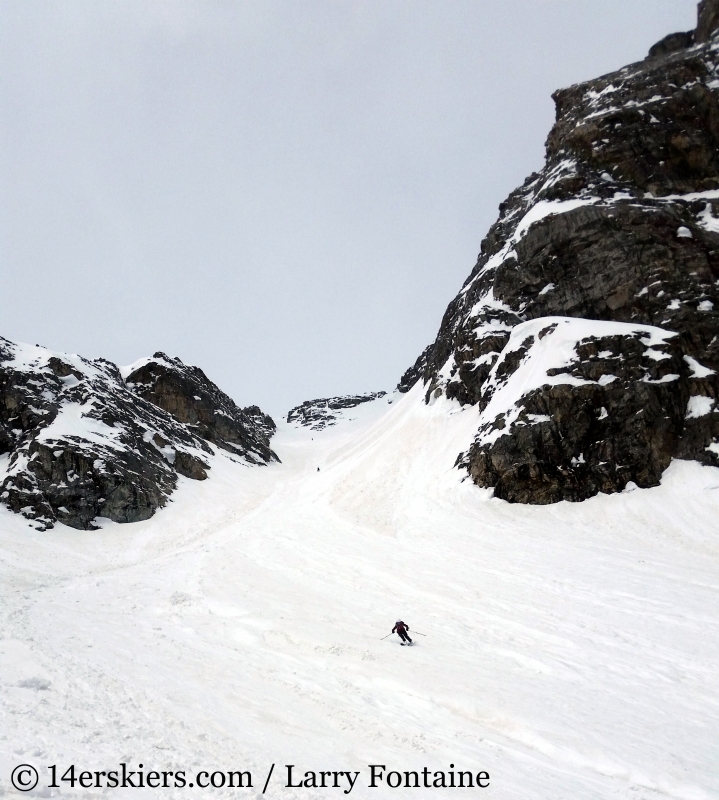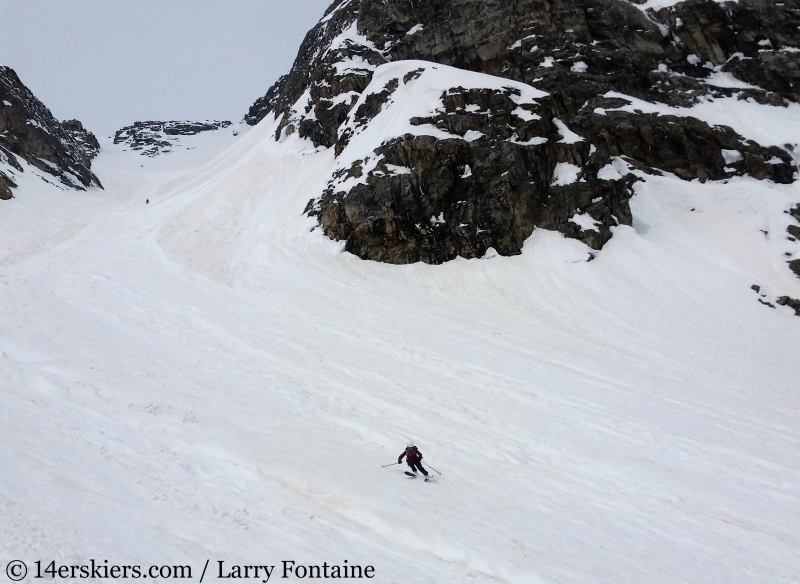 Larry.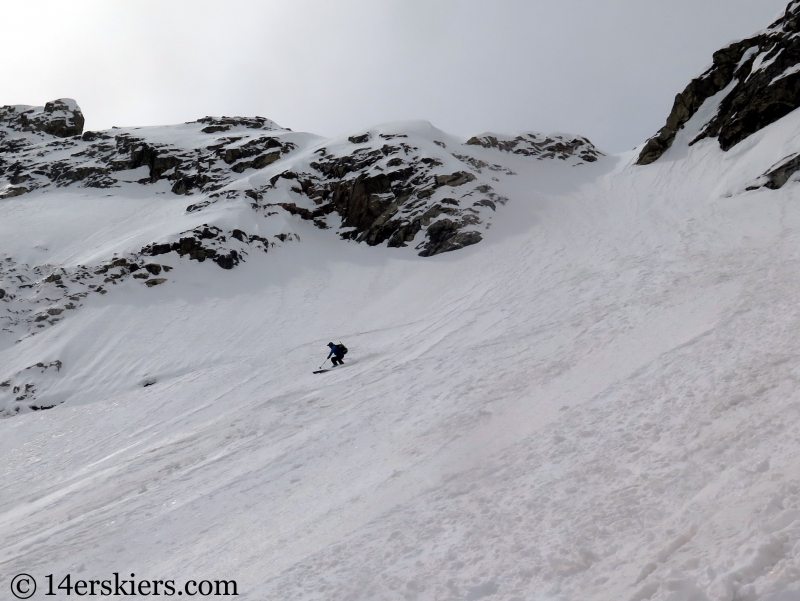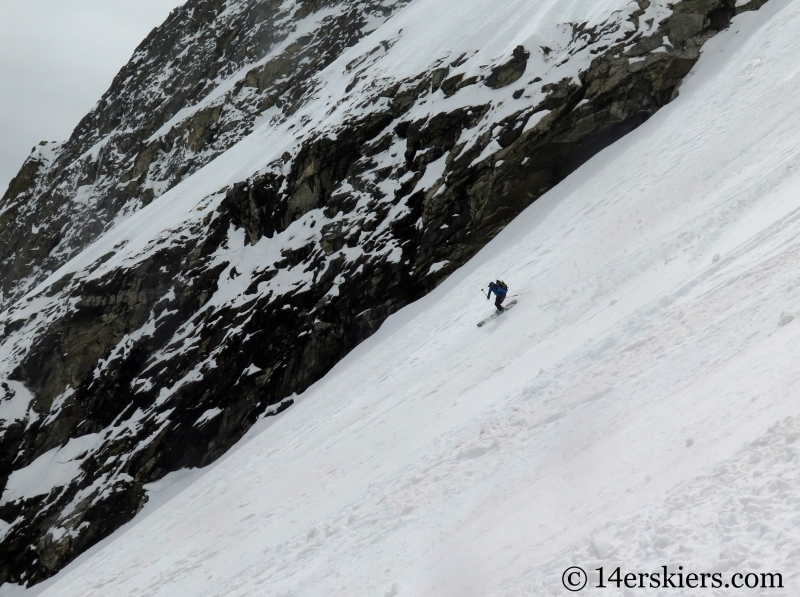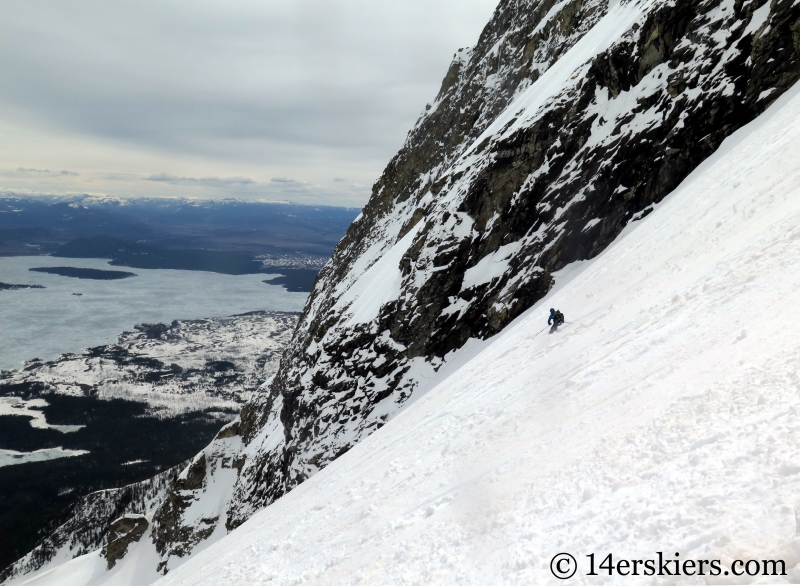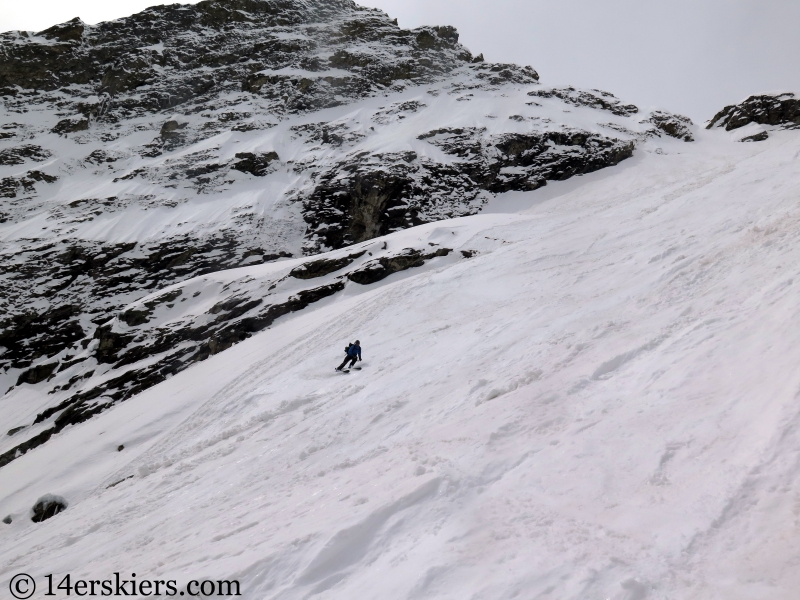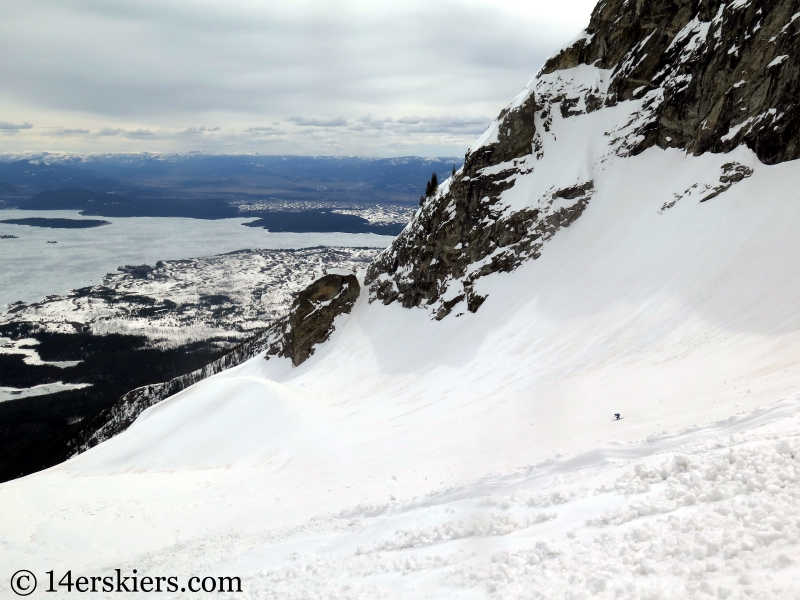 Like the climb, the ski was long too. But the last 4000 feet were perfect corn. Me.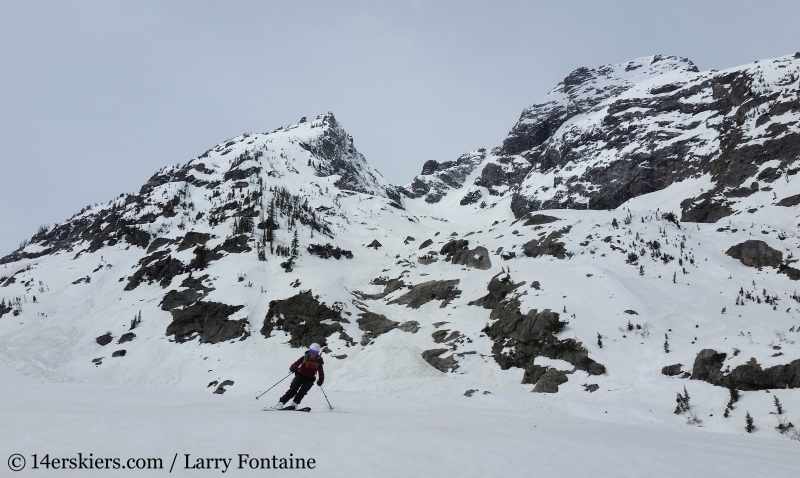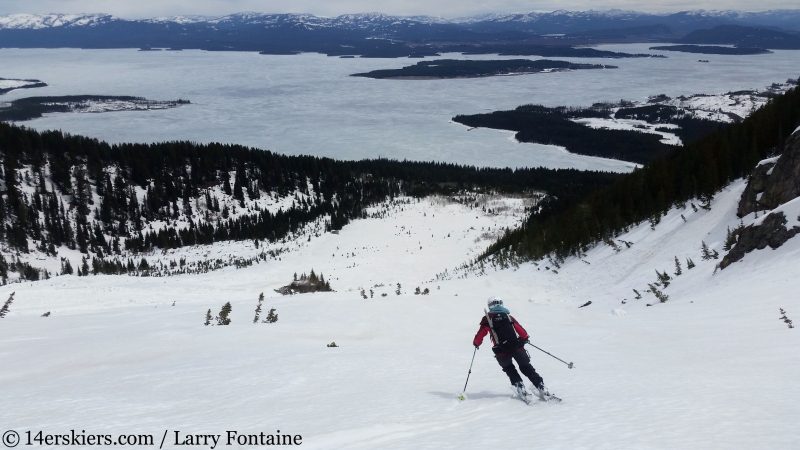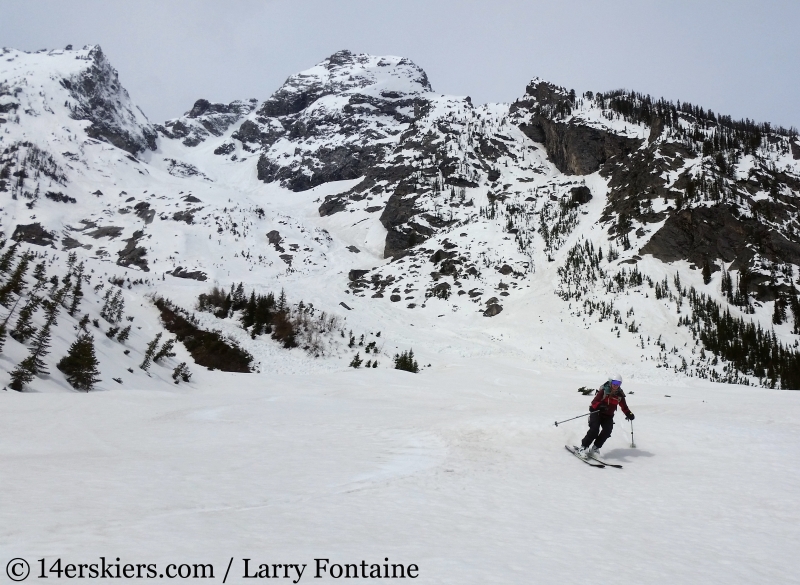 Larry.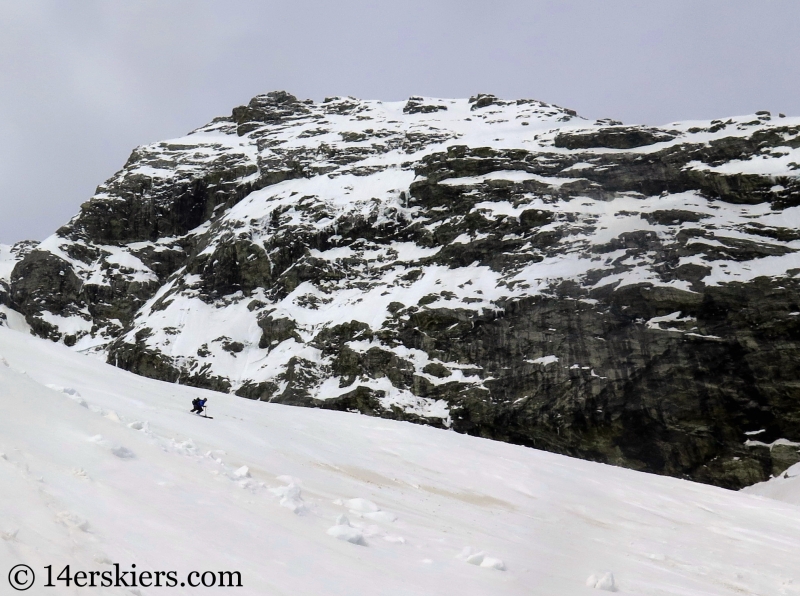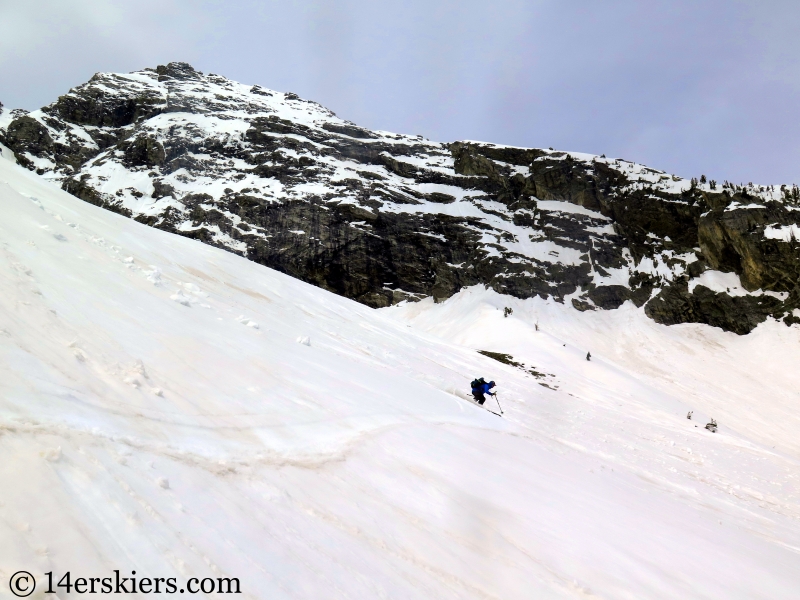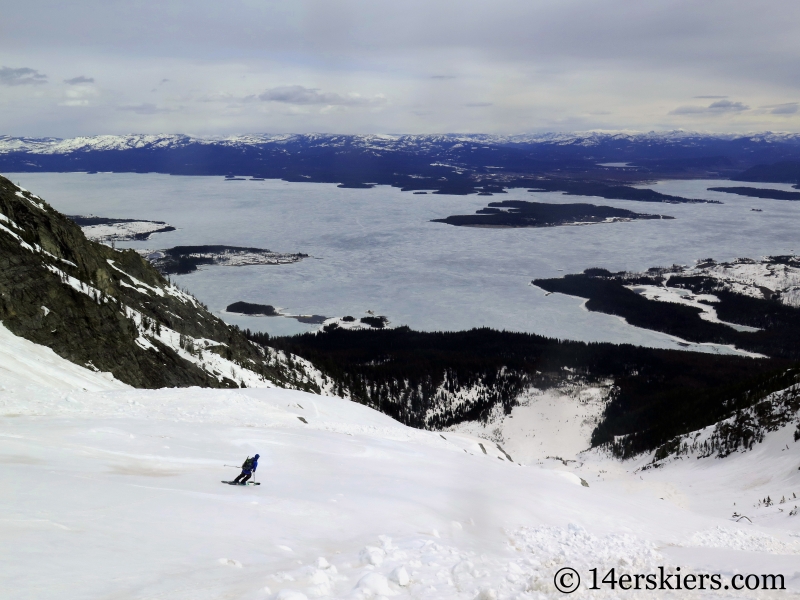 As we neared the end of the route, we traversed over toward Bear Paw Lake and eventually finding our way through the forest back to Leigh Lake Trail. While beautiful, Leigh Lake trail is a bit of a flat slog out.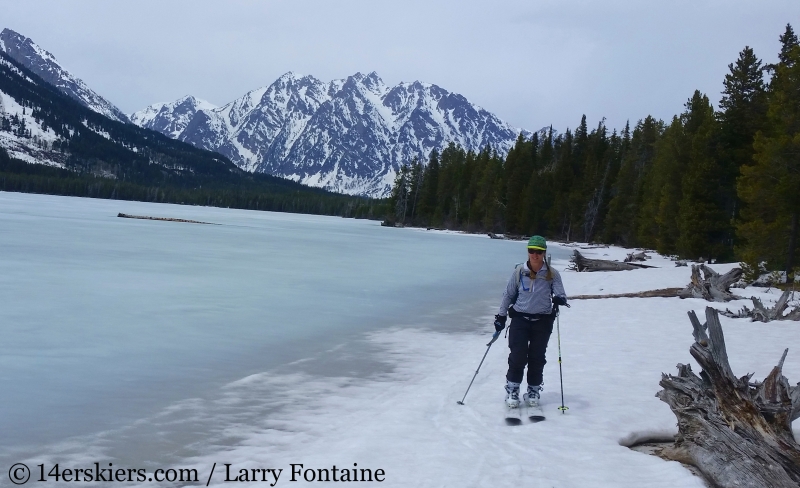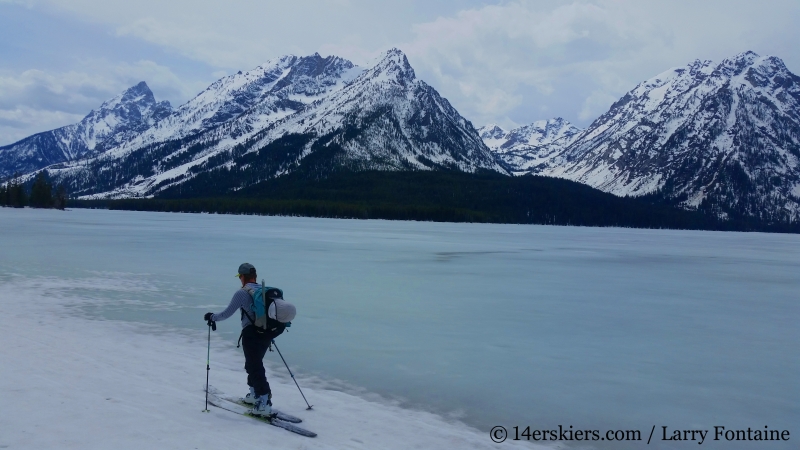 17.1 miles, 6200 vertical feet, and 14 hours after we left the car, we returned back to it. After emerging out of the pain cave, celebrations ensued, and we had dinner with Hans and his family. That night I went to bed, as tired as I could ever be, but smiling. The Skillet was a good one to check off the list.
Aside from skiing, biking, and all outdoorsy things,
Brittany Walker Konsella
also loves smiles and chocolate 🙂 Even though she excels at higher level math and chemistry, she still confuses left from right. Find out more about
Brittany
!
Latest posts by Brittany Walker Konsella (see all)
Summary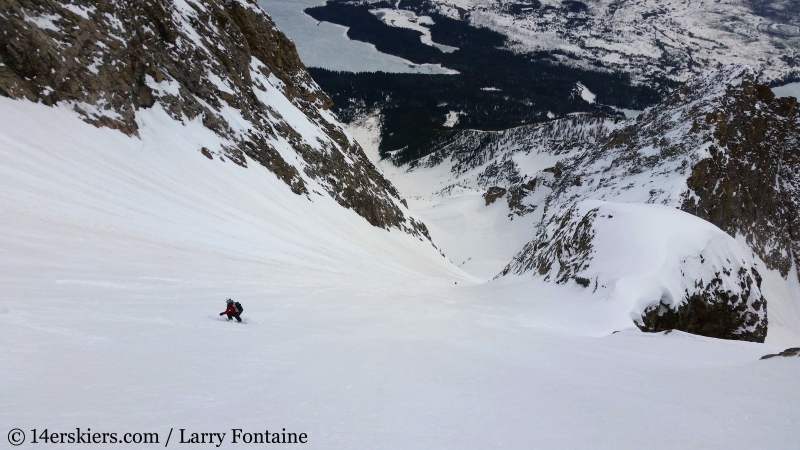 Article Name
Mt. Moran Skillet Ski - My Bucket List (5 May 2019)
Description
The Skillet on Mt. Moran taunts every backcountry skier. And for good reason. This 5700' line is challenging to approach, but is aesthetic as they come!
Author