This is part of an ongoing series re-telling Brittany's fourteener-skiing story. Look for the reports every Thursday, as part of a Throwback Thursday theme.
Frank was now finished with his fourteener-skiing project, but I still had 15 of them left to ski. While Frank knew he'd ski some of them with me still, I also knew I'd be doing quite a few more of them without him, beginning with Missouri Mountain.
As it turned out, I would ski six more fourteeners that season, and only one of them with Frank. I'd met Frank because I wanted to ski all the fourteeners and was looking for partners to help me achieve my goal. But, now I felt like I'd lost him as a partner.
Below is a slightly modified version of my report for skiing Missouri Mountain, which would become my 40th fourteener skied.
---
No, I didn't turn 40 yrs old. I still have a number of years before that happens. But, I did complete my 40th ski descent of a fourteener when I skied Missouri Mountain yesterday.
My friend, Mark Cavalierio, agreed to join me on this outing. Mark is a great ski partner, a good friend, and I always appreciate his company. He's joined me now on four different fourteeners, and I hope there will be more.
We camped the previous night in one of the plentiful camping spots along the road to Vicksburg. Knowing that the weather was going to remain cool and largely cloudy throughout the day, we knew a really early start was not essential. We began from the Missouri Gulch trailhead at 5:45 am.
For the first 1000′ feet or so, the trail was about 50% snow and 50% dirt. We did skin up the majority of it, but our skins most likely suffered the consequences. Skinning through this bit was difficult as the trail was bombarded by previous users postholes and "ledges". Once we got past this first bit, skinning was a lot easier.
When we first arrived in the basin, Missouri was enshrouded by a cloud. Clouds and flurries were coming and going throughout the day. It was awhile before Missouri was released from her cloak to show her face. Our first view of Missouri from the basin below.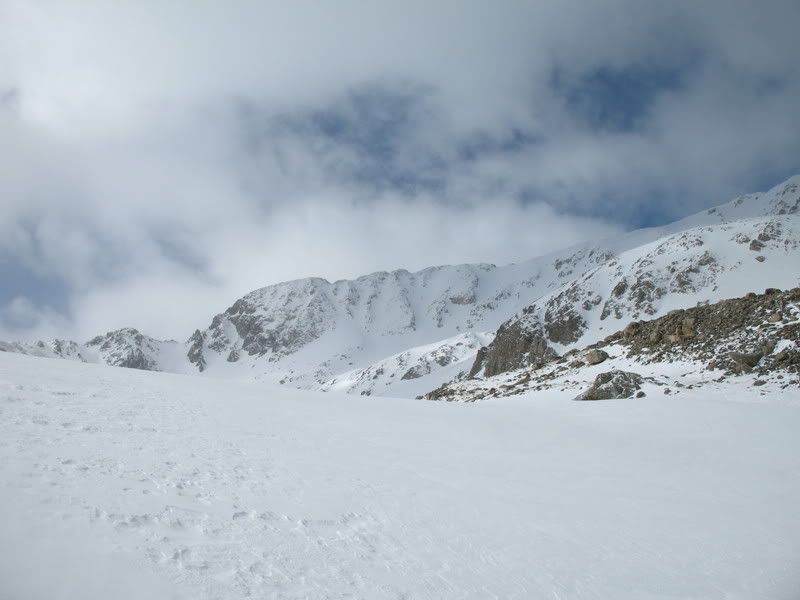 Mark skinning.

We skinned all the way to the north face of Missouri and we were able to skin part way up the face as well. But freshly fallen snow and an icy snowpack beneath began to make skinning difficult, so we booted the rest of the way.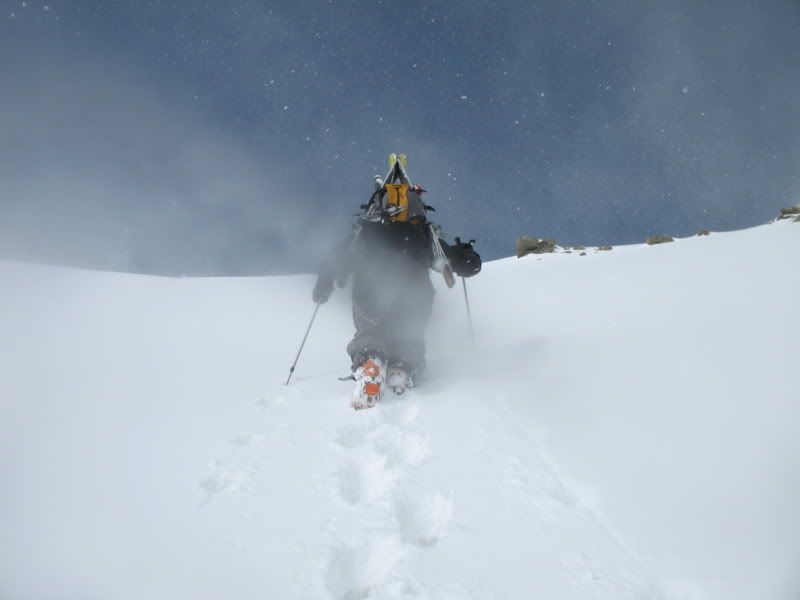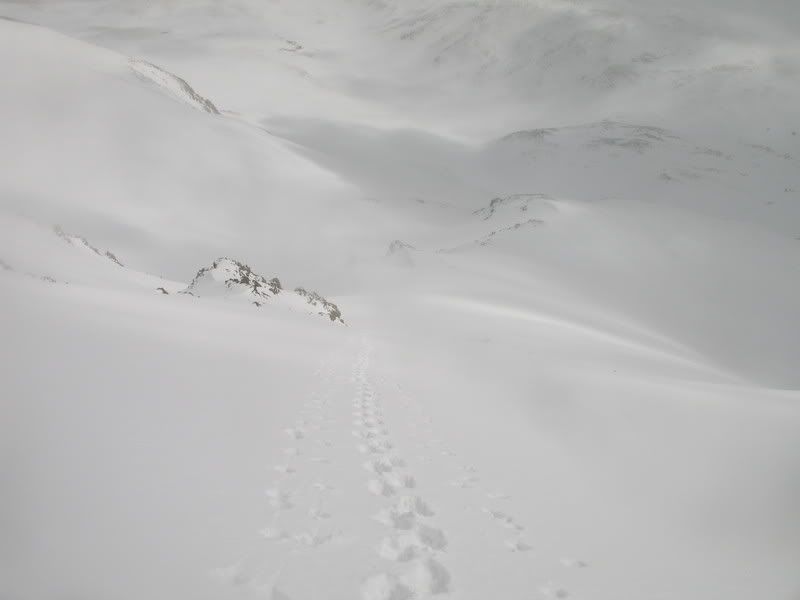 Sometimes the clouds cleared a bit and we could see what surrounded us. Here, you can see the basin we skinned up. We began at the bottom of the far valley in the picture. To reach the top of Missouri, you must travel 6 miles and 4,500′.

We climbed up the north face of Missouri a little bit to the looker's right of the summit. This provided a good look at our anticipated descent route.