This is part of an ongoing series re-telling Brittany's fourteener-skiing story. Look for the reports every Thursday, as part of a Throwback Thursday theme.
I began my fourteener-skiing project in 2006, and met Frank quickly after, while looking for partners to help me accomplish my goal. But, when I first asked Frank if he wanted to ski all of Colorado's fourteeners, he said it wasn't really a goal of his.
But, then he started skiing them with me. More and more of them. He skied the boring ones like Bross and Sherman. And then all the sudden there was a switch. Frank started skiing fourteeners without me… and I knew he'd changed his mind. My project had become his too, and now he was about to finish. Mount Harvard ended up being Frank's final fourteener.
So, this post is a tribute to Frank and the partnership we had (and continue to have). I could not have skied all of the Colorado's fourteeners without having met him, and Frank would not have even begun his project without me. That said, I'll leave the report in Frank's words. Below is a slightly modified version of his report for Mount Harvard, which would be Frank's fourteener finisher, and my 39th fourteener skied.
---
I'm really not sure what to say. As many of you know, I've been skiing a lot of fourteeners the last couple of years, and Mount Harvard ended up being the last. I'm not sure what I feel about that right now, one thing I know for sure is that nothing is "done"- I've stillgot so many peaks left to climb and ski, some of them over 14k, some of them not. Another thing I know is that it's been a heck of a journey.
I'll end up leaving somebody or something out, so I'll say this: Thanks to everyone who gave me a place to crash, or posted a TR or answered a pm with helpful beta, or skied a peak with me, or helped in any other way. Thanks to all of you.
"Don't get me wrong; you won't see me skiing Bross or Sherman anytime soon." —That's what I posted almost 2 years ago to the day, 5-19-08. Of course, about a week later I skied my first peak with Brittany, and the next thing you know, I'm skiing Bross and Sherman (which were actually really fun, like all the 14ers). So that's how it was for me- I was hitting some of the fun lines here and there, and then all of a sudden I was ticking them off one by one, as fast as I could. So thanks, Brittany, for setting those wheels in motion, I'm sure we'll be hitting some more of them together real soon
Moving on…
We were able to make it to the North Cottonwood trailhead (barely) and we started skinning a little after 5am. We were joined by 2 splitboarders, a tele-er, and a couple of dogs, too. Eventually we got out of the trees and saw the goal for the day (Brittany skinning):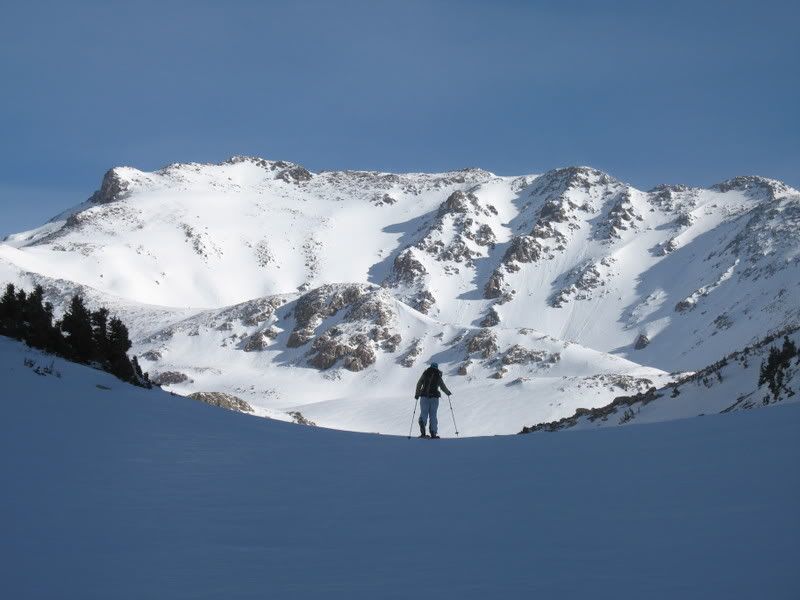 We were able to skin all but the last 20 feet or so. Along the way, I saw these guys: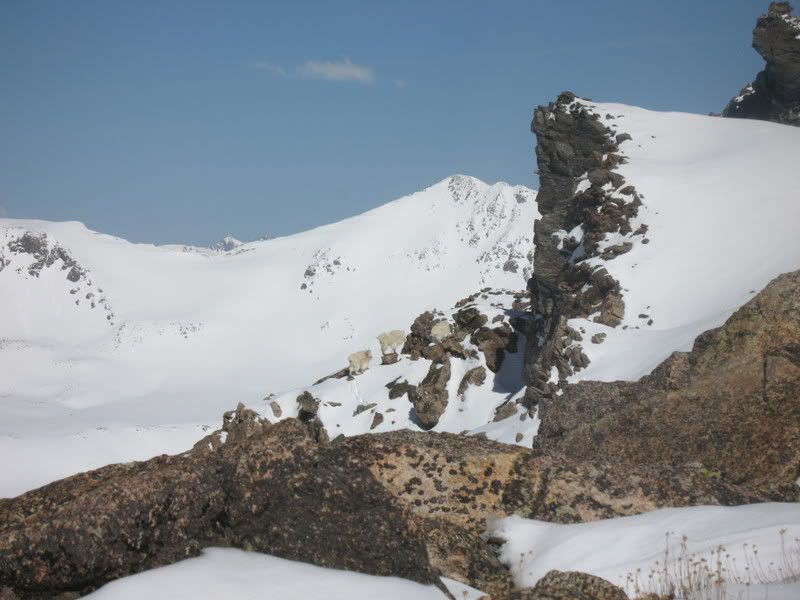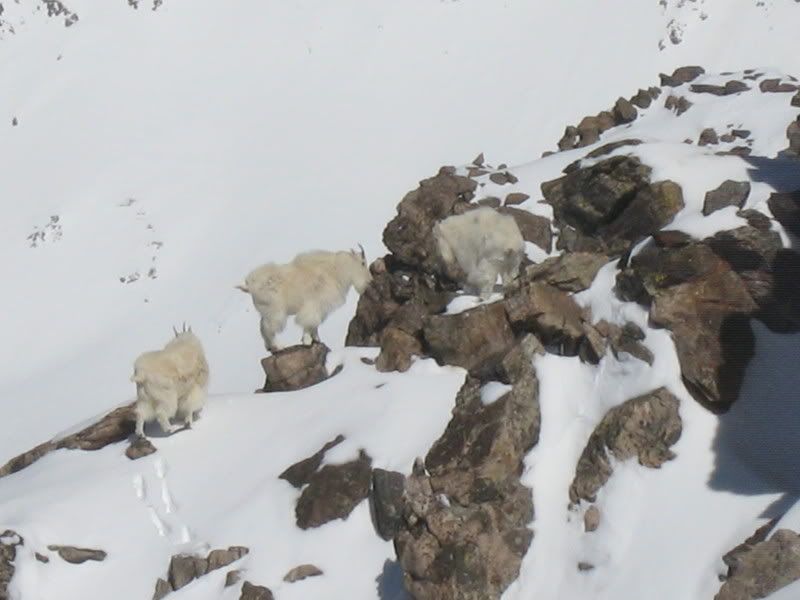 I figured I should bring something up to the summit to celebrate, it ended up being a Guinness