TR: Mount Democrat North Face 6.30.19
(Last Updated On: July 2, 2019)
Winter (or is that summer?) of 2019 is the gift that keeps on giving. We love to ski, but even for us, we tend to hang them up sometime in June. But this year? Why would we do that? Most of the trails are still snowy or muddy, and the skiing is really good- this isn't summer skiing with runnels and suncups- this is just good smooth skiing. Still, the approaches are getting longer and no one likes hiking for miles with skis on their back. So, we like to look for peaks with good access. With the 2WD accessible Kite Lake trailhead, located at 12,000′, Mount Democrat certainly checks that box. And the North face is a great line. So even though Larry, Brittany, and I have all skied it before, we decided to ski it again. We dropped a car off at the Montgomery Reservoir trailhead and then camped near Kite Lake. If you're looking for a 4th of July ski this year, put this one on your short list.
Skinning within minutes of leaving the car, with Cameron behind (also still holding snow):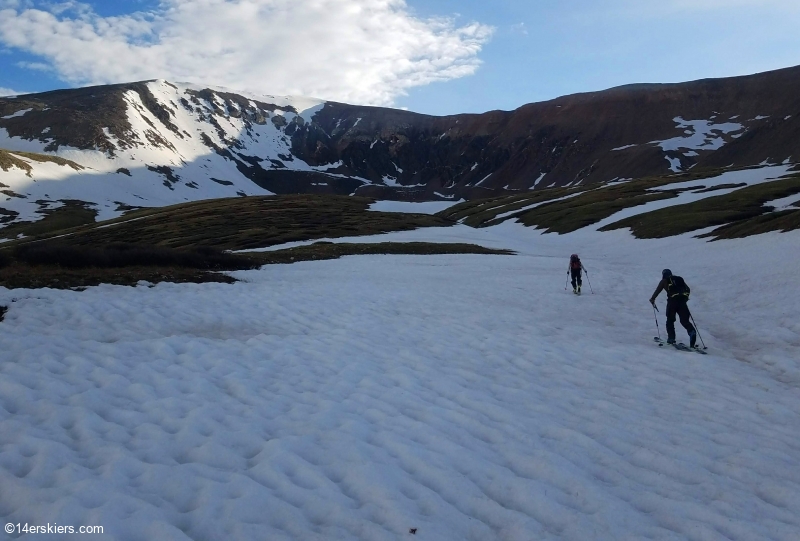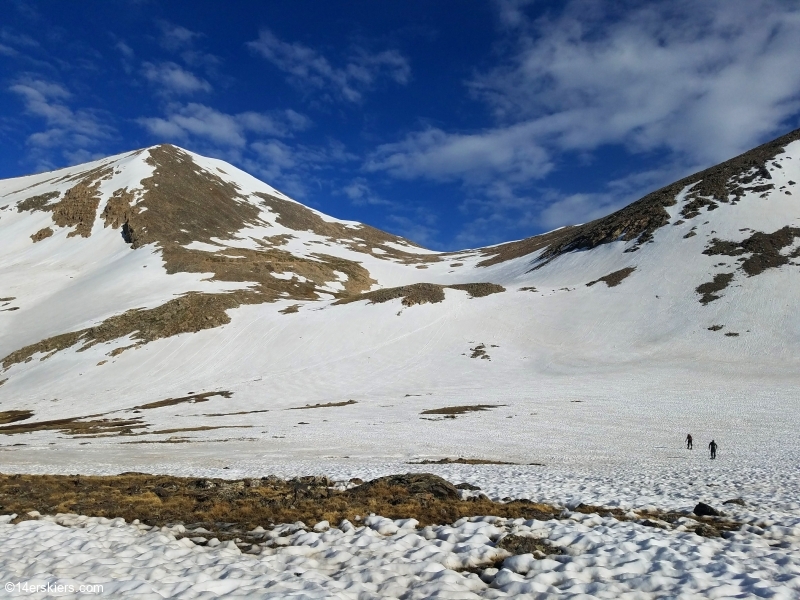 With such a high trailhead, we made quick work of the climb and were on top of Democrat in just a couple of hours, taking our summit shots: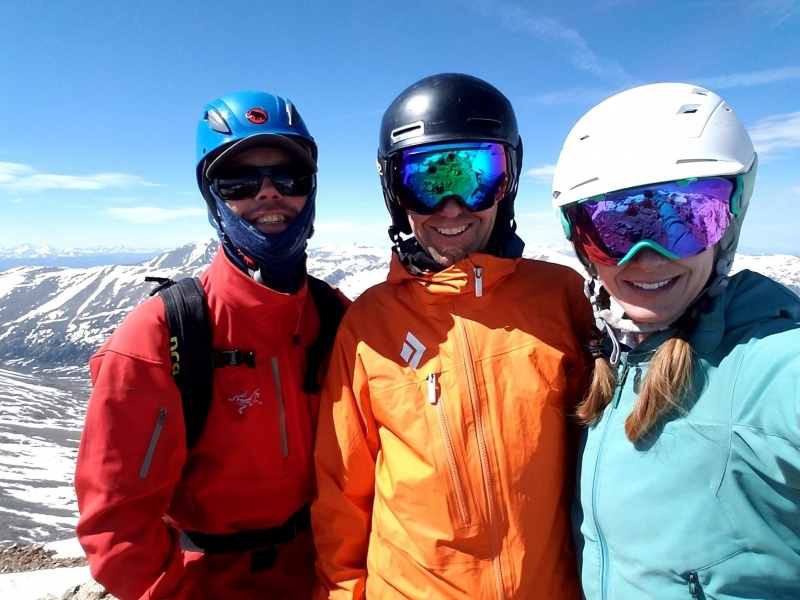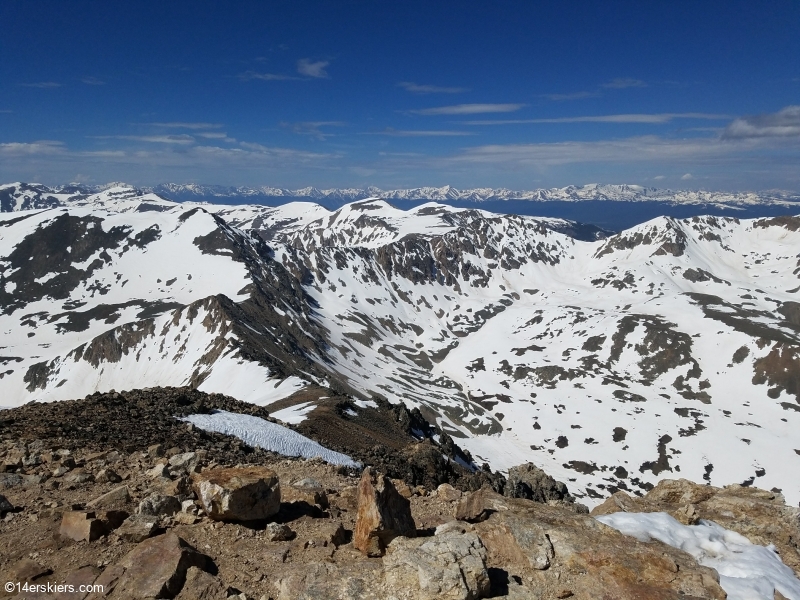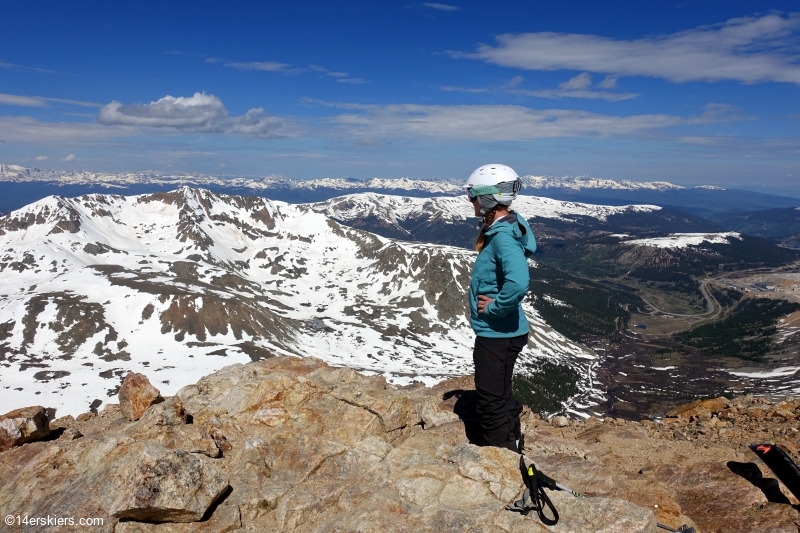 We chatted with a couple of other skiers that were headed back towards Kite Lake via the Emma Lake chutes, which also looked like they were in good shape. We downclimbed 15′ (no summit descent), and started down the familiar North face. Frank: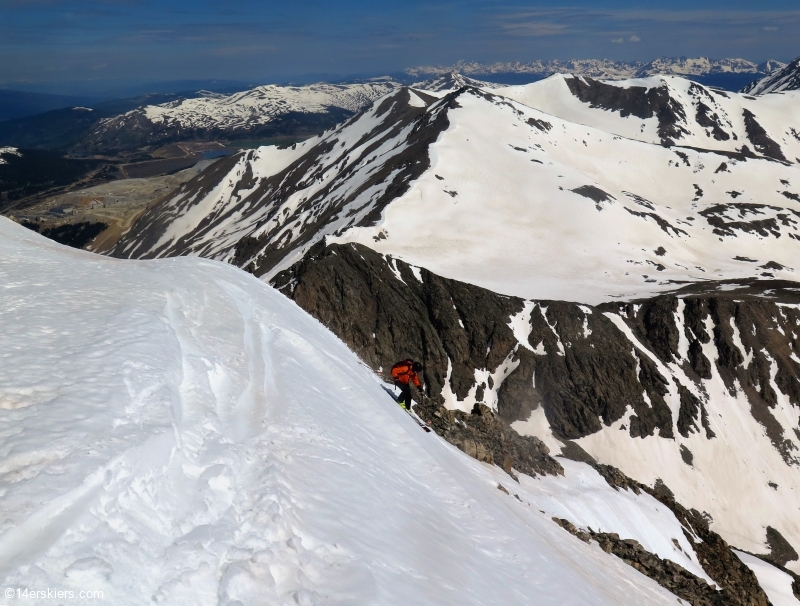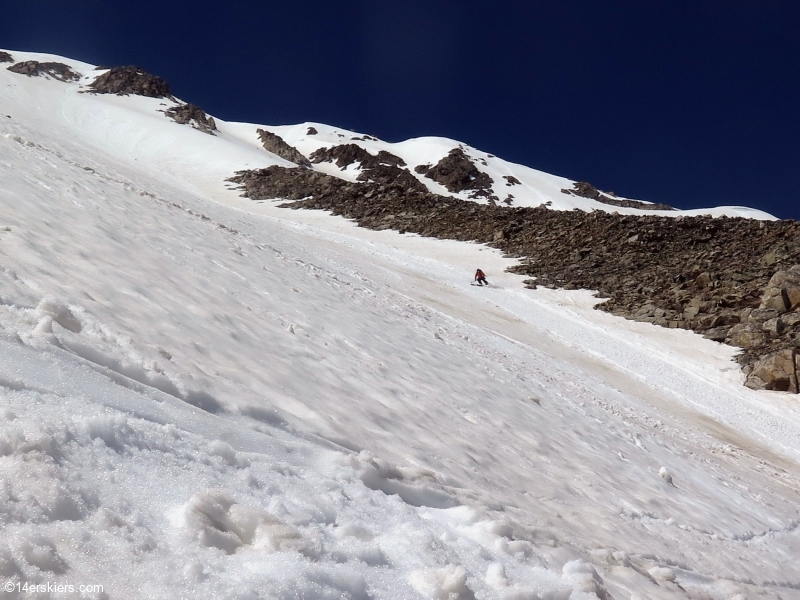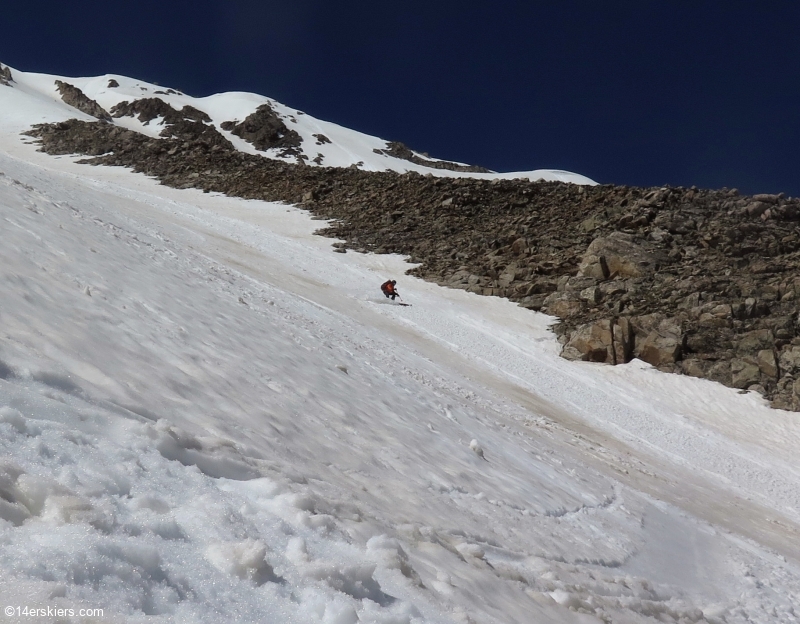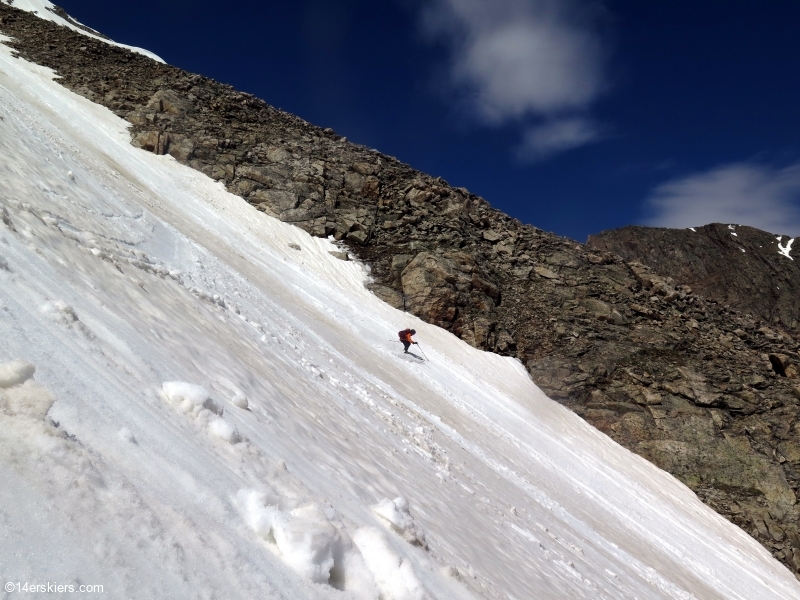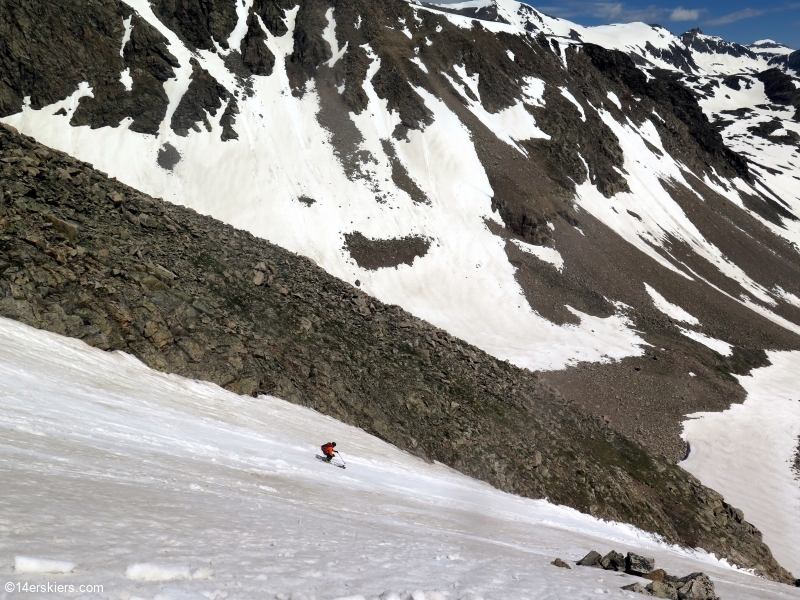 The freezes have been very light lately. Thankfully, the snow seems to have transitioned to a full summer snowpack, without a lot of free water within the snow. Still, the top couple of inches easily peeled off and slowly slid down the mountain. If you picture a "people mover" walkway at the airport and double its width, that's about what the slide looked like. It was so slow and methodical that I actually skied in it, as if I was whitewater kayaking down a stream. It was really fun, truth be told. Larry: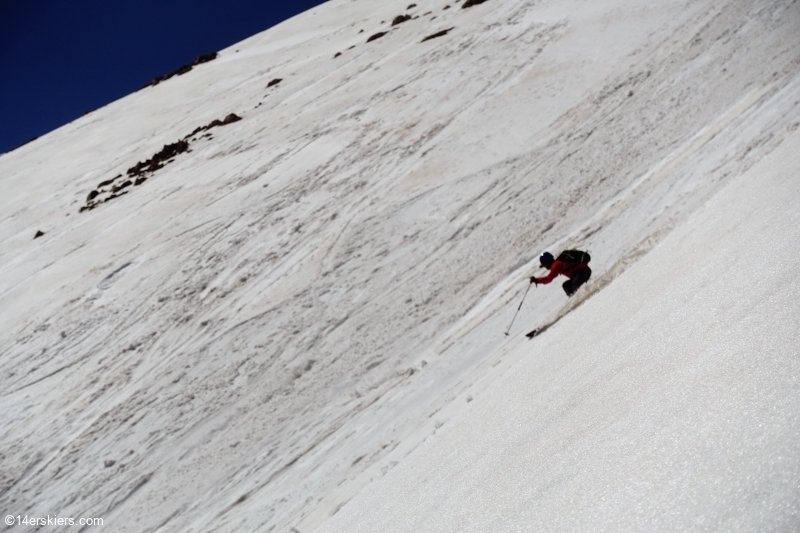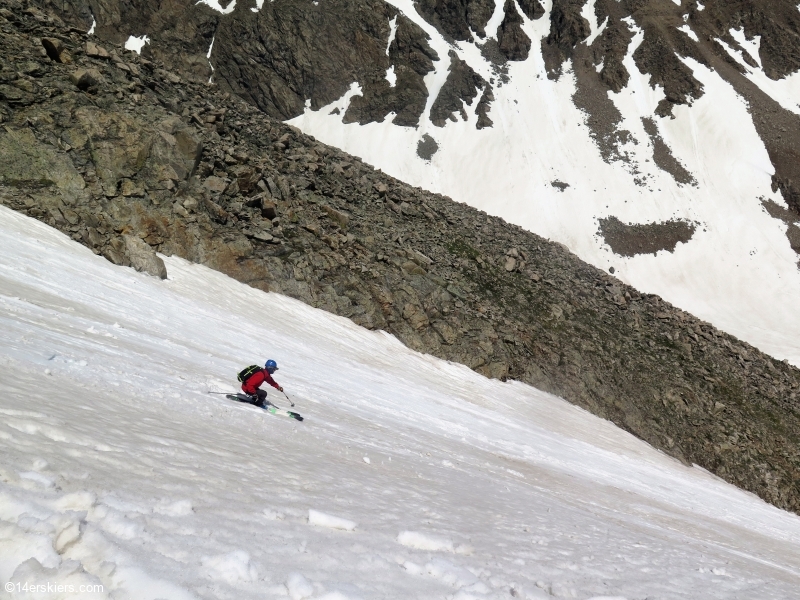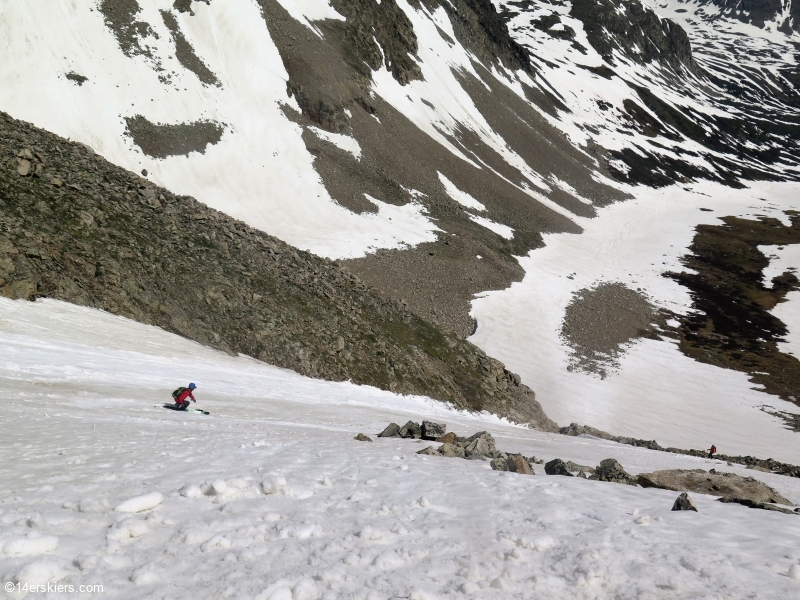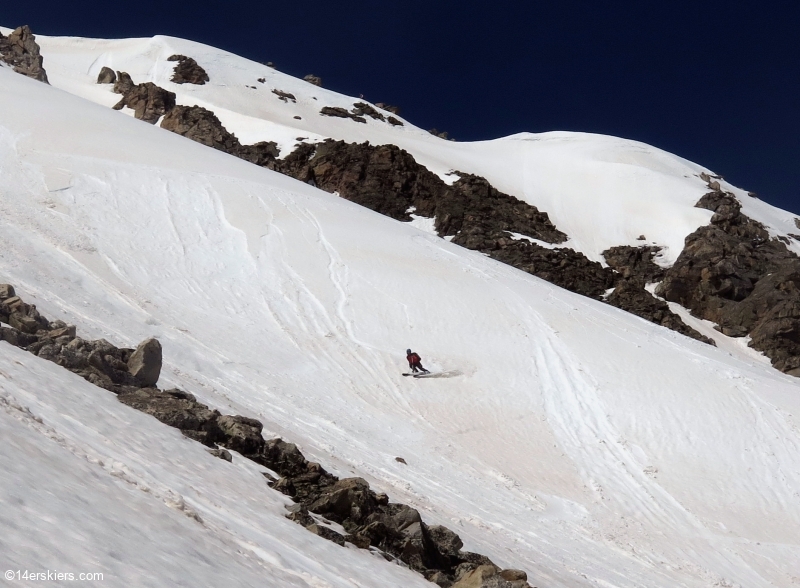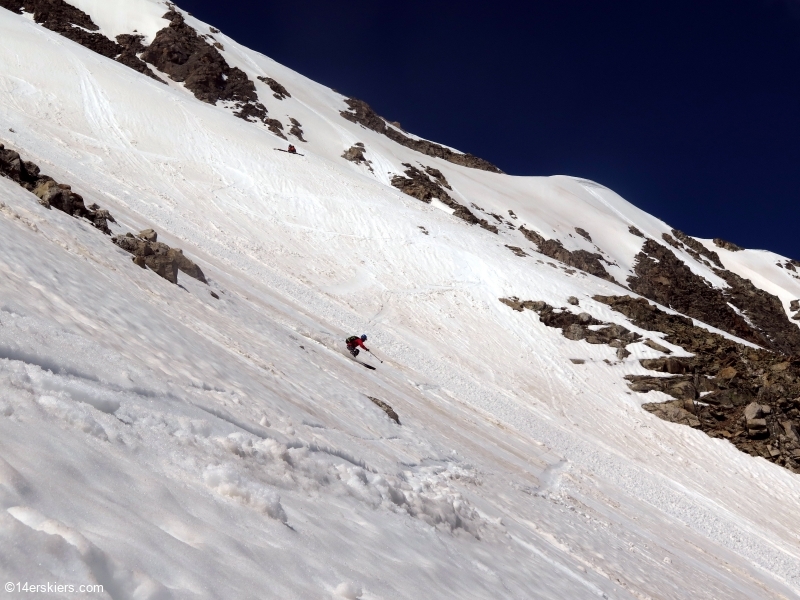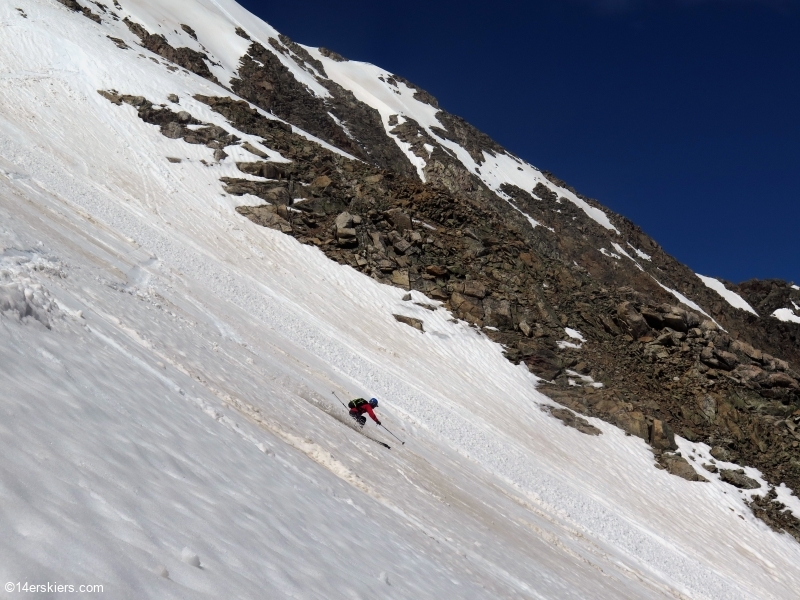 Brittany: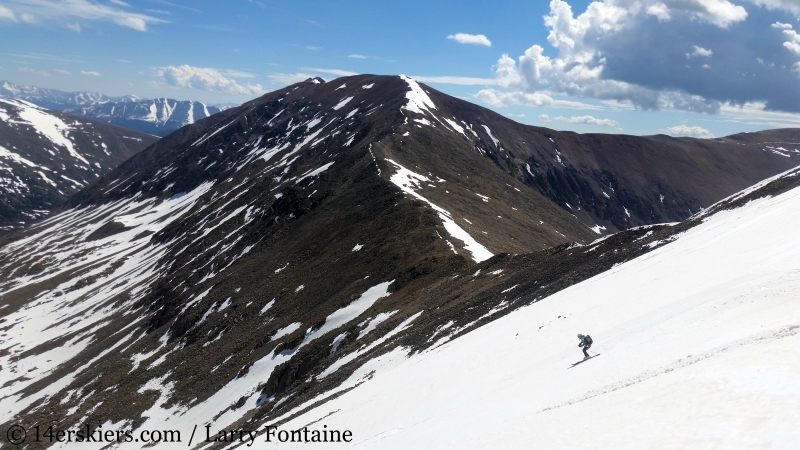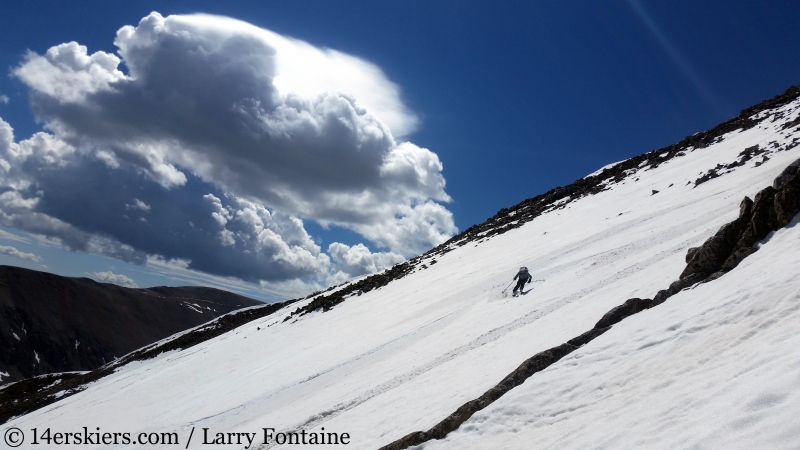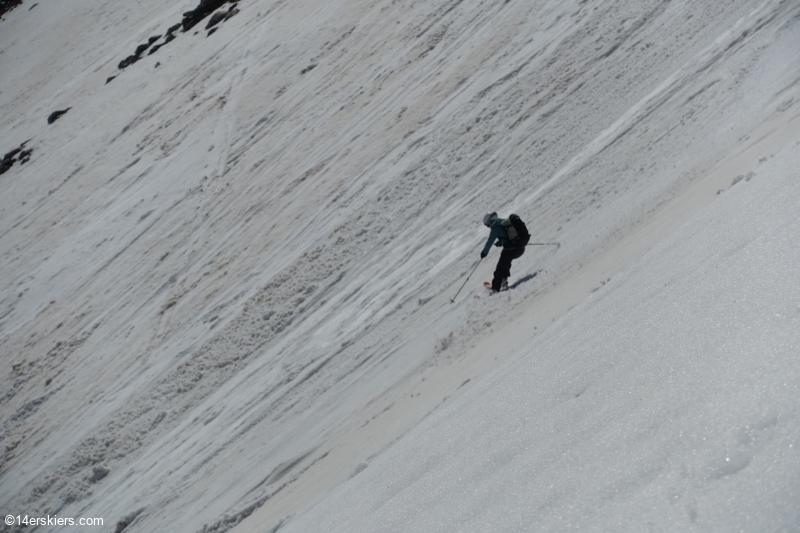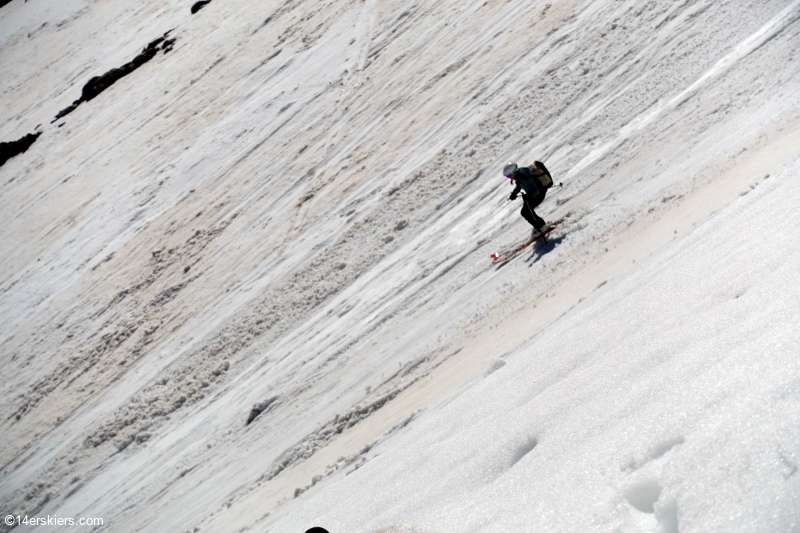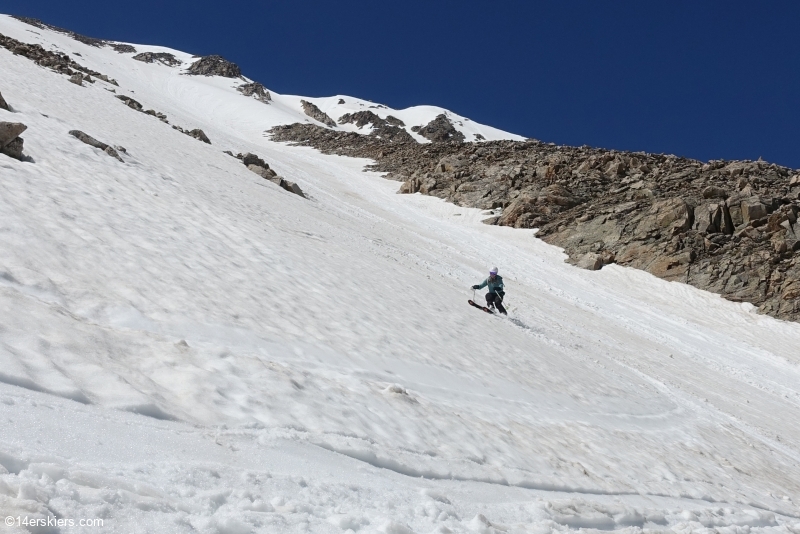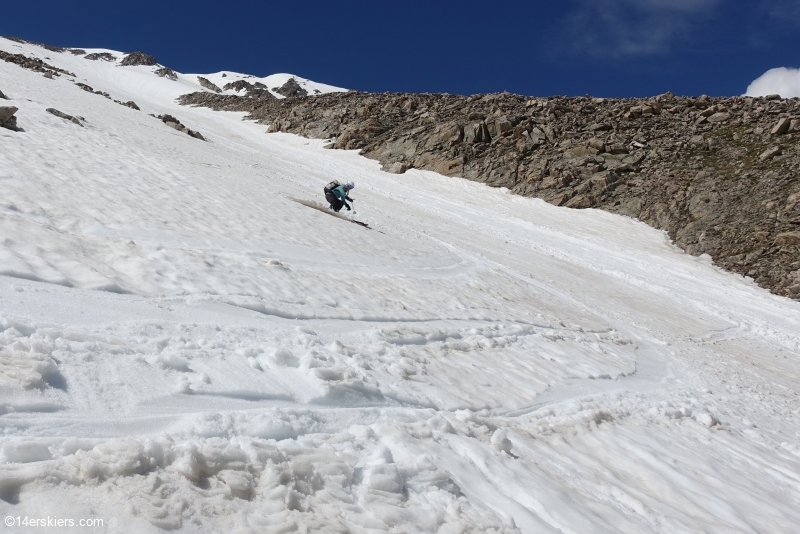 Near the bottom of the line, the route narrows and doglegs. From most vantage points, it doesn't even look like it goes. But it skis great- no downclimbing or sidestepping required: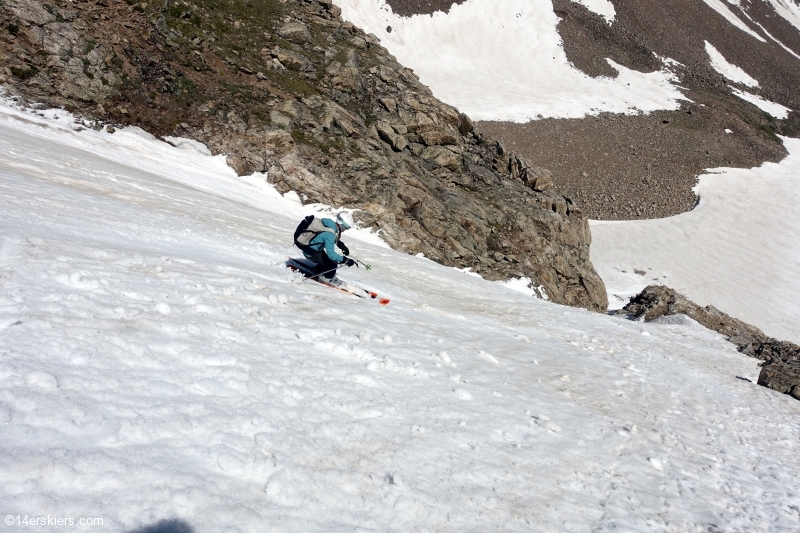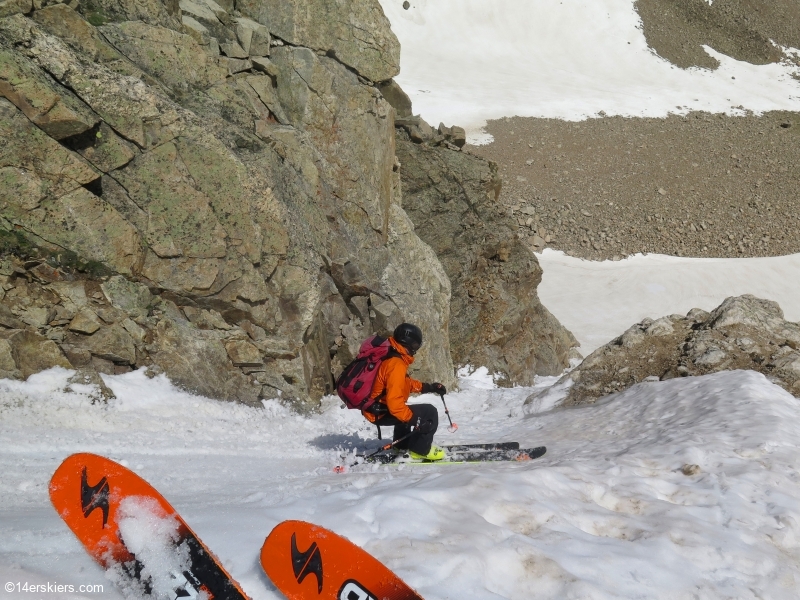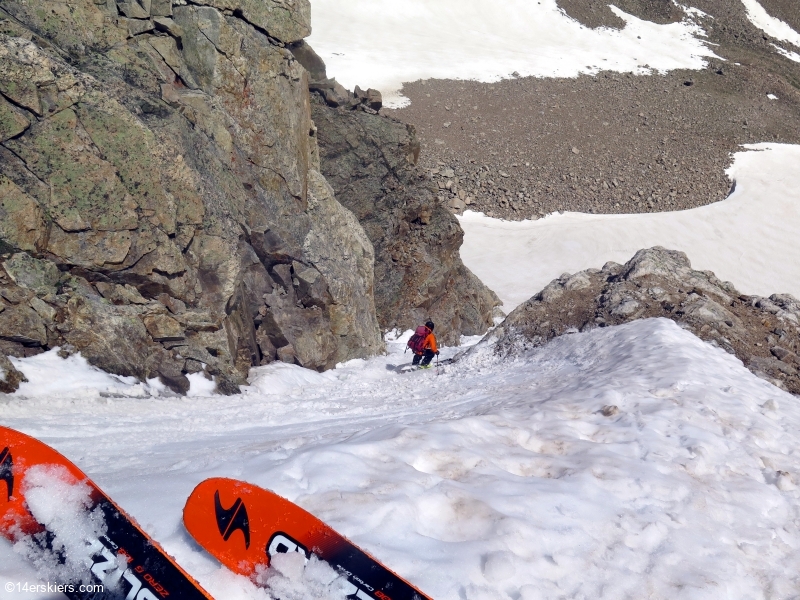 With so much snow this year, we were still able to ski quite a ways down the valley, avoiding most of the willow bashing that might occur with less snow cover. North face of Democrat behind us (we skied the middle line, the tight exit is hard to see):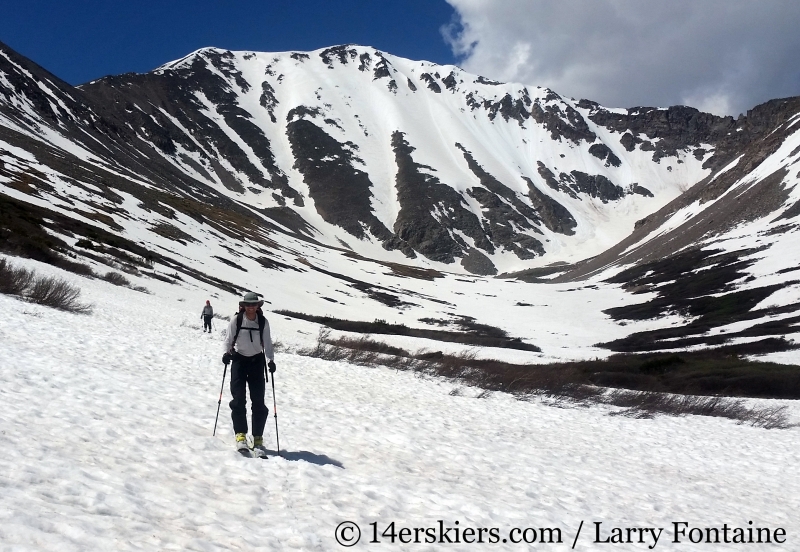 Once we hit the Wheeler Lake road, we switched to approach shoes. I recently got a pair of La Sportiva Tempesta GTX shoes with GoreTex. My feet stayed dry, with a lot of rock hopping effort on my part. These are great shoes- I'll do a review sometime soon.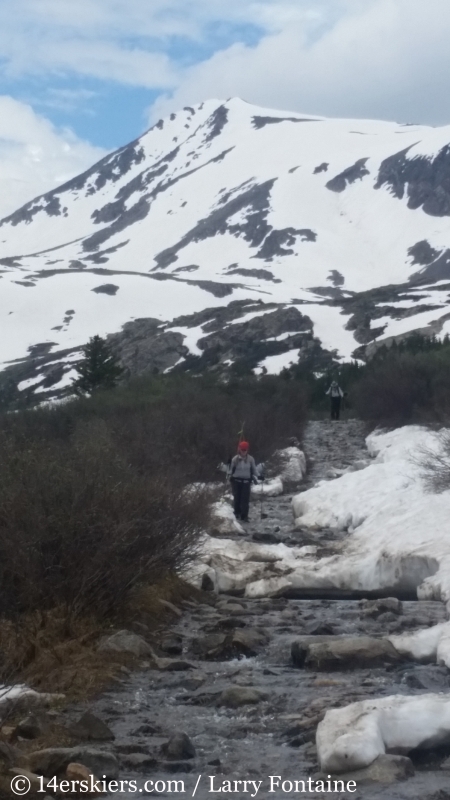 Eventually you hit the Magnolia mine, which is the 2wd trailhead: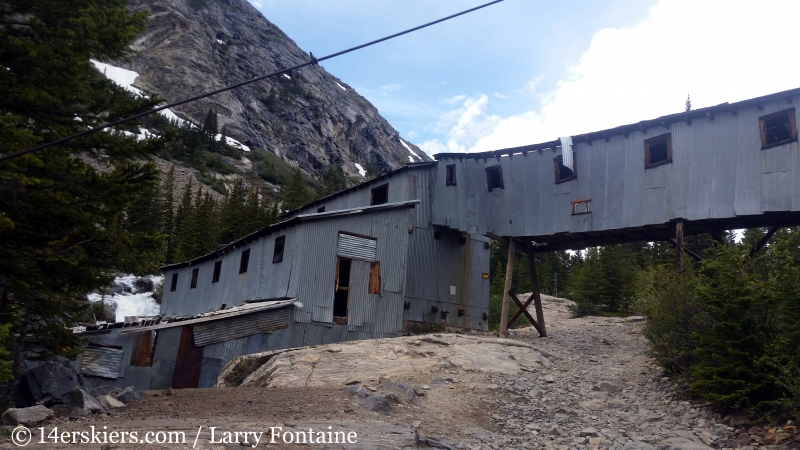 And that's about it- over 2K' of great skiing on the last day of June. Get an early start and enjoy some 4th of July weekend turns. You'll be glad you did, these is not your average summer skiing conditions. It's still good out there, much more like May than July.
Frank
loves snow more than anything... except his wife.  He ensures his food is digested properly by chewing it 32 times before swallowing.He is a full-time real estate agent serving
Crested Butte and Gunnison
and would be honored to send you his
monthly newsletter.
Latest posts by Frank Konsella (see all)
Summary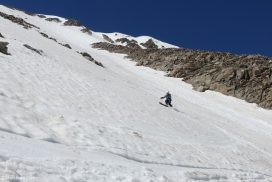 Article Name
TR: Mount Democrat North Face 6.30.19
Description
Skiing the North Face of Mount Democrat via Kite Lake and Montgomery reservoir in summer of 2019. Great conditions on this route that often lasts well into summer.