Two Herniated Discs and My Road to Recovery
(Last Updated On: August 12, 2013)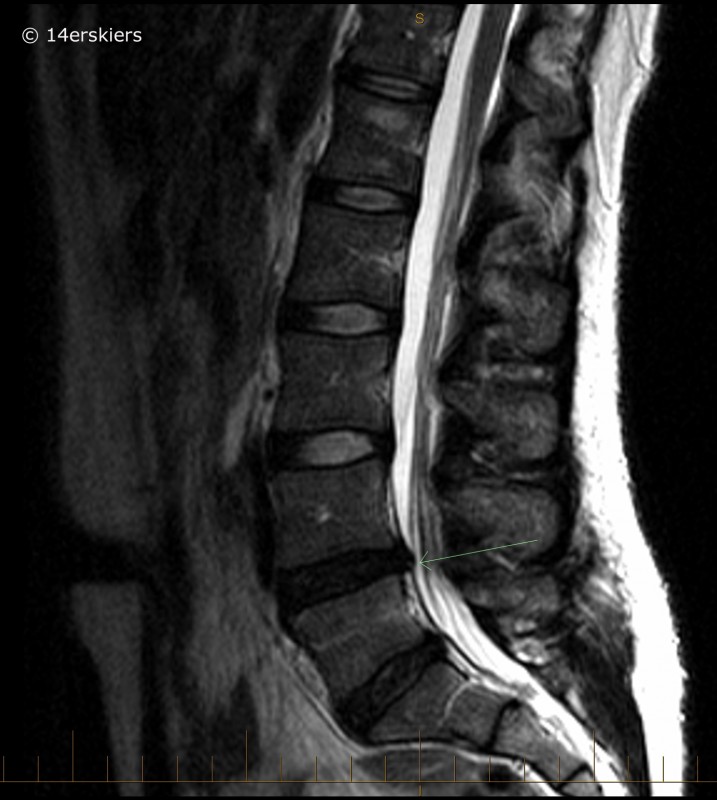 I've had back pain since I was 12 years old. It was low back pain, and the kind that just never went away. I remember walking down the hallway at my school, crying because I was in so much pain, and my friends carrying my backpack (piled full of books) because I could not. For years, the back pain would come and "go". I say "go" because it never went away. It was always there. It was just a matter of whether the pain was incapacitating or not.
So, when my back flared up in September, 2011, it didn't phase me too much. But, a few months later, when the pain had not yet subsided and in fact had gotten worse, I knew I had a problem. A real problem.
I couldn't sleep. I couldn't stand still for more than a minute. I couldn't sit on the couch, and I even had trouble sitting in a chair. Yet, I could walk just fine. And I could ski – in fact, skiing usually seemed to make it feel better. So, it wasn't incapacitating, was it? But, I was still miserable. The hours I spent awake at night and the crabbiness I displayed afterward were proof of this.
But it wasn't until May, 2012 that I actually decided to take extra measures. I finally splurged for the MRI which showed that I had two herniated discs between S1 and L5, and L5 and L4. Double doozy.
Now, just over a year later, I have recovered from my injury. No, the pain has not gone away. It never does. But, the pain has been considerably minimized. I still feel that burning nerve pain from time to time. But, I now know how to manage it so the pain lasts a matter of hours instead of days, or months. I can now sleep a full night's sleep, uninterrupted with pain.
Over the course of the last few months, I have had a number of people contact me about my recovery. All people with herniated discs themselves, they had questions for me. How did I do it? Why didn't I have surgery? How did I REALLY feel?
And there are more people like these. Herniated discs are common. But, man, they sure are painful. When you're in this kind of pain, all you want to do is make it stop. But, the pain from a herniated disc does not stop overnight. And people suffering from this kind of pain often have this desire to seek out others to help provide some hope of recovery. That is why I am writing this blog post.
I was already in the care of an excelled physical therapist when I was officially diagnosed with the herniated discs. While she had done a great job on getting me jump started on the road to recovery, there was only so much she could do. I knew I had to begin taking matters into my own hands.
So, here's my advice to those suffering from similar pain:
1) Listen to your body. Let pain be your guide. The doctor told me to stop skiing. But, skiing was one of the few things that made me feel better. People kept telling me to rest, but all that "resting" did was make it feel worse. Staying active is not only a possibility, but a probability. However, be wise with your activities. For example, riding a bike seemed to irritate my back, so I stopped (but I picked it back up once my pain significantly subsided). Hiking and skiing helped my back, so I kept doing them.
2) Believe in the power of ice and massage. I'm an advocate for chiropractic, and I have been for many years. But, much like my physical therapist, my chiropractor could only do so much for me. My back was clearly out of whack, and the muscles in my back were spasming and tight. After going to a massage therapist a few times, my muscles began to calm down, allowing for my back to settle into a more proper position. Also, I ice my back regularly, especially when that burning nerve pain really begins to flare up. It's amazing how an "ice massage" can make that nerve pain go away.
3) Study your x-rays and MRI, and the way your body moves. My pelvis was crooked, probably due to pain and probably due to too many knee injuries and surgeries where one leg was favored over the other. This rotation was clearly causing stress on my lower back and "pinching" where the herniated discs exist. My goal became to fix the rotated pelvis. In doing this, my pain would be alleviated.
4) Get Pete Egosque's book and read it – The Egoscue Method of Health Through Motion. Once I put many of his theories to the test, I found he was exactly right. No, this guy doesn't have a doctorate or anything for back pain or body alignment. But, he's studied the body and experimented with it. Frankly, most of it is common sense when you get right down to it, although he is sometimes in dispute with doctors and physical therapists. He helps you diagnose your problems, helps you develop a program for recovery, and provides suggested exercises based on your specific condition.
5) Dedicate the time. Recovery is NOT going to happen overnight. It takes time and patience. However, the more time you can put into your recovery, the better the results you will see. Beginning in June, 2011, I put somewhere between 1 and 3 hrs a day into my recovery for the first few months. At first, this involved chiropractic, physical therapy, and massage. Later, I whittled it down to a program I made for myself that lasted somewhere between 30 minutes to an hour a day- more if I'm in more pain. People may say, "I don't have time for that." Well, ask yourself, "Do you have time for your pain?" The sleep that I have lost to spend in hours toward my recovery has been way less than the sleep that I have lost in months prior due to my pain.
6) Make a program for yourself and stick to it- every day! One of the first things I do when I wake up is a series of back stretches and exercises. It only takes 15 to 20 minutes, and it is well worth it as it helps set me up for a nearly pain free day (I say nearly because the pain of a herniated disc never goes away, but the pain can be so low-grade that it is barely noticeable). At night, before I go to bed, I go through a similar series of stretches and exercises that last 30 to 45 minutes. Where did I get these? I pulled some from yoga, others from physical therapy, and yet some more from Egoscue. For yoga, I basically went through a deck of yoga cards (each with a different pose) and picked out ones that "lengthened" or "mobilized" the spine. Again, when deciding on which exercises/stretches to do, I listed to my body. Your back will tell you what it needs.
Here's a list of some of my favorite stretches and exercises. Keep in mind, what works for me may not work for you. But, some of them might help!
Yoga Influence (Note- about half of these overlap with Physical Therapy & Egosue recommendations):
Mountain Pose
Half Moon
Tree
Assisted Standing Forward Bend
Mudra
Chair
Reclining Big Toe Pose
Reclining Spinal Twist
Bound Angle
Downward Dog
Kneeling Lunge
Child's Pose
Cat and Dog Stretch
Seated Forward Bend
Physical Therapy Influence
Through the Hole Stretch
Reclining Leg Stretch
Miscellaneous Lumbar Stabilization Exercises
Egoscue Influenceo
Standing Windmill
Flexion Abdominals Position – Same as one shown here, except feet against a wall, knees at 90-degrees. Also, I do another one without a pillow and a strap taught around my legs just above my knees.
Static Back
Wall Drop
Gravity Drop
The low-down is this: If you have pain from herniated discs, the pain CAN go away. But, it takes time and energy. You need to dedicate regular time to the health of your back- more time up front than later. You need to be proactive about how to care and manage your back. And how you do this isn't going to come from just one source. Research and experiment for yourself. And let your body and pain be your guide. And remember, there is hope!
Aside from skiing, biking, and all outdoorsy things,
Brittany Walker Konsella
also loves smiles and chocolate 🙂 Even though she excels at higher level math and chemistry, she still confuses left from right. Find out more about
Brittany
!
Latest posts by Brittany Walker Konsella (see all)