Outdoor Retailer Highlight: Black Diamond JetForce Pro – Now Modular!
(Last Updated On: December 29, 2019)
Every year we attend the Outdoor Retailer Snow Show, formerly called SIA. And every year, we try to pick a highlight or two from our exploits there and share them the following fall as the ski season approaches. One of our favorites was the Black Diamond JetForce Pro Avalanche Airbag. And here's why….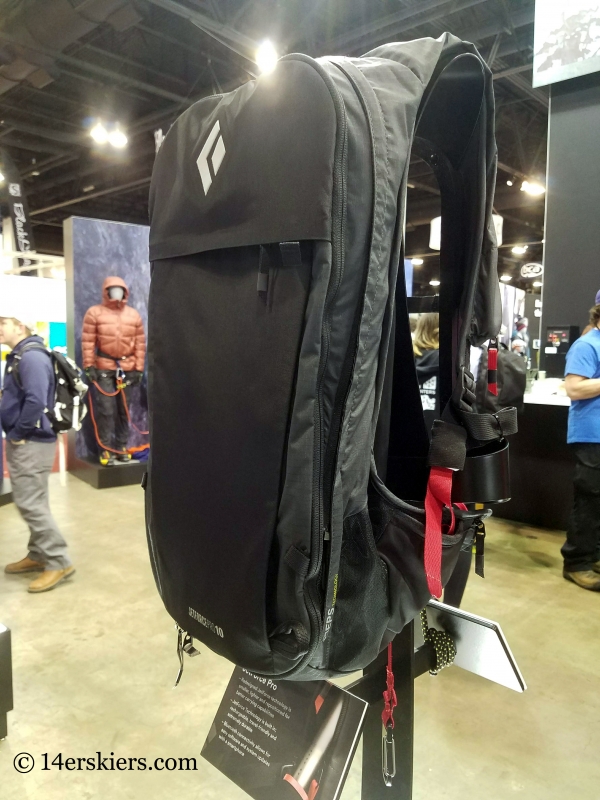 Let's face it. Avalanche airbags are expensive. And they're heavy. Not to mention that traveling with them on planes can be a a real hassle – some models of airbags can't travel on planes or you have to discharge a canister of pressurized air and find some place to refill it, or buy a new one. And let's talk about deployment – how many times have you pulled your airbag? Maybe 1-5 times a year? Did you ever have a deployment fail? How do you know your airbag is actually working and that you aren't carrying all this extra weight for nothing? And how do you actually practice deploying an airbag?
Improving on the old
But the Black Diamond Diamond JetForce Pro Avalanche Airbag seems to have solved a lot of these problems. This year's model is an improvement on the old – the JetForce technology is redesigned with a smaller fan, making it lighter, and it's smaller and repositioned in the pack, making it less bulky and easier to carry.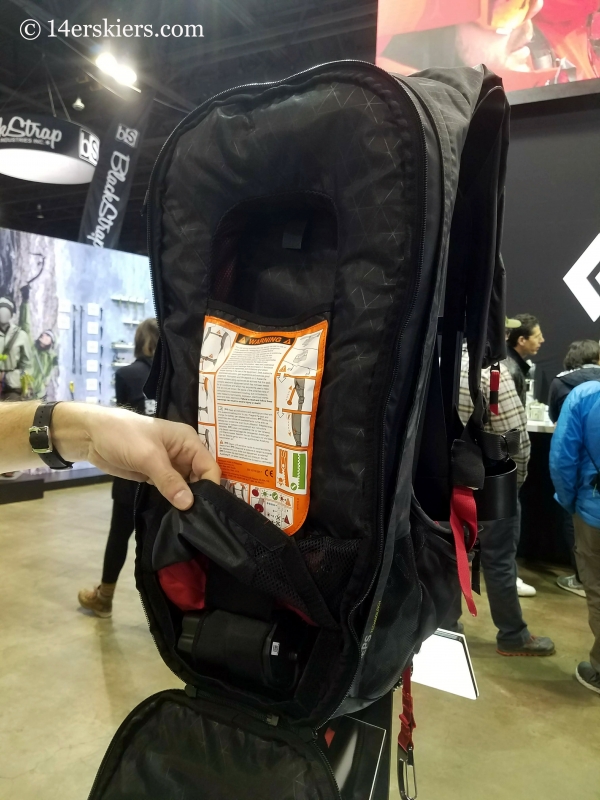 Modular capabilities called Boosters
Yet the real icing on the cake is that Black Diamond made the JetForce Pro Avalanche Airbag modular. What does that mean? You can buy the airbag in a base size of 10 L or 25 L or 35 L, and then purchase additional modules called Boosters to get the same pack to be the other sizes. So, for example, I can purchase the 10 Liter back to use as a "slackcountry" airbag, and then get a Booster to convert my bag to a 25 L or 35 L size for longer days in the backcountry.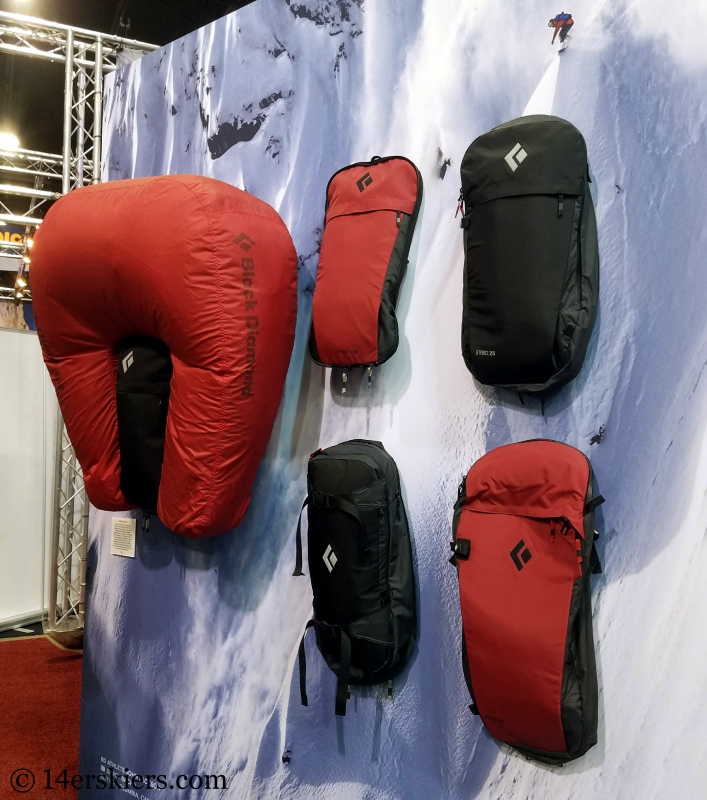 Okay so why is this a huge benefit? Because airbags are expensive – most in the $700 to $1500 range. And many backcountry skiers prefer to have different sized packs depending on what they are doing – one for slackcountry, one for backcountry, another for overnight trips… Maybe even a different one for long spring tours. But most of us aren't made of dough. And although much of our dinero may go to fuel the passion we love, it's not very realistic for us to own multiple airbag packs. Sure, some models of airbags have allowed the airbag system to be removed and placed into other different sized bags. But, this can be a difficult process – and what if you didn't do it right? This process can also mean you're purchasing a whole new bag for $250-$400. Of course, this is much cheaper than purchasing a whole new airbag of a different size…. But, with the Black Diamond JetForce Pro Avalanche Airbag, the Boosters only cost $69.95, no matter the size. The original pack retails at $1399.95, again, no matter if it's the 10 L or 25 L or 35 L size. That means, you can have all three sizes for $1539.85. In the big scheme of things, that's not a bad deal.
JetForce Technology
The basics of the JetForce Technology haven't changed, and is something we wrote about back in 2014. The system operates using a battery. When the airbag trigger is pulled, the battery powers a high-force fan to blow air in the airbag. A few of the benefits of this design include: 1) You can actually practice deploying your airbag because all you need to do is recharge the battery (practicing improves your familiarity with the system in an emergency and also helps to ensure the airbag system is functioning), 2) The bag can be deployed multiple times before the battery needs to be recharged – great for practice and a better option for multiple day tours, 3) The design is free of hassles while traveling on a plane – no pressurized air, etc. to worry about!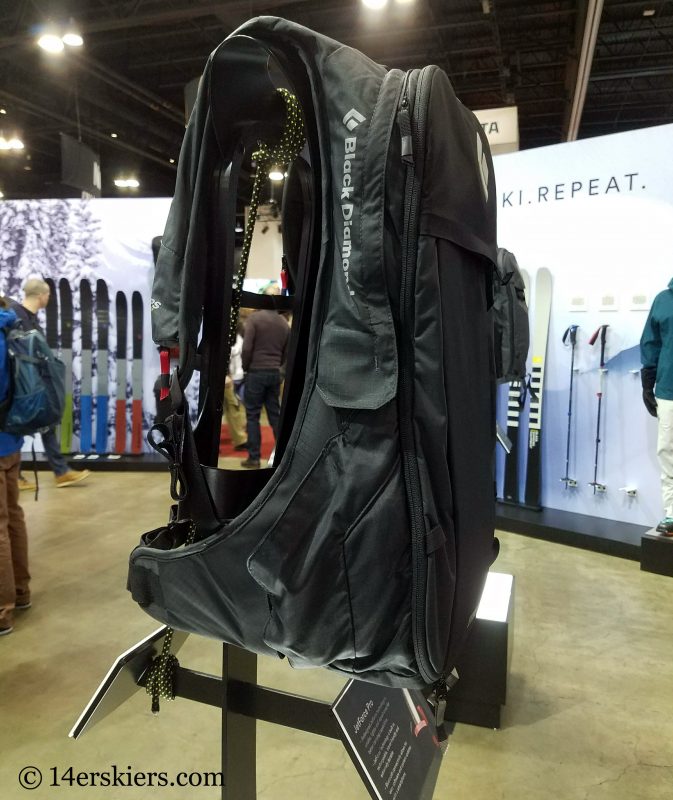 Other Functionalities
Other functionalities of the JetForce Pro Airbag is that the pull trigger can be changed from right to left, skis can be carried diagonally, there is an attachment for a single ice axe, a helmet carrier, and a hip belt pocket. The leg loop is now retractable and easily attached to the hip belt with a built-in carabiner. Also, an alternative 25 L Booster is geared toward all the things a snowboarder desires.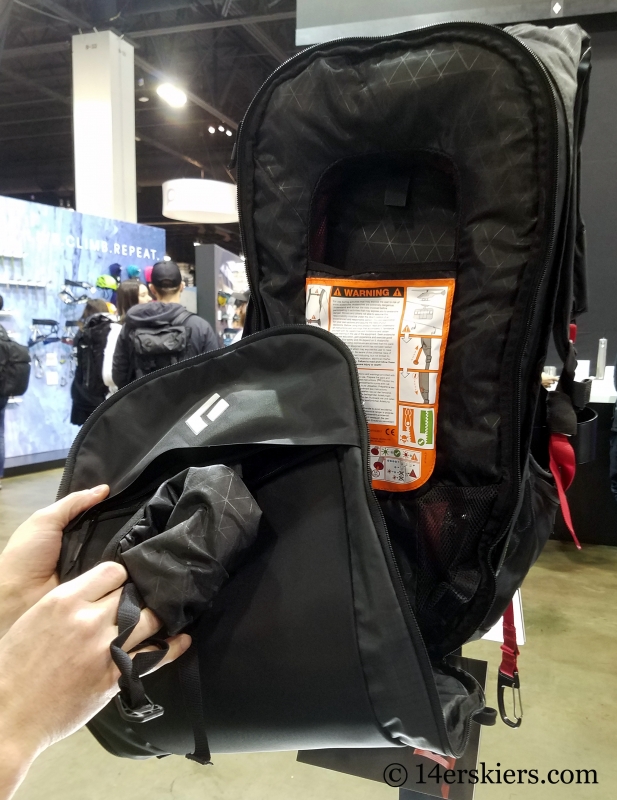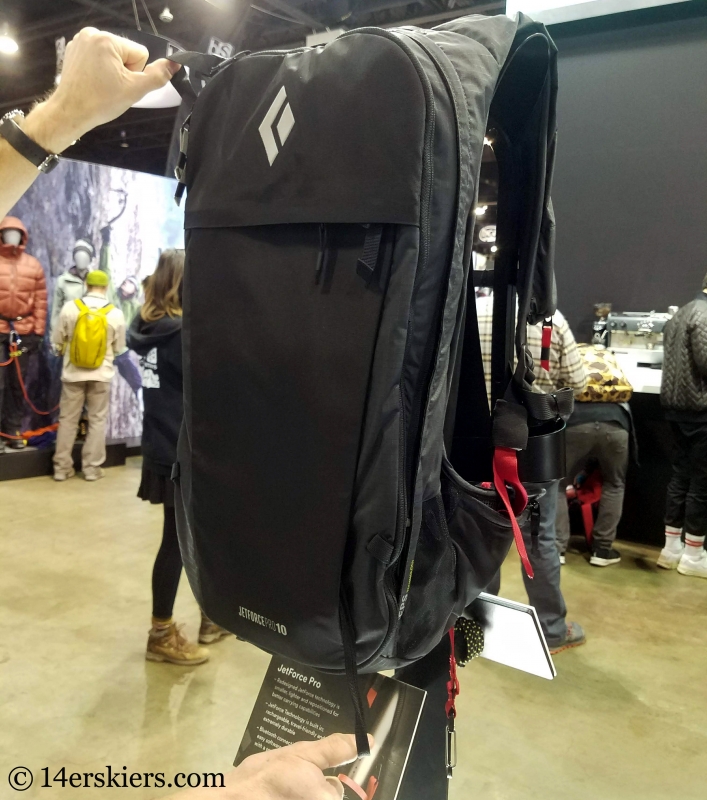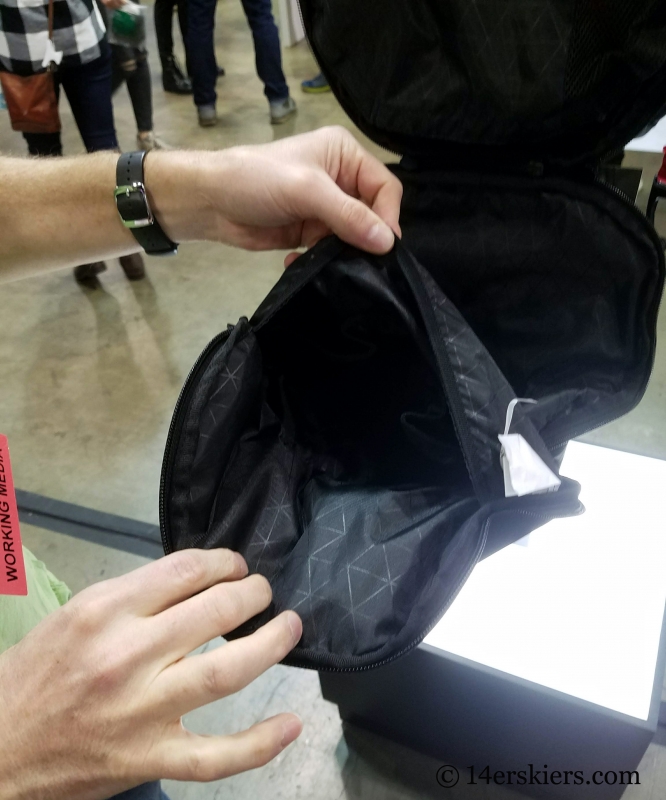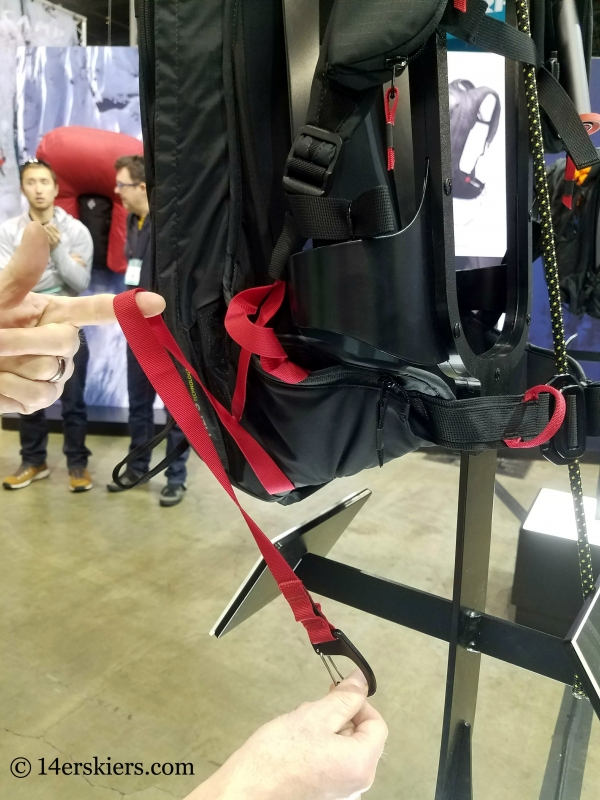 What I'm still waiting for…
I love what Black Diamond has developed in the JetForce Pro Avalanche Airbag. But, I also love being able to stay hydrated in the field. I don't usually have time to stop and grab a water bottle from my pack and then keep going. In fact, I loathe that. I rely on CamelBak style hydration, from a tube. For me, if I can't use a hydration bladder in a backpack, it's a no-deal. I won't use the pack. I am hoping Black Diamond can find a way to design the pack to allow a hydration tube to pass through alongside the airbag, without interfering with deployment. A bigger hip belt pocket would also be a bonus. Last, I'd like to see a Booster in the 40-45 L range that would be better for overnight hut trips.
The wrap
The Black Diamond JetForce Avalanche Airbag backpack is a revolutionary design. So many things about it are perfect. Hassle-free on planes, you can practice with the airbag, the innovative modular design… If you can deal without a hydration bladder, then the Black Diamond JetForce Airbag is the pack that you want!
Aside from skiing, biking, and all outdoorsy things,
Brittany Walker Konsella
also loves smiles and chocolate 🙂 Even though she excels at higher level math and chemistry, she still confuses left from right. Find out more about
Brittany
!
Latest posts by Brittany Walker Konsella (see all)
Summary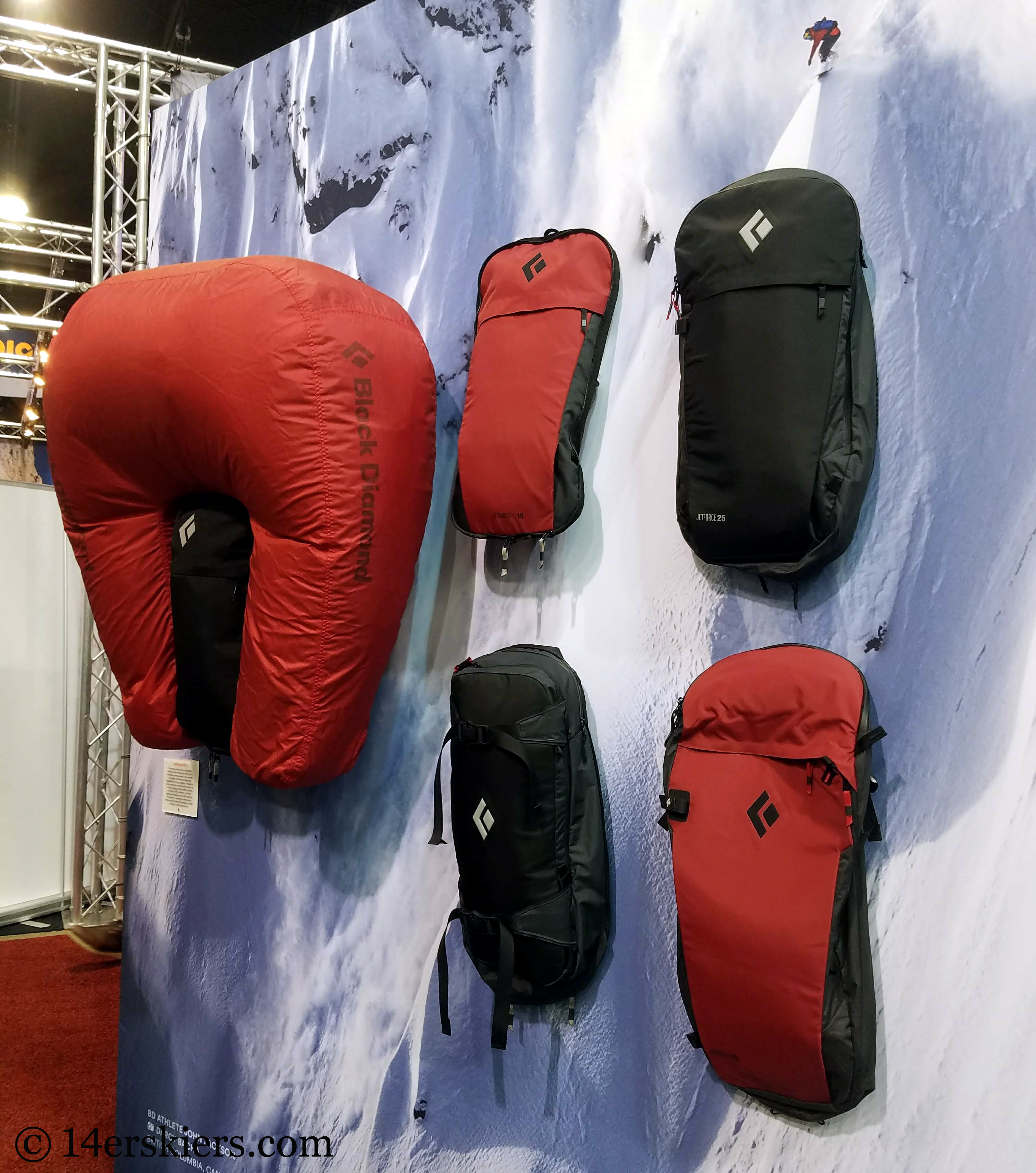 Article Name
Outdoor Retailer Highlight: Black Diamond JetForce Pro - Now Modular!
Description
The Black Diamond JetForce Pro has affordably created an avalanche airbag with improved funtionality and versitility with modules called Boosters.
Author