TR: Independence Mountain 6.1.19
(Last Updated On: June 16, 2019)
Ah, spring skiing. One of the most eagerly awaited events of late spring is the opening of Independence Pass between Aspen and Leadville, Colorado. With an elevation of over 12,000′, it's no wonder skiers from across the state flock to the pass for easy access turns. Our guidebook contains several routes from the area- and with good reason. Traditionally, the pass opens around Memorial Day, but this year the pass opened a bit late due to heavy snowfall and several massive slides (especially on the Leadville side). To be honest, it was impressive that they were able to get it open at all- and even more impressive that most of the pulloffs were ready for skiers, complete with port-a-potties.
With aspirations of skiing Maroon Peak the following day, Brittany and I were looking for a shorter day- and Indy fit the bill perfectly. Our friend Larry traveled down from Steamboat, while Ann and her friend Kara met us from the Roaring Fork valley, and Natalie came over from Summit County. That's the great part about Independence Pass skiing- it's basically a giant party of like-minded skiers that aren't ready to put the skis away yet.
We met at the old ghost town of Independence on the Aspen side of the Pass at 11,000′ or so. At one time, the town had as many as 1,500 residents, but today only a few buildings remain. Directly above the townsite is the aesthetic 12,793′ summit of Independence Mountain. Brittany, with Independence Mountain above: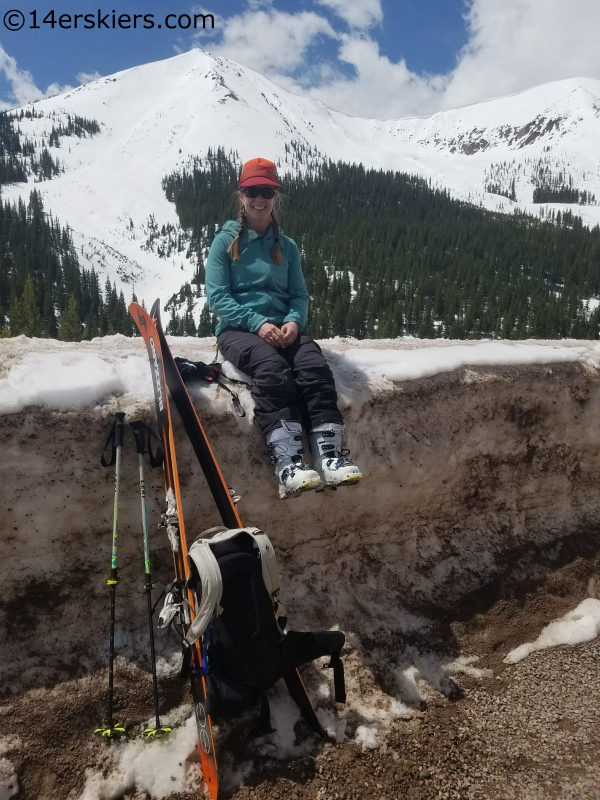 Another group ahead of us headed out to the fun looking mini-golf lines called the Palisades that I've taken note of for years. We thought about heading that way too, but decided it was a bit late in the day.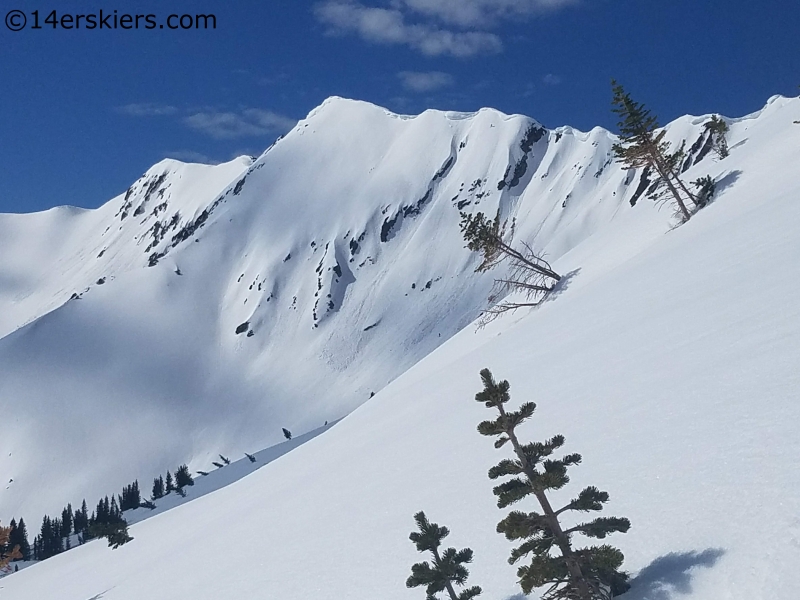 Still, we had time to drop in the East bowl, which had the best corn snow we had skied in years. Lately, it seems like corn snow barely exists- we get dust, or rain, or the temps get too hot, too fast. But not this day- we had effortless skiing. We made our way back to the summit, where the more North-facing bowls were just beginning to turn "ripe" with the corn harvest.
Second run, Kara: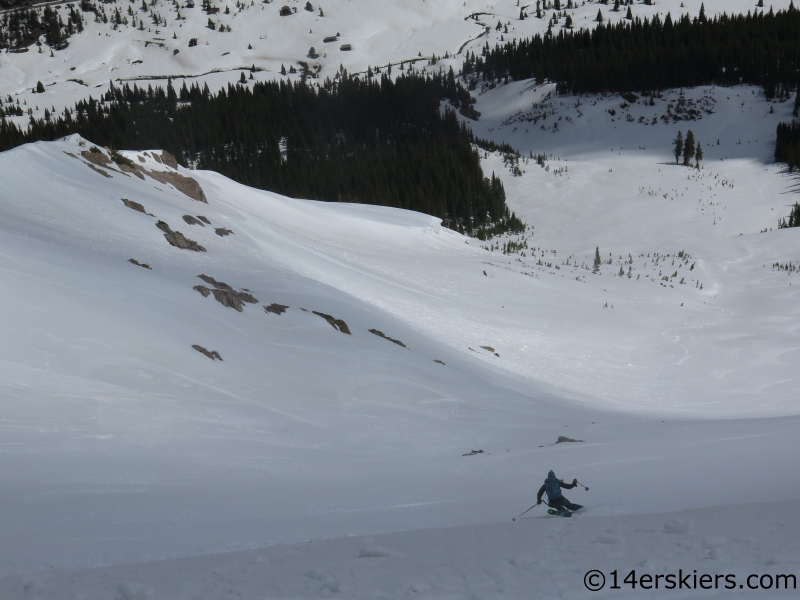 Frank: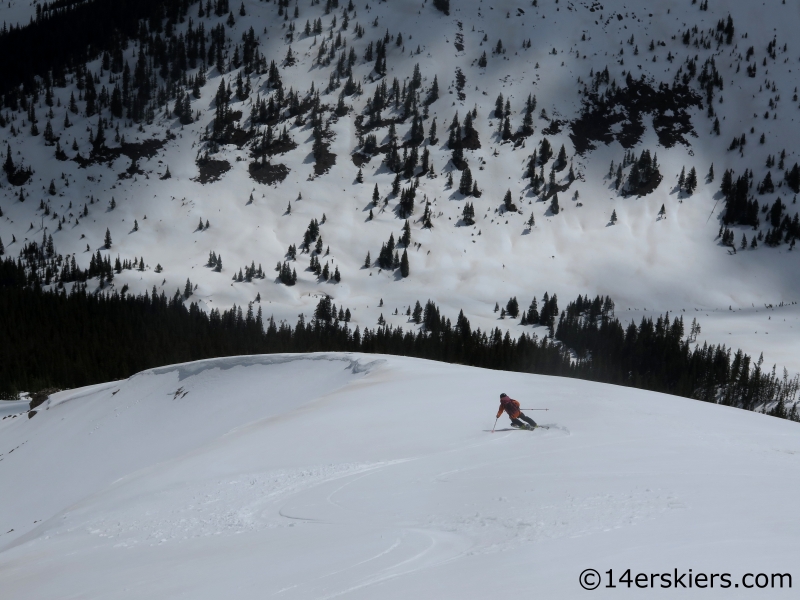 Larry, with the highway below: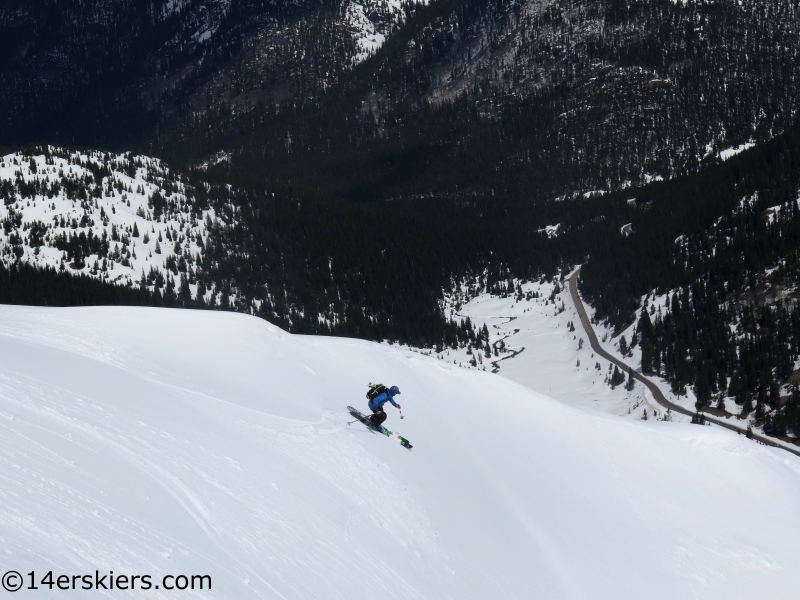 After our second lap, we headed towards Lou Dawson's barbecue, where we found plenty of friends old and new, along with beers and brats. If you haven't caught an opening weekend at Independence Pass, we'd suggest putting it on your "ski bucket list".
Frank
loves snow more than anything... except his wife.  He ensures his food is digested properly by chewing it 32 times before swallowing.He is a full-time real estate agent serving
Crested Butte and Gunnison
and would be honored to send you his
monthly newsletter.
Latest posts by Frank Konsella (see all)
Summary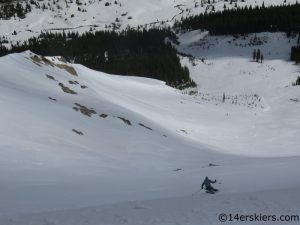 Article Name
TR: Independence Mountain 6.1.19
Description
Skiing Independence Mountain on opening weekend of Independence Pass 2019. this mountain features several high quality ski routes and isn't to be missed.