Review: LEKI Tour Guide Glove
(Last Updated On: February 9, 2020)
Admittedly, gloves aren't always the most exciting thing to write about. But they actually matter a lot. A good glove can really or make your backcountry ski day. A glove that isn't waterproof or is not moisture-wicking can cause your hands to get cold and a glove not insulated enough can also do the same. Matching your glove with your activity is key.
The LEKI Tour Guide Glove is built for what it is named – touring. It's a light glove with maximum dexterity & ventilation, but minimum insulation and waterproofing. But, the LEKI Tour Guide glove excels in the category for which it was built. And here's why.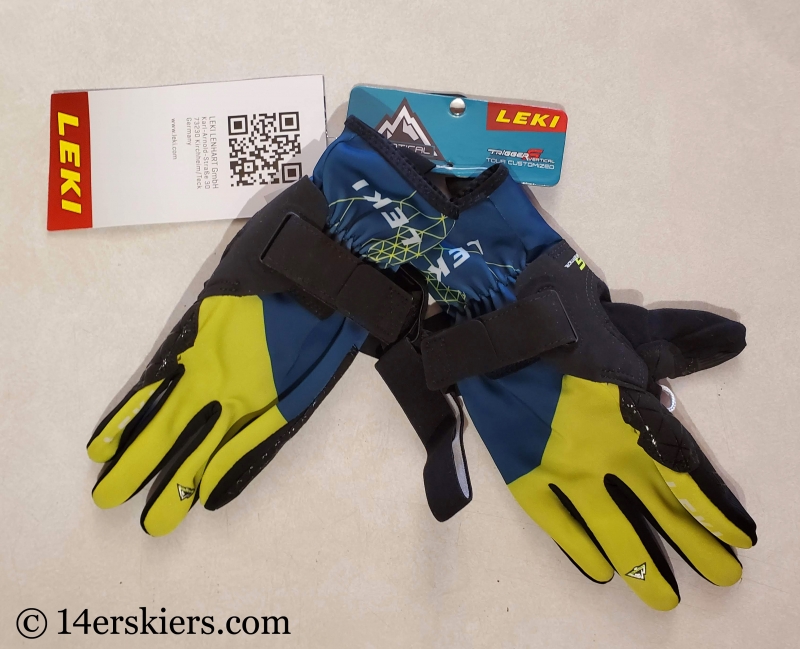 Dexterity & Grip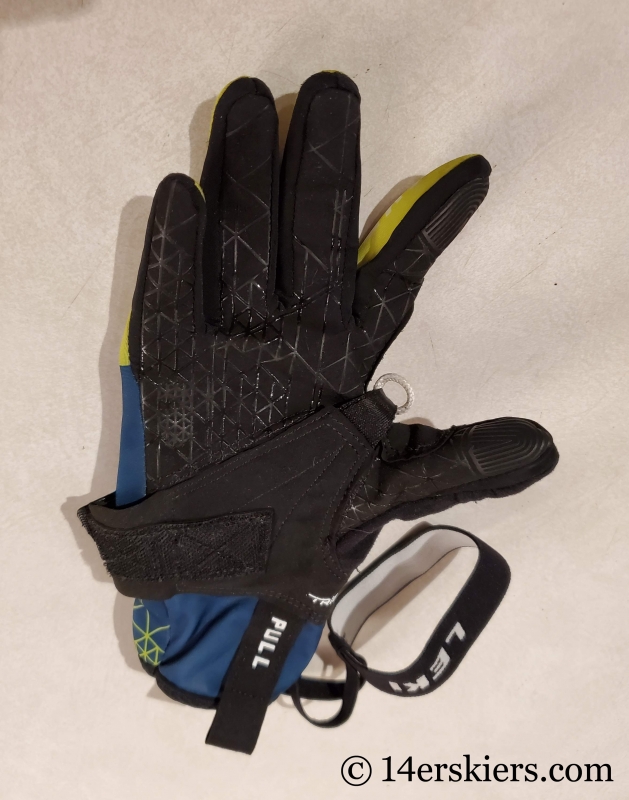 The thin nature of this gloves allows it to be very dexterous. But, a few key features add to this. For example, the index fingers are capped with a material that is compatible with touch screens, so you can look at maps and operate the camera on your smart phone with your gloves on. This helps reduce "fiddle time", and also helps keep your fingers warmer when you are needing you use your phone. All of the fingers have a very rubbery material on them, which really helps improve slipping while gripping.
Thin but Warm Enough
These gloves are generally as thick as a typical bike glove. But, I found them to be surprisingly warm to use while remaining active. The interior of the grip, along the inside the fingers and palm, uses a thicker material which helps improve moisture wicking but also helps increase warmth as it protects you while you hold onto your cold poles. I used the LEKI Tour Guide gloves on some cold days and found them to keep my hands just warm enough, especially while I remained active.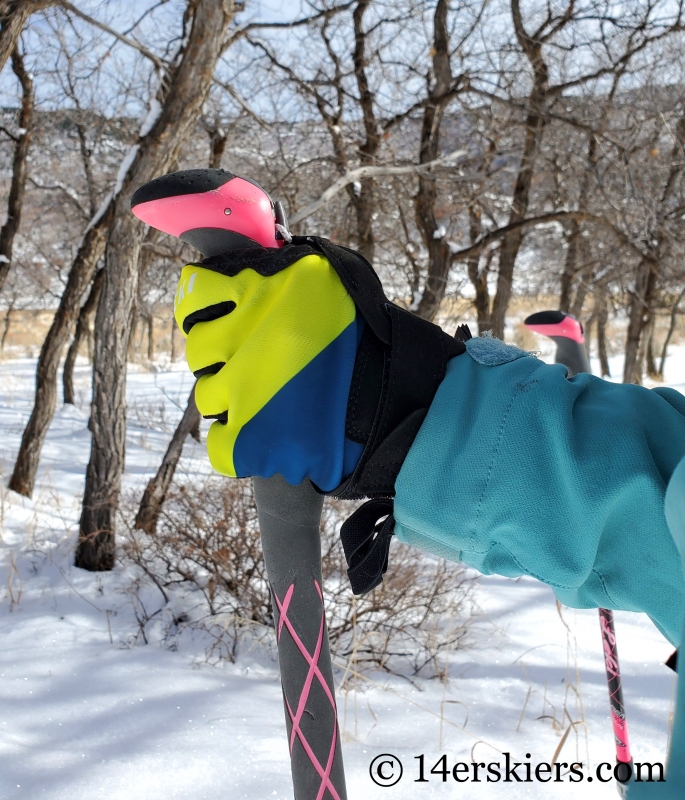 Leash
There are times when you need to take your gloves off. I am a big fan of leashes on gloves as that means I can let them dangle and not worry about the gloves dropping, rolling down a hill, or blowing away. I often will let gloves dangle from the leash while still moving too, saving "fiddle time". The Tour Guide gloves come with a built-in leash.
Built in Trigger S System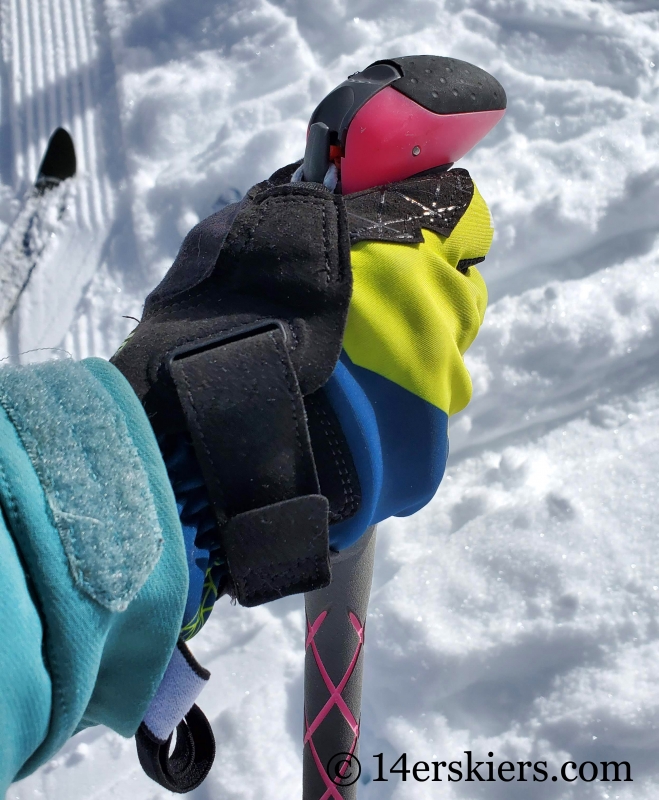 I've written about the Trigger S system before. Some people really love it. I really like the concept – the glove locks into the grip on the pole, but automatically releases when the pole is put in a compromising position. This helps prevent injuries to the thumb, wrists, fingers, and even shoulders. Admittedly, I have struggled using the Trigger S system in the backcountry as I sometimes like to let my poles dangle from a regular pole strap. I also found that using the Trigger S on thicker gloves was a bit trickier as it was sometimes hard to get them to lock into place on the grip. But, since this glove is thinner, locking into the grip was easy. I have found that I love the Trigger S system while cross-country/nordic skiing. I like the position it puts my hands in and how easy the system makes it to hold on to the poles, especially when I need leverage. The Trigger S really jives with this glove and makes it the perfect fit for ski touring or nordic skiing.
The Wrap
I have been pleasantly surprised with the LEKI Tour Guide's functionality as well as performance. The LEKI Tour Guide Glove is a great glove to use during activities that keep you primarily active, like ski touring or cross-country skiing. It would also make a great ski mountaineering glove on warm spring days, and also a great glove for hiking in the mountains in summer, when rain can suddenly burst into snow even in July. If you're in the market for a versatile lightweight glove the LEKi Tour Guide is a great choice!
Aside from skiing, biking, and all outdoorsy things,
Brittany Walker Konsella
also loves smiles and chocolate 🙂 Even though she excels at higher level math and chemistry, she still confuses left from right. Find out more about
Brittany
!
Latest posts by Brittany Walker Konsella (see all)
Summary
Article Name
Review: LEKI Tour Guide Glove
Description
The LEKI Tour Guide Glove excels as a touring piece. It's a light glove with maximum dexterity & ventilation, but minimum insulation & waterproofing.
Author