2016 Holiday Gift Guide for Backcountry Skiers
(Last Updated On: December 14, 2016)
If you're looking for gift ideas for backcountry skiers, then you've come to the right place. Whether you're looking for gift ideas for yourself or for someone else, you'll find a wide range of selection below. Furthermore, all of the products we recommend as gifts are things that we use regularly, and that we love – they've passed our harsh tests. So check out the 20 gift ideas in our Holiday Gift Guide for Backcountry Skiers and you'll likely find something for you or those that you love.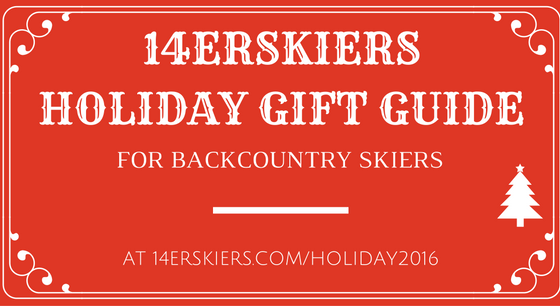 1) Skis
Our favorite skis for backcountry skiing are the Zero G 108 and the Helio 116, although the Helio 105 can be good for skiers who need a little less girth. Both the Zero G and Helio are lightweight, making travel easier on the way up, but are also designed for high performance on the descent. Furthermore, both are also fantastic skis all season long, from mid-winter powder to spring corn. These models are the perfect balance of lightweight vs. performance. We highly recommend that you add them to your quiver if you haven't already!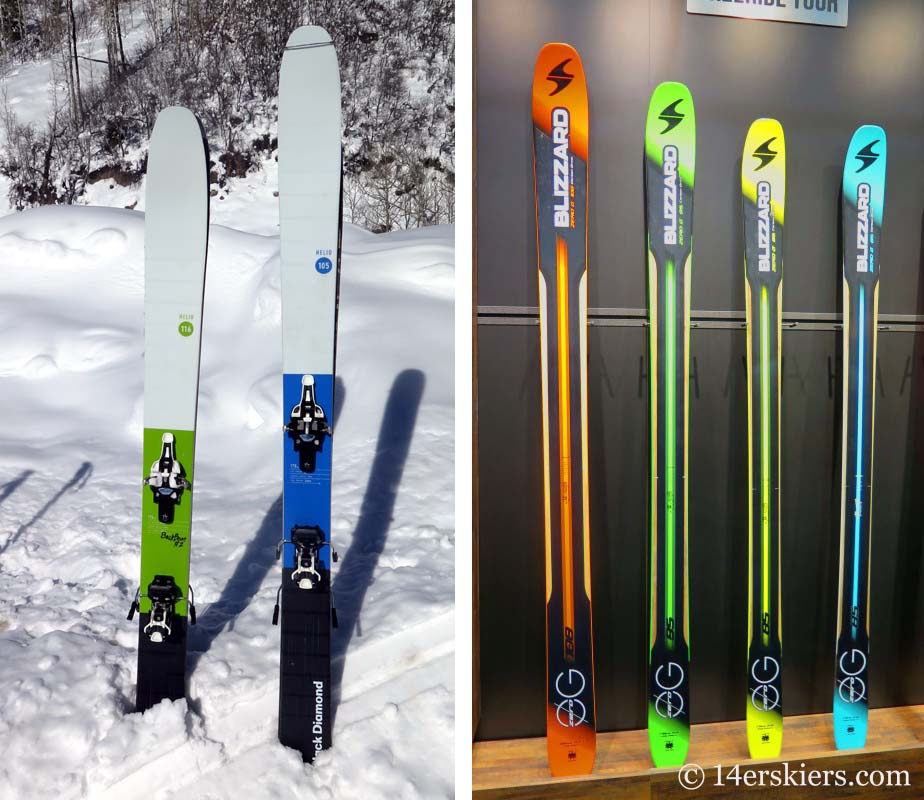 The Helio 116 can be found at:

The Blizzard Zero G can be found at:

2) Poles
For poles, we recommend the Leki brand. For an adjustable pole, Brittany likes her Haute Route Lite which is lightweight and durable, and does not have the typical removable grip which can sometimes be problematic for backcountry poles. For a non-adjustable pole, Frank likes his Leki Redbird- it is a lightweight stiff carbon pole with a nice swing weight. While it is not adjustable, the excellent grip does have a secondary, lower position- making it a great choice for those of you who rarely change pole lengths, but might want another hand position for sidehilling or bootpacking.

You can find the both poles at:

3) Boots
Similar to skis, boots have been toying around with the balance of lightweight vs. performance. Typically we tend to err on the heavier side of the spectrum in order to have reliable performance in our boots, especially on steep descents and difficult conditions. We recommend the Tecnica Zero G Guide and Guide Pro boots which are a lightweight boot packed with performance. The Guide boot comes in men's and woman's, where the Guide Pro comes in men's.

Tecnica Zero G boots can be found at:

4) Intuition Liners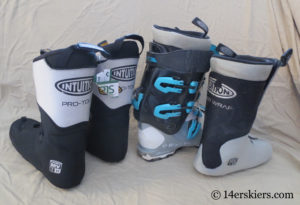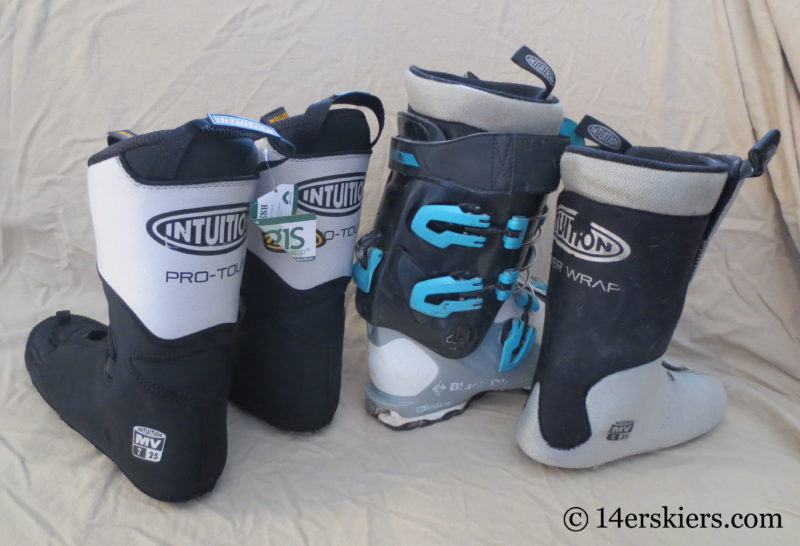 Often, liners are some of the first things to wear out in a backcountry boot. Other times, a boot needs a little extra help to work with your funky feet. Intuition Liners solve that problem with their lightweight custom-moldable design. Forget cold feet – these liners keep your toes exceptionally warm. As an added bonus, they often add stiffness to your boot and are likely lighter than your stock liner too.
Intuition liners can be found at:

5) Bindings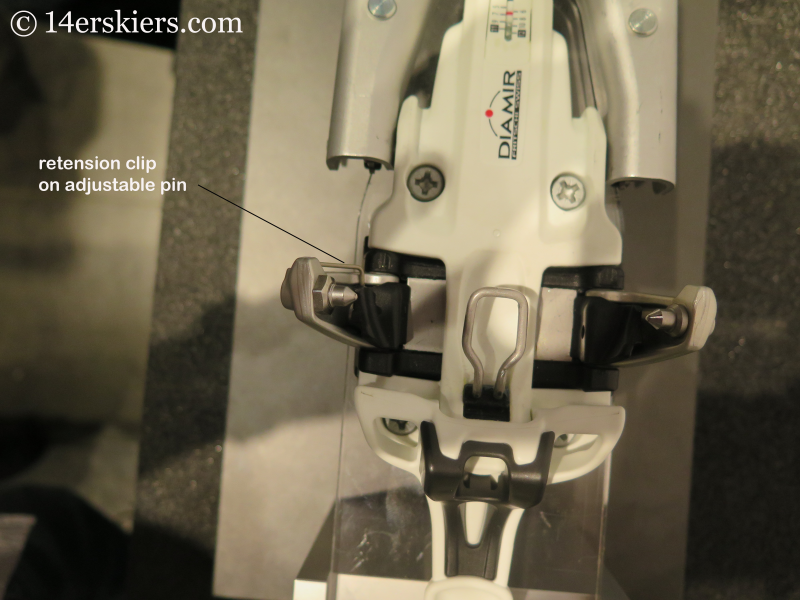 Hands down, the binding we trust most in the backcountry is the Fritschi Vipec. Not only is it lightweight, but is is also easy to switch from tour mode to ski mode and back. We've been skiing this binding for a few seasons now and have not wavered. We like it!
The Fritschi Vipec can be found at:


6) Goggles & Sunglasses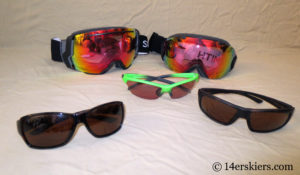 For eye protection, we recommend Smith products. For goggles we love our I/O models. Frank uses the I/O 7 and Brittany enjoys her I/O S for smaller faces. Frank uses the Challis sunglasses, while Brittany is akin to her Purist and Approach sunglasses. All of Smith's eyewear is durable and resistant to scratches and breaking – important for backcountry skiers! Most of their models come with optional replacement lenses, which gives the product a longer life and wider range of use. All of Smith's lenses provide crystal clear vision, and of course protect your eyes from harmful UV rays.
Smith goggles and sunglasses can be found at:


7) Backpack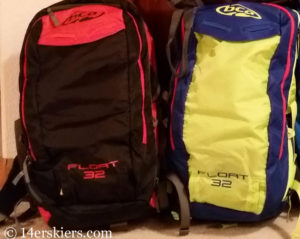 Our favorite mid-winter backpack is the Backcountry Access Float 32 Airbag. Not only is it durable, the airbag could save your life when you least expect it. Complete with hip pockets, a helmet carry, a hydration reservoir holder, and ice ax carry, we have been hard-pressed to find a pack that has all the features we like. To top it off, flying for ski trips is easy with this pack. Simply empty the air canister before you fly and then have it refilled when you arrive to your destination.
The BCA Float 32 can be found at:

8) Beacon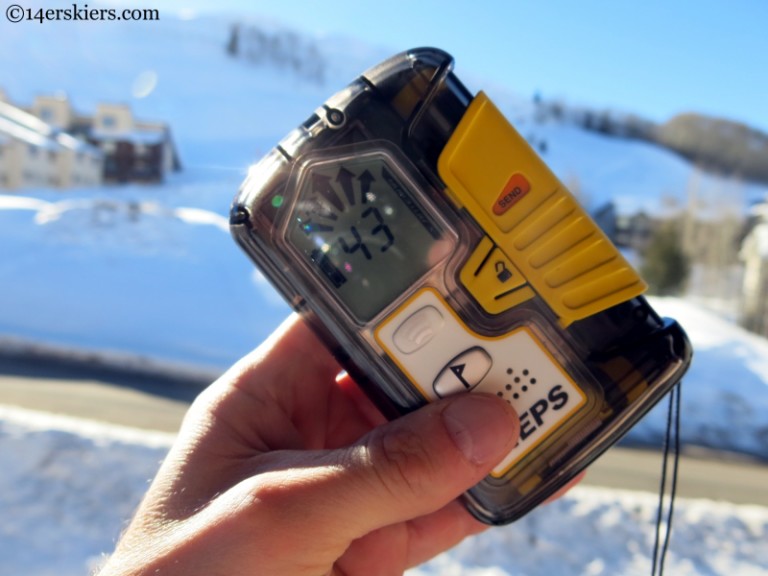 Backcountry skiers need a reliable and easy to use beacon to help keep them safe should disaster strike in the backcountry. Our go-to is the Pieps DSP Pro, which has a simple and clean interface, but is also packed with additional features for those wanting. With a long battery life and great durability, we definitely suggest adding the Pieps DSP Pro to your backcountry kit if you're in the market for a new beacon.
The Pieps DSP Pro can be found at:


9) Outerwear
When it comes to outerwear, we recommend a variety of things, many of which include layering options. For a softshell which is great on the approaches or under a shell on the way down, Brittany loves her Black Diamond Dawn Patrols LT Shell. For a shell that's durable, functional, and stylish at the same time, Frank's preference is the Patagonia Refugitive Jacket. For a down overlayer needed on cold days or during downtime, Frank loves his Big Agnes Shovelhead Jacket. It turns out the same company that's known for their warm sleeping bags makes a pretty good down jacket too! For a softshell pant to be used on warmer winter days and in spring, Brittany was impressed by the performance of the Patagonia Kniferidge Softshell Bib Pants. For a shell pant, complete with a beacon pocket, Frank sports his Black Diamond Mission Pants.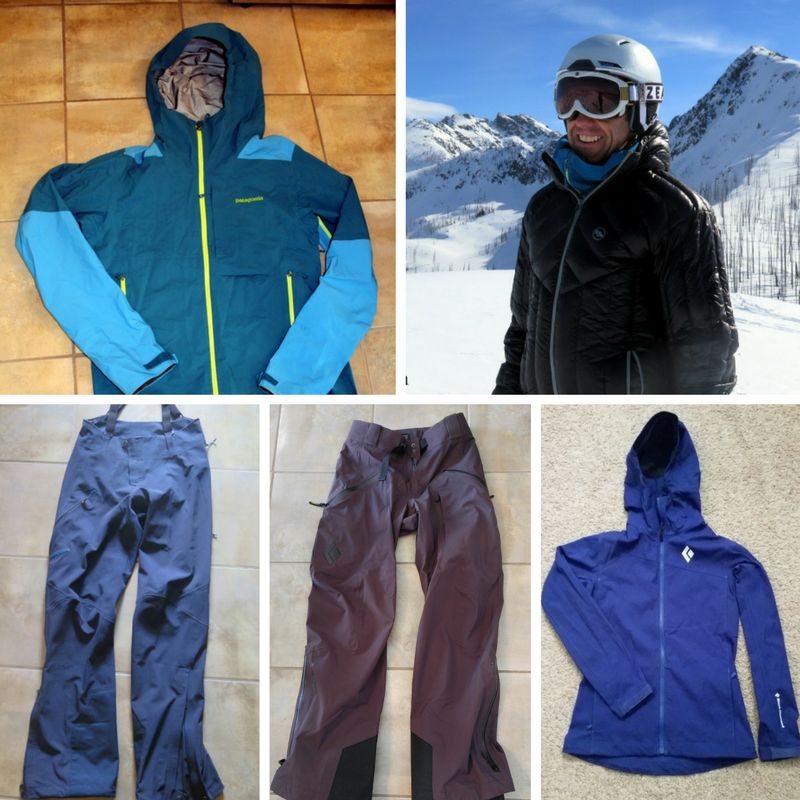 These outerwear products can be found at:




10) Stocking stuffers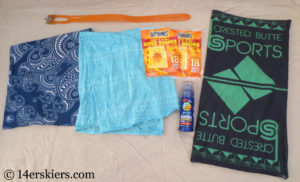 There are always lots of little things to stuff in the stocking of a backcountry skier, many of which can be found in your local store or online. As a rule of thumb, backcountry skiers can never have enough Buffs- whether namebrand or not. You may even find one designed by your own favorite local ski shop. Similar to the Buff, backcountry skiers can never have enough ski straps. We are partial to the Black Diamond brand as it's plastic is grippy and it does not tend to slide off the skis easily like some others similar products. Last, we also recommend lip balms and sunblock – especially the smaller sizes which are also good to keep as permanent items in the pack.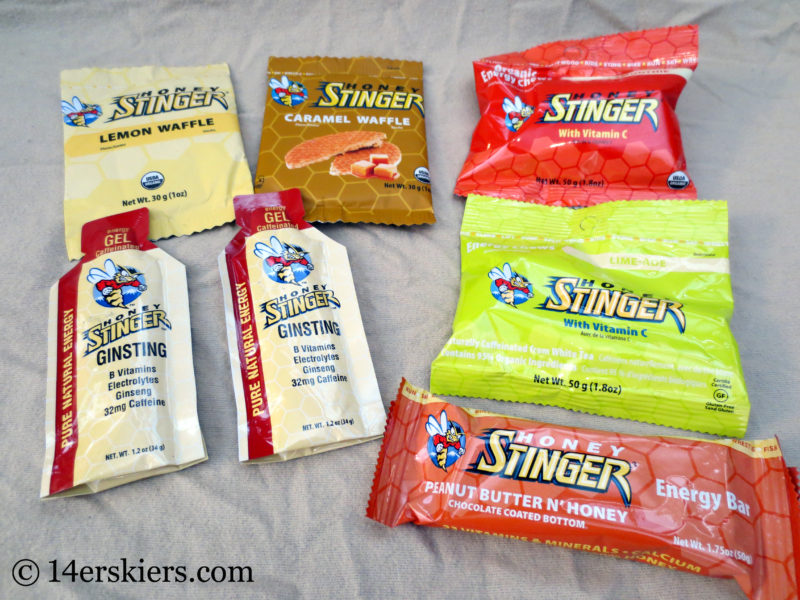 For energy food, our favorite is Honey Stinger. We love their gels, chews, waffles and bars – but just about everything they make is simply delicious and good for you too. Last, sometimes skiers need a little extra wax on their bases. A universal glidewax can be a great addition to the handy-kit in the backpack.
Honey Stinger products can be found at:

11) Shovel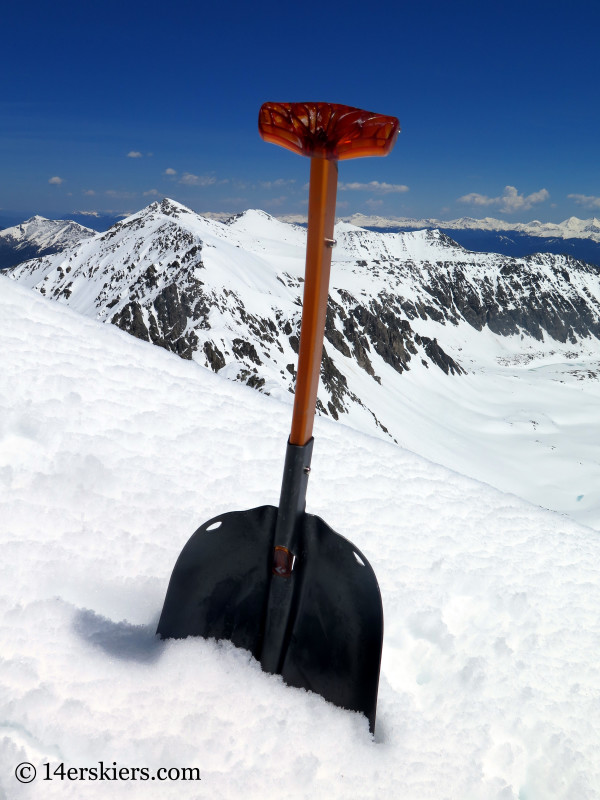 There are a lot of flimsy backcountry shovels on the market. But, in the case of emergency, you want a shovel with a wide blade for fast shoveling, and one that can transition super quick from pack-mode to action. The answer to this is the Black Diamond Deploy 7 Shovel, a hardy tool that can transition on the fly. No, it's not the lightest on the market. But, you'll be wishing you had a solid shovel when push really comes to shove.
The Black Diamond Deploy 7 Shovel can be found at:

12) Guidebooks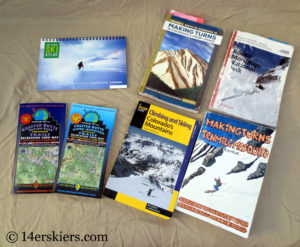 Even experienced backcountry skiers can benefit from guidebooks for zones where they are less familiar with. Maps are also a great planning tool. Featured in the photo at right, we have Latitude 40 Maps for Crested Butte / Taylor Park and Crested Butte / Aspen / Gunnison, as well as the Silverton Off-Piste Ski Altas, all of which can be purchased from our 14erskiers Store. Other guidebooks we like for Colorado include Backcountry Skiing and Ski Mountaineering in Rocky Mountain National Park, Making Turns in the Tenmile-Mosquito Range, Making Turns in Colorado's Front Range (Vol 1: south of I-70), and Climbing and Skiing Colorado's Mountains: 50 Select Descents.
The Making Turns & RMNP books can be found through giterdunpublishing.com. Climbing and Skiing Colorado's Mountains can be found at Amazon and Barnes & Noble.
13) Subscription Apps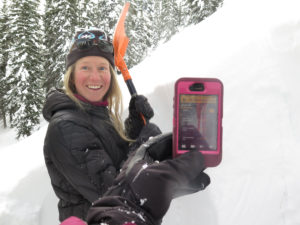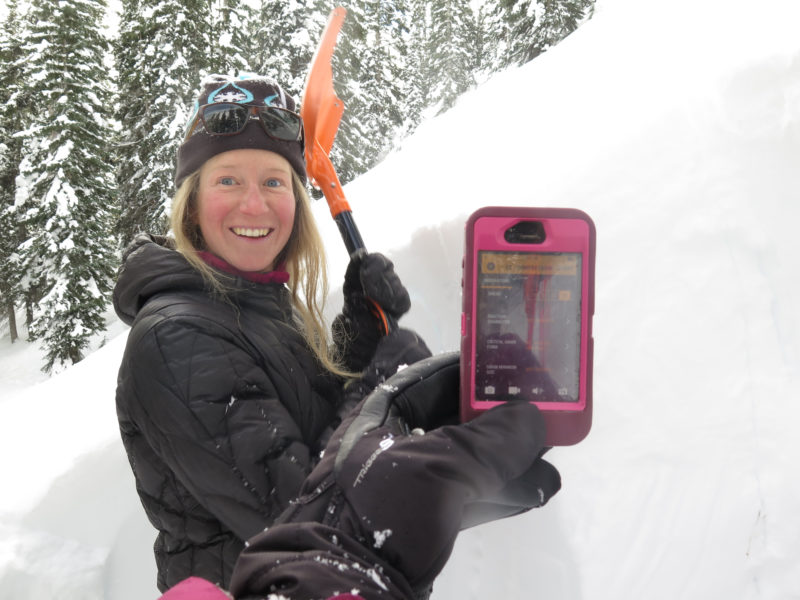 Technology is changing how we travel in the backcountry. Cell phone apps can now help keep backcountry skiers safer. Avanet is an app where users can upload snowpack observations and also get up-to-the-minute updates on observations made by others, provided there is cell service. The paid versions (monthly payments) have route planning tools that include USGS maps and slope shading (tells the steepness of the slope). Unfortunately, Avanet is only available on iPhones. Another app we enjoy using is Gaia. This is a feature-rich GPS-style app. For a small $20 one-time fee, you have it for life, and the purchase is transferable from device to device based on your email account. The Pro version (monthly subscription) includes many different overlays that can be used on top of the existing base map. Backcountry skiers will find the slope shading overlay very useful.
14) Base layers & underwear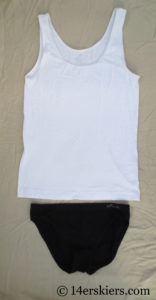 The key to temperature regulation in the backcountry is in layering, and the most important piece of those layers is the base layer. While Brittany prefers high-performance merino wool layers such as those made by Colorado's Smartwool, Frank's sensitive skin makes him more partial to synthetic base layers like Capilene. For underwear, both for performance and lounging around, Brittany likes Boodywear, a brand whose fabric is primarily made from bamboo. Not only is it super soft, but it's moisture wicking and good for the environment too.
Smartwool and Capilene products can be found at:

15) Cleaning products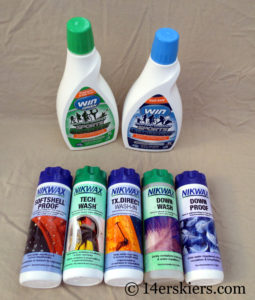 The downside to getting out there a bunch and using your gear is that your clothes will eventually get dirty, stinky, and lose a bit of waterproofing. On the stench front, we were given WIN detergent to try out, and we'd have to say that the stuff actually works. If your favorite base layer smells like BO even after a trip through the washing machine, give WIN a try- you can find it here.
Another product we've been using for years is Nikwax in various forms including Tech Wash, TX Direct Wash-In, Down Wash, and Down Proof. The biggest benefit of these products is getting that surface water repelency back up to snuff. So if your GoreTex is still working, but the fabric looks soaked when you're out in the elements, give NikWax a try before buying new gear. Nikwax products can be found at:


16) Camping Recommendations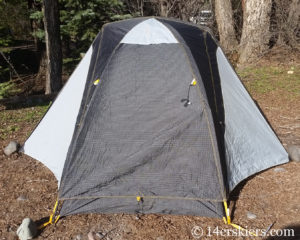 Adventurous backcountry skiers will need a good camping set up, especially for spring ski mountaineering months. Whether it's for setting up a base camp, camping from point to point on a tour, or just car camping for those alpine starts, camping allows more options for backcountry skiers. Our favorite company for camping products Big Ages, whose products we have been using for many years. Of late, we are partial to their Foidel Canyon 2 tent which is their 3+ season tent. This is also available in a 3 person tent. The Foidel Canyon is easy to put up, stands strong in the wind, and does a great job protecting from the elements.
For sleeping pads, we love the Big Agnes Q-Core line. These are insulated and warm, yet incredibly lightweight and pack into nearly nothing. They are the best on the market.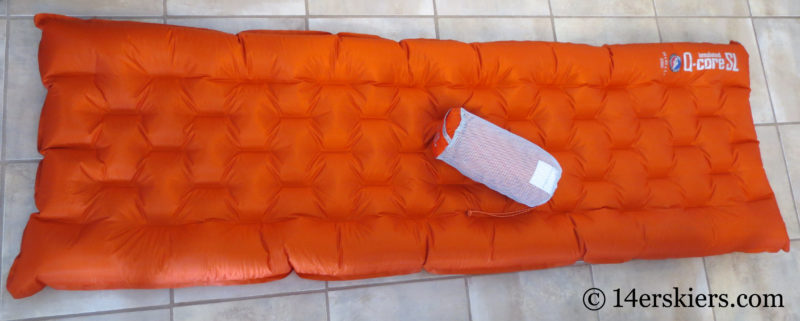 Comfort at the camp is also important, which is why we love the Luci Light. This light runs on solar and illuminates fairly well. It will minimize the need for your headlamp. Lightweight and compact (it folds up nicely), this light also has various settings – bright, less bright, flashing, and off.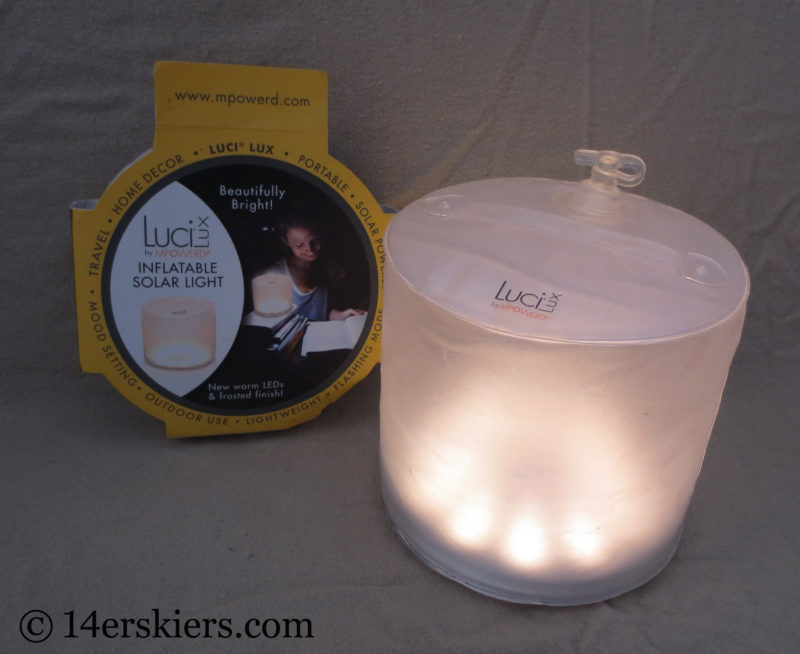 The Luci Light can be found at Backcountry.com and REI. The Big Agnes Foidel Canyon tent and Q-Core sleeping pads can be found at:

17) Coolest gadget to fix clothing – FixnZip
Another product that we were given the opportunity to review is the FixnZip. The FixnZip comes in multiple sizes and should fix just about any broken zipper- even one with broken teeth. You can even fix zippers that aren't meant to go "off the track", such as pocket zippers. It's a pretty ingenious little device, and we tried it out on one of Brittany's jackets seen in the photos below. It's been working flawlessly for months now. If you have a broken zipper, give it a try. And if you're heading out on a big expedition, this would be a lightweight and valuable item to have in your "fix-it" kit. For more information, including instructional videos, visit their website.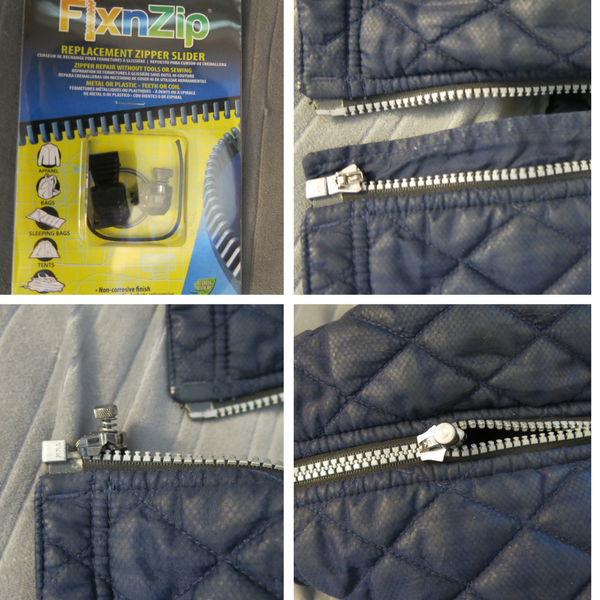 18) Socks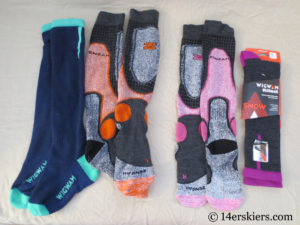 You can never really have too many ski socks, can you? We've been using Wigwam socks since we were kids, and they remain an excellent choice with a lot of value. Zensah also sent us some merino wool blend socks to try. They tout a "far-infrared" fiber coating that supposedly makes them warmer. They are warm, so perhaps it actually works… Zensah socks can be found on their website. Wigam snow socks can be found at:


19) Hats – La Sportiva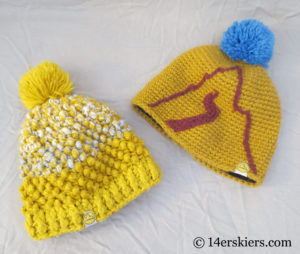 There's a lot of cool stuff at SIA. So if hats, of all things, catch our eye, there must be pretty special. So yeah, we'd recommend checking out La Sportiva hats as well. Heck, in the last week alone I had two people come up to me and say, "I really like your hat." A large selection of La Sportiva hats can be found at:

20) Gift Cards
When all else fails, there's always gift cards. Sure, they seem impersonal, but at least the recipient always gets what they want. Lift tickets are, sadly, expensive these days. Usually one of the cheapest ways to buy a ticket is on Liftopia.com. A gift certificate is a great way to chase storms to the resort that's getting the goods. visit their site and search for gift cards or your favorite mountain:

Many of our links are to Backcountry.com, because they have nearly everything, from hiking to biking to skiing. So it's always a good choice if you're not quite sure what to get, or new skis just aren't in the budget. Like Liftopia, search for gift cards once you're on the site.

Aside from skiing, biking, and all outdoorsy things,
Brittany Walker Konsella
also loves smiles and chocolate 🙂 Even though she excels at higher level math and chemistry, she still confuses left from right. Find out more about
Brittany
!
Latest posts by Brittany Walker Konsella (see all)
Summary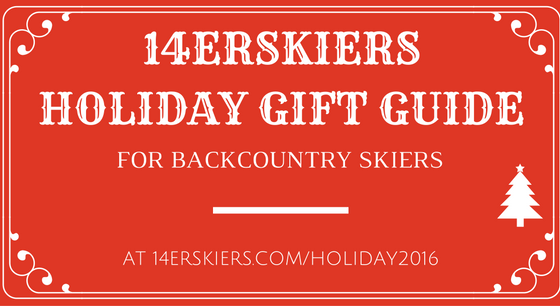 Article Name
14erskiers Holiday Gift Guide for Backcountry Skiers
Description
Need ideas for finding gifts for your adventurous person? Check out the 14erskiers Holiday Gift Guide for Backcountry Skiers - products we use & love!
Author