Book Review: Making Turns in Colorado's Front Range, Volume 1: South of Interstate 70
(Last Updated On: January 27, 2017)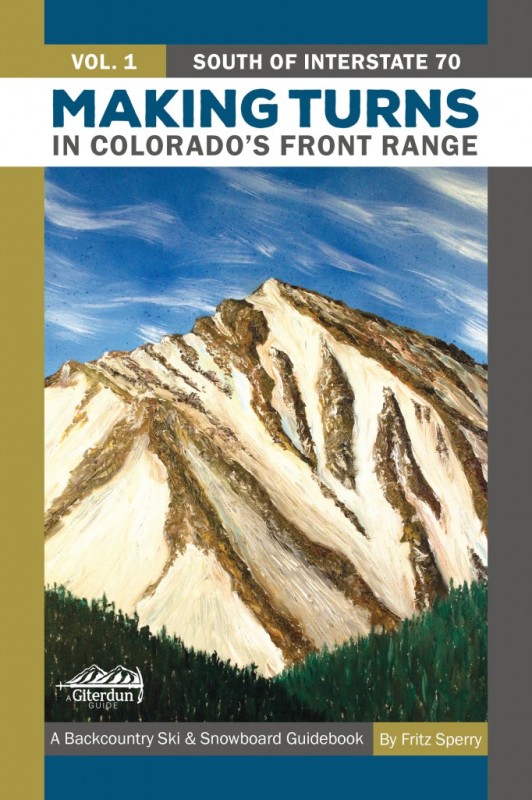 Title: Making Turns in Colorado's Front Range, Volume 1: South of Interstate 70
Author: Fritz Sperry
Year: 2014
Where can I get it? First, check your local shop. Many local mountaineering shops on the Front Range including Bent Gate in Golden and Neptune Mountaineering in Boulder will be carrying this book. If your local shop isn't carrying this, then request it. The book can also be purchased on the publisher's website at Giterdun Publishing.
Review
Making Turns in Colorado's Front Range, Volume 1: South of Interstate 70 is another great book written and published by Fritz Sperry. This book features approximately 70 backcountry or mountaineering routes for skiing and snowboarding on 39 different peaks or areas. As the book title states, all of these routes are on the Front Range, and south of Interstate-70.
The layout of the book is organized and easy to follow. The book begins with a map of the area that is south of I-70, with route numbers placed near the approximate route location so that you can easily see where each route is relative to the others. The table of contents which follows is descriptive and easy to use. From there, the book is divided into sections. The first section features the Introduction which summarizes the geologic and human history of the area. It also covers backcountry and avalanche safety, how to work around the wildlife, details of the Mount Evans Wilderness, camping tips and suggestions, as well as helpful hints of how to best use this guidebook. The body of the book is the separated into a section for trailhead information and another section with all the route description. At the end of the book is an appendix that contains maps, a glossary, a sunrise/sunset chart, various resource lists, and an index.
Most notable is how Sperry separated the trailheads, routes, and maps into different sections. Many guidebooks do not do this and interlace them throughout. But, I like this separation since so many trailheads and maps overlap between various routes. Furthermore, the trailheads have their own different colored tab that allows for easy separation from the routes.
The trailhead descriptions are brief, but contain the necessary information to get you there. Descriptions are complete with starting elevation as well as latitude and longitude coordinates for use on your GPS or Smart Phone. Also listed are peaks or routes that can be accessed from the specific trailhead.
Routes are organized by number and letter. Routes that share the same peak or are in the same area, they share a number, but have a different letter. Routes that are on different peaks or are in different areas have different numbers.
Route descriptions come complete with a table that states the route number, peak or area, name of the route, difficulty, distance, vertical gain/loss, sunhit, aspect, preferred season, trailhead name, and page numbers for maps and for photos. The route numbering system corresponds with the numbering system on the maps as well. The actual descriptions themselves are quite detailed giving necessary route-finding information as well as stating any concerns that may be present for each specific route.
As is typical for Sperry's books, Volume 1: South of I-70 is full of colorful and vibrant photos that really bring the lines described to life. Whether it's a shot of the line itself or someone climbing or skiing it, these photos add a lot to the information provided in the book.
Curious Example
To be honest, I did not read all of Sperry's book. I read many of the routes that I already know, because that gives me a good basis. One thing I did notice was that Sperry did not put in the traditional route to climb Torreys Peak, which is via the saddle between Grays and Torreys. I thought this was interesting to leave out as I consider it a much safer way to access the Dead Dog Couloir since it is laden with rock fall. I understand the philosophy of "climb what you ski", but I think including the traditional route is also a good idea as it gives people more options that could perhaps be safer. One time, Frank and I actually chose to ski this traditional route too, because we didn't like the snow conditions in the Dead Dog and other east facing routes . Of course, most fairly experienced backcountry skiers could probably figure it out. But, still, I think it's worth noting here.
Suggestions for Improvement
I like that the trailhead descriptions are separate from the route descriptions. However, just as the route table lists page numbers for maps and photos, it needs to list page numbers for the trailheads too. Otherwise, the trailheads need to be organized in alphabetical order. It would also be useful to have trailheads marked on the existing maps (which they are not currently) – maybe with its own numbering system (ex. T1, T2, etc.).
The photos bring this book to a different level than typical guidebooks. However, in glancing, I think some of the photos are unnecessary or are redundant. Photos that don't add a lot of value to the reader experience could be left out and therefore slim down the book and perhaps reduce some of the printing costs.
Evolution of Giterdun
Fritz Sperry publishes under his own company, Giterdun Publishing. This is Sperry's second book to write and third one to publish. Sperry's first book was Making Turns in the Tenmile Mosquito Range published in 2012. While the Tenmile Mosquito book is also a valuable resource, Sperry's most recent Volume 1: South of Interstate 70 is much improved. It's better organized, the layout is more professional, and the descriptions are better written. In 2013, Giterdun also published Backcountry Skiing and Ski Mountaineering in Rocky Mountain National Park by Mark Kelly. We look forward to more publications from Giterdun and more guidebooks from Fritz Sperry.
Conclusion
As a whole, Sperry has put together a highly valuable resource for Front Range backcountry ski and snowboarding routes that are south of Interstate-70. I know that Frank and I will be using this book a lot, as we have done his other book Making Turns in the Tenmile Mosquito Range. Sperry's guidebook is full of detailed information that will get you to the trailhead and up and down the mountain safely. We are happy to add it to our library and it sits on our shelf along with several other cherished guidebooks. And we encourage all backcountry skiers who are looking for fun routes to ski in the Front Range to add it to their library too.
Aside from skiing, biking, and all outdoorsy things,
Brittany Walker Konsella
also loves smiles and chocolate 🙂 Even though she excels at higher level math and chemistry, she still confuses left from right. Find out more about
Brittany
!
Latest posts by Brittany Walker Konsella (see all)