Gear Review: Blizzard Zero G
(Last Updated On: February 11, 2015)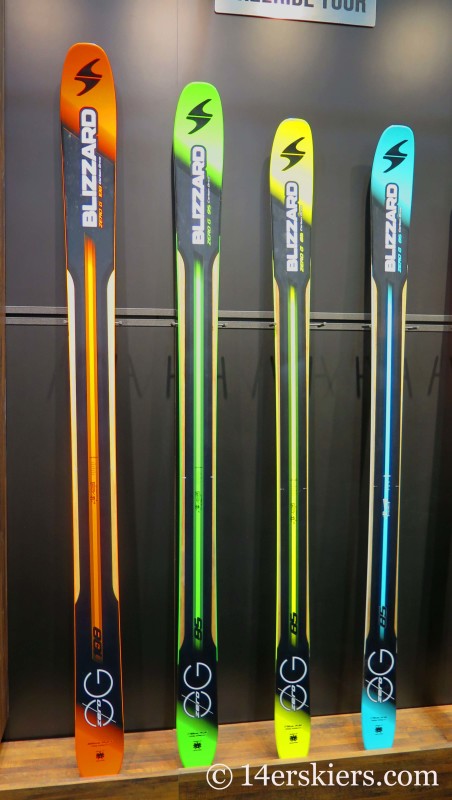 Blizzard is taking a bigger plunge into the realm of backcountry skiing with the release of the Zero G for the 2015/16 ski season. The Zero G was not developed to be the lightest ski on the market. It was designed to ski well first and foremost, with reasonable weight savings over their alpine lineup. Frank and I both agree that Blizzard has found this balance.
Here's the marketing spiel: The Blizzard Zero G operates with Carbon Drive technology, which integrates ultra-light paulownia woodcore with 3D unidirectional carbon fiber frame. The Carbon Frame, along with sidewall construction, increases the torsional rigidity of the ski. Blizzard lists the Zero G as having a rockered construction. But, most skiers will say that this ski has early-rise and not full rocker.
The Line-Up
The Zero G is being targeted toward backcountry skiers. It comes in various widths and lengths
Width 108 (136-108-122)- lengths 171 cm (1540 g), 178 cm (1650 g), 185 cm (1750 g) – MSRP $960.00
Width 95 (128-95-111.5) – lengths 164 cm (1070), 171 cm (1150 g), 178 cm (1250 g), 185 cm (1330 g) – MSRP $840.00
Width 85 (116-85-99.5) – lengths 157 cm (945 g), 164 cm (1015 g), 171 cm (1090 g), 178 cm (1175 g), 185 cm (1255g) – MSRP $ 720.00
Width 85 Women's (116-85-99.5) – lengths 157 cm (945 g), 164 cm (1015 g), 171 cm (1090 g) – MSRP $ 720.00
Brittany's Review
I had the opportunity to test all three widths of the Blizzard Zero G series. I was pleasantly surprised with the results.
I tested the Zero G 85 Women's ski in a 171 cm length. The women's ski has the same construction as the men's ski of the same width. I'm not a huge fan of "skinny" skis – and to be honest, this is the skinniest ski I've been on in a LONG time. However, I was impressed with the performance. This Zero G was up for carving or powering through chop. It held a solid edge on ice as well. However, I noticed that this ski had a slight "hookiness" to the tail. The tail is definitely stiffer than other skis I am used to skiing. While I could get the tail to release when I wanted to, it did cause me to use the entire fore and aft of my foot to make every turn. I did find myself working a bit to stay as forward as I like to be, but not necessarily fighting the ski.
After testing the 85, I bumped up to the Zero G 95, also in a length 171 cm. The ski performed fairly similar to the 85. But, the 95 was a bit more solid at faster speeds, especially through chop – probably just due to the fact that it was wider.
But, the real treasure is the 108 width. I tested this twice, both first and last in the line-up, in a size 178 cm. I am a firm believer in skis over 100 mm in width, and this 108 mm ski proves why. While the 85 & 95 are quite good skis, the 108 is simply top-notch. When I first took it for a spin, I was skeptical. Usually when I think of "carbon" I think of "deflecty". Most carbon skis are stiff enough to hold and edge, but simply bounce around, or deflect in chop. This was not at all the case with the 108. Further more, it was absolutely as solid as can be on ice, outperforming the 85 and 95 in this arena largely due to differences in sidewall construction. While being smooth, the ski also had a fair amount of energy. I have to say that this Zero G 108 is one of the best backcountry-dedicated skis I have ever skied.
That being said, the one funky factor I have with the Zero G 108 is the same "hookiness" in the tail that I felt on the 85 & 95. Again, it's not awful, but it is noticeable. In all cases, it caused me to use more of my foot to drive the turns in the ski. However, this feeling is something I could get used to. I'm going to chock it up to the fact that I must currently ride skis that have softer tails than this.
In my opinion, Blizzard has entered the backcountry ski scene with a bang.
Frank's Review
As with all of my reviews from the SIA on-snow demo, it's important to note that this is only a "first take" review, based only on a few thousand feet of skiing at Copper Mountain, hardly a mountain to put a ski through the paces. Try as I might, I was unable to try any size other than the 108, as the 95 was always out on a demo. That said, the 108 size is really the sweet spot in my opinion, and I haven't owned a ski under 100 underfoot in many years. On the upside, I was able to ski this ski with both a Marker alpine binding as well as Marker's new Kingpin binding- more on that later. If I have one complaint about the Zero G series, it's that there isn't one more size in the lineup, in the 115-120mm size.
As for the 108 (tested at the 185cm length), I liked this ski a lot. As Brittany mentioned, it's light, but it actually skis well. I've lost track of the number of super lightweight skis I've been on that I wouldn't ever want to ski on. Skiing down is supposed to be the fun part, remember?
On the groomers, this ski is happy to roll over and hold an edge in a big GS turn. I like skis with minimal sidecut, so the 27m sidecut of the Zero G was as good as I can expect given the shorter turn radius skis that are all too common these days. While Brittany noticed a hooky tail, I did not, perhaps because I ski on skis with a whole lot of tail, while her go-to skis right now are S7's and Amperages, both skis with a rockered tail. For me, I found the tail to reliably "let loose" when I asked it to- an indispensable characteristic in any ski meant to ski the steeps. What I did feel was a hooky tip, but I'm fairly certain that this was due to a bad tune, not the ski.
Summing it Up
Both of us liked this ski, and we rarely like the same skis. We have different ski backgrounds and styles, so when a ski does appeal to both of us, it is both a rare thing and the sign of a very good ski indeed. Looking back at all the SIA shows we've been to, I can only think of two other skis that both actually liked equally – the Salomon Q105 and the new Black Diamond Boundary 115 (review coming soon). So, be sure to check out the Zero G skis out when you get a chance.
The Zero G will be out next year. In the meantime, I had the chance to ski the Bodacious as well. While not a backcountry ski, this is an awesome ski that demands a lot out of the skier, but rewards a good skier in spades. One of the best skis I've been on for resort skiing.

Aside from skiing, biking, and all outdoorsy things,
Brittany Walker Konsella
also loves smiles and chocolate 🙂 Even though she excels at higher level math and chemistry, she still confuses left from right. Find out more about
Brittany
!
Latest posts by Brittany Walker Konsella (see all)