(Last Updated On: January 27, 2016)
The biggest and best show in the snowsports industry begins tomorrow – SIA, held in the Denver convention center. Many snow-related companies will be present there, unveiling new products and hashing out new deals with retailers.
But, there's other faces of SIA too. One of them is education of retailers. With many skiers and snowboarders taking the leap from the resorts and into the backcountry, it's essential for retailers to help promote a consistent message to their buyers. The Avalanche Project is working to have retailers educated about the potential dangers that are inherent in the backcountry.
And if you're a retailer, you're invited for this important training, which will be unveiled at SIA by the Avalanche Project during their Retail Ambassador Program presentation at 4 pm on Thursday January 28th.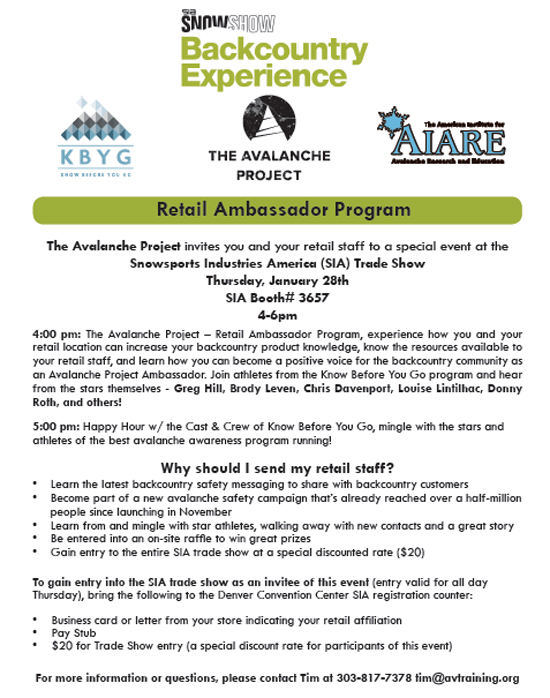 If you're in the outdoor retail industry and don't have tickets to SIA, you can get them for $20 by attending the Avalanche Project's Retail Ambassador Program presentation. You'll get a ticket for the whole show for Thursday! But, if you already have tickets, then plan on joining the presentation and becoming an influencer that may help save people's lives.
The Avalanche Project will have several educational events Thursday through Sunday at SIA, all of which look great. Those events are shown below: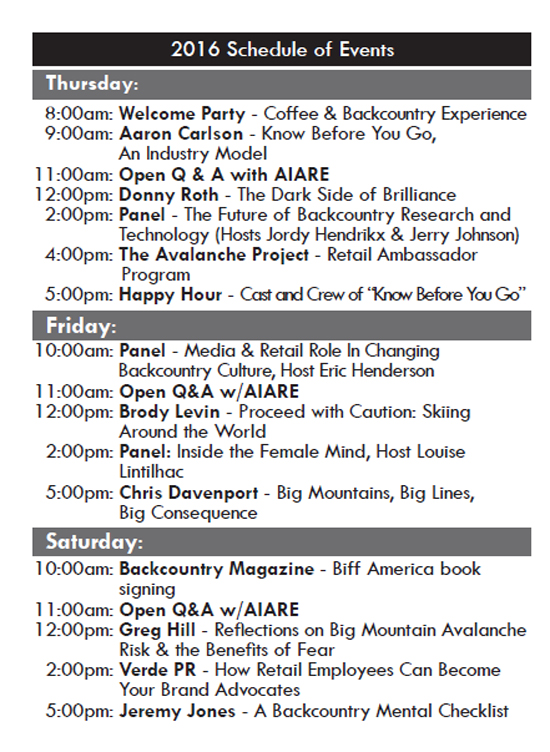 So, if you would like to attend SIA and you're in the outdoor retail industry, here's your chance. And if you're already going to be attending SIA, please stop by the Avalanche Project's booth. It's always good to learn something new and important to keep your avalanche knowledge fresh!
Aside from skiing, biking, and all outdoorsy things,
Brittany Walker Konsella
also loves smiles and chocolate 🙂 Even though she excels at higher level math and chemistry, she still confuses left from right. Find out more about
Brittany
!
Latest posts by Brittany Walker Konsella (see all)