Gear Review: Black Diamond Helio 105 Skis
(Last Updated On: December 22, 2016)
There are changes coming to the Black Diamond Ski line-up! These changes will impact what Black Diamond has quantified as their ski mountaineering series – specifically their carbon skis like the Aspect, Convert, and Megawatt.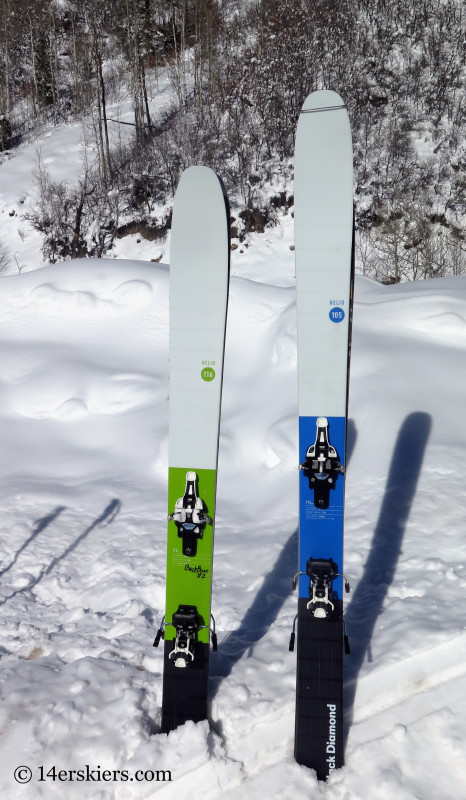 In its place will be the new Helio line. These carbon skis will be available in widths 116, 95, and 88 for 2016-17, and the Helio 105 has been released early and is actually available now.
We intend to do a more detailed review of the full Helio line-up at a later time. For now, we'll focus our review on the Helio 105 carbon ski.
Helio 105 Construction
The Helio 105 has taken on the more normal rocker-camber-rocker approach, with a rockered tip and tail, but traditional camber underfoot. Furthermore, the tail features a skin clip tab in the tail.
Similar to Black Diamond's previous carbon skis, the Helio 105 uses pre-preg carbon fiberglass and reinforced ABS sidewalls. But, the core is now made of balsa wood, whereas paulownia wood was used for the Megawatt.
Black Diamond has been integrating a sidewall dampening system into their sidewalls on some of their models as well. And that system is present in the Helio 105's. Basically, at the front of the ski where the construction begins to go from camber to rocker, a layer of rubber is placed into the sidewalls. This is intended to reduce chatter in firmer conditions, but still keep the ski light.
Testing Conditions
I was able to test a pair of Helio 105's in length 175 cm for a little over two weeks. Through those two weeks, I tested them in a variety of conditions including powder, heavy powder, chop, wind buff, and icy snow. Since the testing time was in early February, I didn't really have the opportunity to test the Helio 105's in corn, which I wish I could have, considering it's considered a ski mountaineering ski.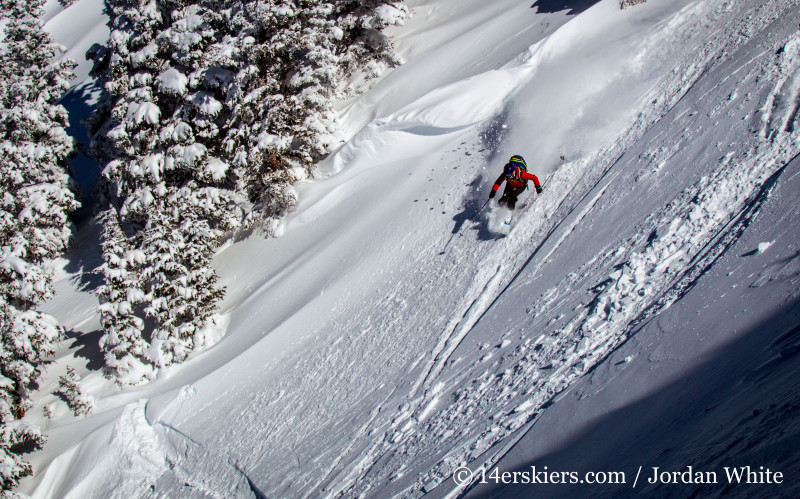 Helio 105 Performance
On first trial, I was super impressed with the lightweight feel of the Helio 105's. This is probably for good reason as the 175 cm model is only 2.9 kg (6 lb 5 oz). Compare this to some of my other favorite skis like the BD Megawatt (178 cm – 3.2 kg or 7 lbs 1 oz), BD Boundary 115 (175 cm – 4.1 kg or 9 lb), and Blizzard Zero G 108 (178 cm – 3.3 kg or 7 lbs 4 oz)…. at least a half pound lighter or more.
The Helio 105 performed great in powder at high speeds. But, if you needed to shut your speed down for some reason, I noticed that the ski got a bit "divey" sometimes- behavior unexpected of a rockered ski.
Once I took them to the ski area, I was surprised at how stable they were while pointing it straight at high speeds. I didn't feel like the tip of the ski was vibrating much at all, which can be typical for some carbon models.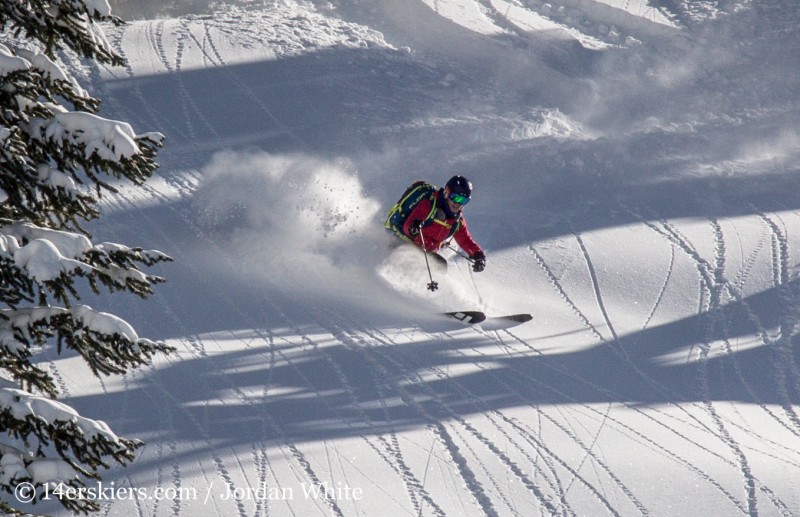 However, I noticed a lot of chatter while trying to hold an edge on windbuff and groomers. I could not get the ski to reliably hold an edge. I realized it could have something to do with how the ski came out of the factory, so I took them to my favorite boys at Crested Butte Sports and they gave them a good de-tune. That's what they needed. After that, the Helio 105's held their own while trying to carve my way down wind buff, groomers, and icy slopes.
In chop, the Helio 105's were a little on the fringe of performance for my personal standards. A bit on the deflecty side, I had trouble getting the 105's to really charge through cruddy snow. However, I wonder if a wider model, like the 116, would help dampen the impact. It's quite possible.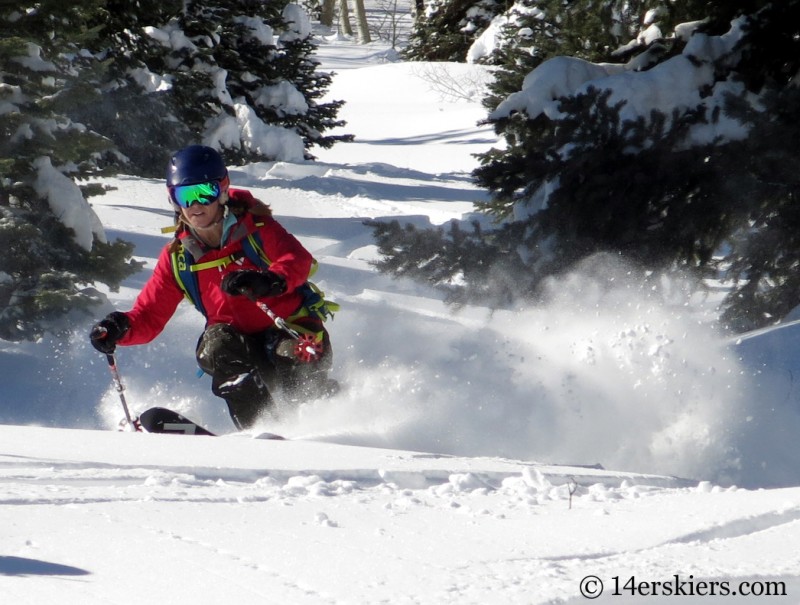 Last, the Helio 105's were simply easy to maneuver. While I sometimes like a ski that is a little snappier and helps me in my movements, the Helio still responded quickly to almost everything I wanted it to do.
The Wrap on the Black Diamond Helio 105
The Helio 105 starts to cross the fine line of weight verses performance. Be aware that the ski can get pushed around in variable snow, and possibly slushy conditions. I am looking forward to testing the Helio 116 to see if the width helps improve performance in variable conditions.
Still, the Black Diamond Helio 105 performs fairly well on ice, wind buff, and in powder – packing some decent performance in a lightweight ski. I believe the Helio 105's would make a good ski for long winter or spring ski days.
---
You can get your Helio 105's at Eastern Mountain Sports, Backcountry.com, and Mountain Gear.
Update December, 2016:
Check our our review of the Helio 116!
Aside from skiing, biking, and all outdoorsy things,
Brittany Walker Konsella
also loves smiles and chocolate 🙂 Even though she excels at higher level math and chemistry, she still confuses left from right. Find out more about
Brittany
!
Latest posts by Brittany Walker Konsella (see all)
Summary
Reviewer
Review Date
Reviewed Item
Author Rating