Colorado Ice Climbing in November
(Last Updated On: December 22, 2016)
As I write this on the last day of November, the temperature is in the teens and it got well below zero last night. It's hard to believe that just a couple of weeks ago the highs were still regularly hitting the 50's, even above treeline. But for most of November, it was the bike season that wouldn't end. I was ready for winter, like I always am, but you take what you can get. When it finally started to cool off, we still didn't have any snow to speak of, but at least ice started to form. In fact, it's pretty amazing how quickly climbable ice can form with the right conditions.
Word on the street was that the Sherman climb outside Lake City might be climbable, not to mention it was free of snow so we wouldn't have to stress out about avalanches either. So Ethan Passant and I headed down there early in the morning and sure enough, Sherman was "in but thin". From what we could see, most other ice routes in the area were just starting to form, so we may have had the only game in town. Ethan approaching the route: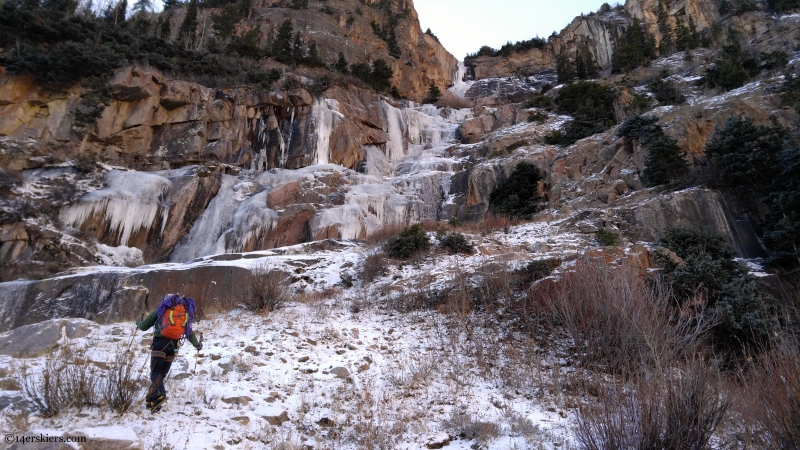 Three moose were guarding the willows below the climb, so we gave them a wide berth and they ran off into the forest- thankfully. We'd see them again later… We made short work of the first two pitches: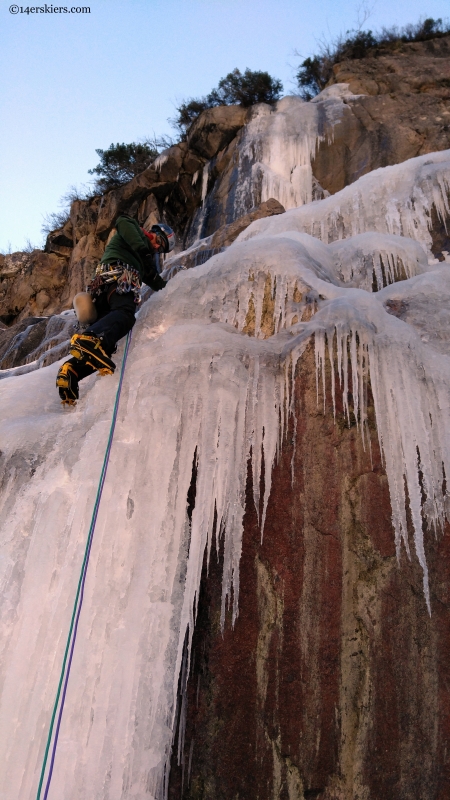 The third pitch was pretty thin, and definitely steep, and definitely wet. I sure wasn't going to lead it (I can barely lead anything), and Ethan didn't want to have anything to do with it either, at least not today. So we rapped back down to the start of the second pitch and climbed a couple of steep ramps in the forest to get above the third pitch. This route was clogged with downed trees and wouldn't be any fun at all with snow on it, so I wouldn't plan on this option being viable most of the time.
The next pitches were a ton of fun- and I hadn't been this high on Sherman before. There was plenty of low angle ice and short solo pitches, too. Fourth: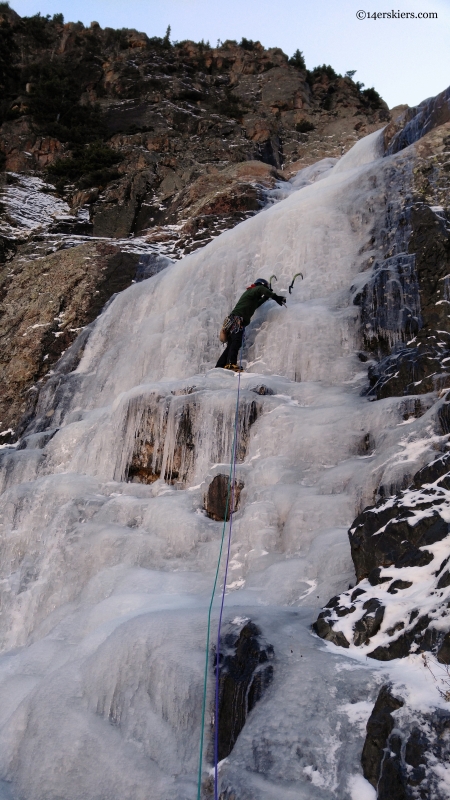 Fifth: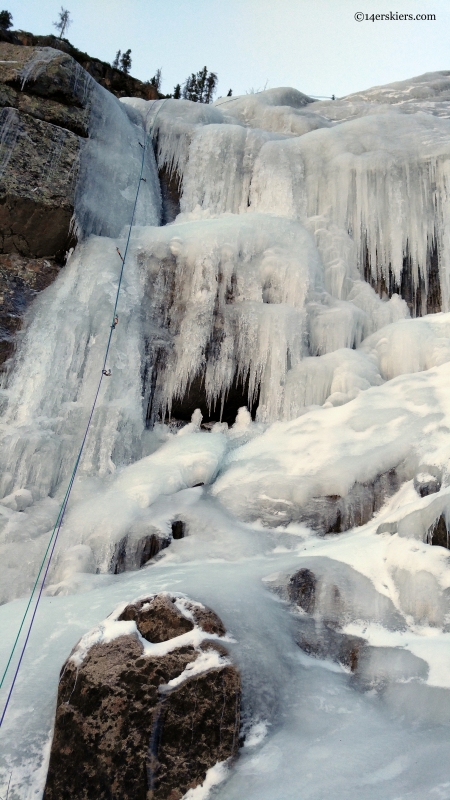 The fresh ice was really interesting, so I took a break and took a photo: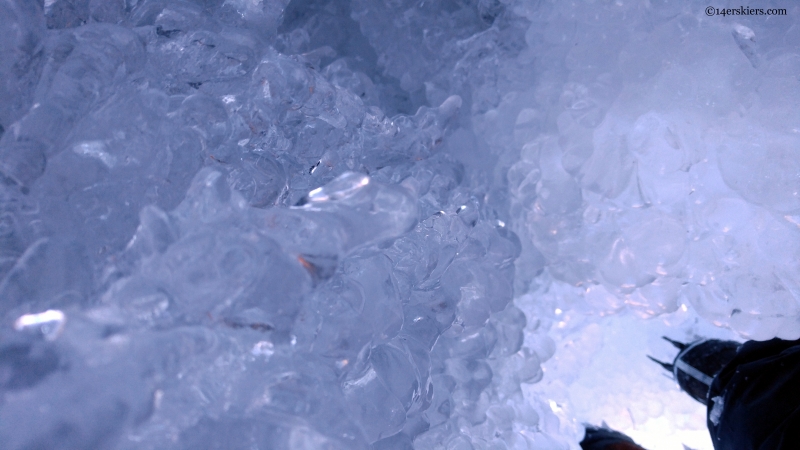 Looking across the valley at the 14er Sunshine Peak: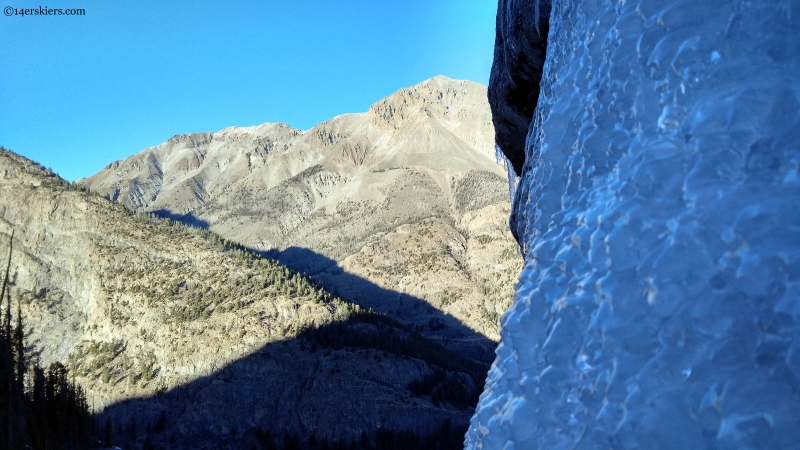 We were able to walk around the fourth pitch, rather than rapping it, which gave us a nice view of the upper route: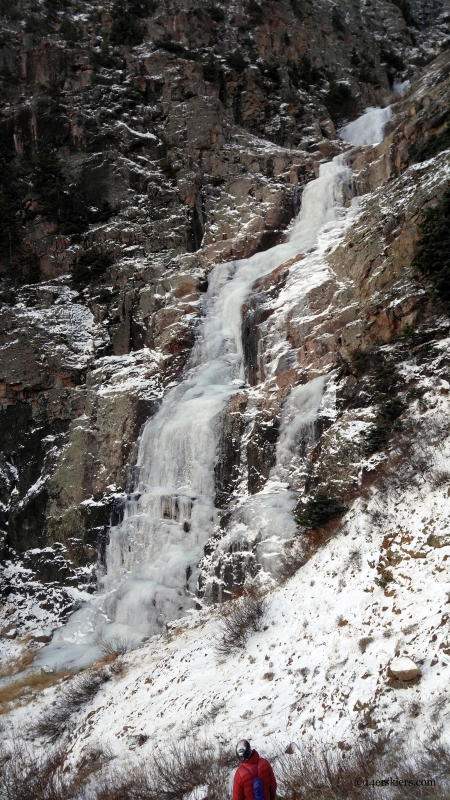 We finished the last rappel in the dark, and those moose were right back in the willows. Ethan's light lit up their eyes, but this time they stayed where they were. We were both waiting for an angry moose to decide it was time to stomp on us, which was probably the scariest part of the day. We got some food at the Packer Saloon, which may be the only restaurant open in Lake City this winter. Even the gas station is closed, except for pay at the pump. So if you visit Lake City, don't forget to spread a little money around…
A few days later, we climbed more ice, just a half hour away from Crested Butte. I was at work, so I don't think we even started until 3pm. I wish this ice stayed this accessible all winter, even if it isn't the greatest ice in the world.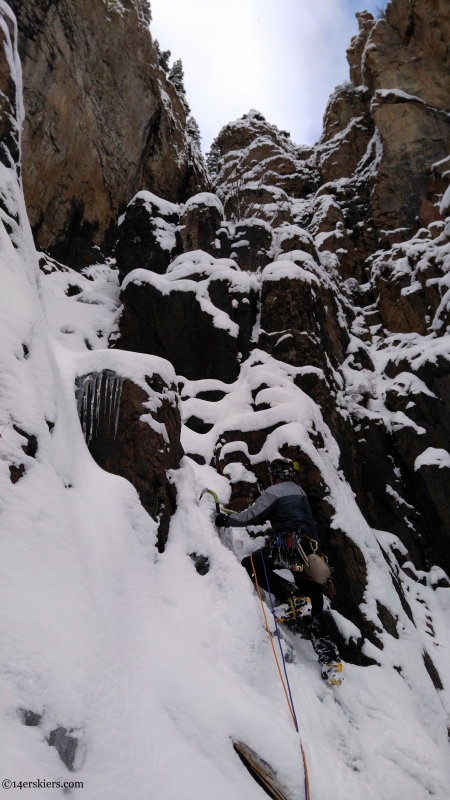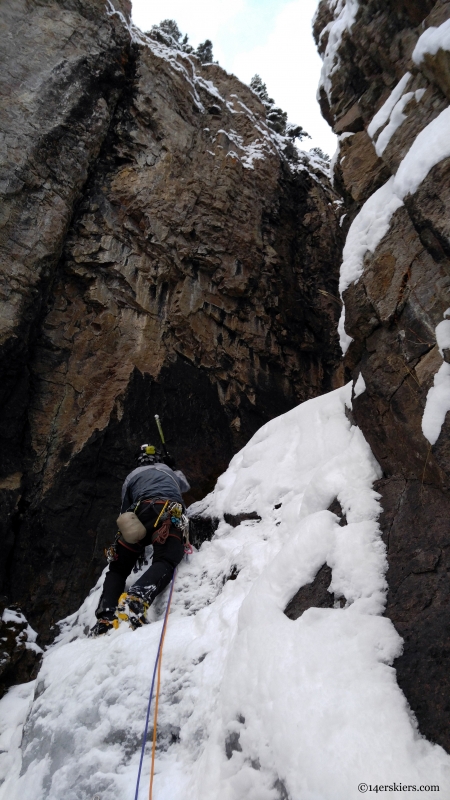 There were no moose to bother us after this climb. With all the recent snow and cold temperatures, the ice climbing choices are undoubtedly more diverse. The best thing about Colorado ice climbing is that it's good especially when the skiing isn't…
Backcountry.com has all the products you need to start climbing:

Frank
loves snow more than anything... except his wife.  He ensures his food is digested properly by chewing it 32 times before swallowing.He is a full-time real estate agent serving
Crested Butte and Gunnison
and would be honored to send you his
monthly newsletter.
Latest posts by Frank Konsella (see all)
Summary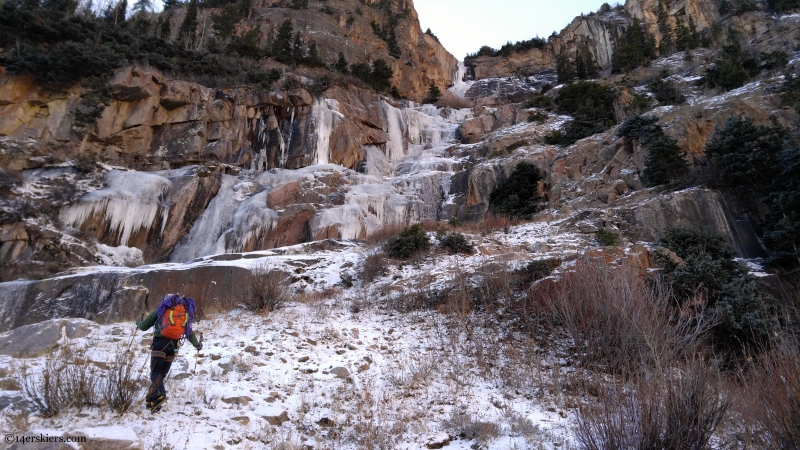 Article Name
Colorado Ice Climbing in November
Description
After a warm start to November, the Colorado ice climbing season finally started in Lake City and Crested Butte
Author