Book Review: Climbing and Skiing Colorado's Mountains
(Last Updated On: June 28, 2014)
People always ask us if we're working on any projects ever since we finished skiing the fourteeners. Our answer is always, "not really". Which isn't to say we don't have goals- we always do, they're just more fluid these days. If we see something that looks interesting, it's always in the back of our heads and if the conditions seem right for it, we'll probably try to ski it. A few more routes are now dancing in the back of my head, thanks to the newly published Climbing and Skiing Colorado's Mountains.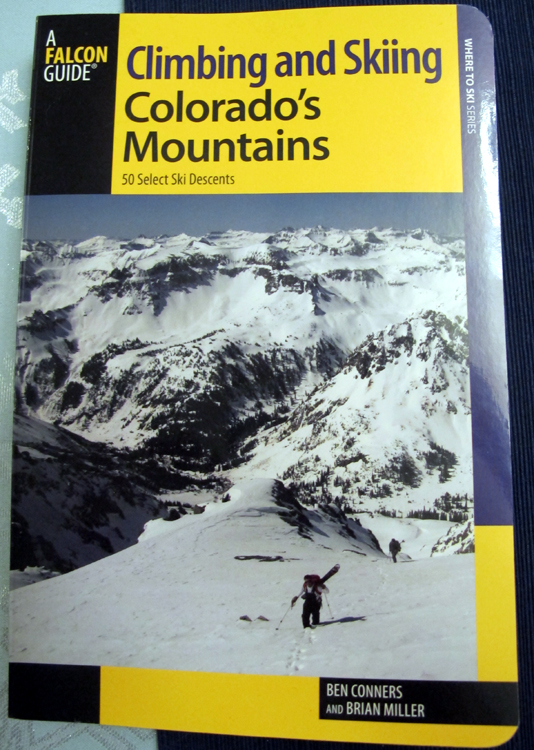 With 50 routes, there is something in this book for nearly every Colorado ski mountaineer. We've skied many of the routes in this book, but there are routes such as Arkansas' Northeast Couloir and Potosi's North Couloir that have been on our list for years, but that we have not yet skied. Other routes in this book, such as Stony Mountain's Northwest Couloir, or Chiquita's Banana Couloir, weren't on my list, but they are now.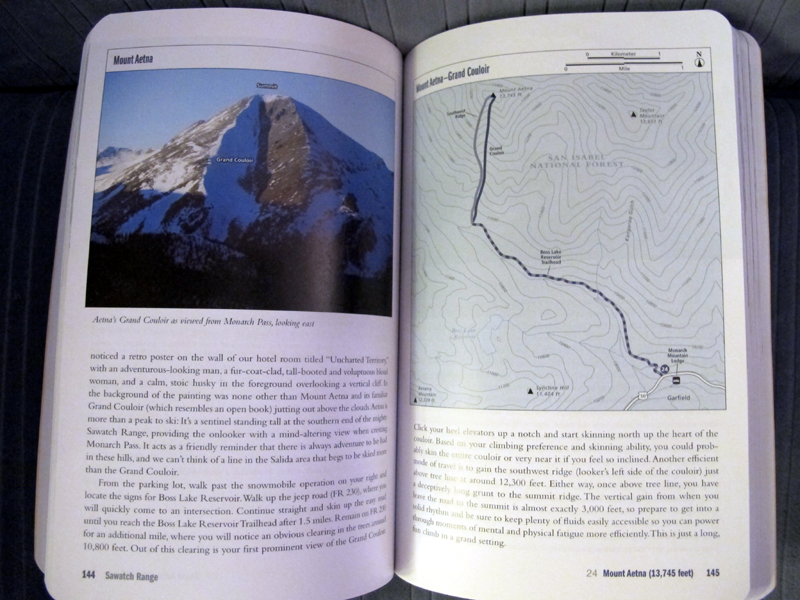 And that's what guidebooks are for these days- to inspire. After all, the internet has routes all over it, but that isn't the same as flipping through a well-worn book looking for a weekend objective. Climbing and Skiing Colorado's Mountains has all the info you would expect from a guidebook, from trailhead directions to photos to maps of all the routes. Reading through the routes I know well, the descriptions appear to be clear and concise.
My only complaint would be the subjective one of which routes were included and which routes were not. For instance, I would consider the Elks and San Juans to harbor the best skiing in Colorado, yet the Sawatch chapter of the book has nearly as many routes as the Elks and San Juans combined. Then again, the Sawatch is much closer to the population centers of Colorado, so it makes sense to have it highlighted. That said, it would be fun to see someone with a copy of this book in their hands at the bar after a successful descent of a Crested Butte classic like Teocalli or Gothic.
Who should buy this book? Anyone who hasn't skied every route in this book. If you haven't, Climbing and Skiing Colorado's Mountains is sure to spark your interest in a route or 50. The book is available at you favorite local bookstore or gear store.
Frank
loves snow more than anything... except his wife.  He ensures his food is digested properly by chewing it 32 times before swallowing.He is a full-time real estate agent serving
Crested Butte and Gunnison
and would be honored to send you his
monthly newsletter.
Latest posts by Frank Konsella (see all)