Gear Review: Patagonia KnifeRidge Softshell Bib Pants
(Last Updated On: December 22, 2016)
This season I've had the opportunity to check out the Women's Patagonia KnifeRidge Sofshell Bib Pants. Designed specifically for ski mountaineering in mind, I was eager to try these bibs out on long harsh days. I spent several days testing these bibs out in various conditions. I will discuss my findings below in this review.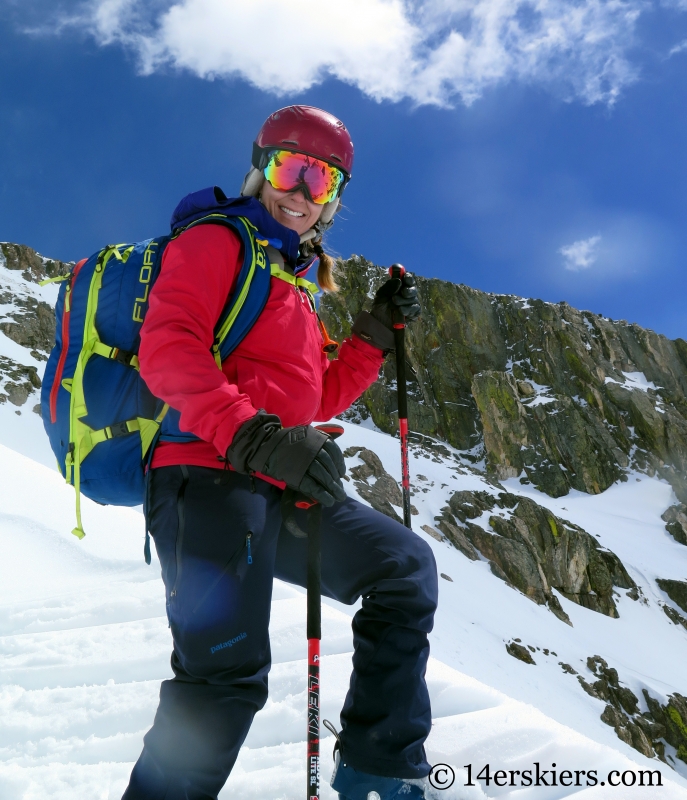 Bib Design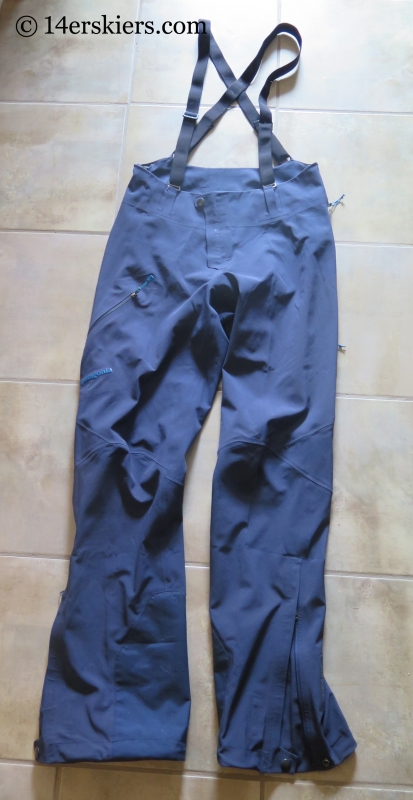 I'll say it straight, I'm not a huge fan of bibs. I blame it on the fact that I'm a woman. Our bathroom needs can be a little more complicated than our male counterparts. Additionally, with our extra bulk in our torso due to cleavage, we have limited space for bib-straps on our torsos, which interferes with the harness of a beacon and the shoulder straps on a backpack.
That said, the KnifeRidge bibs are something I can live with. The suspender straps are fairly minimal, made of low-profile elastic. I did not notice it interfering with the shoulder straps on my backpack much at all. And while it sometimes did get in the way of my beacon harness, it was mostly manageable.
Additionally, the KnifeRidge bibs come complete with a dropseat. But, in order to get this to work, you must release snaps on either side of the hips, then unzip the seat on both sides. The system does indeed work. And admittedly, I never peed on the pants. But, you'd better made sure the need to go is not urgent because undoing the snaps and zippers is quite the time-consuming process.
However, my main complaint are the dropseat snaps. They are tucked far in the back of the pants, hard to reach, and require two hands to re-snap…. And you have to do this by feel. You can't see what you're snapping together. Which brings me to another point– in order to use the dropseat, you must take your pack off, largely because of the snaps. Taking off your pack is not necessary in non-bib pants. And last, if you think that you could just not use the snaps, you're wrong — the zippers will work their way loose leaving your bum hanging out of your dropseat 😉 I learned that one from experience!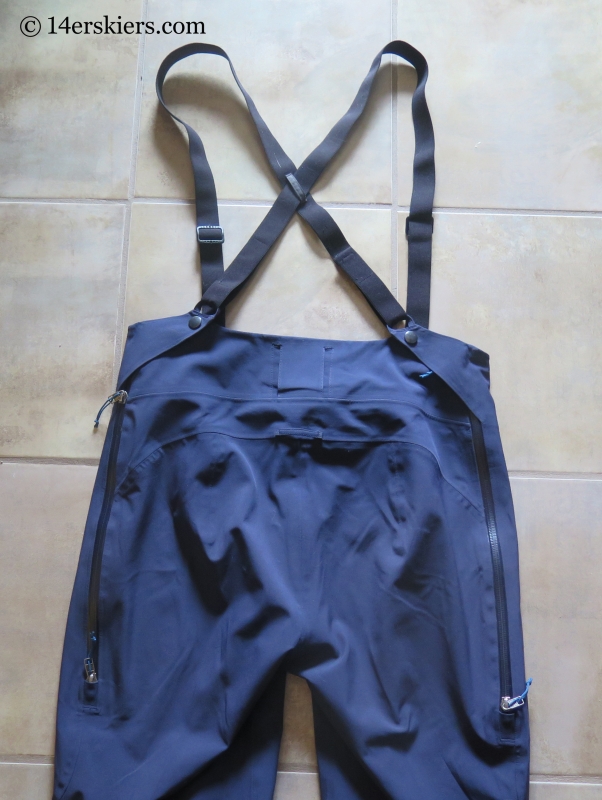 Other Design Features
Many other design features are well thought-out on the KnifeRidge pants. There is a pocket in the right thigh that is not large enough for a beacon, but perfect for a cell phone. I like keeping my cell phone close as I operate the Gaia GPS app on it, and use it all to help navigate new terrain with we do regularly since we travel so much to new places for backcountry skiing. The thigh pocket is great for that.
Additionally, there are two adjustments in the cuff of each leg to allow for a slimmer fit for more alpine fit (good for ice-climbing) or a wider cuff which is necessary for ski boots. The suspender straps latch in the front with a hook, and can be undone that way. The dropseat zippers double as side-vents. And the zippers have pull-strings making them easier to use. It even comes complete with a RECCO reflector should you be in a place that uses such technology.
The Patagonia KnifeRidge pants do not have back pockets, nor is there a key holder in the right thigh pocket.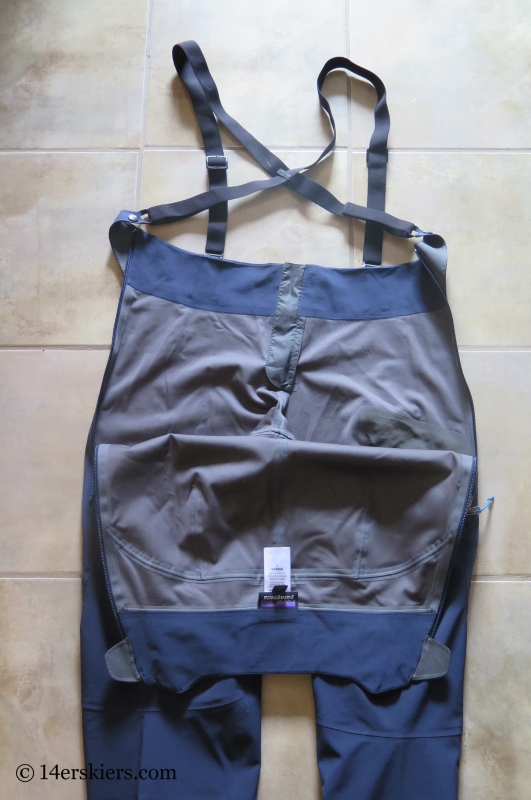 Fit
The KnifeRidge pants fit like a dream. Seriously. I am 5'3″ and weigh about 125 lbs and a size small fit perfectly. Unlike some Patagonia pants, these ones are built for skier-woman thighs, which I have. And the lightweight softshell material is very stretchy and allowed for freedom of movement — much more movement than I am accustomed to with my Patagonia GoreTex shell pants. I honestly cannot think of a more comfortable pant to wear backcountry skiing.
Function and Performance
KnifeRidge bibs did performed great in warm spring conditions as to be expected of softshell pants. They are highly breathable with very lightweight fabric, and I never found myself getting too hot in them.
But, the true test is wearing them in adverse conditions. I wore the KnifeRidge pants on some very snowy days, and even one day with freezing rain which finished in a full on thunderstorm. I'd have to say that the waterproofing capabilities of the bibs well-exceeded my expectations. Between the water tight and the DWR treatment on the fabric, I remained completely dry in blizzard conditions and almost completely dry in pouring rain.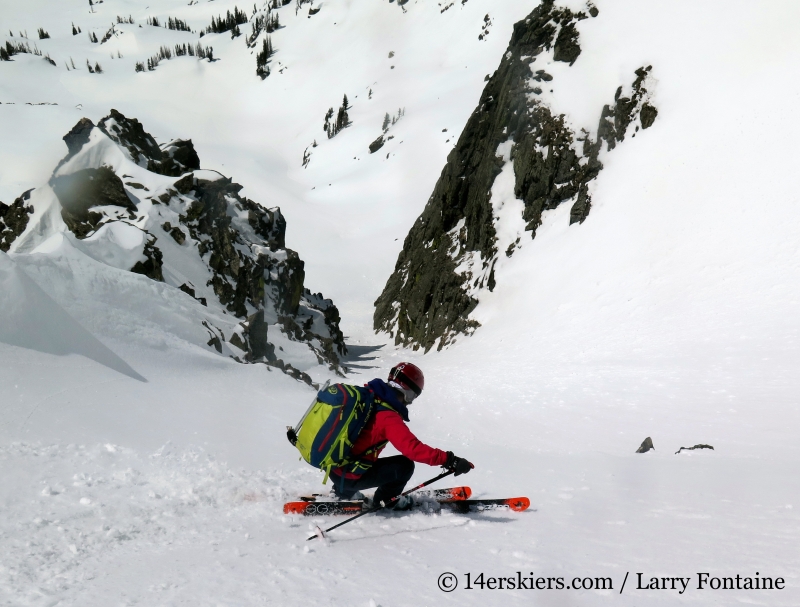 The real limitation of the KnifeRidge pant is it's capability to keep warm in cold temperatures. They are made of a lightweight fabric and are not insulated. These pants are just not designed for cold temperatures. That said, I'd say I was comfortable with them in 20-degree Fahrenheit temperatures and above, which I think is quite good for their intended design. Wearing them in teen-temperatures, as it often can be early in the morning in late winter or spring, is tolerable, especially knowing that it will warm up.
The Wrap on the Patagonia KnifeRidge Bib Pants
The Patagonia KnifeRidge bib pants are a new favorite of mine. While I have some problems with the accessing the snaps used for the dropseat and wish that Velcro was used in their place, I've been impressed overall by the fit and function of these pants. These bibs surpassed my expectations for softshell performance in cold and wet conditions, yet they remain lightweight, highly breathable, and optimized for warmer weather. I personally would like to see a non-bib version for release from Patagonia in the future. But, like I said above, the KnifeRige is one bib I can live with. I would highly recommend the Patagonia KnifeRidge pant for backcountry skiing and ski mountaineering.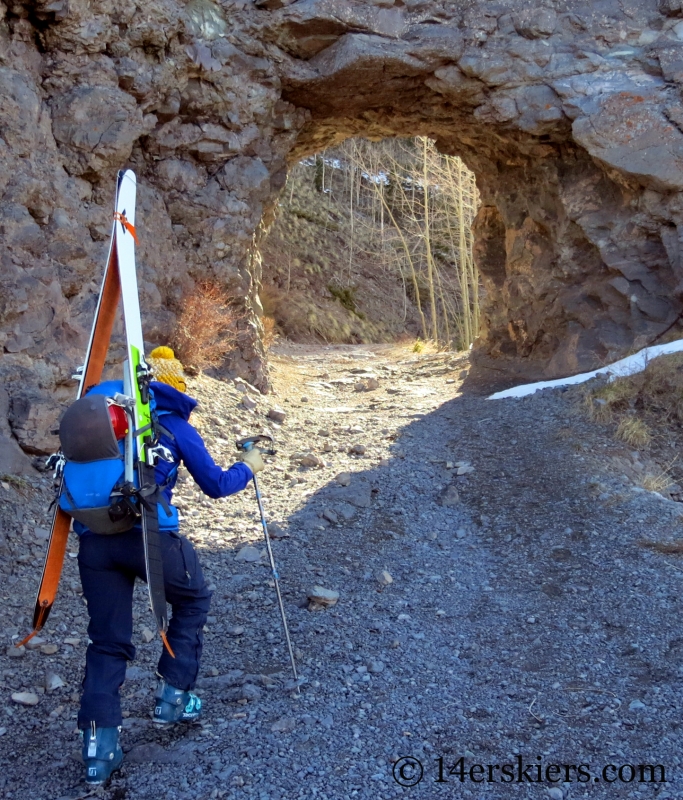 ---
The Patagonia KnifeRidge bib pant comes in both men's and women's:

Aside from skiing, biking, and all outdoorsy things,
Brittany Walker Konsella
also loves smiles and chocolate 🙂 Even though she excels at higher level math and chemistry, she still confuses left from right. Find out more about
Brittany
!
Latest posts by Brittany Walker Konsella (see all)
Summary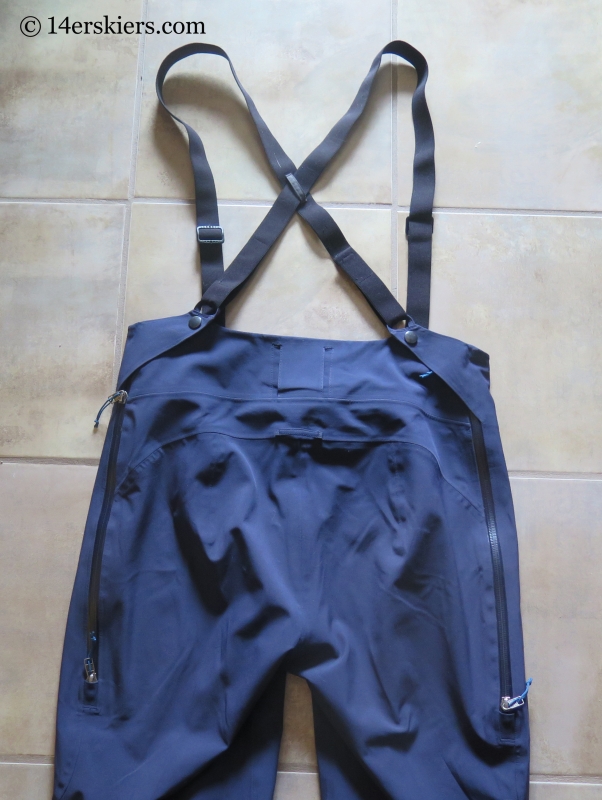 Article Name
Gear Review: Patagonia KnifeRidge Softshell Bib Pants
Description
We tested the Patagonia KnifeRidge softshell bib pants in a variety of conditions and they exceeded our expectations. Read the review to find out more!
Author