Book Review: Making Turns in the Tenmile Mosquito Range
(Last Updated On: December 9, 2012)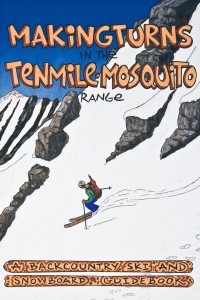 Title: Making Turns in the Tenmile Mosquito Range
Author: Fritz Sperry
Year: 2012
Where can I get it? Many local mountaineering shops on the Front Range including Bent Gate in Golden and Neptune Mountaineering in Boulder. The book can also be purchased on the publisher's website at Giterdun Publishing.
When most people think of backcountry skiing around the Front Range, they think of the many fun, but often mediocre, lines off of Berthoud Pass, Loveland Pass, maybe even Jone's Pass. But, true backcountry enthusiasts know that many of the best lines the Front Range has to offer lie in the Tenmile and Mosquito Ranges. Fritz Sperry has spent many years checking off lines in this area, gaining valuable information for his guidebook. Now, Sperry's guidebook is for sale and is a definite must-have for any backcountry skier or snowboarder that lives in or around the Front Range.
Sperry's guidebook opens with a brief introduction, explaining that the purpose of his book "is to give advice and insight gained through years of travel in the Tenmile-Mosquito Ranges." Sperry fulfilled his purpose and even went beyond. Making Turns contains valuable route and trailhead information and is also chock-full of wonderful photos that not only help inform the reader of the route, but also inspire. In flipping through the 290-page book, photo after photo motivate backcountry skiers to go ski these lines. "I want to ski that," was something that kept coming out of my mouth as I thumbed through the pages of Sperry's book.
Organizing a guidebook is always a difficult task. Since so many peaks in this area are accessible via multiple trailheads, often from completely different sides, Sperry decided to organize his book with a section completely dedicated to trailheads, another completely dedicated to route information, and another section with maps. Some people may find this confusing, but I think for the area included, it makes sense. Within each route description, Sperry includes page numbers where maps and photos can be found. He also states the recommended trialhead. The one downfall, is that the trailhead information may be difficult for some people to find right away, and I do wish Sperry had also included a page number for the trialhead info as well. Each route is very complete with detailed descriptions, photos, difficulty, mileage, vertical, and recommended time of year. The maps section at the end has routes marked with red dots. However, I would also recommend that Sperry mark these routes with the corresponding route numbers to make it a little more user-friendly.
Aside from route information, Making Turns also has some other great information. Sperry has included a sunrise-sunset chart, a list of ski mountaineering shops in the area, a list of other useful books and websites, Avalanche Education agencies, avalanche safety advice, a brief history of the region, camping advice, and even a section on wildlife that may be encountered. Sperry also took time to write a "Teaser" section – list of routes that are not always in condition every year or difficult to access.
Within this guidebook, many of my favorite Tenmile-Mosquito lines are included, such as the east couloirs of Atlantic Peak, the north face of Democrat, the north face of Crystal, and one of my all-time favorites – the north couloir of Pacific Peak. Making Turns also contains route descriptions of many lines that are still on my to-do list, such as Horseshoe Mountain, Mount Arkansas, Fletcher Mountain, and Drift Peak.
Some guidebook users are moving more and more to desiring GPS coordinates for routes. While Sperry does include GPS coordinates for trailheads, he does not include them for peaks or parts of routes. Many of the GPS coordinates of the peaks can be found through online resources such as SummitPost. But, others may be more difficult to come by. Still, I would encourage users of this guidebook to rely less on the GPS and hone on their natural navigational skills. The maps and photos in this book, along with some assistance from a compass and maybe an altimeter, will get any experienced backountry skier to where they want to be.
Those wanting more from the Making Turns guidebook can find even more information on Sperry's website: makingturns.com. A list of trip reports for routes mentioned in the book can also be found at giterdunpublishing.com.
Fritz Sperry is one of the most enthusiastic backcountry skiers I know. I've had the opportunity to ski several lines with him, including my first fourteener, Mt. Princeton. Sperry has dedicated years of his life to making this guidebook become a reality and the results of his hard work are clearly evident in the comprehensiveness of his book. As I said before, this is a must-have for any backcountry skier or snowboarder in and around the Front Range. Consider putting it on your Christmas list, or making it a gift for others!
Aside from skiing, biking, and all outdoorsy things,
Brittany Walker Konsella
also loves smiles and chocolate 🙂 Even though she excels at higher level math and chemistry, she still confuses left from right. Find out more about
Brittany
!
Latest posts by Brittany Walker Konsella (see all)