Book Review: Backcountry Skiing and Ski Mountaineering in Rocky Mountain National Park
(Last Updated On: November 26, 2013)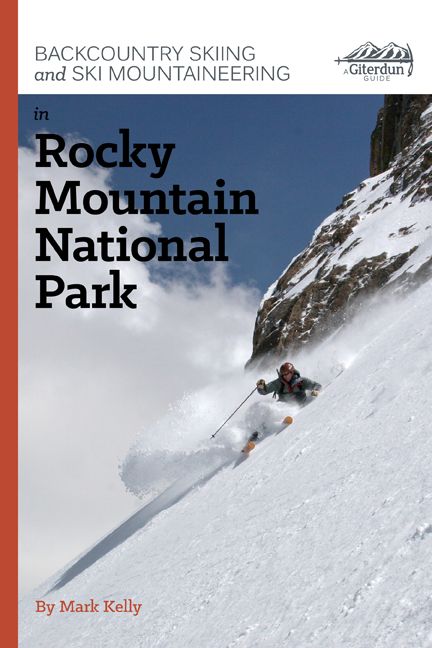 Title: Backcountry Skiing and Ski Mountaineering in Rocky Mountain National Park
Author: Mark Kelly
Year: 2013
Where can I get it? Many local mountaineering shops on the Front Range. Get a list of retailers here. The book can also be purchased on the publisher's website at Giterdun Publishing.
Front Range backcountry skiers too often fight the dreaded I-70 traffic along with too many resort skiers. Of course there is great backcountry terrain on or near the I-70 corridor. But, there are plenty of backcountry stashes that can be accessed without the stop-and-go on the highway. One of those places is Rocky Mountain National Park.
RMNP has been increasing in popularity among backcountry skiers over recent years. However, RMNP is also a very large place. Navigating through the area can be tricky without being familiar with the terrain. I have heard too many stories of skiers being shut down due to difficult route finding. Even more often, I hear of skiers getting horrifically lost in Wild Basin. But now, thanks to Mark Kelly and Giterdun Publishing, there is a guidebook that can help with route finding. Even more important, the routes are carefully explained, and all the wonderful options of ski routes in RMNP are finally condensed in one user-friendly thought-out book.
Kelly recognizes that RMNP serves skiers two purposes: 1) backcountry skiing and 2) ski mountaineering. His book is organized in that fashion. After an introduction, the book then lists several backcountry ski routes, followed then by numerous ski mountaineering routes. The author states, "The winter backcountry riding in RMNP is fun and challenging but the spring ski mountaineering season is where this venue really shines." Each route described is also listed with a difficulty rating. For backcountry skiing, the ratings are easy, moderate, and advanced. Ski mountaineering routes are rated as either LHF (Low Hanging Fruit), SMD (Ski Mountaineering Descent), or AO (Alphas Only). Descriptions of the author's meaning for each rating are described in the introduction.
There are over 60 routes described within this book and most routes are numerically marked on one of eight maps located in the back of the book, organized by region. Most of the maps are very clear and extremely useful to backcountry skiers. The only map that is somewhat confusing is the Backcountry Skiing Zones map, where several of the routes are marked but with no numeric label to match them with a specific route. This is largely because some of these routes are located in a very condensed area that is difficult to include the numeric ratings. However, if you read the detailed text describing the routes, you can likely find your way to the right one.
In addition to providing maps, the book is also full of photos. Many of the photos are inspirational, showing dedicated skiers and ski mountaineers enjoying the goods that RMNP has to offer. But, many of the photos are also useful for visualizing and understanding the routes themselves. This is especially true for the ski mountaineering section, where most of the routes do have an accompanying route photo.
Mark Kelly is a dedicated skier and ski mountaineer who lived in Colorado for many years before relocating to Alaska. He guided for many years with Colorado Mountain School and then with Alpine World Ascents. Kelly spent many of his years exploring the terrain in Rocky Mountain National Park and then sharing his passion for the area with other backcountry skiers, and continues to do so by writing this guidebook.
Backcountry Skiing and Ski Mountaineering in Rocky Mountain National Park is a great resource for any Colorado backcountry skier. Consider putting it on your holiday wish list. Or better yet, buy several as gifts for your favorite backcountry ski partners!
Aside from skiing, biking, and all outdoorsy things,
Brittany Walker Konsella
also loves smiles and chocolate 🙂 Even though she excels at higher level math and chemistry, she still confuses left from right. Find out more about
Brittany
!
Latest posts by Brittany Walker Konsella (see all)