Pemberton Down Days and Thoughts On Snowmobile Skiing
(Last Updated On: July 3, 2012)
By the end of February, ski conditions in Pemberton, BC had taken a bit of a turn for the worse and I briefly contemplated pulling the plug and heading back to Colorado. Sustained winds, cold temperatures, and no new snow had conspired to create poor conditions, especially in the alpine which is where I really wanted to be. Still, if there is one thing I know about the Coast Mountains of British Columbia, it's that they can go from "zero to hero" faster than just about anywhere else I know. So I stuck it out.
Susan and I tried to find some good snow in a heavily trafficked area that we hoped was sheltered enough. The views were nice. It's hard to see, but there were some really rowdy and exposed spines in the alpine above Susan.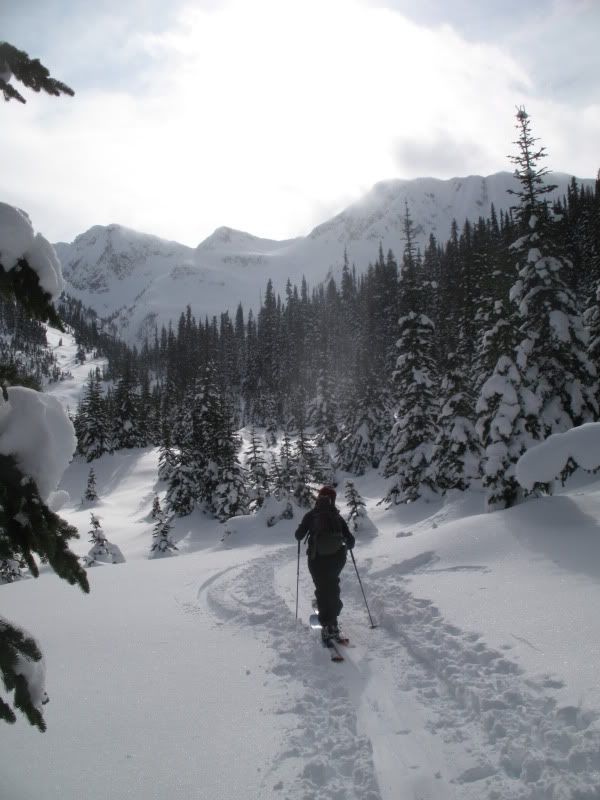 We found a mixed bag of conditions on our ski descent. I'll include this photo, since it speaks volumes. Susan loves to ski, and with an infant at home, skiing is no longer an everyday event like it once was. So despite the non-perfect terrain or conditions, she was still pretty darn stoked just to be out there, making some turns. I should probably try to remember that the next time I'm out on a mediocre day.

In any case, I found myself at Blackcomb a lot over the next few days, since skiing hardpack is better than not skiing at all. One fine day, the winds hit nearly 150km/hr and shut down most of the mountain. Regardless, one day I met up with my friend Gavin, who had shown me around Whitewater last year. He and his new bride Veronica asked me about the snowmobile skiing I had been doing and whether they should get into it or not. I've thought a lot about that lately, so here are my thoughts.
Here in Crested Butte, I consider it a no-brainer. $1,000 gets you something that can get you up a groomed road and a lot more options in areas that get a lot more snow. A little more money will get you an older-style mountain sled that can access most everything else. Most of the trailheads are pretty simple, so just about any trailer and vehicle will take care of things.
Up in Pemberton, things are bigger, harder, and ultimately, better. But the costs are way bigger. First off, the trailheads are tough to get to without a big truck and a sled bed, so that's the first cost my friend Gavin needs to consider. A cheap sled won't cut it, so I think at least a few grand per snowmobile is a place to start. We're already off to a big investment here, but there's more: the time investment learning how to ride. Sure, the really popular areas like Brandywine or the Pemberton Icecap might get enough tracks to simply follow, but what's the fun in that? I've been riding snowmobiles for a while, but I still felt pretty helpless at times up there without a better rider (usually Jon) with me. So add in a lot of miles dedicated to snowmobiling, not skiing, to the investment. Meanwhile, the Whistler area has a lot of good skiing available from the lifts as well as on the Duffey road. No snowmobile is required for classics like Joffre and Fissile. So in the end, my advice to Gavin is to ski everything he can without a snowmobile first, and then consider getting one down the road. What do you guys think? good advice or bad?
More Road Trip 2011 Posts:
Stevens Pass
No Sleep Spines
O Face
Pemby BC
Luna Creek
Trandem Trees
Whistler/Vancouver
Down Days and thoughts on snomo skiing
Dope Creek 1
Dope Creek 2
Frank
loves snow more than anything... except his wife.  He ensures his food is digested properly by chewing it 32 times before swallowing.He is a full-time real estate agent serving
Crested Butte and Gunnison
and would be honored to send you his
monthly newsletter.
Latest posts by Frank Konsella (see all)