Trandem Trees, BC 2.23.11
(Last Updated On: July 3, 2012)
We awoke the morning of the 23rd with hopes and aspirations of skiing a pretty big line. Jon really wanted to get Brittany and I on something big and scary (and for us, fun), and the weather was forecast to be nice and sunny. Unfortunately, the clear weather was the result of an "arctic outflow", as they call it up there. As the name implies, the temperatures plummeted to numbers well below zero Fahrenheit, accompanied by some wind and humidity. Big lines with possible ropework and windslabs started to sound like a bad idea in those conditions, so tree skiing plan B was adopted.
With only three snowmobiles, four skiers, and an easy sled road to follow, "Trandem laps" became the plan of the day (3 people, one sled). It's goofy, but it works:

Though cold (both Brittany and I got some frostnip on our faces), it was a gorgeous day. A look back at the terrain I skied my first day in Pemberton:

And "Norain", Brittany's first day:

Despite the wind, we we on a generally protected slope, so it was nearly perfect conditions on varied terrain with pillows, chutes, and actually pretty steep terrain (notice the sluff piles everywhere). On with some pics…
Frank:

Jon: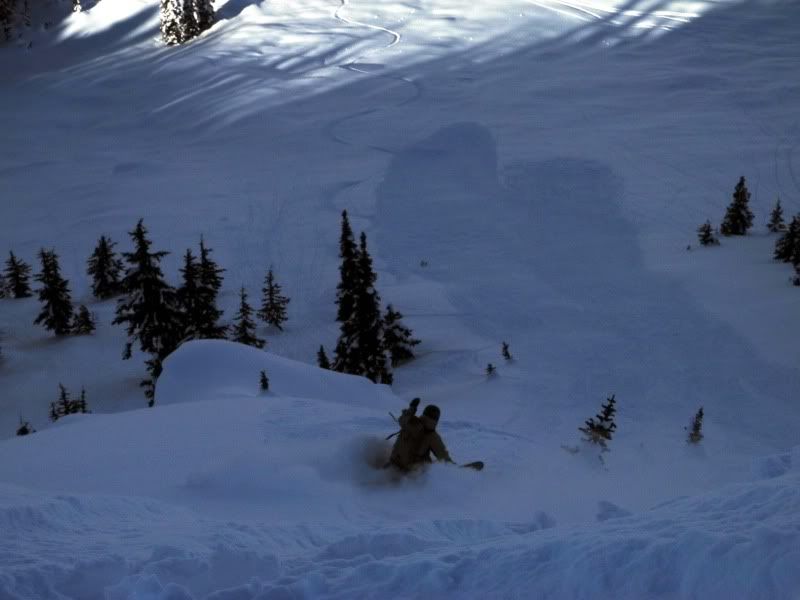 Joffre(L) and Matier(R). Joffre made the list in Davenport's 50 Classic Descents book:

Brittany:

Brittany was getting hot in the subzero temps, so she went deep for a one-shot wonder:

Sorry Chris, we didn't get any great photos of you. It was too cold! We did, however, get some great Trandemcam (copyright) footage. Jon took it as a challenge, and attempted to get us up the steeper route, which we had only been using as a down track. It's way funnier that we didn't make it. Check it out:

Trandem Trees from 14erskiers on Vimeo.
More Road Trip 2011 Posts:
Stevens Pass
No Sleep Spines
O Face
Pemby BC
Luna Creek
Trandem Trees
Whistler/Vancouver
Down Days and thoughts on snomo skiing
Dope Creek 1
Dope Creek 2
Take an extra 20% off your order at Sierra Trading Post. Use code AVPMARCH1. Valid until April 6, 2011. Coupon Code: AVPMARCH1
Frank
loves snow more than anything... except his wife.  He ensures his food is digested properly by chewing it 32 times before swallowing.He is a full-time real estate agent serving
Crested Butte and Gunnison
and would be honored to send you his
monthly newsletter.
Latest posts by Frank Konsella (see all)