Dope Creek Spines (Part 1) 3.5.11 Pemberton, BC
(Last Updated On: July 3, 2012)
After about a week of down days characterized by wind, poor visibility, and cold temps, winter returned to the Coast Mountains and a small window of good light that Jon thought we could jump through. I knew before I left Colorado that I would probably have some days that challenged my snowmobiling skills. This ended up being the day. It wasn't all that difficult, really, but the combination of my lack of confidence on the sled and not knowing where I was going really got my heart rate going. On one particularly intimidating looking climb, one that even had a sidehill after it, Jon said something like "That was SO worth making you do, just to watch you soil your shorts." Thanks man. No seriously, thanks Jon- there's nothing like the feeling of pulling something off that you didn't think you could do.
Then we got a view of the spiny goodness that was available to us, still partially hidden in clouds, but definitely there.

The clouds kept teasing us with windows of good visibility, followed shortly thereafter by socking in. We decided a quick tree run was in order to see which way the weather was turning. This was yet another treerun that rivaled anything I usually ski in the trees of Colorado, but seemed pretty commonplace up here. This is a really short video of that run- when I came up on the gully, I knew I should just ski it as fast as I could- so much fun!

Dope Creek Trees from 14erskiers on Vimeo.
Jon had a gully of his own:

The clouds were still hanging there, but we decided to give it a shot anyway. One thing I can say for sure is that steep spines get steeper when they're in the middle of a cloud. My video from this run is kind of humorous, since you can't even tell what's going on, but I won't bore you with that. The photos came out pretty decent with the help of Photoshop. Jon (notice how his hand is on the snow, yes it really is steep):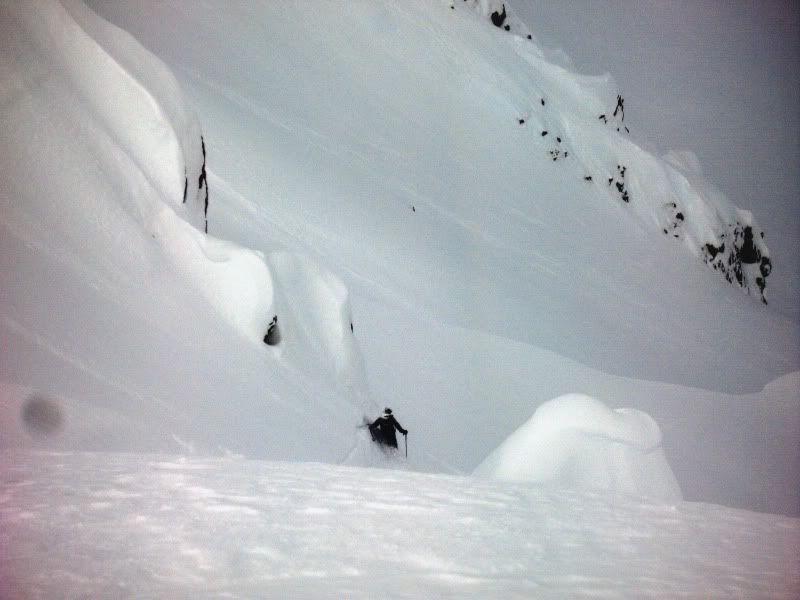 Jon, run #2. That's what I like to see:

That's about all I've got from this day, but stay tuned for Part 2. Meanwhile, on another note, the snowmobilers that followed our tracks had been keeping us entertained all day. Snowmobilers have a bad rap in avie circles, a reputation which is largely undeserved around Crested Butte, where they generally seem pretty prepared and knowledgeable. But this day in Dope Creek?
These guys were great. "Backpacks?"
"Nah, who needs em."
"A good spot to eat lunch?"
"Right under that steep face those skiers are eying- let's just chill there for a half hour."
"Hey, let's highmark at the same time!"
"Good idea!"
"Let's skip this nice North facing stuff and see if the snow bonded to South facing suncrusts!"
"Yay!"

Anyway, we made our way down the Gauntlet, another terrifying but ultimately satisfying snowmobile mission. Amazing light made for a fitting end to a beautiful day: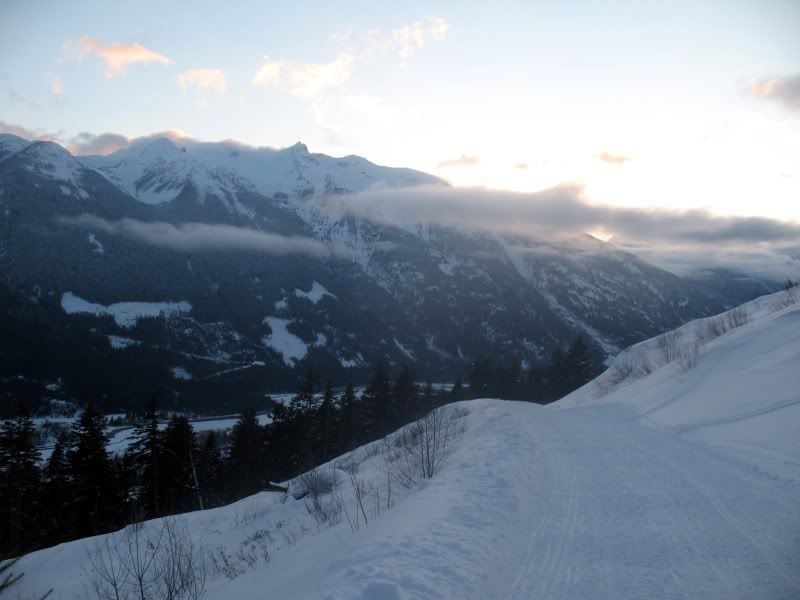 More Road Trip 2011 Posts:
Stevens Pass
No Sleep Spines
O Face
Pemby BC
Luna Creek
Trandem Trees
Whistler/Vancouver
Down Days and thoughts on snomo skiing
Dope Creek 1
Dope Creek 2
Check out one of our new sponsors:

Frank
loves snow more than anything... except his wife.  He ensures his food is digested properly by chewing it 32 times before swallowing.He is a full-time real estate agent serving
Crested Butte and Gunnison
and would be honored to send you his
monthly newsletter.
Latest posts by Frank Konsella (see all)