Gear Review: Columbia Black Diamond Dash Parka
(Last Updated On: March 25, 2014)
Earlier this season, I was contacted by the Columbia Marketing Team and asked to test out a new Omni-Heat jacket. Of course, I accepted the offer. My Columbia Black Diamond Dash Parka arrived in December, and I liked it instantly.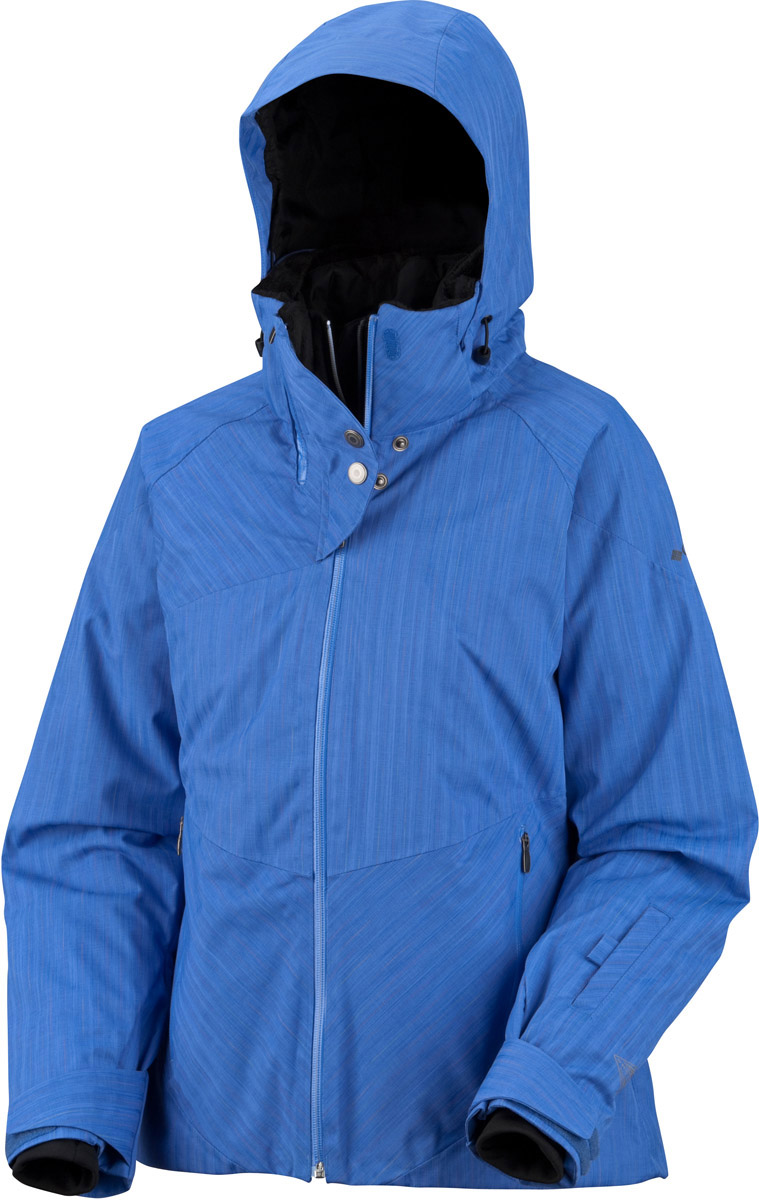 The Black Diamond Dash Parka comes with the classic 3-jackets-in-1 system: an outer shell with a removable insulated jacket. Automatically, this is a huge plus and you do get a number of layering options in one system.
What Struck Me Out of the Box
Out of the box, the fit was perfect. I received a size small and I think that Columbia's sizing is true to their sizing charts. The cut is feminine, yet functional- perfect for skiers like me. I liked the practical placement of the pockets, with a small one even in the cuff of one arm which is perfect for a credit card, key, or chapstick (or all 3 for that matter!). I also liked the high collar. The collar zips tall, which is great for those cold or windy ski days. And to add further to the functionality, the collar had a second zipper which you could unzip to allow the collar to expand, creating more space so the it didn't feel like the jacket was constantly choking you. For someone like me, who hates having things tight against her neck (especially after having thyroid surgery), this was a huge plus.
Things I Questioned
I also noticed that the collar/neck area of the jacket had a lot of "bulk". A lot of this bulk comes from the "fur" placed on the inside of the collar. This is intended to be plush and make the jacket comfortable. But, I was worried that on snowy days, ice would collect on this fur. I also questioned if this jacket could hold up to those really wet-snow days. How water-proof was it?
Putting it to the Test
After wearing the Black Diamond Dash Parka in some very wet snow conditions several times, several powder days, and several frigid days, I'd say this jacket passes the test. The Black Diamond Dash Parka is adequately warm and stands up great to wet snow. Even after just wearing the shell (not the inner layer) skiing on a day with some of the wettest snow I have ever seen and another day with rain, my body stayed perfectly dry. I can't say the same for my hands or legs 🙂 After several powder days, the jacket hasn't had any icing-up issues on the furry collar either.
I also tested the Black Diamond Dash Parka in the backcountry. I found that this jacket had a lot of "extra stuff" that just kind of got in the way. Something was always rubbing me wrong inside the jacket when I had a backpack on my back. The jacket is breathable, but not as good as Gore-Tex, which I particularly noticed on a frigid backcountry day.
Also, just this past weekend, I tried out the pit-zips for the first time. They unzipped easily. But I could not, for the life of me, zip them back up on my own. I found out that the zippers kept getting snagged on a mesh layer that was built in to the pit-zips. I had to have Frank help me close-up the pit-zips when the temperature began to drop in the afternoon.
I like the 3-in-1 Columbia system. But, the included insulating inner jacket I found to be a bit bulky. If I can have it, I prefer less bulk. I don't need to feel like the Stay-Puff Marshmallow Man. Lately, I have been removing the inner layer and replacing it with my own down sweater. It provides less bulk, but just as much warmth.
Last, I have noticed lately that the collar has acquired an odor. It seems to be holding some of the stench of my sweat and even my breath. I have never noticed this odor with any other jacket I own and have not washed in less than a year.
In Conclusion
While I like my new jacket, there are a couple of changes I would recommend to Columbia for future generations of the Black Diamond Dash Parka. First, get rid of the mesh in the pit-zips. The mesh doesn't do anything functional and it gets in the way when zipping up the pit-zips. Second, make the powder skirt removable. Most women don't really like them anyway- they tend to ride up on a woman's hips. Because I don't use it, the powder skirt sometimes gets in the way, or rubs wrong when I have a pack on my back.
The Black Diamond Dash Parka makes a great resort skiing jacket. For the backcountry, it's too bulky and has too much excess. But, this jacket has a lot of functionality. It is highly waterproof and plenty warm. The pockets are perfectly placed. The removable hood provides options. The high collar is a huge plus. This jacket thrives at the ski area.
The Black Diamond Dash Parka is an impressive jacket. I'll be honest when I say that testing this jacket has made me re-evaluate this company's products as a whole. I'd definitely consider buying Columbia products in the future, based on the performance of this jacket.
Get your Black Diamond Dash Parka at altrec.com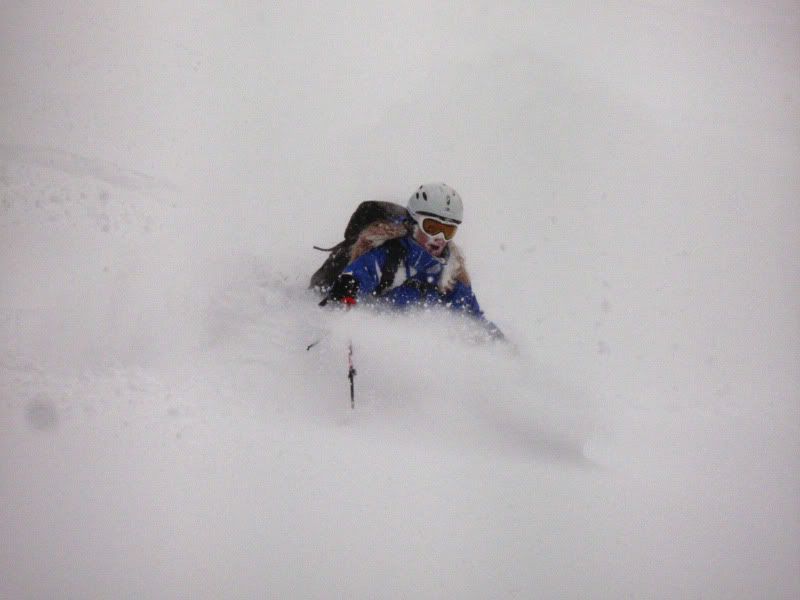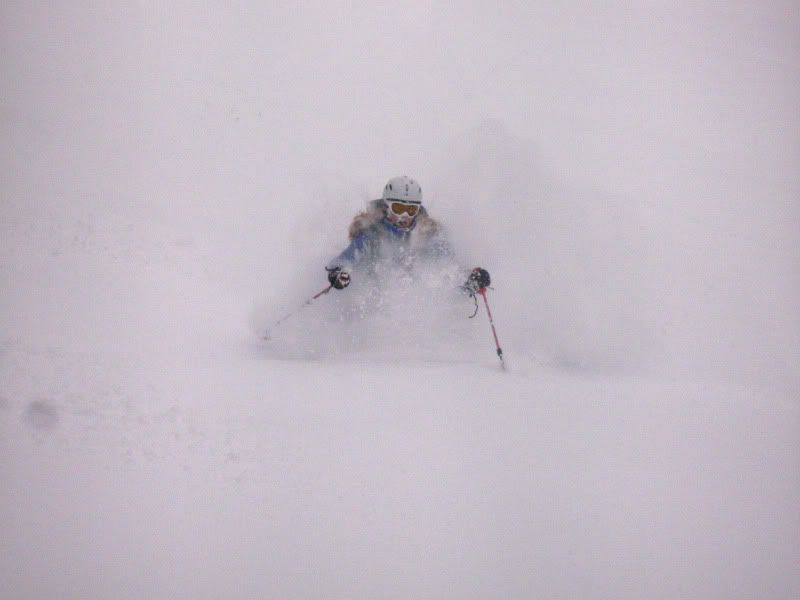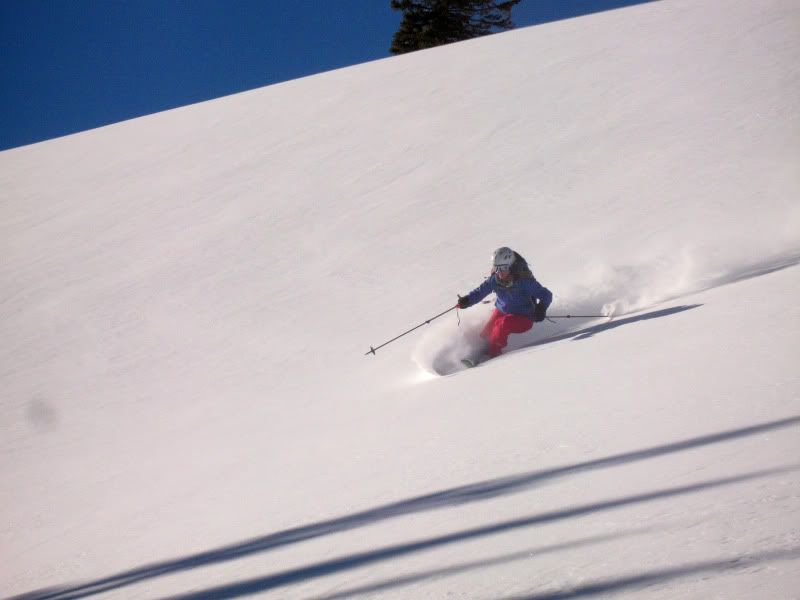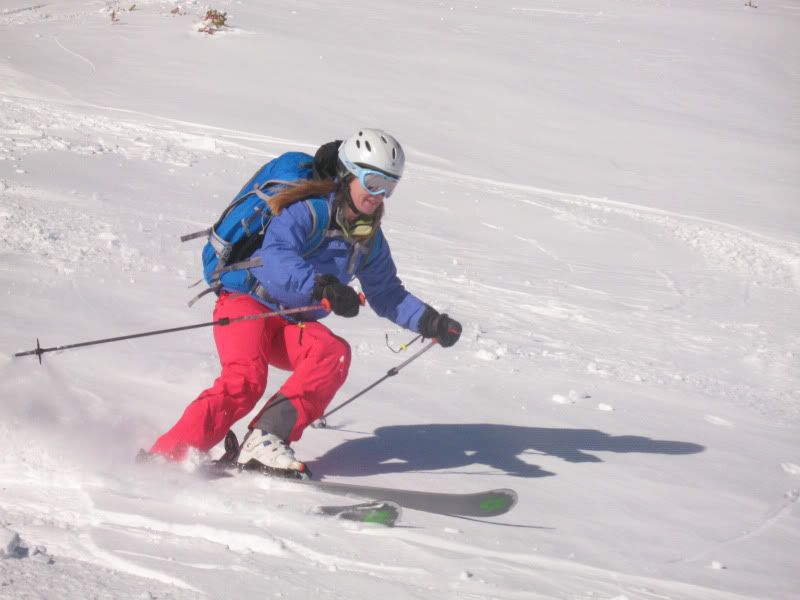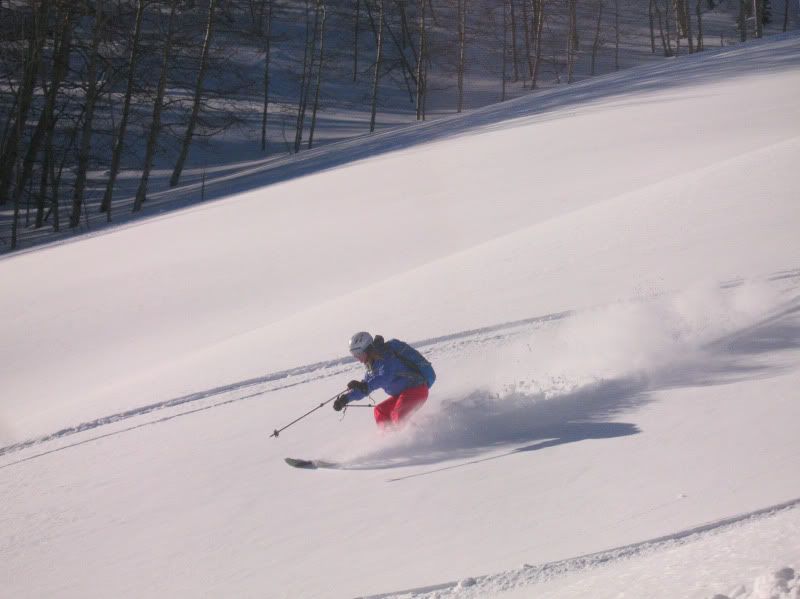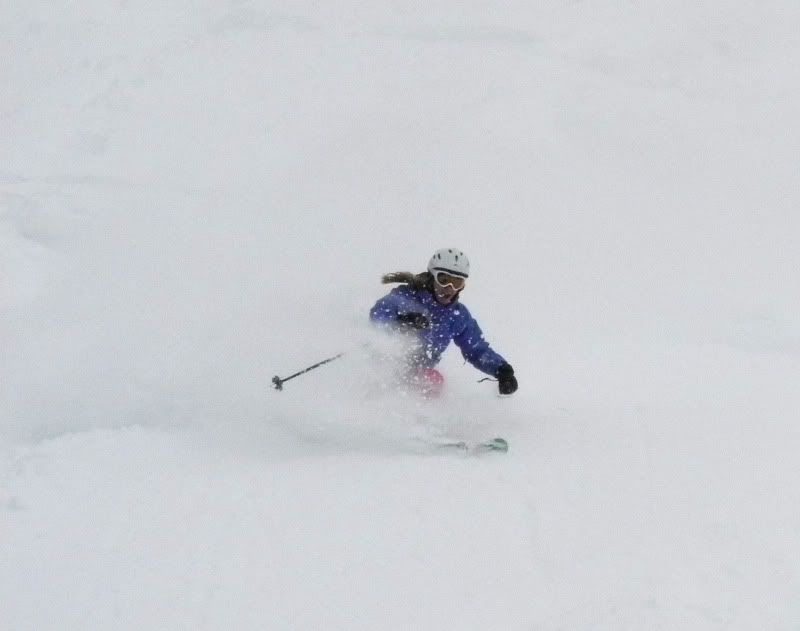 Aside from skiing, biking, and all outdoorsy things,
Brittany Walker Konsella
also loves smiles and chocolate 🙂 Even though she excels at higher level math and chemistry, she still confuses left from right. Find out more about
Brittany
!
Latest posts by Brittany Walker Konsella (see all)