Barcelona: The works of Antoni Gaudi
(Last Updated On: August 21, 2011)
Much of our time in Barcelona was spent visiting the architectural marvels of Antoni Gaudi, not surprising given how inextricably linked Gaudi and Barcelona are. Seven of his works are UNESCO World Heritage Sites, no small feat for an architect, let alone one whose works are only 100 years old or so. As someone who works in the trades and has an appreciation for the art form that is architecture, I found Gaudi's work to be beautiful, interesting, and definitely the work of a genius.
Our first stop was Casa Batllo, a residential unit right on the Rambla, and probably my favorite.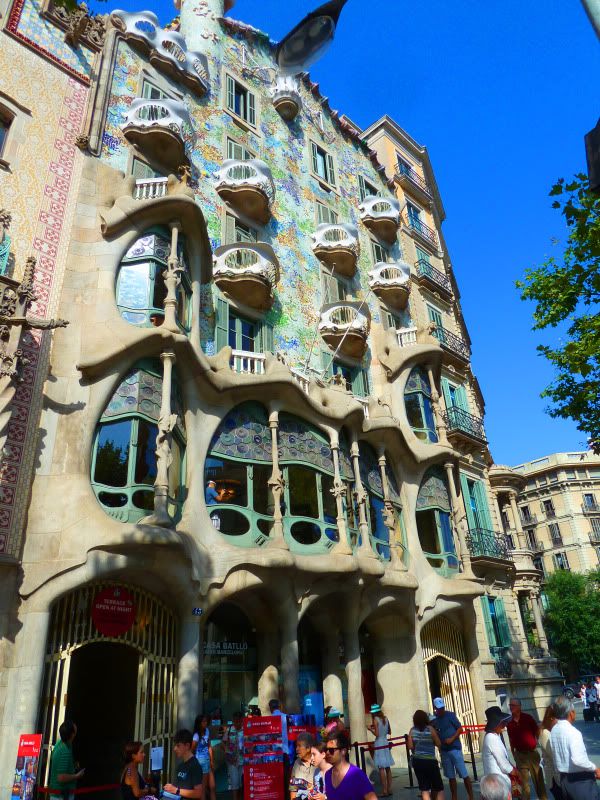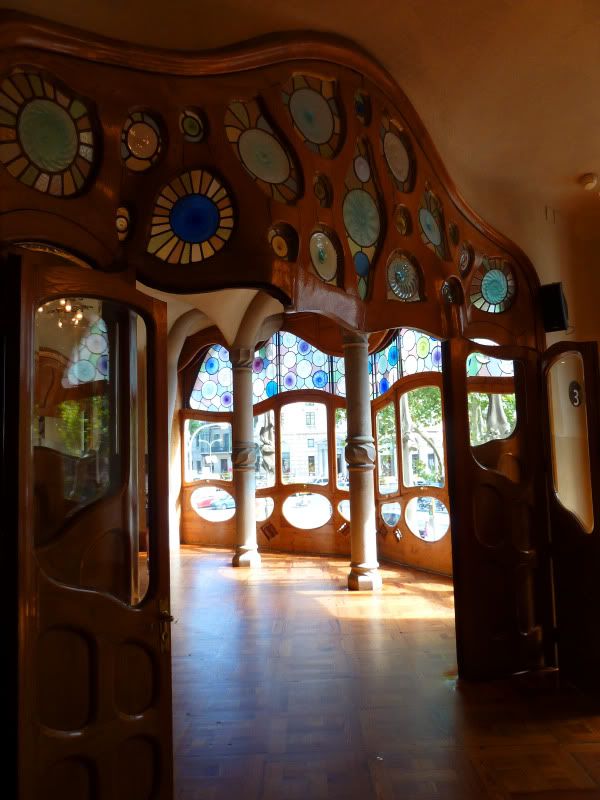 In addition to the structures themselves, Gaudi also designed or built furniture for many of his projects (he was also quite skilled in carpentry, metalwork, and plaster, among other trades). Not only are all of his works visually stunning, but he was also an early adopter of ergonomic design. Notice how the end of the chair handrail curls around to fit the hand:

This is the "light well" in the central part of the house, designed to allow natural light into all parts of the house. Again paying attention to even small details, the tiles get lighter in color the farther away from the light source they are: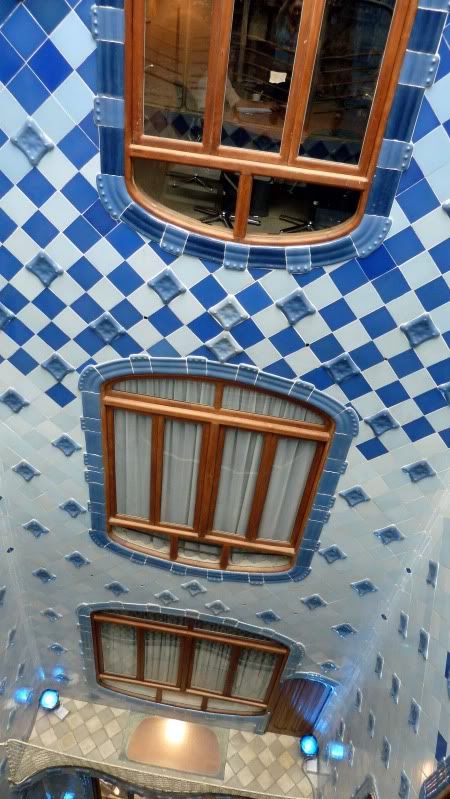 Ceiling lights:

Hallway. That's natural light coming through on the right side: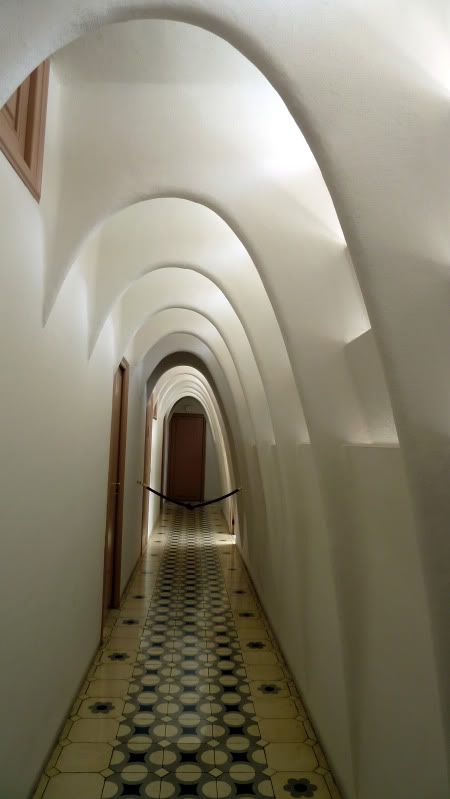 Gaudi may be best known for some of his rooftops, where he continued his designs and often made fantastically shaped chimneys: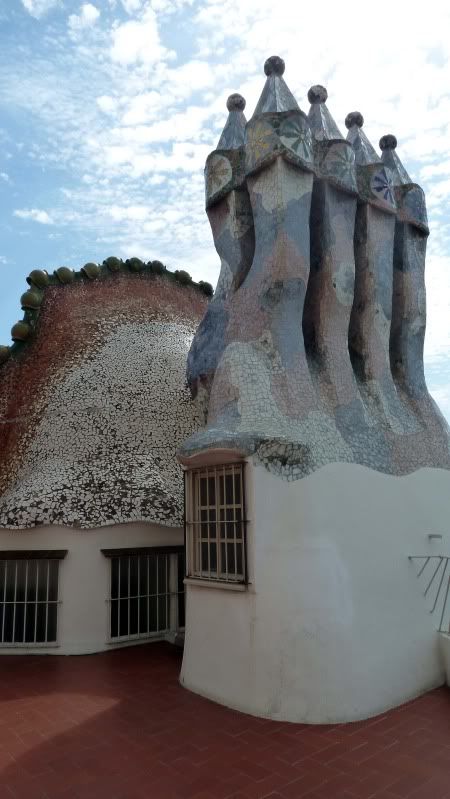 Next up was Casa Mila, also known as La Pedrera, with its famous roof: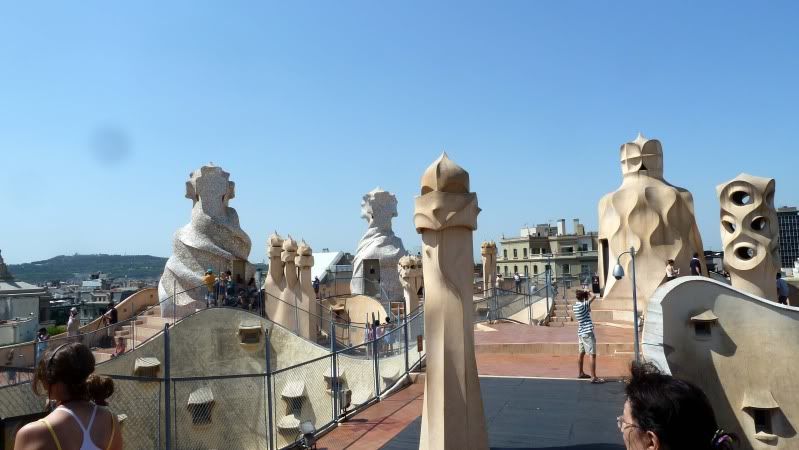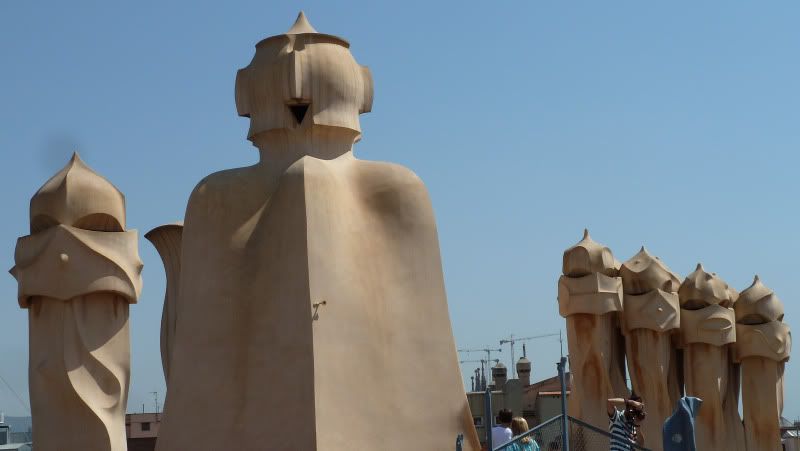 Recycling, just another technique that Gaudi was way ahead of his time for:

Token ski shot in the museum: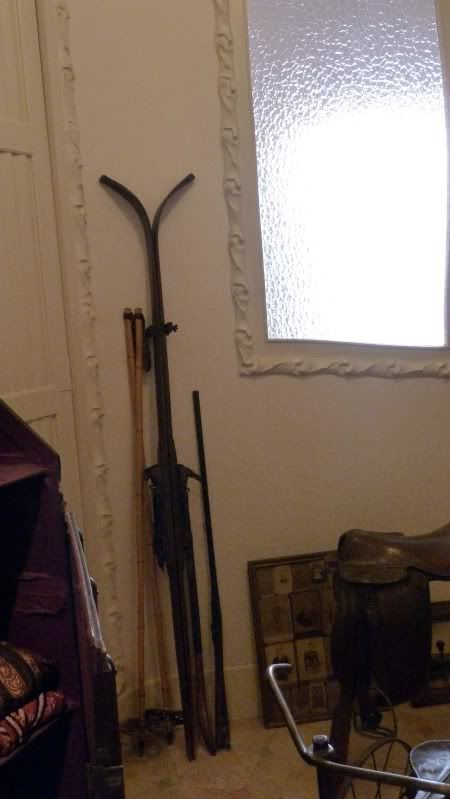 Ground floor: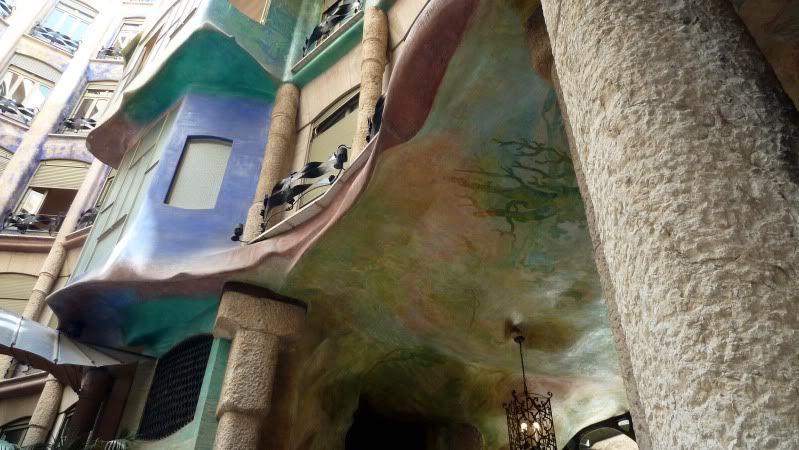 Next stop: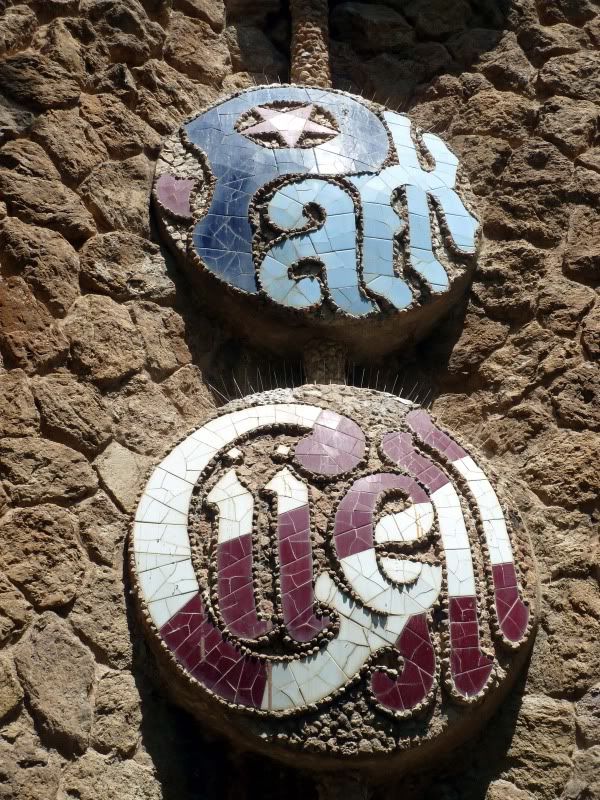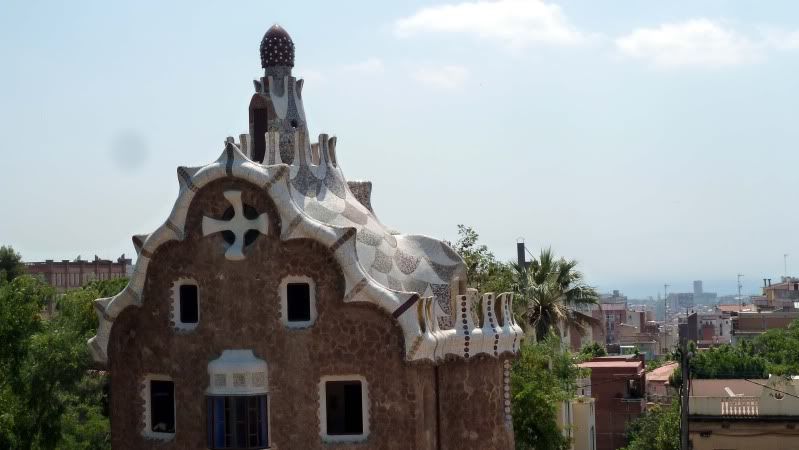 Finally, we toured the Sagrada Familia, Gaudi's take on Roman Catholic cathedrals, and probably Barcelona's most famous landmark, like the Empire State building to New York, or the Opera House in Sydney's harbor. The building remains under construction, and will be for another 10-20 years.

Much of Gaudi's models and drawings were destroyed in the Spanish Civil War, so work has continued with other artists. This facade is the work of Josep Maria Subirachs.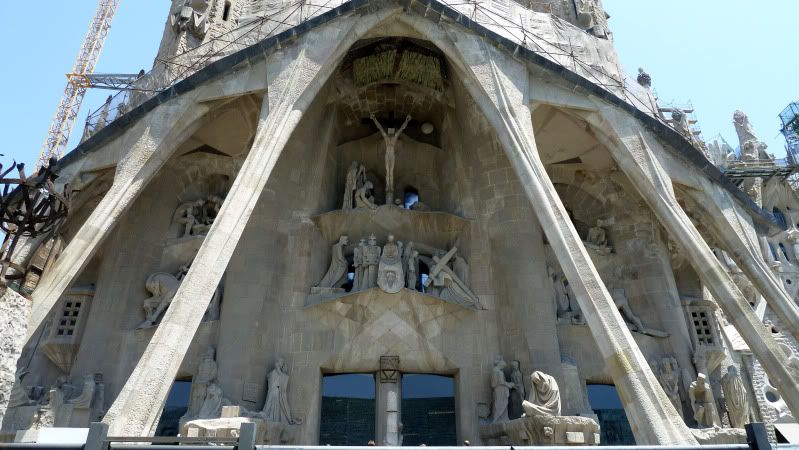 What are YOU looking at?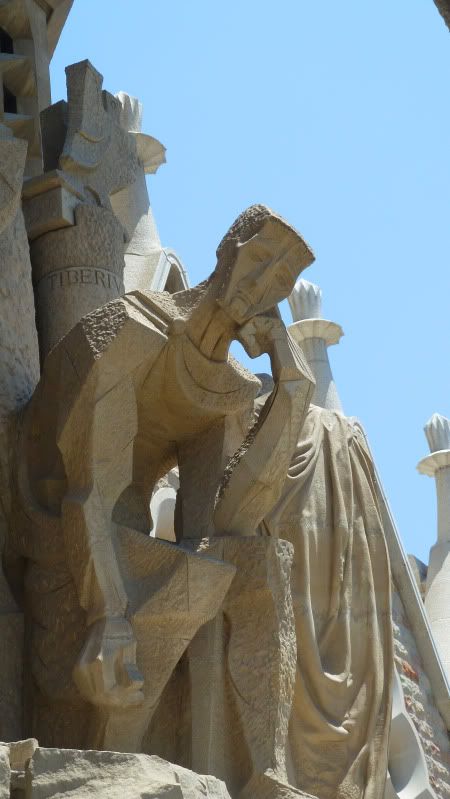 I've been in a fair number of cathedrals, and this one takes the cake for me. It's a pretty amazing place: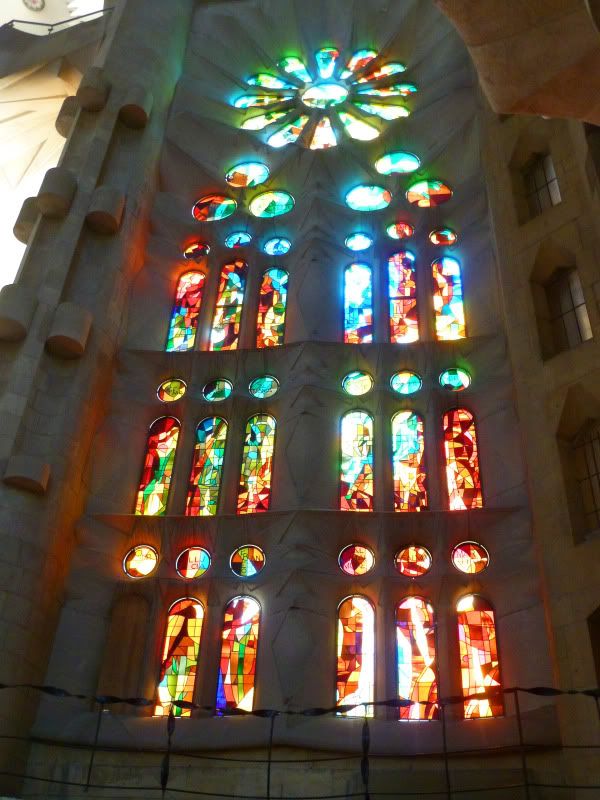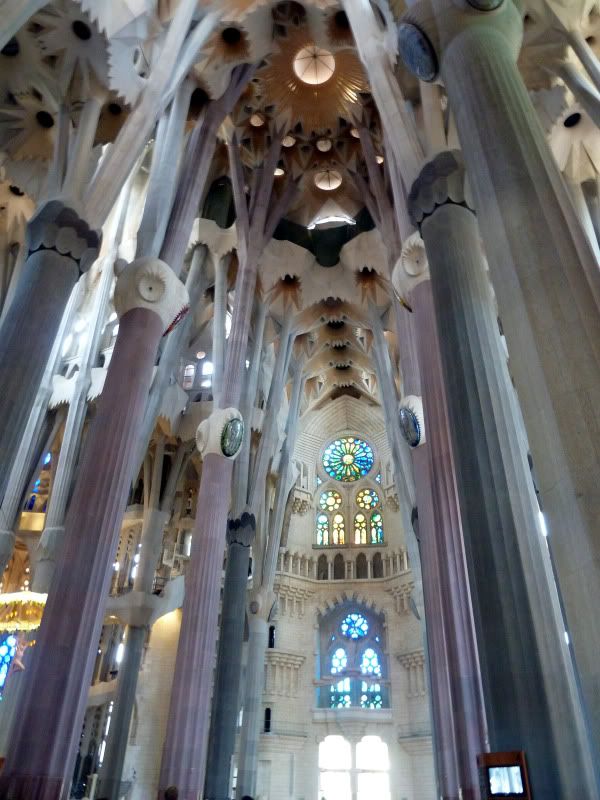 There is also a museum in the Sagrada Familia, which was pretty interesting as well. Gaudi rarely drew his buildings, preferring to model them in clay. But what I really found interesting was Gaudi's exceptional ability to see in three dimensions, not to mention a whole lot of calculus. For instance, in order to visualize the forces gravity would have on his buildings, Gaudi would hang weighted chains upside down in a model of the building. In this way, he would see where the building needed to be structurally sound. It may be hard to see in this photo, but hopefully you get the general idea: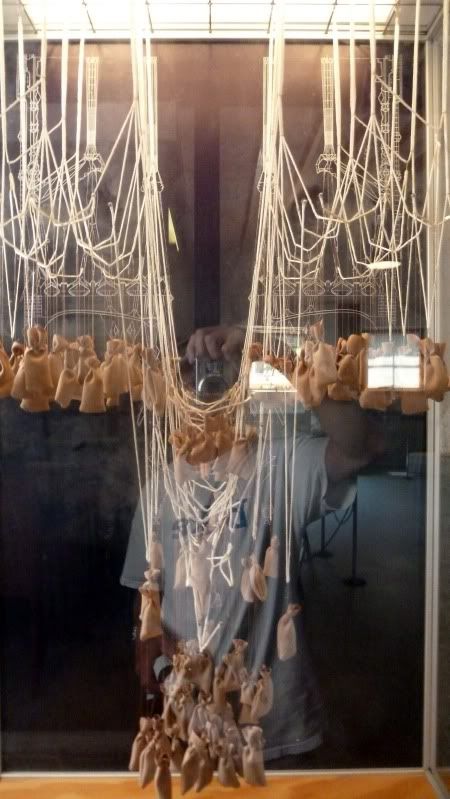 That's about it. While there are many more works of Gaudi in Barcelona, those were the ones we visited. It was fun and interesting, but of course very touristy, and that gets old in a hurry. So we were off to the Pyrenees, and those TR's should be coming soon.
Complete List of Honeymoon Trip Reports:
Barcelona
Gaudi
Spanish Pyrenees
Climb of Tosa d'Alp
Cardona Castle
Montserrat
Five hours in Lisbon
Horta Part I
Horta Part II
Island of Faial
Island of Pico, Day 1
Portugal and The Azores Highest Point: Montanha Do Pico 7,713′
Watching Whales & Swimming with Dolphins
Pico Adegas, Gardens, and More
Island of Pico
Up to 60% Off Big Agnes Sleeping Bags and Tents at Backcountry.com – Hurry!
Frank
loves snow more than anything... except his wife.  He ensures his food is digested properly by chewing it 32 times before swallowing.He is a full-time real estate agent serving
Crested Butte and Gunnison
and would be honored to send you his
monthly newsletter.
Latest posts by Frank Konsella (see all)