Revelstoke Mountain Resort 2.26.10
(Last Updated On: April 21, 2018)
From Roger's Pass, Brittany and I made our way down to the town of Revelstoke. Meanwhile our friends Jon and Susan headed our way from Pemberton, so we'd be a foursome for Revelstoke. Revelstoke Mountain Resort (RMR) opened just recently, in December 2007, and boasts North America's biggest vertical drop at 5,620′. A number of additional lifts and other developments are currently planned which will make RMR North America's largest ski area.
The current "feel" at Revelstoke Mountain Resort is definitely one of a work in progress. Ever been in a half finished house sporting insulation and unfinished subfloors? That's what RMR feels like right now- a work in progress. The trail layout is really strange, but with more lifts, some of the many traverses currently necessary to navigate the resort may be a thing of the past.
Without a guide, the 4 of us were left finding our own way around in the fog and light snow that was falling. We found some fun areas, but also found some heinous creek gullies funneling us to the other lifts. On to the pics…
Susan and I checking things out: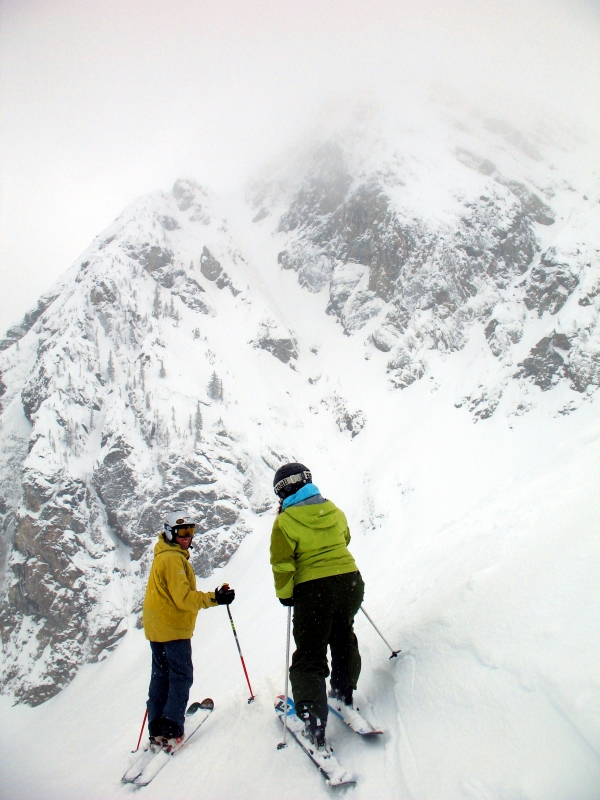 Brittany at the top of a short hike: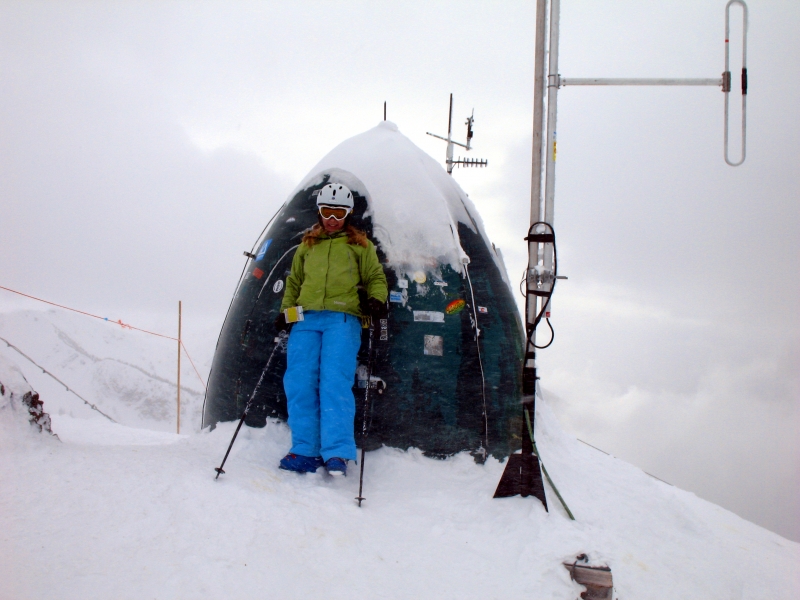 Brittany: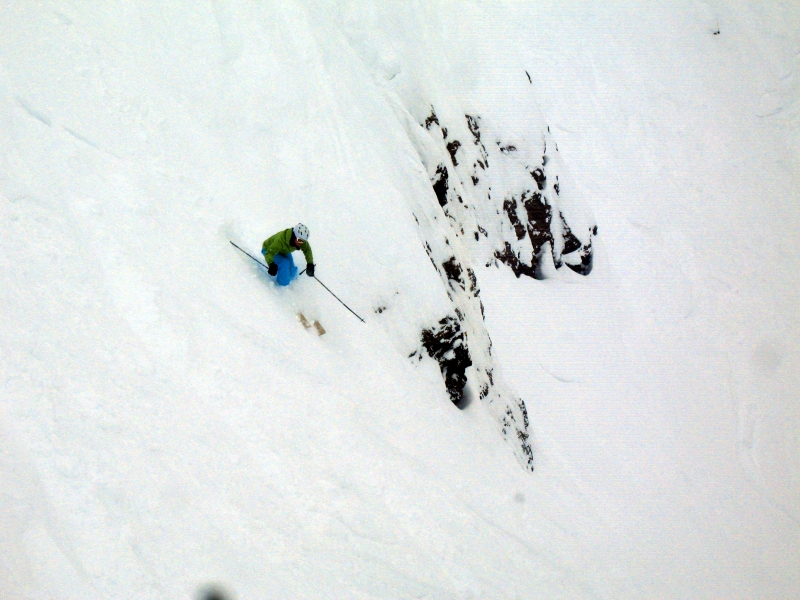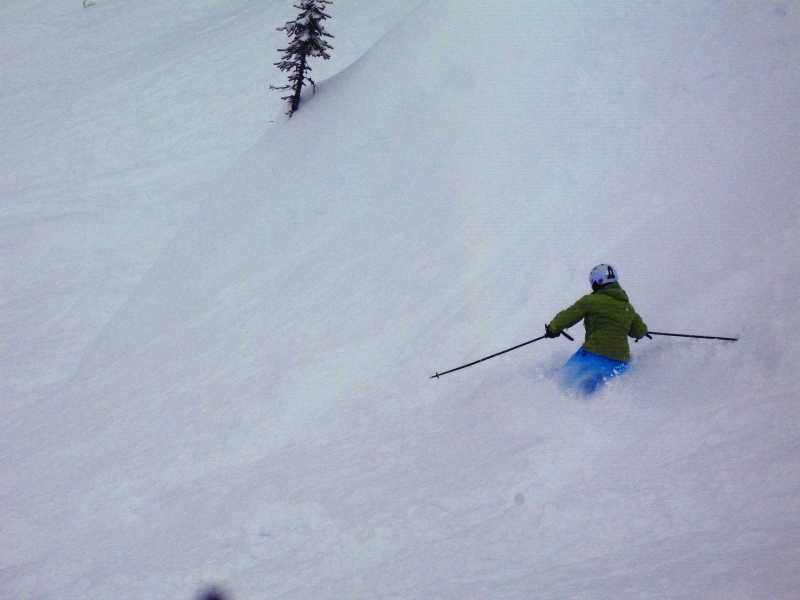 Sweet visibility in the ping pong ball: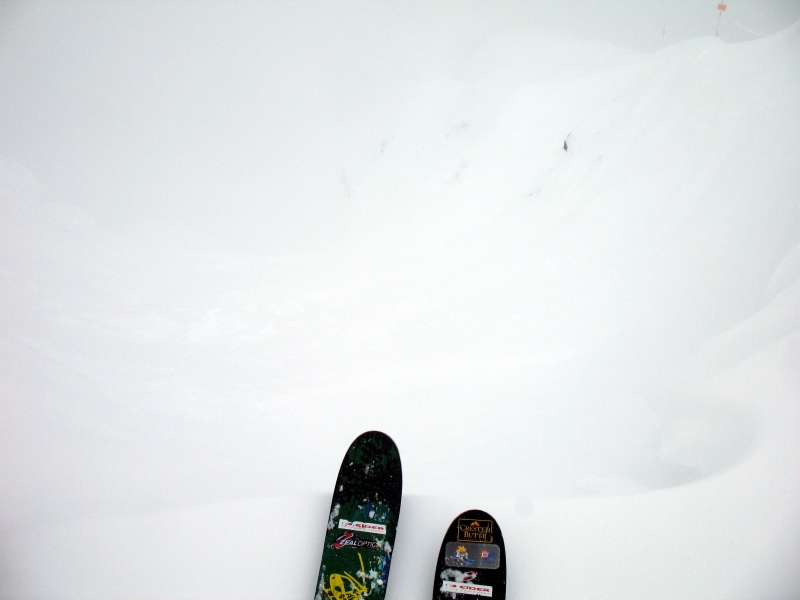 Jon: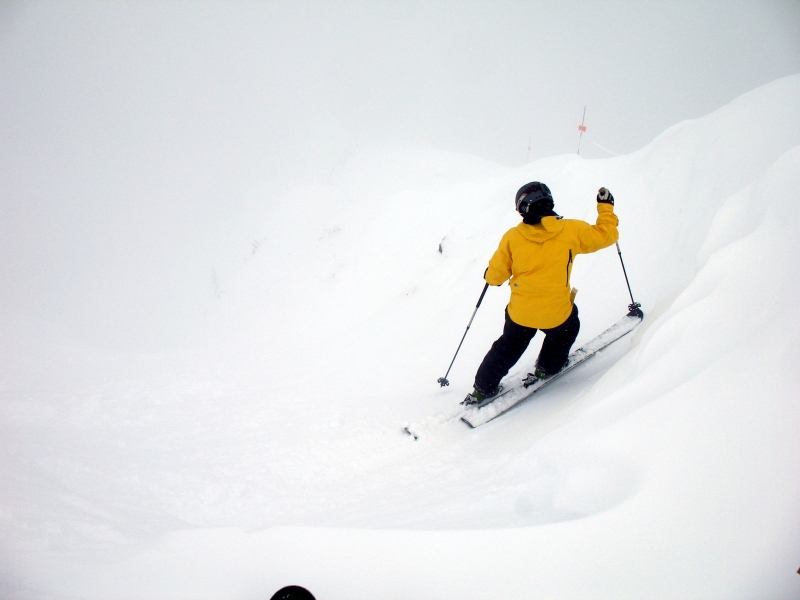 One thing for sure at RMR is that they had fun naming things, with chairs called The Stoke and The Ripper. But I liked this trial name best of all: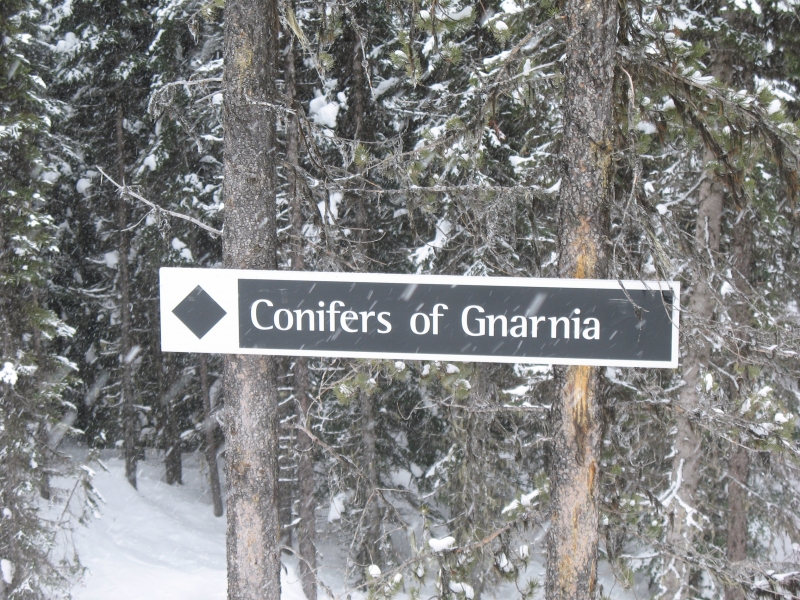 While RMR may boast a lot of vertical, the bottom half of the mountain was thin and icy, and not worth skiing. We had to ski this pitch right under the gondola, which was humorously dangerous and difficult given the icy condition it was in: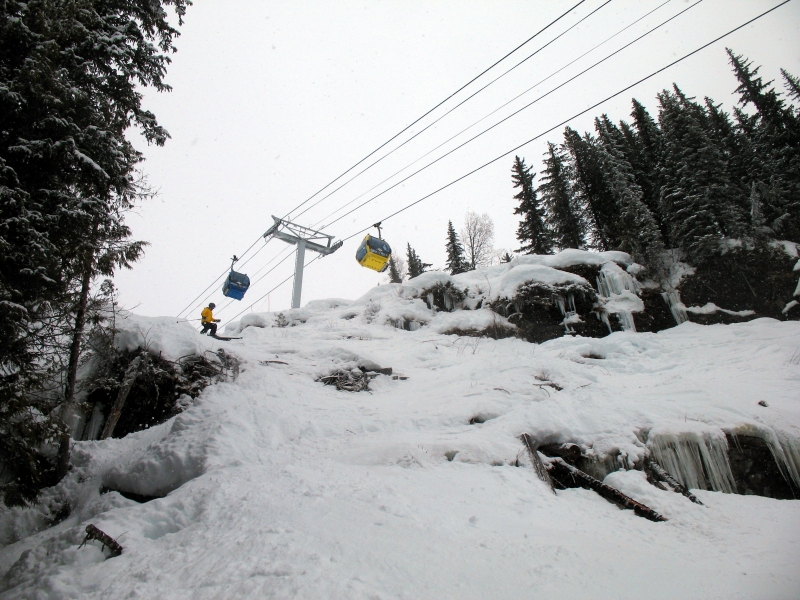 Originally, we planned to ski RMR another day, or go sled skiing with Jon and Susan. Avalanche conditions were pretty bad, however, and the ski area wasn't skiing that well. Perhaps most importantly, Brittany and I had been hitting it pretty hard, always skiing and driving without a single day off. So we adjusted our plans and left Revelstoke a day early so we could hit up some hot springs and ski an unplanned day at Whitewater outside Nelson. Jon and Susan went to check out the sled access skiing and reported back that even approaching low angled slopes would cause them to avalanche on the surface hoar layer that is plaguing the area this season. Meanwhile, Brittany and I were enjoying our sightseeing tour. Our route required a ferry across Arrow Lake: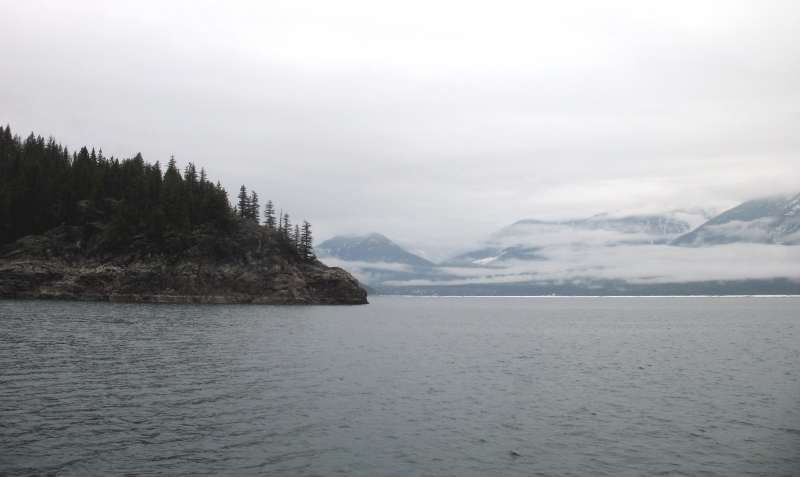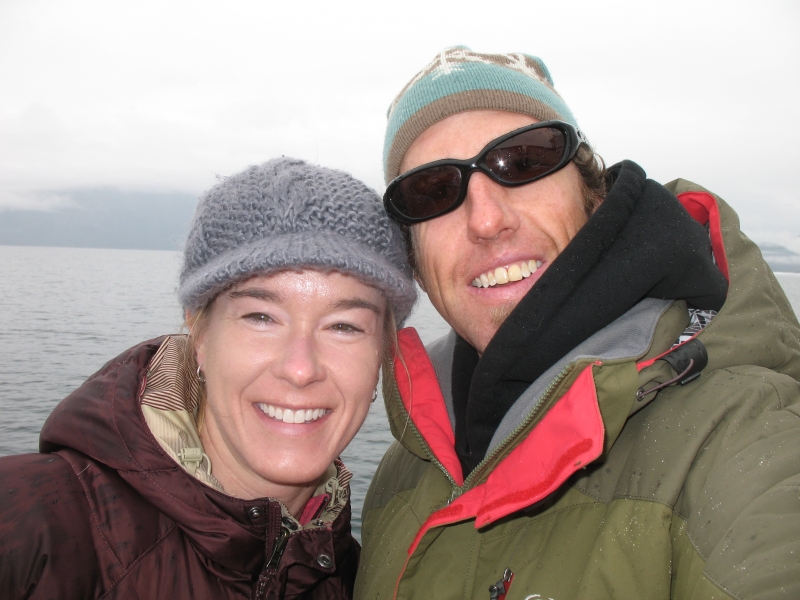 It was a beautiful day: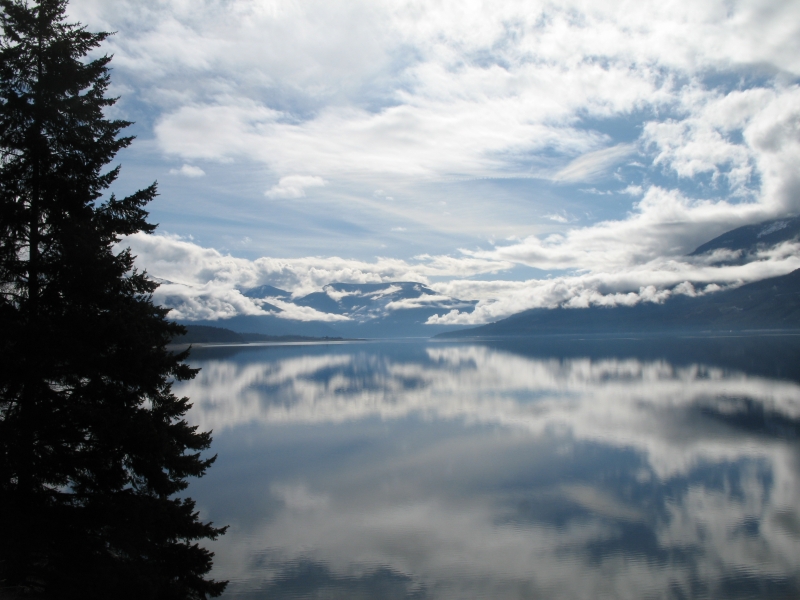 We had lunch in the scenic town of New Denver, which sits at the base of some nice looking peaks: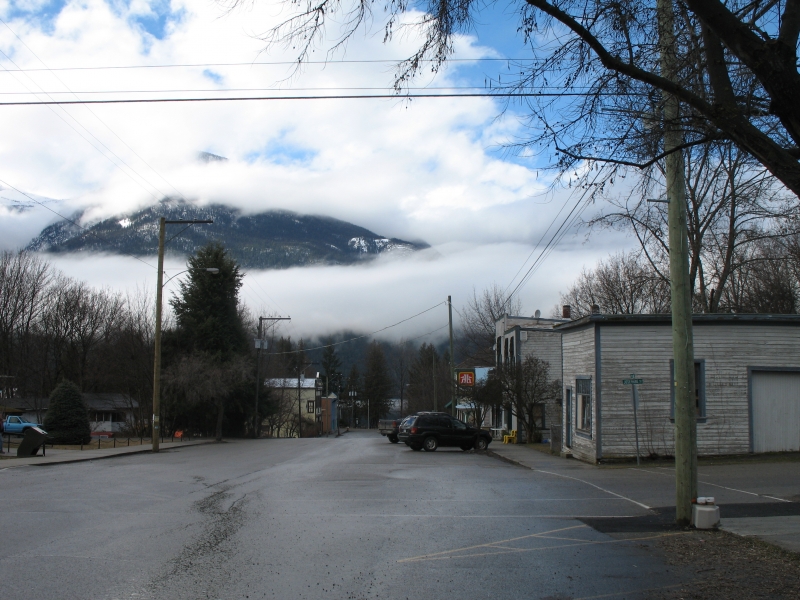 We stopped at the Ainsworth Hot Springs, which were notable for the caves you could walk through.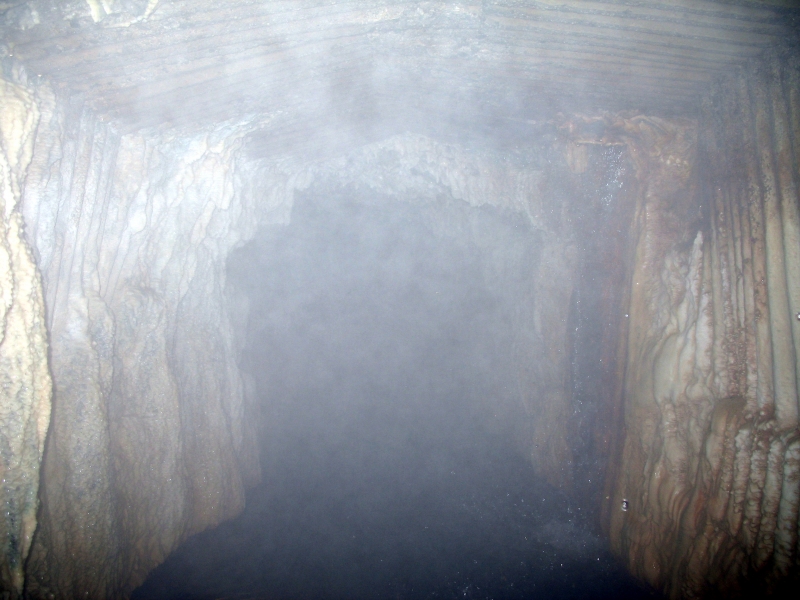 Eventually, we rolled into the picturesque town of Nelson, more on that later…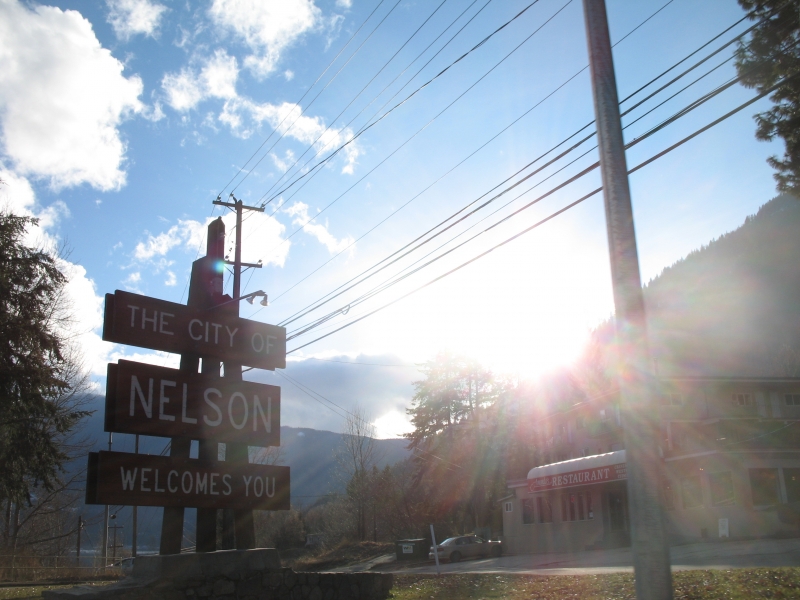 If you're visiting this area, you might also want to check out Snowwater heli skiing or Valhalla cat skiing
Other Montana-Canada Road Trip Blog Posts
Road Trip Update
Itinerary
Bridger Bowl
Whitefish
Fernie
Kicking Horse
Roger's Pass
Revelstoke
Nelson and Whitewater
Red Mountain and Rossland

Frank
loves snow more than anything... except his wife.  He ensures his food is digested properly by chewing it 32 times before swallowing.He is a full-time real estate agent serving
Crested Butte and Gunnison
and would be honored to send you his
monthly newsletter.
Latest posts by Frank Konsella (see all)
Summary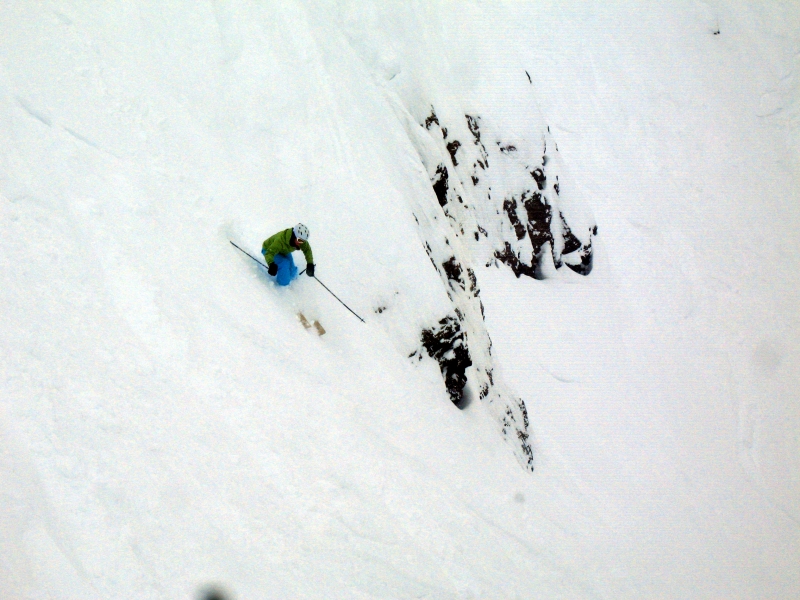 Article Name
Revelstoke Mountain Resort 2.26.10
Description
Part of a series of posts from our ski road trip to Montana & British Columbia. This segment features our experience skiing at Revelstoke Mountain Resort!
Author