TR: I got a white rock on White Rock (26 May 2010) – a tale of Engagement
(Last Updated On: June 7, 2010)
After our attempt on Spider face on Sunday, I was itching to get something done. Our big ski lines had brought me too many failures of late- El Diente, Pyramid, and Spider Face. I was frustrated with failures and wanted to ski something relatively easy and fun- something I would enjoy and something that would end this streak of frustration and turn it around into success. I was debating which line to ski….
White Widow?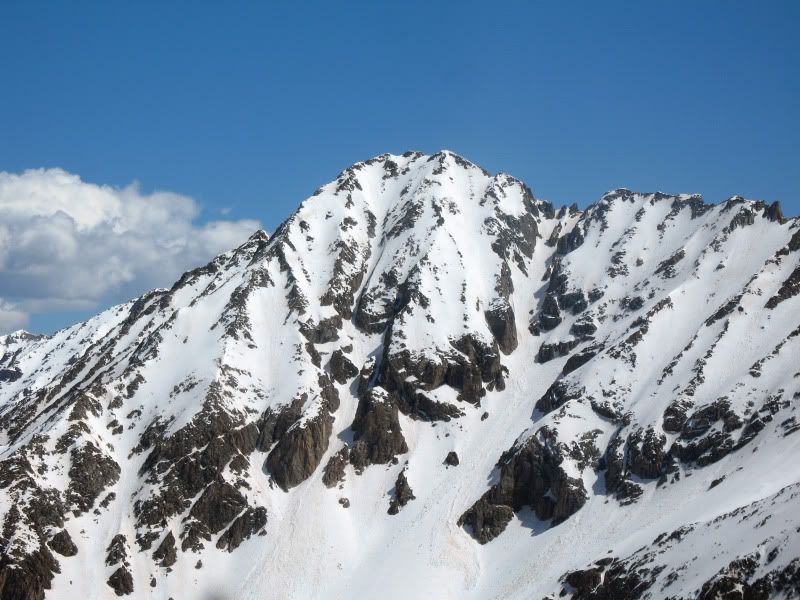 Or White Rock?

White Widow was obviously a more aesthetic line. But the skiing would likely be longer and better on White Rock. Both were accessed from the area that we call mini-Queen Basin.
I tried all week to find a partner, but had no luck. It seems that most people are "done skiing" for the season. Sensing my restlessness, Frank agreed to join me for a mid-week adventure, leaning toward White Rock as he had recently skied White Widow while I was off skiing Capitol.
White Rock it was.

We left early, and we were pleasantly surprised to find a very solid freeze making walking through the lower patches of snow easy. However, the cold temperatures made the creek crossing more interesting, with a thick layer of ice coating the logs.
Skinning up mini-Queen Basin.

Mini-Queen Basin is like a mini-playground.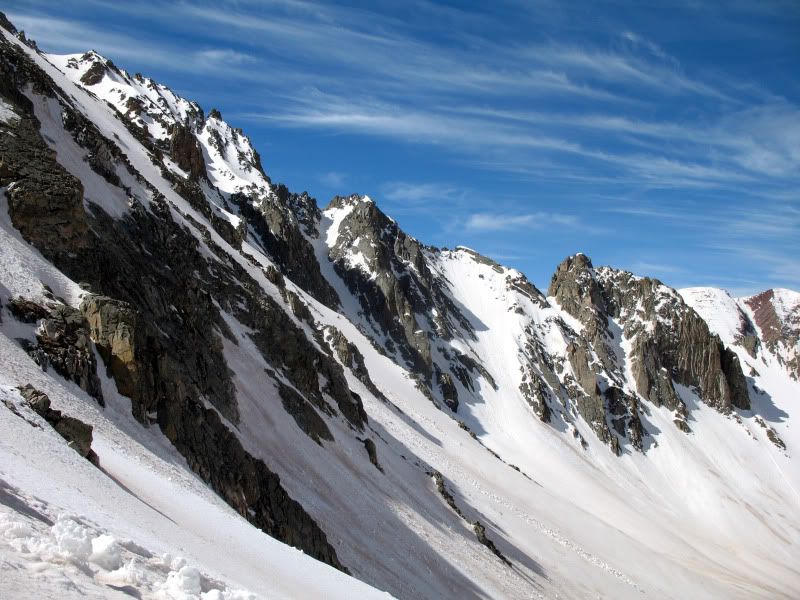 A different view of White Widow.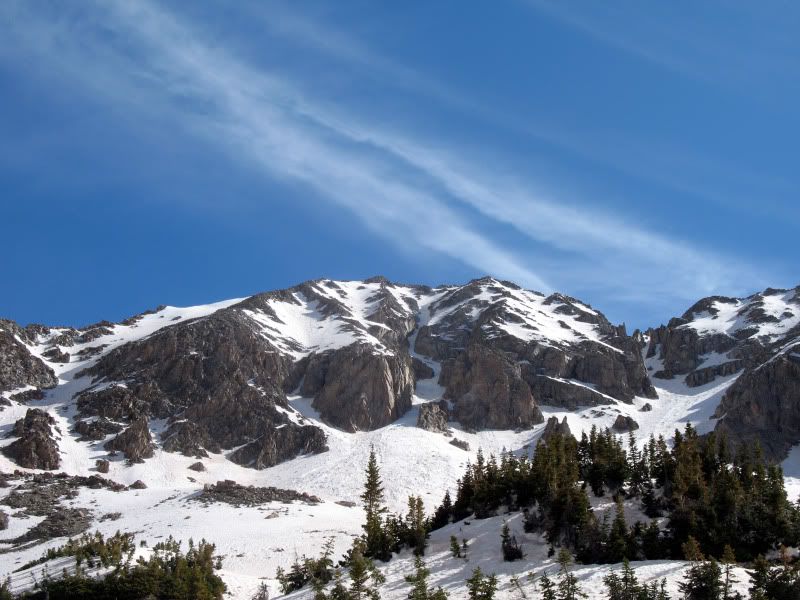 The climb was pretty fun, with Frank and I taking slightly different routes to the ridge.

Frank approaching the false summit.

The summit had the most amazing views.

We sat there on the summit for a long time. I was simply amazed and inspired by the views. Surrounded by the Elks, West Elks, Ruby Range, Sawatch, and even the San Juans in the distance, the views from this 13,500-foot peak rivaled that of any fourteener I'd climbed.
El Nacho, with Crested Butte behind.

The Marroon Bells: South Maroon to the left, and North Maroon to the right.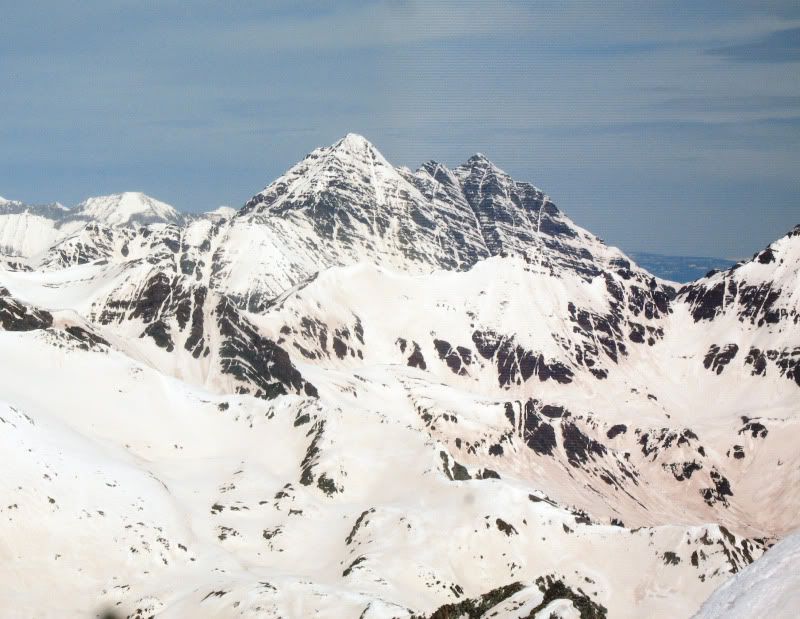 Pyramid.

The magnificent Elks.

Teocalli, another line we skied in March.

The Sawatch.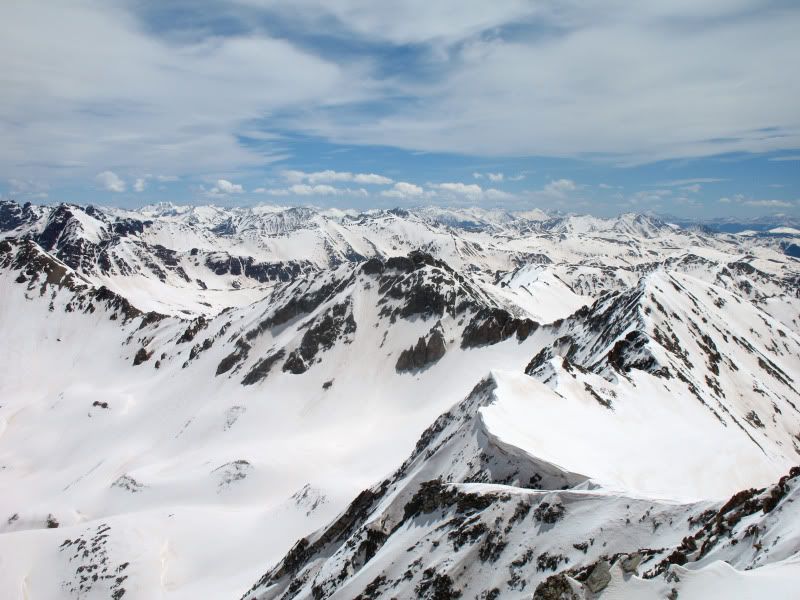 The town of Crested Butte, with Whetstone towering above it.

Admiring our local peaks and the lines we've skied in the last couple of years.
Schuykill Ridge, Peeler, Ruby, Owen, Purple, Afley, Oh Be Joyful, Hancock, Gothic.

Frank, enjoying the day.

Castle, the first fourteener Frank and I skied together.

Then, as we were sitting there, a little black velvet box showed up in front of me. Inside it was a perfect white gold ring, with unique oriental-style designs, surrounding 7 diamonds. The words, "Will you marry me" came out of Frank's mouth and I went numb. Of course, I'll marry you, I replied.
So, that's how it came to be that Frank and I were engaged- one day short of four years after we met, 2 days short of 4 years before we skied our fourteener together, Castle. Since we met because of skiing and our desire to ski fourteeners, it seemed entirely appropriate that we should become engaged in the shadow of Colorado's most beautiful Elk fourteeners. But, I had a good chuckle when I thought of what we might have skied today- getting engaged on top of a line called "White Widow" is just not quite as appropriate as White Rock. 😉
Okay, enough of that. On to the skiing!!!! … which was excellent by the way 🙂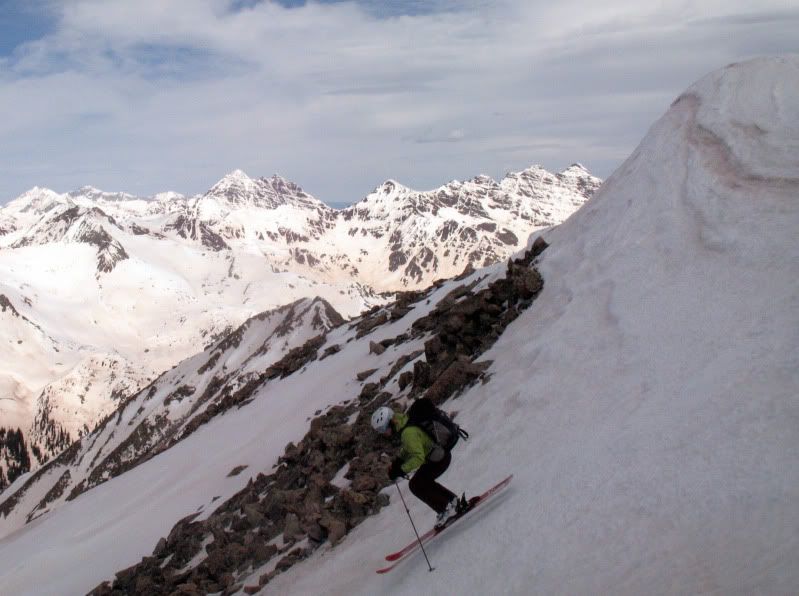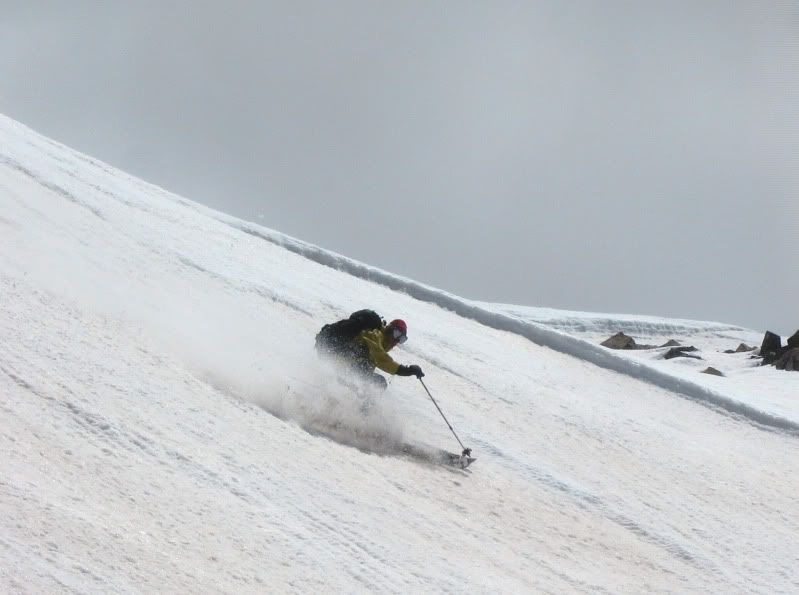 The middle pitches.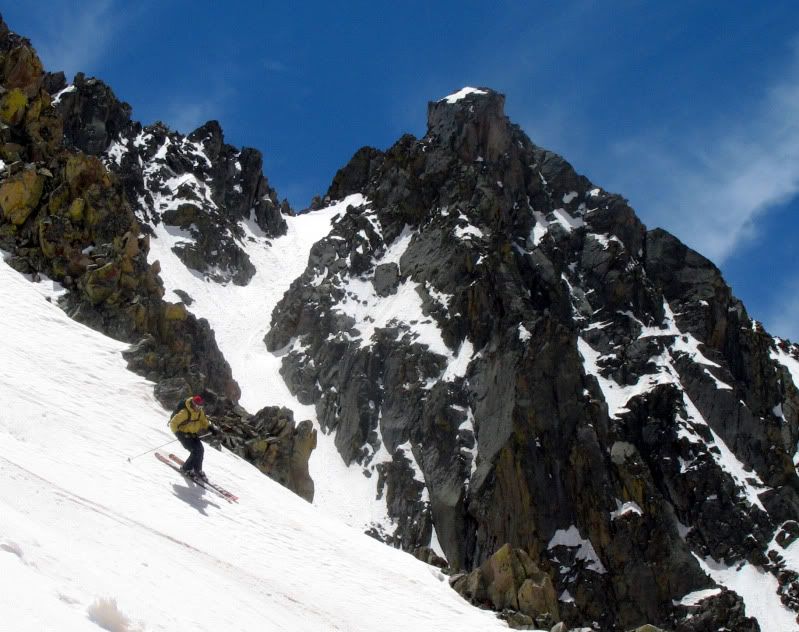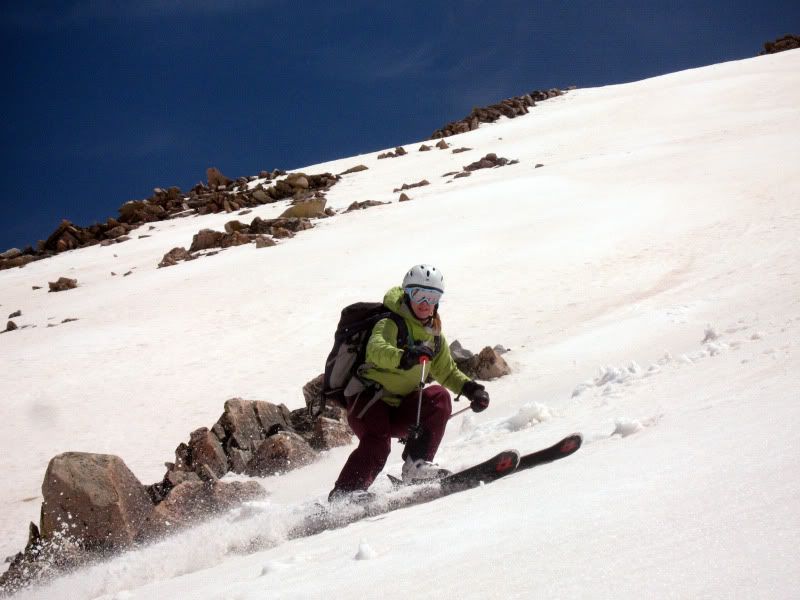 Me skiing down mini-Queen Basin.

The bottom pitches.

It was about a 3000′ vert run of some excellent fun-pitched skiing all the way to the valley floor…. and a day I'll NEVER forget! 🙂
Aside from skiing, biking, and all outdoorsy things,
Brittany Walker Konsella
also loves smiles and chocolate 🙂 Even though she excels at higher level math and chemistry, she still confuses left from right. Find out more about
Brittany
!
Latest posts by Brittany Walker Konsella (see all)