A West Side Story. Mount Owen 13,058′ 3.17.10
(Last Updated On: March 19, 2010)
Every year, Pete tries to ski something big on his birthday. Last year, it was White and Whiterock. This year, a few ideas got thrown around, but I tossed out the West Face of Mt. Owen, which I had been looking at most of the day before on "Mountain X". Jasper agreed, and the three of us headed into unknown territory, a rarity for us and our combined 45 years of backcountry experience in the Crested Butte area. What we found was some of the best couloir skiing anywhere around.
After parking the snowmobiles, we ascended the standard 1,500′ route from Green Lake, but not without a little excitement. Pete described seeing a small mouse-sized hole, wondered if 20′ from the edge of the cornice was enough, and then watched the mouse hole turn into a man sized hole.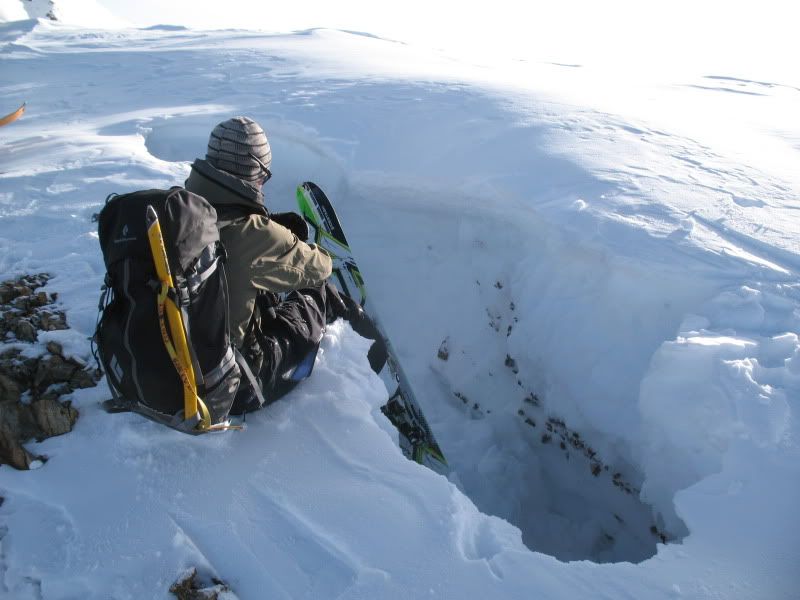 The rest of the climb went more smoothly.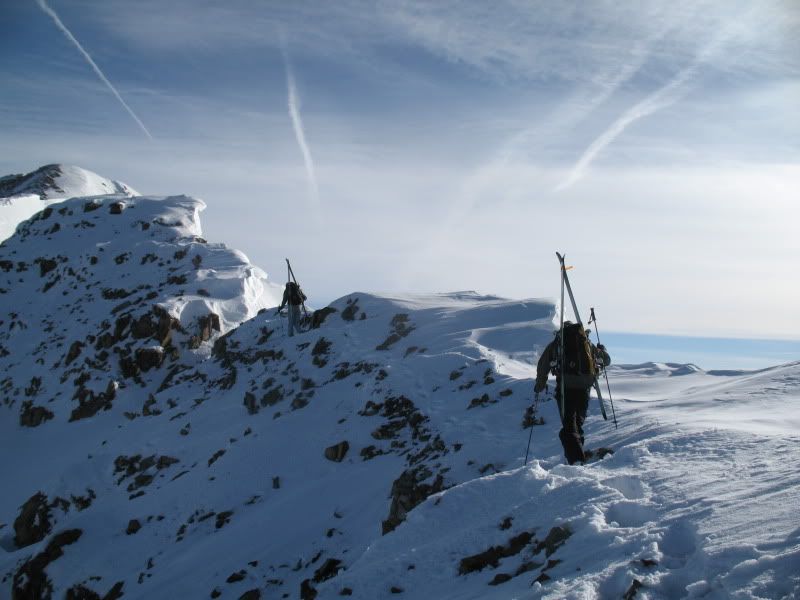 From the summit we all started drooling at what was below- steep, powdery, long and aesthetic couloirs. Would we pick the right one, or get cliffed out and be forced to climb out? We were fairly confident in our choice and dropped in. Jasper:

A number of different couloir all funneled into the same main drain, so each of us got our own line to start. Pete:

Frank (This and all other small photos courtesy of Pete Sowar)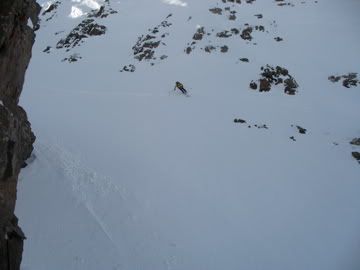 Looking down the bottom 2/3rds of the line: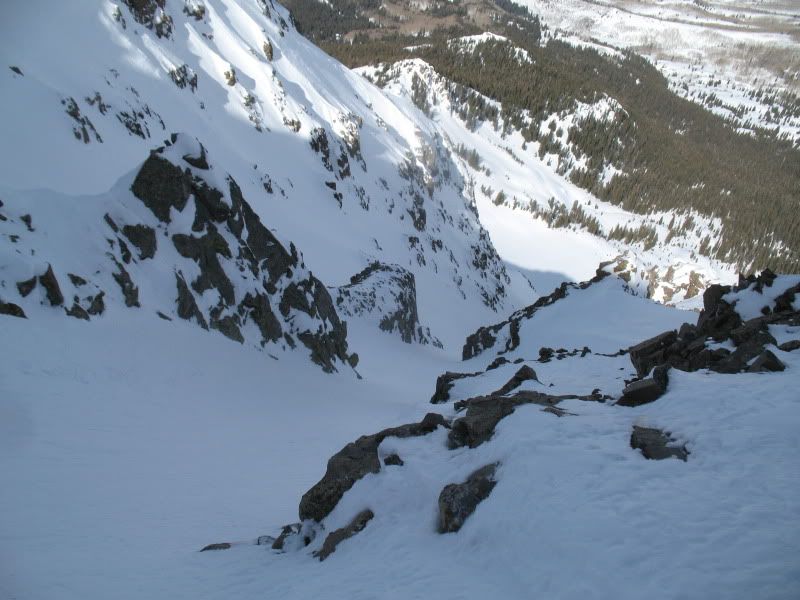 Pete: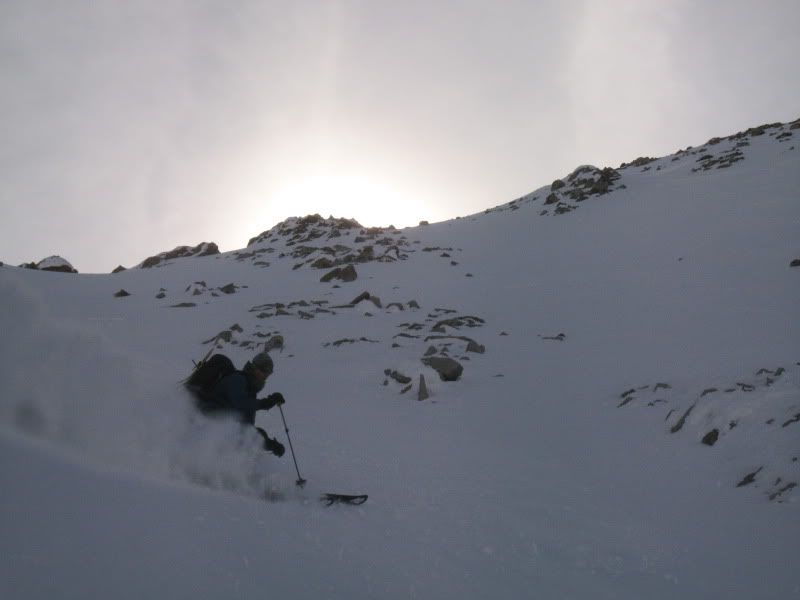 John Jasper: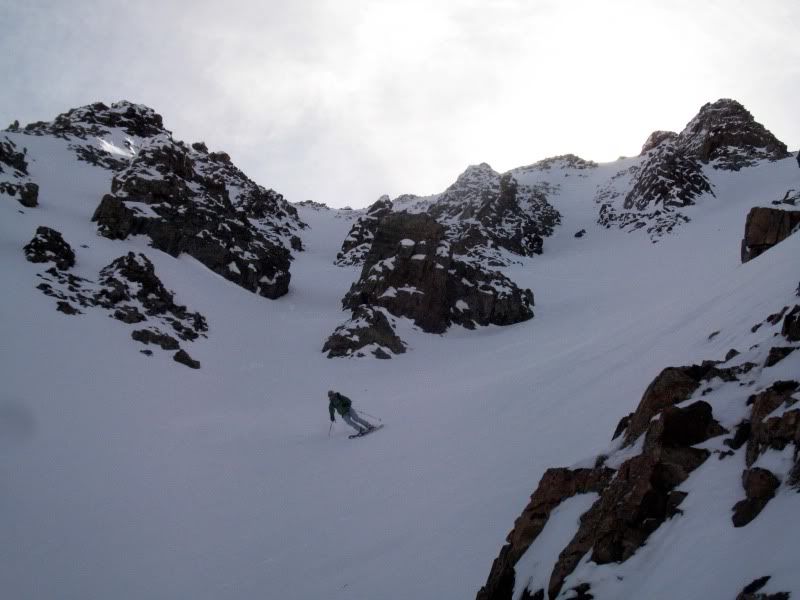 Pete: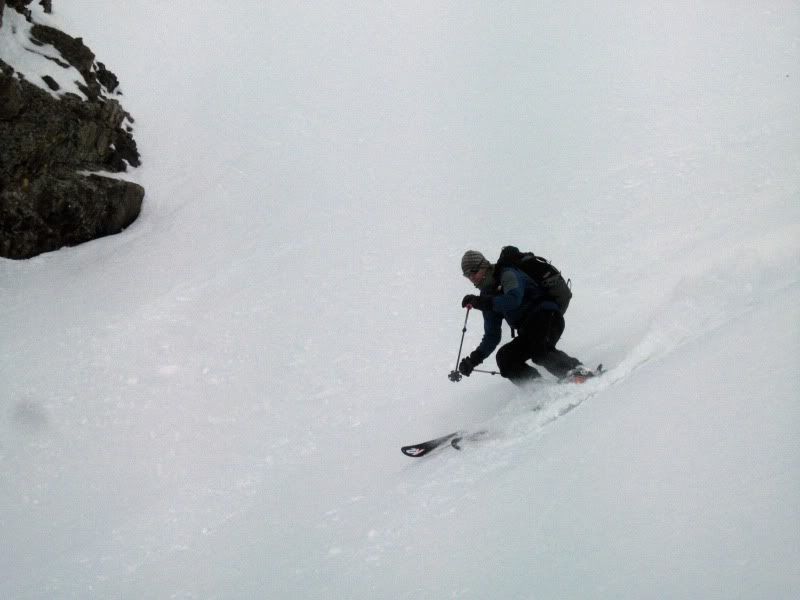 Jasper:

Pete surveys a couple of routes, one down the tight couloir, the other down the face:

At the bottom, we ate some lunch and stared at the impressive face. We skied the multiple dogleg route right off the summit, and not knowing it by any name, decided to call it the Clover Couloir in honor of St. Patty's day. Meanwhile, the tight "Crescent Couloir", as Pete had been calling it in his head, looked to good to pass up so we vowed to climb Owen a second time and descend yet another classic couloir.

We also plotted some future ski descents, like this one:

We saw a route that looked feasible up a western ridge of Owen, so long as the snow in the upper couloir was consolidated enough for us to boot up it.

This ended up being a great 2,000'+ climb with just a taste of the upcoming spring mountaineering season: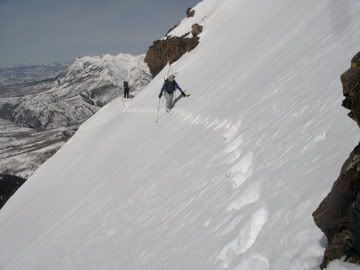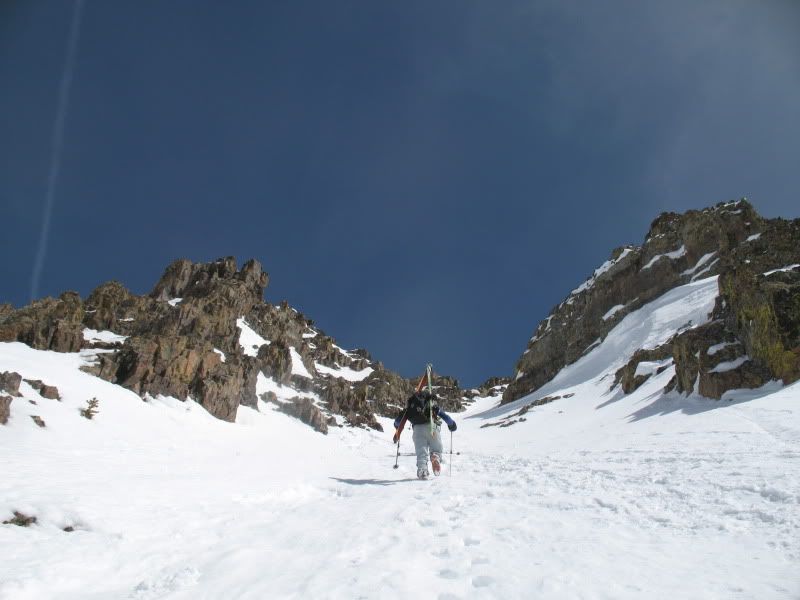 We even got a nice view of our signatures on the way back up: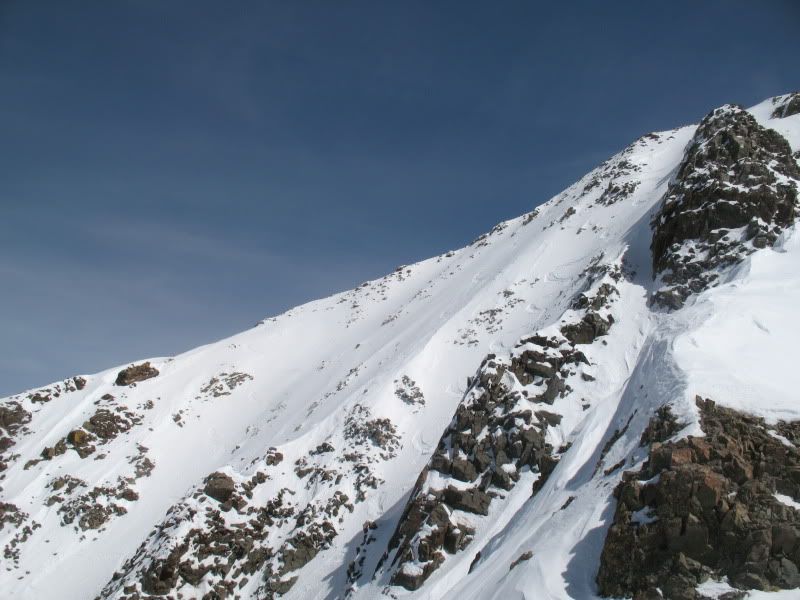 Unlike the Clover couloir, the Crescent doesn't drop right off the summit, so we made our way a short distance down the ridge. Pete and Jasper did their best Dexter Rutecki/ TJ Burke imitation. Not bad, but needs more icefall.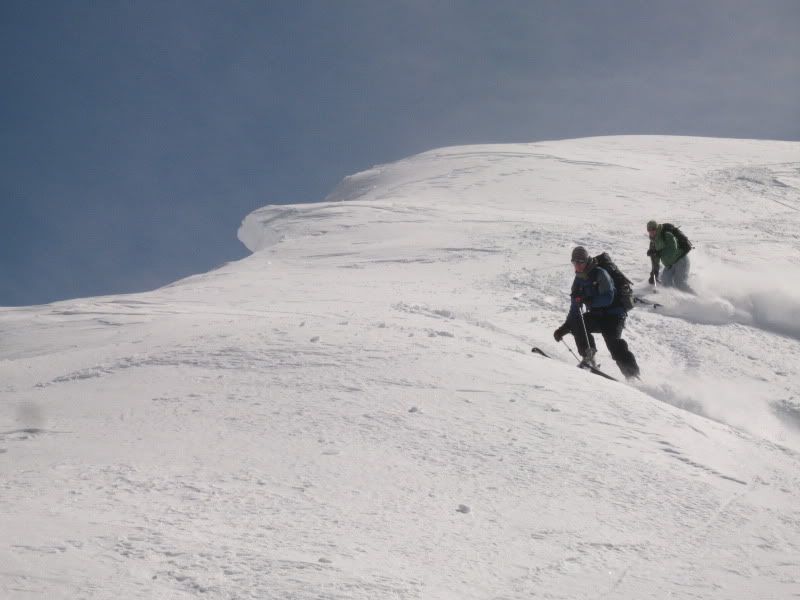 Like the Clover, the Crescent kept us guessing, with little twists and turns as we made our way down. Incredibly aesthetic, even by global standards. Pete: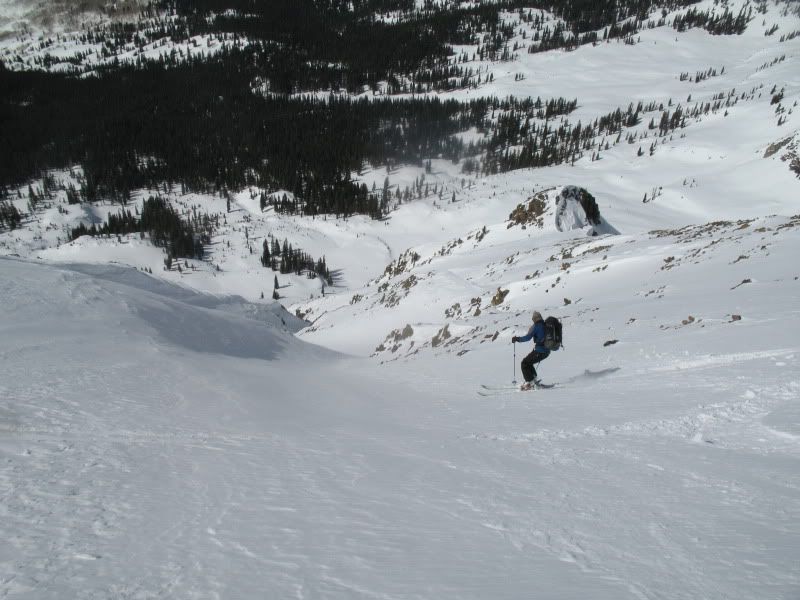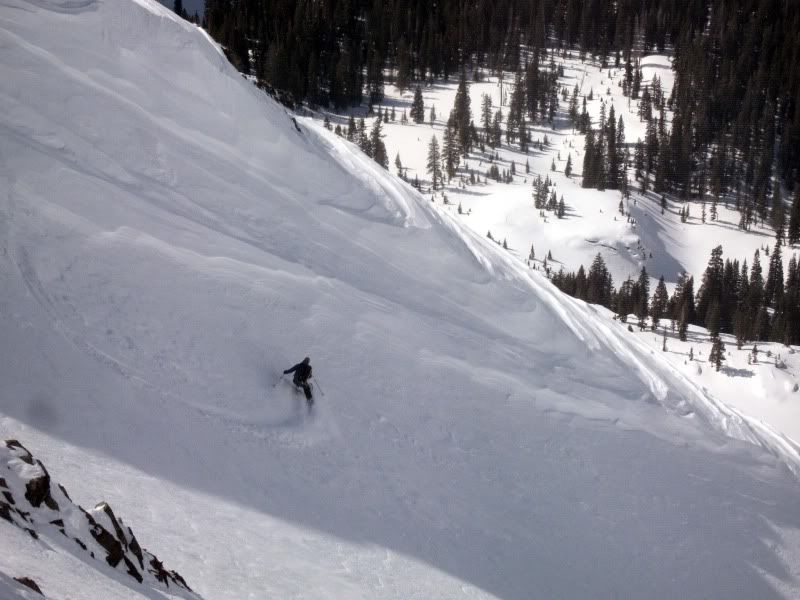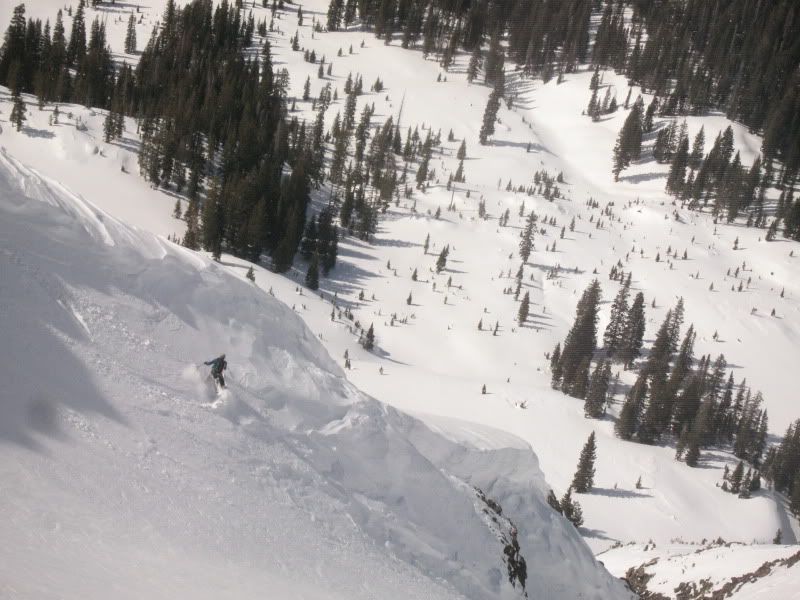 Jasper: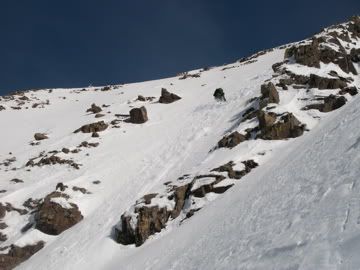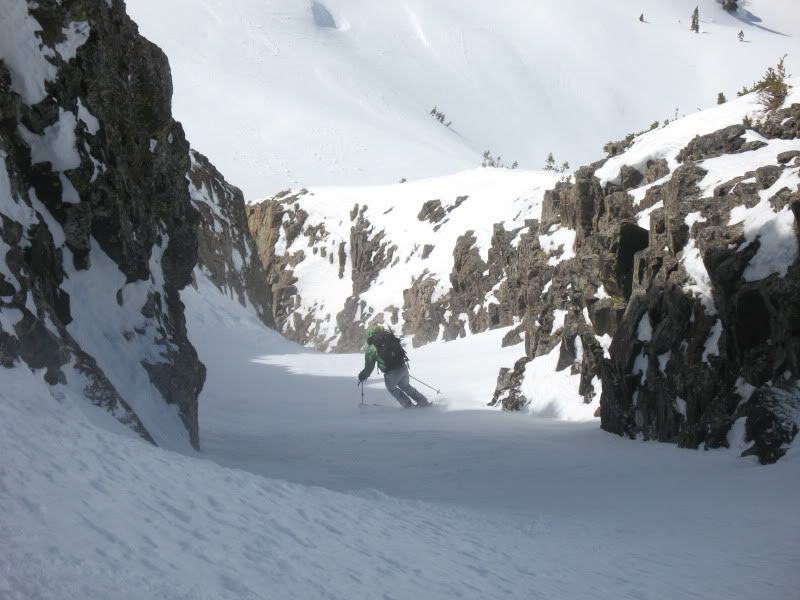 Doesn't look better than this very often: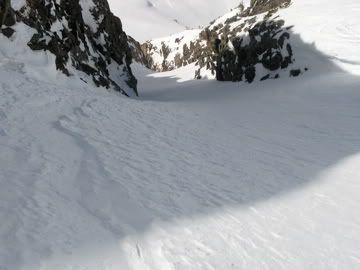 Pete: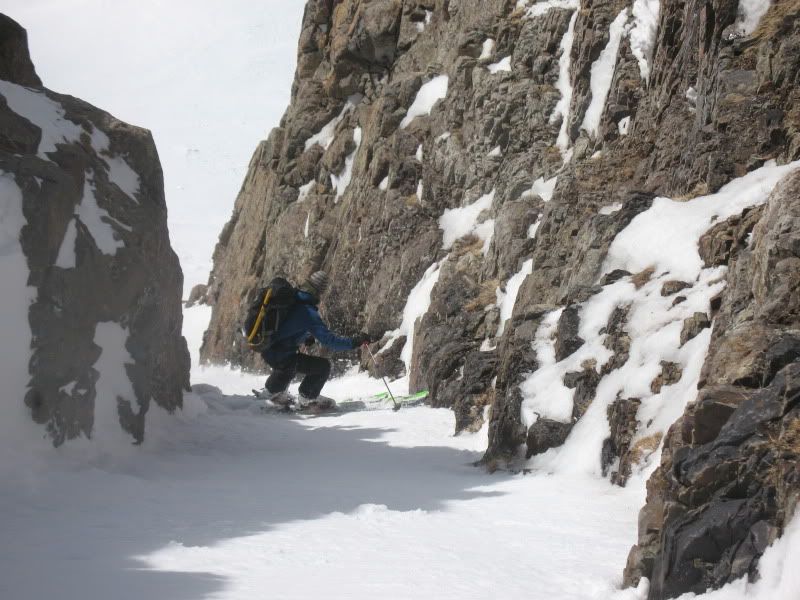 Frank, glad he's got 186's and not old school 205's: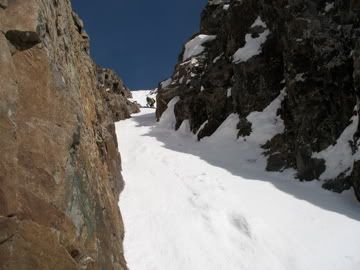 Jasper:

The climb out took us through some wild terrain, complete with frozen waterfalls, huge cliffs, and a huge avalanche path running off the side of Ruby Mountain. The pictures don't do it justice, so I'll skip them. We made our way into a LONG gentle gully that led right to the col between Owen and Ruby, for our third climb of the day. This one was again at least 2,000′, so we figure we did about 6,000′ for the day.

6pm: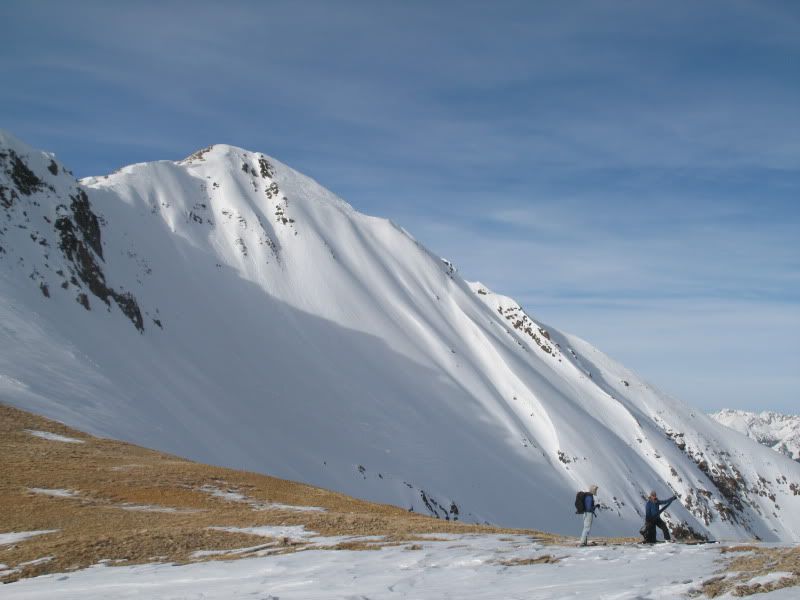 Looking outside right now, it looks like our big 3″ winter storm warning is wrapping up, so perhaps we'll get another big day in there tomorrow. Either way, it was a heck of a birthday session and "ye old tick list" got bigger now that we dropped off the other side. 2 days later and I'm still stoked on this one.
Frank
loves snow more than anything... except his wife.  He ensures his food is digested properly by chewing it 32 times before swallowing.He is a full-time real estate agent serving
Crested Butte and Gunnison
and would be honored to send you his
monthly newsletter.
Latest posts by Frank Konsella (see all)