Fourteener Frustration: Pyramid Attempt (18 May2010)
(Last Updated On: May 22, 2010)
After an attempt to ski El Diente on Sunday (blog entry coming soon), Frank and I spent a day resting and making our way toward Aspen for an attempt on Pyramid. The weather forecast was not looking highly favorable- a 50% chance of snow after noon, but we were hoping to hit the line early, beating the oncoming weather.
A look at the Landry on Pyramid, our preferred route, line on Monday.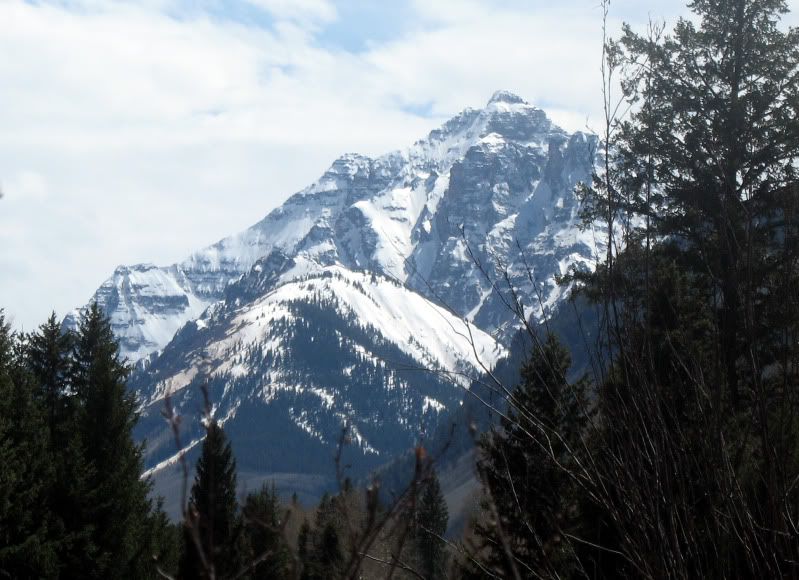 The road to Maroon Lake was still closed, so we made sure to bring our bikes for the 6.5 mile ride. We began riding our bikes at midnight, and for the most part kept a decent pace minus some post-holing on lower sections of the trail. We approached via the summer route. Though stars surrounded us as we began, darkness became even darker as clouds began to roll in. As we made our way up to the ridge, we found ourselves in an out of snow squalls.
Climbing up to the ridge.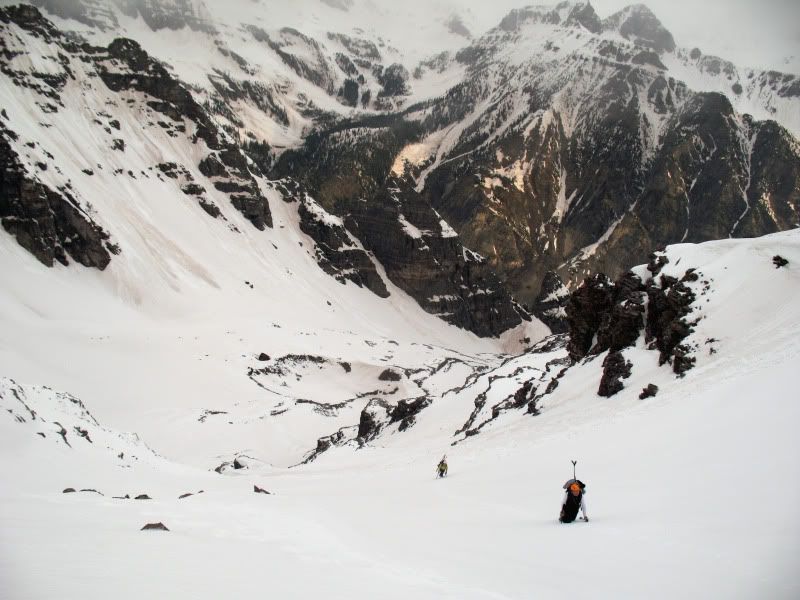 A look at the summit.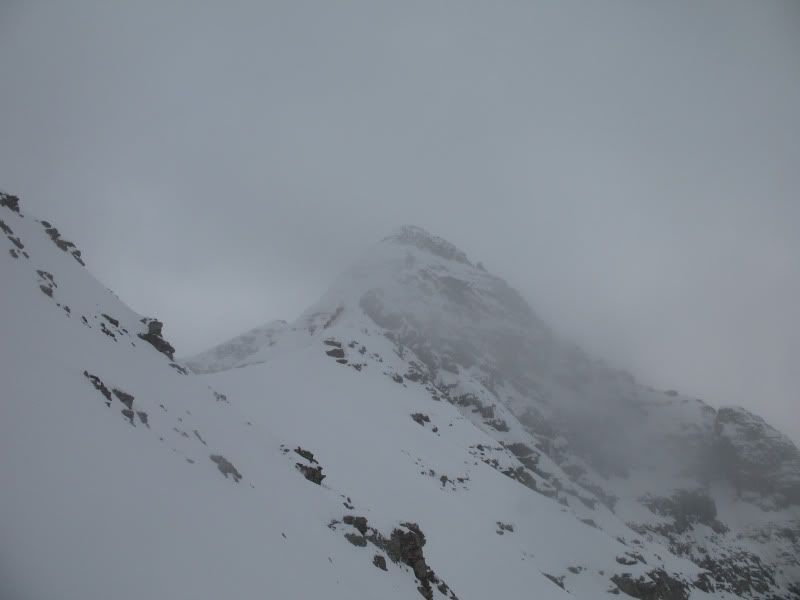 A view of the summit from the ridge.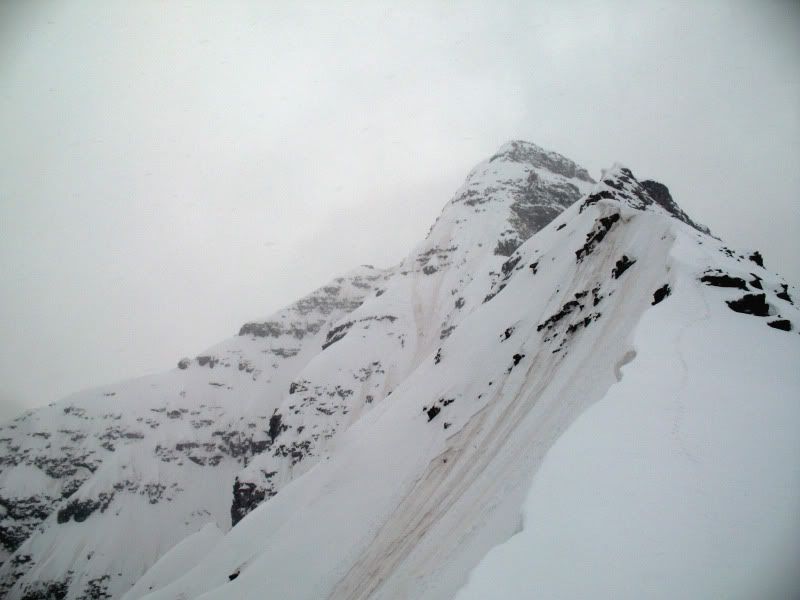 Looking down from the ridge.

As we took a quick break on the ridge, we had to make a decision. Should we turn around, or actually try for the summit? Being in and out of squalls was difficult. We couldn't tell if the squalls were going to get worse, or stay the same. As we looked to the west, a wall of dark clouds seemed to be heading straight toward us. The last thing we wanted was to be on the summit or attempting one of the crux moves as blizzard-conditions rolled in. Our other main concern was if the Landry line would ever get soft without some help from the sun, and an icy descent of Pyramid was a bad idea indeed. We knew the safer choice was to turn around. We had simply not beaten the weather.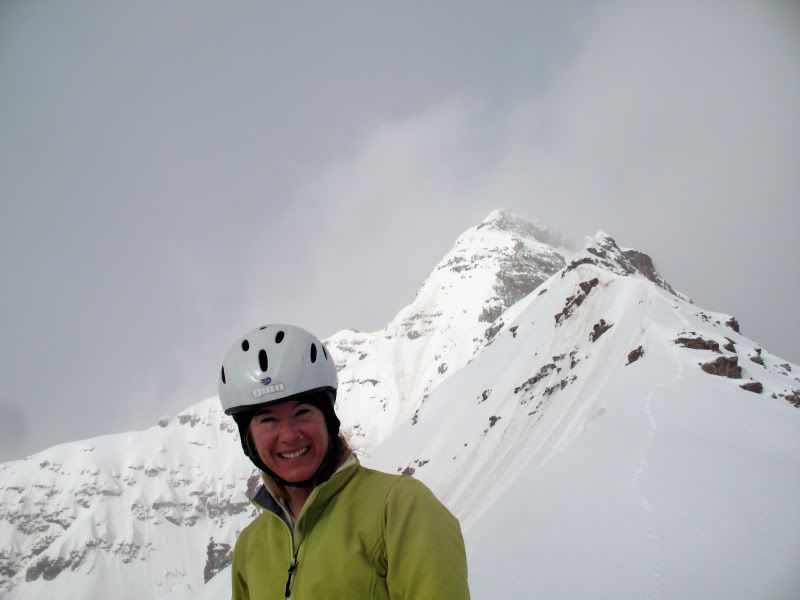 Just as we made our decision, the sun came out for a minute, taunting us with good light.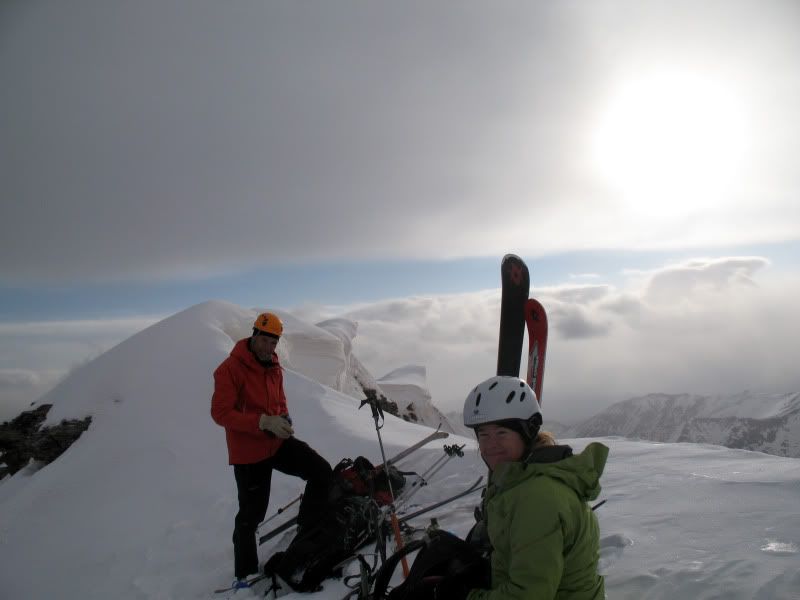 Still, we'd made our decision. Though we were disappointed, we all felt good about making the safer choice. Pyramid and the Landry are tough in enough in good weather. We followed our ascent down into the amphitheater and then continued down the skiers left chute.

We found some good skiing in spots on the way down.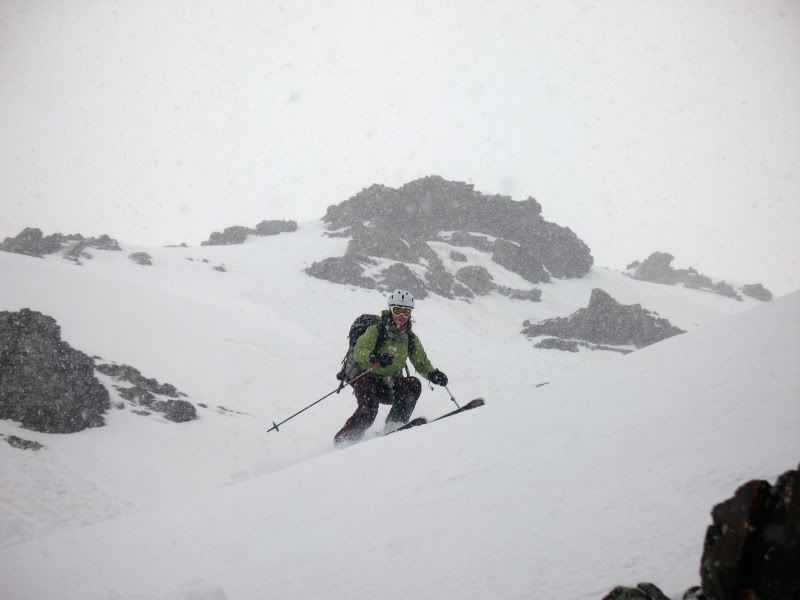 Matt and I in the amphitheater.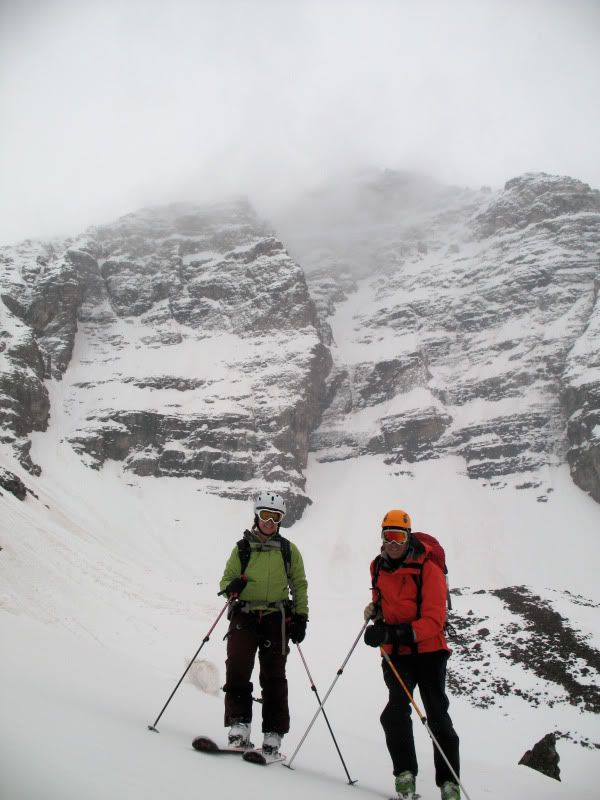 Matt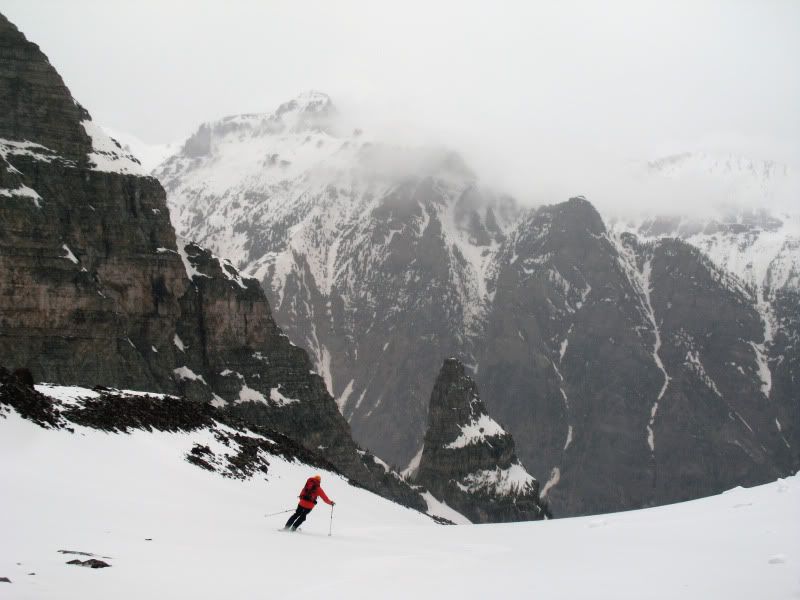 Frank and I in the amphitheater.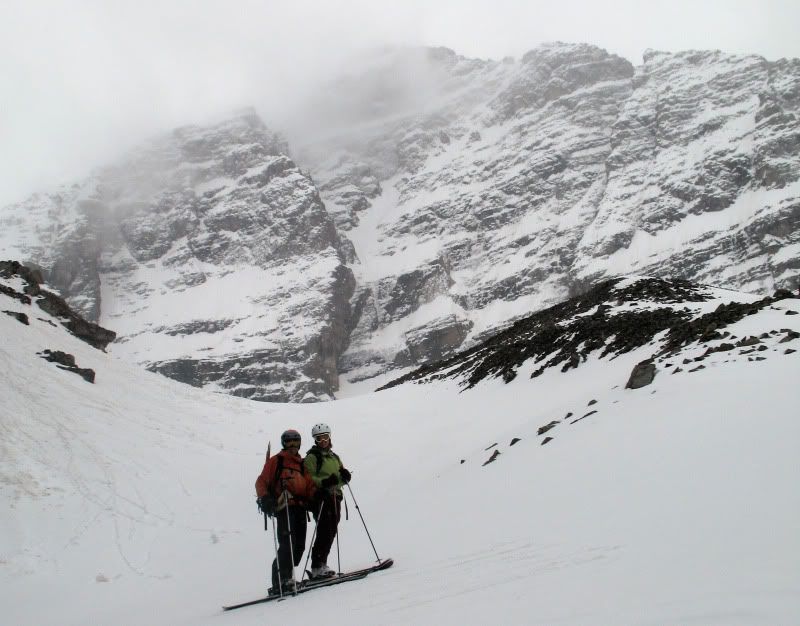 The clouds made for some very beautiful scenes.

Back in the valley, near Maroon Lake, the grass was turning green.

The bike ride downhill was much more enjoyable than the midnight ride uphill 🙂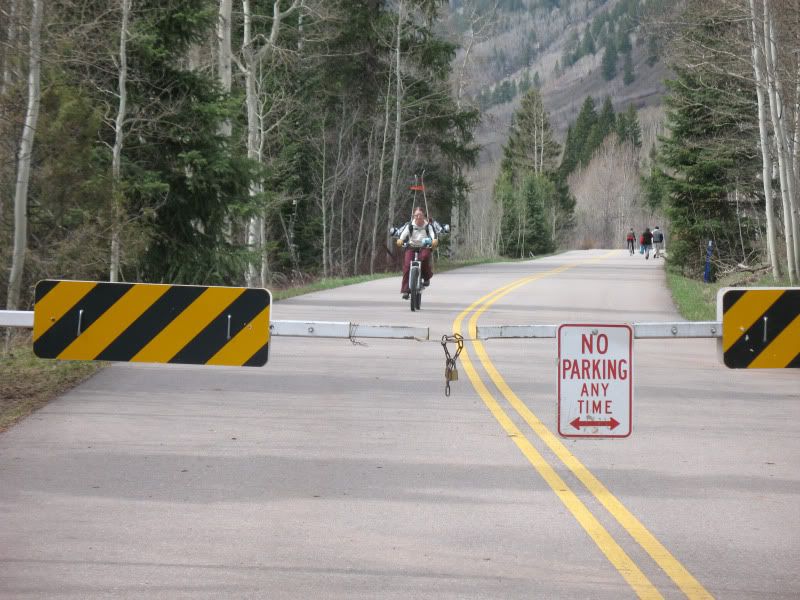 After being turned around on Sunday on El Diente, then again Tuesday, on Pyramid, my frustration grew. As the week progressed, and the forecast continued to not be favorable, my frustrations escalated. Currently, the forecast is far too windy to be hitting any of my remaining fourteeners (Pyramid, Mt. Wilson, and El Diente), except for Pikes Peak, which I am saving for last. Earlier in the week, the forecast was shrouded with snow, although at the last minute Thursday and Friday would have been perfect days to be on one of these lines. Simply put, the weather forecasters have been wrong about 50% of the time, which makes it difficult for me to actually make a plan to ski one of these lines.
As the days go by, the snow is melting fast. The Landry line on Pyramid was barely in as it was when I saw it on Tuesday- it simply is not in that good of shape. Unfortunately, I have to face the fact that this combination of factors is not shaping up in my favor to finish my fourteeners this season. If I cannot ski the Landry in the next couple of days, it will not happen this spring. I must say, looking at the shape the Landry line was in does not really inspire me to ski it this year. Maybe it's better if I go back next season and hit it in better conditions.
I have to admit that I am deeply saddened to think that I will not likely finish my fourteener project this year. Coming off of Capitol two weeks ago created such a high, and a huge momentum. I feel like that momentum came to an abrupt halt last weekend, after failures on both El Diente and Pyramid. The continued poor weather keeps these failures festering in my mind, reliving them over and over again. I'm simply frustrated.
However, I cannot change the weather and I cannot go back and change the past. If I have to finish next year, then that's how it has to be. Like I said in a recent blog post, my goal was to finish all the 14ers, finish all of them safely, and finish all of them in 5 years. Even next year is within that 5-year plan.
Assuming Pyramid is out for the season, I will still try to go back an attempt El Diente once again, and also hopefully ski Mt. Wilson then too. It would be great to have only two fourteeners remaining for next year. While I am not sure I can finish my fourteeners this spring, I am still determined to finish the season on a success. In addition, I'm looking forward to skiing many other prospective lines around Crested Butte and in other areas of Colorado that are also on my wish list. There is still plenty more skiing to be done this spring!
Even for serious peaks like Pyramid and Capitol, Frank and I love our lightweight CAMP crampons!

Aside from skiing, biking, and all outdoorsy things,
Brittany Walker Konsella
also loves smiles and chocolate 🙂 Even though she excels at higher level math and chemistry, she still confuses left from right. Find out more about
Brittany
!
Latest posts by Brittany Walker Konsella (see all)