Day-Before-Wedding-Ski: White Rock (17 June 2011)
(Last Updated On: June 22, 2011)
The day before their wedding, most couples probably choose to prepare some last minute details for their wedding. While Frank and I certainly had last minute details that needed to be taken care of, we decided to escape the wedding mayhem and spend time with some of our best friends in the mountains, taking them to the peak where Frank proposed to me in May 2010- White Rock.
Through the night, it had rained and we were a bit concerned what we would find. Still, Frank and I believed that the snow had transitioned to a summer snowpack and that the rain would have little effect on its stability. We gathered at the Judd Falls trailhead and began hiking around 6 am. From left to right: Frank, Jon, Me, Jen, Jonathan, Jeremy, and Kim.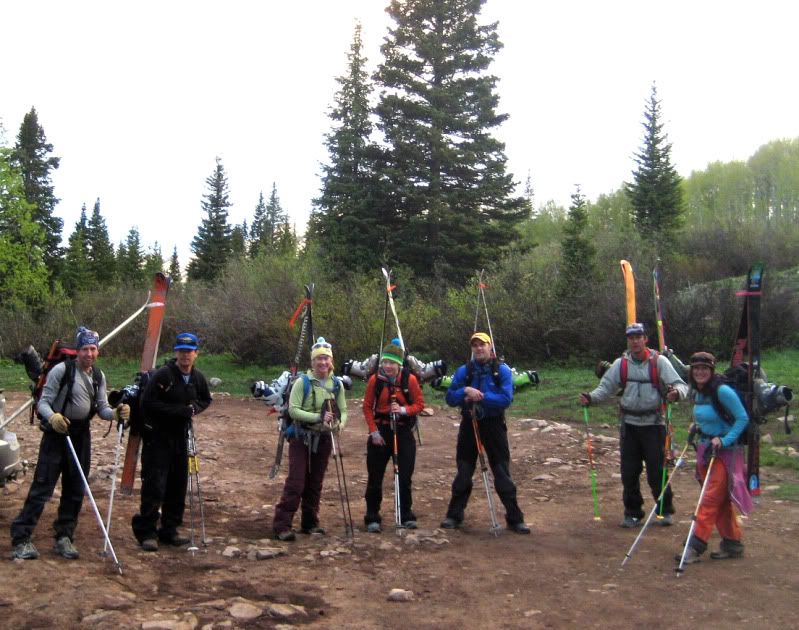 Photo courtesy of Matt Kamper
Less than an hour in we came across the Copper Creek crossing. In past years, there has been a log there to assist in the crossing. But, the log is no more. The creek was raging, and we all battled a deep and strong current as we crossed. Kim shows it best.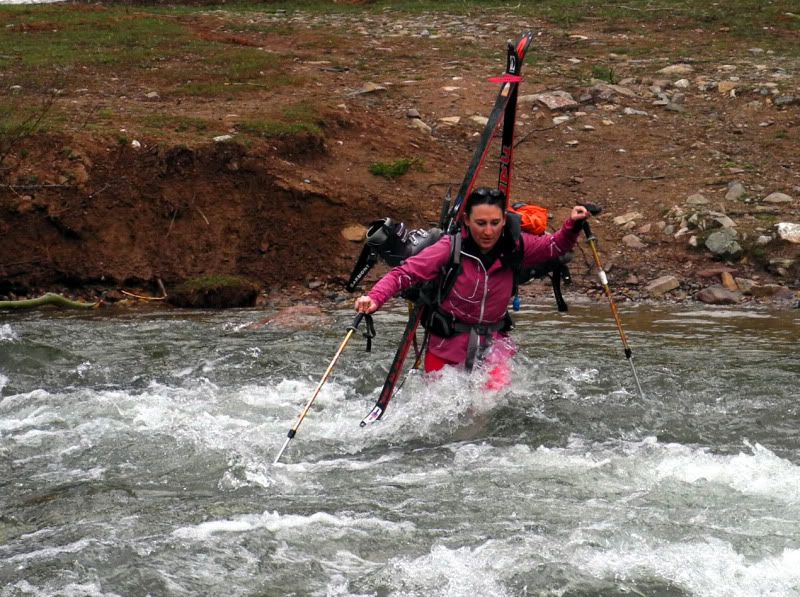 We continued on.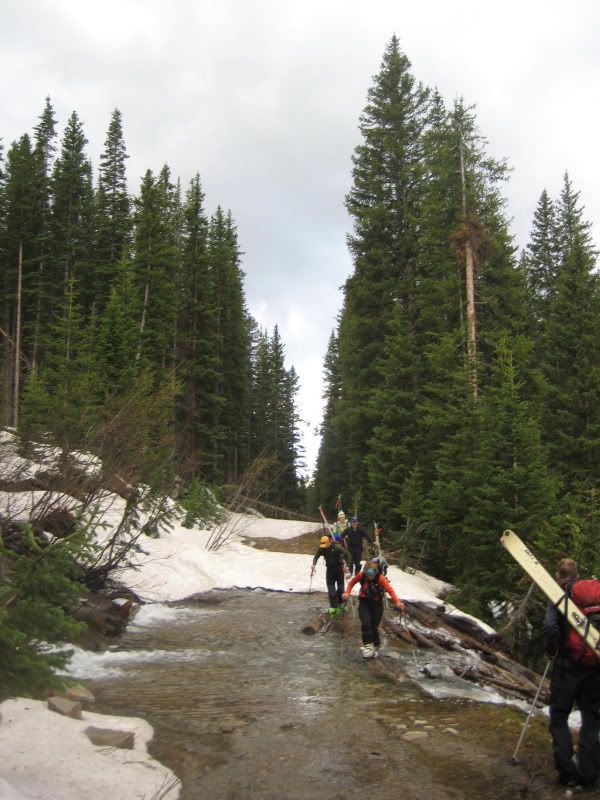 Photo courtesy of Matt Kamper
Eventually, we could see our goal. White Rock in the back.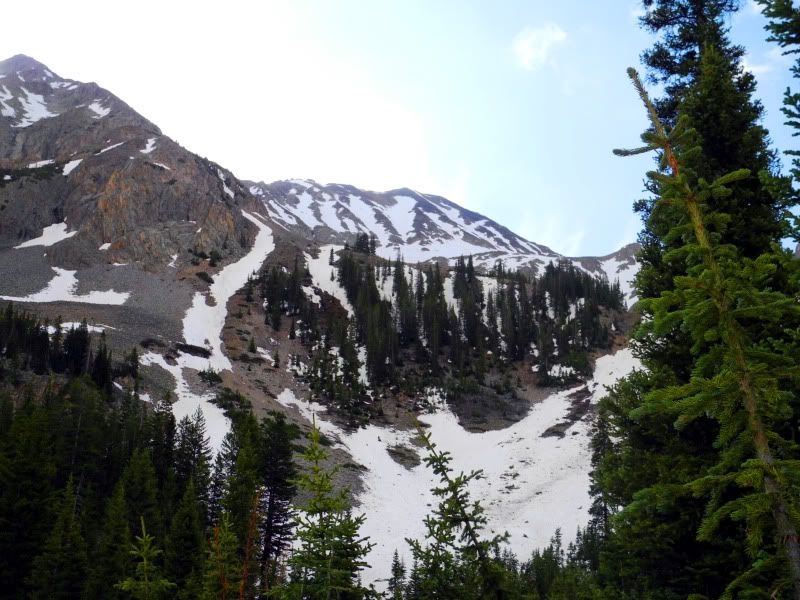 We paused to switch over to skins.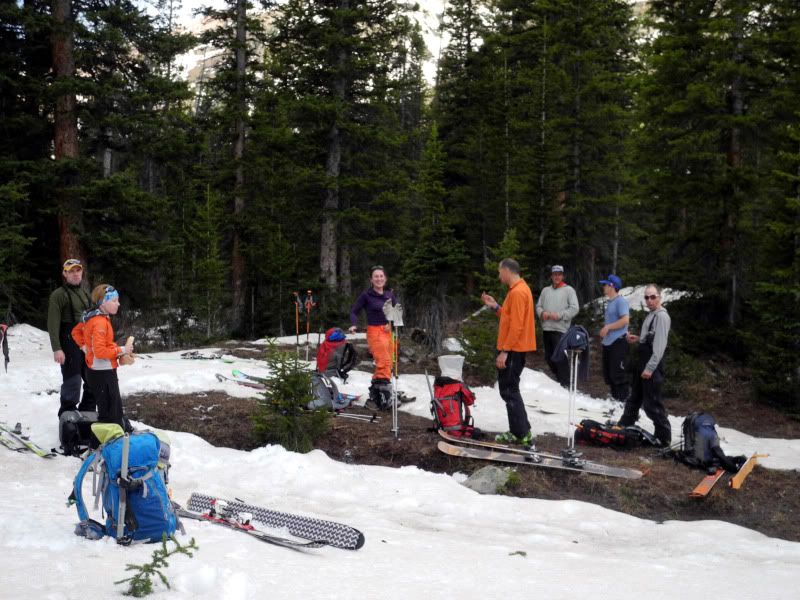 We skinned up the lower path and found ourselves in a hanging basin. Jon.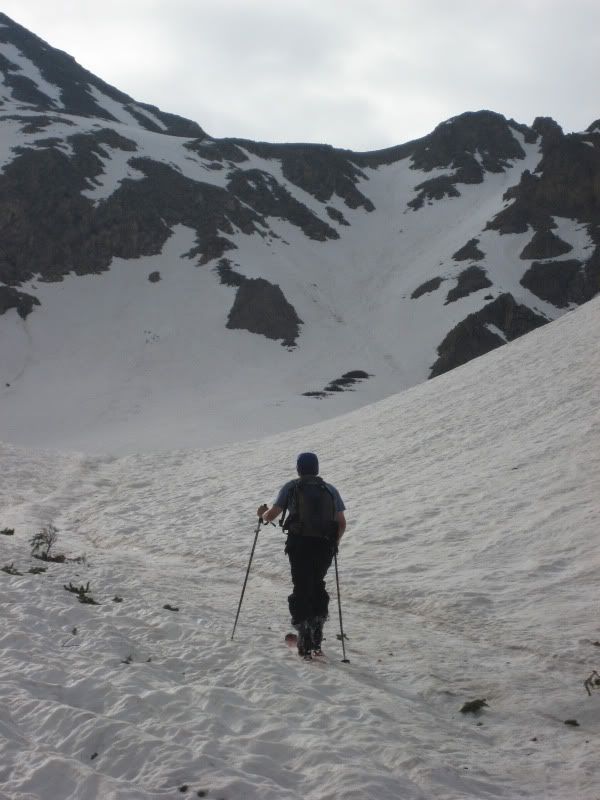 Photo courtesy of Matt Kamper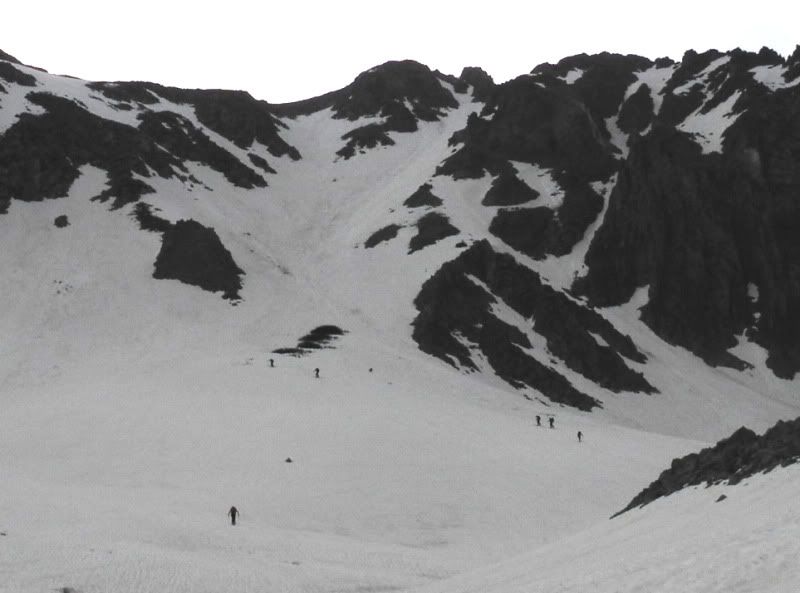 As the climb continued, we switched from skinning to booting.

Straight shot to the summit!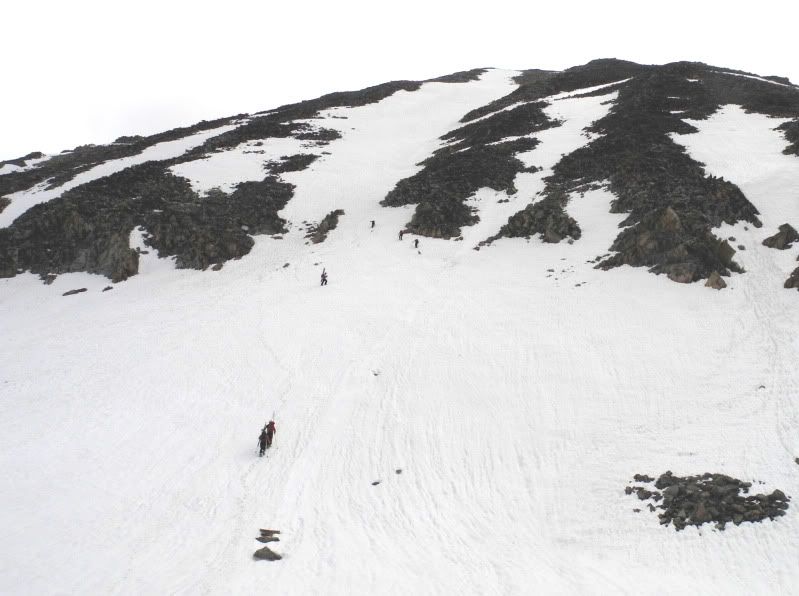 Me, approaching the summit.

The views from the summit were just as stunning as I remembered. Looking down toward Brush Creek, with Teocalli on the left.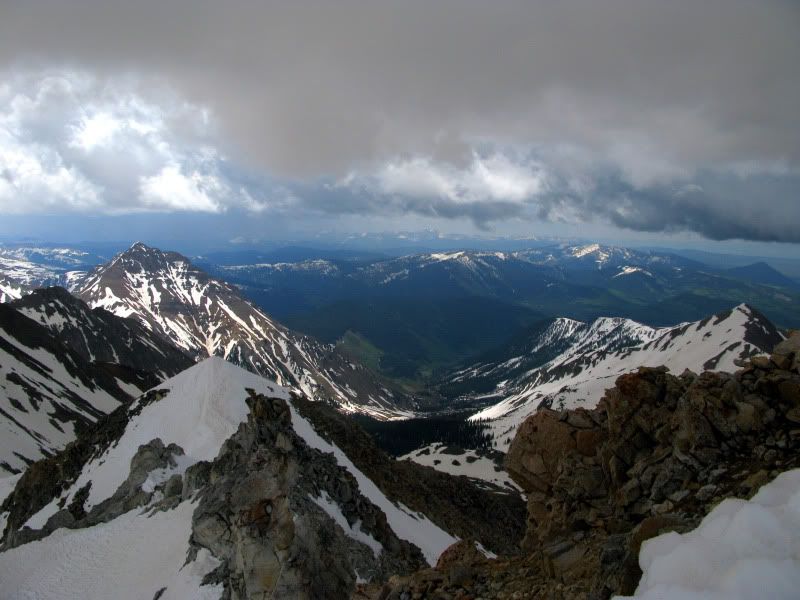 Castle.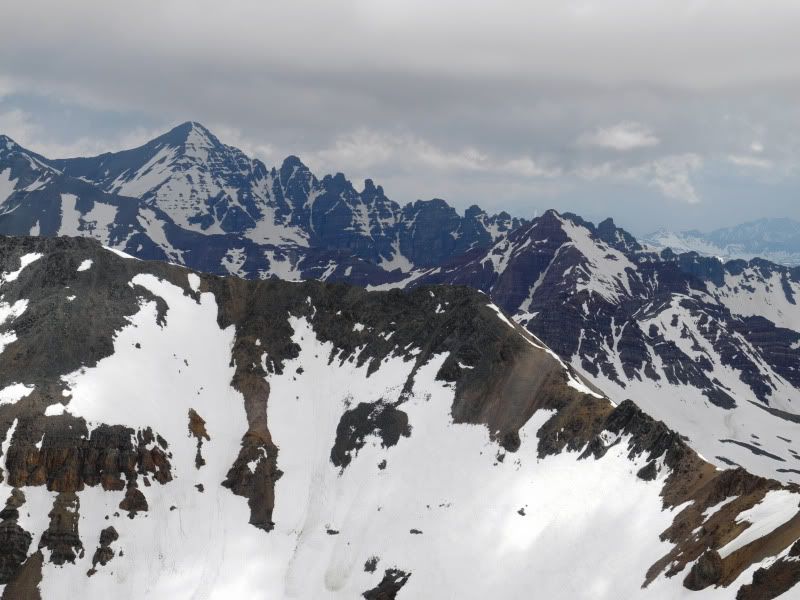 Pyramid hiding in the clouds.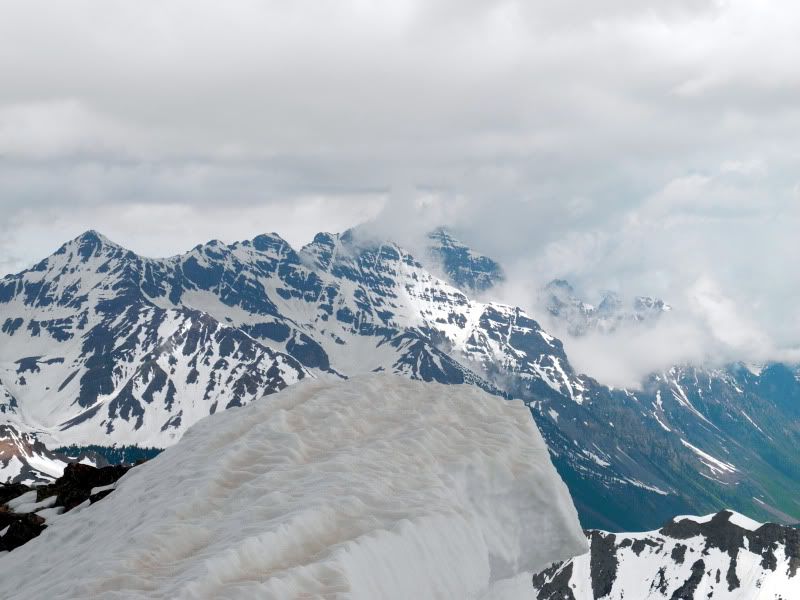 The Maroon Bells.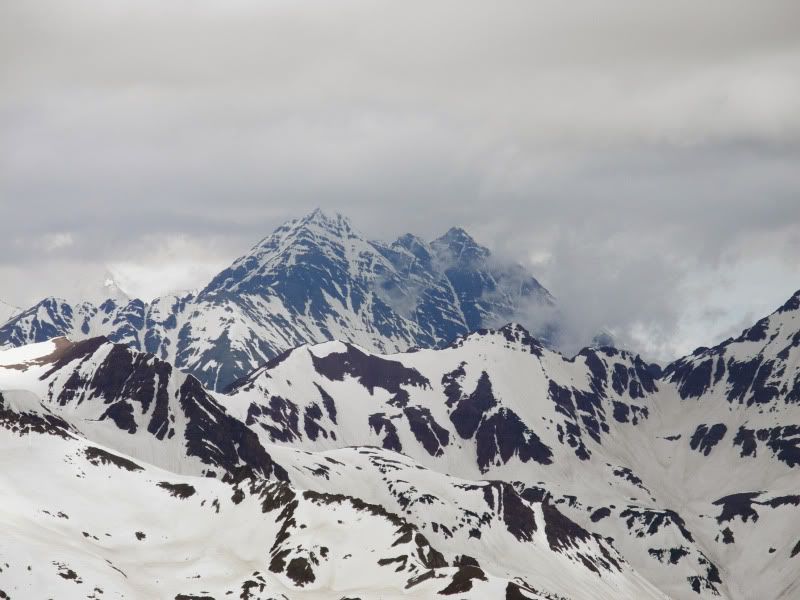 The clouds made for some beautiful sights.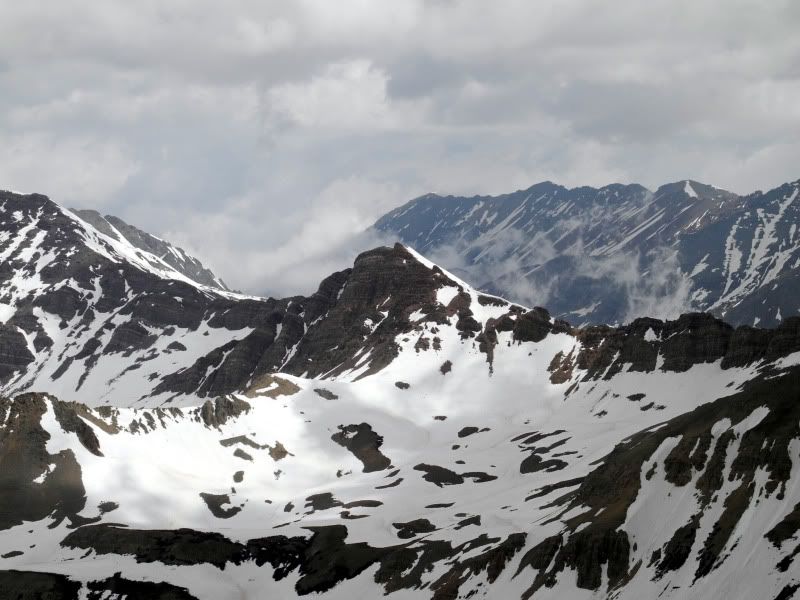 Jen clambering to the summit with the Ruby Range and West Elks behind.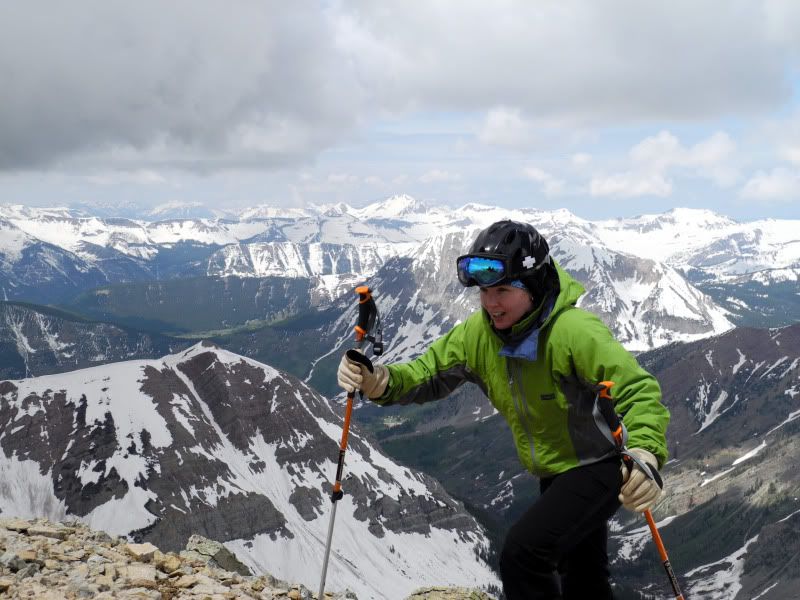 Frank and I enjoying our time on the summit- this time with friends.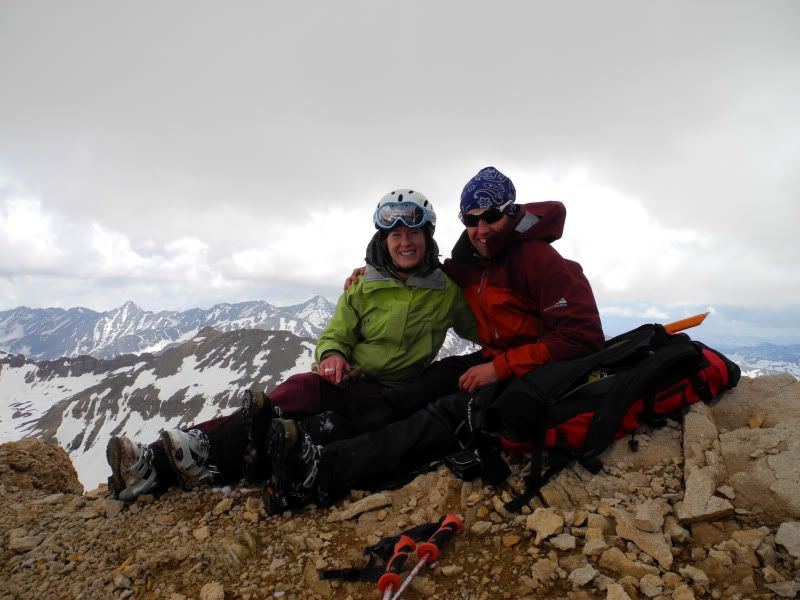 Photo courtesy of Matt Kamper
Finally, it was time to ski. Jeremy.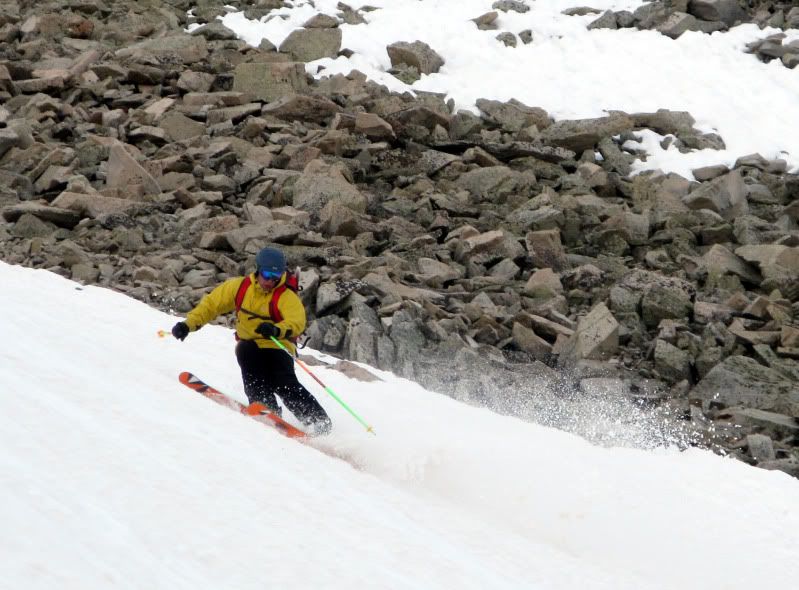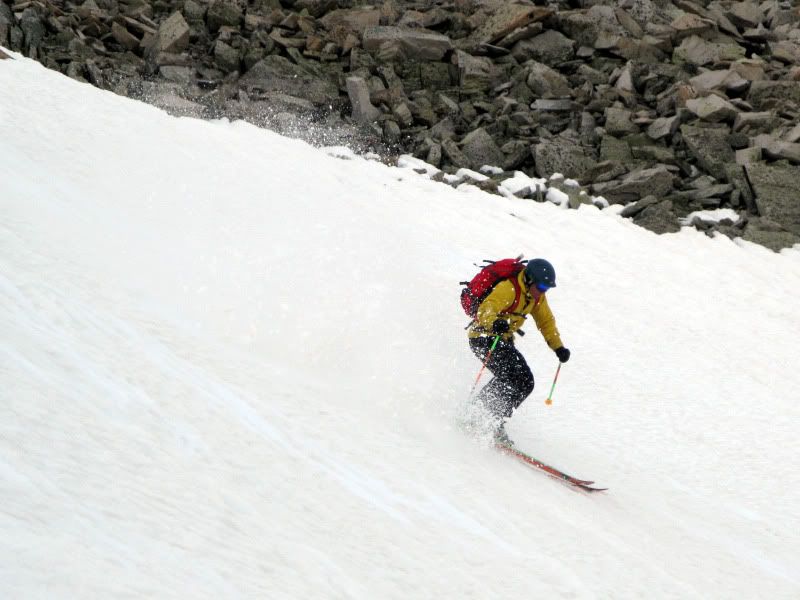 Kim.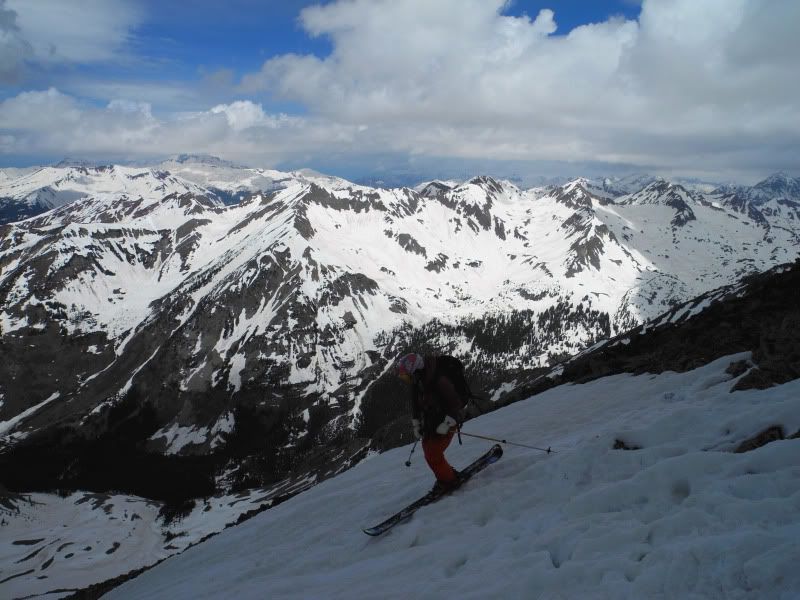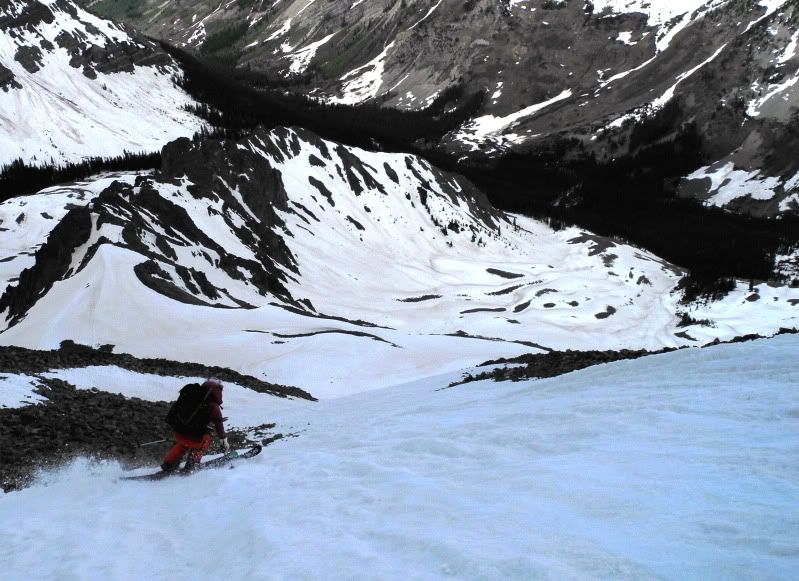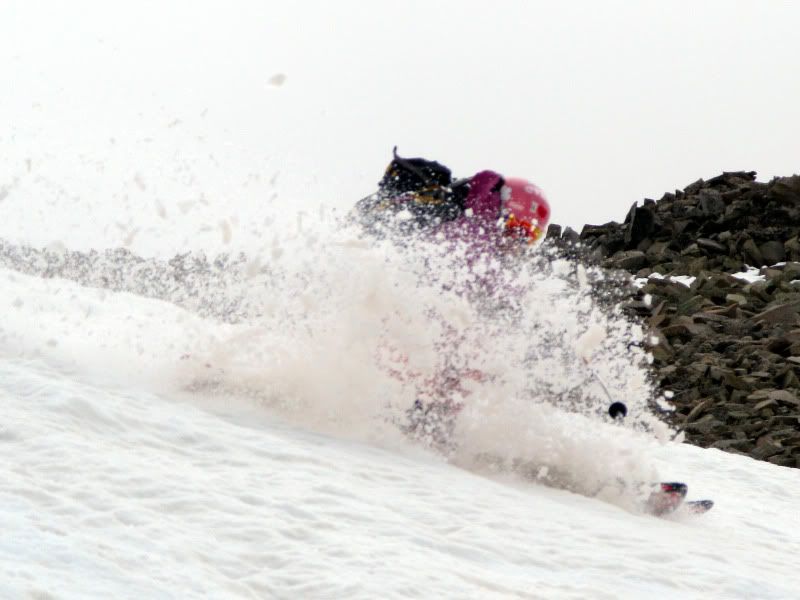 Frank.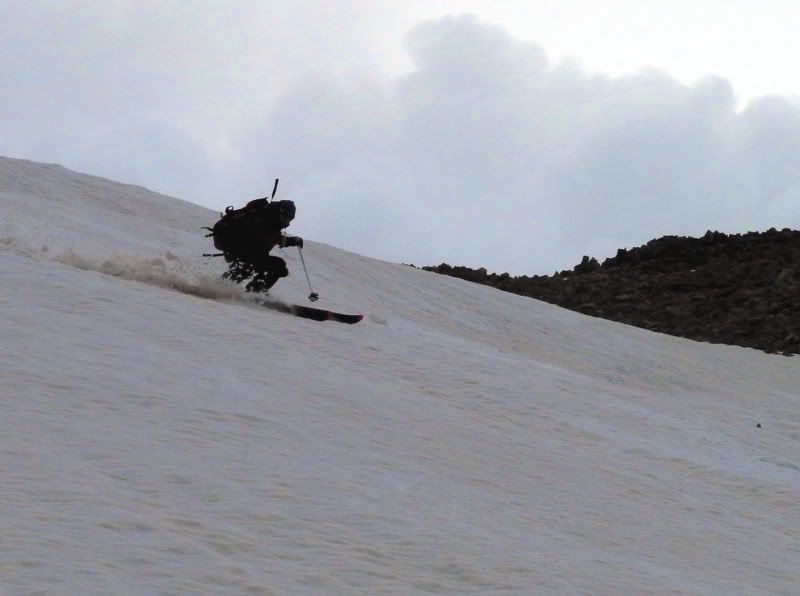 Me.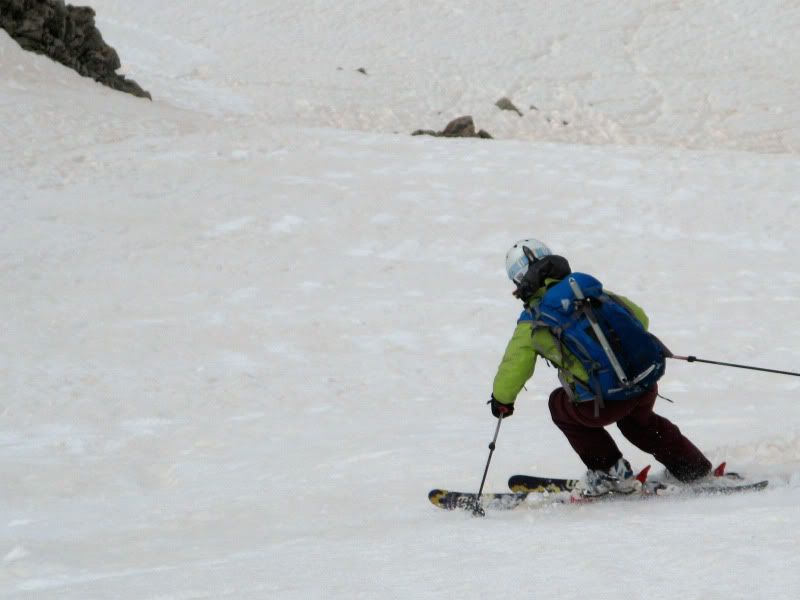 Jon.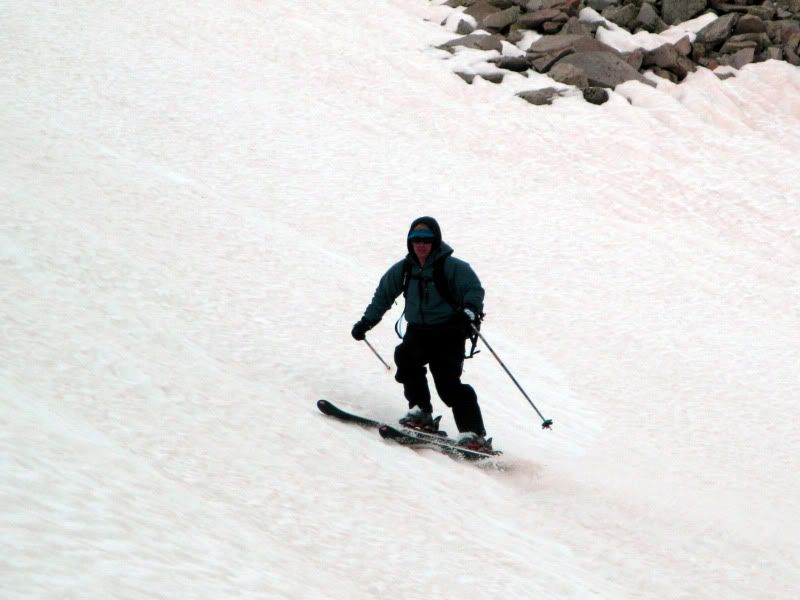 Jen.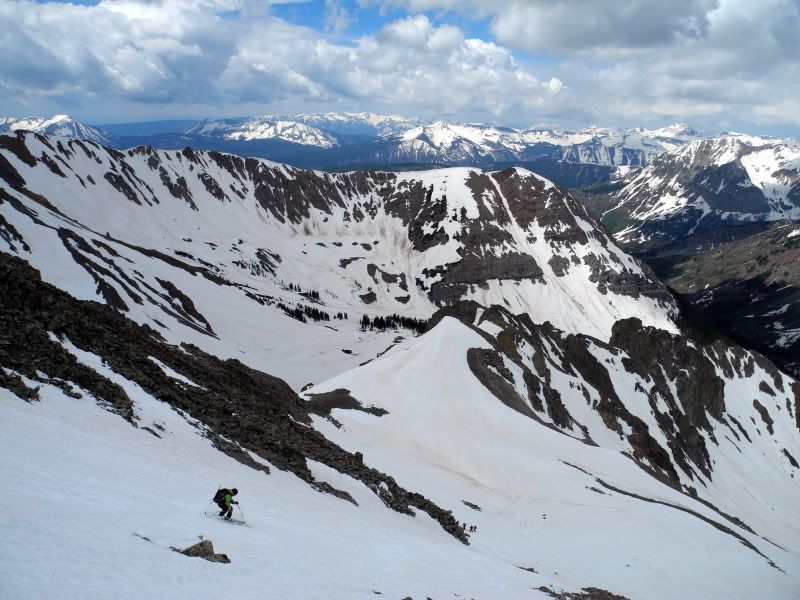 Jonathan.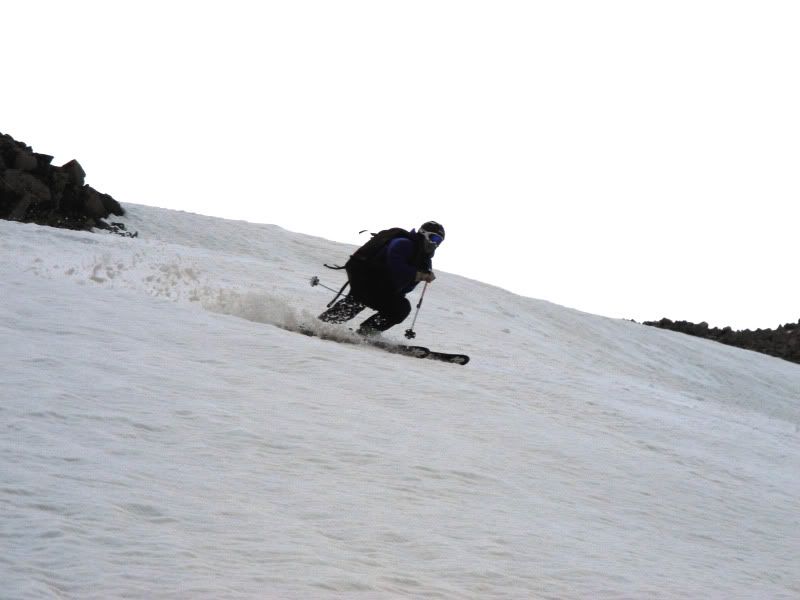 Matt.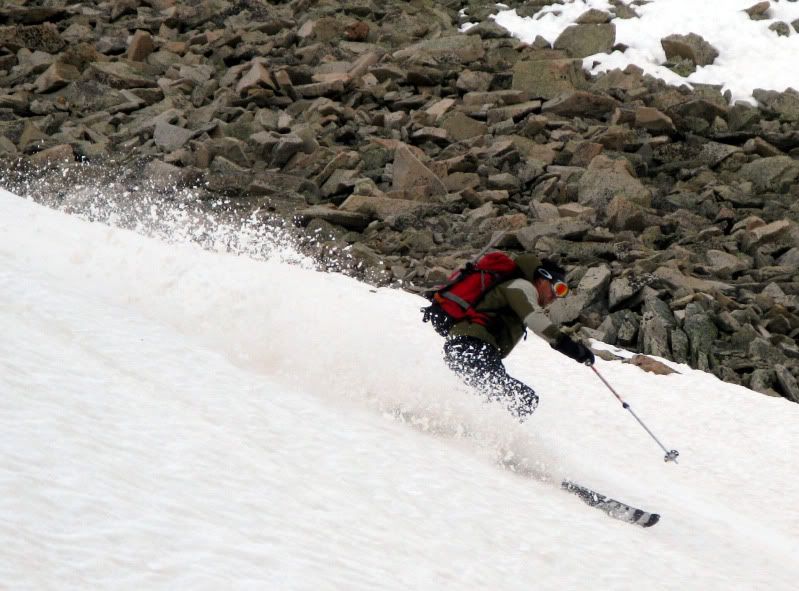 The skiing on the apron of White Rock was fun as well.

Lower down we had fun playing with some of the features.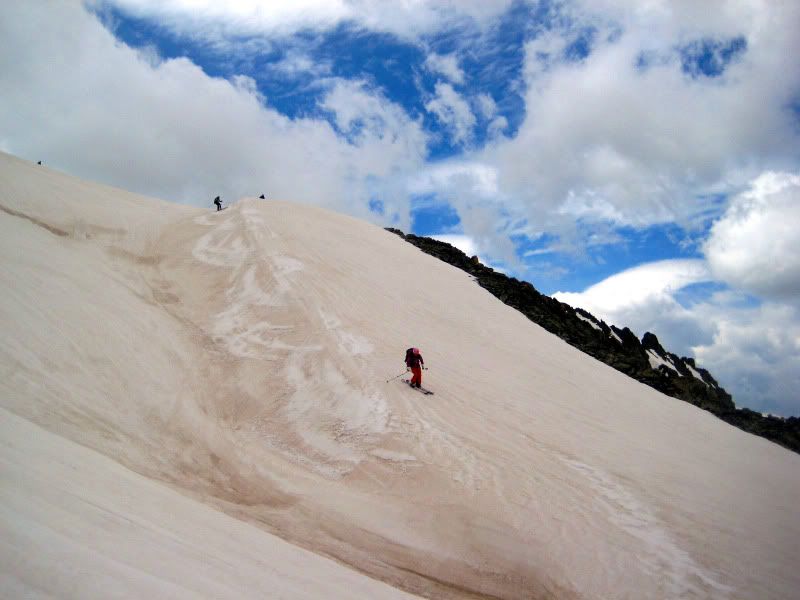 One last view of our accomplishment- White Widow on the left, White Rock on the right.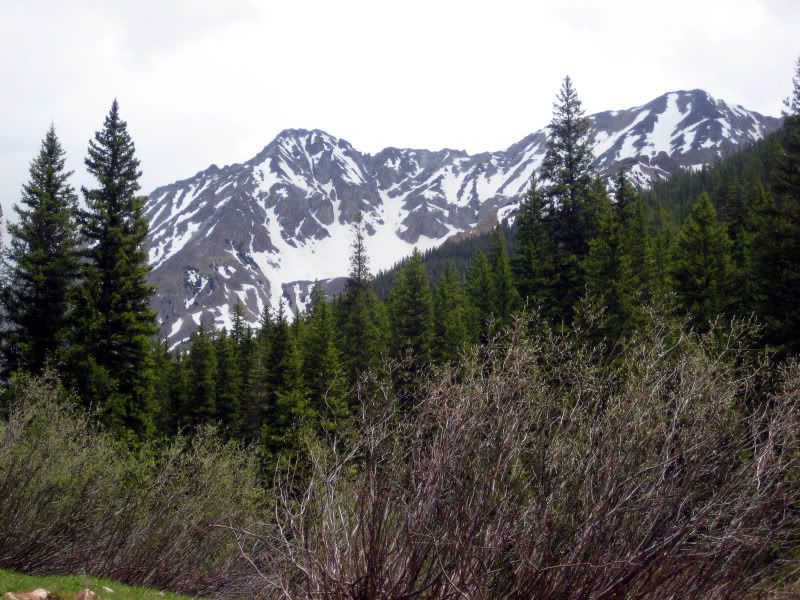 And then the last stream crossing.

It was a great day out and a perfect way to de-stress from the wedding chaos. Thanks so much for joining us Jon, Jeremy, Jen, Jonathan, Matt, and Kim! 🙂
Aside from skiing, biking, and all outdoorsy things,
Brittany Walker Konsella
also loves smiles and chocolate 🙂 Even though she excels at higher level math and chemistry, she still confuses left from right. Find out more about
Brittany
!
Latest posts by Brittany Walker Konsella (see all)