Skiing in South Korea: Night Skiing and a Night on the Town
(Last Updated On: March 28, 2015)
When we first arrived in YongPyong, one of first tasks was to figure out the price of lift tickets. YongPyong is one of those places that will charge for a variety of time slots, from a full day ticket to a two hour window, and with night skiing going past midnight, that left a lot of options. It quickly became apparent that since a full day ticket would cost roughly $60.00, while a season pass was $180.00, we would be buying season passes. First we needed to fill this out: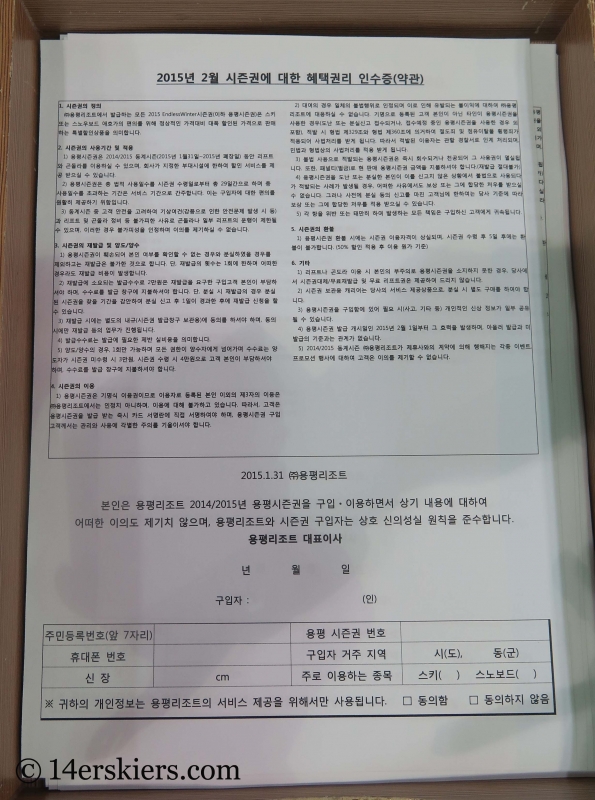 It was clear that our English names didn't have much meaning for the lift ticket agents- close enough, I guess: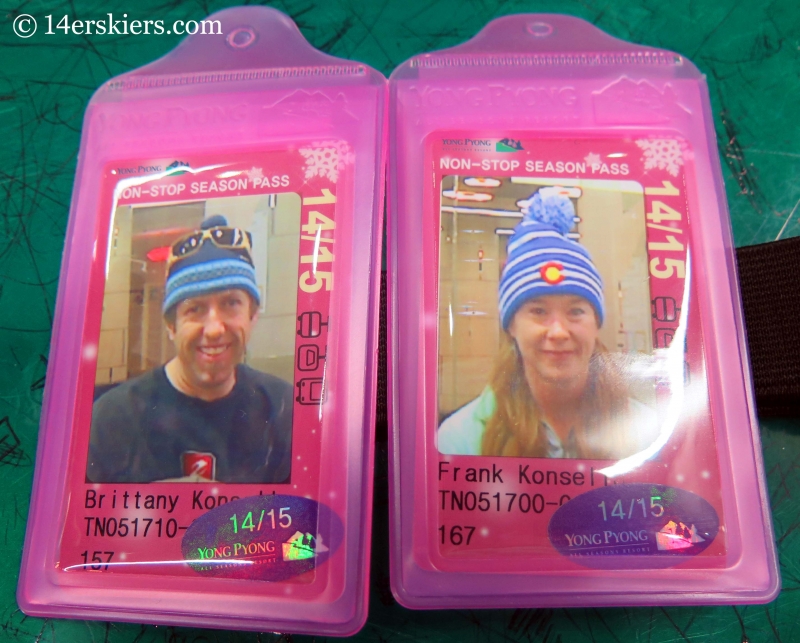 One of the perks of having season passes was the night skiing, which was quite extensive at YongPyong. This lift didn't see a lot of action, which just added to the experience: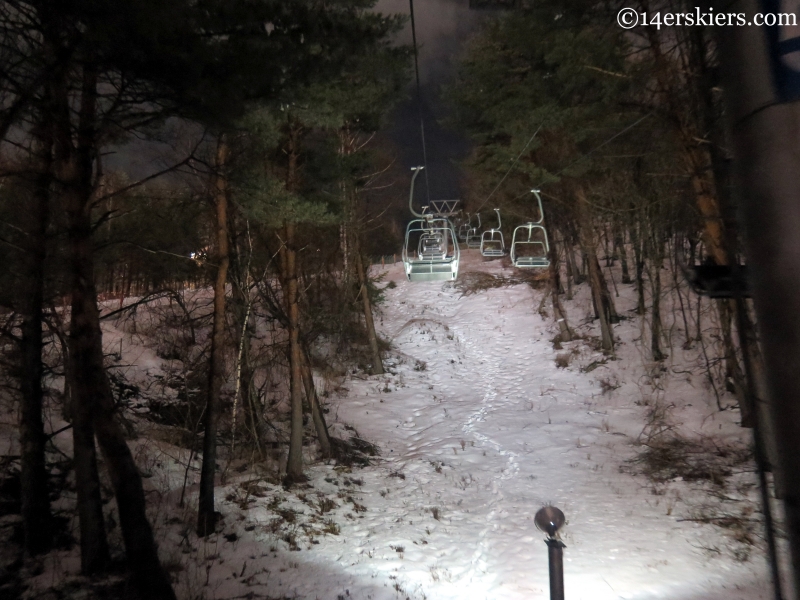 The nearby lights of Alpensia Ski resort lit up the cloudy night sky, making it appear that there was a forest fire just across the way. It was pretty wild.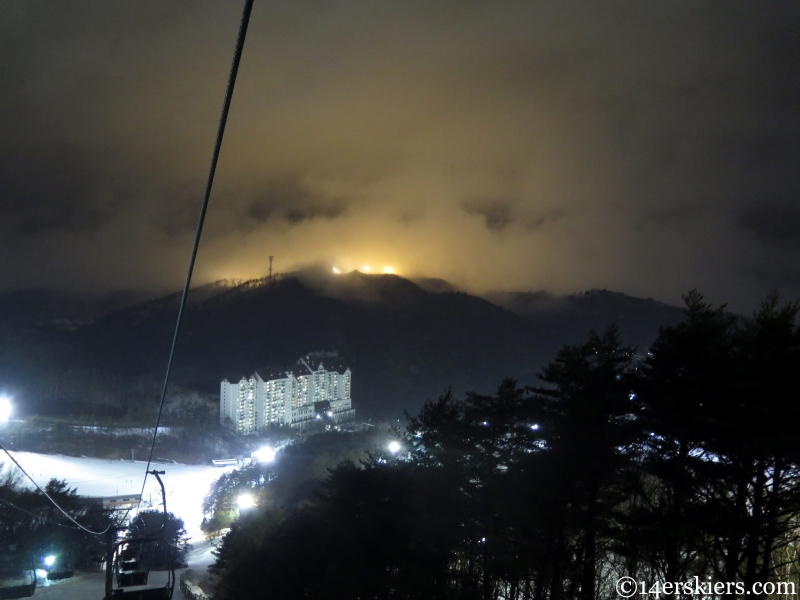 There were a lot of trails open, but we just banged out a few laps on this slope: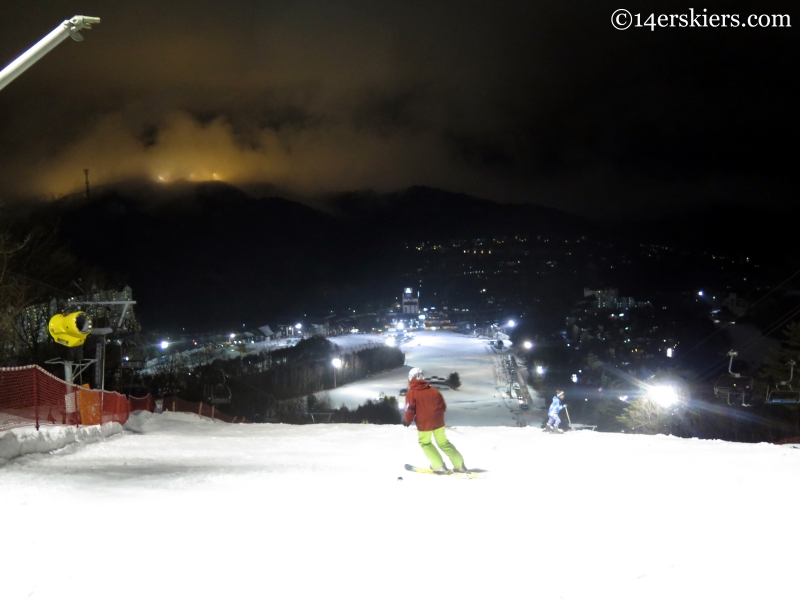 One of our goals while in Korea was to experience as much of the culture as we could. A touristy ski resort was a tough place to do this, however. Less than 10 miles away was the small town of Daegwalnyeong-Myeong, so Brittany and I headed there for an afternoon and evening to try to get a better feel for Korea. Like much of Korea, high rise apartment buildings were common: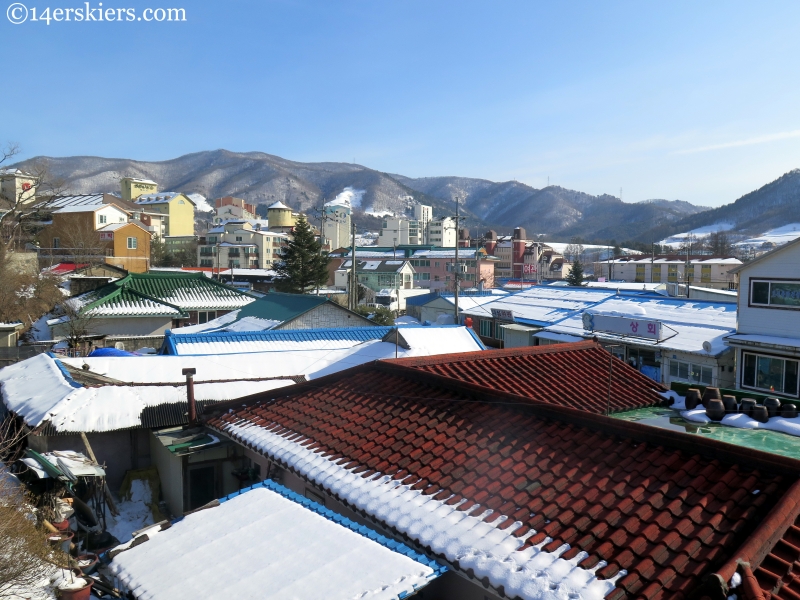 This building was strangely abandoned- perhaps it's being converted to athlete housing for the Olympics?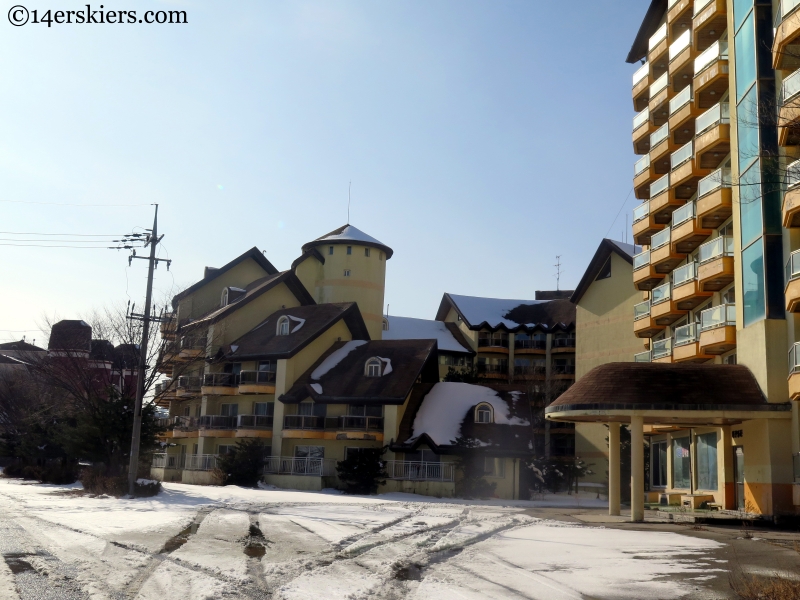 I was seriously considering taking this sign and putting it at my office in Crested Butte. I'm not sure if they would have allowed it as carry-on, however 🙂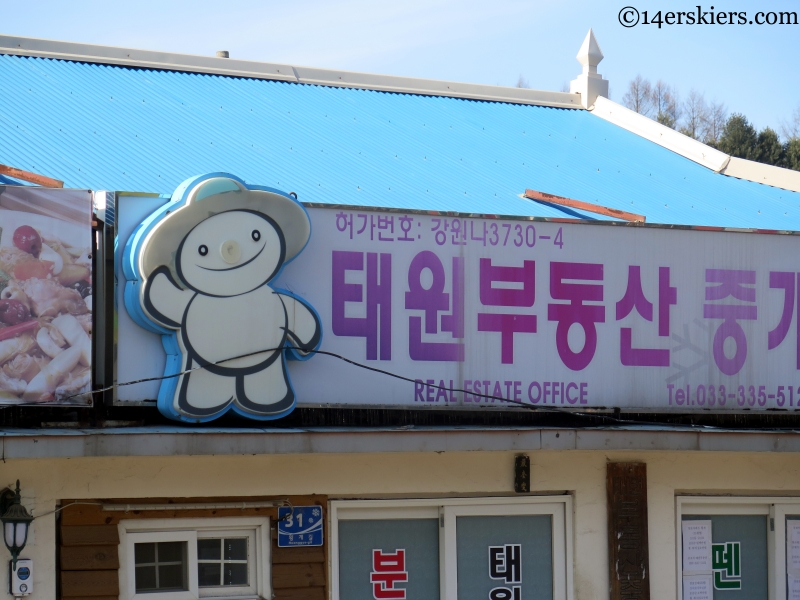 The town has a yearly snow sculpture festival, which we had just missed and the warm temps were doing a number on the designs. It was still a fun sight to see: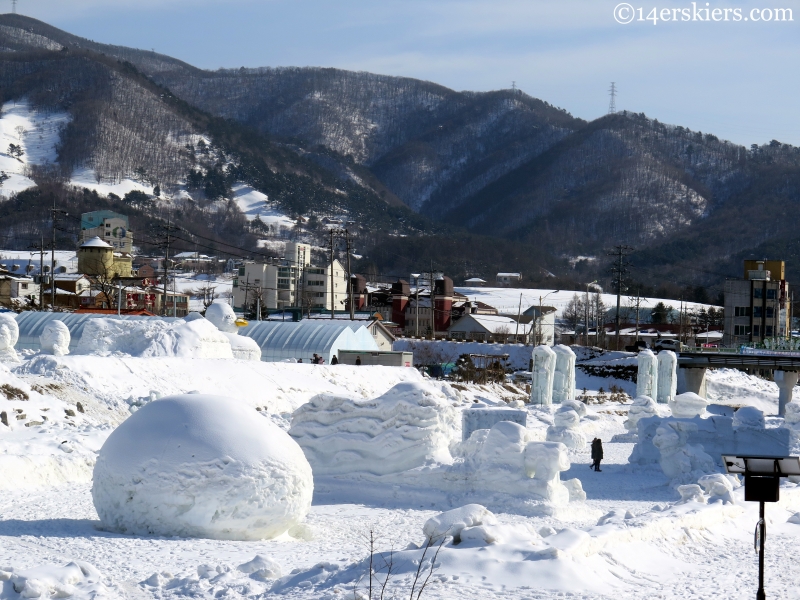 The top of YongPyong can be seen in the distance: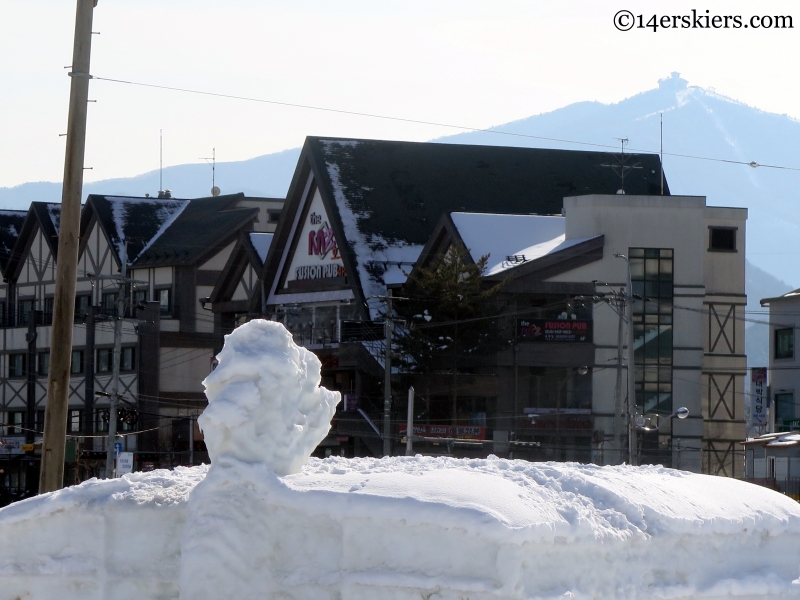 A new pedestrian bridge: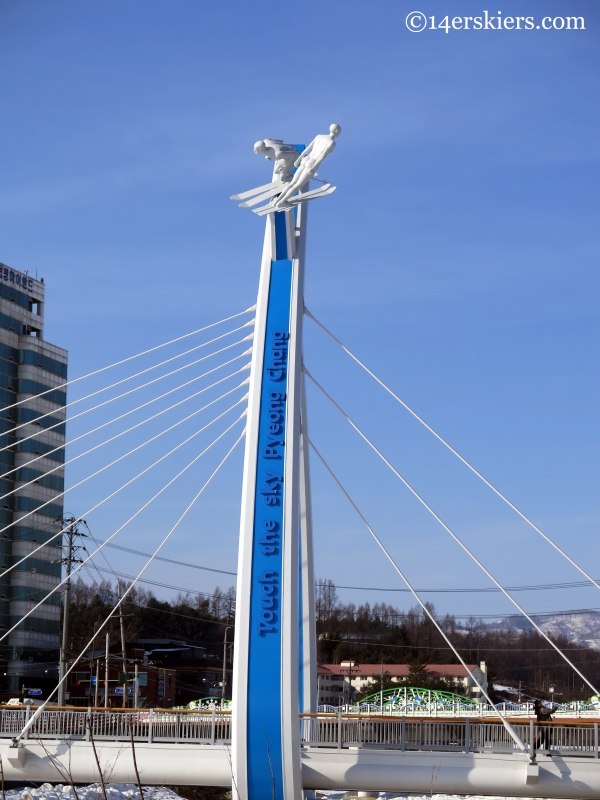 As much as I loved the Korean food, the dried fish wasn't my thing: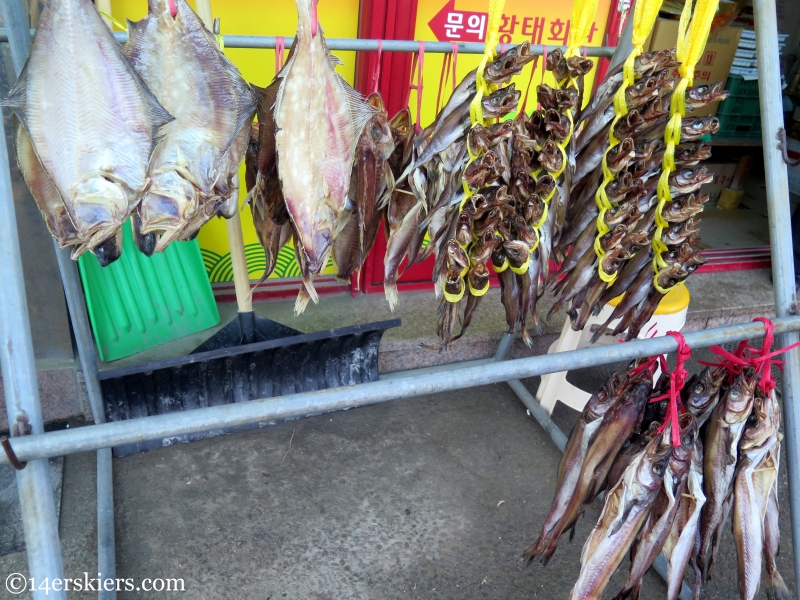 Another shot of town: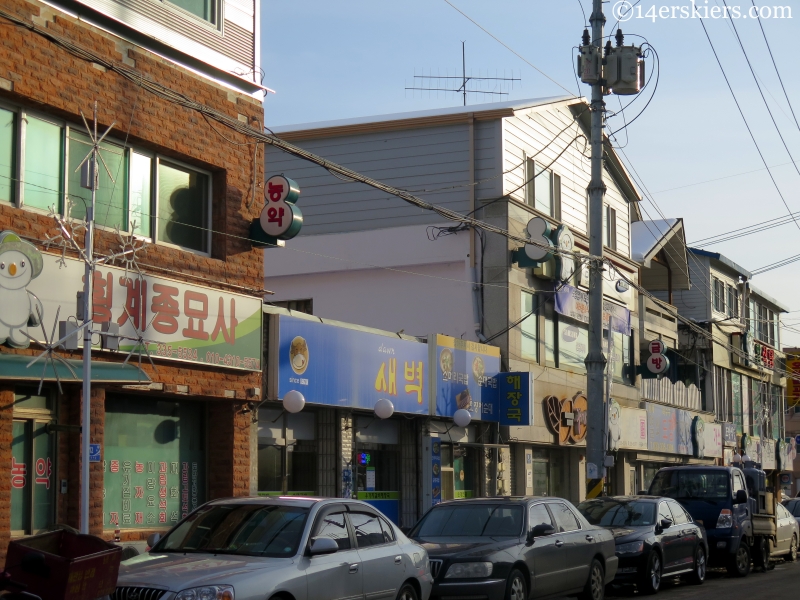 The town was lit up at night, beautiful in its own way. We wandered around for a while before picking a restaurant solely on the pictures outside.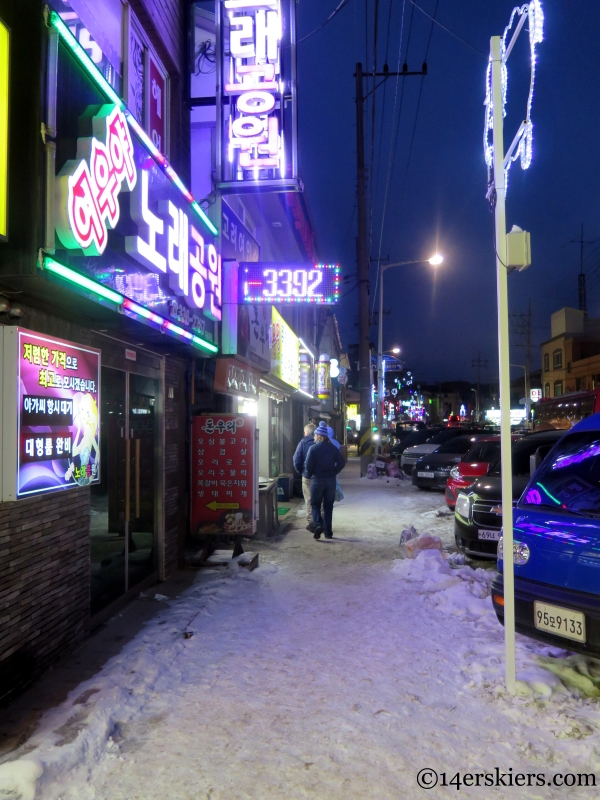 We realize that we really didn't get to experience a ton of Korean culture at this small town close to Korea's two most popular ski resorts. But it was as close as we could get. Brittany's folks stayed in Korea for another week, spending time in Seoul as well as the warm southern island of Jeju-do. Maybe we'll be back some day.
---
Skiing in South Korea Series
If you liked this post, please take a look at the other posts in this series:
YongPyong Part 1
2018 Winter Olympics Preview
A Cultural Look at YongPyong Amenities
Korean Food
Night Skiing and a Night on the Town
Enjoying Sunny Days at YongPyong
Frank
loves snow more than anything... except his wife.  He ensures his food is digested properly by chewing it 32 times before swallowing.He is a full-time real estate agent serving
Crested Butte and Gunnison
and would be honored to send you his
monthly newsletter.
Latest posts by Frank Konsella (see all)