Skiing in South Korea: 2018 Winter Olympics Preview
(Last Updated On: March 28, 2015)
When we told people we were going to ski Korea this season, the first response was usually, "There's skiing in Korea?". Well, yes, there is. In fact, the 2018 winter Olympics are going to be in Korea, in Pyeongchang. And that's why we went. Brittany's dad was the driving force, with the idea that it would be fun to visit an Olympic venue before the Olympics were actually held.
Not all of the Olympic skiing venues currently exist. The largest ski area in the region is YongPyong, which is also Korea's oldest ski area, opening in 1975. The resort boasts respectable vertical, at over 2,000 feet, but it doesn't have quite enough to qualify for a FIS- level Downhill course. So, the Olympic organizers are developing a new area for the downhill and Super G, called Jeongseon. So, we didn't get to ski the next Olympic downhill course. But we did all of our skiing at YongPyong, which will host the Slalom and GS at the Rainbow lift, seen here: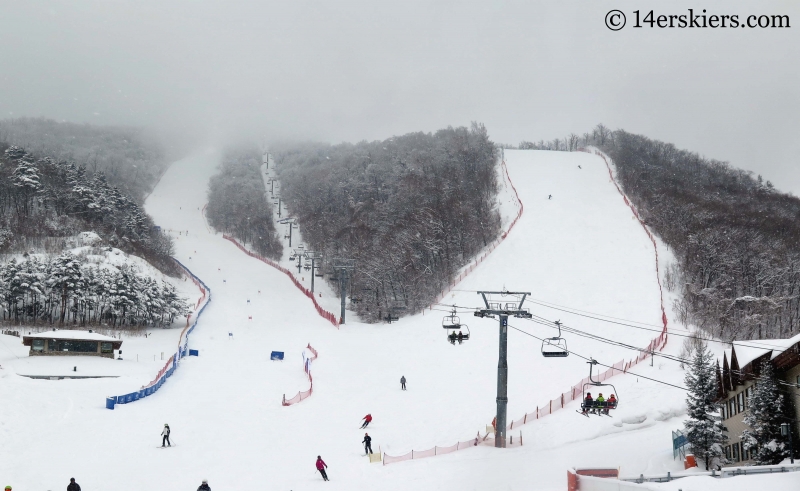 It's actually a pretty good, steep slope and will work well for races. The area only receives about 100″ a year, but racers are generally pretty happy with firm man made snow conditions anyway.
Just a couple of miles away lies the resort of Alpensia, which will host the Nordic events and also a new Bobsled/Luge course. The resort itself isn't inspiring- we originally planned to ski here one day but it didn't seem worth it once we saw the area:

On the other hand, the village was nice. The weird thing is that Alpensia and YongPyong are right next to each other, with the top of Alpensia clearly visible from the base area of Yongpyong, but there is no shuttle or other easy form of transportation between them. Base area:

The Nordic ski jump is visible from the base area, though it's behind the alpine resort- maybe a mile or so.

We drove over to it. The area surrounding the jump currently has Nordic trails, and that's exactly where those events will be. Nordic jumps are so impressive looking in person.

The skating and hockey events will be in the larger city of Gangneung, a couple of hours away. Pyeongchang is about 125 miles from Seoul, and they are also building rail access. The freestyle events will be held at Phoenix Park, another small area which we were not able to visit. We can't wait to see the Olympics in 2018, and see all the places we've been!
---
Skiing in South Korea Series
If you liked this post, please take a look at the other posts in this series:
YongPyong Part 1
2018 Winter Olympics Preview
A Cultural Look at YongPyong Amenities
Korean Food
Night Skiing and a Night on the Town
Enjoying Sunny Days at YongPyong
The Dakine ski bag is the only way to fly. Literally.

Frank
loves snow more than anything... except his wife.  He ensures his food is digested properly by chewing it 32 times before swallowing.He is a full-time real estate agent serving
Crested Butte and Gunnison
and would be honored to send you his
monthly newsletter.
Latest posts by Frank Konsella (see all)