Skiing in South Korea: YongPyong Part 1
(Last Updated On: March 28, 2015)
"There's skiing in South Korea?!" That's how most people responded when we told them we were going to South Korea on a ski trip.
In mid-February, Frank and I had the opportunity to travel to South Korea for a "family" ski trip with my parents. We were there to check out some of the venues for the next Winter Olympics. One of those venues is YongPyong which is by far the biggest of the South Korean ski areas.
Our first morning at YongPyong we woke up to fresh snow and this view out our window: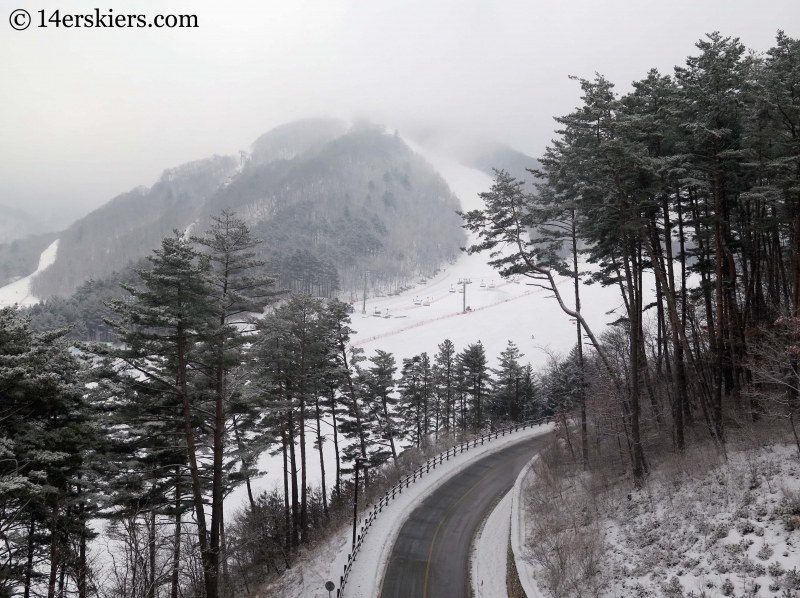 Admittedly, at first view, it looks very small. But, most of it was actually obscured by clouds. YongPyong actually gains a respectable 2400 vertical feet, roughly, which is comparable to that of Whitefish, MT or Grand Targhee, WY or Northstar, CA or Stowe, VT. To put it in Colorado terms, the vertical is a little under that of Copper Mountain, a little more than A-Basin, and a little more than what you gain by going up the Silver Queen chair in Crested Butte.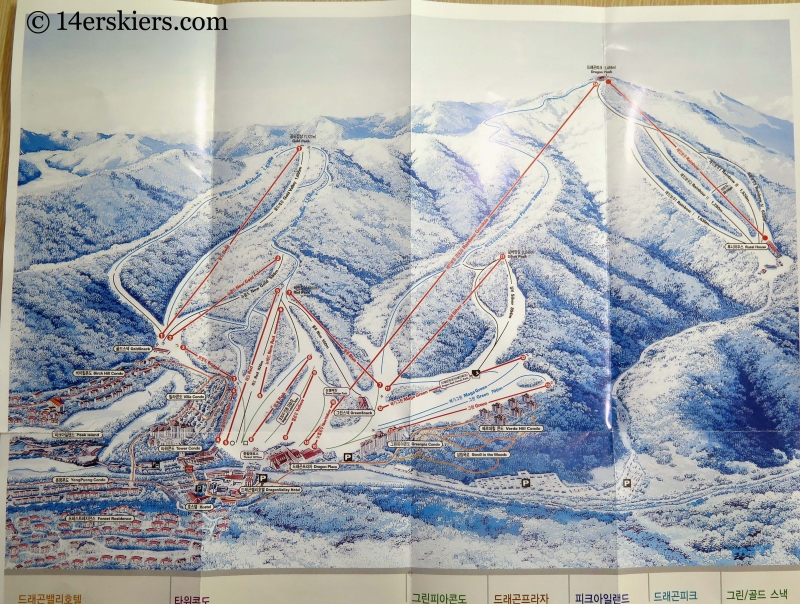 YongPyong states they have 4300 skiable acres, but I never know where they come up with these kinds of numbers. It's a pretty big ski area, but that number makes it larger than Squaw Valley- and with only 31 ski runs, YongPyong does not feel larger than Squaw.
Nevertheless, YongPyong is certainly big enough to be a hub of the 2018 Winter Olympics, and that's why we we chose to visit Korea's biggest ski area.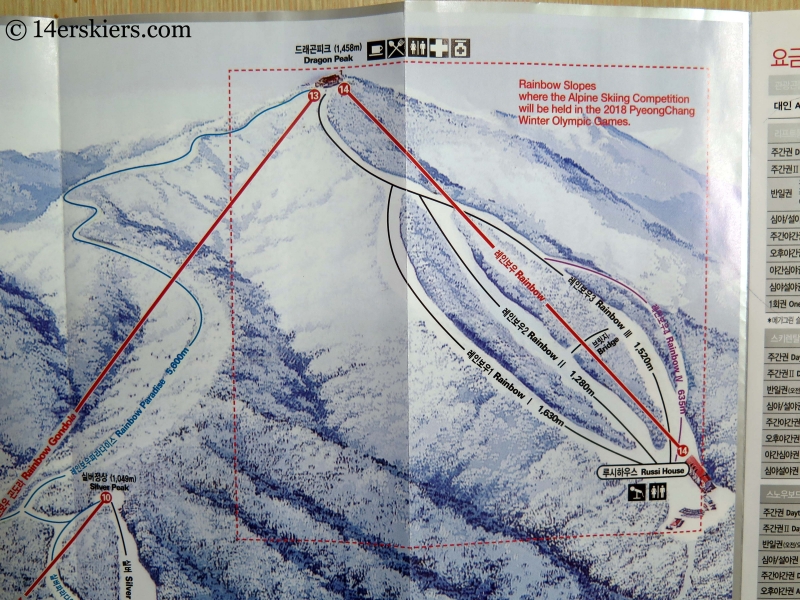 A view of the base as we walked out of our Greenpia Hotel.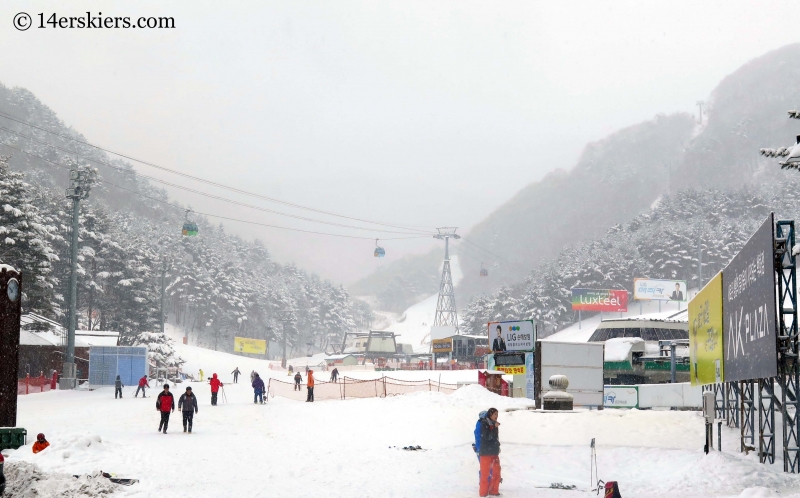 After getting our season's passes, we first hopped on the Rainbow Gondola which took us straight to the top at Dragon Peak.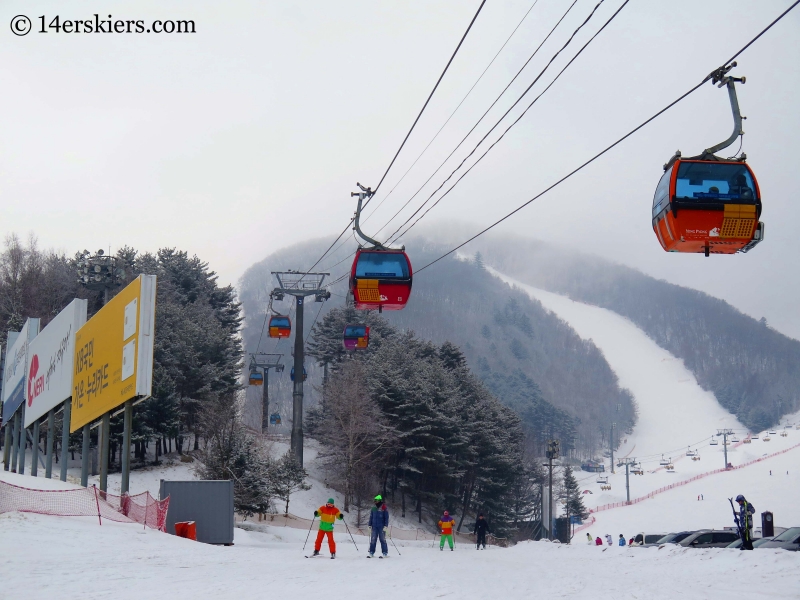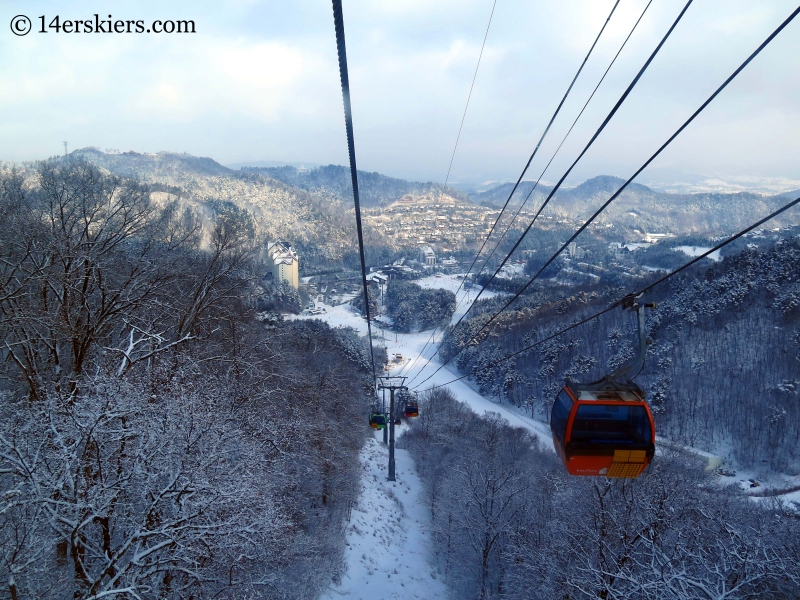 The Rainbow Gondola whisks riders 2.3 miles (3.7 km) and over 2000′-vert over a 21-minute span to the base to the top at Dragon Peak.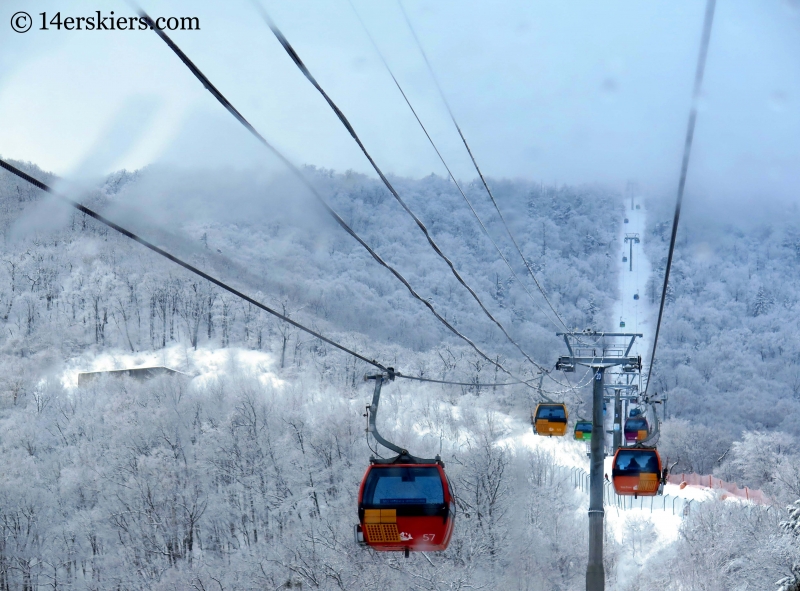 At the top of the peak, the gondola tower also houses a lodge which was shrouded in clouds.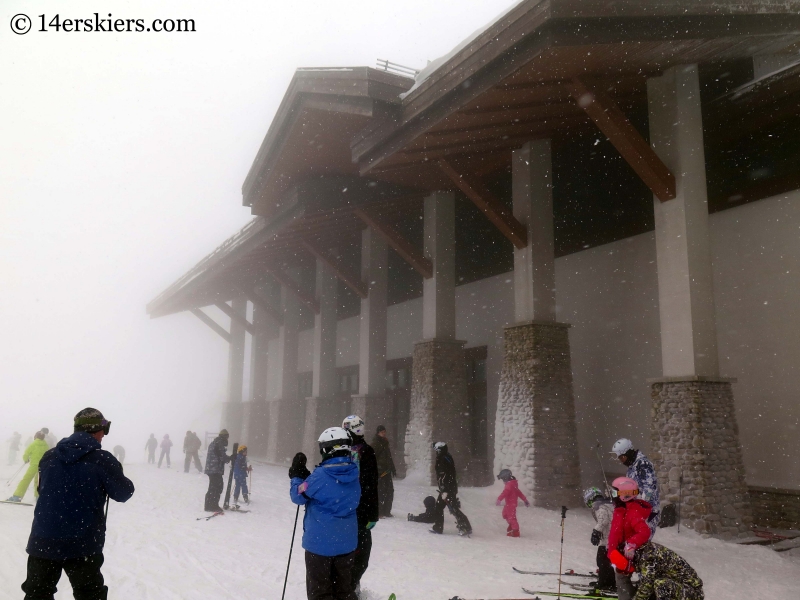 We found some good skiing on the Rainbow Slopes.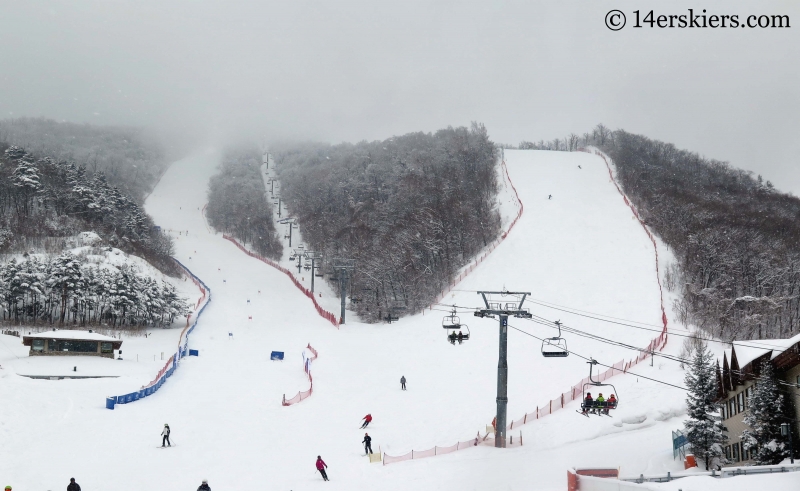 It was snowing and we searched for powder on the groomed runs.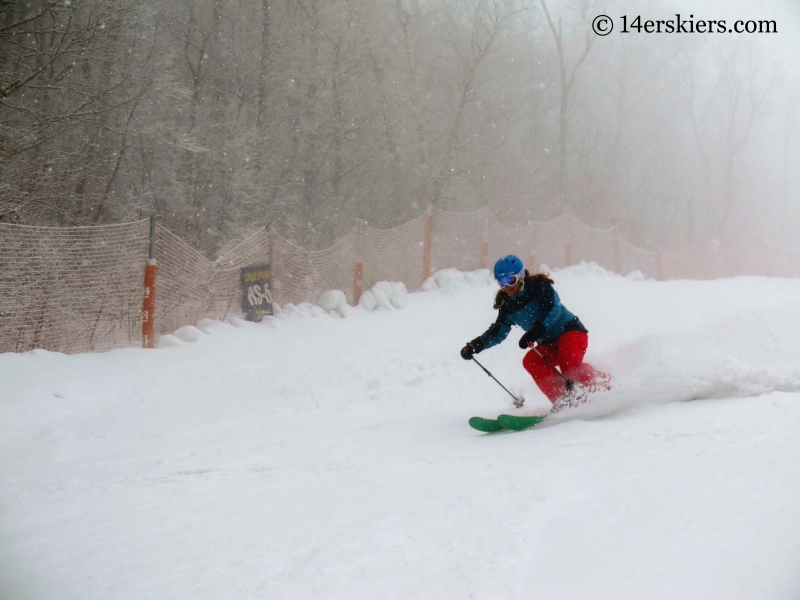 Notice the sign on the fence behind me. Markers like this appeared on every ski slope – a letter code and then a number which represented the slope and how far down the slope you were. Obviously, this system is intended for Ski Patrol.
We also really enjoyed the skiing at the Gold Peak area.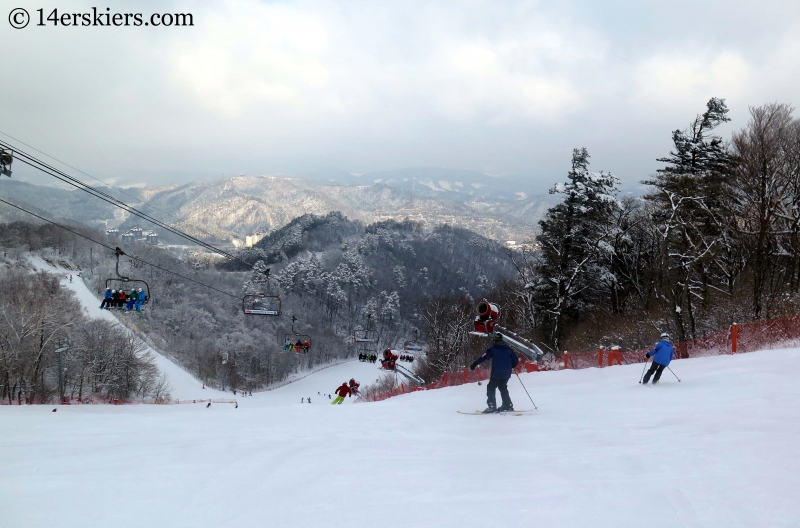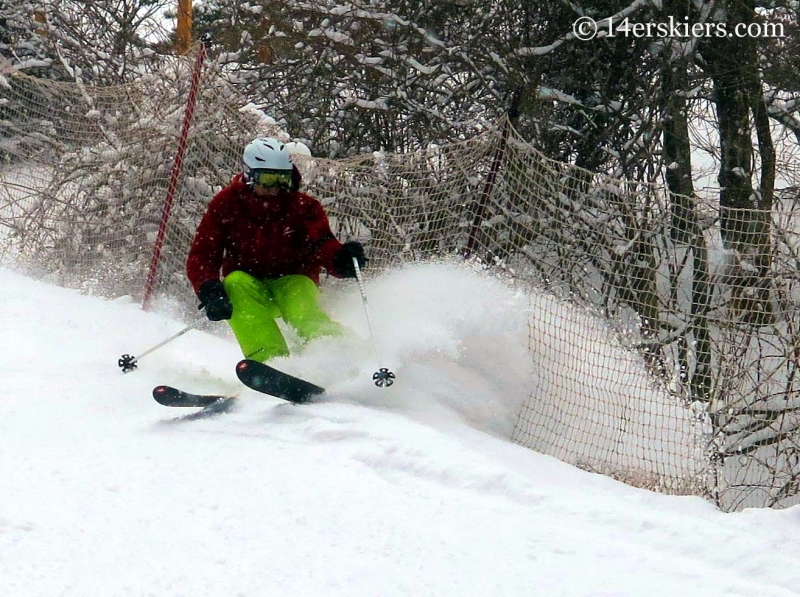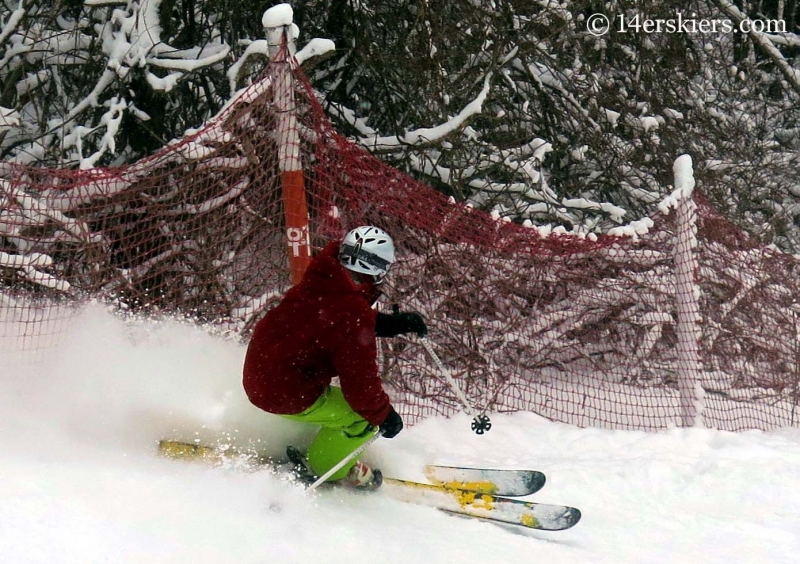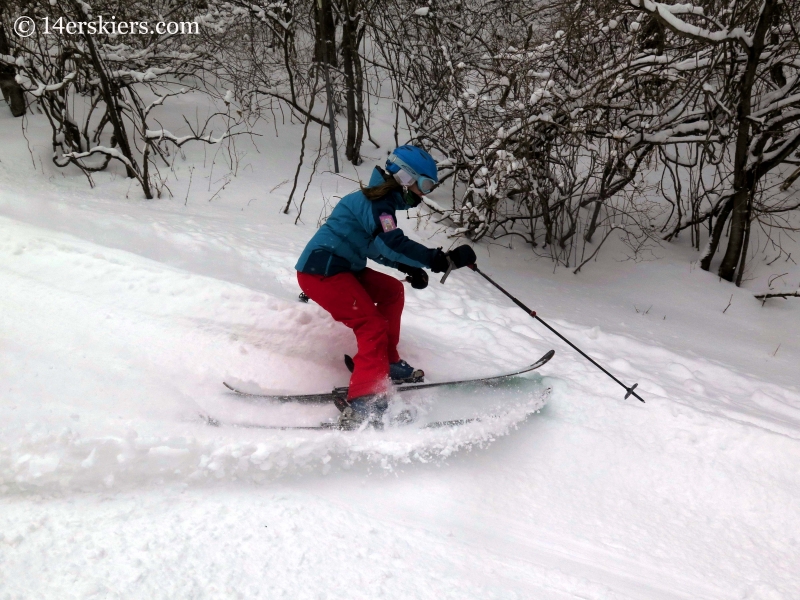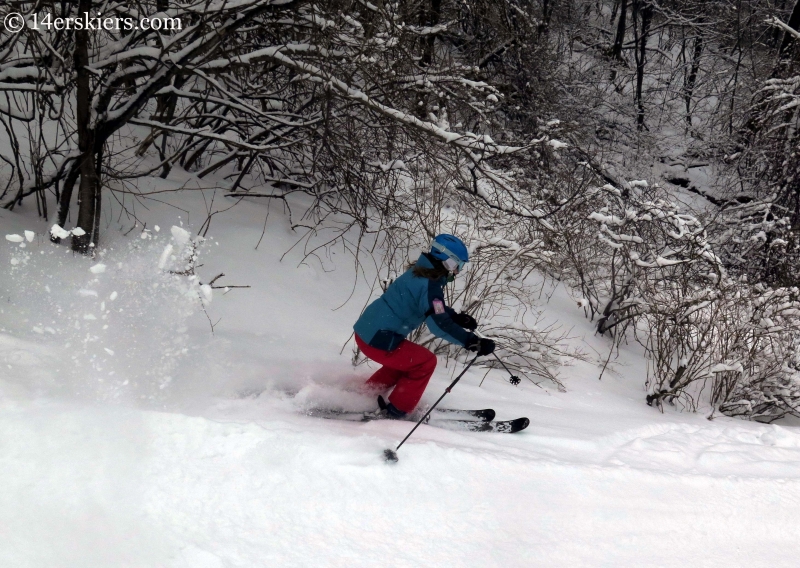 There basically was no "off-piste" skiing… Aside from the fences that ran alongside nearly every run, there was also the problem that off-piste skiers would have to tackle the jungle.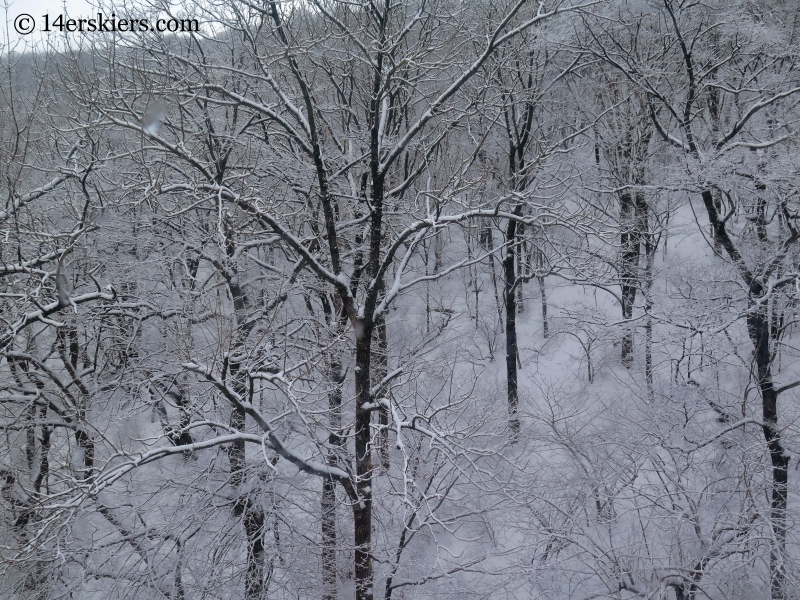 Trees were everywhere, and far too thick to ski through.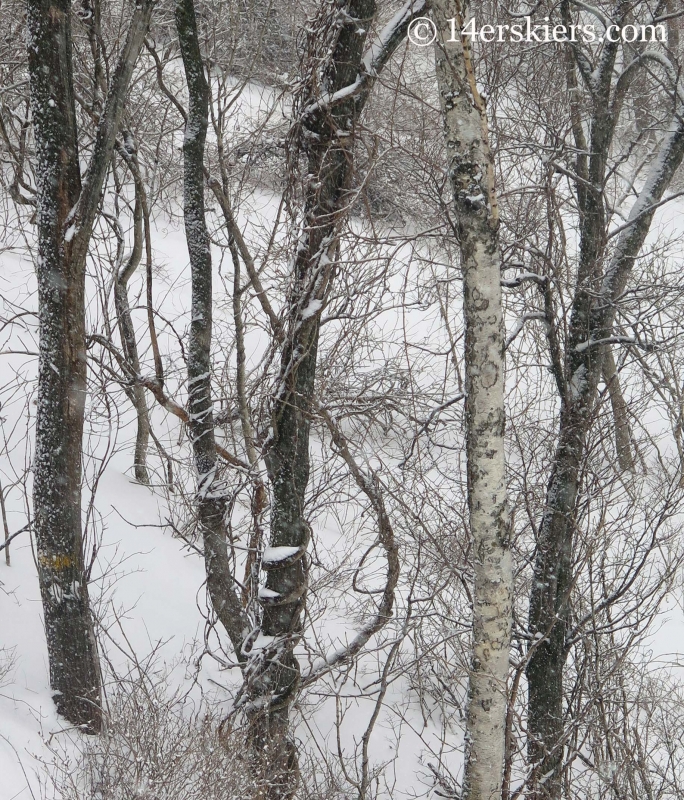 But, they were amazingly beautiful too.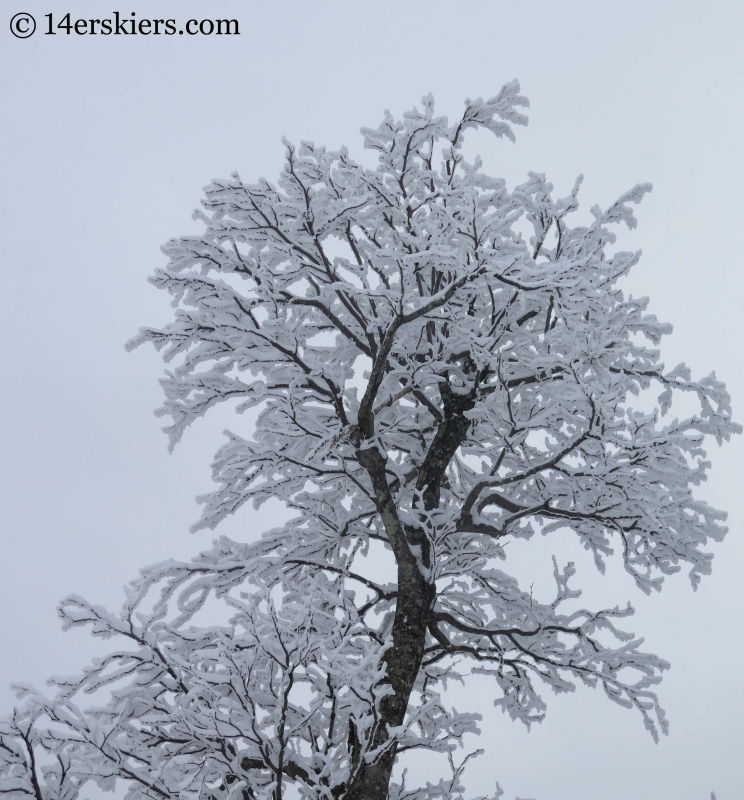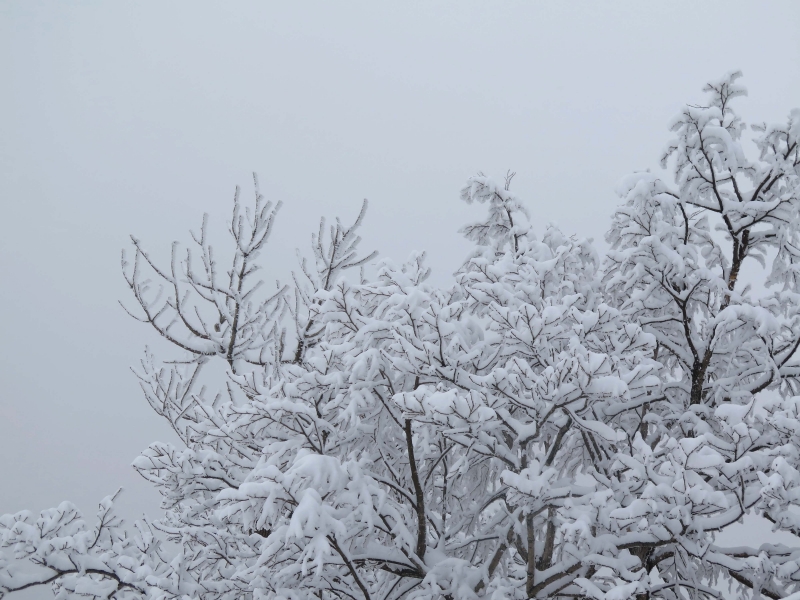 Over the first few days, we had a lot of snow, and the scenery was absolutely beautiful with the freshly fallen snow. Rainbow chair: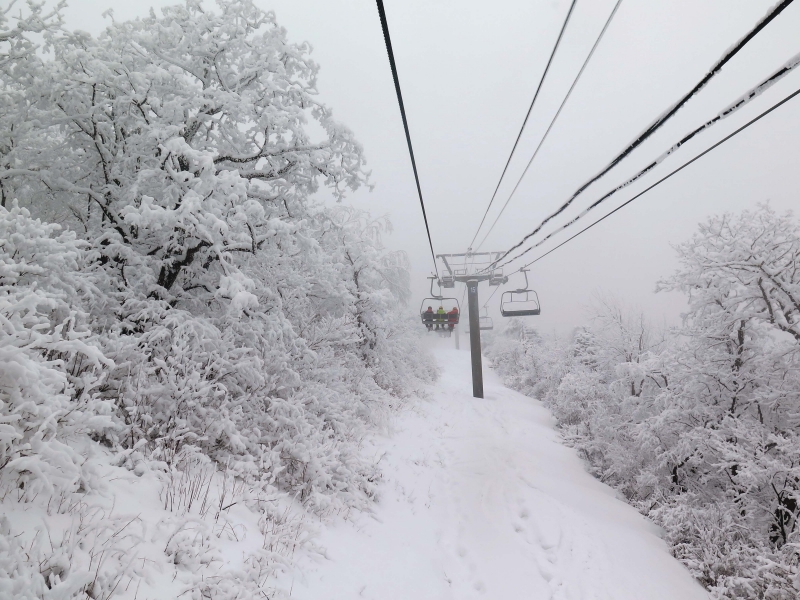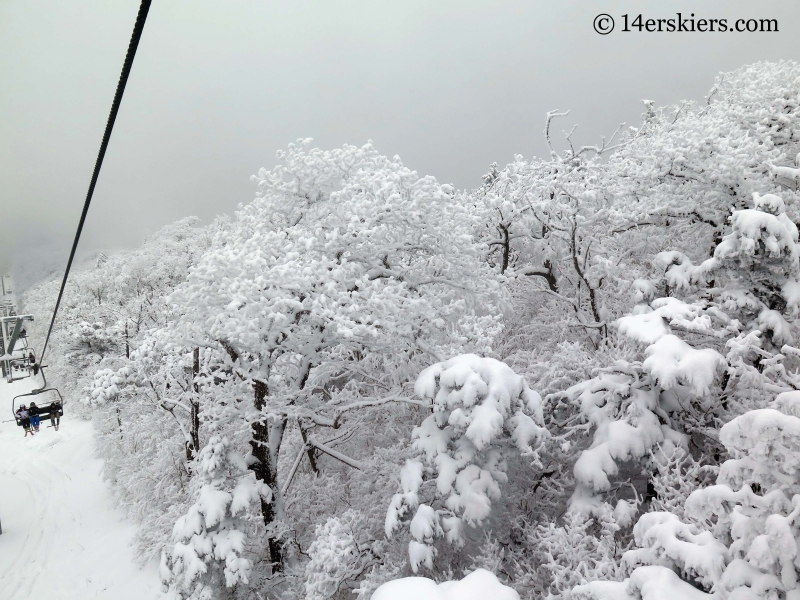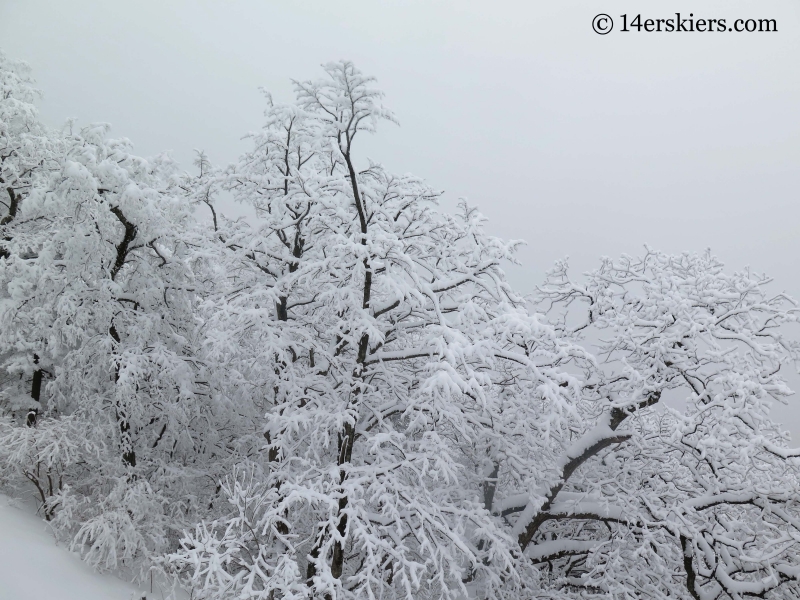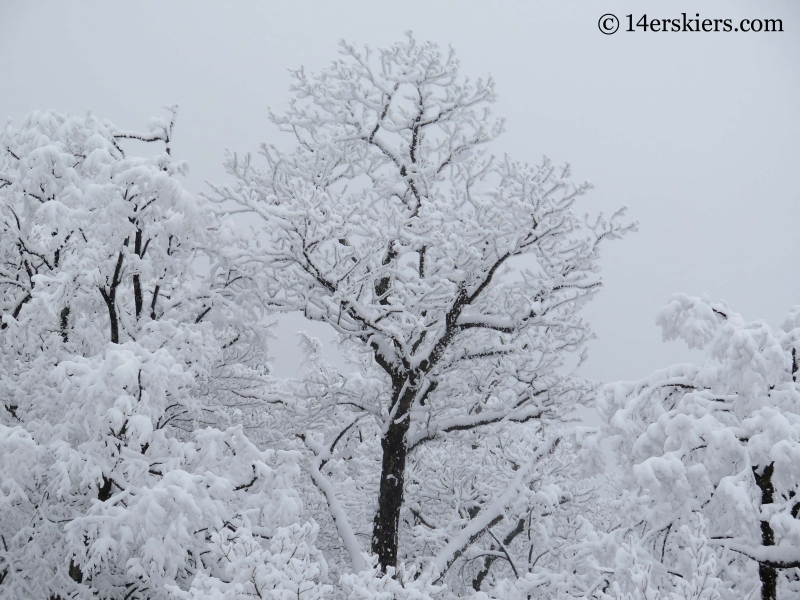 The Lodge at Dragon Peak from the Rainbow chair.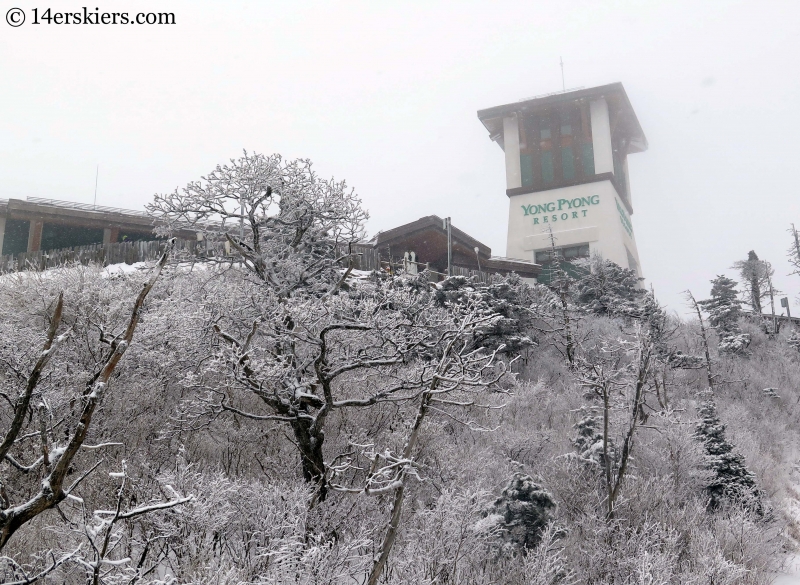 Lower down, the mountain certainly had less snow. With only 250 cm (100 inches) of average snowfall annually, this is typical.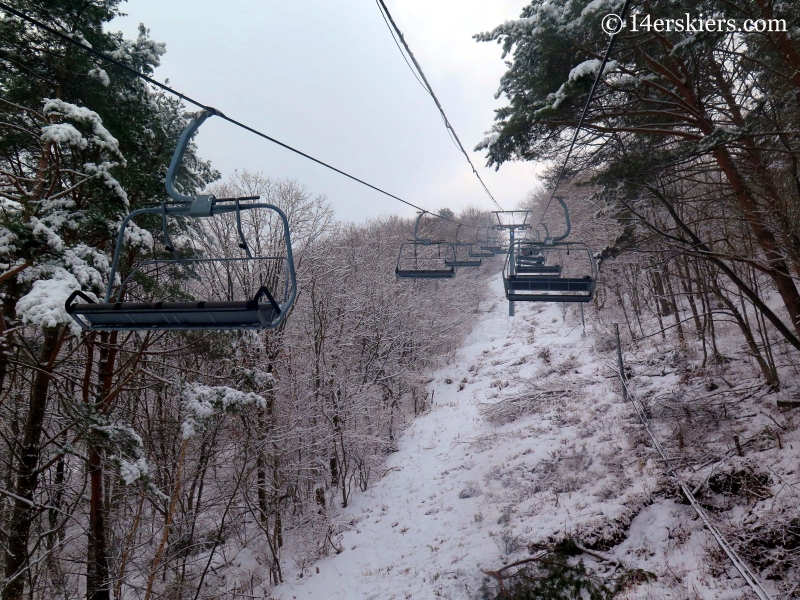 With that stat in mind, I can also say that it snowed 5 out of the 6 days we skied at YongPyong. It snowed a lot, but it was also pretty warm, so it didn't accumulate like snow would have in colder temperatures.
As you can probably tell, all the runs were groomed, except for the two bump runs, which were perfectly manicured like a bump course. It must have been the man-made snow that made the runs so dangerous 😉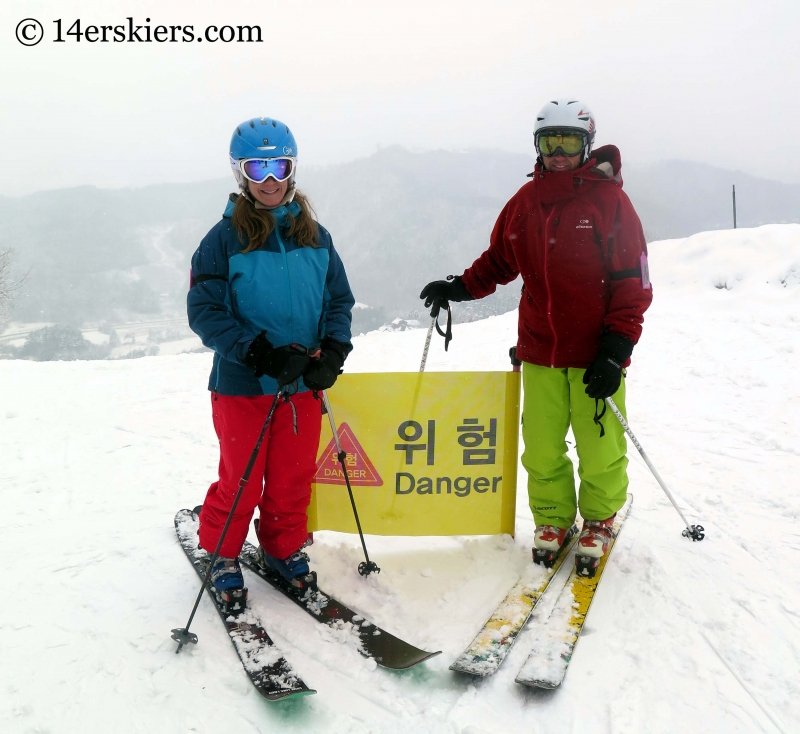 People kept asking me what it was like skiing there at YongPyong. The best I could describe was that it was like skiing at Stowe if it was in the Pacific Northwest, but with less snow – and of course with an Asian flare.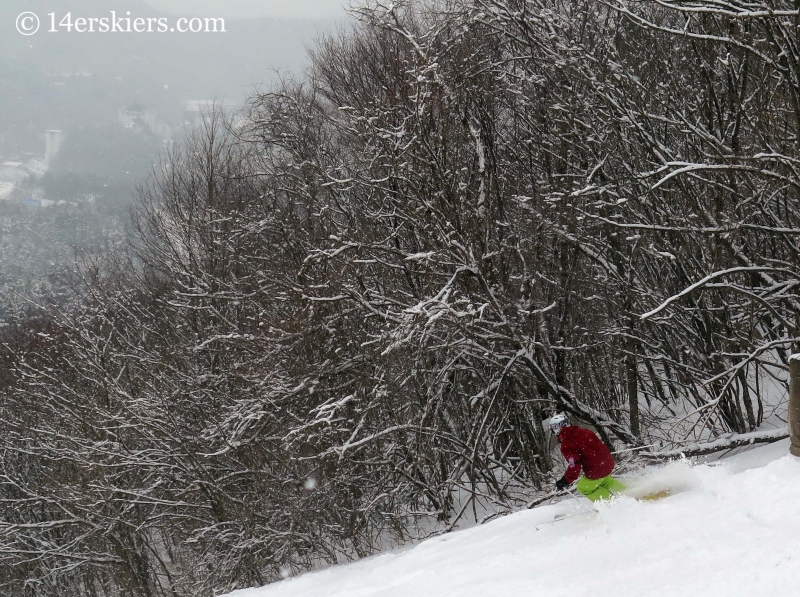 Here's a few snippets of video from YongPyong that help capture the feel of skiing at YongPyong.

Yongpyong Resort is situated at the center of Korea's Baekdudaegan Mountains. When the clouds began to lift, the range was revealed.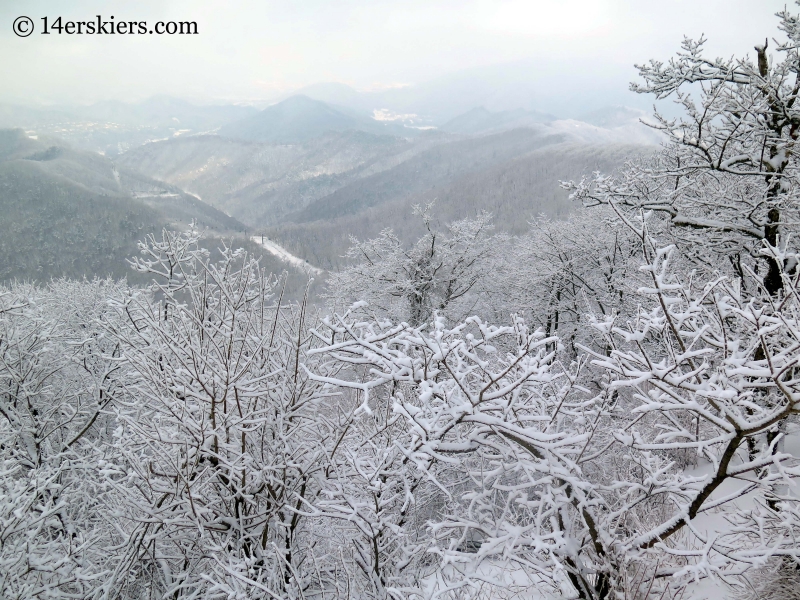 At the end of the ski day, the South Koreans have a unique ritual. I've skied all over the world and I've never seen these before – blowers for your skis.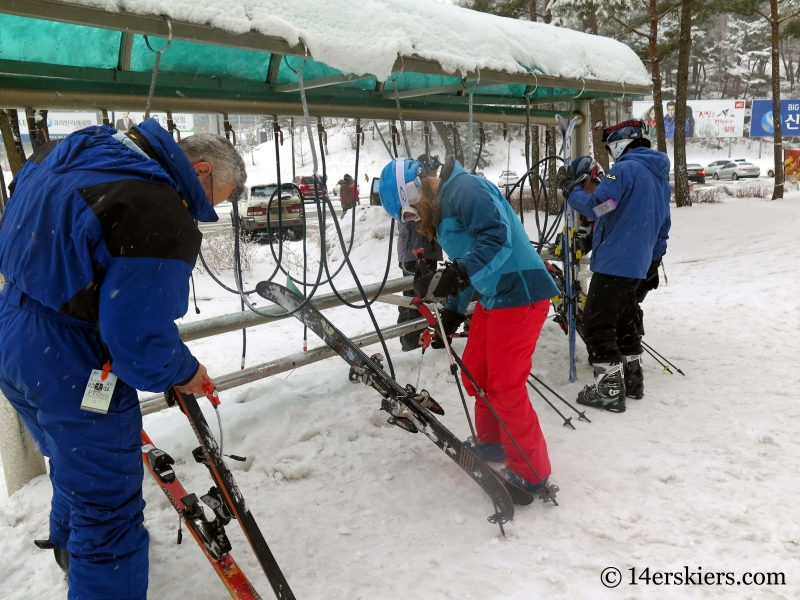 A pressurized air gun is used to remove snow from every nook and cranny on the ski and binding – and if you're really into it, you'll put it on your ski boot too 🙂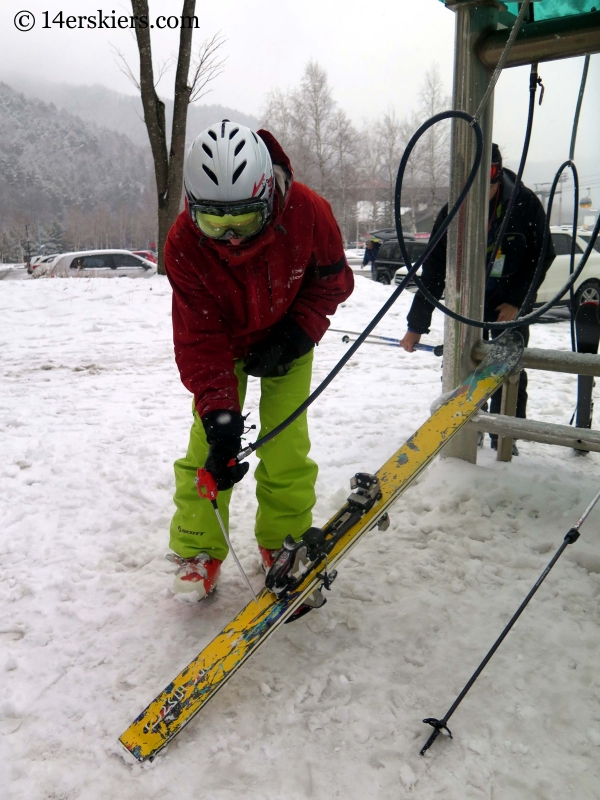 This is just Part One of a series of posts we will be publishing about our South Korea experiences. Check below for more!
---
Skiing in South Korea Series
If you liked this post, please take a look at the other posts in this series:
YongPyong Part 1
2018 Winter Olympics Preview
A Cultural Look at YongPyong Amenities
Korean Food
Night Skiing and a Night on the Town
Enjoying Sunny Days at YongPyong
Aside from skiing, biking, and all outdoorsy things,
Brittany Walker Konsella
also loves smiles and chocolate 🙂 Even though she excels at higher level math and chemistry, she still confuses left from right. Find out more about
Brittany
!
Latest posts by Brittany Walker Konsella (see all)