Skiing in South Korea: Korean Food
(Last Updated On: March 28, 2015)
When people ask us about our trip to Korea, I usually respond with something along the lines of "The skiing was pretty fun, but that trip was about the experience and the culture as much as the skiing". I love skiing more than just about anything, but travel is probably right behind skiing on my list. A big part of travel is experiencing the culture, and a big part of experiencing a culture is eating the local food. I think that's why Anthony Bourdain has been so successful with his TV shows- the travel and the food are almost interchangeable. [As an aside, replacing Bourdain would have to be my dream job- getting paid a lot of money to travel and eat good food while being snarky and cynical would fit me perfectly]. So, what did I think of Korean Food?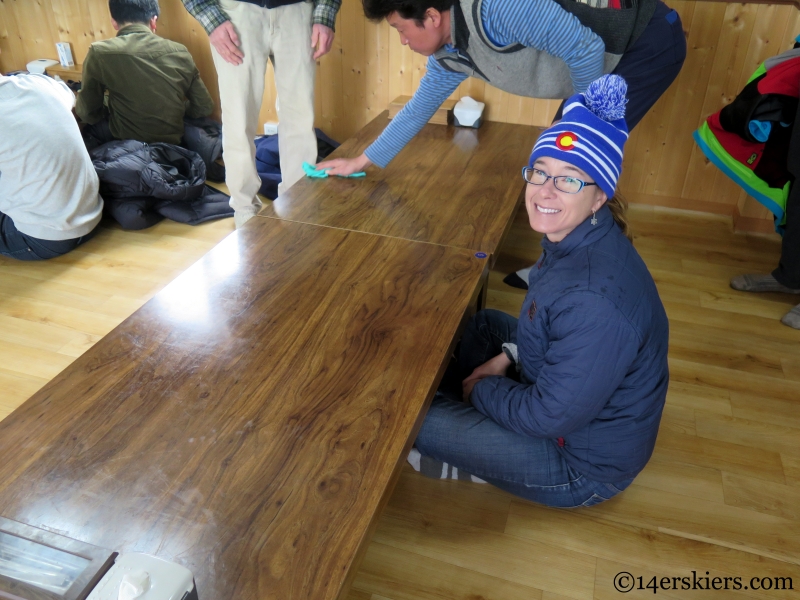 I should start off by saying that my favorite type of food is Asian. Thai, Vietnamese, Chinese, Japanese- I will take any of them over a slice of pizza or a burger any day of the week. Korean food isn't as popular in America as the other countries I just mentioned, but I did go to Korea with at least a little knowledge of Korean food, in large part because my brother-in-law was born in Korea. I should also say that while I was a picky eater growing up, I'm not one anymore. Pointing at a picture on a menu, with no idea whatsoever what it is, just doesn't scare me. Knowing the modern-day Korean's obsession with education, I assumed that there would be plenty of English spoken in Pyeongchang. I was wrong. So, we really did order food at times without a clue of what we were ordering. That led to, as an example, a soup which we later found to be blood sausage (it was tasty).
I'll start with one of my favorites, bibim guksu, which was a cold, spicy buckwheat noodle salad that is traditionally a summertime dish. Koreans are big fans of scissors, and in this case it was used to break up the long noodles.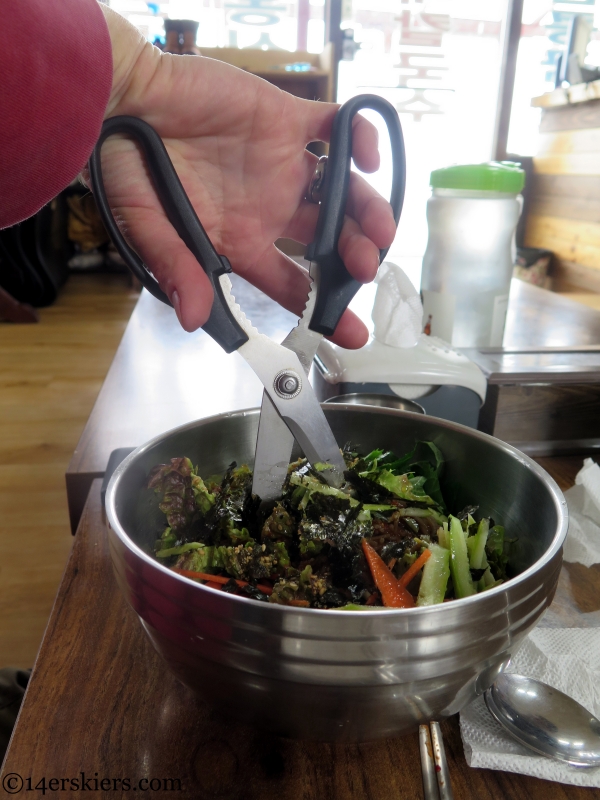 A common menu item is kim chi jeon, which is a Korean pancake with kim chi. If you haven't had kim chi, it is Korea's signature dish, a spicy fermented cabbage which is served with nearly everything. A small bowl of kim chi is on the left side of this photo: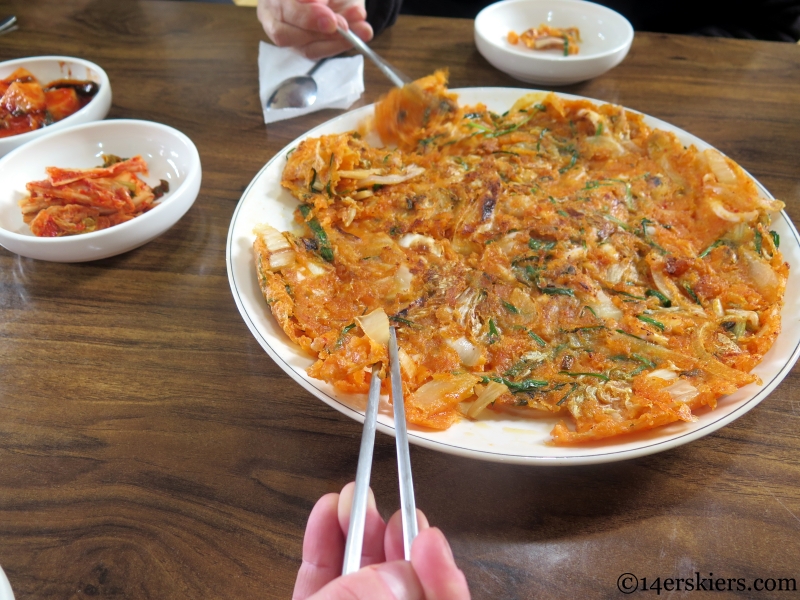 We had another pancake variety made with seafood and scallions instead of kim chi: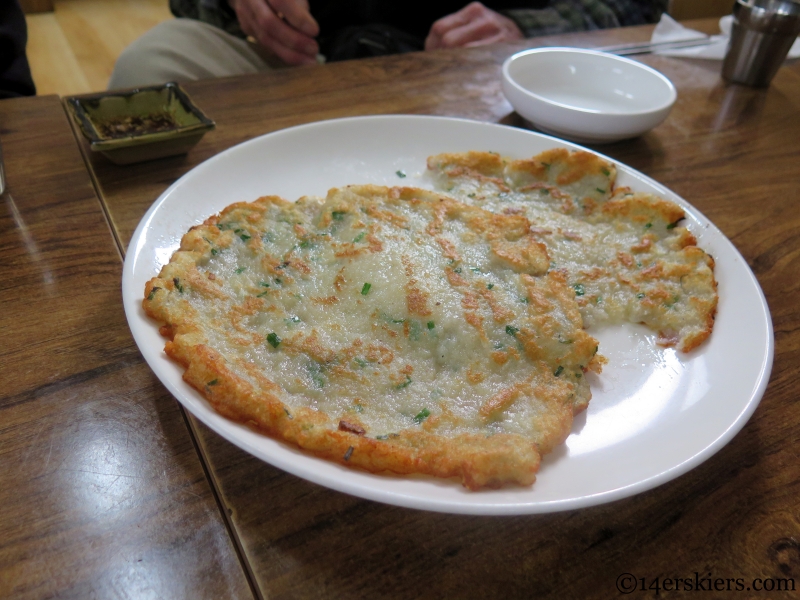 And then there is Korean BBQ, which does have a bit of a following in the United States and can be found in any large city. At "Self" BBQ in YongPyong, we were a bit confused at the "menu":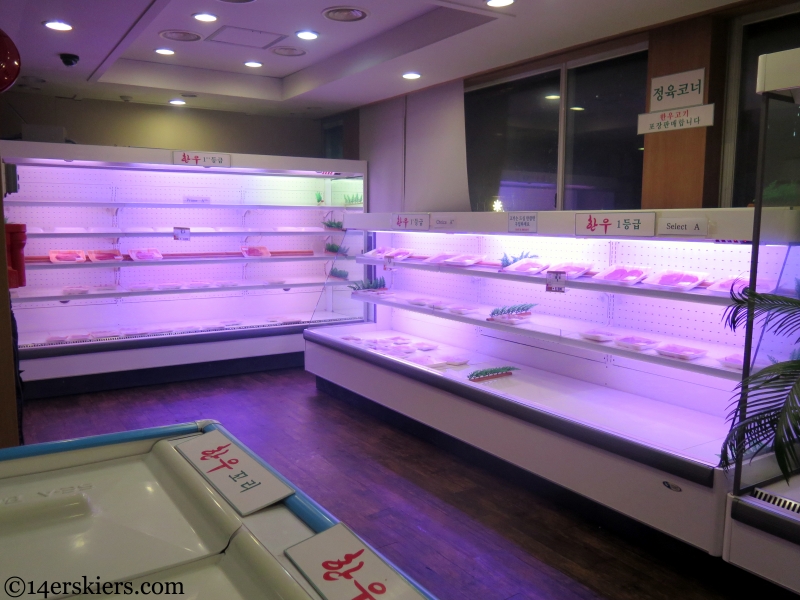 We picked our cuts of beef and then the side dishes arrived along with the hot coals at our table: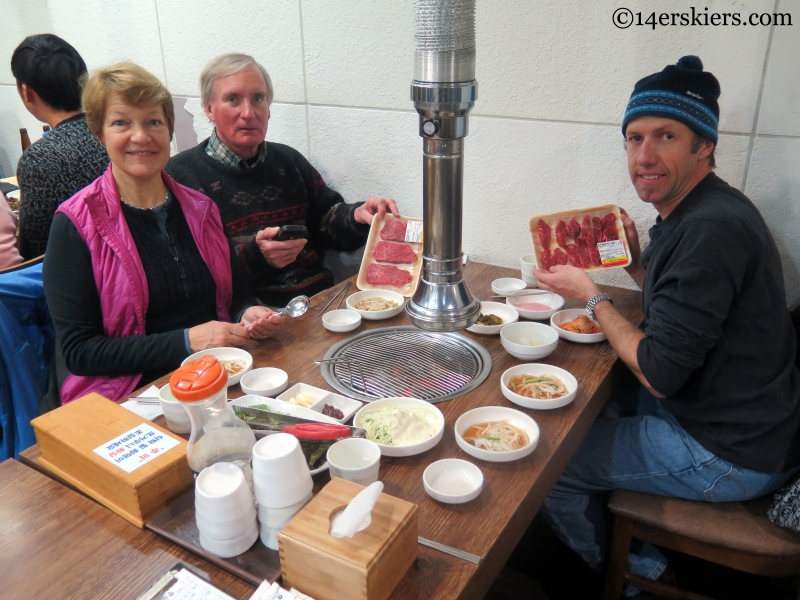 As you can probably tell, you cook your own meat at most Korean BBQ restaurants. In the photo below, from left to right, is Korean coleslaw, the most delicious onion marinade of all time, jalapenos, rice in the metal bowl, pickled Daikon radishes, and of course, kim chi. Not pictured were lettuce leaves and spicy bean paste. Generally, we would take a piece of lettuce, add bean paste and other ingredients to the meat, and make lettuce wraps.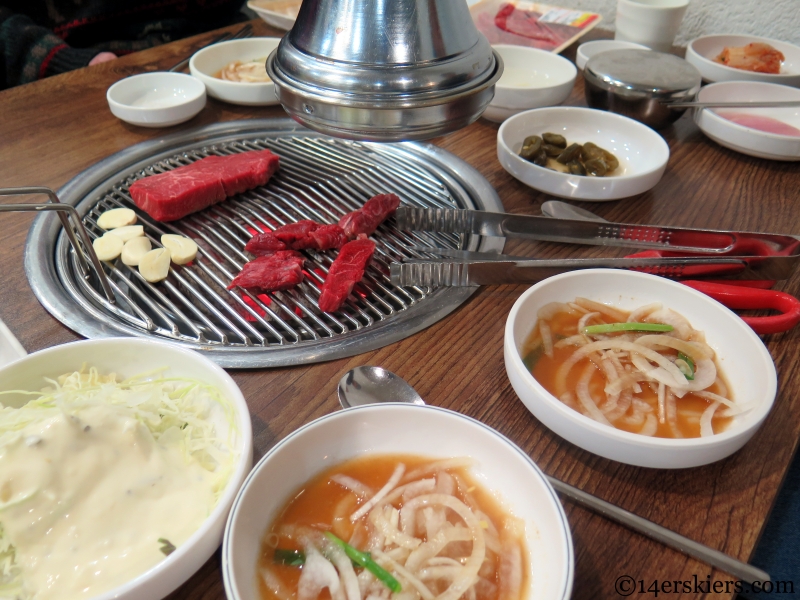 So good: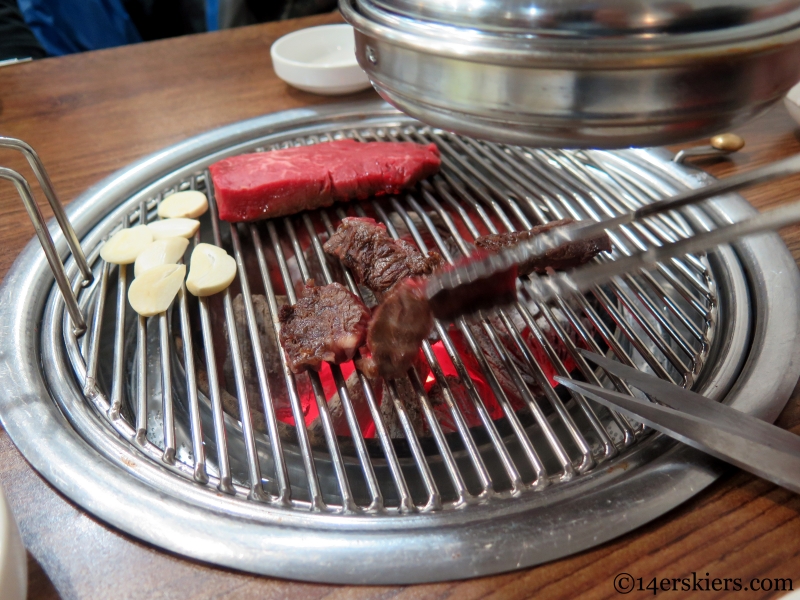 We went to another BBQ restaurant that served pork. Typically, Korean restaurants will be one or the other. They were both exceptionally good.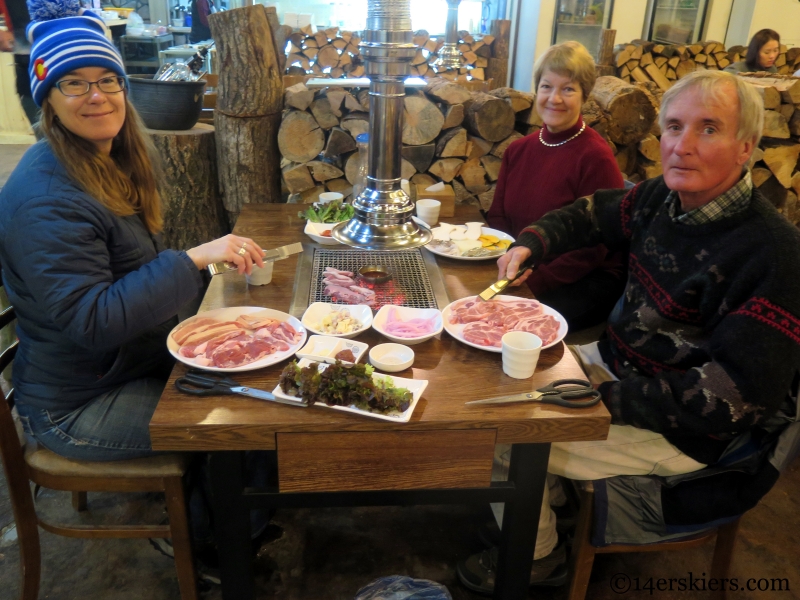 Korea's national drink is soju, a high octane drink that's somewhat harsh and the reason every convenience store had plenty of hangover remedies. My favorite brand, because it made me laugh, was "happy water". More flavorful in our opinion was Korean rice wine, which is vaguely similar to Japanese sake, though better in Brittany's opinion.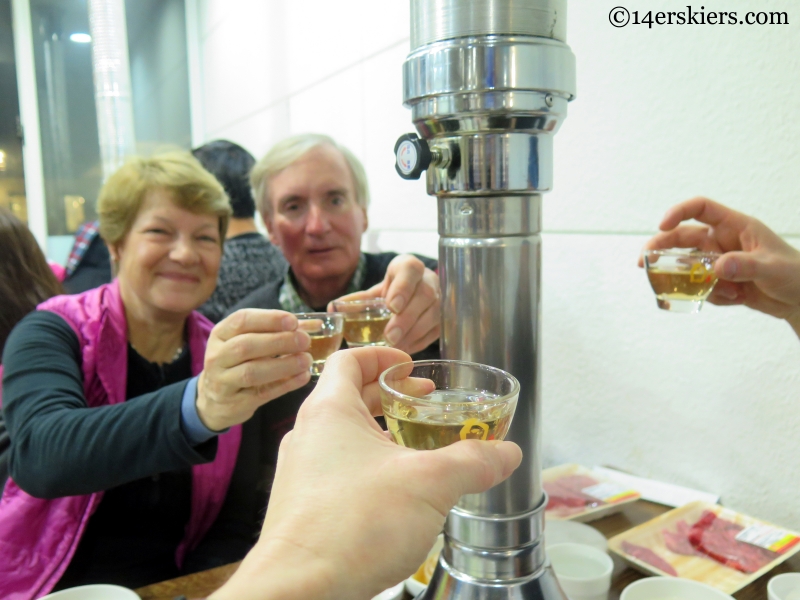 Last but not least is bi bim bap, a dish that my sister told me I had to have. There are many different varieties, the one shown below had raw steak on top but it cooked a fair bit in the broth, in a way vaguely similar to Vietnamese pho.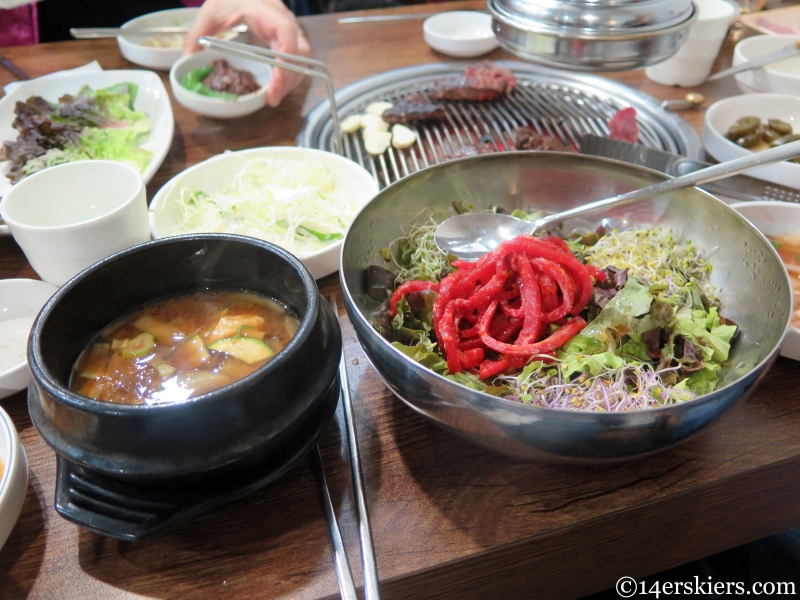 We didn't take photos of everything, nor would we try to talk about all of them here. Lunches at the ski area were pretty easy- if you're at Yongpyong I would suggest the pork cutlet with gravy- and share it with two people. Hot dogs were popular as well, and cheap. While I can't put Korean food at the top of the list among Asian cuisines, it's still up there. It's certainly unique, with many dishes and ingredients either fermented or pickled. Hopefully this post inspired some of you to try a Korean restaurant, if not visit Korea. If you've already sampled Korean food, what's your favorite?
---
Skiing in South Korea Series
If you liked this post, please take a look at the other posts in this series:
YongPyong Part 1
2018 Winter Olympics Preview
A Cultural Look at YongPyong Amenities
Korean Food
Night Skiing and a Night on the Town
Enjoying Sunny Days at YongPyong
Anyone actually used one of these while travelling? Do they actually work?

Frank
loves snow more than anything... except his wife.  He ensures his food is digested properly by chewing it 32 times before swallowing.He is a full-time real estate agent serving
Crested Butte and Gunnison
and would be honored to send you his
monthly newsletter.
Latest posts by Frank Konsella (see all)