Skiing in South Korea: A Cultural Look at YongPyong Amenities
(Last Updated On: March 28, 2015)
In our last two posts about skiing in South Korea, we described skiing at YongPyong as well as our visit to Alpensia, both of which will be venues for the next Winter Olympics in 2018. In this post, I want to talk about the things that sometimes get overlooked in a skiing trip report – what's there beside the ski slopes. We will take a cultural look at some of the YongPyong ski resort amenities.
We arrived by plane to Seoul, Korea. Seoul (Incheon) has one of the nicest airports I have ever visited.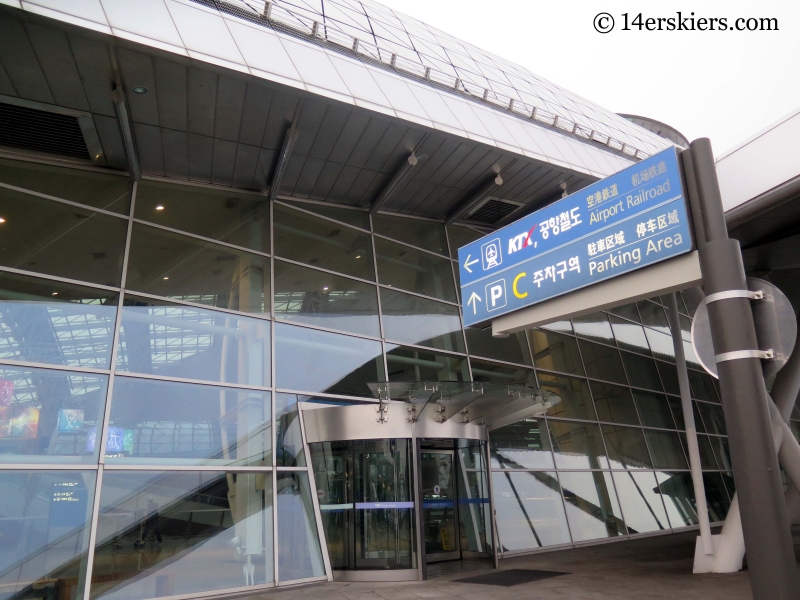 In order to get to the ski slopes quickly (and avoid the chaos of public transportation while we hadn't slept in 30 hours and were extremely jet-lagged), we arranged through ski-korea.com for a driver to take us from the Incheon Airport directly to our accommodations at YongPyong. We tied our skis to the minivan.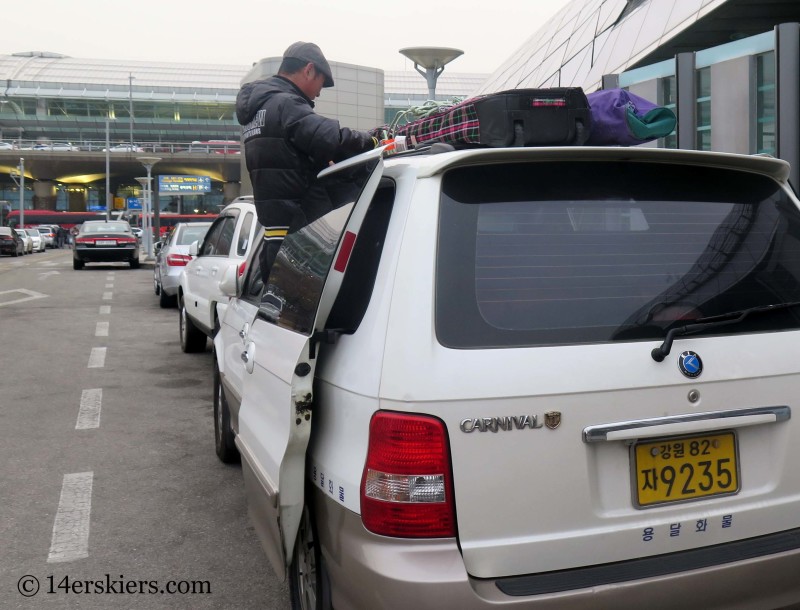 And off we went, whisking by the city of more-skyscrapers-than-I-have-ever-seen, and into the mountains of Korea. We headed eastward on a highway which was well-built and crossed through many mountains via tunnels. About 3 hours later, we arrived in YongPyong.
During our time in YongPyong, we stayed in a very large hotel called Greenpia.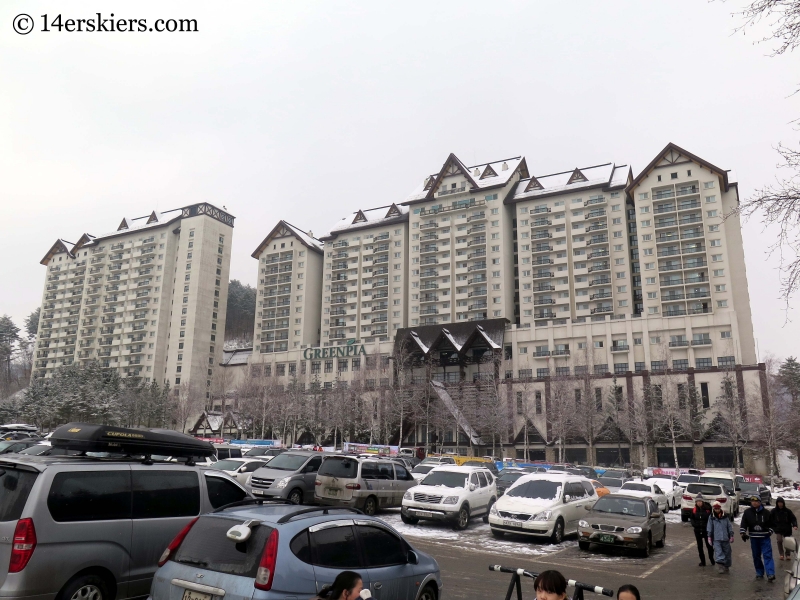 While this hotel is definitely large, it is not a monstrosity. The Koreans took time to build this, and the architecture even has a slight Bavarian feel to it.
The slope-side access was fantastic.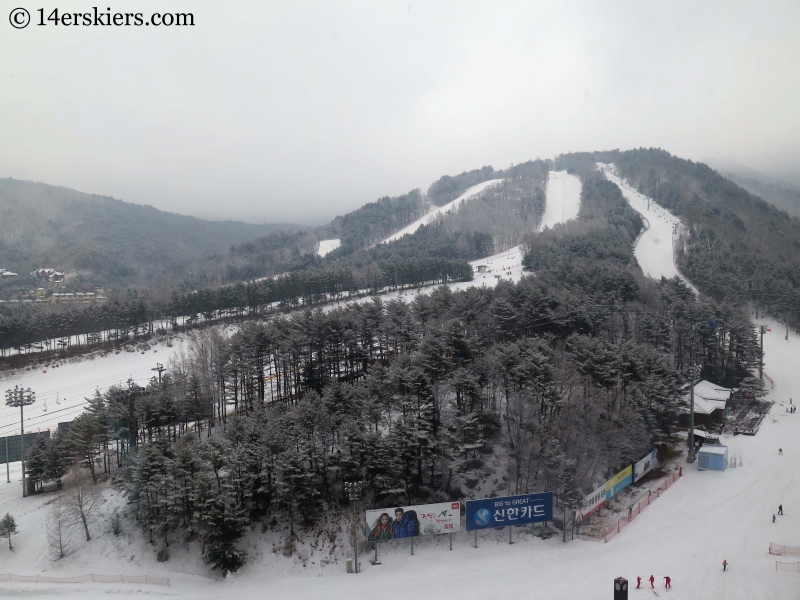 The rooms at Greenpia are more like condos, complete with two-bedrooms, a decent-sized living room, a kitchen, and wonderful in-floor heating.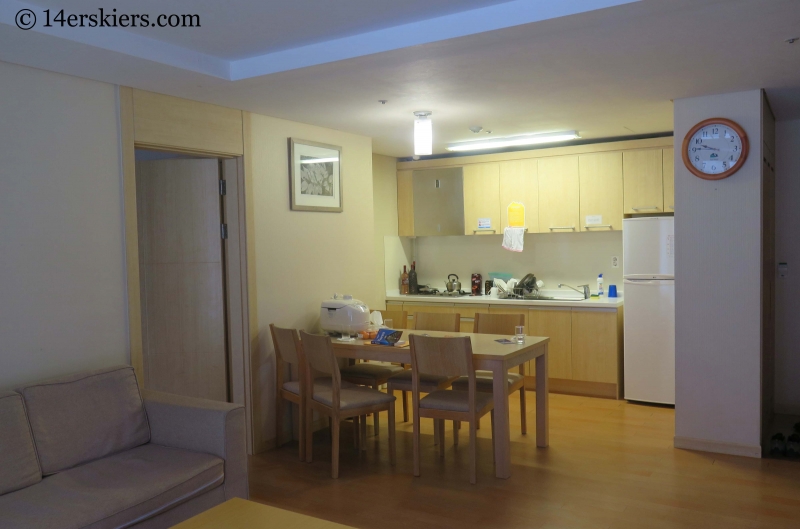 This is what our bedroom looked like:

You might be asking, "Where's the bed?" Well, there wasn't one. Not as we know it anyway. This was our bedding: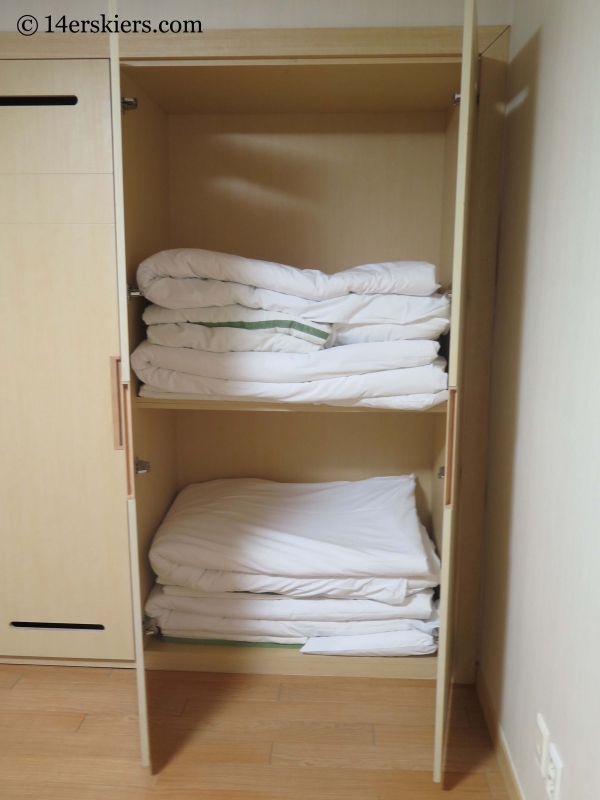 Yep, you got it. We slept on the floor. When in Korea, do as Koreans do! It wasn't so bad, actually – quite comfortable for a person who has a bad back! Besides, the fancy toilet will all the extra bells and whistles made up for it: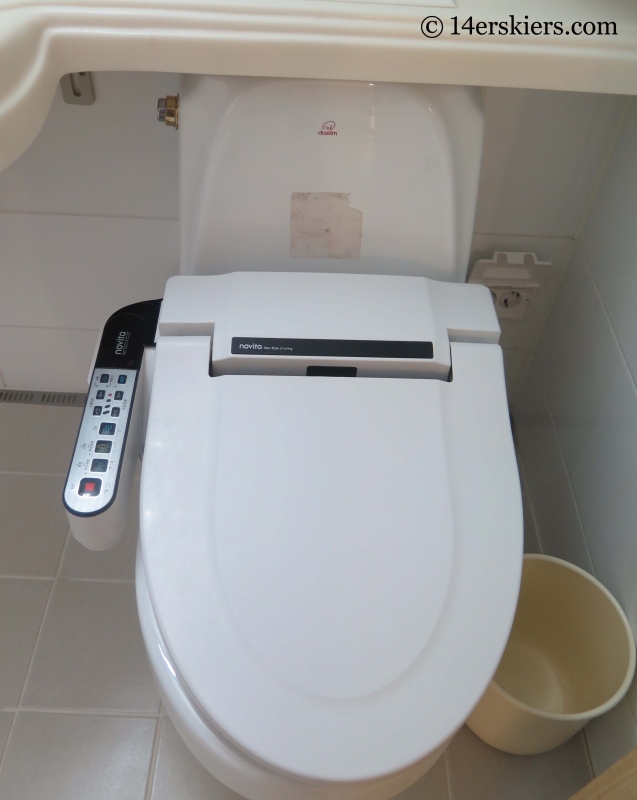 Crested Butte doesn't even have a base lodge, something I personally see as a big thing we are lacking. But, YongPyong has one of the nicest base lodges I have ever seen, called Dragon Plaza.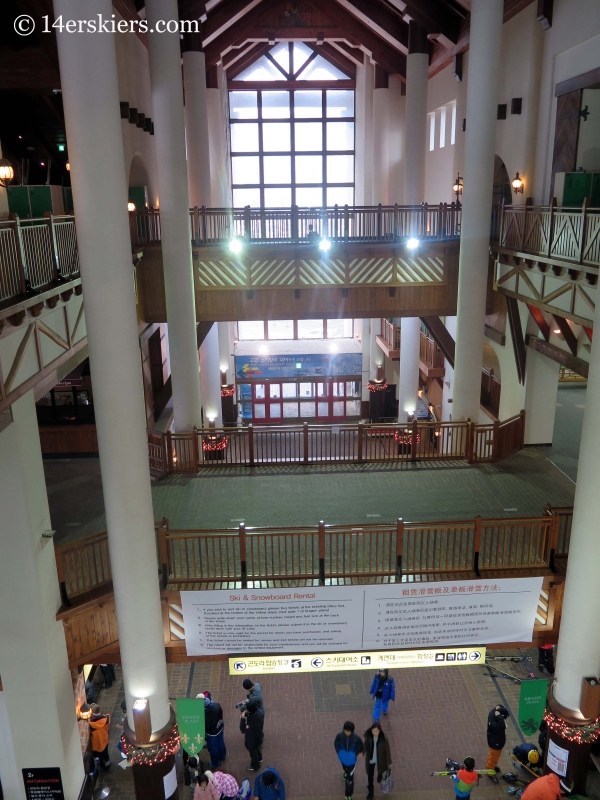 Another example of architecture with a Bavarian flare, Dragon Plaza was large, but beautiful.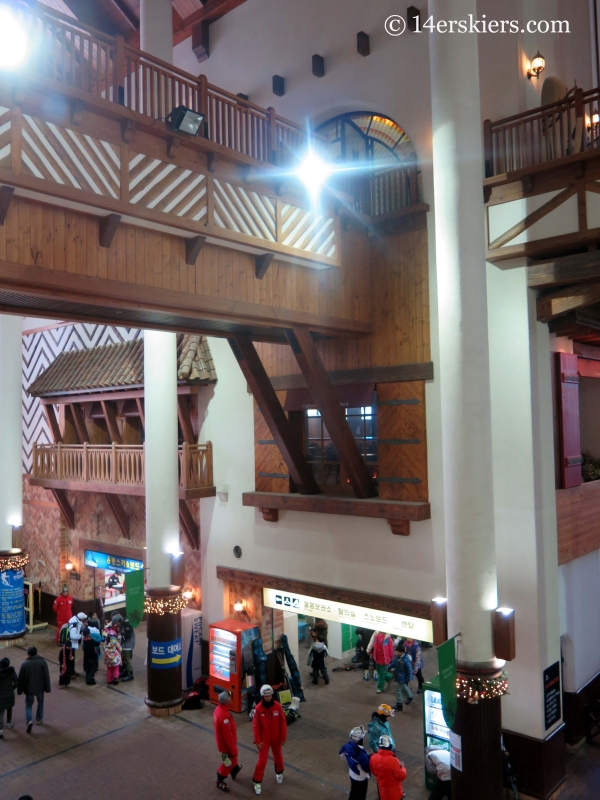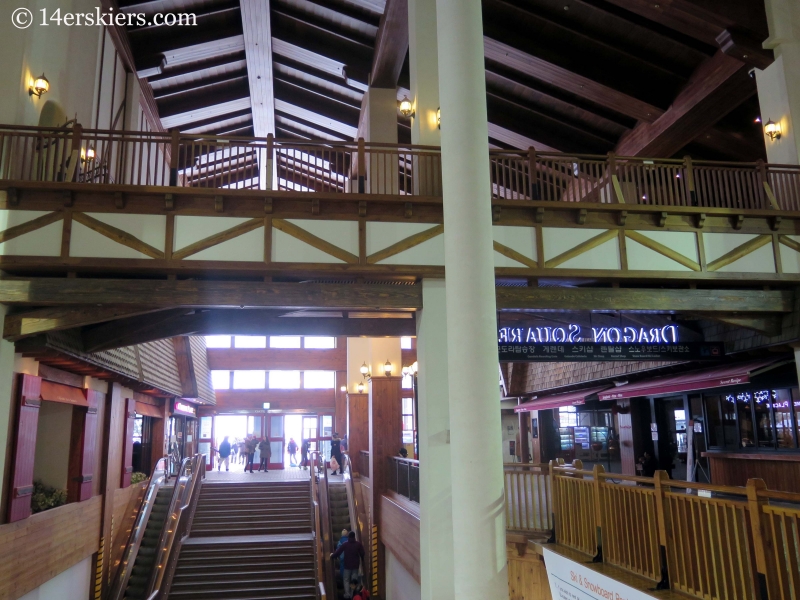 I could not get over the details that went into this place.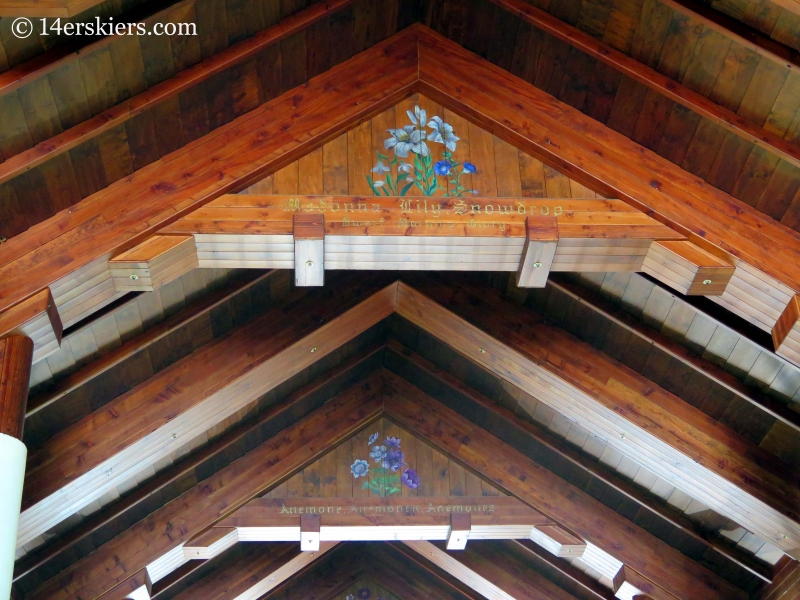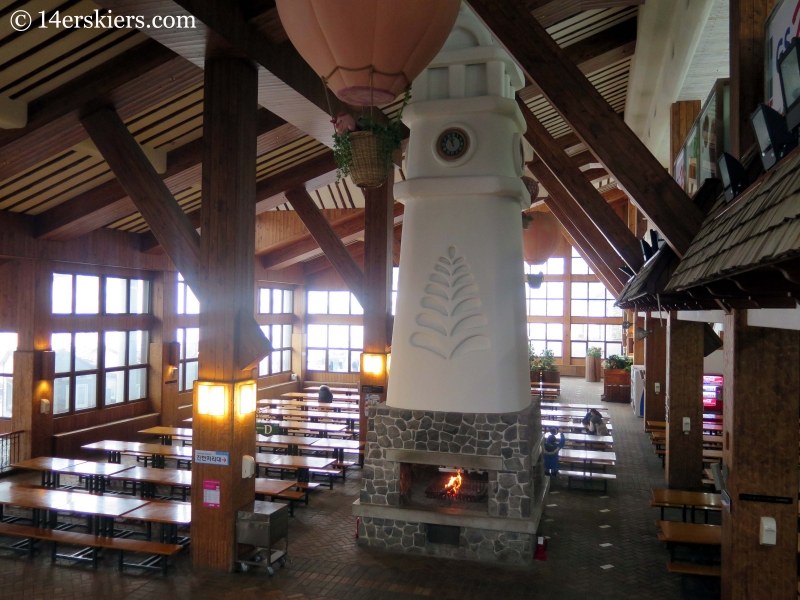 YongPyong has good night-skiing – capturing a sign that promotes it.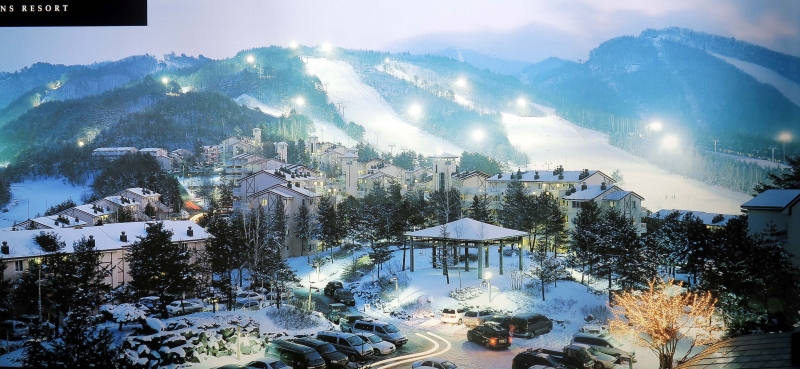 Most restaurants were located in large mall areas inside large buildings like the Dragon Plaza and hotels.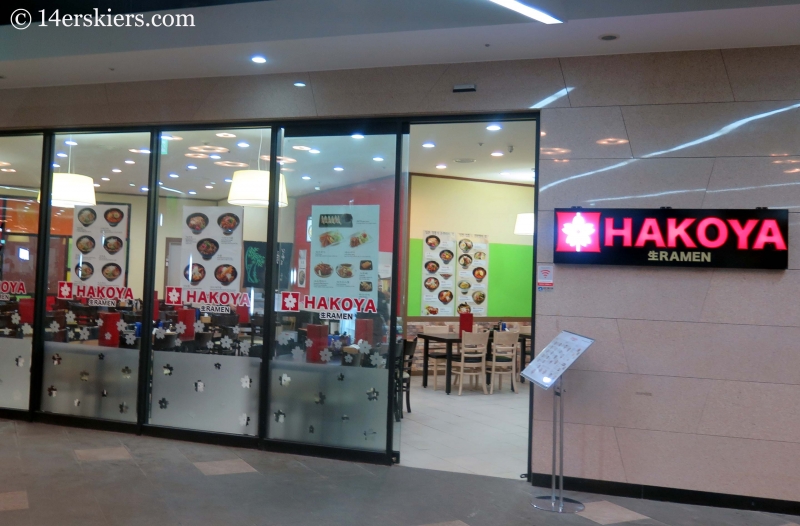 South Koreans love their coffee like we do. They've adapted a more American model of coffee shops, as opposed to the European cafes. Walk into this coffee shop or any other and you feel like you're in a Starbucks or a Caribou.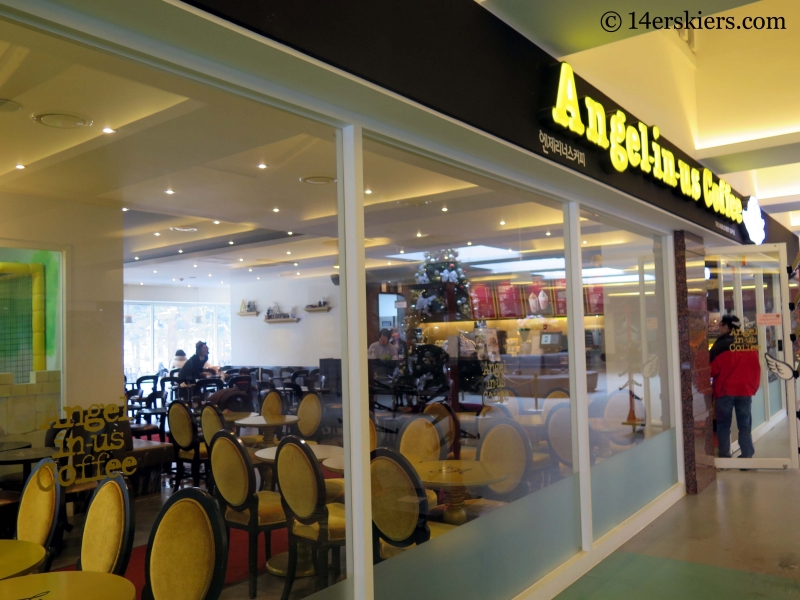 The base area had a wonderful river walk.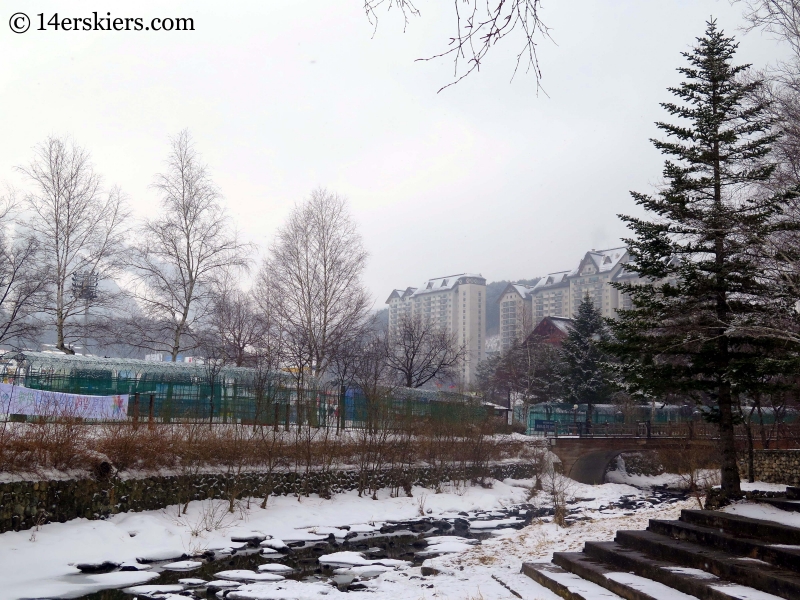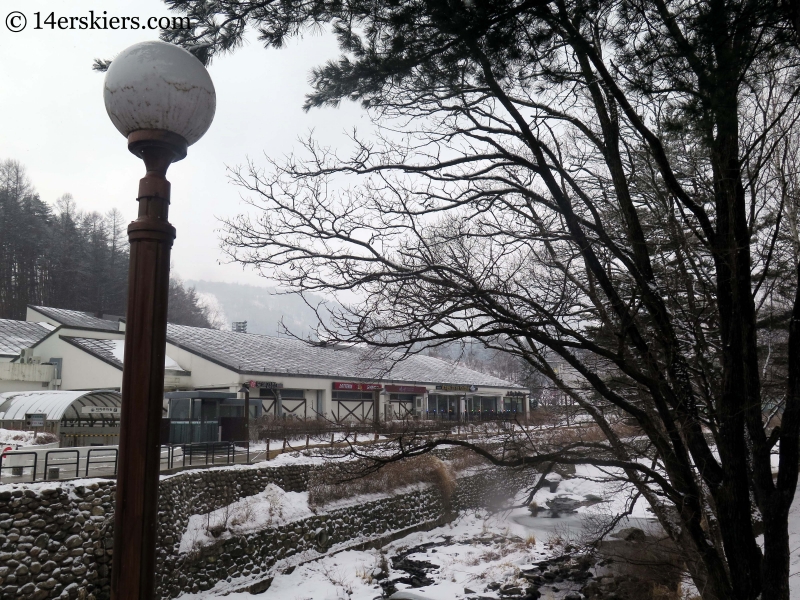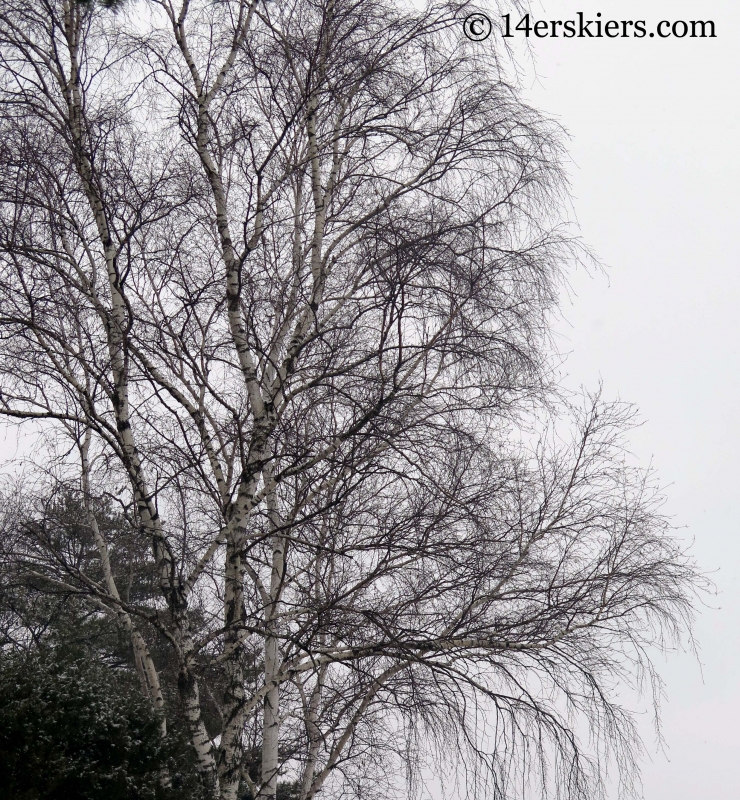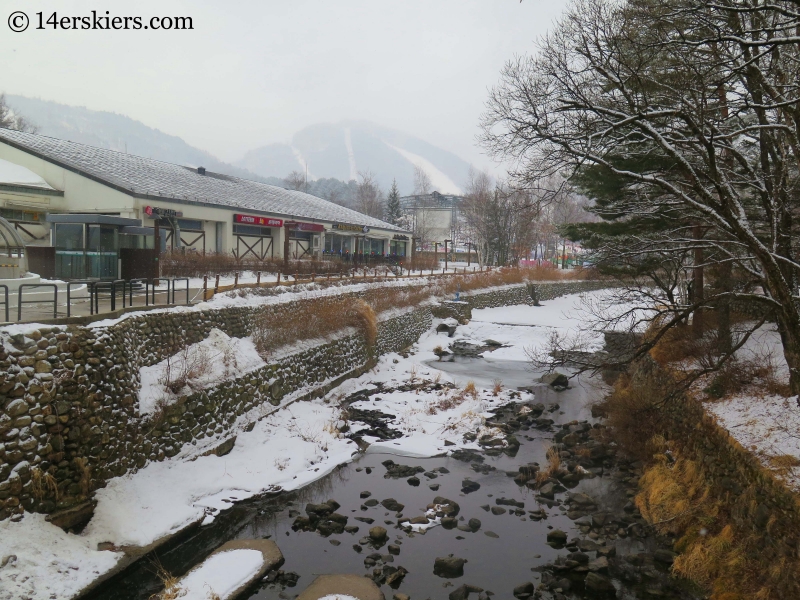 ---
Skiing in South Korea Series
If you liked this post, please take a look at the other posts in this series:
YongPyong Part 1
2018 Winter Olympics Preview
A Cultural Look at YongPyong Amenities
Korean Food
Night Skiing and a Night on the Town
Enjoying Sunny Days at YongPyong
Aside from skiing, biking, and all outdoorsy things,
Brittany Walker Konsella
also loves smiles and chocolate 🙂 Even though she excels at higher level math and chemistry, she still confuses left from right. Find out more about
Brittany
!
Latest posts by Brittany Walker Konsella (see all)