14er TBT: Mount Lindsey (22 April 2007)
(Last Updated On: March 18, 2015)
This is part of an ongoing series re-telling Brittany's fourteener-skiing story. Look for the reports every Thursday, as part of a Throwback Thursday theme.
Lindsey was my 17th fourteener to ski and one that I definitely underestimated. I underestimated everything. I underestimated the time. I underestimated the climb. I underestimated the fact that we would have some route finding difficulties. All in all, Lindsey smiled at me with open arms, took me in, and then slapped me in the face. It left me humbled. And perhaps that was a lesson I needed on #17.
I never wrote a trip report for Mount Lindsey. So, I will be going on my memory. Below, I will recount my experiences from Mount Lindsey to the best of my ability.
Mt. Lindsey, north Face, 14,042′
Brittany, Frank, Kellie Baker, Jeremy Wegner, Jordan White
Frank's original intro:
Mt Lindsey is a high peak lying just at the head of the Huerfano River, just east of some other high peaks: Blanca, Ellingwood, and Little Bear. Access is long, following a scenic road next to the river for many miles from the tiny town of Gardner. Along the roadway, we spotted a crevice in the rocks which contained a statue of the Virgin Mary and some candles. Were we in Peru or Mexico? No, just southern Colorado, but it still feels like a whole different world down here, well removed from Crested Butte, let alone the Front Range. Its experiences like this that makes seeking out Colorado's highest summits so worthwhile to me and many others.
Four of us, sans Jordan, arrived to the area on a Saturday afternoon, just as a small spring storm was winding down. We planned to use snowmobiles to shorten our access, so Jeremy and Frank scouted out the the route for the next day, while Kellie and I set up our campsite. Jordan met us later in the evening, and we hit the hay early. The night was short with a 3 am wake-up, and we hit the trail by 4:30. In the pre-dawn hours, we were thankful to already have a set track from the route-finding mission the day before. By 5:15 am, we were already skinning toward Mount Lindsey.
The sun woke me out of the morning haze as cast this stunning scene on the NE face of Blanca and Ellingwood.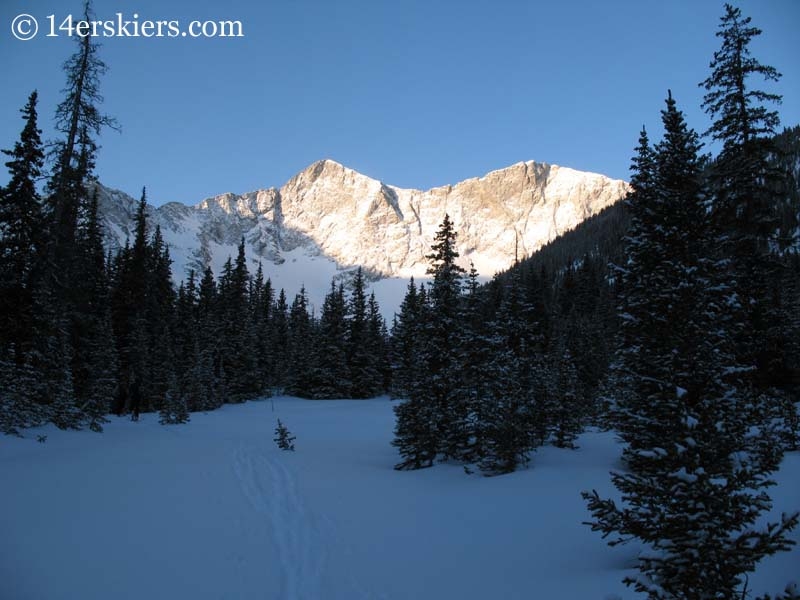 We skinned and skinned up the beautiful valley and caught this great view of the Crestone group as we ascended.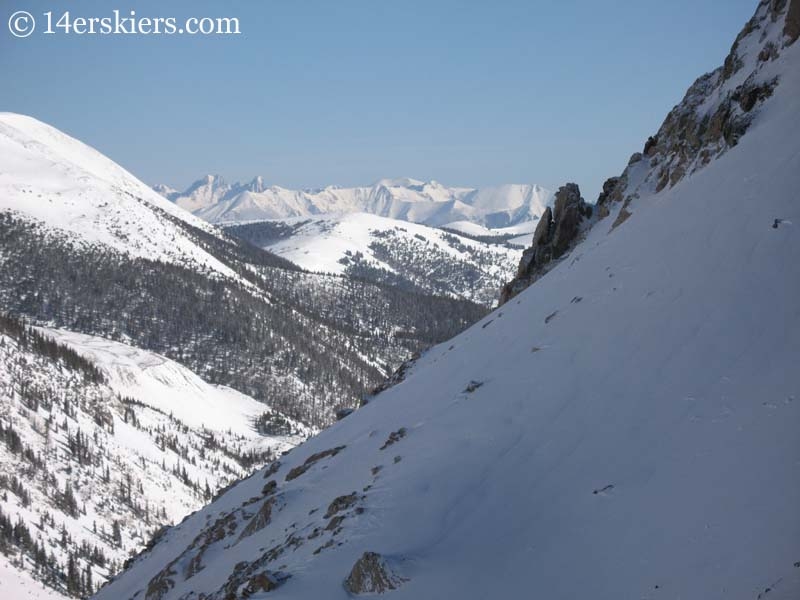 Eventually, we rounded up on a small col and realized we weren't quite in the right place. We'd ascended one drainage too far. It was like our Crestone Peak route-finding error all over again. Dang Sangres! We needed to drop a few hundred feet into the adjacent drainage. We decided a figure 8 competition would make things fun. With Jordan judging, Brittany and I took the crown with ease. 🙂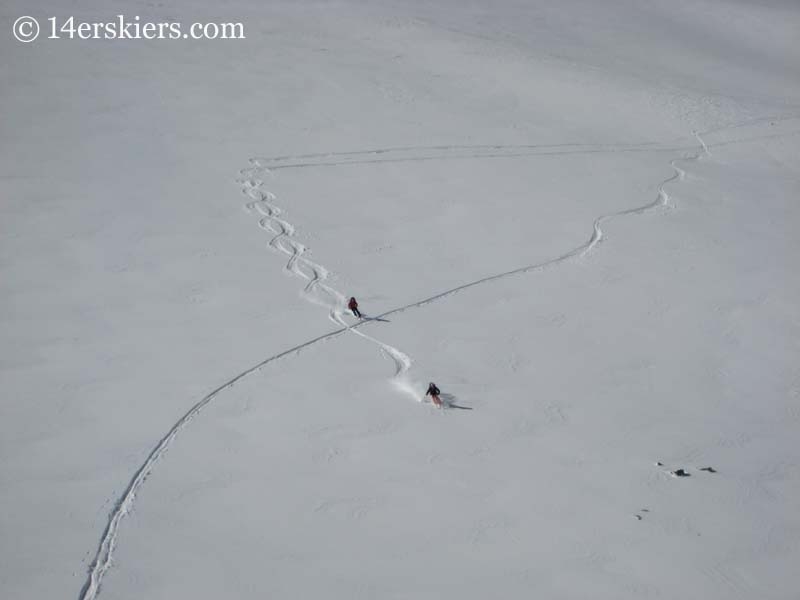 We caught an amazing view of the San Luis valley, covered with clouds, from another saddle.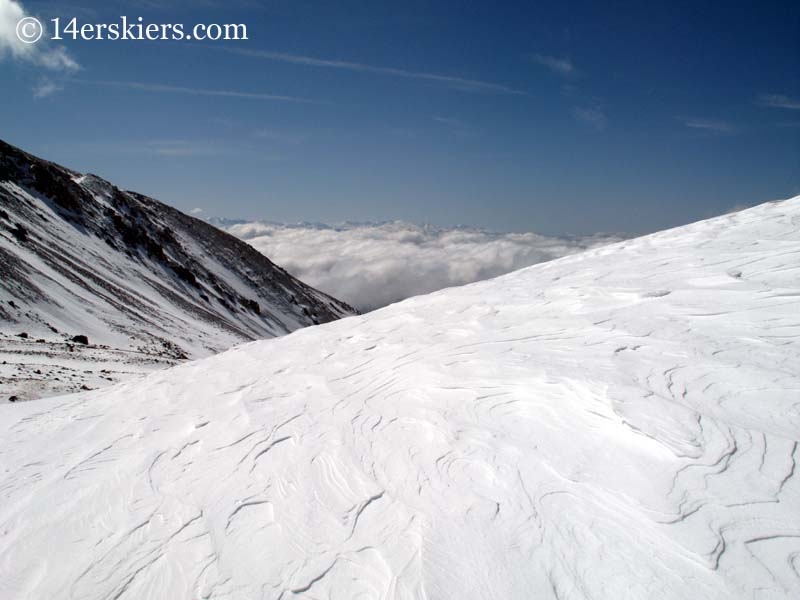 As we gazed north, the Crestones has also been enveloped by the clouds.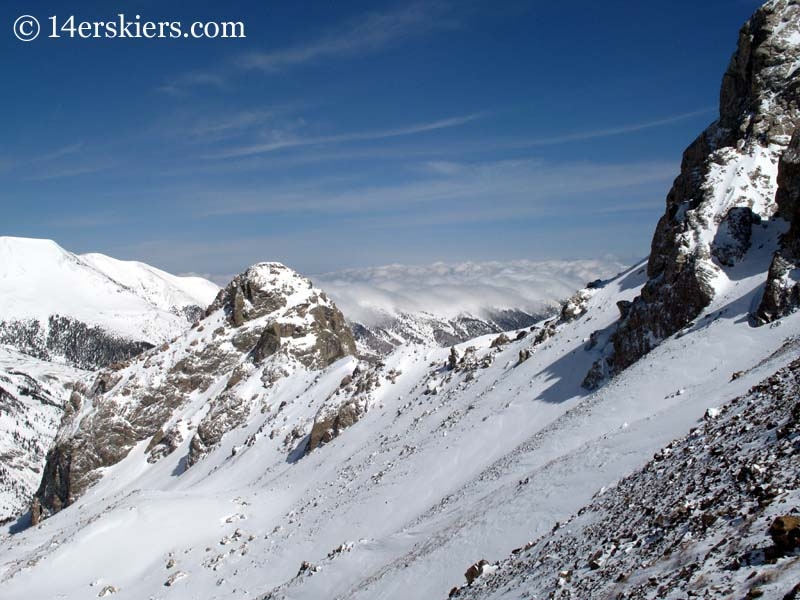 We booted up a ridge and found ourselves at the 13,100' saddle between the Iron Nipple and Lindsey, with our somewhat intimidating route up Lindsey laid out before us.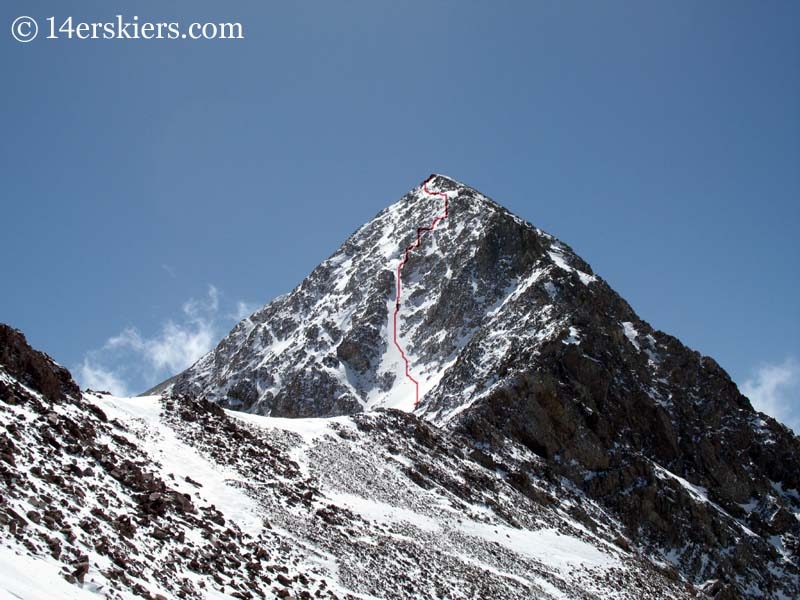 This is where things started to really go bad for me. Something was wrong in my colon. I was gurgling and I was "dropping trou" every 20 minutes. I felt like crap, literally. And, to make things worse, I ran out of toilet paper. And I knew we still had hours to go. I had no Immodium. But, this is the reason why it has become a main staple in my backcountry pack. I plunged onward, feeling slow, off, dehydrated, and afraid to eat.
Again, we dropped elevation as we rounded over the saddle. We began booting up the north face of Lindsey proved to be a difficult climb of mixed snow and rock and some decent exposure.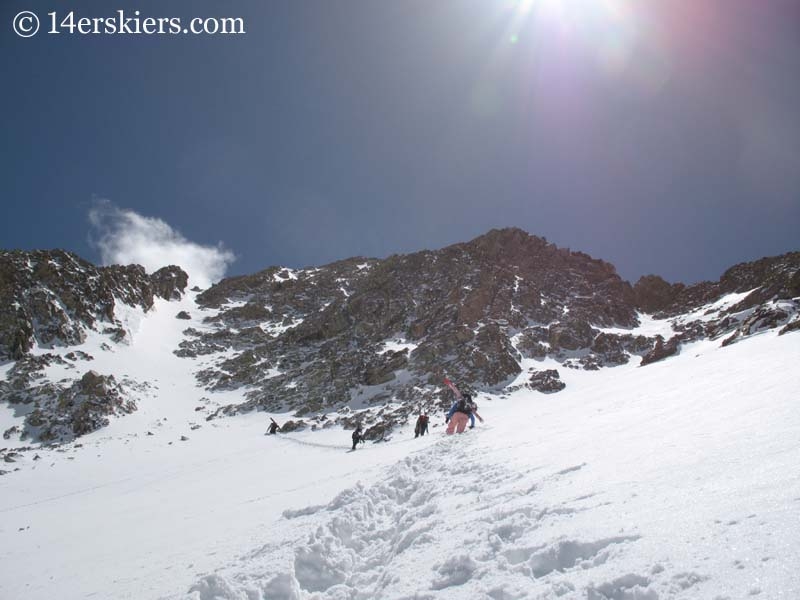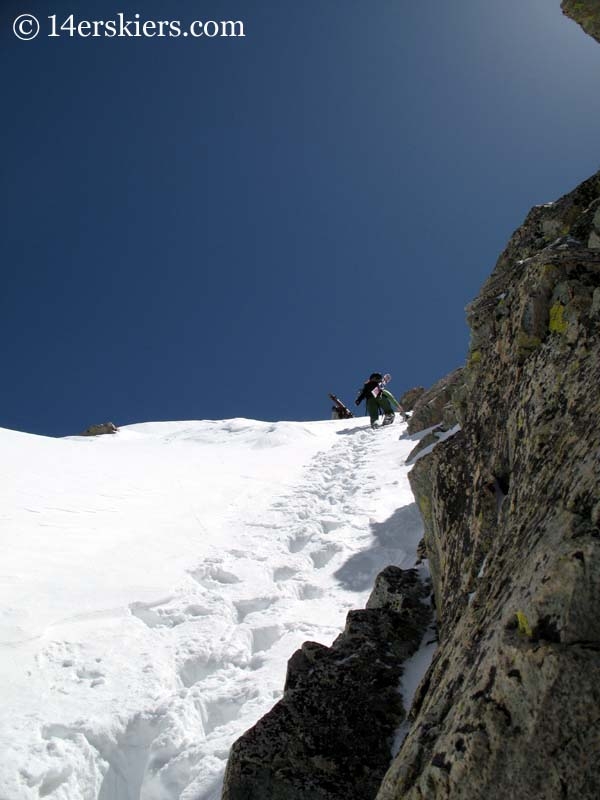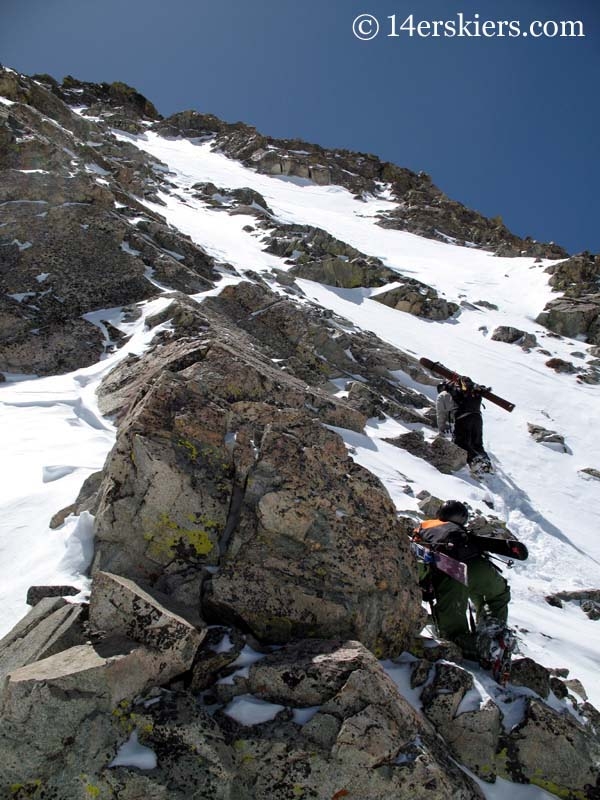 Along the way, plenty of other great looking lines kept popping out, like these lines above Kellie's visor.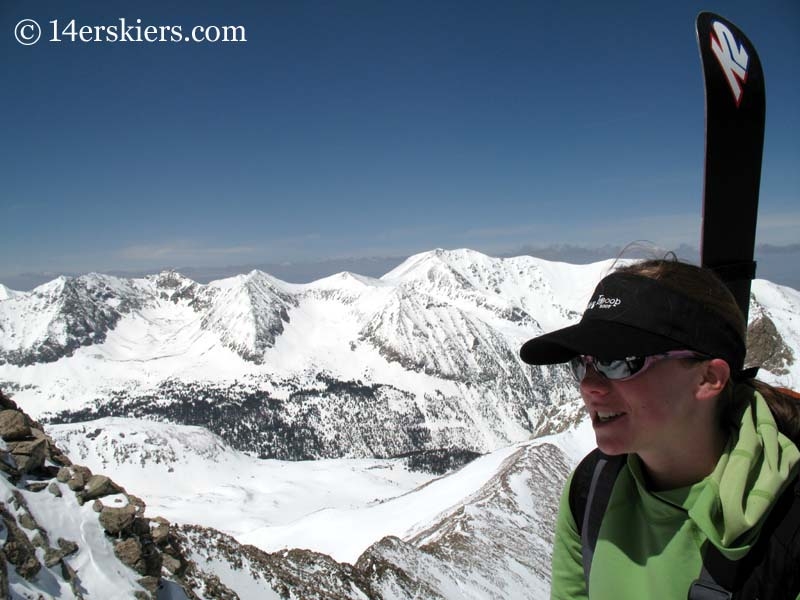 Finally, we reached the summit. Except it wasn't the summit. It was a false summit and the real one looked like a long ways off.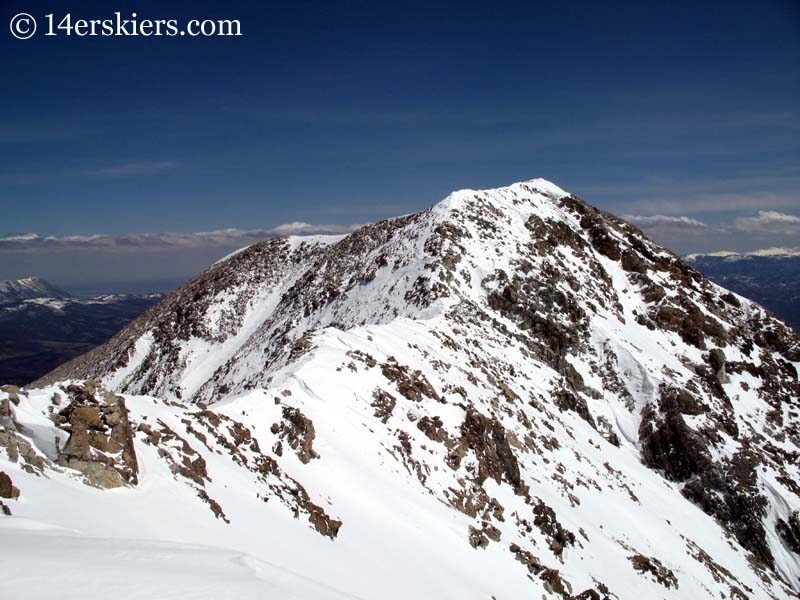 I nearly broke down here. I was feeling terrible, had no energy, and didn't think I could walk the ridge all the way to the true summit, let alone ski down and walk a long ways back out…. I needed something good to happen.
Thankfully, it did, as the climb from the false summit only took 15 minutes and we were on the summit at 2:30pm. Me approaching the real summit: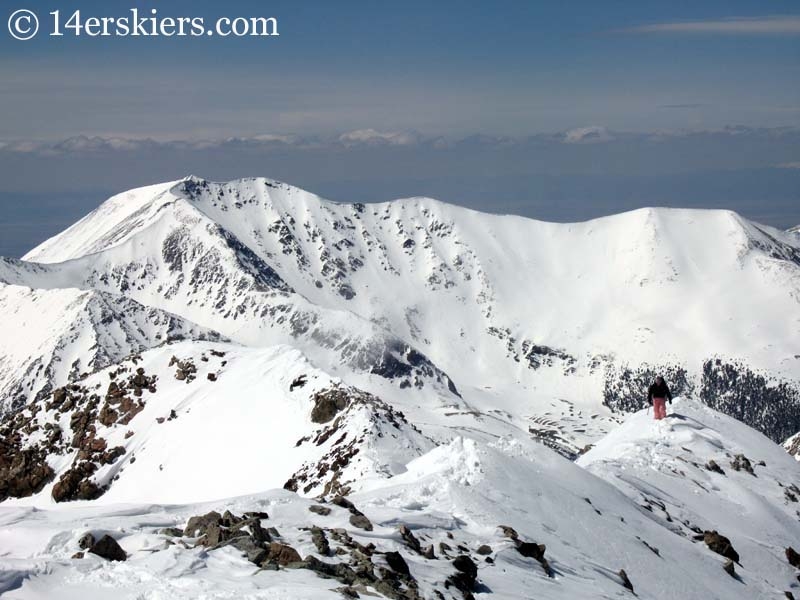 Of course, the obligatory summit shots. Frank, Kellie, Jeremy.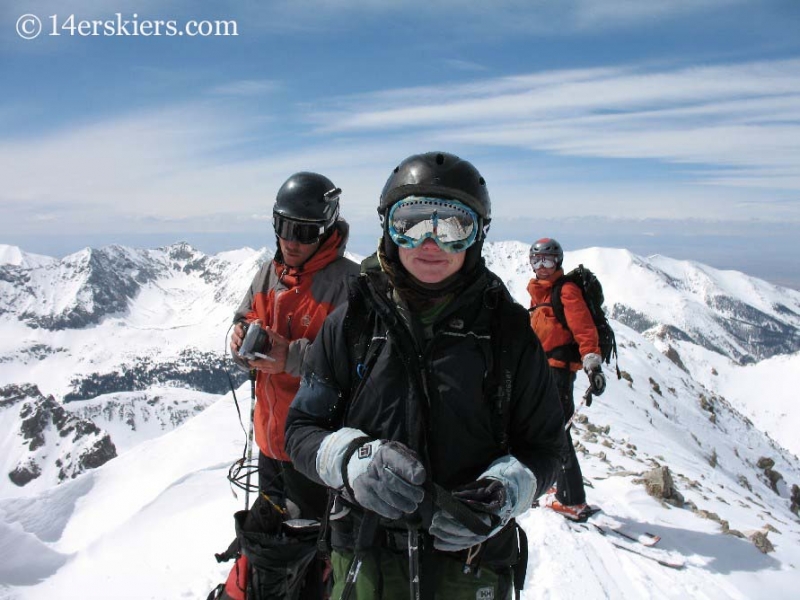 Jordan, ready to ski.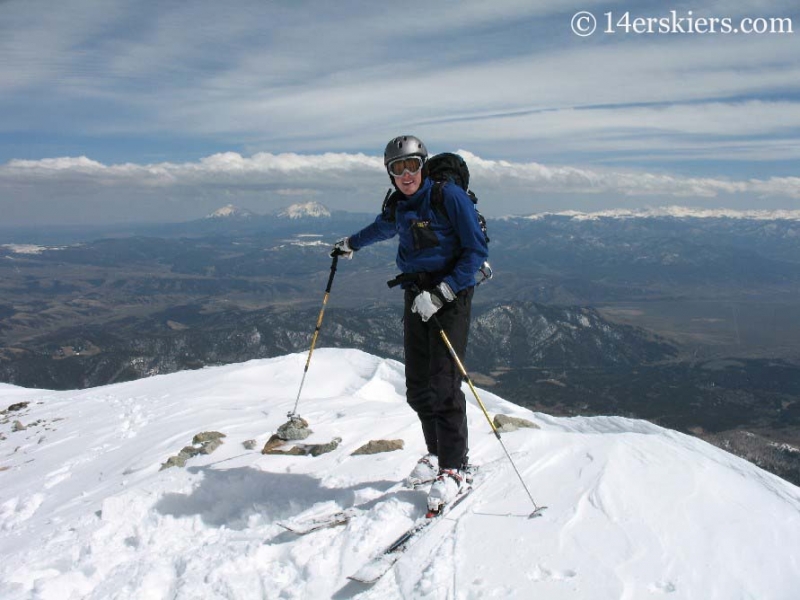 Below us, we had almost 2,000' of good snow. Jeremy: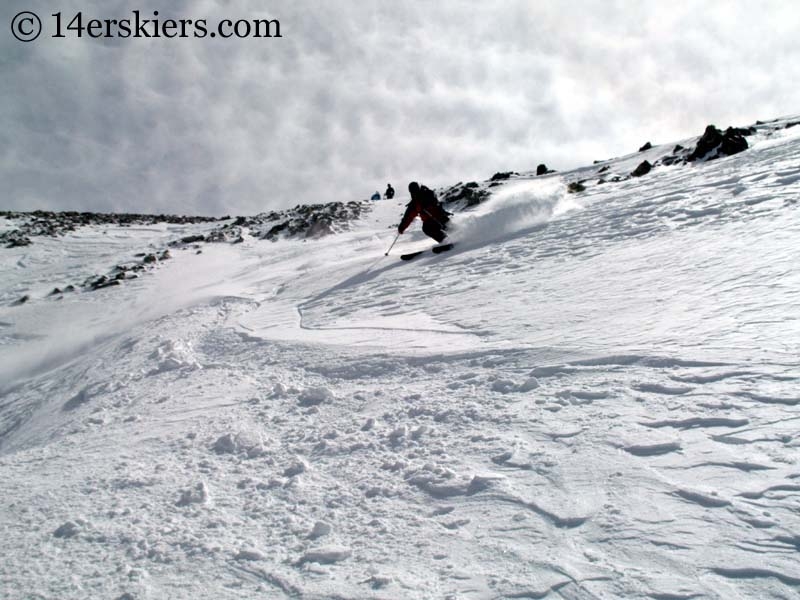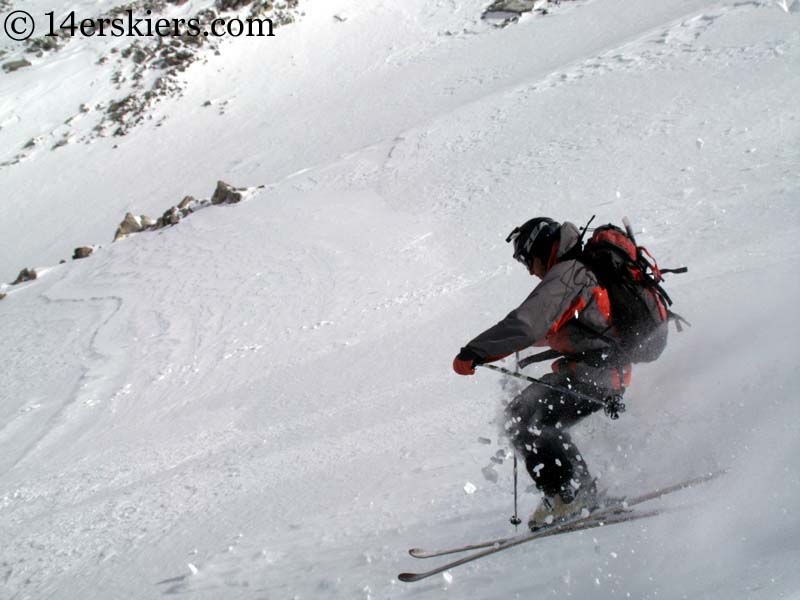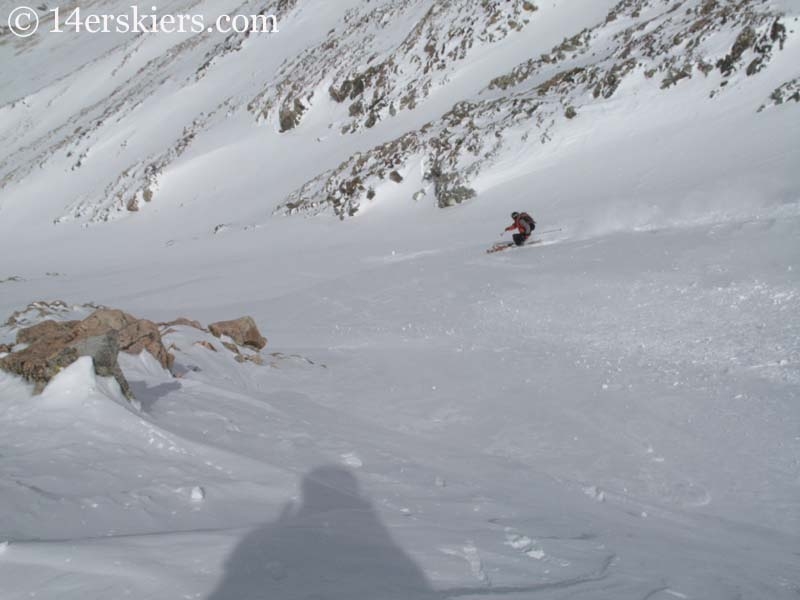 Jordan: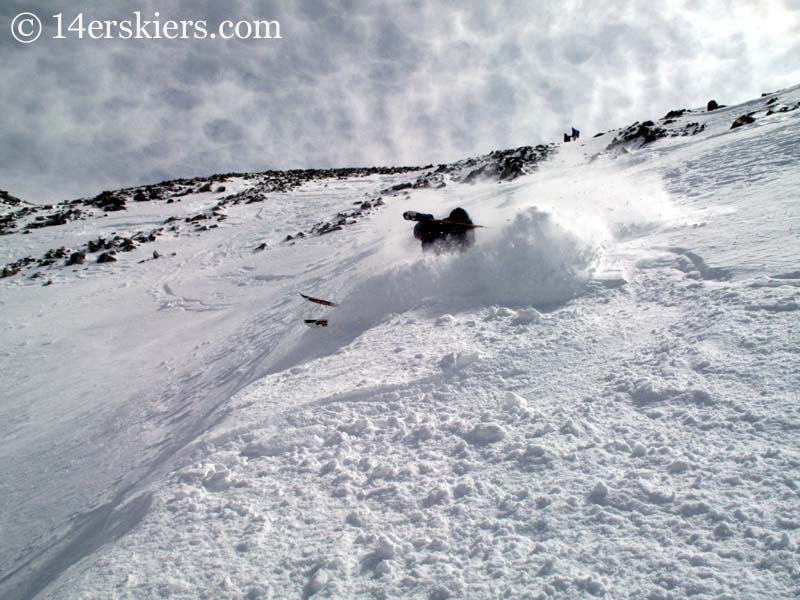 Frank: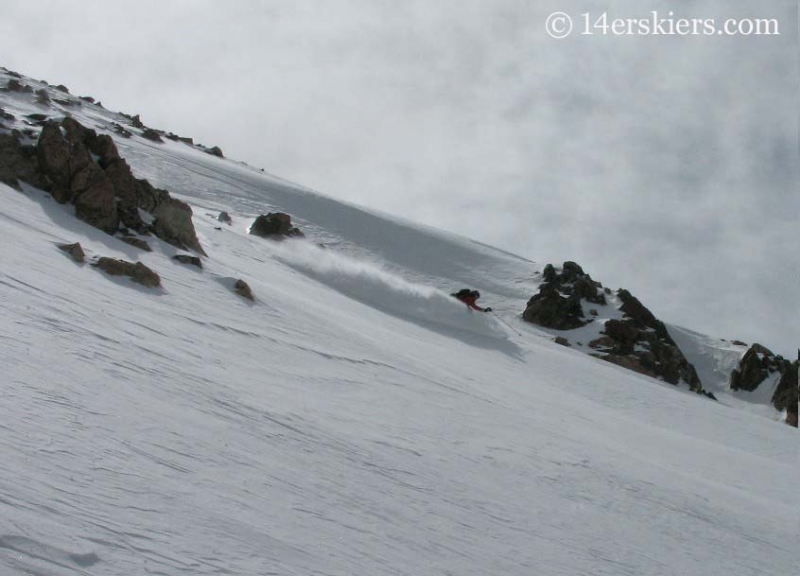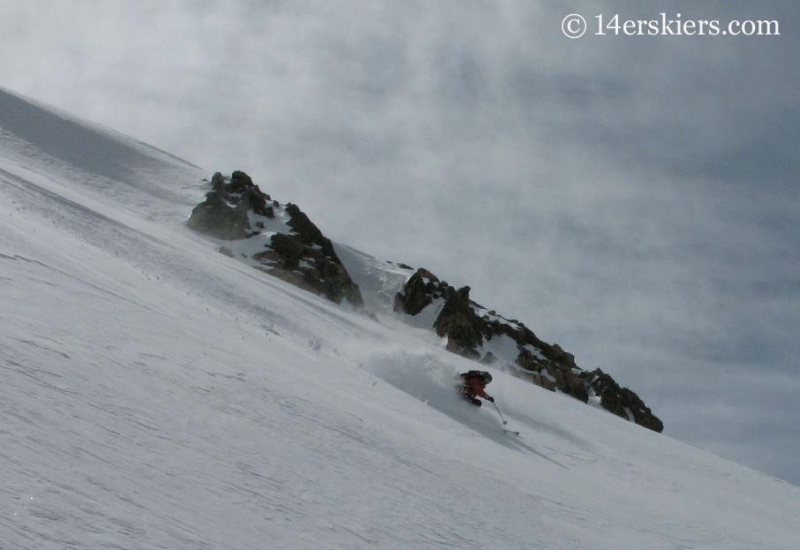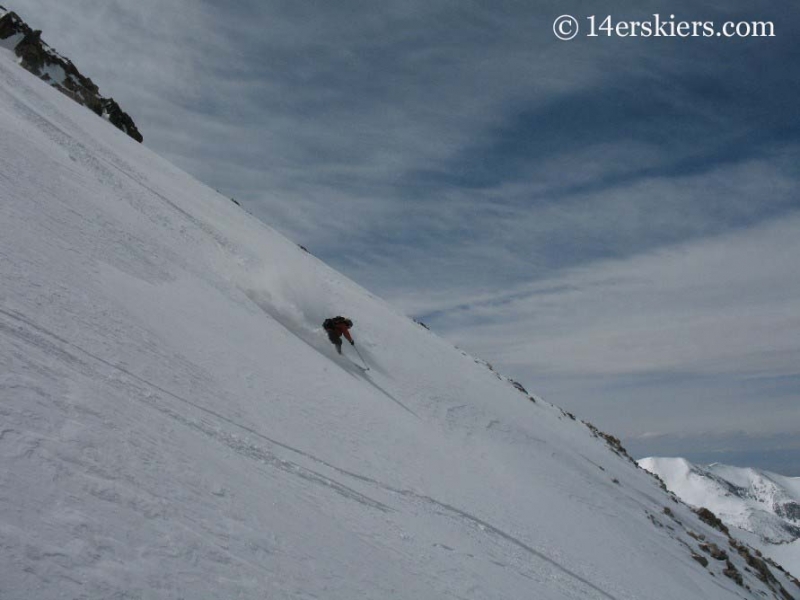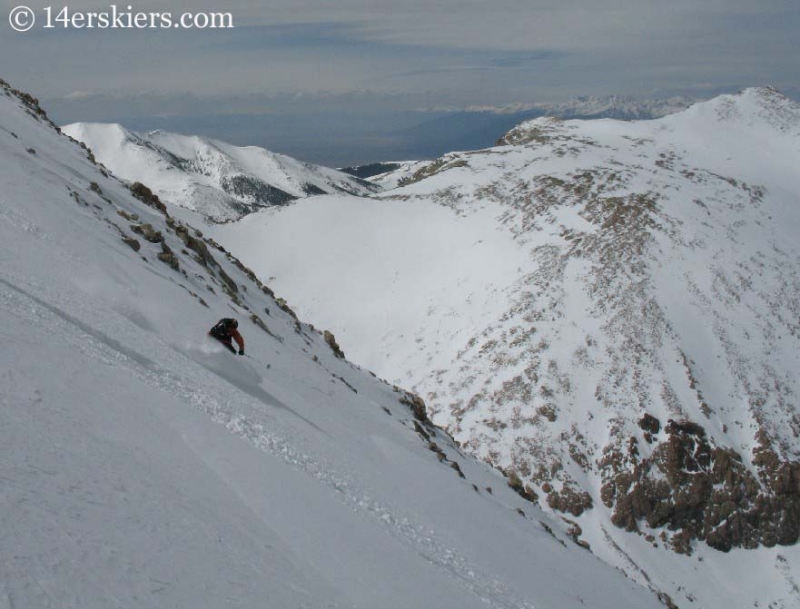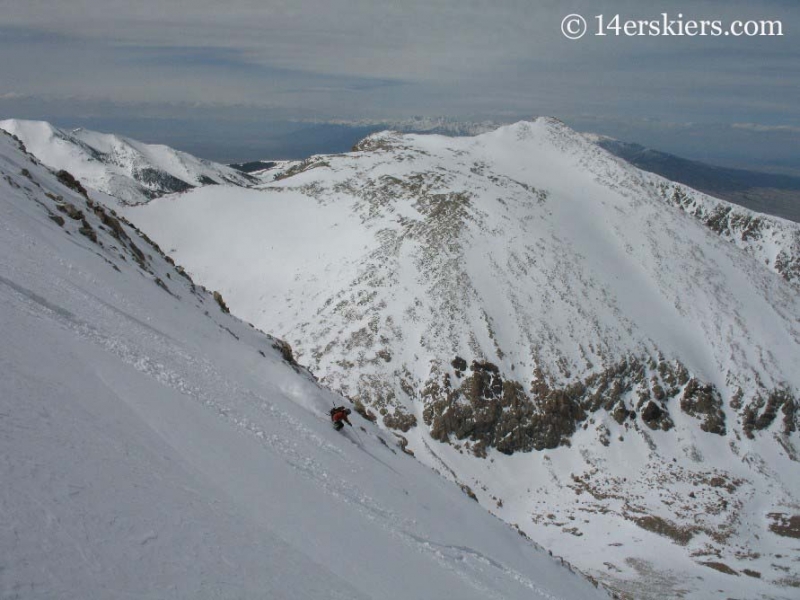 Kellie: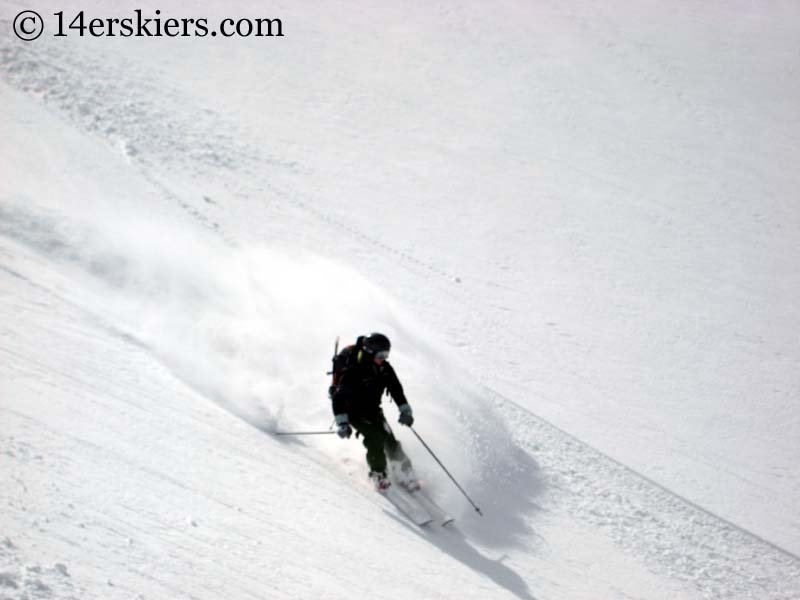 Me: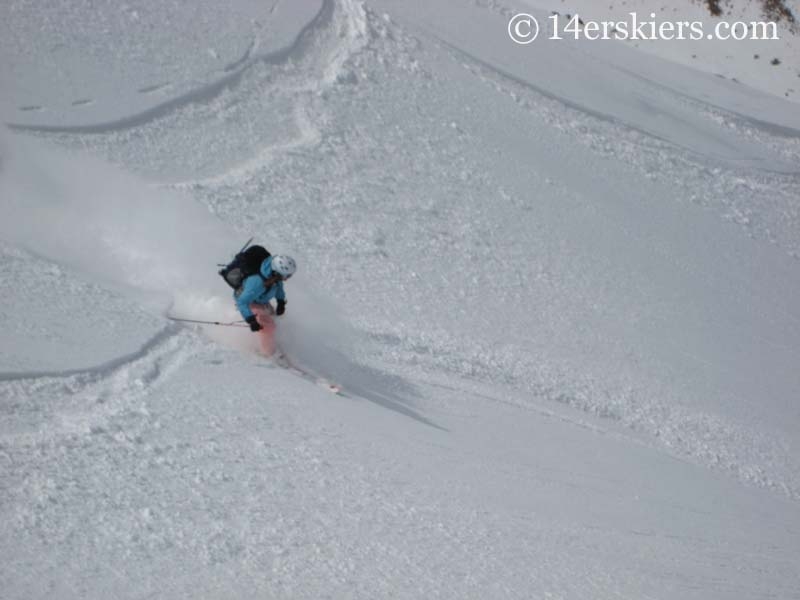 Me, with a view of our line behind.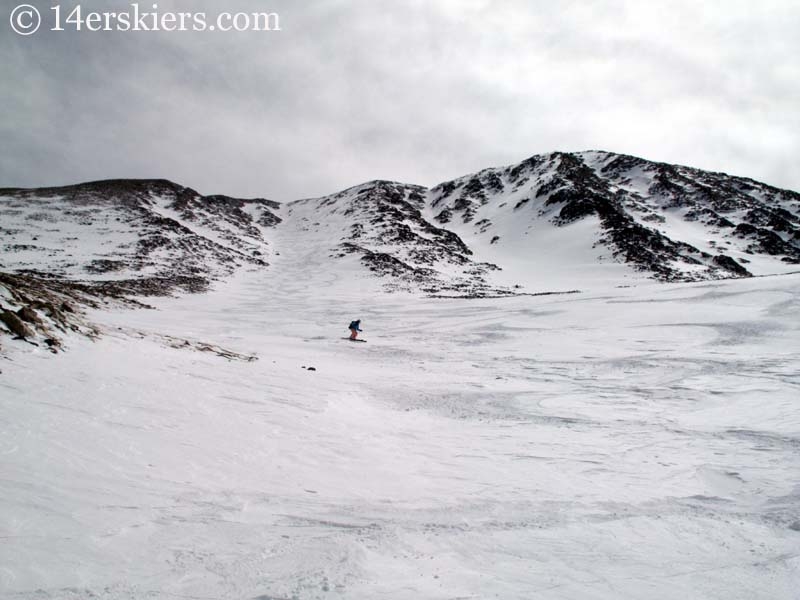 We got to the bottom of our line and harsh reality set back in. Our day was far from over as we still had another another 600 feet climb back to the 13,100' col. The winds were howling and the clouds were worsening. Here, I am ducking behind a wind feature to get myself out of the wind.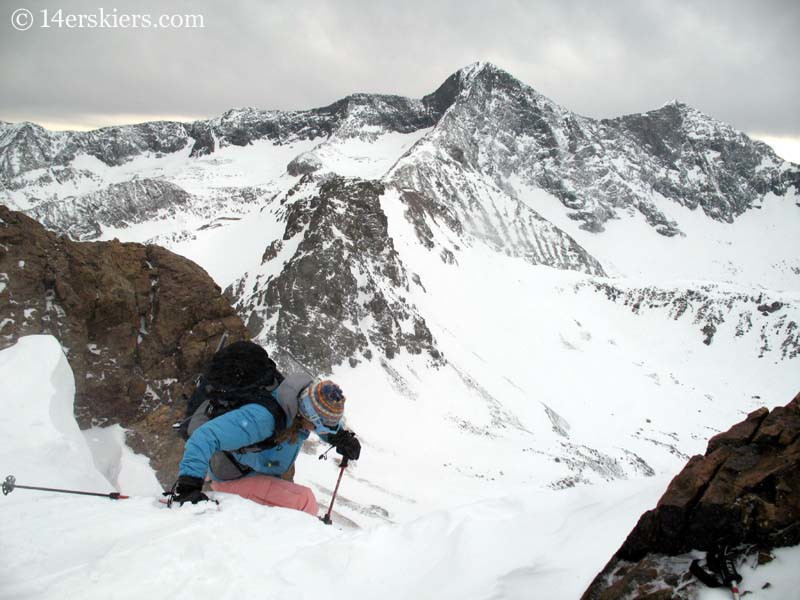 We followed the correct drainage out this time, which would be an absolutely amazing run in deep powder. The drainage was fairly wide and reminded us of a steep groomed run at a ski area, for thousands of feet. We made it back to the sleds and then the car, 14 hours after starting in the morning. In total, we covered about 7 miles by snowmobile, another 11 miles by foot, and skied around 5,500' of vertical.

Looking back, the day and my illness made me the most weary I'd ever been on a peak. I didn't know how I pulled it off, really. Mount Lindsey had chewed me up and spit me out again. But, somehow I liked it. In fact, I loved it. I loved the mountains. I loved the people. And even though I wanted to fall asleep on my 5 hour drive home, I still wanted to go back for more.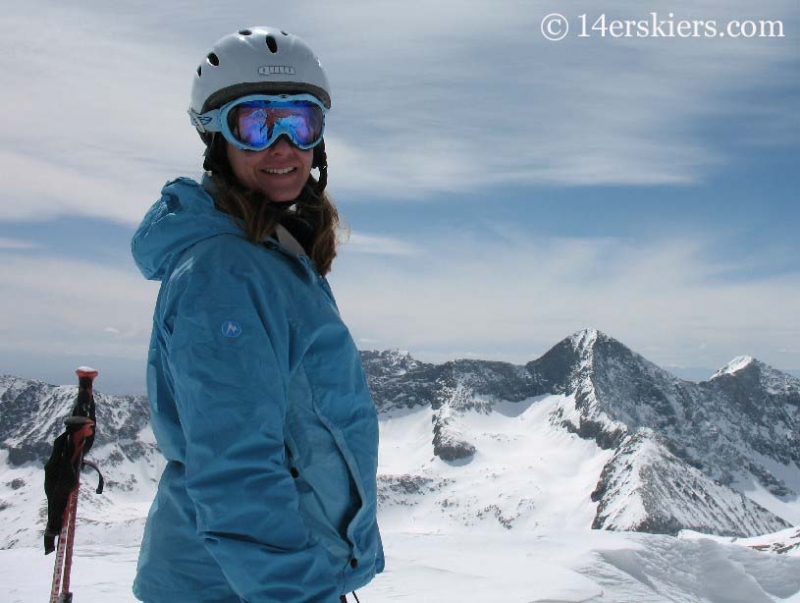 ---
Like this report? See more of
Brittany's 14er skiing journey
.
Aside from skiing, biking, and all outdoorsy things,
Brittany Walker Konsella
also loves smiles and chocolate 🙂 Even though she excels at higher level math and chemistry, she still confuses left from right. Find out more about
Brittany
!
Latest posts by Brittany Walker Konsella (see all)