MTB TR: Curecanti Creek- Piburn- Bald Mtn Tie In- Dyer Creek- Trail Creek
(Last Updated On: September 4, 2018)
So you haven't heard of Curecanti, Piburn, Bald Mountain, Dyer Creek, or Trail Creek, especially as a mountain biking route? That's OK, we hadn't either, until about a year ago. That's when we started playing the Trailquest game trying to ride all the trails in the Gunnison and Crested Butte area. These trails? Well, they're all west of the West Elk Wilderness, about halfway between Gunnison and Crawford. On paper, it's a good loop. What we would find on the ground? That was still a bit of a mystery, outside of a small portion of the Piburn trail that we rode a few weeks previously. So we drove down highway 92 from Gunnison until the first giant hairpin turn, where we then headed North on the Curecanti Creek road. We've driven past it many times, but never actually turned onto it, at least until this day.
After several easy but cow-poop filled miles, we were at the end of the road, ready to ride on the Curecanti Creek trail (870). Curecanti Creek was at least easy to follow, but it certainly had it's share of downed trees and the occasional route-finding shenanigans. The miles weren't ticking by that easily, but it wasn't too bad, either. In fact, the trail had its moments: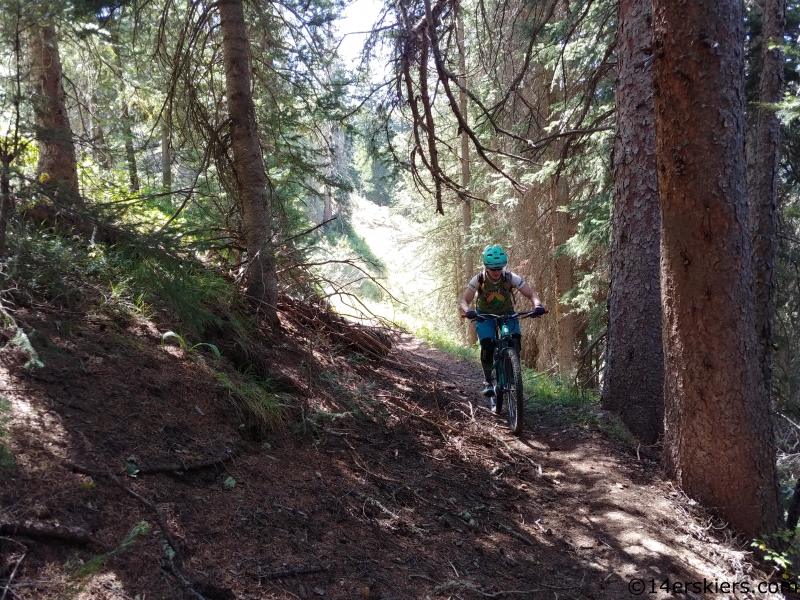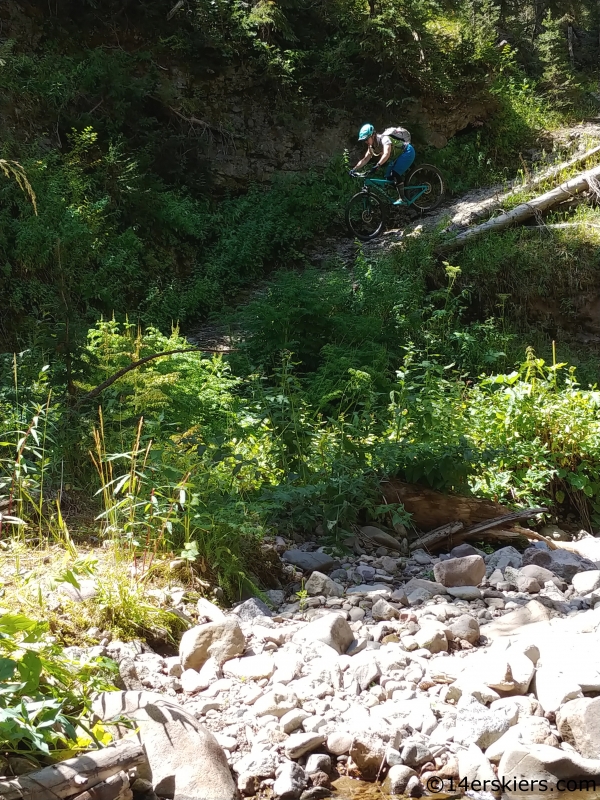 In the photo below, we're passing the intersection of Trail Creek and Curecanti. We stayed on Curecanti, crossing over to the opposite valley: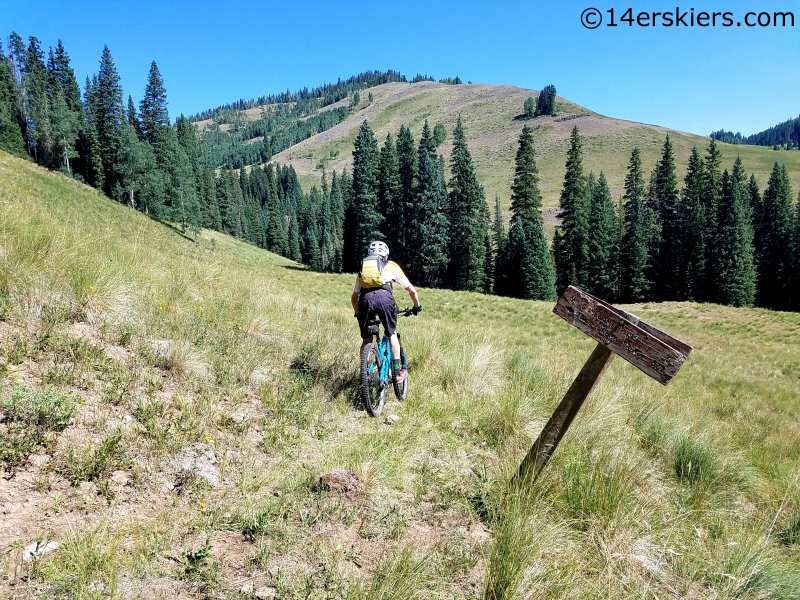 After hours of riding, we started to approach the Piburn trail (880). It's an interesting feeling to start at a trailhead that you've never been to and eventually approach an area that you do know (we rode Piburn about a month prior). You start to know you're close, and eventually reach familiar terrain, even though you're in the middle of nowhere and we didn't see another soul the entire day… We made short work of Piburn, then headed up the Bald Mountain tie-in trail (882). This trail sees a bit more use, and was well-built. Mount Guero, a peak that shyly hides from sight, has now become a familiar sight for us on many a ride: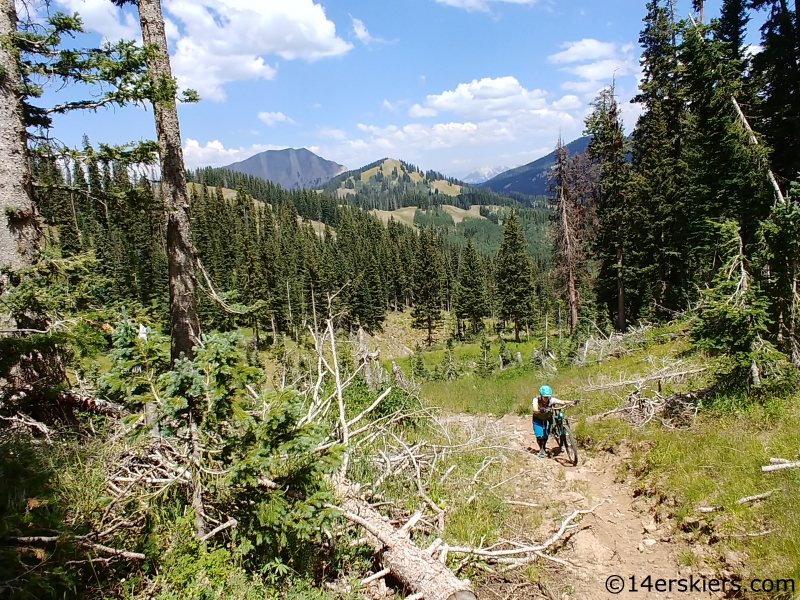 Approaching the top of the trail: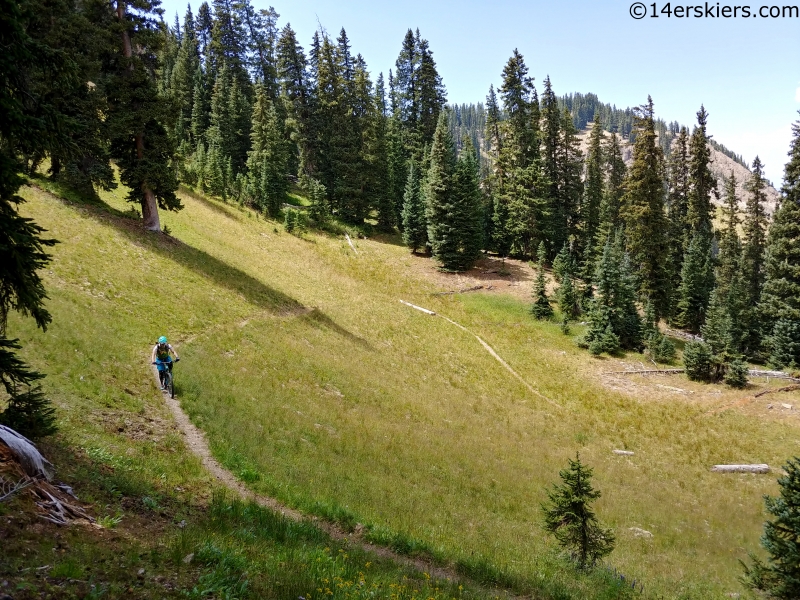 We'd save Mendicant Ridge for another day (that's a whole 'nother adventure):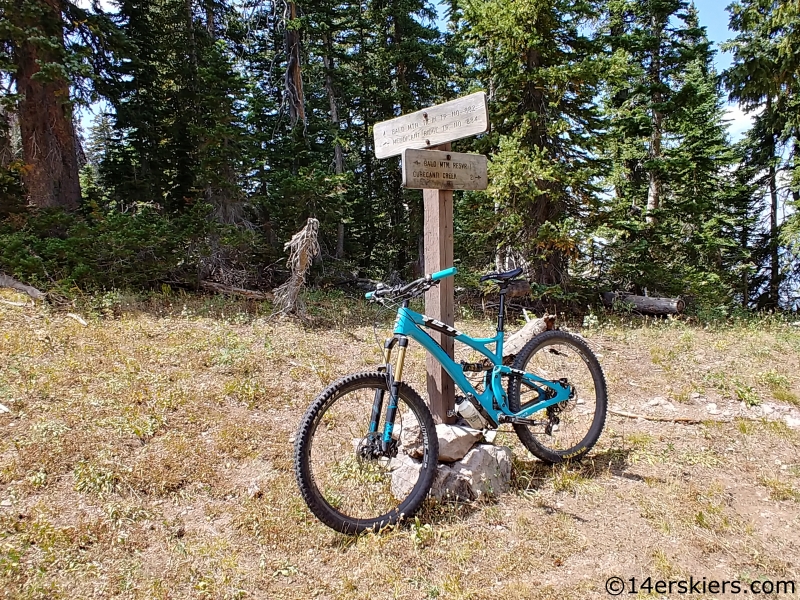 A short downhill brought us towards Bald Mountain Reservoir, which was decidedly empty like others in the area.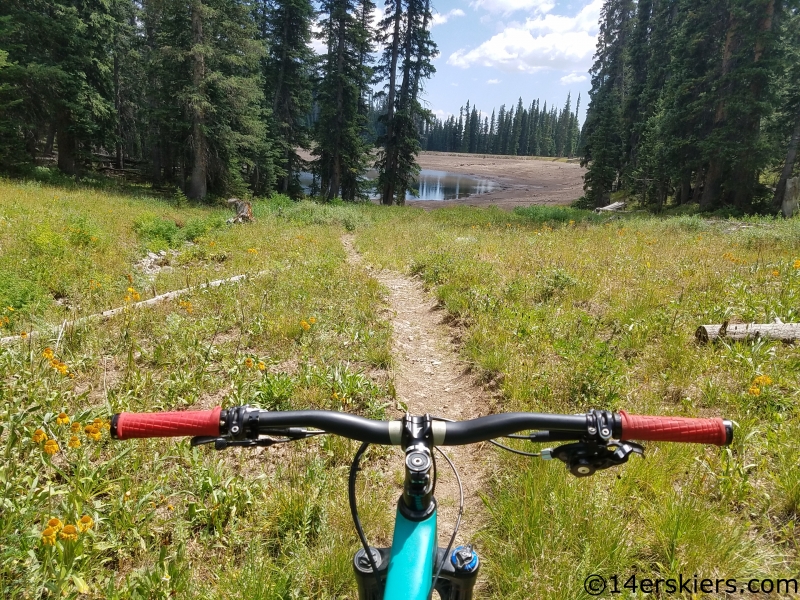 We started down the Dyer Creek trail (888), which we hoped would be a good downhill. Sadly, the trail was hard to follow with plenty of downed trees to boot. I wouldn't exactly say we 888'd it, but we certainly didn't love it. With some trail work, it would probably be very good. It took a while..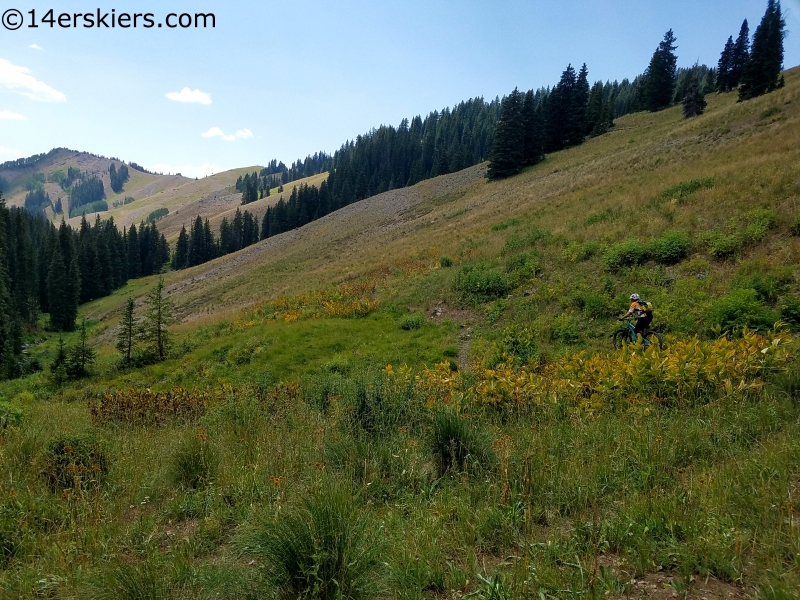 We eventually hit South Dyer (714). While the trail was easy to follow, and looked like it had been open to ATV's in the past, the forest was reclaiming this trail as well: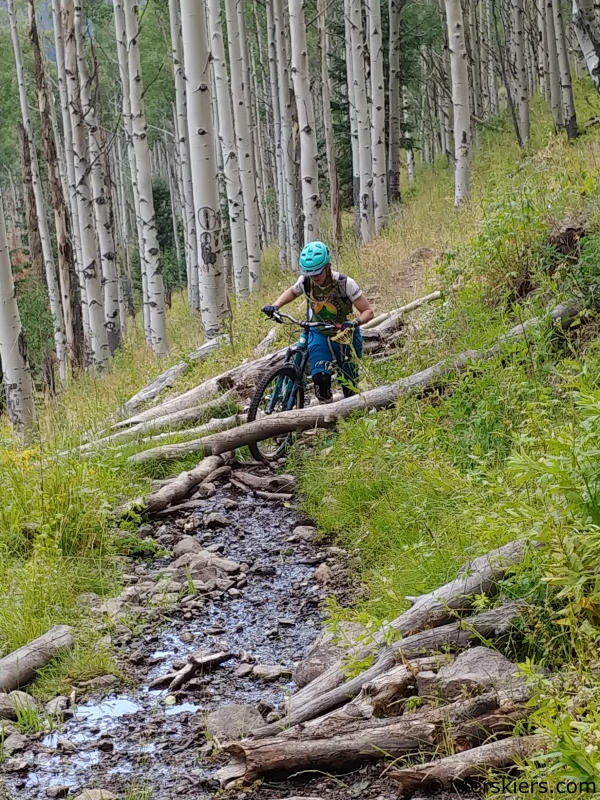 The creek sure was pretty, however: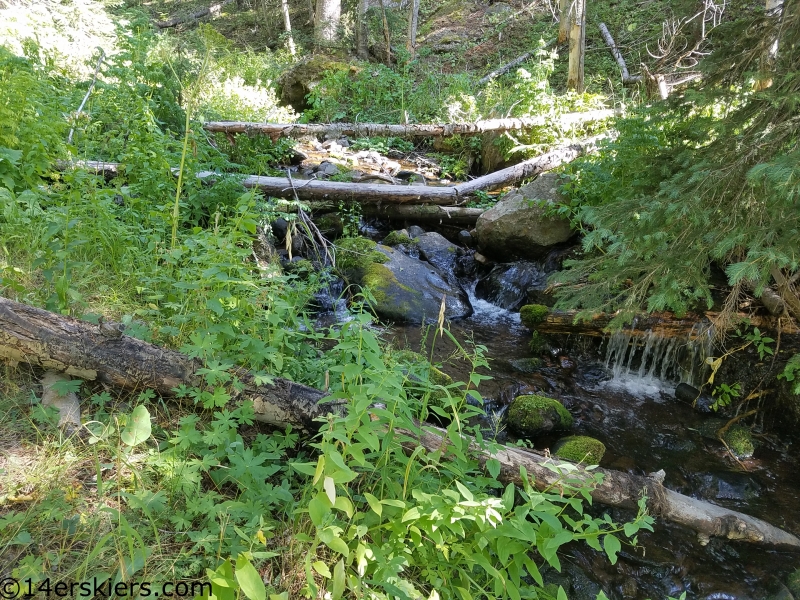 We topped out near Black Mesa, an area known for snowmobiling in the winter: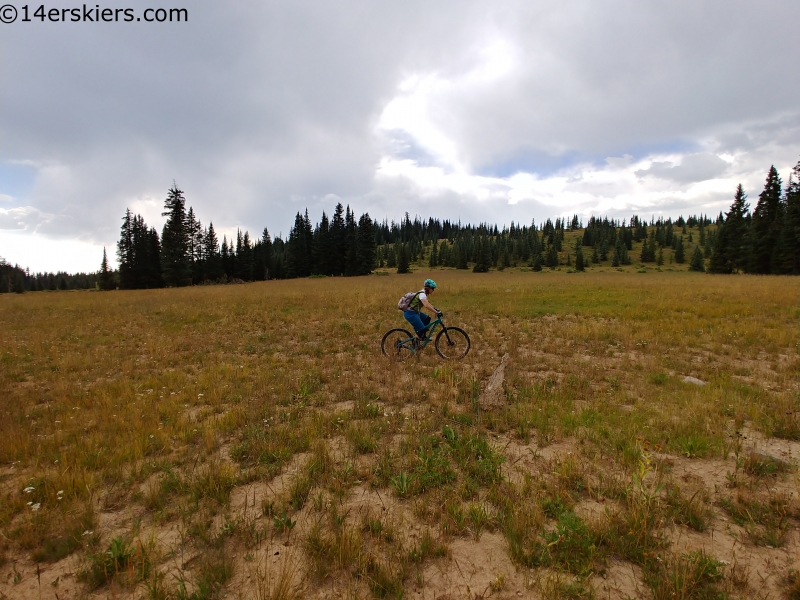 We started down Trail Creek (872) and knew pretty quickly that we were finally being rewarded. That's the thing with adventure rides- maybe it's great riding, maybe it isn't. But you have to explore to find out. After all, someone had to try 401 first and see if it was any good. Not that Trail Creek will ever become like 401- it's too hard to get to, but it's a great descent (though perhaps too short).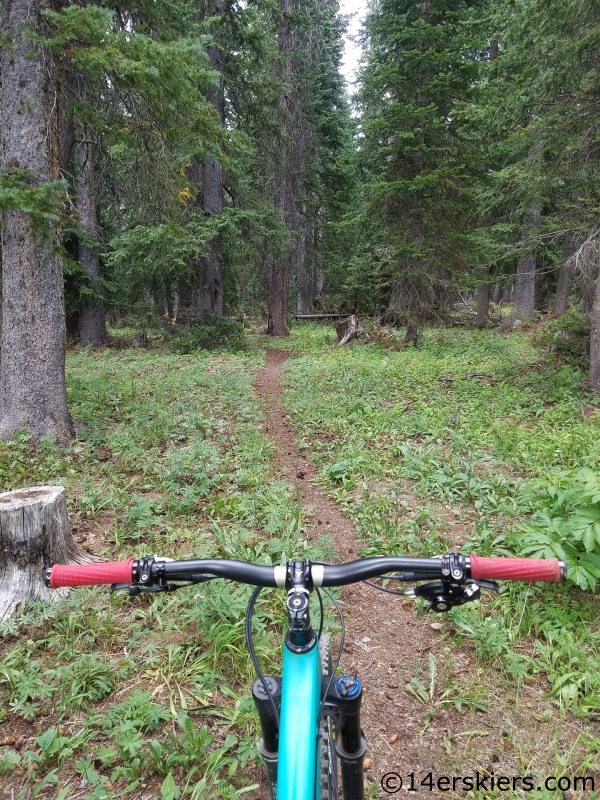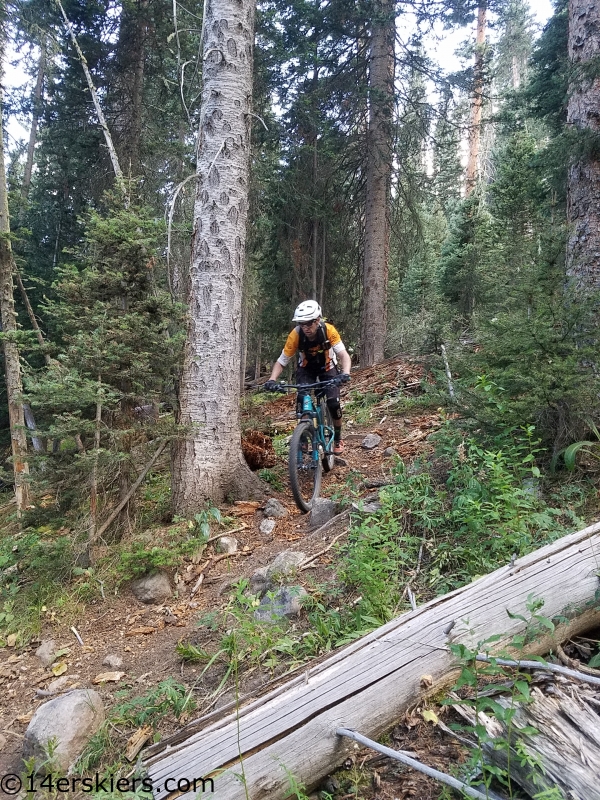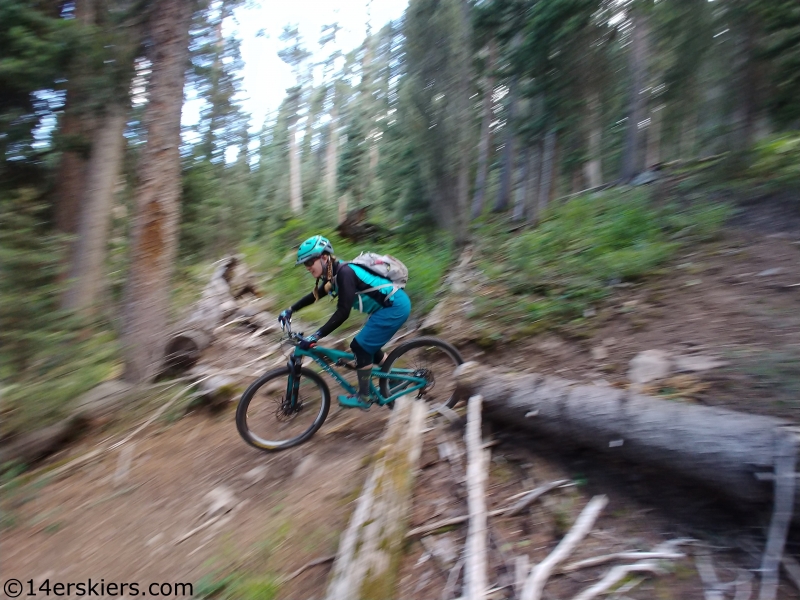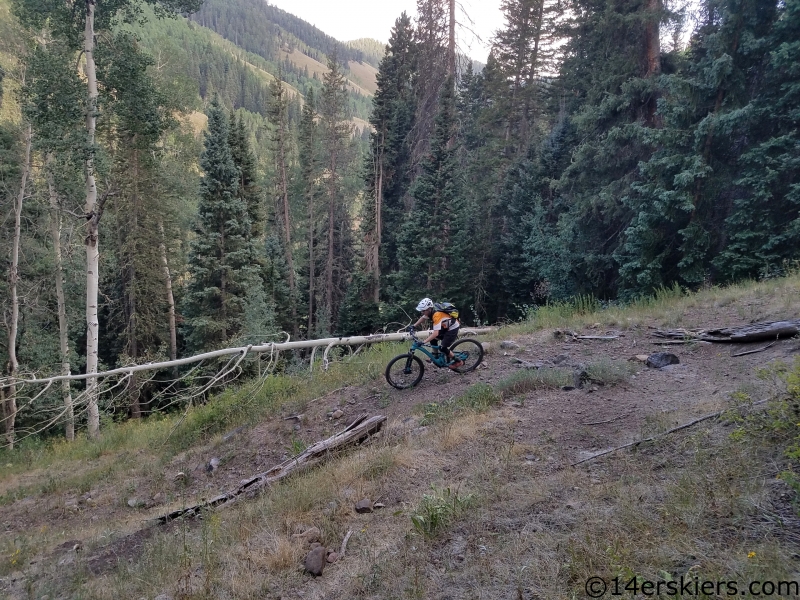 As before, we started to recognize familiar terrain ahead as we neared Curecannti Creek once again: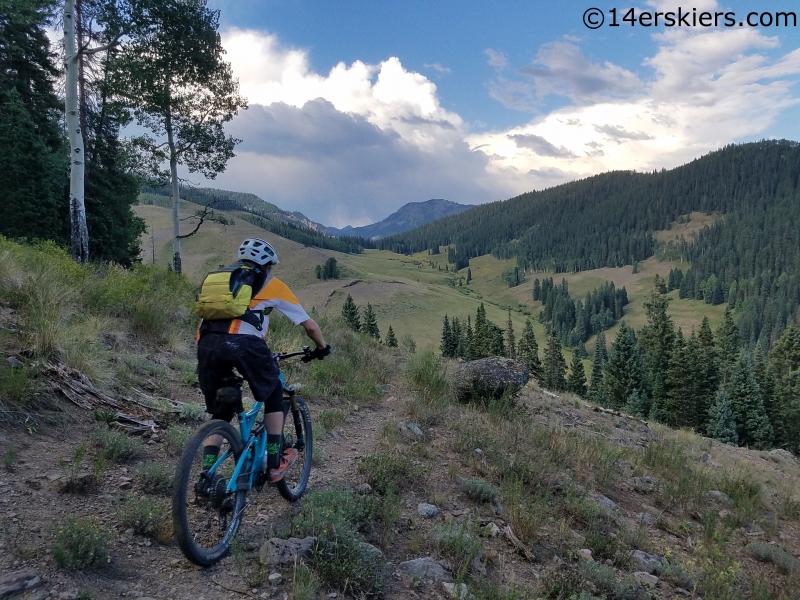 All that was left is a quick descent down the Curecanti creek trail back to the trailhead and a cold beer, right? Not quite… After a long day, we realized just how up and down the trail really was. It dragged on and on. There were trees that were sometimes easier to crawl under: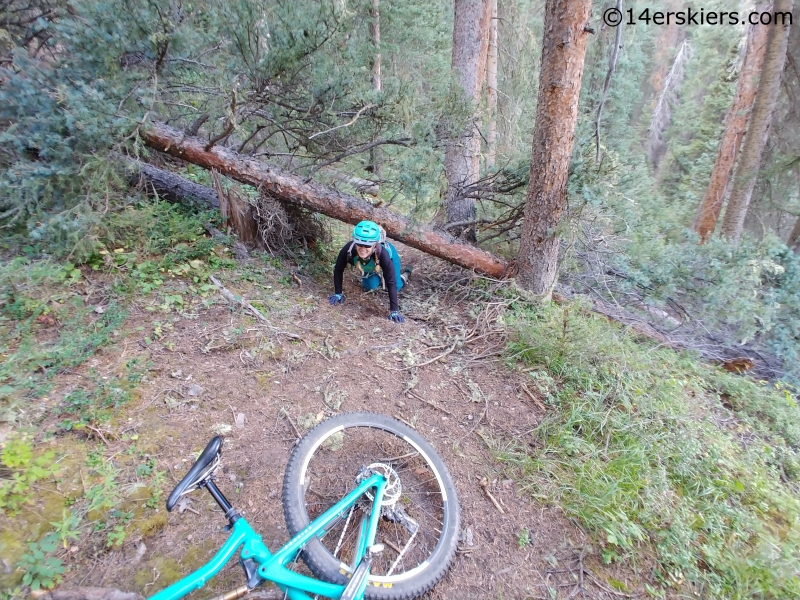 And of course, we got to go back up this cliff-like feature which happened to have a fixed rope that's hard to see: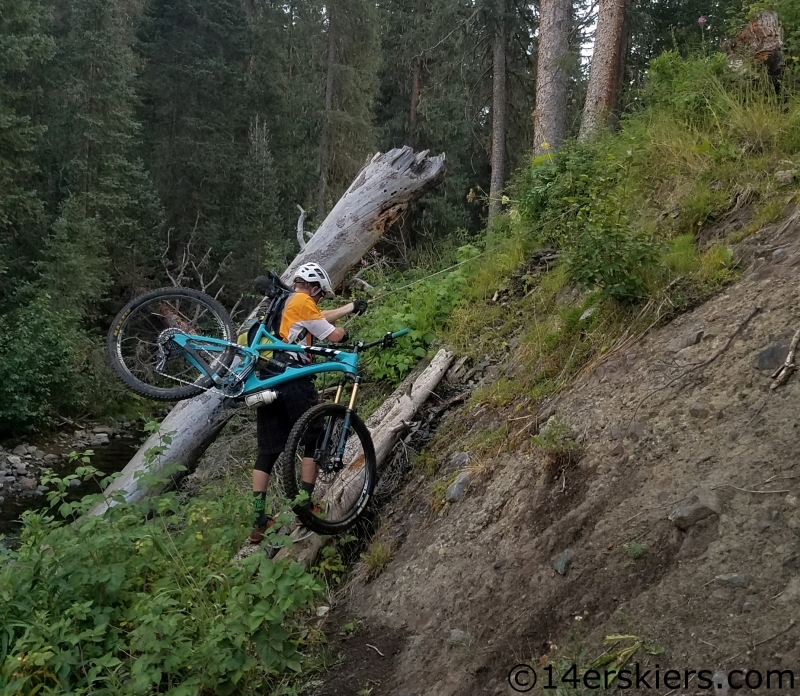 Finally, we got back to our cow poop infested trailhead- but hey, the beer was still cold! Would we ride here again? No. But I would recommend others give this route a try- it's a beautiful, great adventure that is worth doing once. And I could imagine driving Crystal Creek road just to ride Trail Creek as an out and back. Give it a try either way..
One last surprise for the night- a forest fire that flared up but thankfully didn't get too large: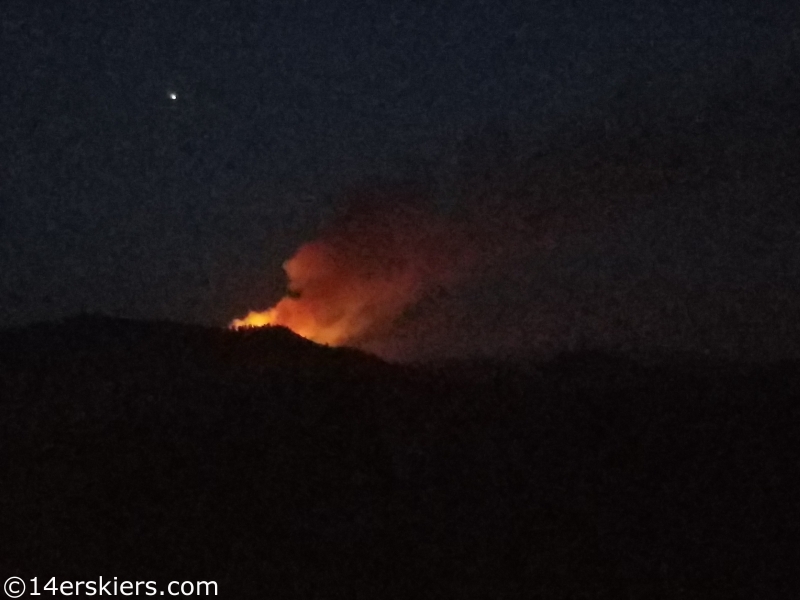 Here's the map for our route:
Frank
loves snow more than anything... except his wife.  He ensures his food is digested properly by chewing it 32 times before swallowing.He is a full-time real estate agent serving
Crested Butte and Gunnison
and would be honored to send you his
monthly newsletter.
Latest posts by Frank Konsella (see all)
Summary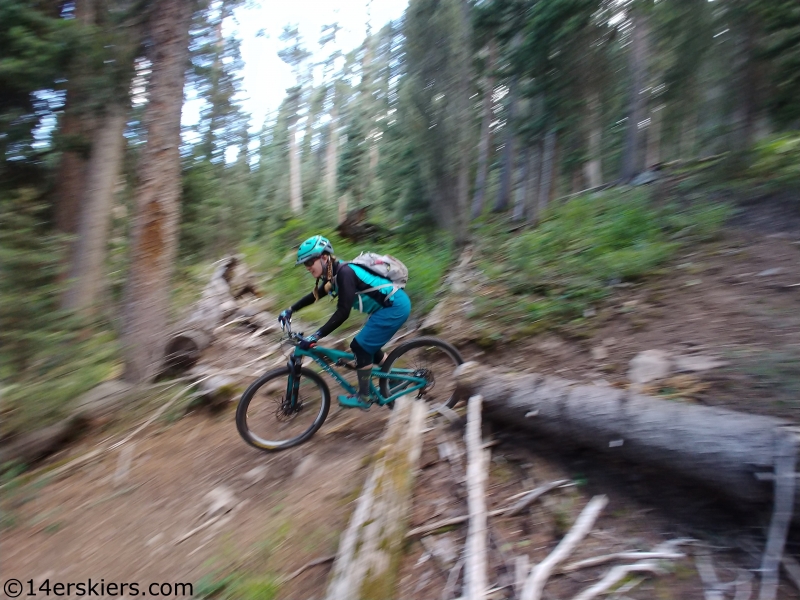 Article Name
MTB TR: Curecanti Creek- Piburn- Bald Mtn Tie In- Dyer Creek- Trail Creek
Description
Adventure mountain biking in the West Elks on trails including Curecanti, Piburn, Dyer, and more. See the map and photos for this seldom ridden area between Gunnison and Crawford, CO
Author