Book Review: Yosemite Adventures
(Last Updated On: June 29, 2014)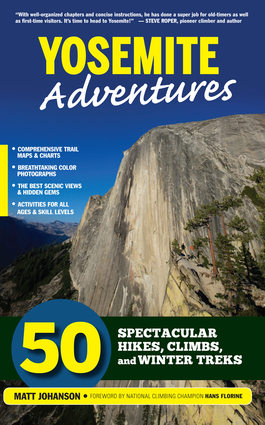 Title: Yosemite Adventures
Author: Matt Johanson
Year: 2014
Where can I get it? Your local book store, online, or as an ebook.
Let me start this review by stating that I have not spent enough time in Yosemite. On one occasion, driving back from the bay area, I visited the park and did what I could within a day- which meant I spent too much time in the car, although I did do what most visitors don't- I did a few short hikes. On another trip, I skied Mount Dana and Ellery plateau, which I wholeheartedly recommend. So with that disclaimer out of the way, on to my review…
The subtitle of the book is "50 spectacular hikes, climbs, and winter treks", and that is exactly how this book is split up. The ski trek section is exactly as it sounds. These are ski tours of the touring variety, many of which could be completed on cross country skis or even snowshoes- not the kind of skiing that we typically do but fun nevertheless. Don't let this fool you, however. While many of the tours are short and suitable for a family outing, there are also a number of longer overnight tours and even a tour covering several days and nearly 40 miles. This is a common theme throughout the book- all ability levels are included.
The hiking section also includes semi-technical peak climbs, including Mount Dana that I mentioned earlier. The hiking in Yosemite is certainly varied, from waterfall hikes to giant Sequoias to slabby granite climbs that Yosemite if famous for. Throughout the book, each outing is accompanied by a map, though only the shorter outings have a usable scale. The book is also filled with over 100 color photos.
Finally, there is the climbing section. While I climb, I'm not good at it so I was thrilled to see several top-rope opportunities that would be right up my alley if I were visiting the area. Once again, however, the book also has more difficult options, such as the multi-pitch Snake Dike route on Half Dome.
These days, one can find so much information on the internet. I'm sure many of these hikes, climbs, and tours could be found with some searching. But for me, that isn't the point of a guidebook anyway. A good guidebook is meant to inspire, in my view. This book succeeds on that front, and I have a new-found appreciation for the Yosemite area and a desire to return. If you're hoping to find your own Yosemite inspiration, pick up a copy of this book.
Frank
loves snow more than anything... except his wife.  He ensures his food is digested properly by chewing it 32 times before swallowing.He is a full-time real estate agent serving
Crested Butte and Gunnison
and would be honored to send you his
monthly newsletter.
Latest posts by Frank Konsella (see all)