TR: Shasta's West Face (14 June 2013)
(Last Updated On: June 30, 2017)
After skiing Lassen, Pam and I headed that afternoon toward Shasta with the intent of skiing the West Face. Shasta from the south, seen from I-5.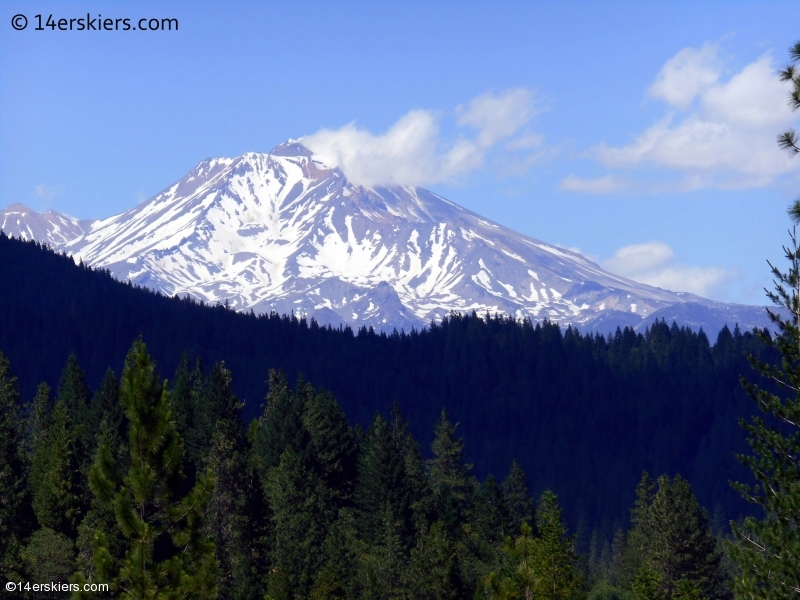 This season on Shasta has not boded well for snowfall. We knew that coming in to Shasta. We'd heard that the south face was skiing particularly poorly, but other routes were skiing okay. We kept our fingers crossed for West Face conditions to be holding up well. According to sources at Fifth Season, it was skiing well. Shasta's West Face, seen from Shasta City.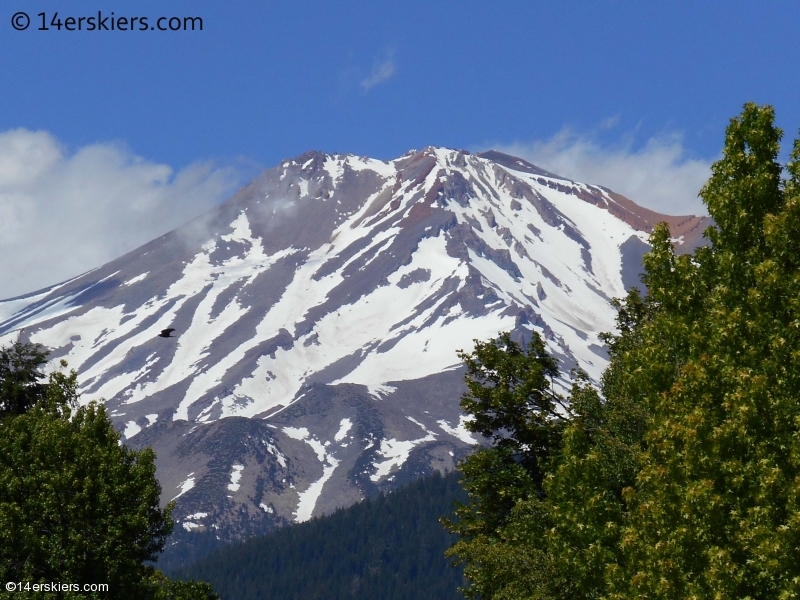 Last year in June, I skied Shasta's Trinity Chutes and Shastarama Point with my friend Kim. But, we both knew we would be back to ski more lines on Shasta and set our sights on Shasta's West Face. Unfortunately, Kim was unable to join us this year. Pam and I set up camp at Bunny Flat and enjoyed the view over dinner. Quite a bit less snow compared to last year, but still amazingly beautiful.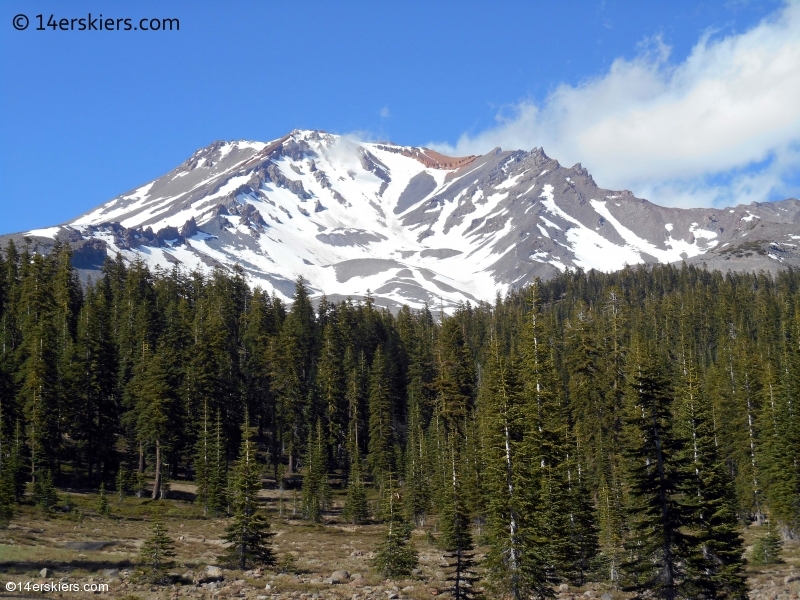 Knowing the snow was a "summer snowpack" and that the weather was supposed to remain a little cool, we decided a 3 am start was not necessary. Instead, we started at twilight.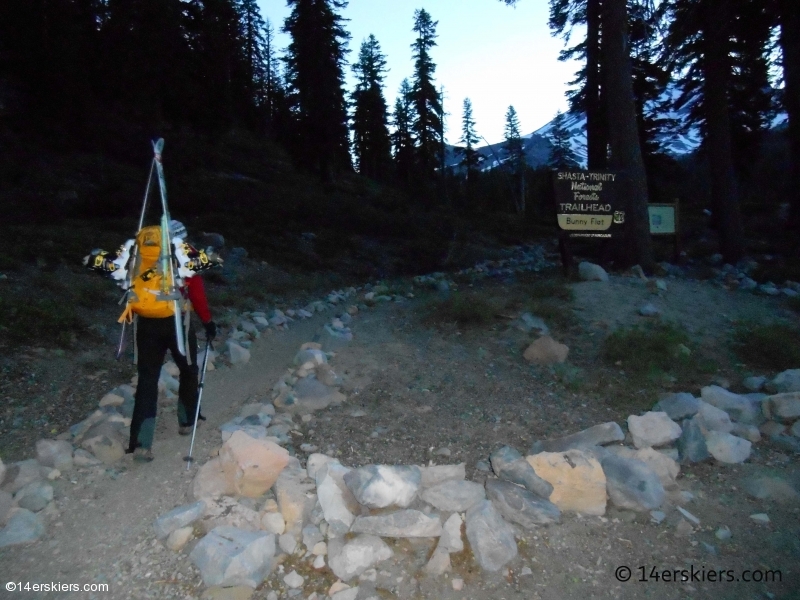 We took the Avalanche Gulch cutoff and found snow in the gully within a mile of the trailhead.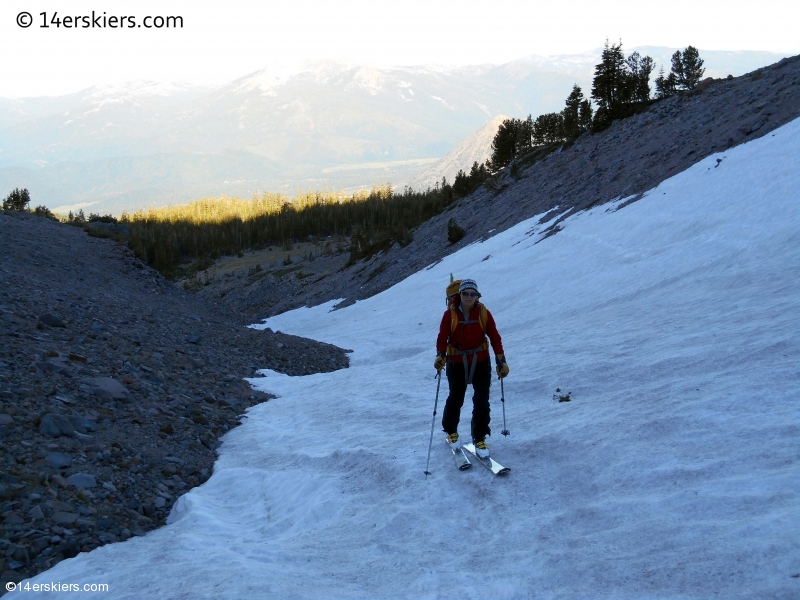 The lower part of the south side was very bumpy. But, the Trinity Chutes still looked nice and smooth!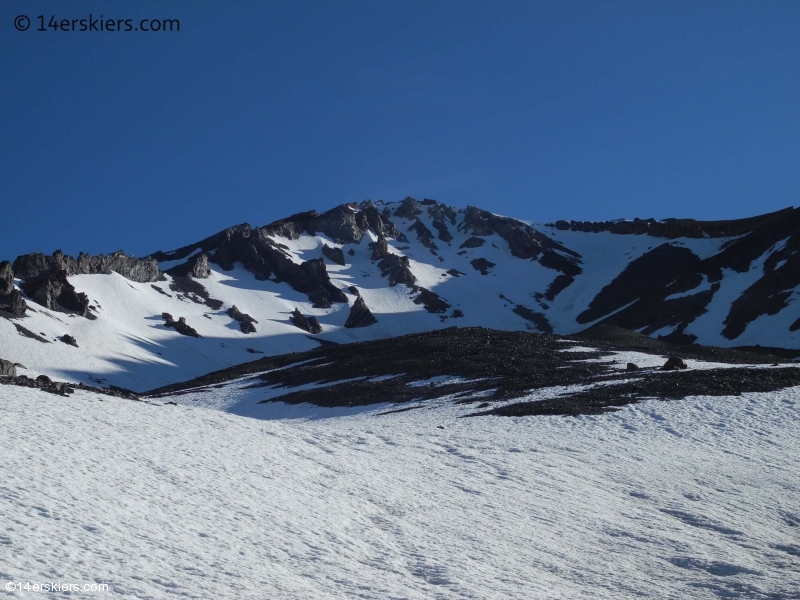 As we climbed up toward Red Banks, we encountered some of the most horrendously bumpy snow I have ever seen. Suncups does not describe the snow properly. They were more like sun-craters, and each crater was filled with stones which had likely blown in with the 70 mph winds that had occurred earlier in the week. Both Pam and I were happy we were not descending this route. One one narrow snow chute led through Red Banks.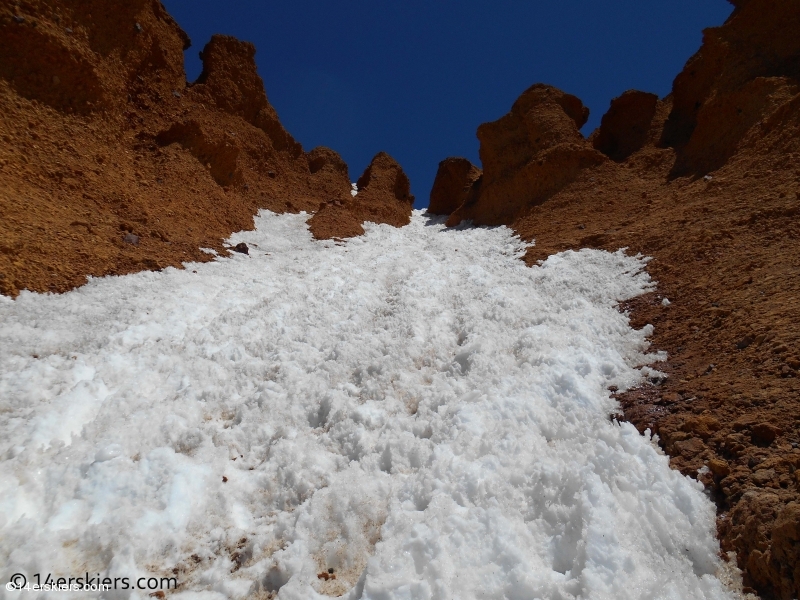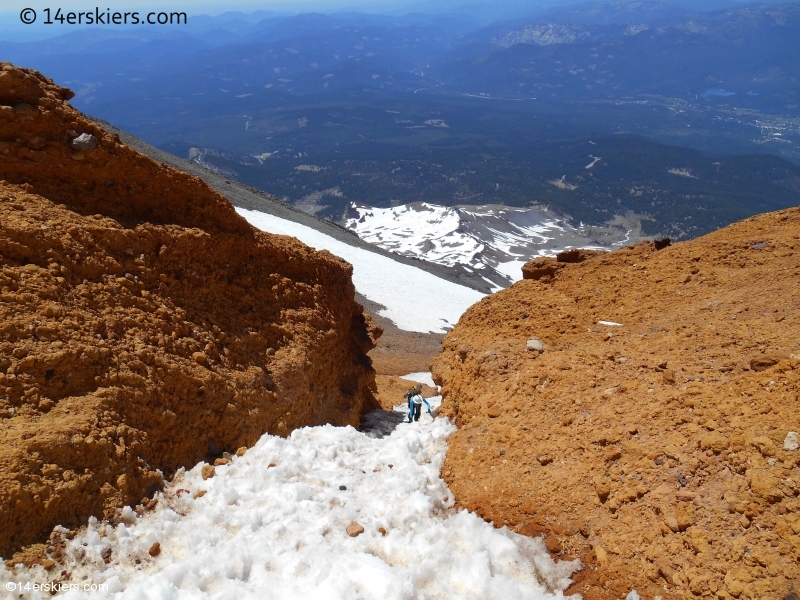 As we rounded the top of Red Banks toward Misery Hill, we found it devoid of snow.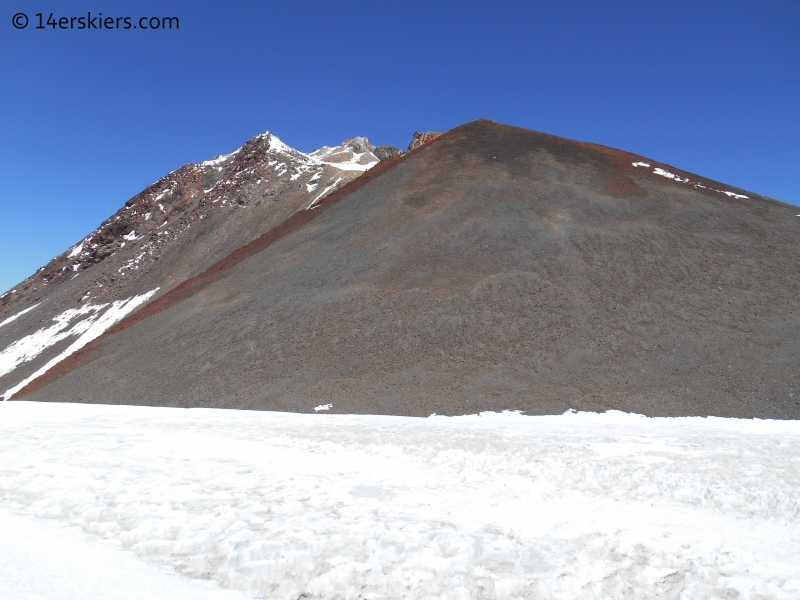 After much discussion, we decided not to continue upward. The West Face could easily be accessed from the top of the Trinity Chutes and we did not actually need to summit. We both had summited Shasta in years before and decided to avoid the extra misery that could occur on Misery Hill if we had to descend it sans snow. Climbing nearly 6500′ to 13,384′ would have to be good enough 🙂 Pam and I ready to ski on the top of the West Face.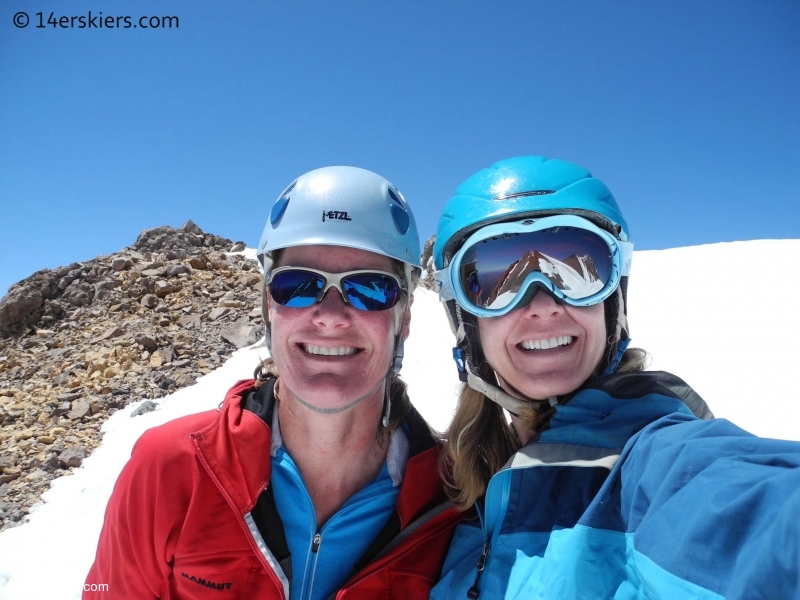 Pam dropped in first. Notice the climbing party in the background below her.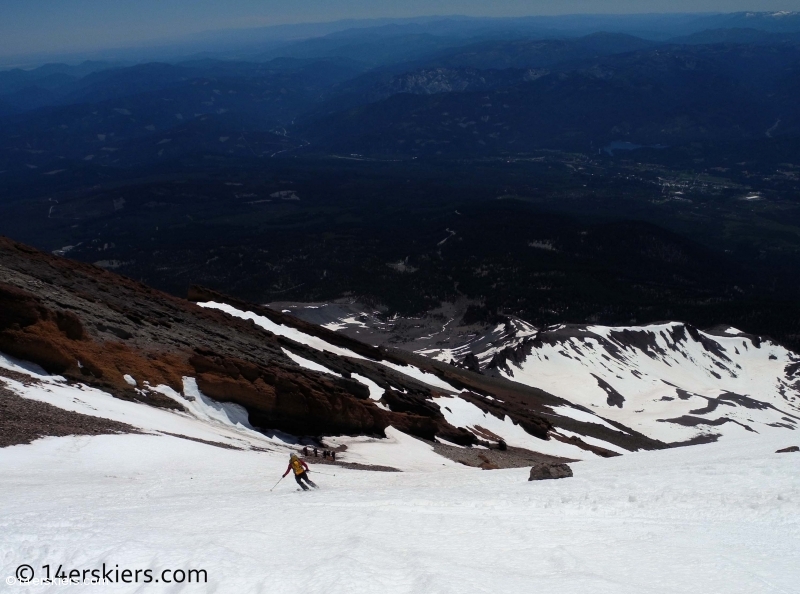 Me on the upper part of the West Face.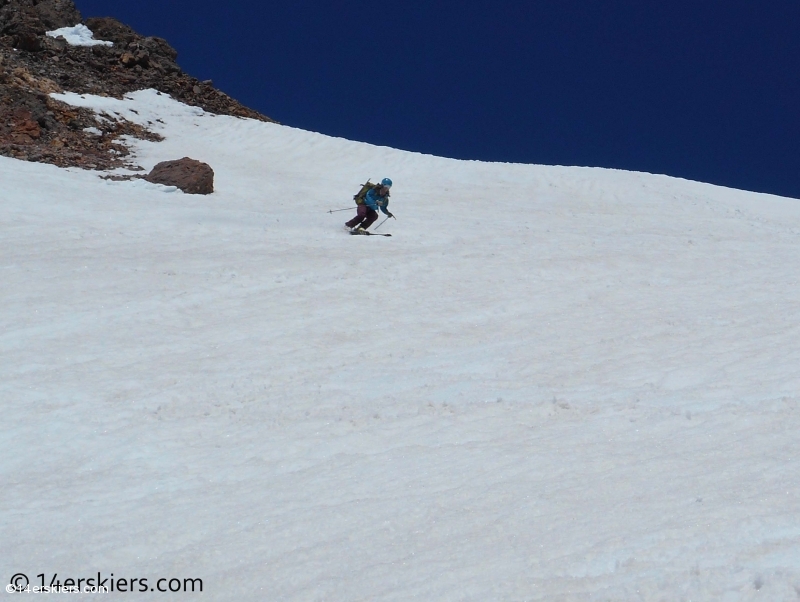 The upper part of the west face didn't quite "go". We found ourselves working our way over a few feet of rock where the snow had melted out. Furthermore, to find better snow, we traversed skiers left over a rock band. Conditions were a bit mixed. Some parts were a bit bumpy, some parts were very smooth. Either way, the West Face was in considerably better condition than most of the south side.
Pam.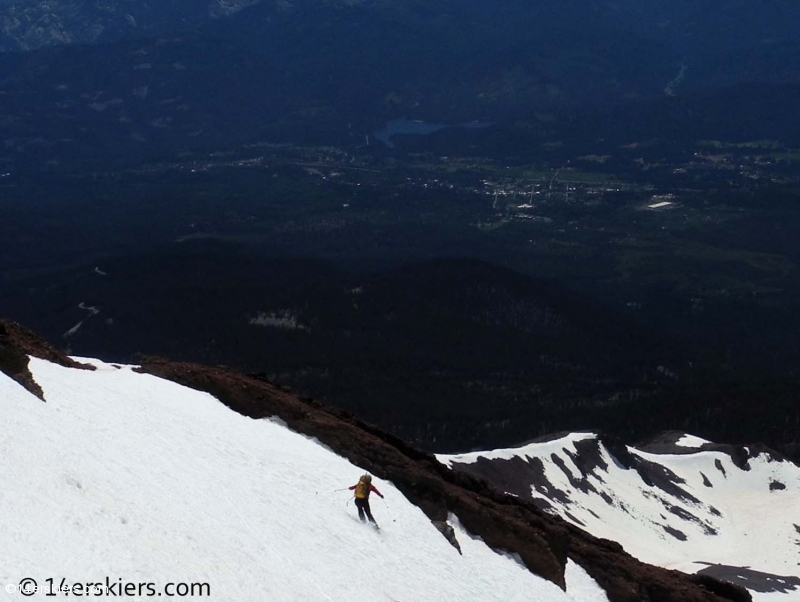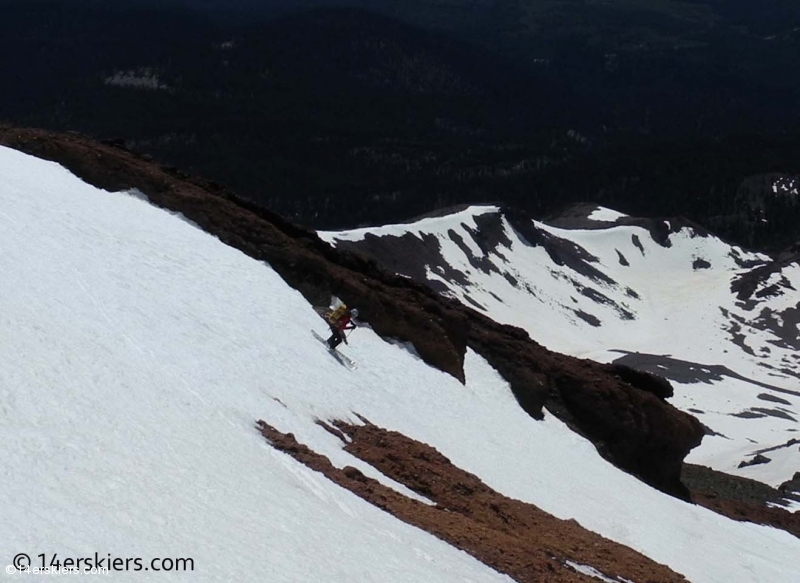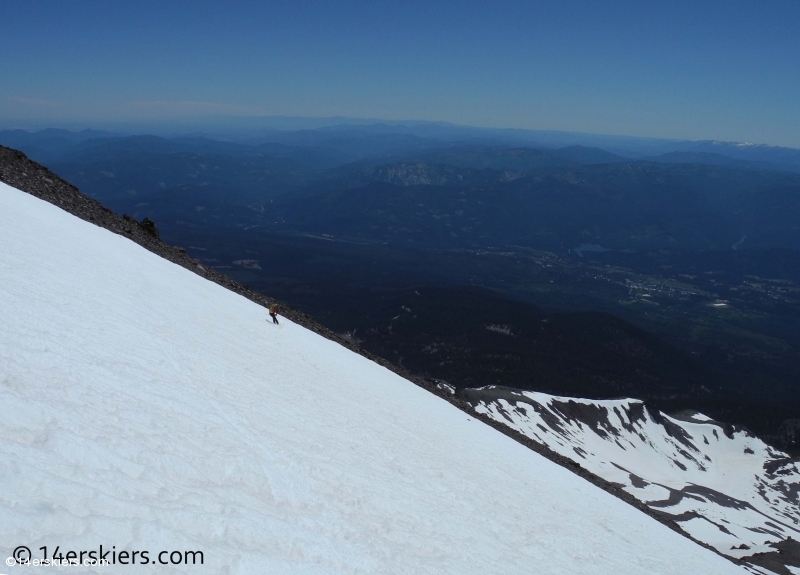 Me.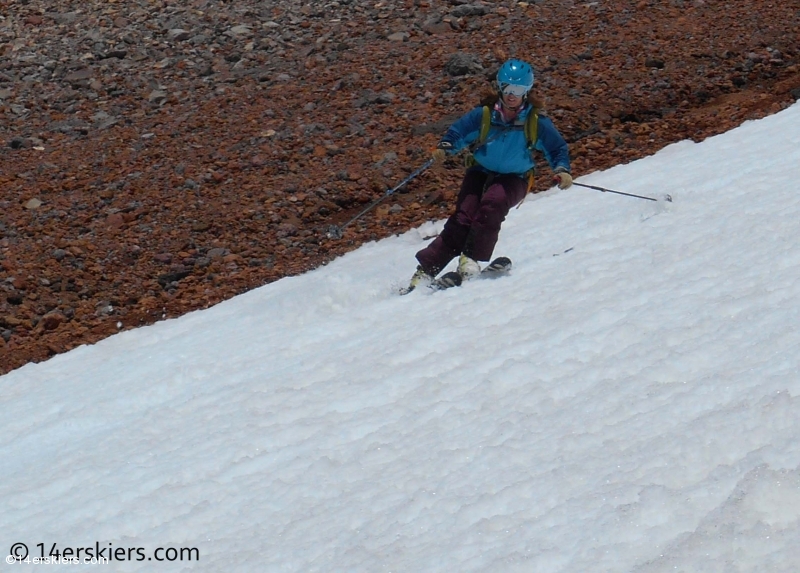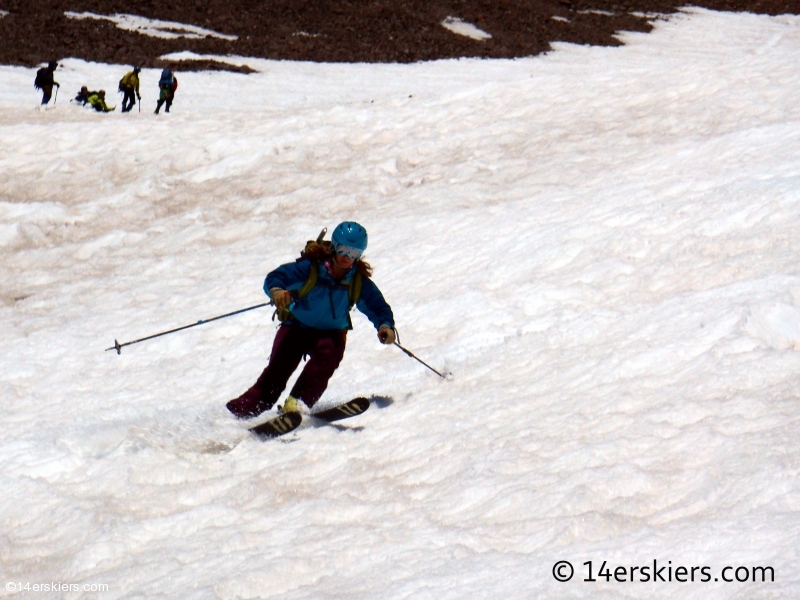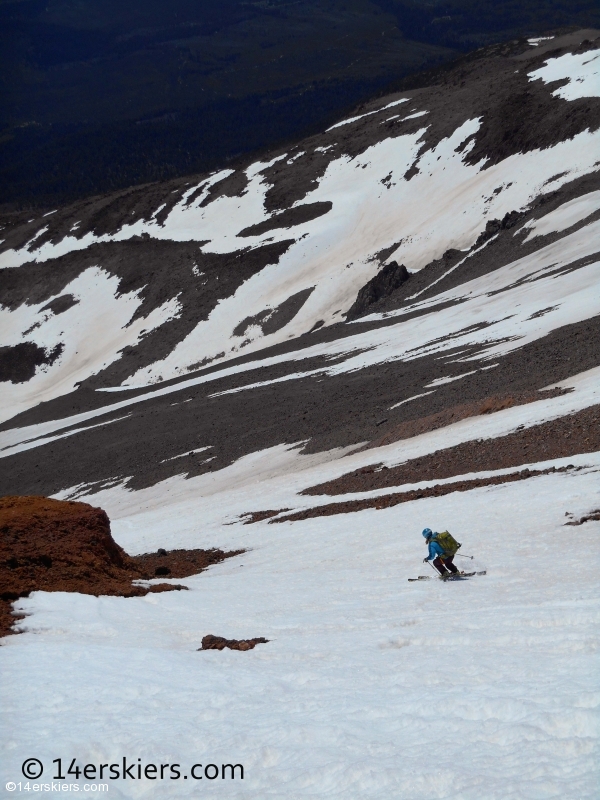 Pam on the lower part of the West Face.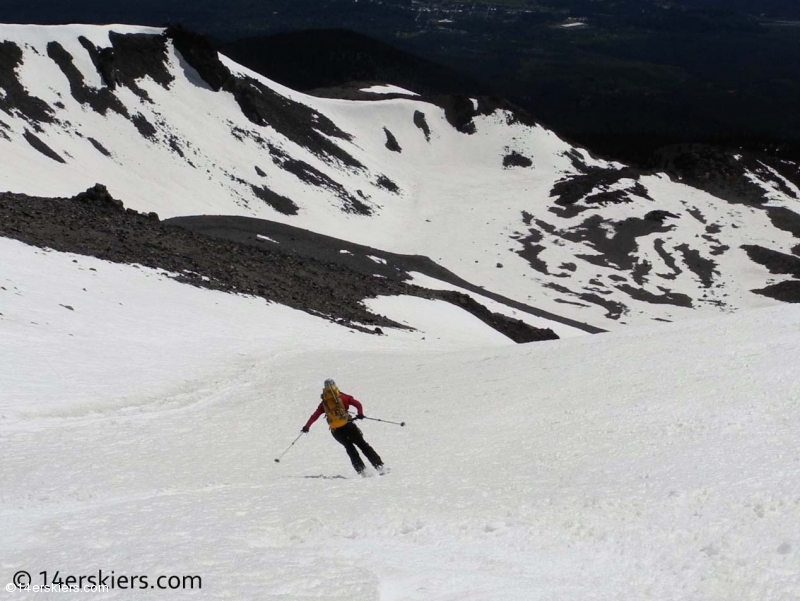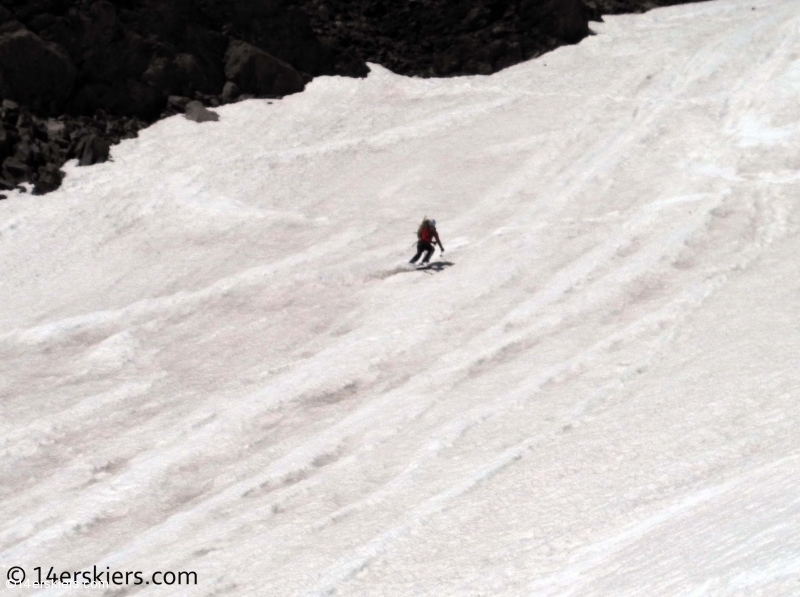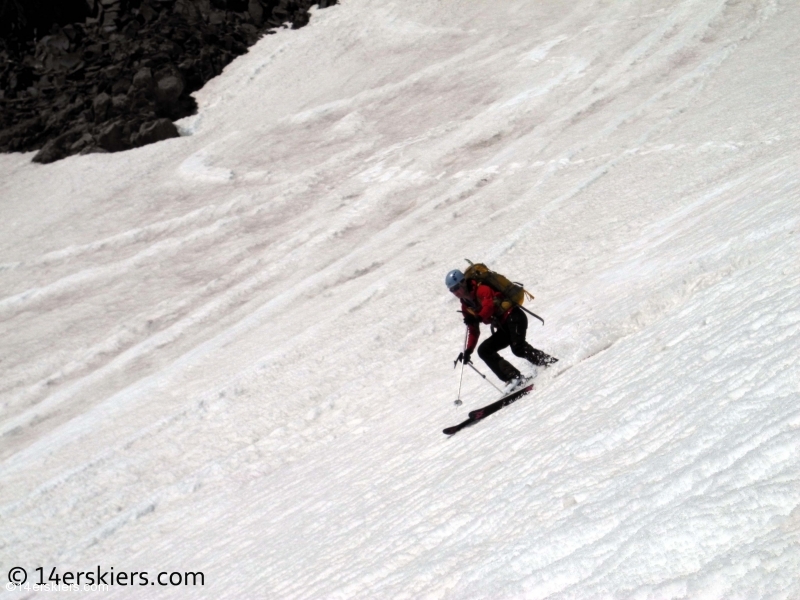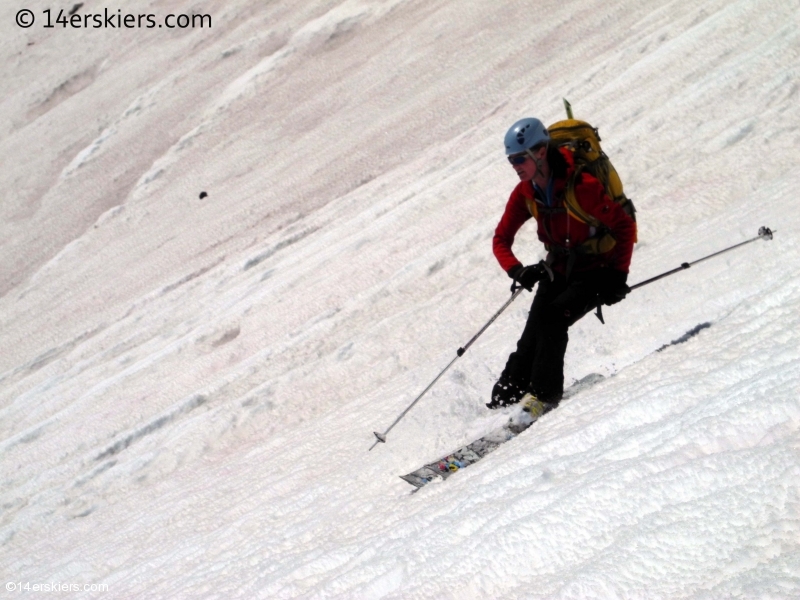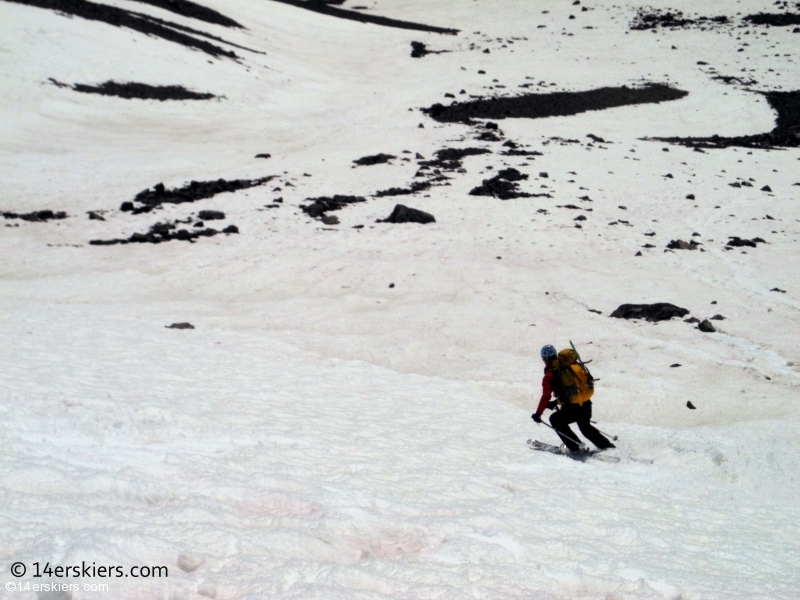 Looking back at the West Face.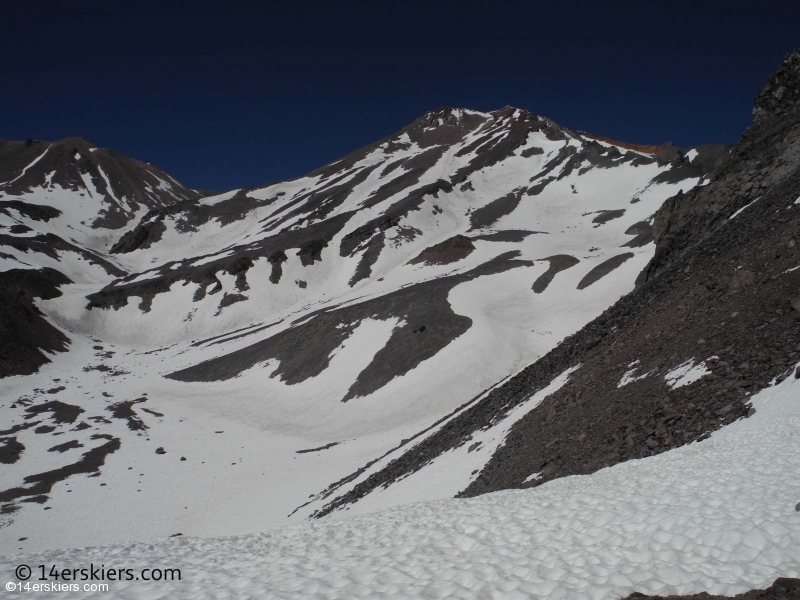 After reaching the flats of Hidden Valley, we climbed a col, per the recommendation of our friend. On the other side of the col should be a snow-filled chute which we could ski instead of walking the actual trail from Hidden Valley. But, we arrived to find the chute with not enough snow worthy of a descent. So, we skied back down to Hidden Valley, found the trail, and descended through miles of dry and rocky terrain back to Bunny Flat. I am not sure of the exact distance, but I estimate it to be 4 miles between Hidden Valley and Bunny Flat.
This year was certainly not the year to be on Shasta. While Pam and I enjoyed our climb and ski on a perfect windless bluebird day, we didn't think conditions were worthy of sticking around to try other routes, which was our original intention. So, we headed north for better conditions and more adventures 🙂
Check out other TR's from this Pacific Northwest trip!
Diamond Peak
Solstice Ski on Mount Bachelor
Newberry Crater
Crater Lake
Mount Thielsen
South Sister
Volcano Travel Day
Shasta's West Face
Lassen Peak
Aside from skiing, biking, and all outdoorsy things,
Brittany Walker Konsella
also loves smiles and chocolate 🙂 Even though she excels at higher level math and chemistry, she still confuses left from right. Find out more about
Brittany
!
Latest posts by Brittany Walker Konsella (see all)