TR: Diamond Peak (22 June 2013)
(Last Updated On: June 30, 2017)
Diamond Peak stood in my mind as soon as I first laid eyes on it skiing South Sister. It gleamed white with snow. Although not as high in elevation as many of the nearby peaks, any skier could not let this one go unnoticed. A little bit more west than the majority of Oregon's peaks, Diamond Peak collects snow like fly paper collects flies. I had to go there, and the weather for Saturday was looking perfect for it.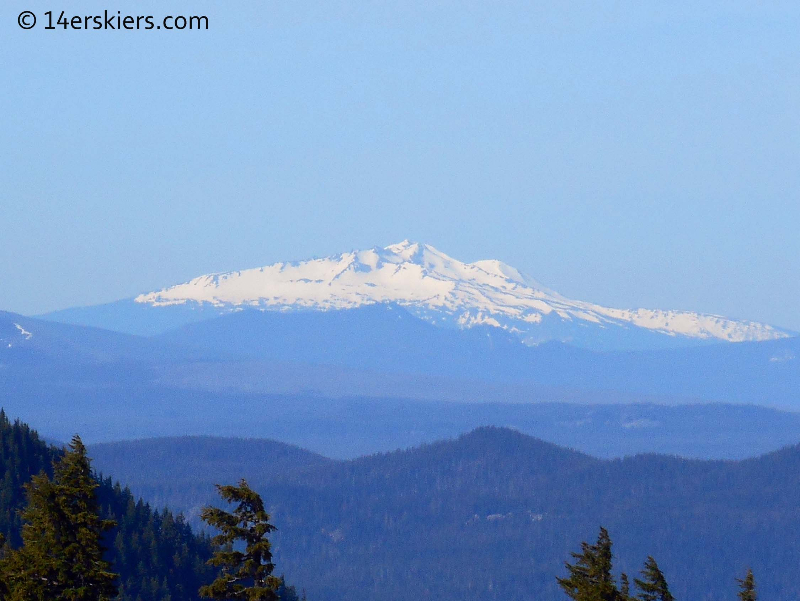 After my solo day on Mount Bachelor, I headed down toward Oakridge in the afternoon to look for a campsite close to Diamond Peak. From Oakridge, there were over 25 miles of forest service road to travel before arriving to the trailhead. My partners would be coming from Bend, but due to other commitments, could not come the night before. We were to meet at the trailhead between 6:30 and 7 in the morning.
Along Forest Service road 21, there are a number of campsites. Some of them were crowded. But, the further I went "in to the heart of darkness", the sparser the campers became. Finally, I pulled into a campground that was barely used. I found some friendly neighbors who invited me over to dinner. And I slept the night in the warmth of lower elevations and a canopy of thick trees.
I awoke at first light and was off fast. I was ready for an adventure.
The forest service road in the morning, canopied with trees.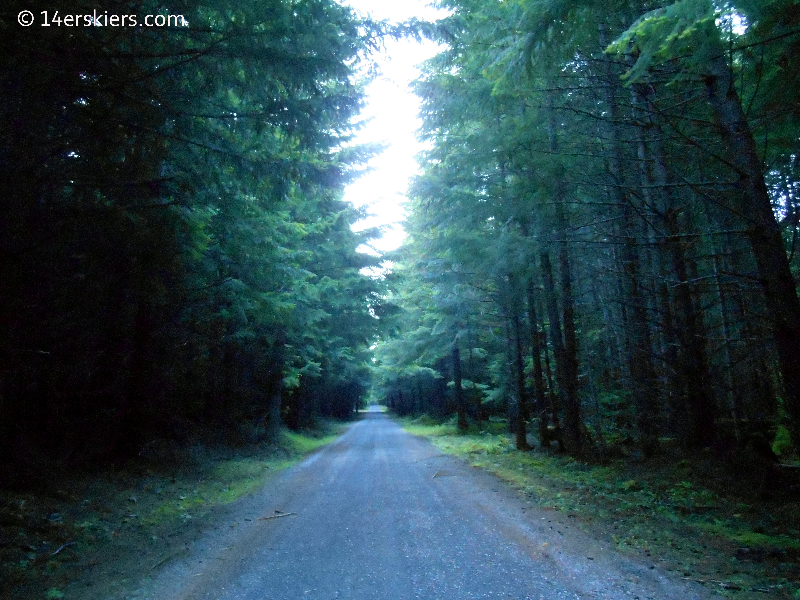 I found the trailhead without much difficulty, except for the fact that the trail going up toward the west ridge is not labeled from the road. A view of the west side of Diamond Peak in the morning.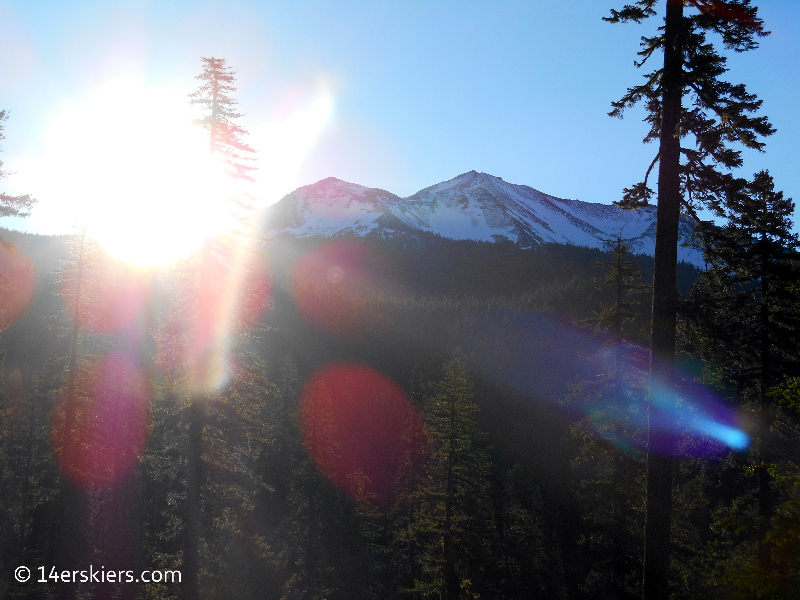 And there I sat, waiting for my partners from Bend. I waited. And I waited some more. I wondered if they had ditched me, or had some sort of car trouble along the way. I climbed the road higher to see if I could gather some cell phone reception and heard a message from Patrick, "We haven't ditched you but we are wandering around on road 2154 and I think we are far far away from Diamond Peak." 2154? Oh no! They were supposed to be on 2149!
I descended the road to try to see if I could find them. Finally, I saw a Subaru Impreza turning on to 2149. It was them. They'd made it. Long story short, they forgot the directions to the trailhead which I had given them two days before. While I was very thankful to have my partners, I knew our chances of reaching the summit were pretty low as they were over 2.5 hours late.
Eliza, Patrick, Ben and I (along with Eliza's dog Dirga) began our hike through the forest along a trail for a little over a mile.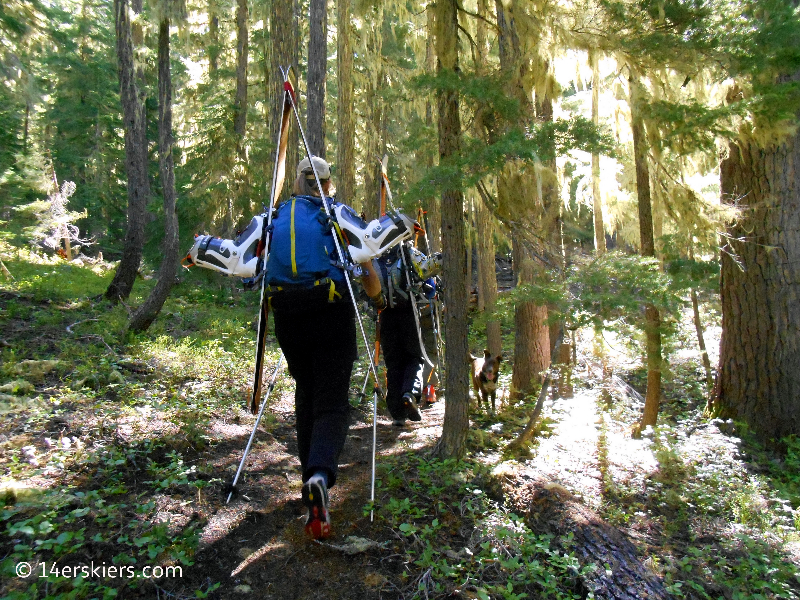 Eventually, after a little over a mile, the trail began to head more north instead of west. Here, we broke from the trail and gained the west ridge. A little before tree-line, we were able to switch from hiking boots to skins.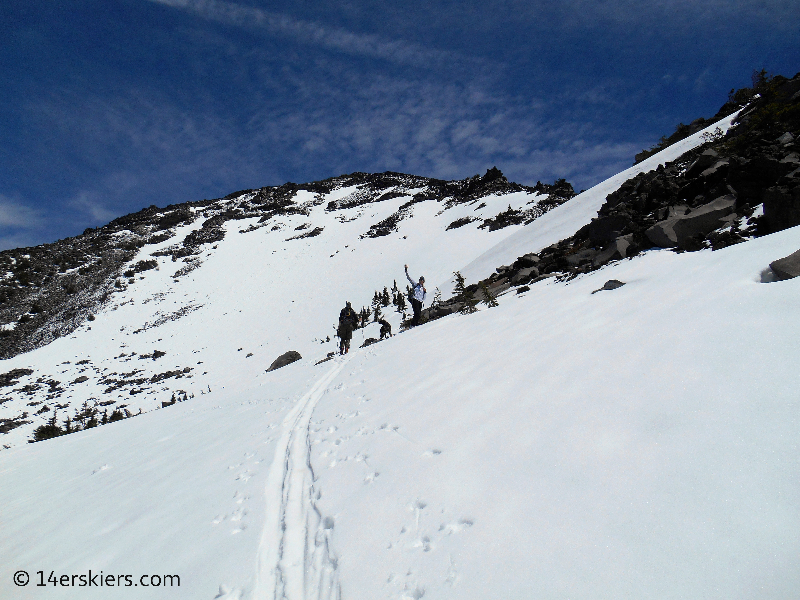 I always enjoy the views above treeline.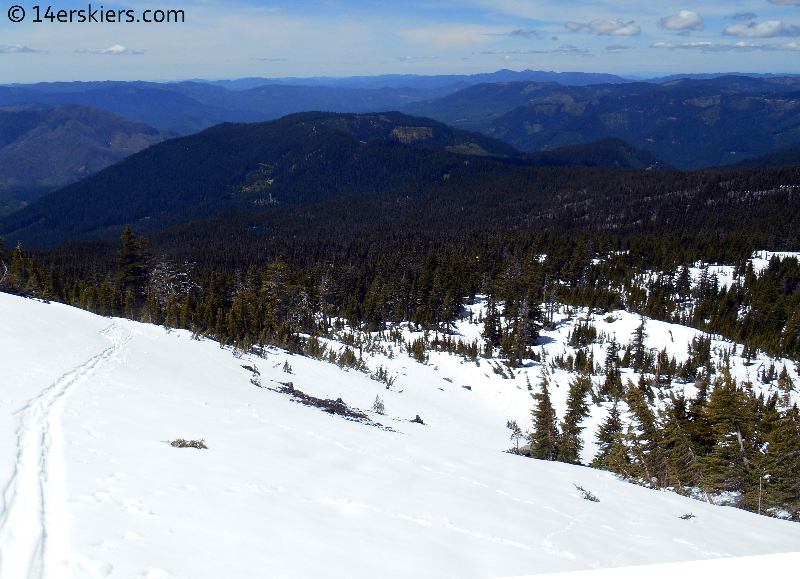 The west side of Diamond, looking white, but less so than all the other aspects.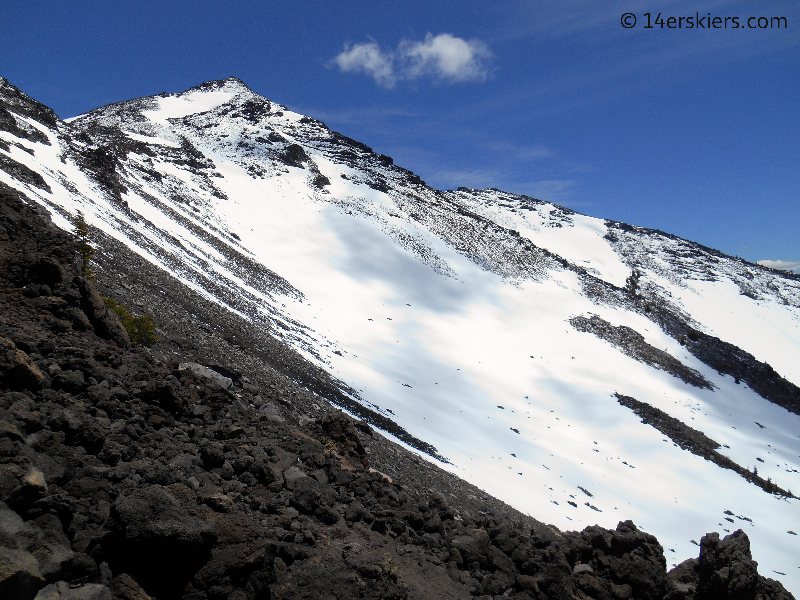 Our climb continued.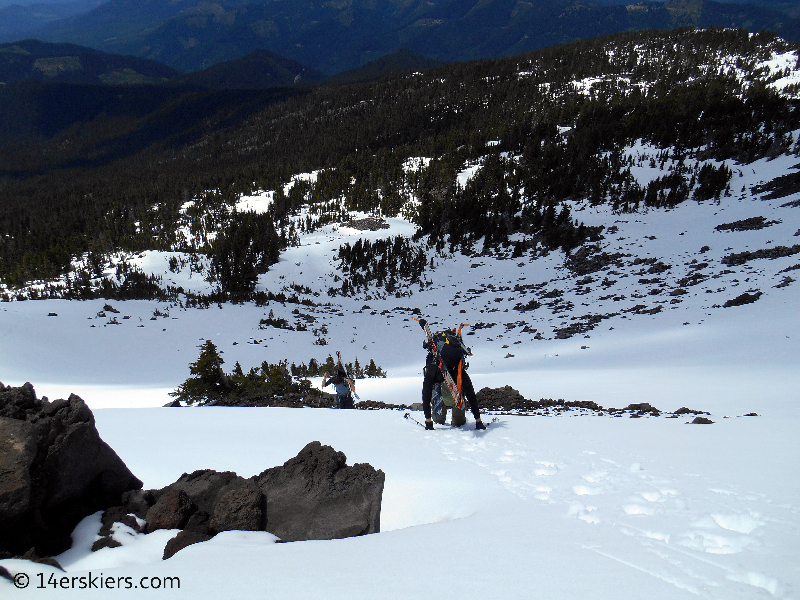 The Middle & South Sister, as well as Broken Top, seen from a distance.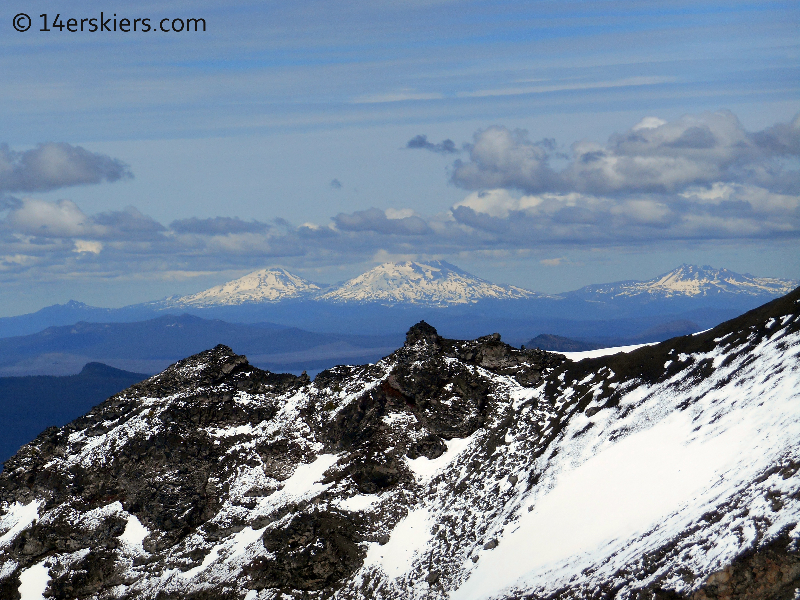 As we rounded out on a saddle gained by the West Ridge, we saw this northern subpeak, which we all agreed looked like fantastic skiing.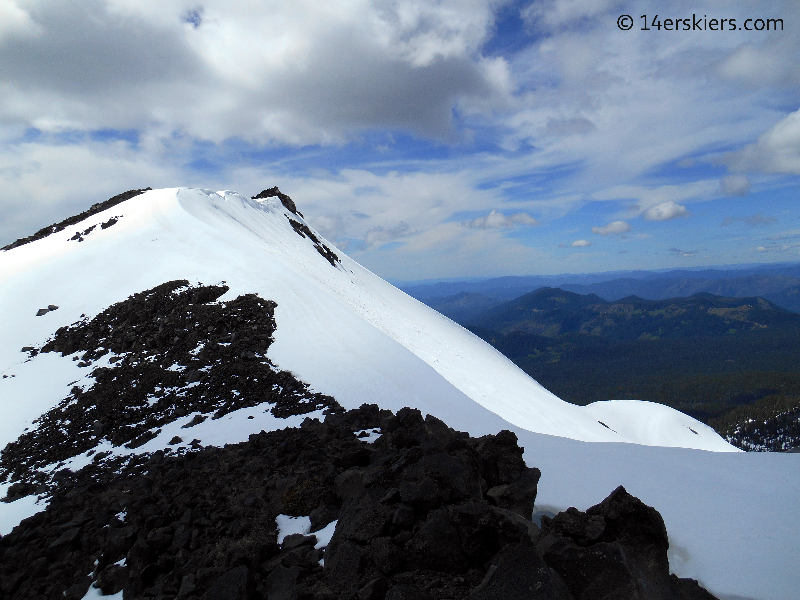 And then we looked at the summit.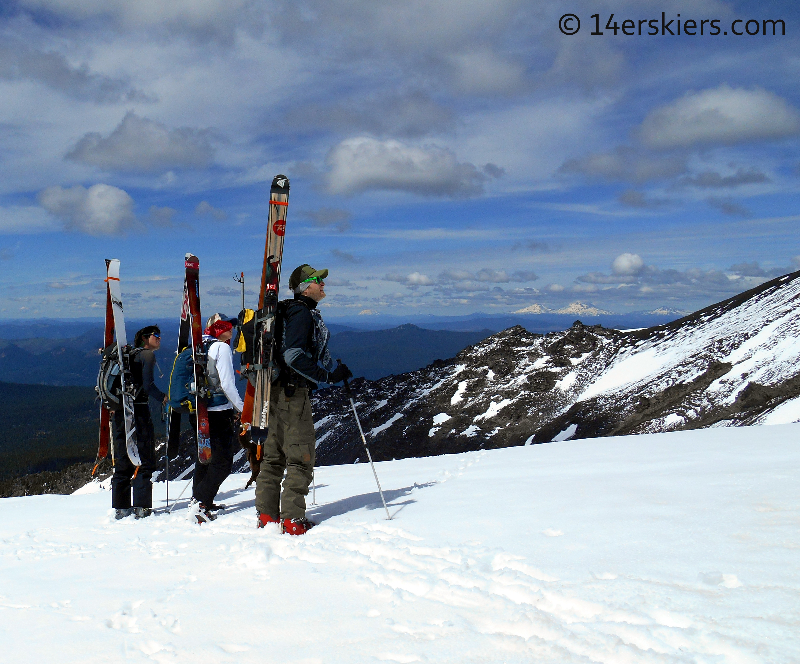 It was big and white and awesome looking.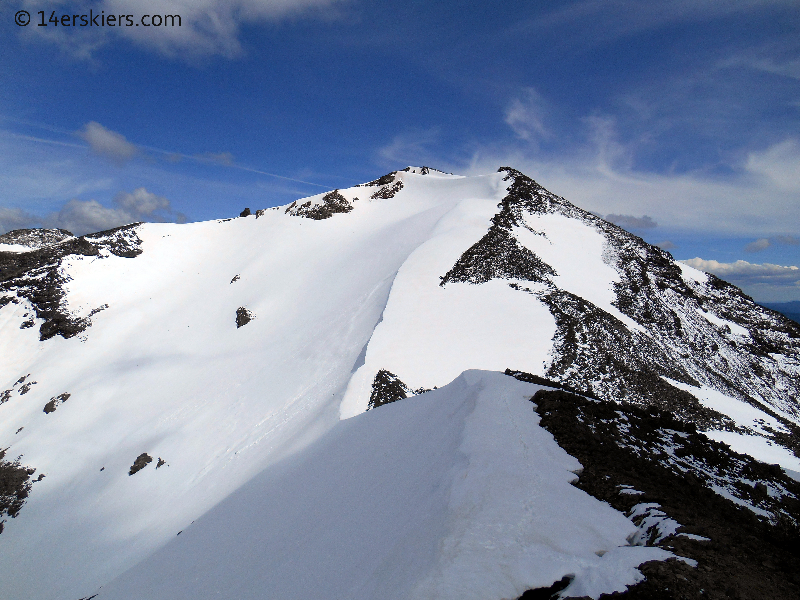 But, this day, was not the day for the summit. The 2.5 hour late start, plus some minor navigational issues through the forest, on top of a member of our group who was just plain tuckered out, and the fact that it was late in the day and the new snow was warming up quickly – all very good reasons to stick to a simpler plan. So, to the sub-peak we went.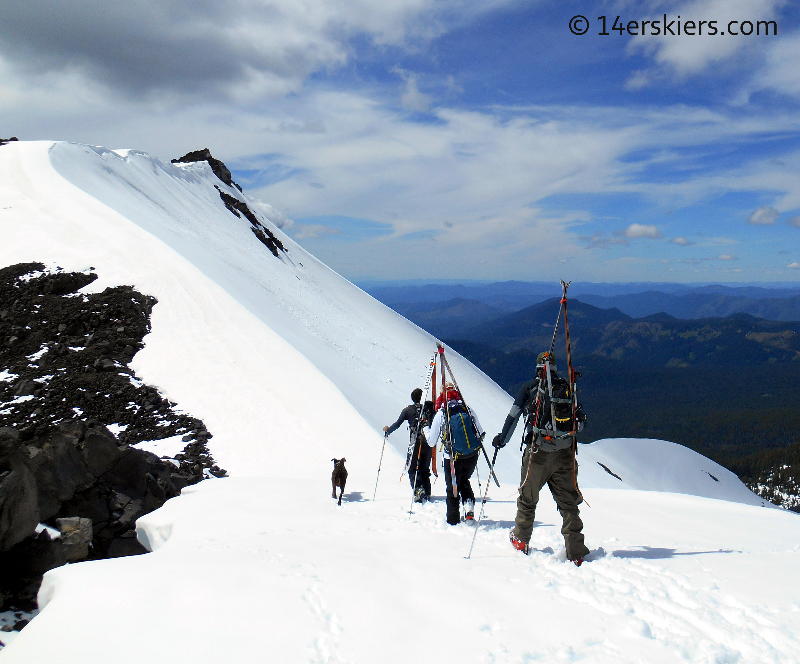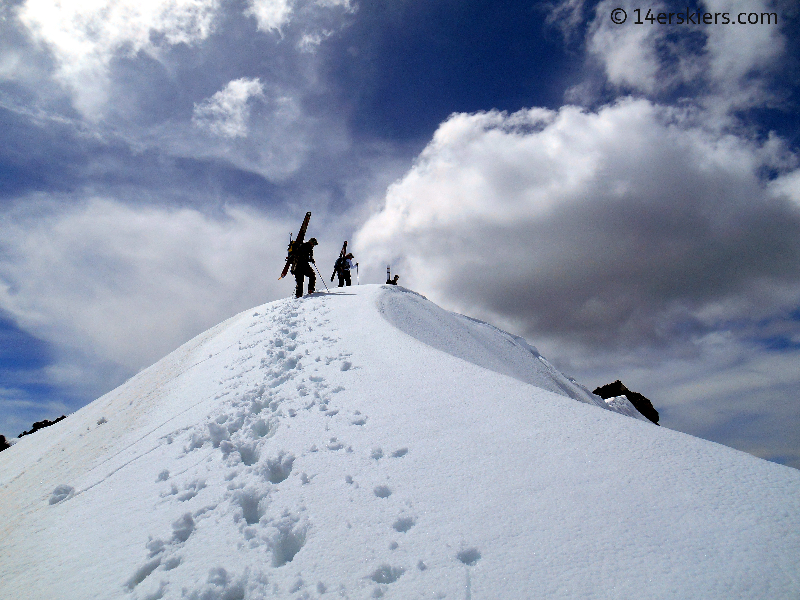 But, even on top of the subpeak, we had concerns. The freshly fallen snow was gaining warmth quickly from the days sun and we knew it would slide on the old snow. The terrain on the northeast side of the subpeak didn't allow for easy management of it. So, we opted for a fun-looking ridge line that went mostly north off of the subpeak. This ridge would allow us to manage the moving snow with little consequence. And it's a good thing we chose that line, and the new snow moved easily and over some large areas. Ben on the ridge that we skied.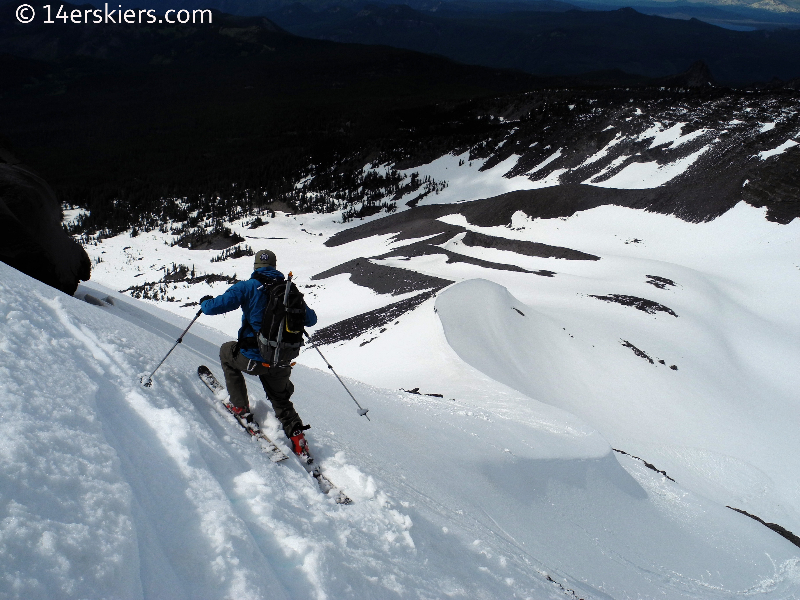 Lower down, the slopes lost some steepness and the new snow did not move. Patrick.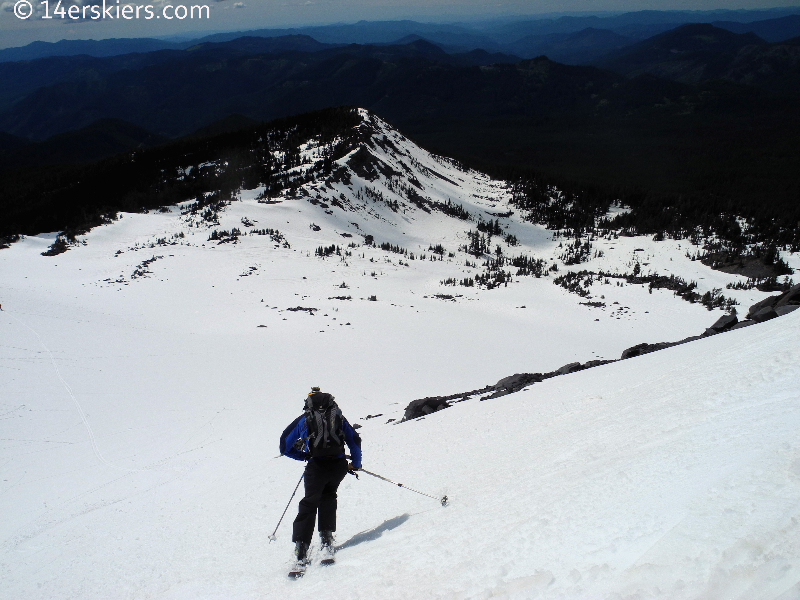 Eliza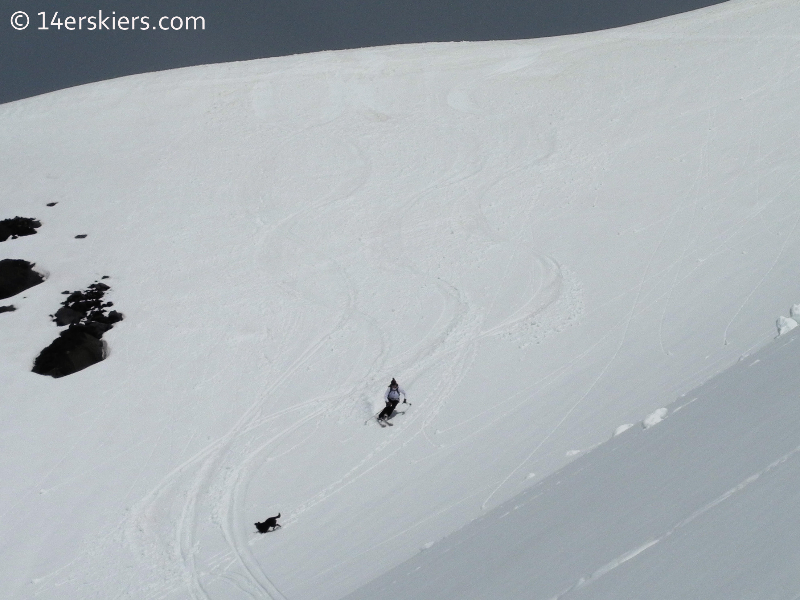 As we skied, we gradually worked our way to our left, wrapping around eventually to the west ridge. We followed a west-facing ridgeline through the thick forest which popped us out on the trail.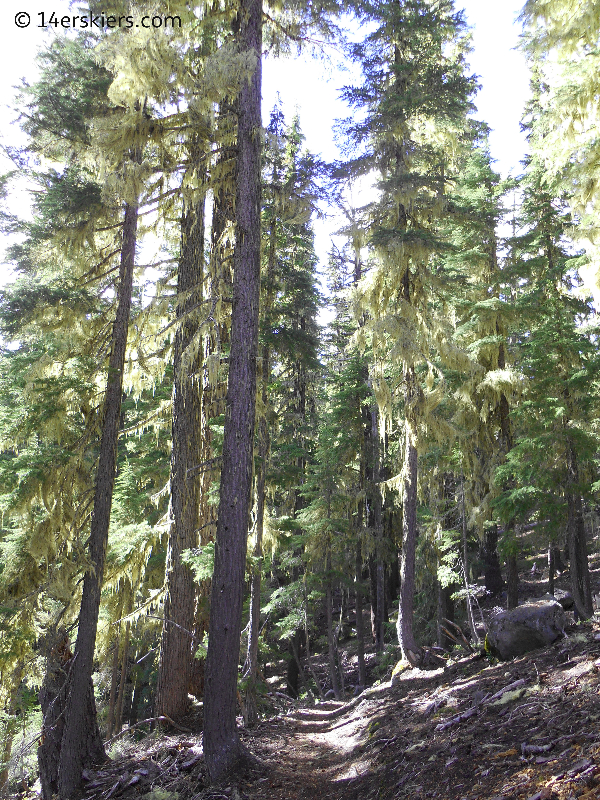 Though it was a fun day, and worth the effort, we only tasted a small bit of what Diamond Peak has to offer. Though lower in elevation, this remote peak still offers plentiful ski lines on many aspects. I hope, in future trips, that I can return to this peak and get an encore. There is too much to ski on it to not go back 🙂
As I parted ways with my Bend partners and turned on my car, my heart turned heavy. My trip was over. Rain was once again lurking in the forecast and clouds were even beginning to pile up in the evening's sky. It was time for me to head back to Colorado. So, I turned my car down the dark windy forest roads, beginning the 1000-mile drive home. And a sense of solace came over me. I knew I could come back, and would come back, to Oregon. But, after weeks away from home, and days of being largely alone, it was a warm feeling to be heading back to Crested Butte.
Check out other TR's from this Pacific Northwest trip!
Diamond Peak
Solstice Ski on Mount Bachelor
Newberry Crater
Crater Lake
Mount Thielsen
South Sister
Volcano Travel Day
Shasta's West Face
Lassen Peak
Aside from skiing, biking, and all outdoorsy things,
Brittany Walker Konsella
also loves smiles and chocolate 🙂 Even though she excels at higher level math and chemistry, she still confuses left from right. Find out more about
Brittany
!
Latest posts by Brittany Walker Konsella (see all)