CBAC: 2012-13 Avalanche Season Review
(Last Updated On: June 25, 2013)
I am constantly amazed by the quality of work produced by our small local avalanche center, the CBAC. Even though it is now officially summer and wildfires have replaced avalanches as a concern for many, now is still a great time to look back, reflect, and learn. Even if you don't ski in this area, don't be tempted to skip this report, as there are many general concepts within the report that are worth pondering no matter where you live and ski. The report can be found HERE, and I hope everyone gives it at least a quick scan, or at least checks out the concluding paragraphs.
2010 photo: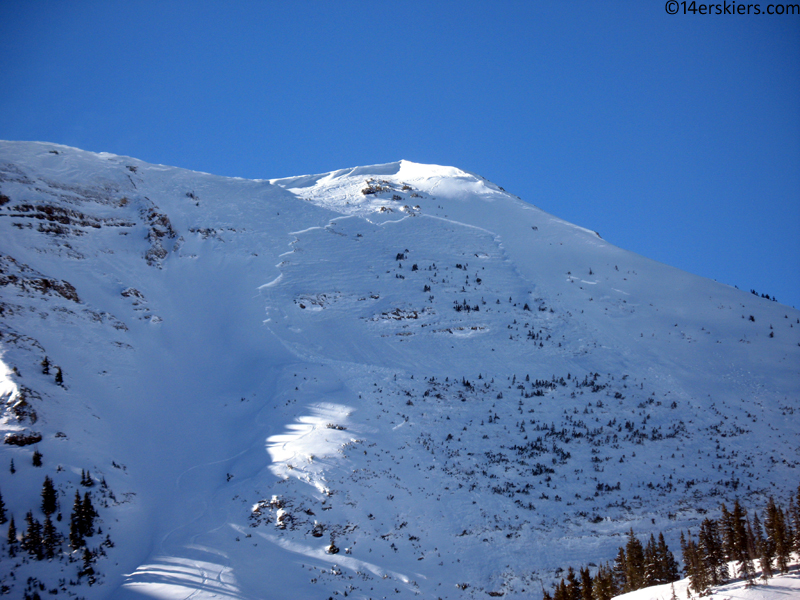 Our season here at 14erskiers certainly played out in the same manner described in the CBAC report. Day 1 put us on high alert right off the bat when we saw evidence of natural slides everywhere we looked, even though there was barely any snow. The snow was so meager early on that we often found ourselves ice climbing, ice skating, and unfortunately not skiing, at least in the backcountry. When heavier snows finally arrived, the bright spot was that the snow falling on the south faces was falling on what had been bare ground, so we snuck in some good skiing on those faces while we could, on Teocalli and Schuykill.
After that, avalanche conditions worsened and while many of our friends reported good ski conditions, close calls were abundant on the CBAC website, and we knew of many more which weren't reported. So, sitting at home and objectively thinking about conditions, we tended to choose ice climbing or resort skiing instead of skiing in the backcountry at all. The problem for much of last season wasn't just that an avalanche might occur, but the type of problem within the snowpack- persistent weak layers make for nasty surprises- more so than other types of issues within a snowpack. Sure, we may have missed out on some good skiing, but we also took luck out of the equation, and in our view luck was a huge component of any backcountry skiing in CO last winter. Once Brittany's break in February came up, we made a beeline for the better conditions of Cooke City, MT, and were rewarded for our patience with great skiing up there.
Once spring arrived, the snowpack was a little more to our liking and we had some great skiing throughout March, April, and May. Obviously, the tragedy at Loveland Pass reinforced the notion that bad snowpacks stay bad even into springtime, but things were a little less volatile in our area. Whie last season will go down as one of the leaner years overall, we were able to stay safe and still had great days, especially late in the year, so it can still be considered a success.
I hope everyone clicked on the link I provided in the first paragraph, and reviewed their season's successes and failures. Feel free to share your thoughts on last season, no matter where you're from.
Frank
loves snow more than anything... except his wife.  He ensures his food is digested properly by chewing it 32 times before swallowing.He is a full-time real estate agent serving
Crested Butte and Gunnison
and would be honored to send you his
monthly newsletter.
Latest posts by Frank Konsella (see all)