Crested Butte Ski Mountaineering Camps With CBMG
(Last Updated On: March 31, 2011)
Sometimes people ask "How did you learn how to do this stuff?" In my case, I learned to ski at a young age, and started picking up some climbing skills in high school. I wouldn't say that I ever got very good at climbing, but at least I learned the basics. Skiing at the resorts eventually led to a desire to ski in the backcountry, so I started to learn how to skin, and navigate the mountains, and of course I took an avalanche course. That worked for me, although I certainly haven't stopped learning.
If I wanted to get into ski mountaineering today, starting from scratch, I think I would want to get a solid foundation via a course. Our friends at Crested Butte Mountain Guides are offering two such courses, on April 7-10 as well as April 22-25. There are still a few spaces available.
The camps are designed to cover basic ski mountaineering skills: crampon, ice axe, basic rope work, navigation, and pertinent avy conditions. Last year's camps they skied:
1) Redwell – via a technical rappel entrance off Scarp cliffs. (to teach rope/anchor skills)

2) Gothic Spoon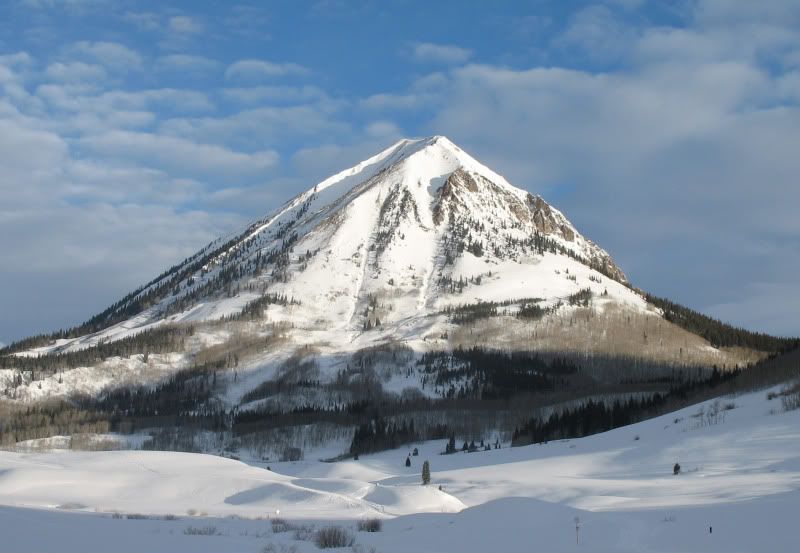 3) Carbon Spoon

4) Wolverine/Coon/Climax Chutes link up

Other options include White and Whiterock:

…Or Axtell. Or some of the peaks in the Ruby Range. Generally, this includes many of the peaks shown here on 14erskiers. Speaking of 14ers, CBMG also has permits to guide the following 14ers: Crestone Area 14ers; Sawatch/Collegiate Range, Gray's & Torrey's; Evans; Pike's Peak.
Cost for the Crested Butte Ski Mountaineering Camps is $525/person for 4 days including all technical gear (crampons, harness, axe, rope), and good lodging deals at Elk Mtn & Purple Mtn Lodges ($70/night or so). I think that's a pretty good deal, all things considered, and the guides at CBMG are top notch. Check it out, and if you do call CBMG, please let them know you heard about their camps for 14erskiers.com.
Looking forward to spring ski mountaineering season myself…
Frank
loves snow more than anything... except his wife.  He ensures his food is digested properly by chewing it 32 times before swallowing.He is a full-time real estate agent serving
Crested Butte and Gunnison
and would be honored to send you his
monthly newsletter.
Latest posts by Frank Konsella (see all)