White and Whiterock 3.19.09
(Last Updated On: March 21, 2009)
White Mountain 13,401′
Whiterock Mountain 13,540′
17 miles
7,000′ of vert
Frank, Pete, Jasper, anonymous front range skier who was feeling too "sick" to work 😉
Pete has been working hard lately during spring break, but as luck would have it his one day off this week was on his birthday. He decided he wanted to do a big tour that would collect 2 thirteeners and 2 great ski descents in a long, long day. We began our day at about 6:45 from the Snodgrass/Gothic trailhead and would not return for another 11 hours.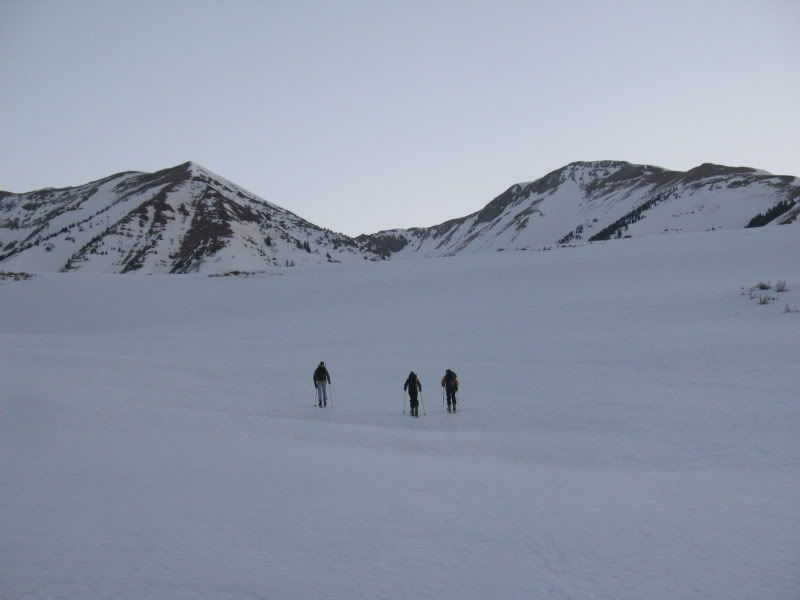 The previous few days I have been skiing Axtel a lot, and hope to get a TR up from there just as soon as dRob gets the time to get his photos and videos up. Despite the lack of recent snowfall, Axtel has been holding super high quality powder.
Today we were entering mountain goat terrain, and saw a large herd of them flying along the ridges. Here are their tracks, with the West face of Teocalli behind: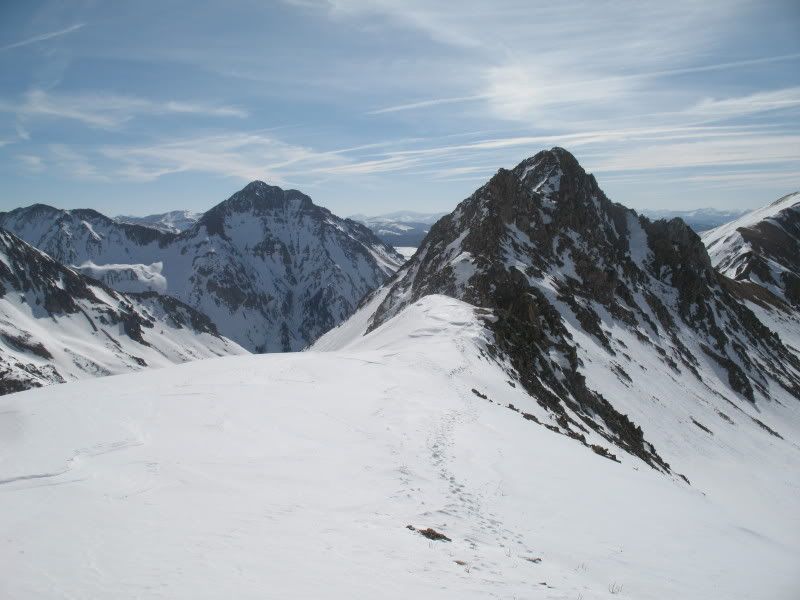 Higher up, we found their outhouse. I had no idea that goats like to poop in the same place all the time. Weird.
Pete and Jasper checking out Teocalli again. No, they didn't pose like this on purpose, but I still had to take the photo 🙂 :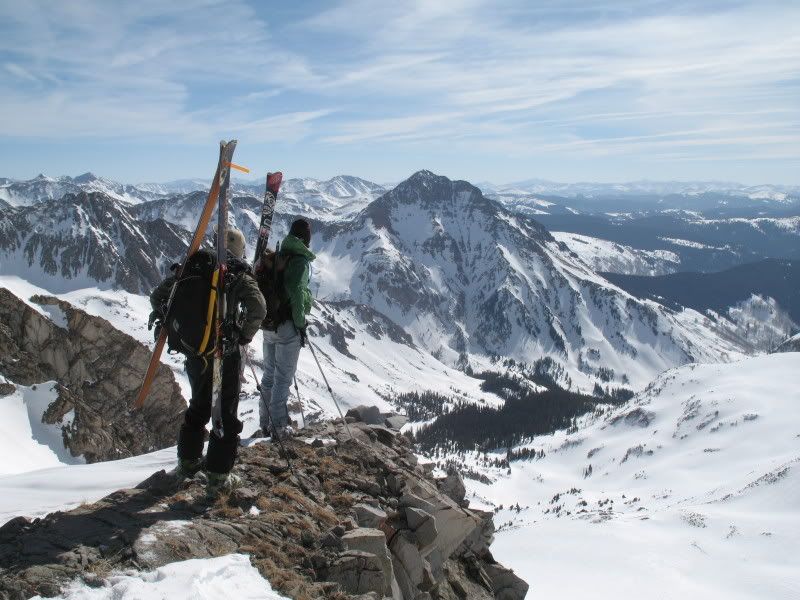 OUr route up was long and gradual, following Perry Creek right under Western State Peak which Brittany and I skied back in January. Our trailhead is way down by the ski area.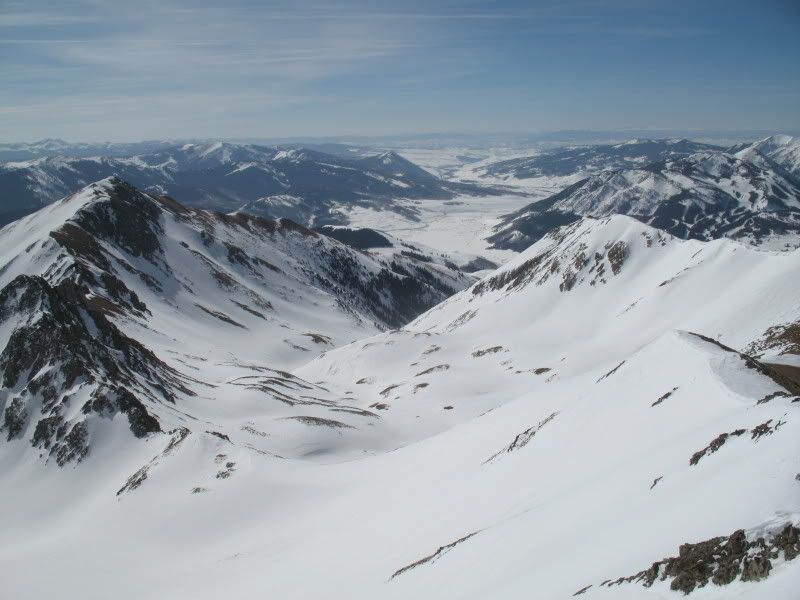 The views of the Elks from both of these peaks were some of the best I've ever seen. Thunder Pyramid and Pyramid:
Capitol, the Bells, and Pyramid:
We also had a good look at our next objective, Whiterock mountain. We would ski the left skyline off of this peak:
The route that we were here to ski on White is approximately this one (taken from WS peak)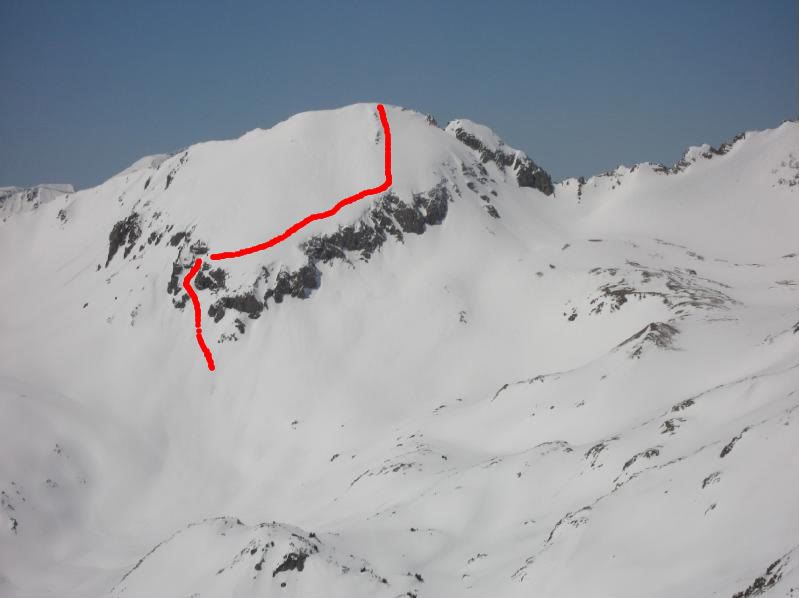 Later in the day, I took another shot of our route, which basically followed the skyline.
The birthday boy got first tracks on near-perfect corn on this big East face: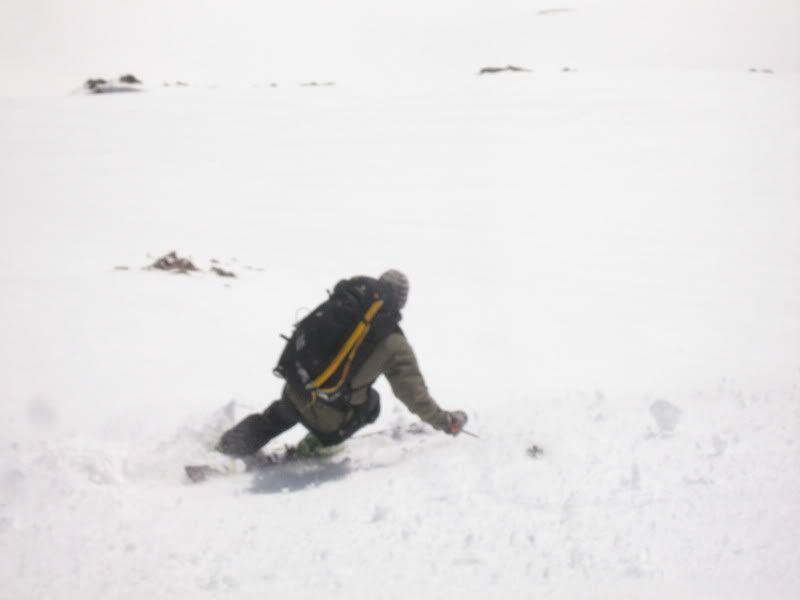 Two of Jasper:
Finding the exit was obviously key, and the one we found required a little bit of air. I went ahead and guinea-pigged it, which I guess means I already feel comfortable on my second day of dynafiddling. Pete had the best form off of this air, so he gets the photo. The "sick" maggot was standing right there, but I erased him in PS. Weird to just deny someone's existence like that…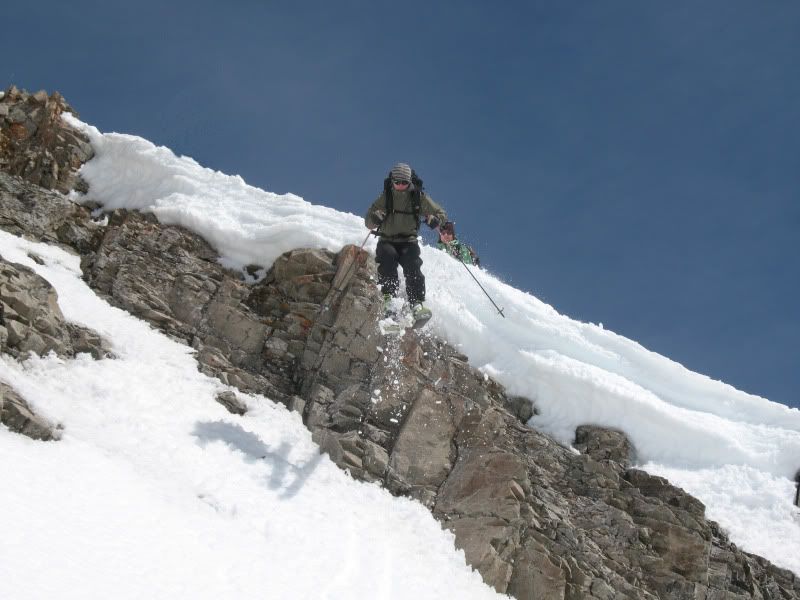 Pete again: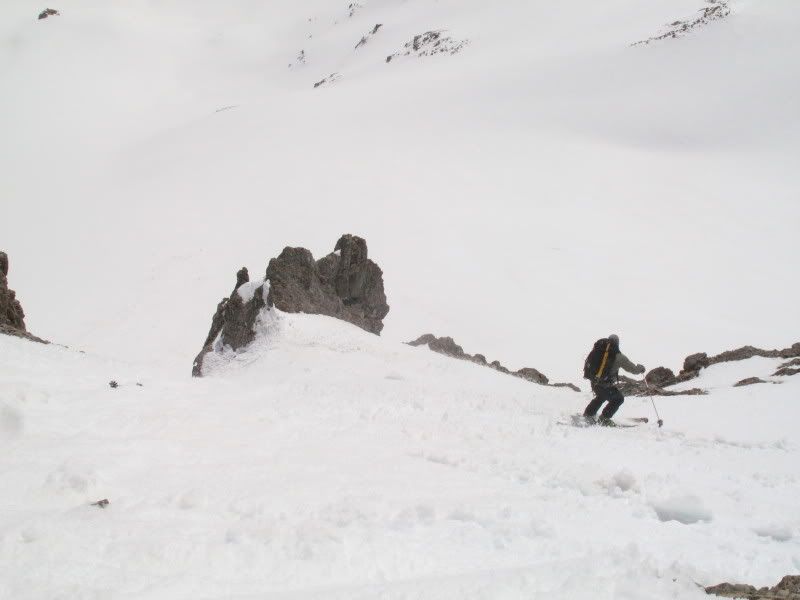 We started climbing back towards Whiterock and got good views of the ridge connecting these two summits. There are a number of pinnacles and cliffs comprised of very rotten rock, so I doubt if it has ever been traversed on the ridge crest.

Just under the summit of Whiterock, things got a bit interesting. Jasper checked things out: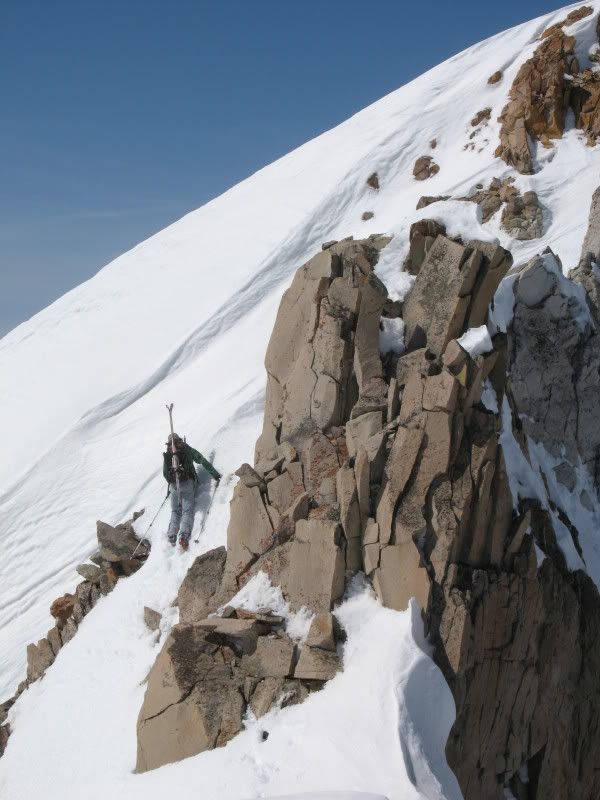 …and decided we should make a descending traverse around the rotten pinnacles: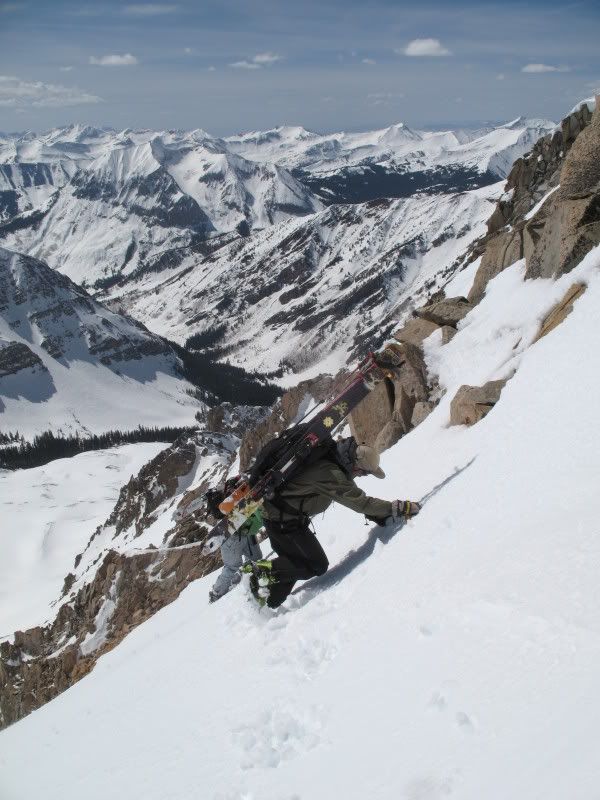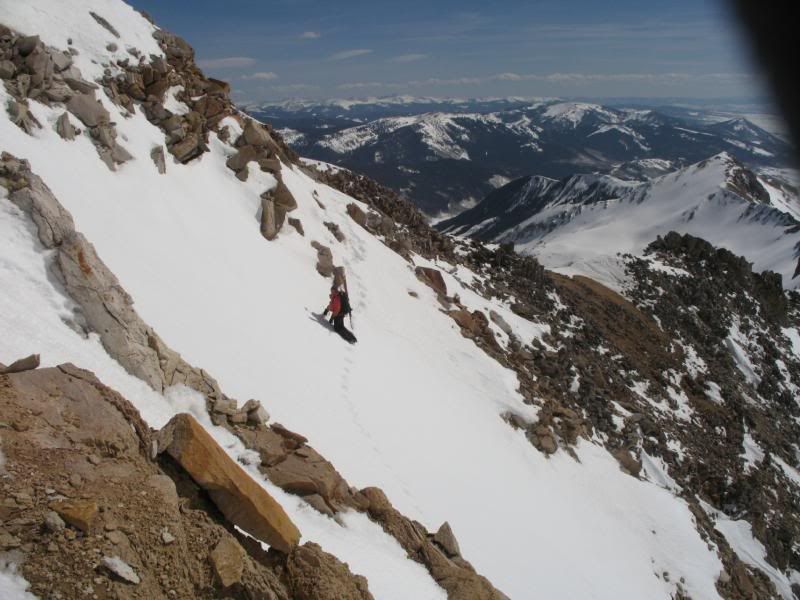 …and then back up again through damp sugar snow that hasn't quite reached full springtime maturity.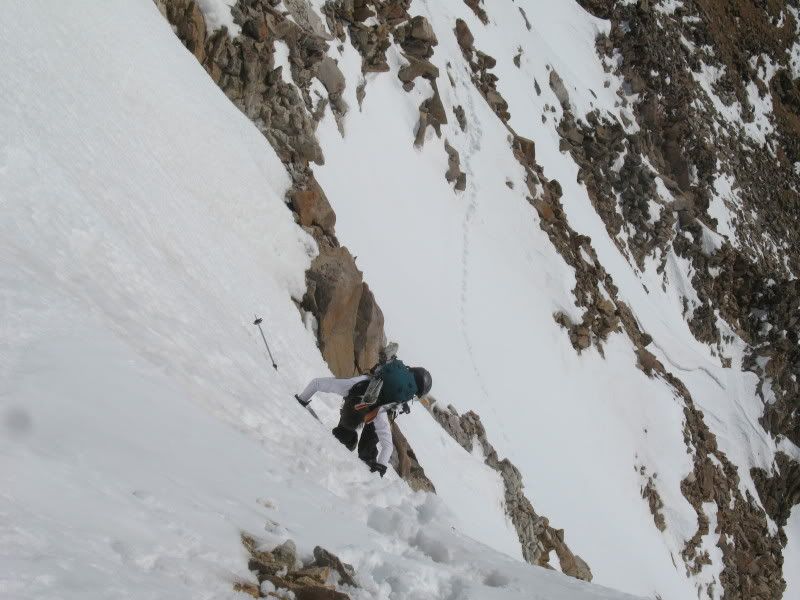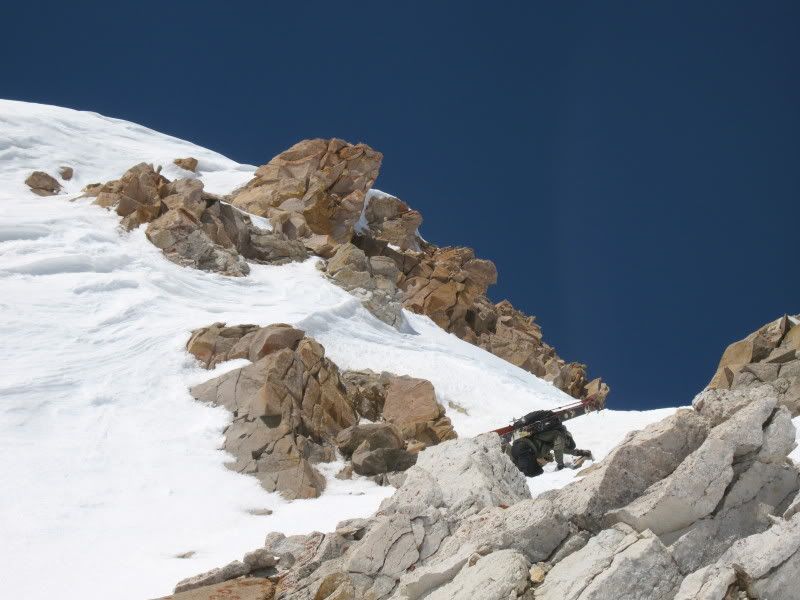 We were again confronted with amazing views. Brittany and I skied this face last year in June, since the couloir on the right (El Nacho) had slid out:
The Maroon Bells were unbelievably impressive from our vantage point: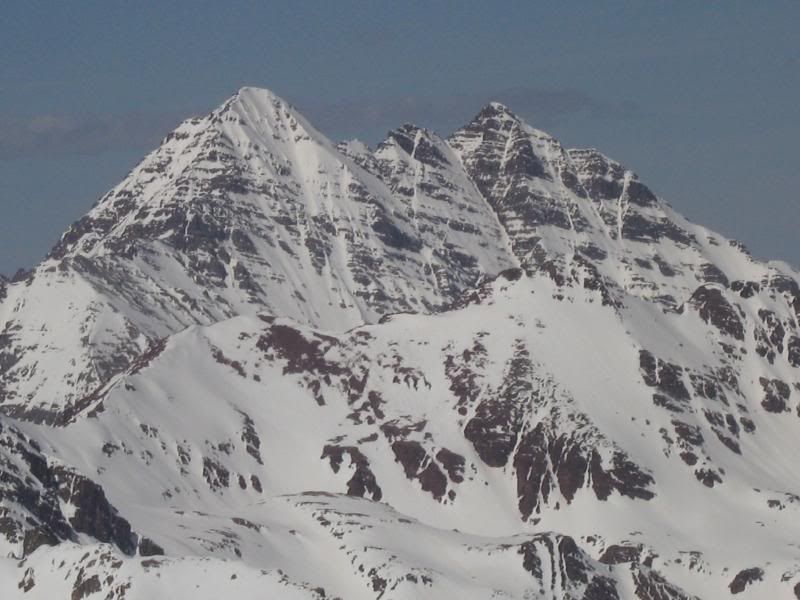 As was Pyramid:
The North facing shots were super tempting, but they would have added many miles to our tour and would have offered up about half as much fall line skiing versus the W side.
West side it was (Jasper):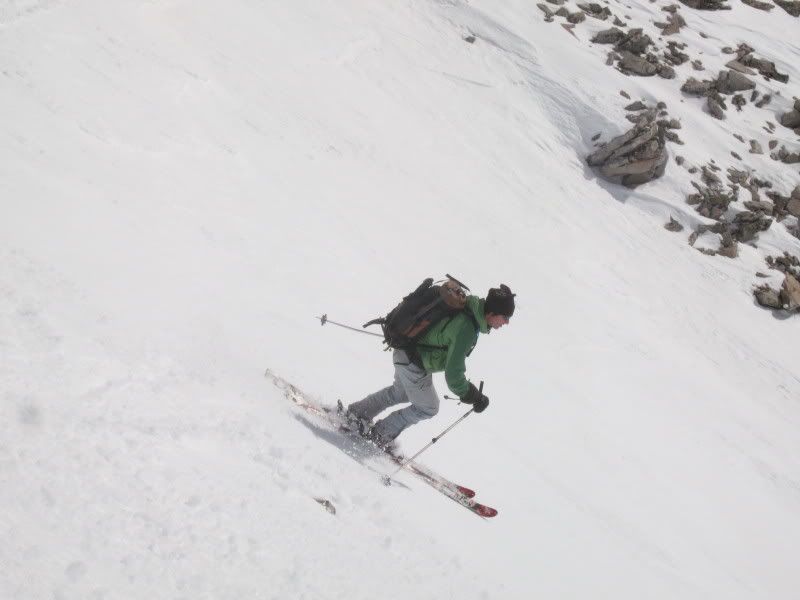 Pete:
We even found powder as the route turned slightly more N facing near the bottom of this 3,000′ run: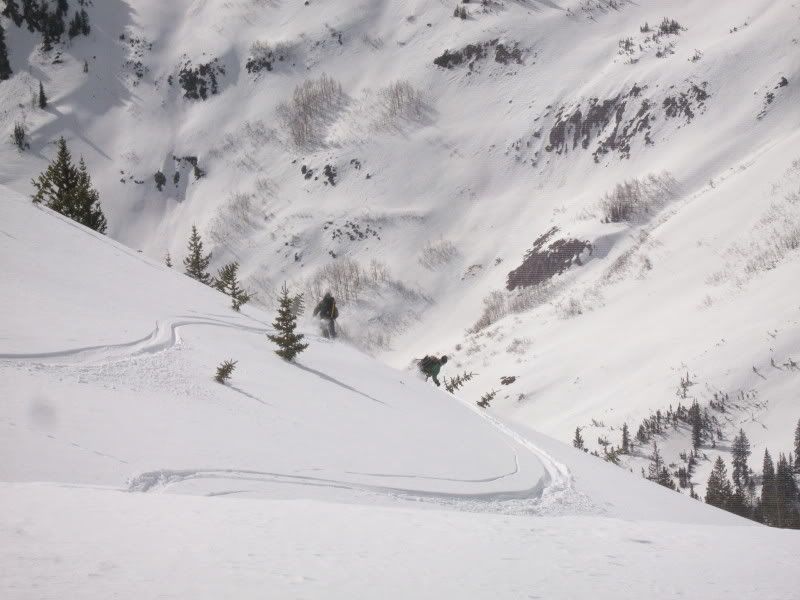 From Copper creek we could see a large portion of the run:
From here it was just a long slog through the town of Gothic back to our cars: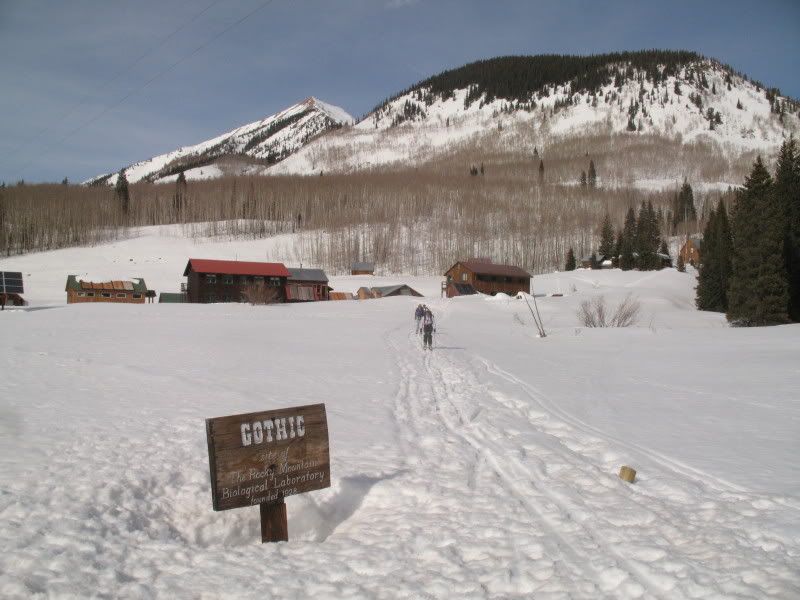 Made me wish that I had a March birthday, too. Great day.
Frank
loves snow more than anything... except his wife.  He ensures his food is digested properly by chewing it 32 times before swallowing.He is a full-time real estate agent serving
Crested Butte and Gunnison
and would be honored to send you his
monthly newsletter.
Latest posts by Frank Konsella (see all)