Marjorie Bowl and Shit For Brains Couloir | 4.26.18
(Last Updated On: October 17, 2018)
Back in April, I suggested to Brittany that we should head North and ski for a few days. Normally, we like to head South to the San Juans in the spring to take advantage of the amazing access, but this year the San Juans got even less snow than we did in Crested Butte. And to top it off, even more dust, too. Meanwhile, parts of Summit County, like Arapahoe Basin, actually had an average year- or maybe even slightly above average. After a long day in the Gore Range on West Partner (aka Peak U), we were looking for something a little shorter. Since we were staying at a friend's place in Keystone, and I hadn't skied Shit For Brains as part of our book research, the striking Shit for Brains (SFB) couloir on Black Mountain became our goal.
When we arrived below SFB, we noticed a couple of things. For one, we had had a solid freeze, so everything was frozen solid- in fact there were even a few clouds and snowflakes in the area. Two, SFB had a fair amount of debris in it- and that definitely needed to soften up if we wanted to ski it. Meanwhile, a few tracks in nearby Marjorie bowl looked really good, in recycled powder conditions, and it looked like there was room for more. Why not ski Marjorie first, we thought, then ski SFB after it had more time to warm up. So off to Marjorie we went…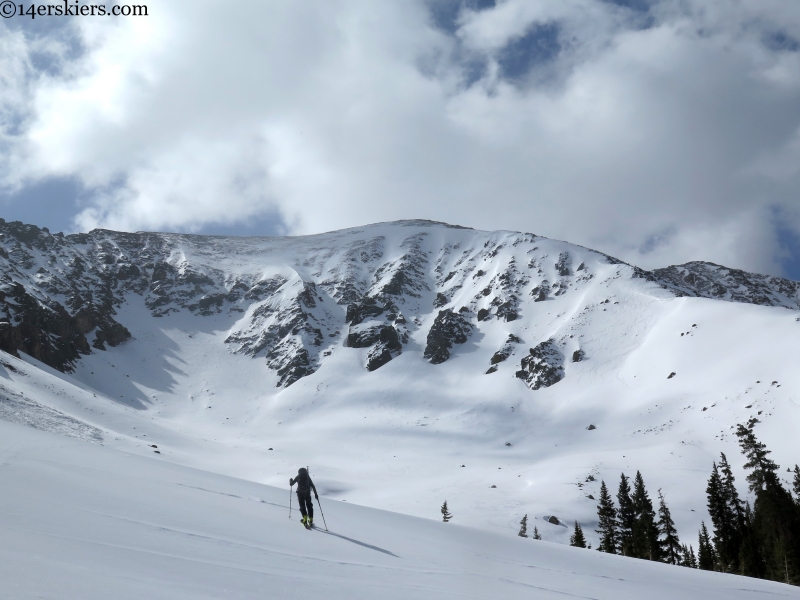 Sure enough, we found some very nice late April conditions in Marjorie Bowl. Frank: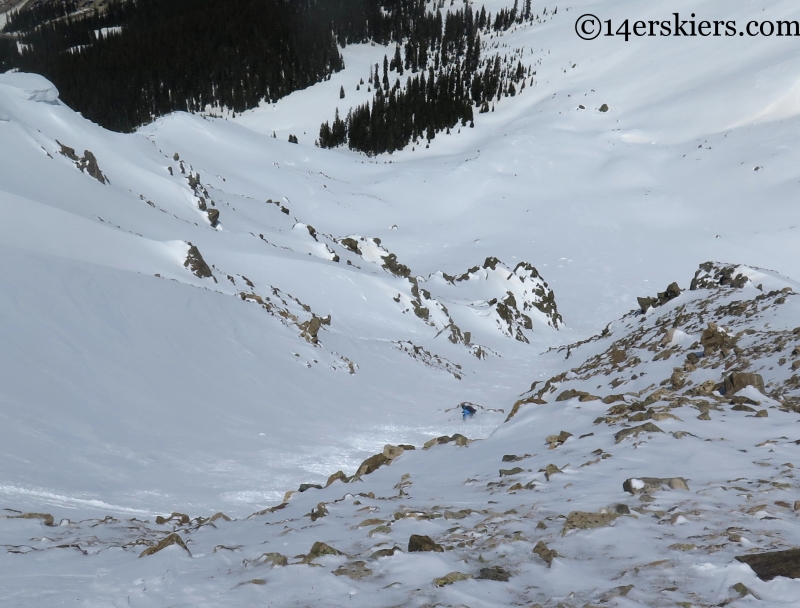 Black Mountain and SFB in the background (Frank):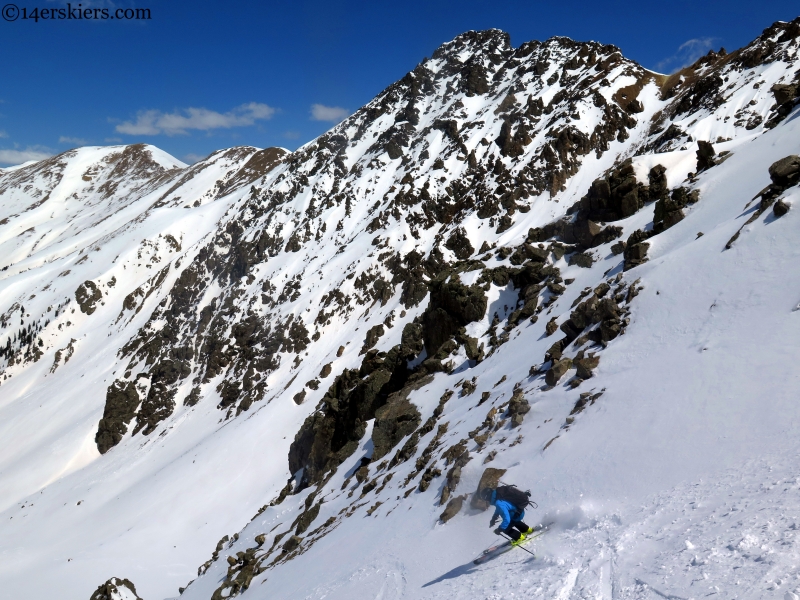 (Brittany)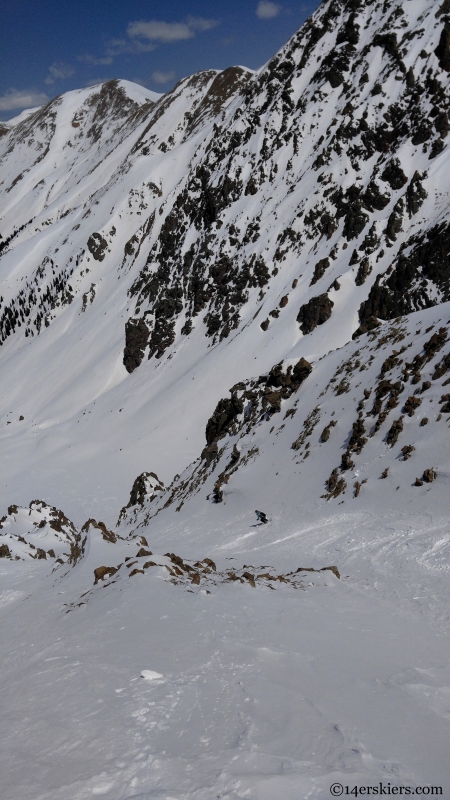 Loveland Pass in the distance: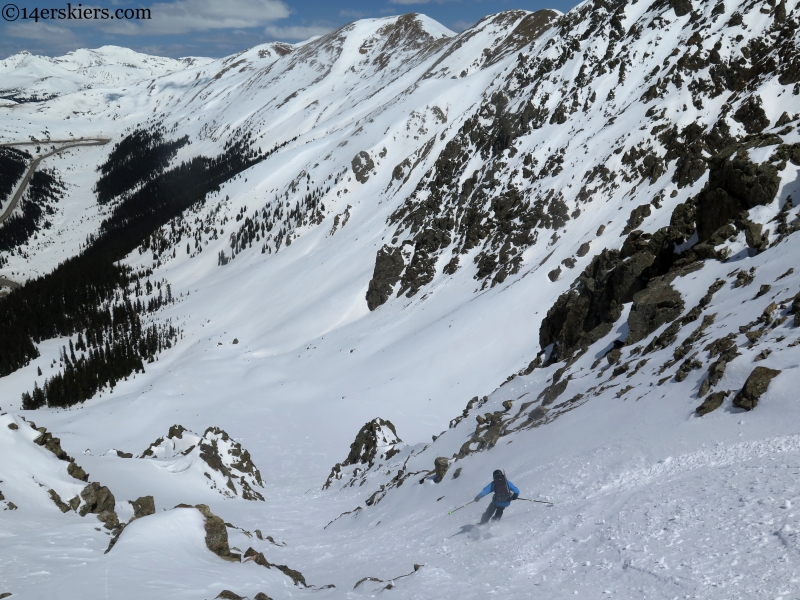 Brittany: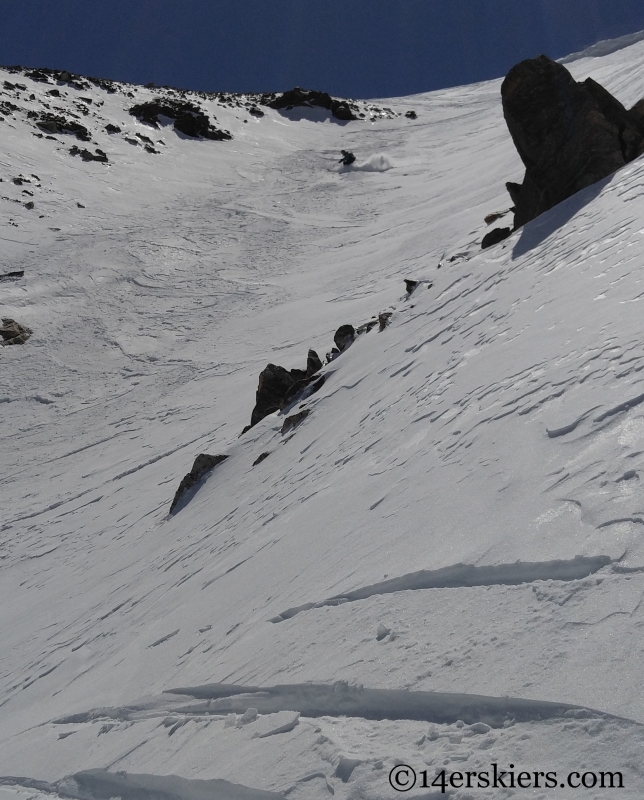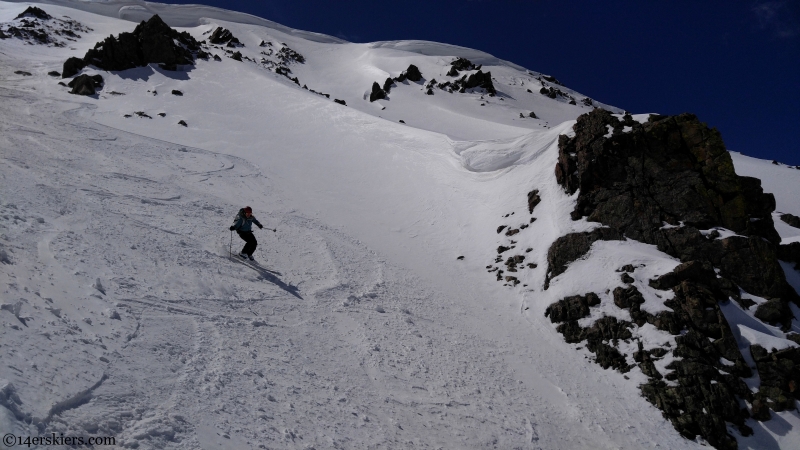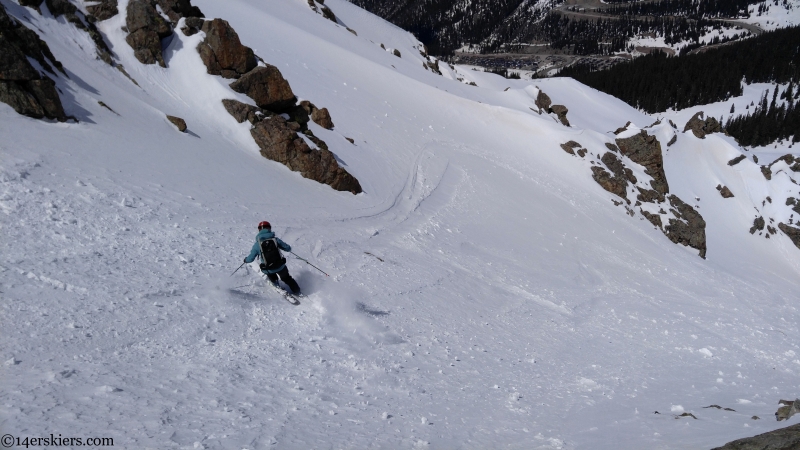 Frank: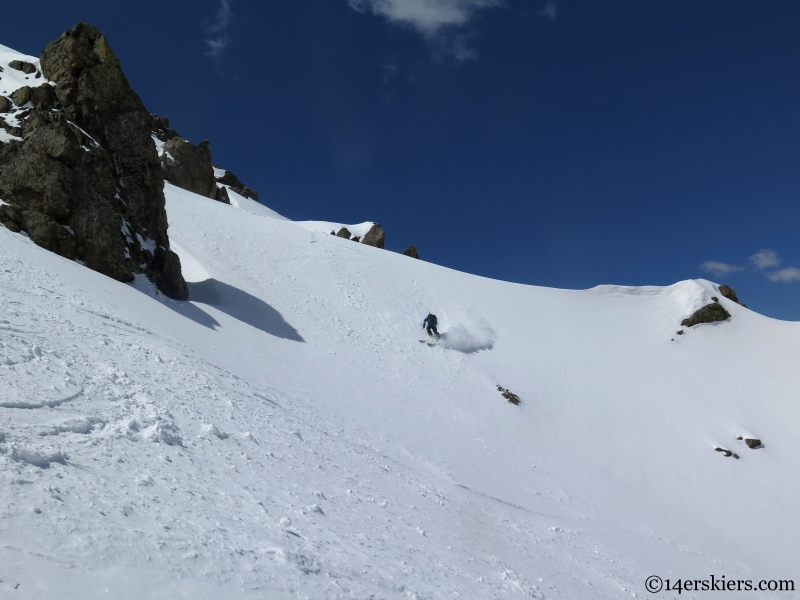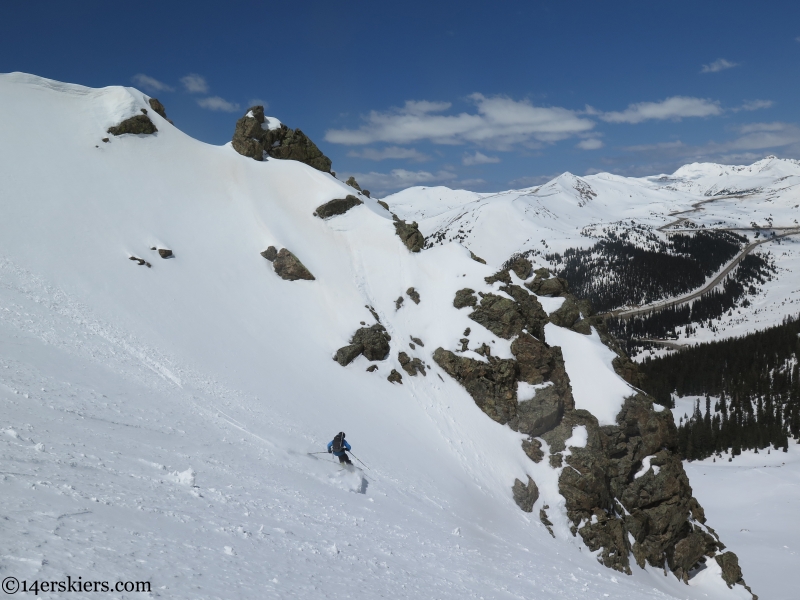 Marjorie's was good. We knew that another lap or two in Marjorie Bowl would be the best skiing, but we're suckers for a good aesthetic line. So even though Shit for Brains couloir looked a little worse for wear, we decided to head up it for our second lap of the day. We reached the top and did our best to work the margins in the virgin snow. Brittany: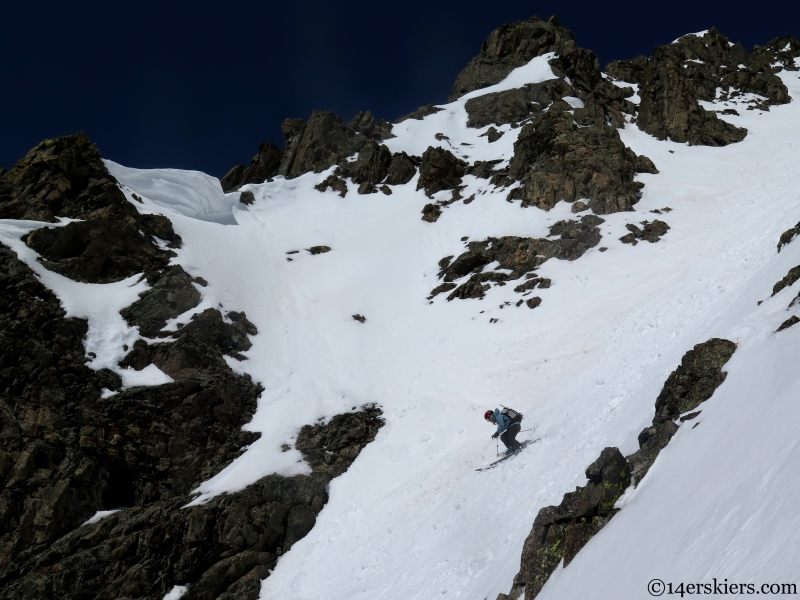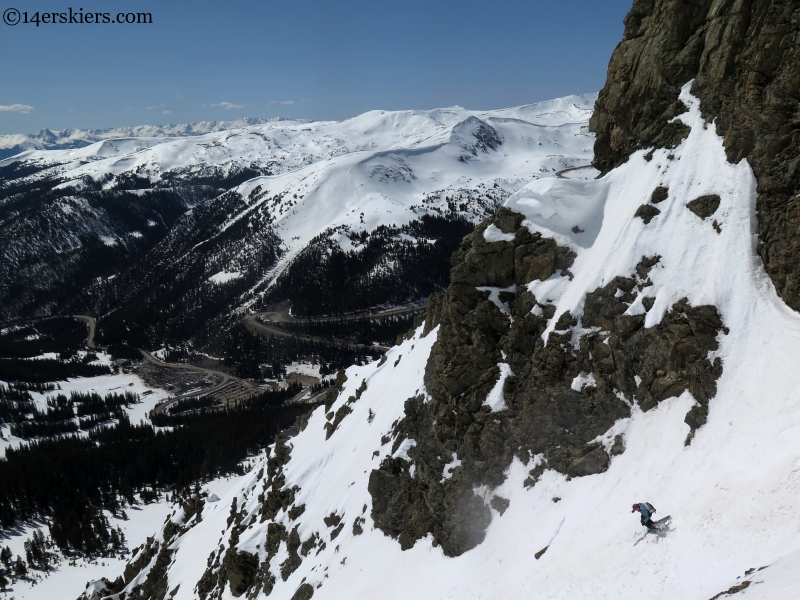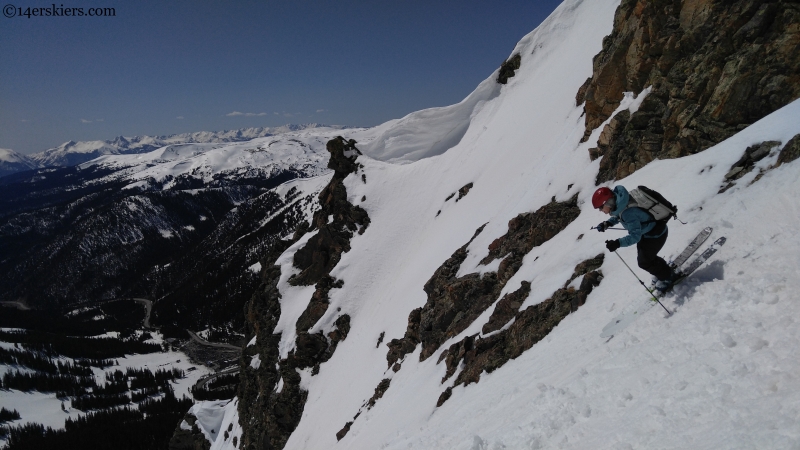 Frank: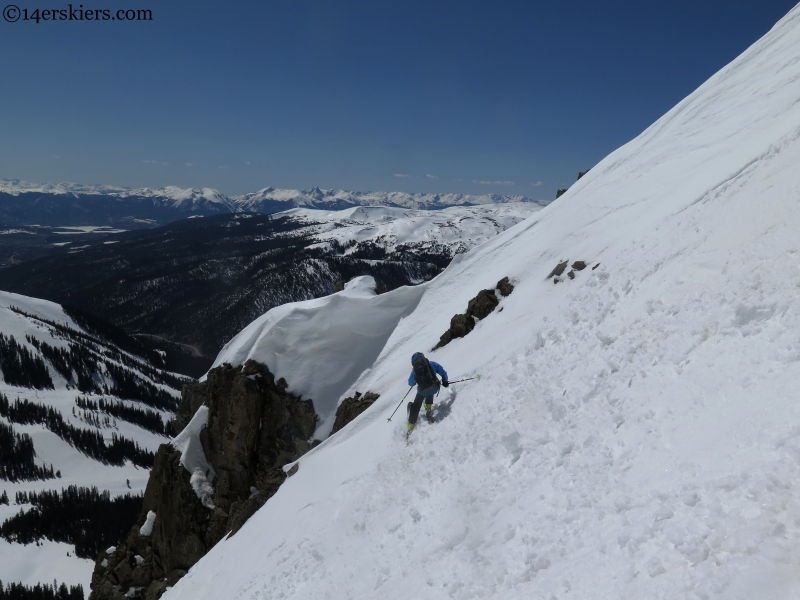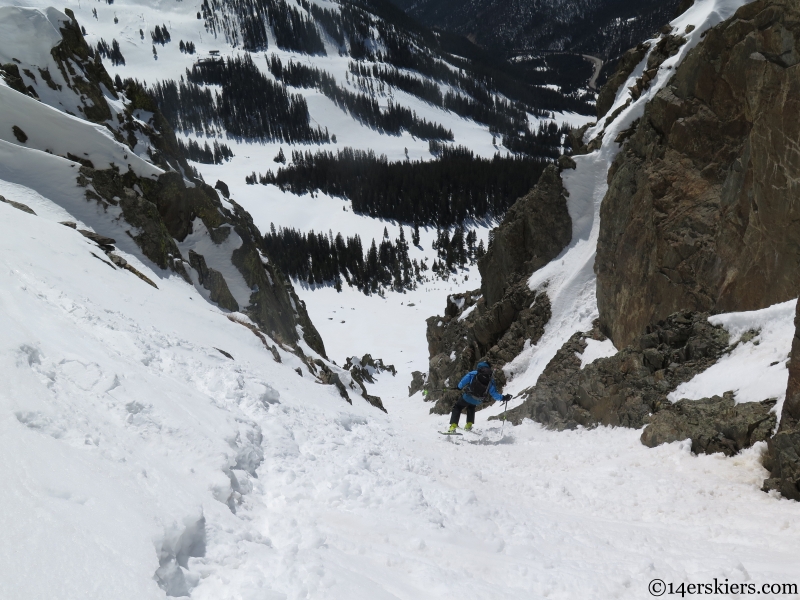 Even though Shit For Brains wasn't in great condition, it's one of those lines that is hard to get in perfect conditions anyway. Marjorie, on the other hand, was an unexpected surprise- and well worth a few laps or tacking on in conjunction with SFB like we did. The following day, we got to play the I-70 junkshow, ending up on plan C. More on that later…
Frank
loves snow more than anything... except his wife.  He ensures his food is digested properly by chewing it 32 times before swallowing.He is a full-time real estate agent serving
Crested Butte and Gunnison
and would be honored to send you his
monthly newsletter.
Latest posts by Frank Konsella (see all)
Summary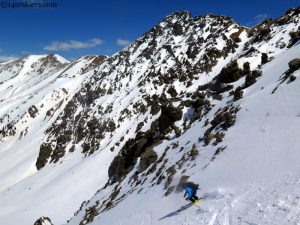 Article Name
Marjorie Bowl and Shit For Brains Couloir | 4.26.18
Description
Backcountry skiing report from Marjorie bowl and the Shit For Brains couloir near Arapahoe Basin in Summit County, Colorado
Author