TBT: Mountain Biking in Minca, Colombia
(Last Updated On: May 31, 2018)
This post is part of a Throwback Thursday series featuring trip reports that we haven't had a chance to write about until now! Look for them on Thursdays!
In April 2017, Frank and I splurged on a trip to places we wouldn't normally go – Panama and Colombia. We had a fantastic time on this trip, much of which we have already documented on this blog. But, we left some of the best parts of our trip unfinished – our remaining adventures in Minca, Colombia which ended up being the most favorite part of our trip.
When I was researching where to go in Colombia, I stumbled across Minca in a short passage in the Lonely Planet Colombia book. The author mainly said that it was a small mountain town that was good for mountain biking, and was becoming more popular with backpackers. But, there wasn't a lot of info out there about Minca, which of course made it more alluring to us. We decided we had to check it out, and mountain biking there was high on our list.
It didn't take us long to realize the biking, in general, was popular in this area.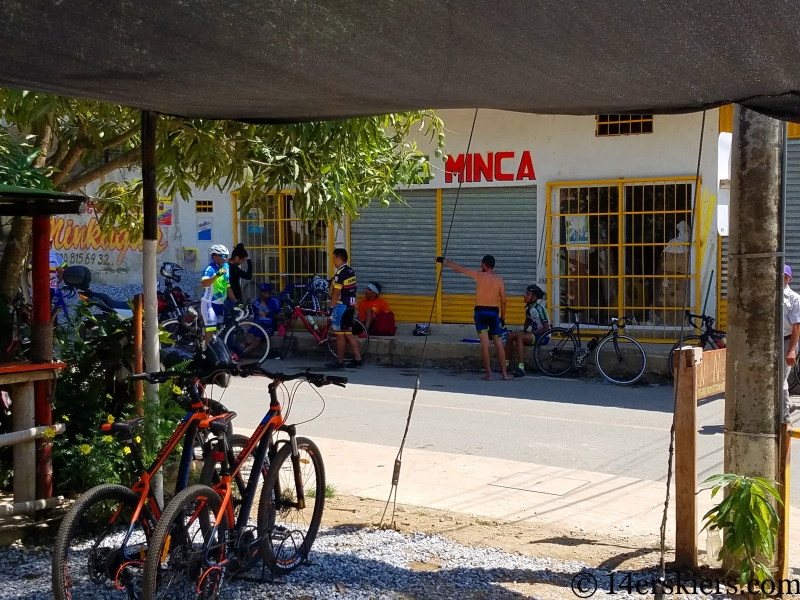 We also realized that the mountain roads that led to destinations we wished to visit were far beyond the capabilities of our tiny rental car. So, we intended to use bikes to help us travel around to various sites. We easily found a rental bike place about a minute walk from our hotel. They had 2 bikes left for the day. "Great, we'll take both."
The man and woman didn't speak English, yet we were trying to communicate with them in "pigeon" Spanish where we should take the bikes. We had no idea where the various waterfalls were, or the location of Casa Elemento with the giant hammock, or the famous coffee plantation. The man pointed to the painted map on the wall….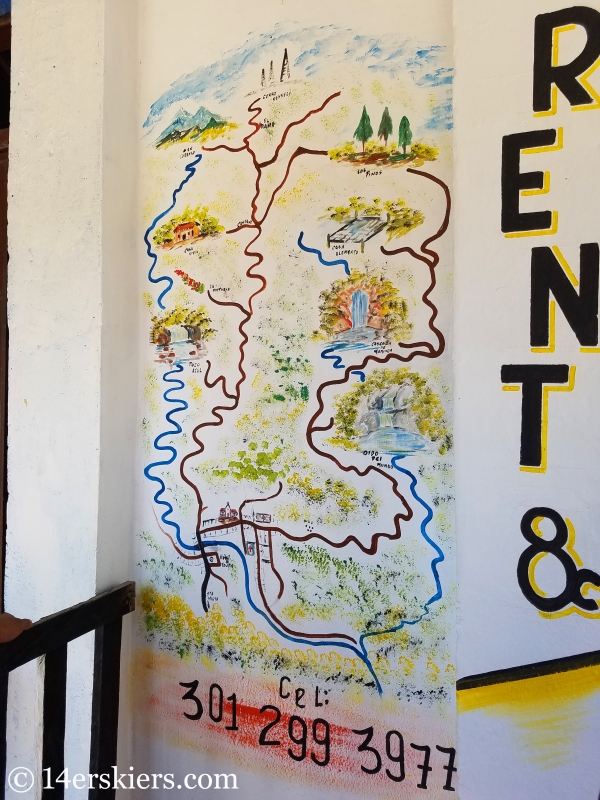 Yes, these were all the places we wanted to go…. (Click to enlarge)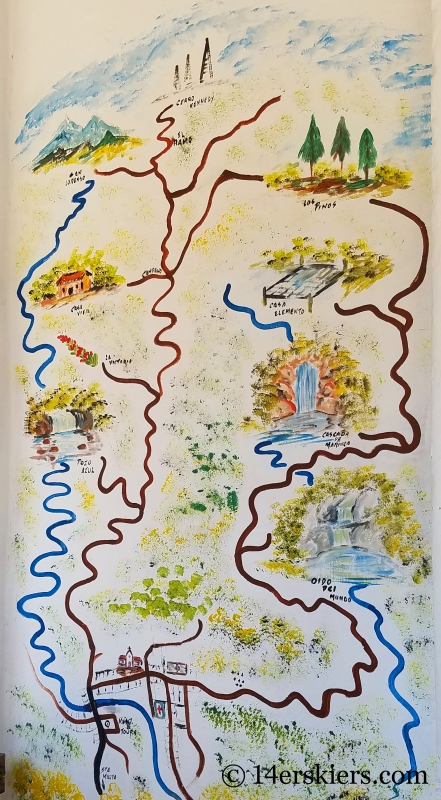 The bike rental guy explained to us that we would have to hike to some of the water falls, and gave us bike locks. He said our loop should take us 5 hours. Yep, kinda like the Gilligan's Island thing – but instead of a 3 hour tour it should take us 5. And we had a picture of a map that was painted on a wall that would help us navigate. Perfect! What could possibly go wrong? 😉
But, we didn't think of that. Nor did we think of stopping at a store to get extra snacks. Surely there would be food on the way…. Yep, we are experienced mountain bikers….
And then we were off, eager to explore this unknown area.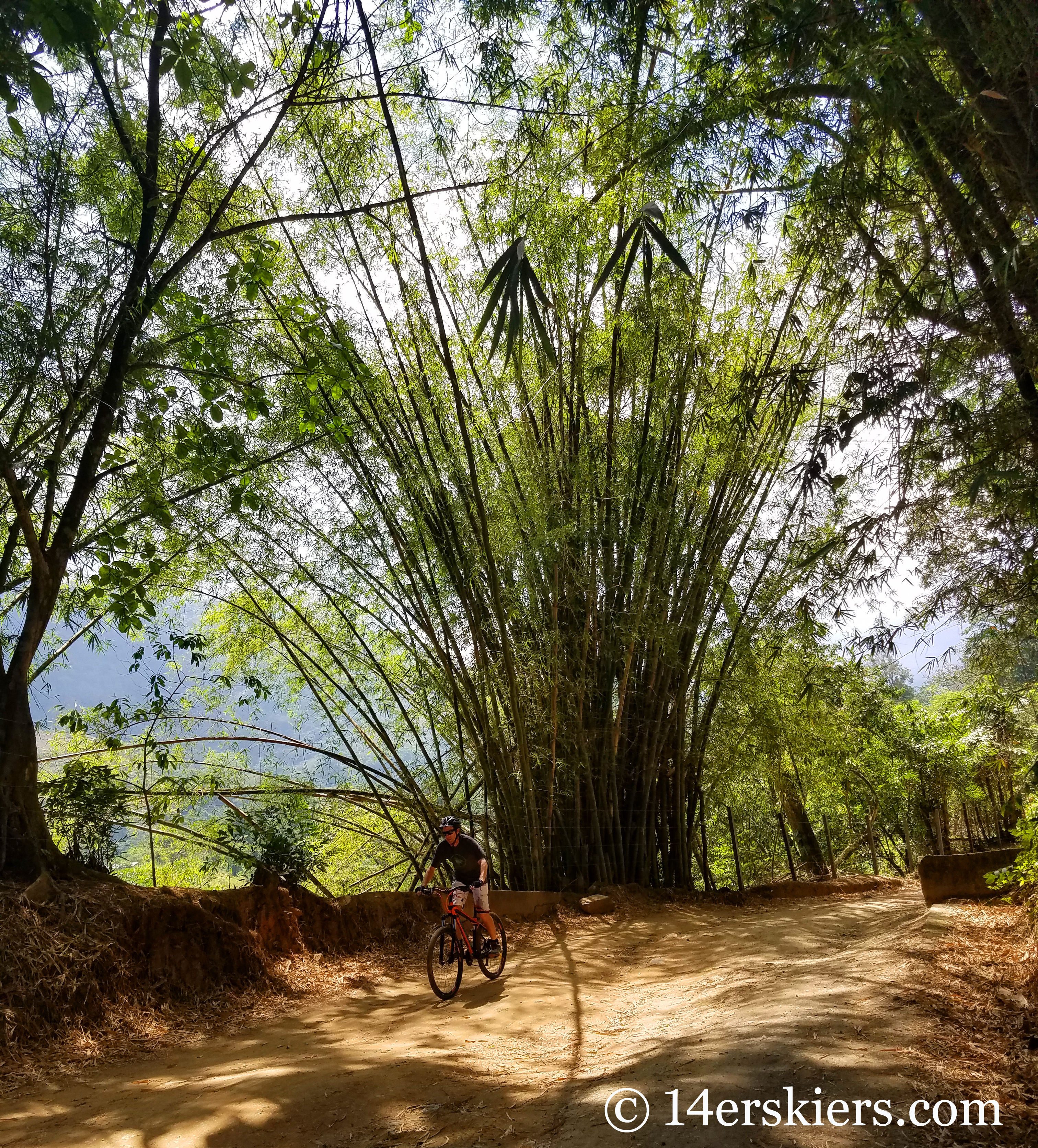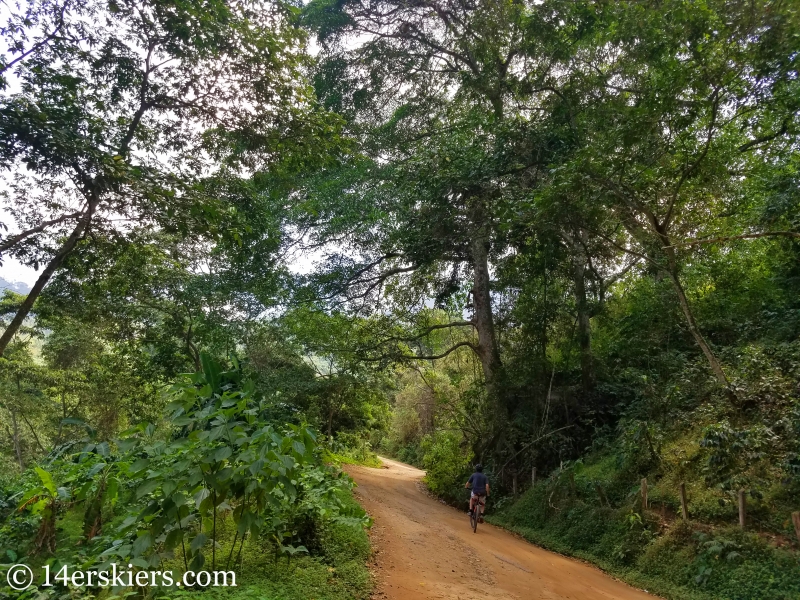 First stop, Pozo Azul. We made a turn and continued on bikes down the narrow road which eventually ended.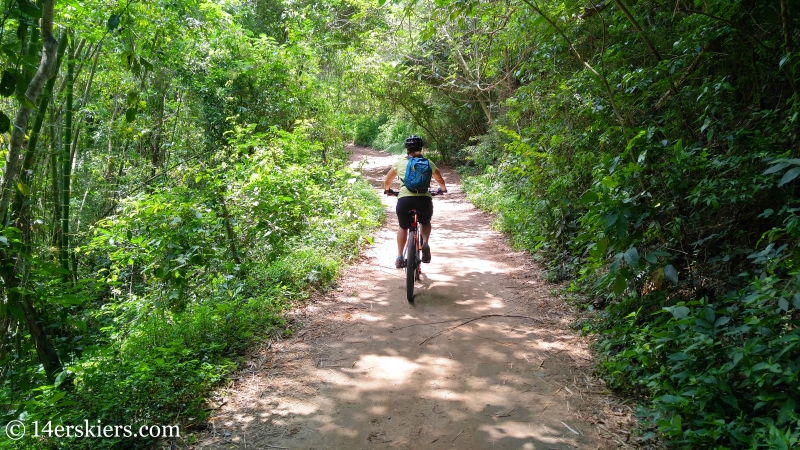 We then locked our bikes and began the short hike down to the falls.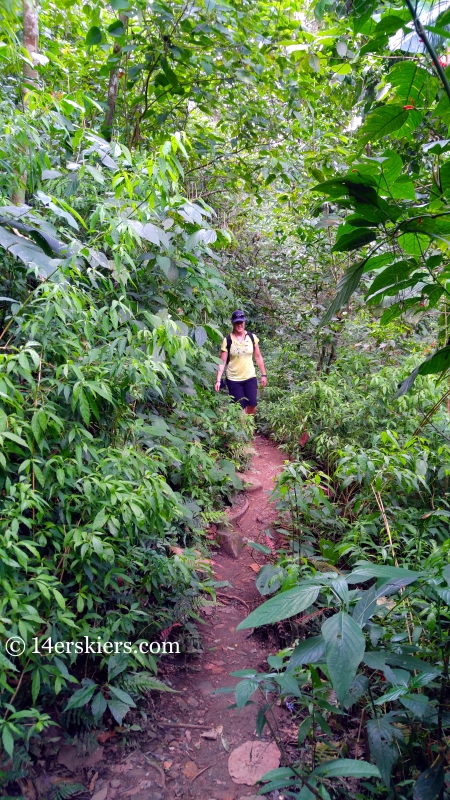 I felt like it was a scene from straight out of Avatar….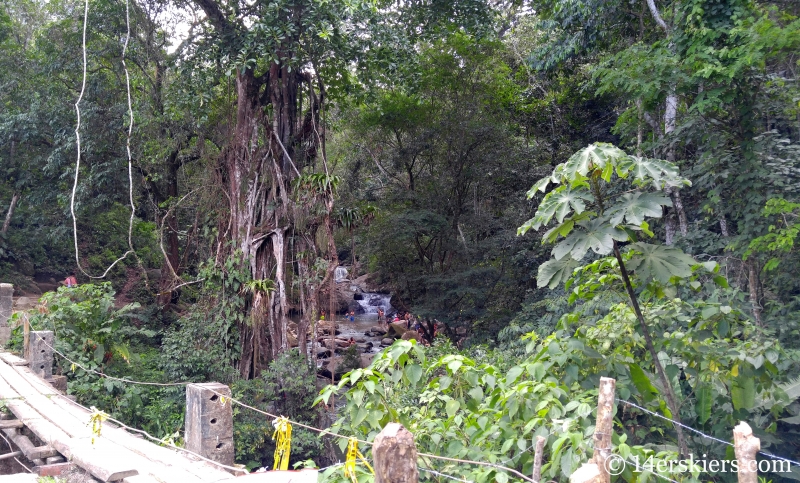 Complete with a handful of giant trees that are probably older than any of us could imagine.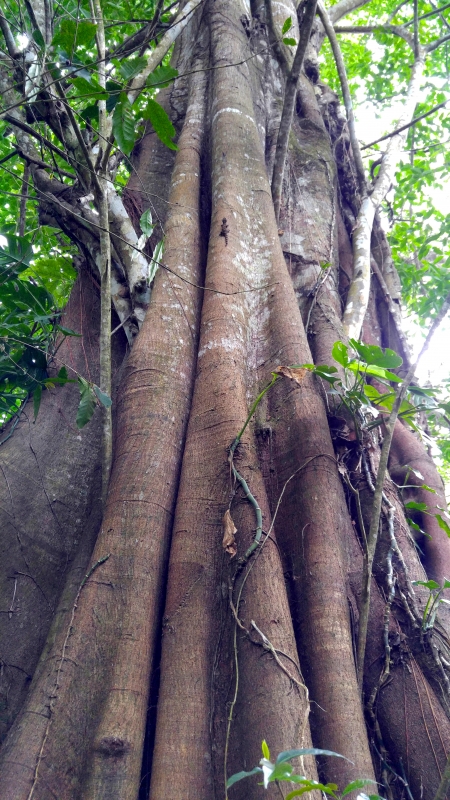 But there really wasn't much to these "waterfalls". In fact, it was actually more of a swimming hole, with lots of Colombian people enjoying the cool water early in the morning. How did they all get here? Most of them hired motorbike taxis.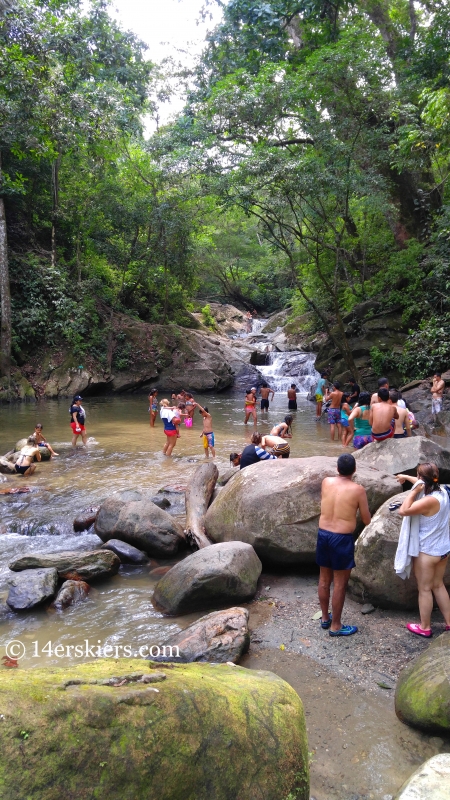 After stopping at Pozo Azul for quite some time, we continued onward. And that's when we saw the dark clouds coming in….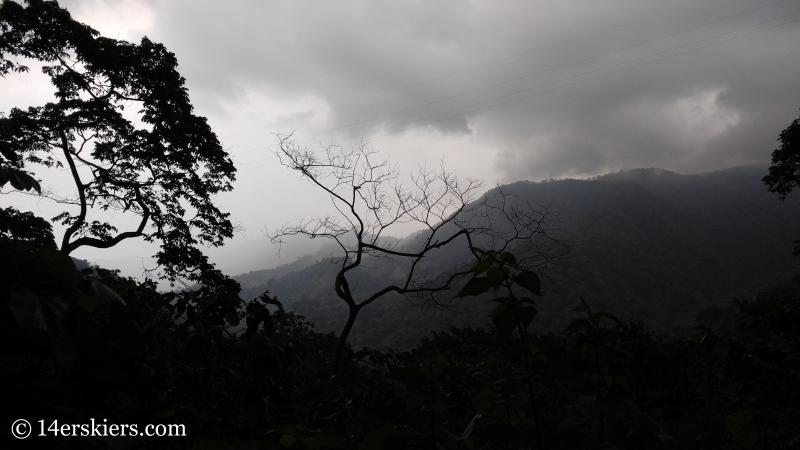 We rode faster and harder, hoping to make it to La Victoria coffee plantation before the clouds decided to unleash. But, we didn't make it. As the rain poured around us, the road began to flood and I kept expecting Noah to emerge skippering his arc down the way with thousands of animals onboard. But, he didn't come. Yet, the rain kept coming. We talked about turning around, but we thought of the things we'd miss. And we didn't want to wimp out on what the bike rental guy told us was going to be a 5 hour tour, stops included. Finally, the rain subsided and we continued uphill, slowly drying out our soaking wet clothes.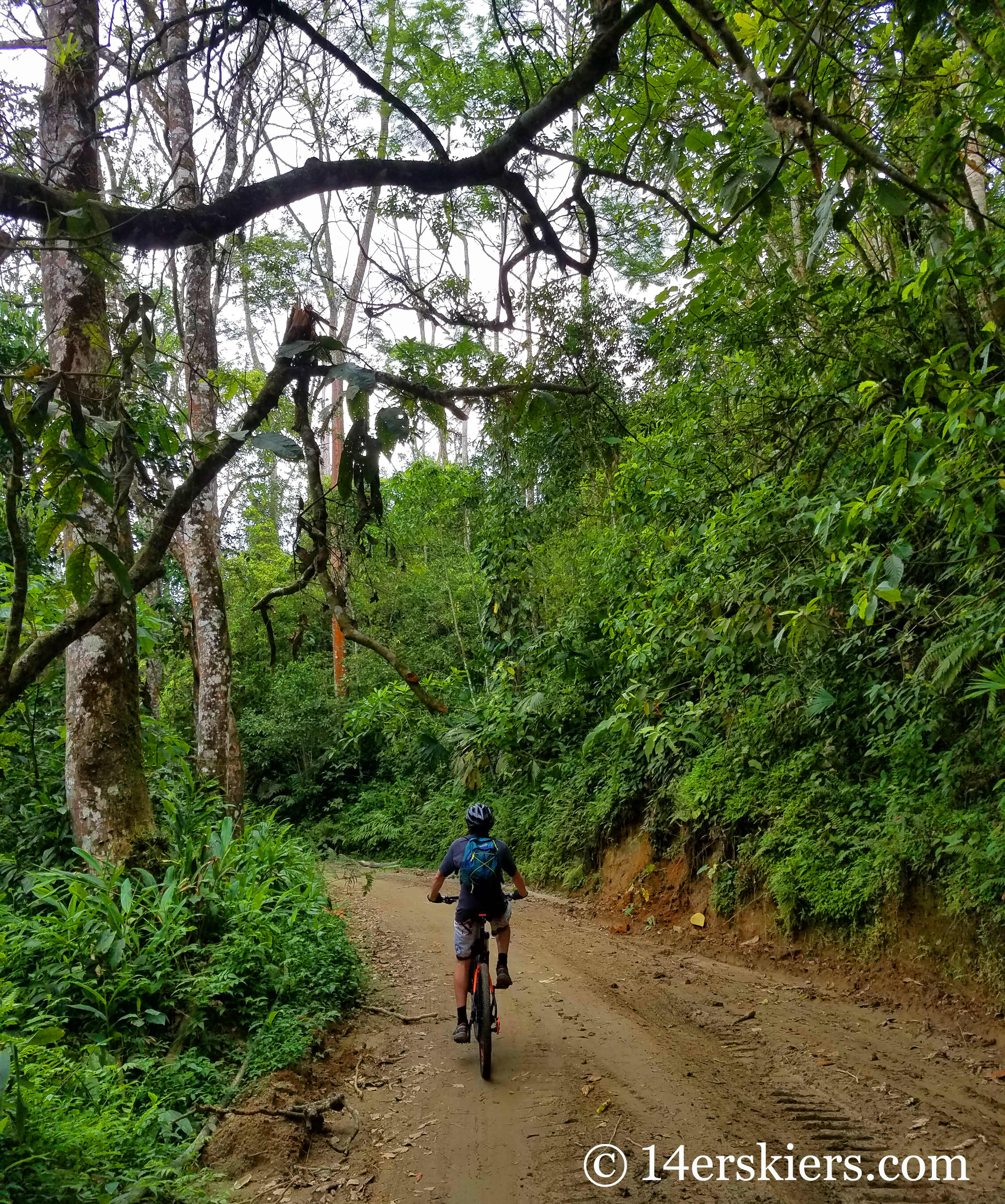 It was becoming apparent to us that this so-called 5 hour loop was much much longer than we had anticipated. We came across the turnoff for La Victoria and quickly realized that the road traveled miles out of our way. We were getting hungry but the detour didn't make sense. Food would have to wait. We'd try in the small town of Campano. We rode higher and higher into the clouds, and the rainforest continued to mist around us.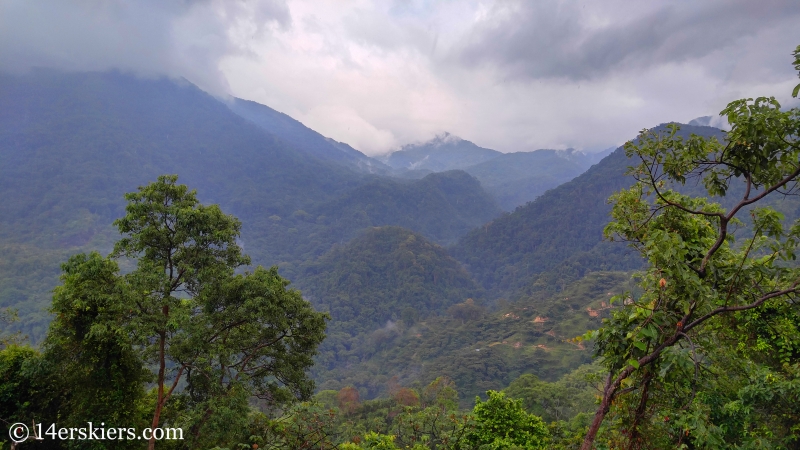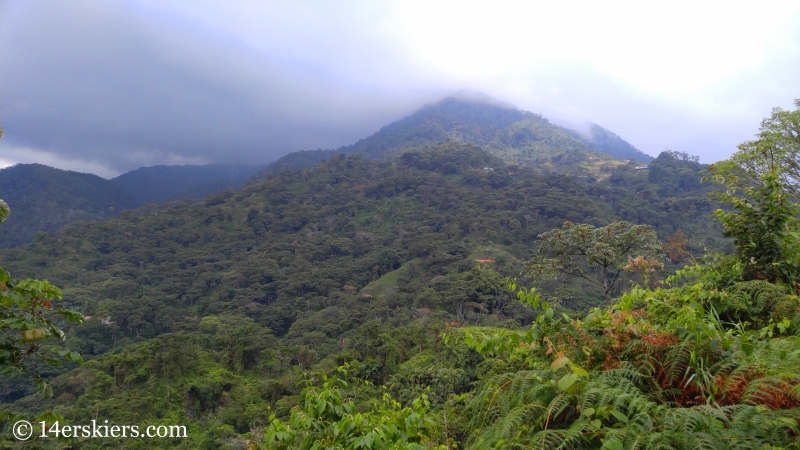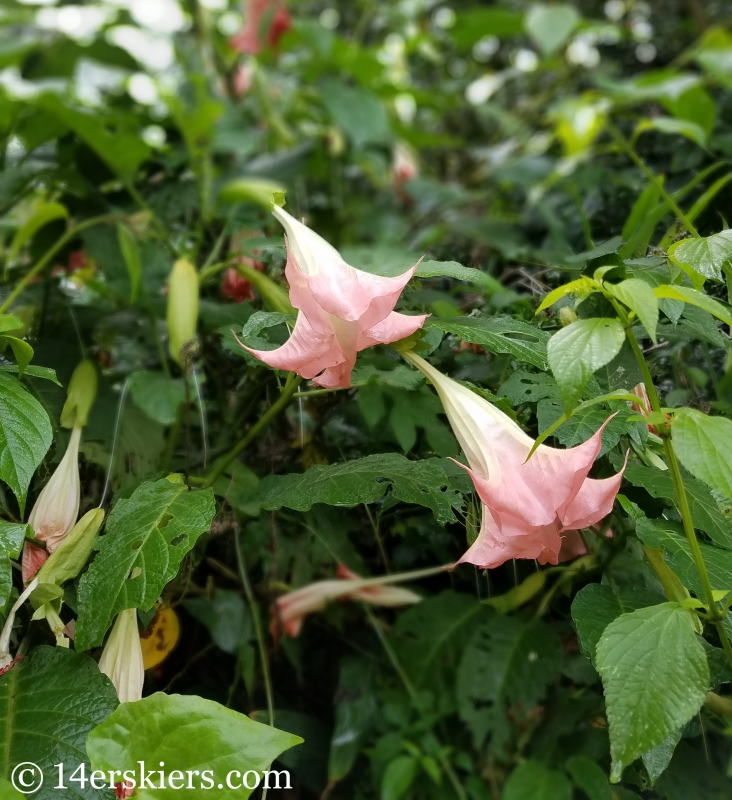 Finally we entered the small town of Campano which was nothing more than about 4 buildings. One of them looked to be a sort of store where we could perhaps buy some snacks. But, Frank didn't want to have any part of it. Even though I was borderline "hangry", we continued onward. We found the turn toward Los Pinos, and continued down up that road.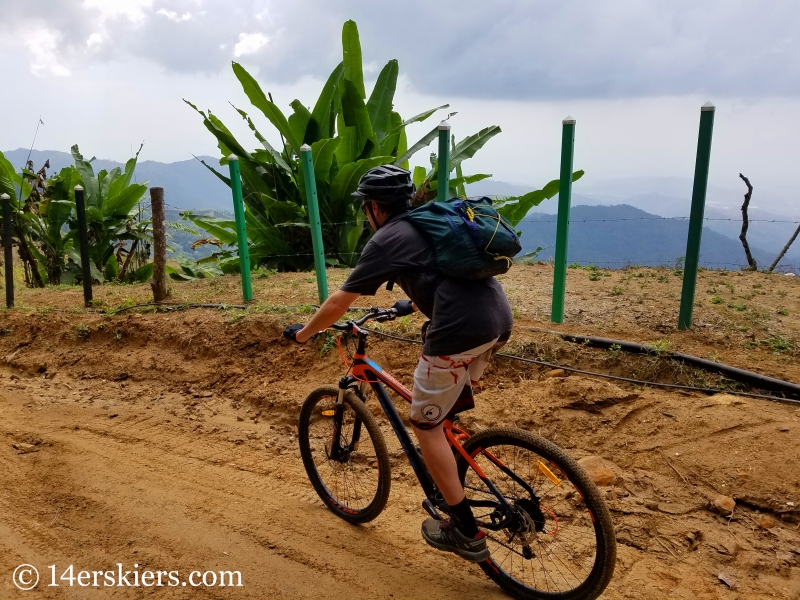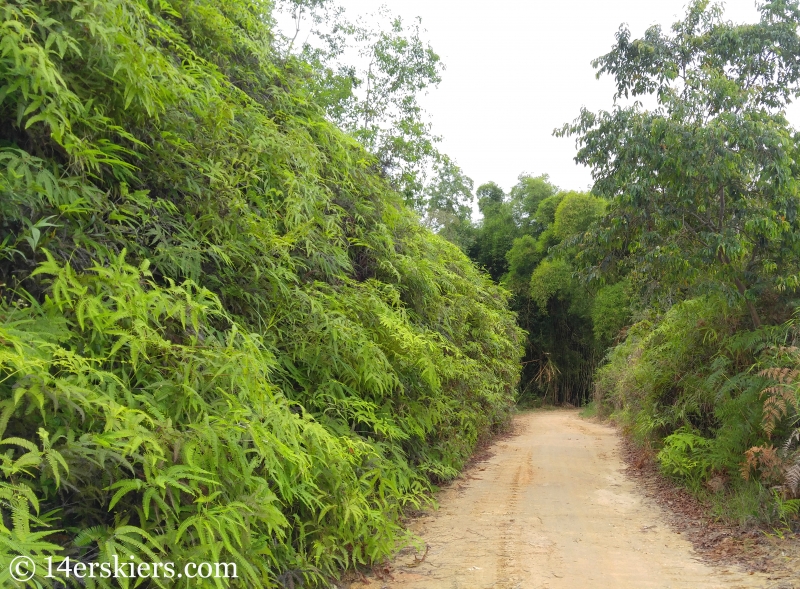 We were hoping we'd find a small restaurant or store at Los Pinos, which marked the highest point of our bike tour that day, but no such luck. Still, we were greeted with fabulous mountian views!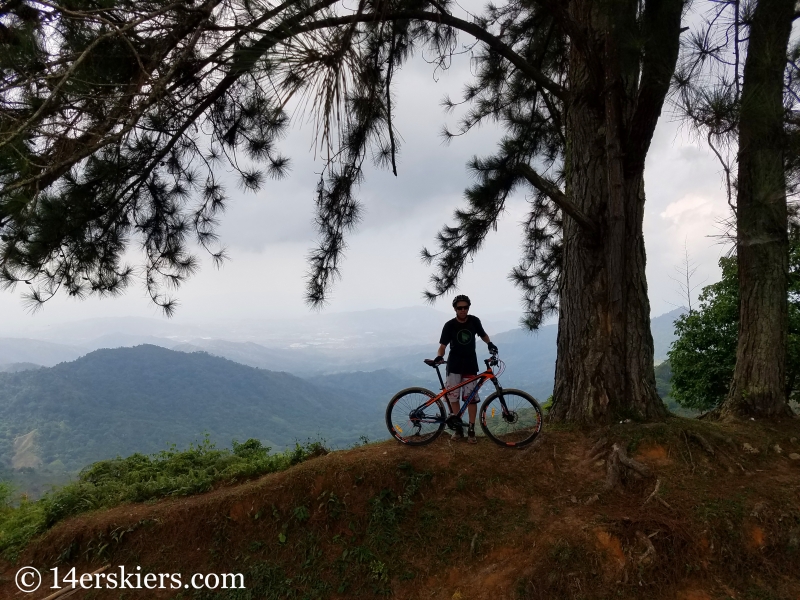 From there, it was all downhill… And down we went!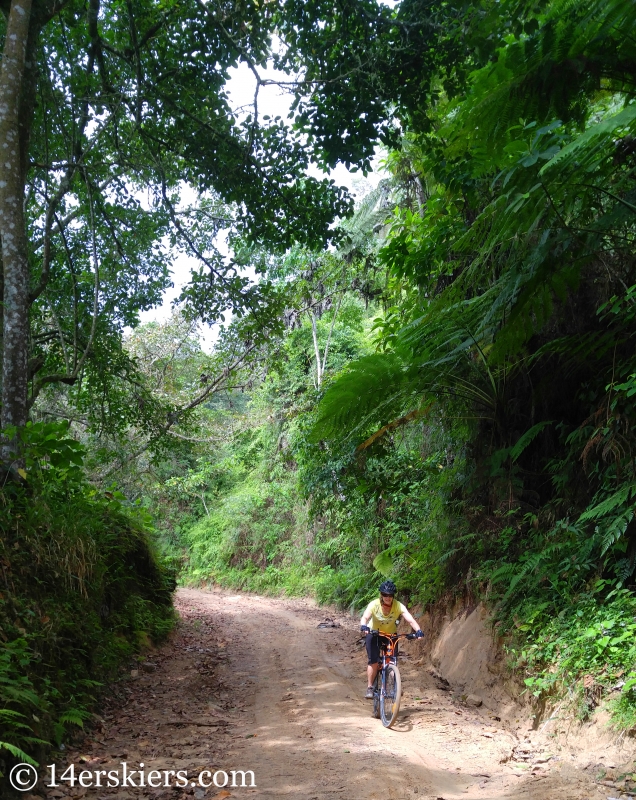 The occasional bamboo thickets were amazing.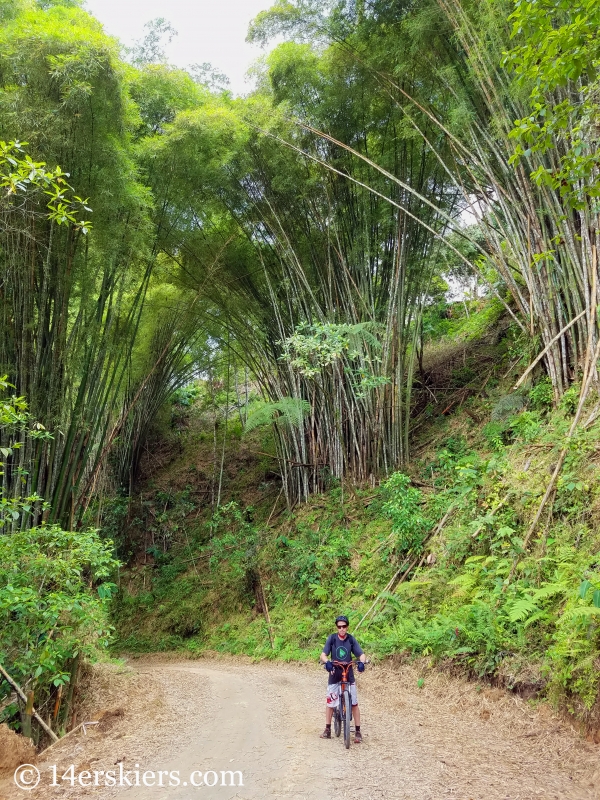 As we descended, we came across two European-looking women walking up the road. We stopped to talk to them. They were visiting from Germany and a local Colombian had recommended to them to do the same loop we had been doing, as a hike. Mind you, we were somewhere around hour 5 or 6 on what was supposed to be a 5 hour tour, with stops, and we didn't even make all the stops. Yet, we still had miles to go. We conveyed this information to them. As we talked, I turned around and saw the sign. It's lucky we ran into these Germans or else we might have possibly missed it. A tiny sign showed the way to Casa Elemento.
I'd heard only good things about Casa Elemento, largely from a family whom we ran into in during our stay in Cartegena. Internet reports boasted of a giant hammock that hung over the mountain side. But, they left so much else out – Casa Elemento was a more or less self-contained "resort" among the surrounding rainforested mountains, complete with a bar, restaurant, pool, and hostel.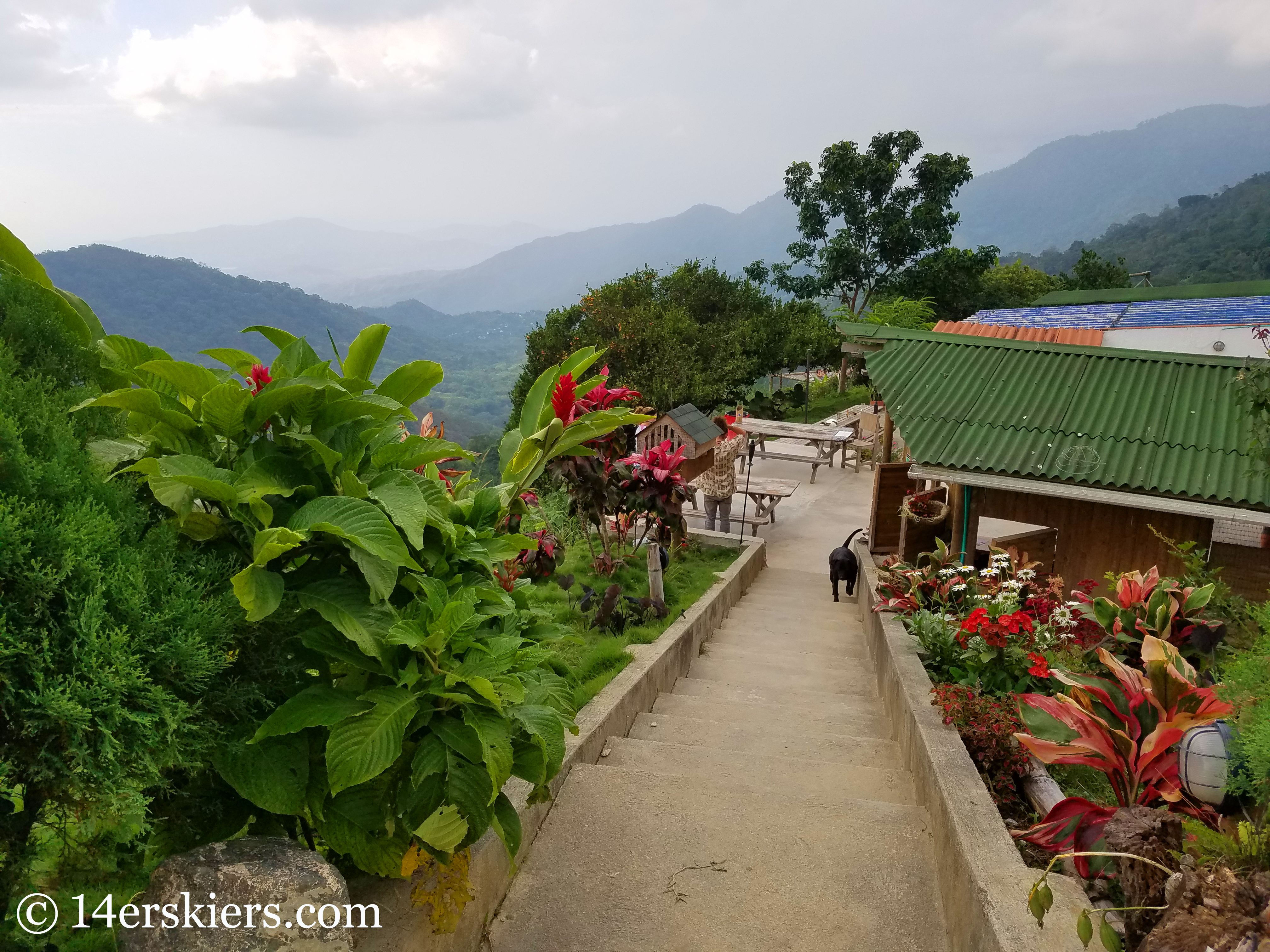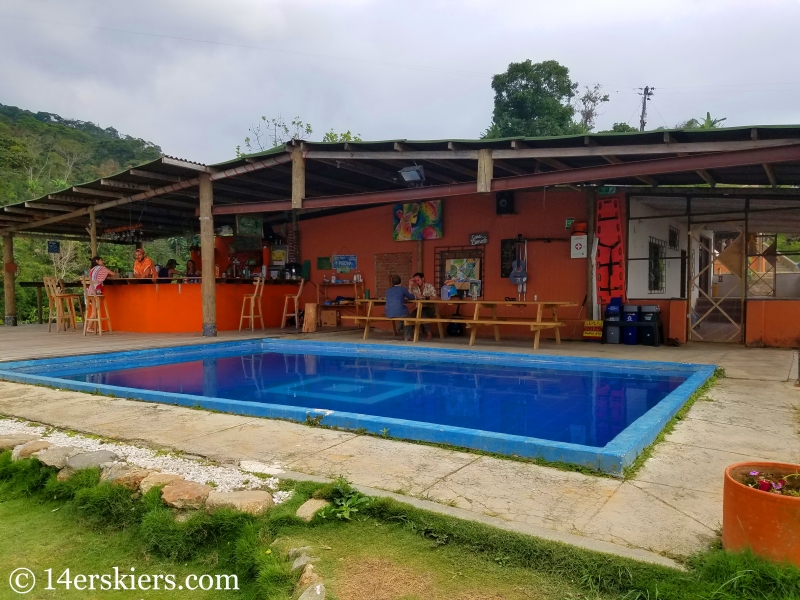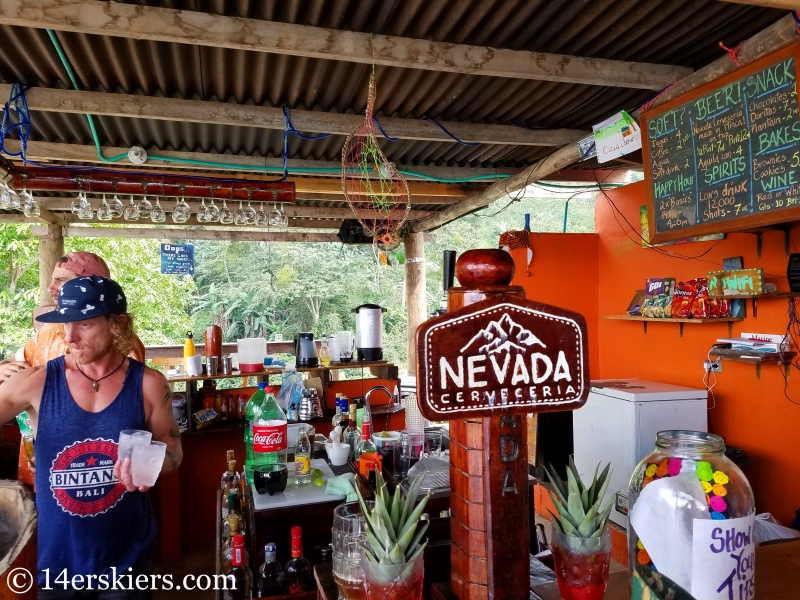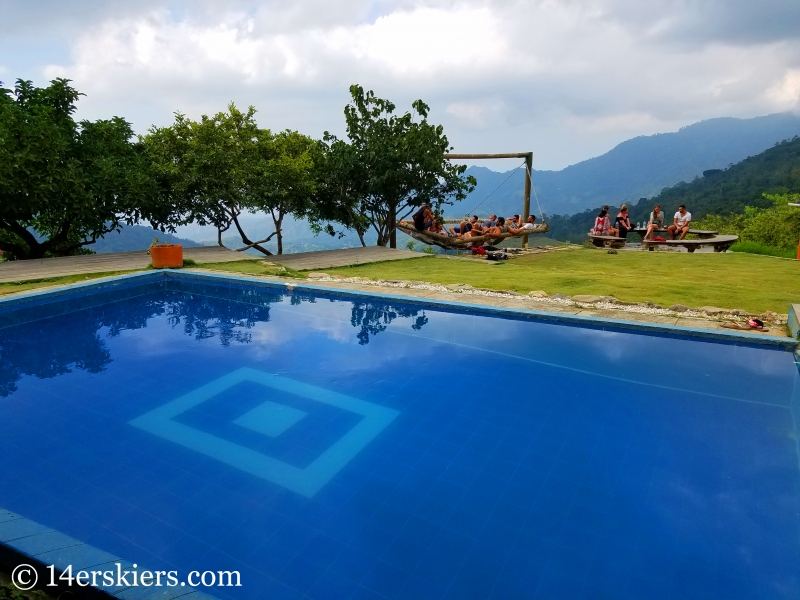 A bathhouse and treehouse.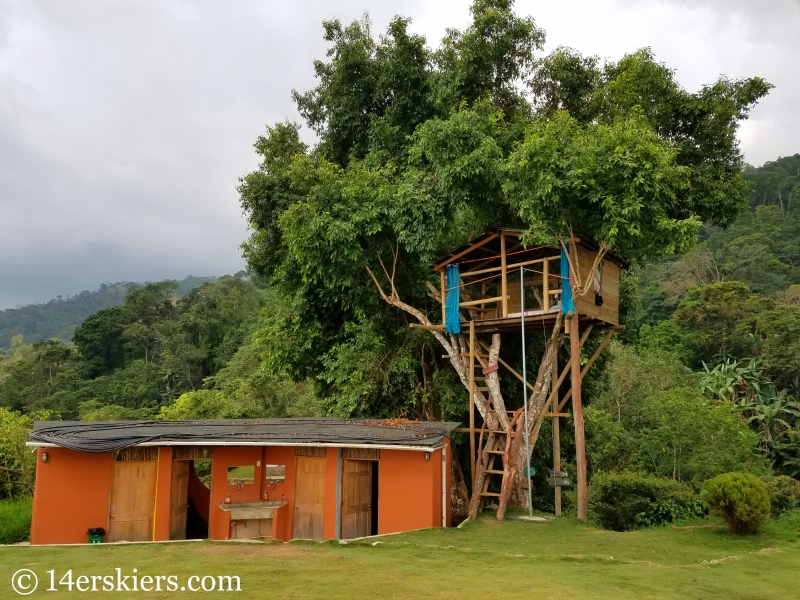 The showers opened to the rainforest.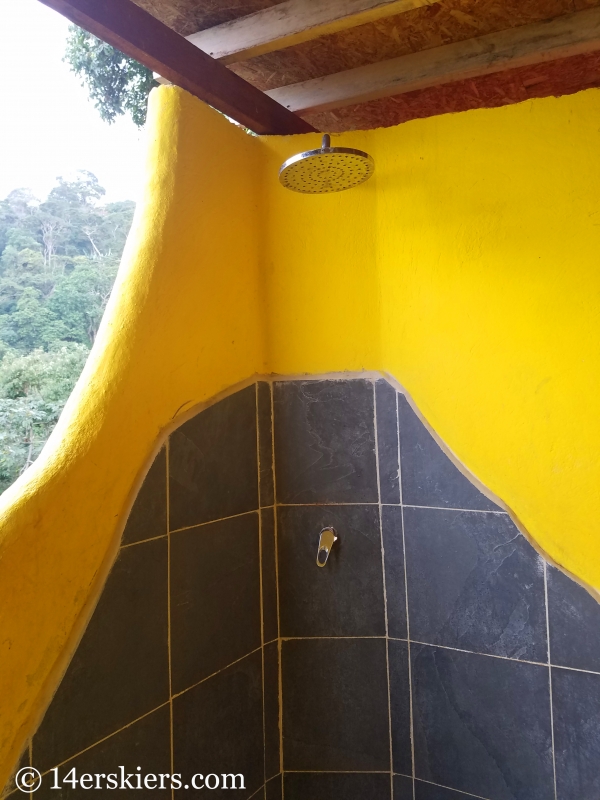 Just in case you got bored, you could seek some ziplining and climbing thrills.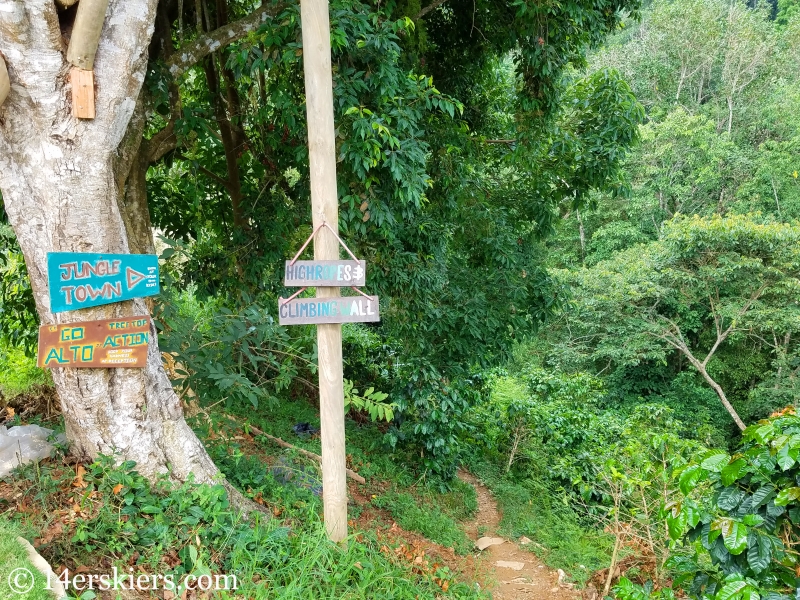 We arrived to Casa Elemento about 10 minutes before their restaurant stopped serving lunch, at 3:00. The food was damn good.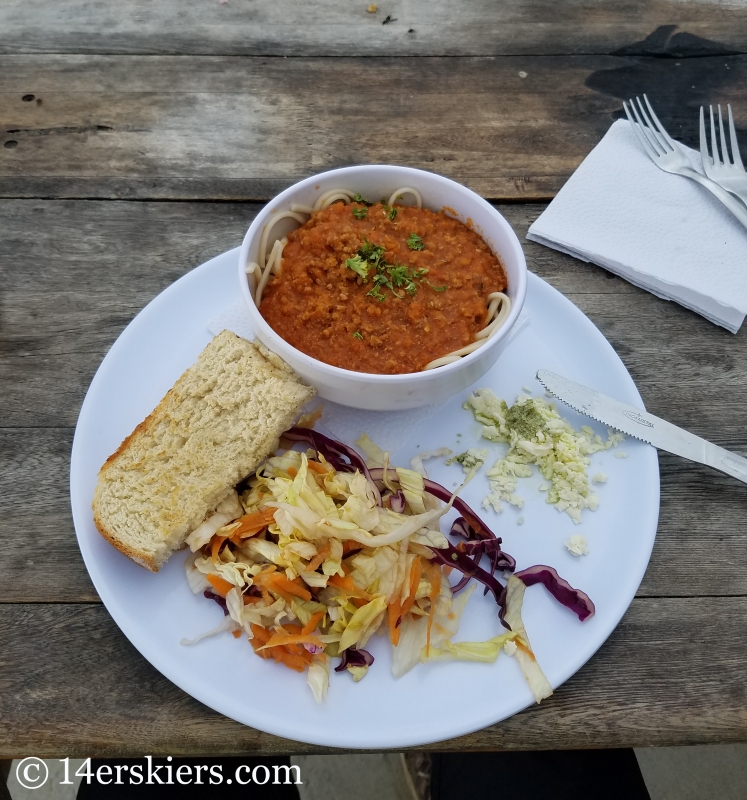 After fueling our stomachs, we ventured out onto the hammocks.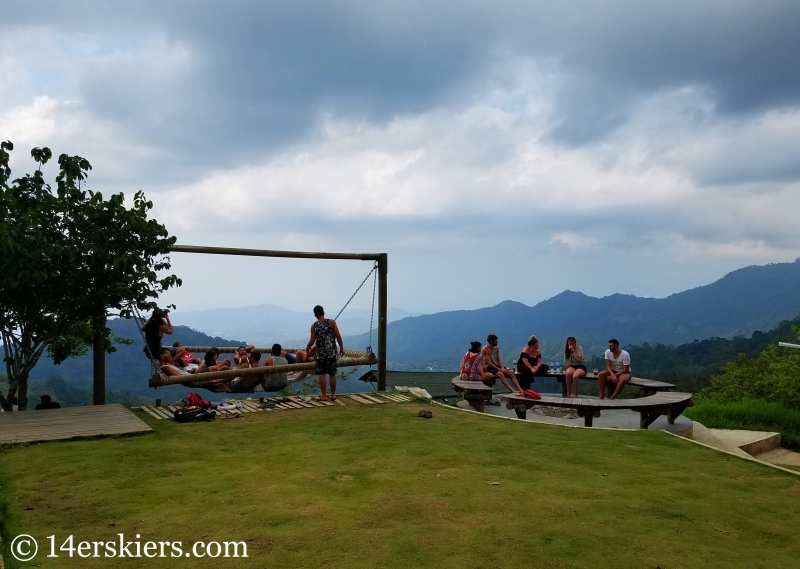 And on to the giant one which could easily fit a couple dozen people.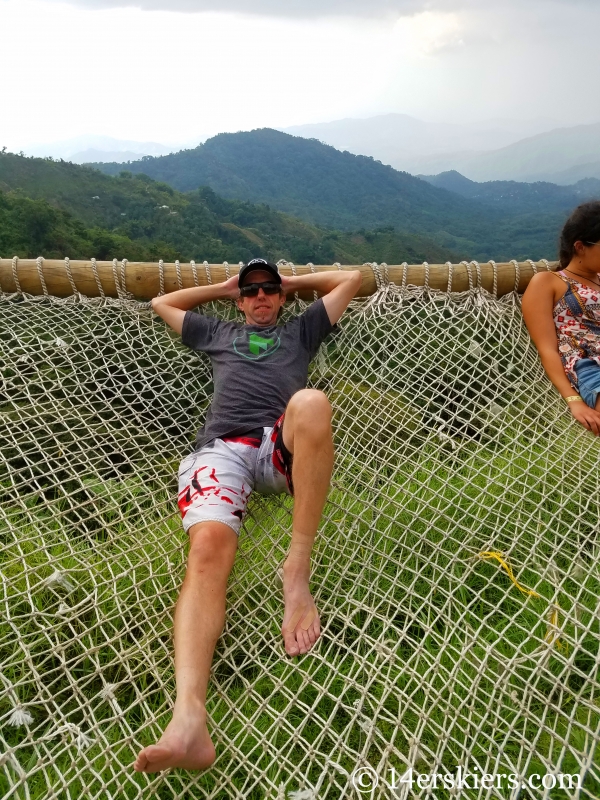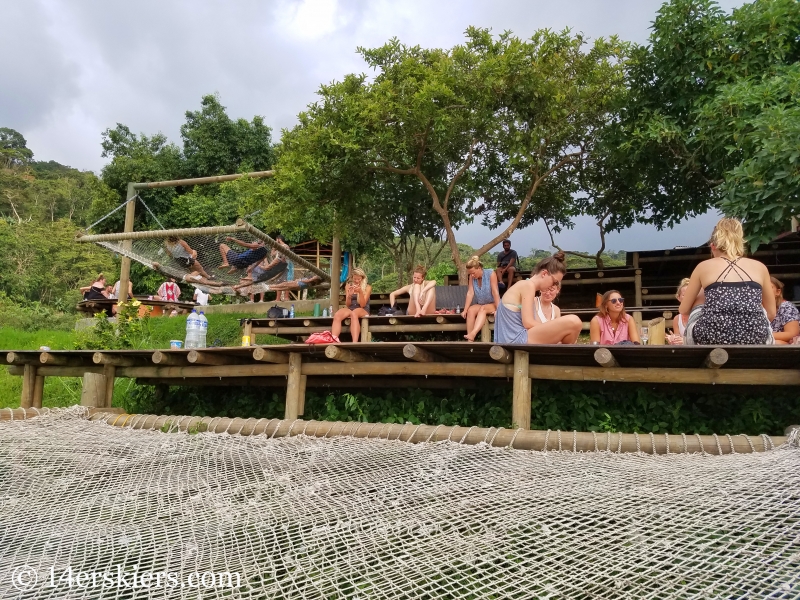 Below we could see it raining on the town of Minca.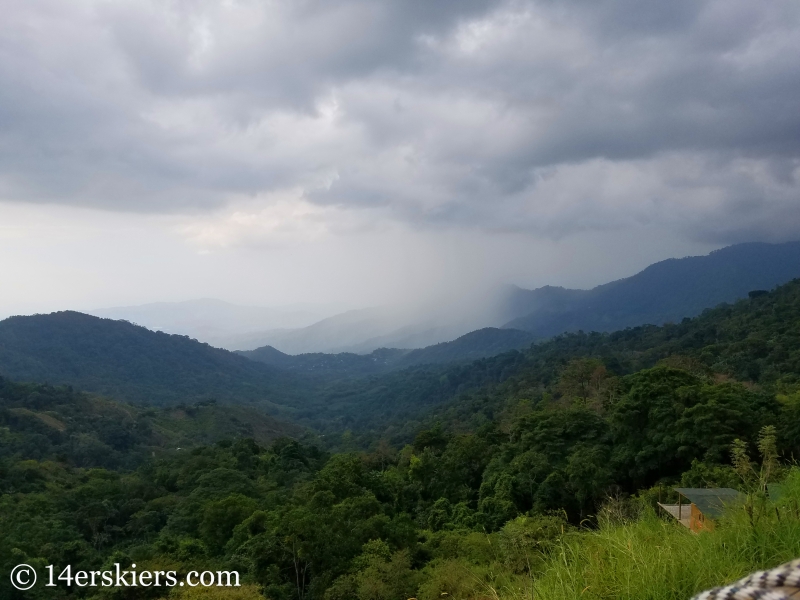 Regardless, the views were beautiful.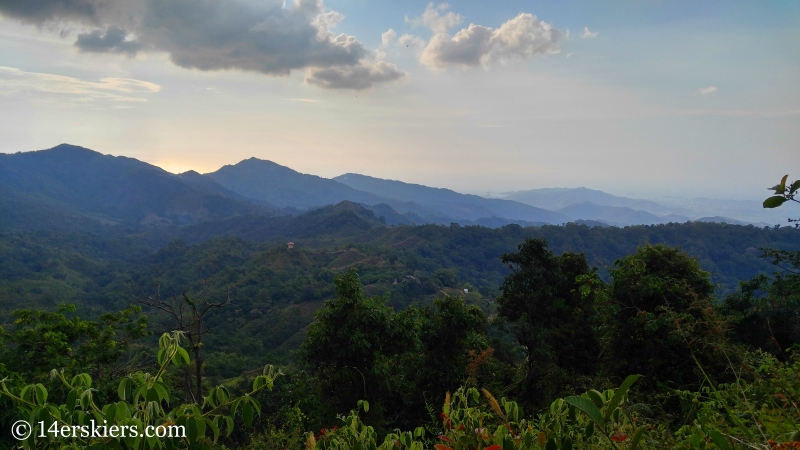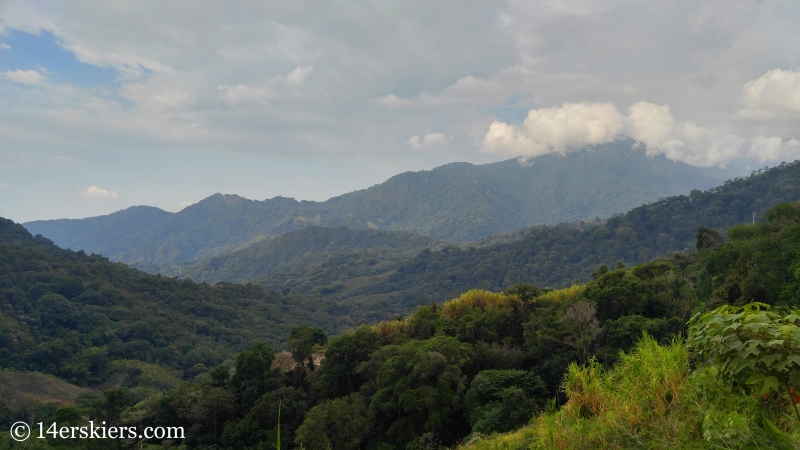 After a long lunch and rest at Casa Elemento, we continued our ride down the road to Minca, skipping the few remaining sites along the way for fear the bike rental shop would close soon.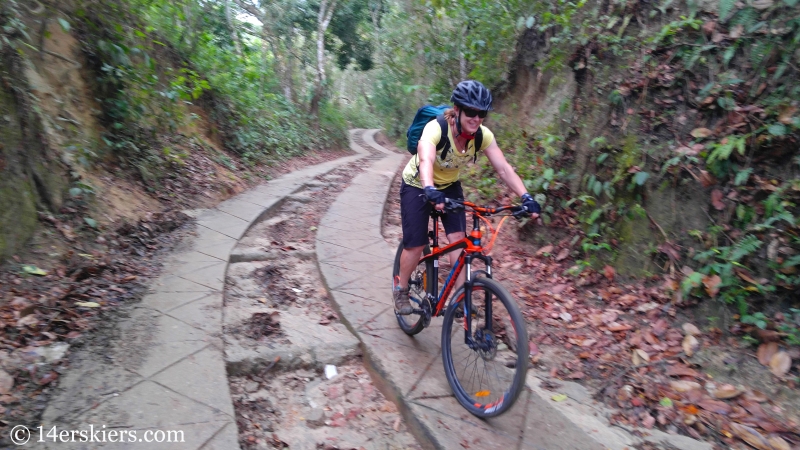 8 hours after we left, we rolled into the the shop where we rented our bikes earlier that morning. The man who had rented the bikes to us greeted us with a smile and asked us where we went. We explained we did the whole loop, upon which he looked at us with surprise, more or less saying in Spanish that the whole loop is a pretty tough accomplishment. Of course, it was supposed to only be a 5 hour tour 😉
Would we recommend Minca as a mountain biking destination? Not at this point. Singletrack trails have not been developed for riders so the main riding is on dirt roads. But, that doesn't mean we don't recommend going to Minca – it's a gem. And 1 or 2 days of biking can allow you to enjoy some fantastic sites!
Aside from skiing, biking, and all outdoorsy things,
Brittany Walker Konsella
also loves smiles and chocolate 🙂 Even though she excels at higher level math and chemistry, she still confuses left from right. Find out more about
Brittany
!
Latest posts by Brittany Walker Konsella (see all)
Summary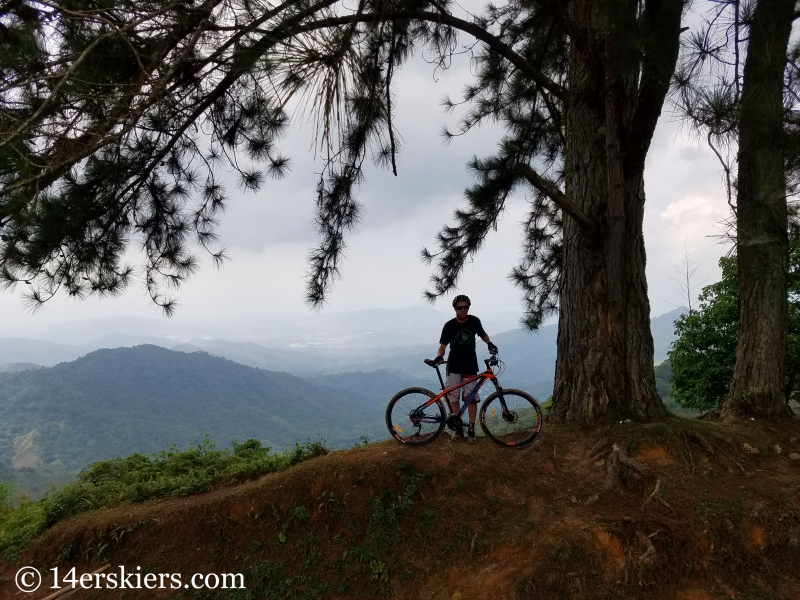 Article Name
Mountain Biking in Minca, Colombia
Description
If you're looking for a genuine Colombian adventure, then mountain biking in Minca is sure to fill your desires! Read about our experiences in paradise!
Author