Best Beginner Mountain Bike Rides in Crested Butte
(Last Updated On: July 12, 2017)
Crested Butte is one of the best places in the world to ride a mountain bike. But what if you're looking for Crested Butte beginner trails? The elevation alone can make Crested Butte a tough place to learn. Most rides here are technically moderate- it's the elevation gain and altitude that make it difficult. True beginner trails are tough to find. Trails often described as "beginner trails", such as Snodgrass and the Upper loop, are actually a rough ride for a beginner. The best place for a beginner is definitely Crested Butte Mountain Resort, which has several designated beginner trails, and even a practice area. I would suggest buying a lift ticket, so you can get a lot of miles in while honing your technique. That said, there are other areas which an aspiring mountain biker should check out.
---
Wagon Trail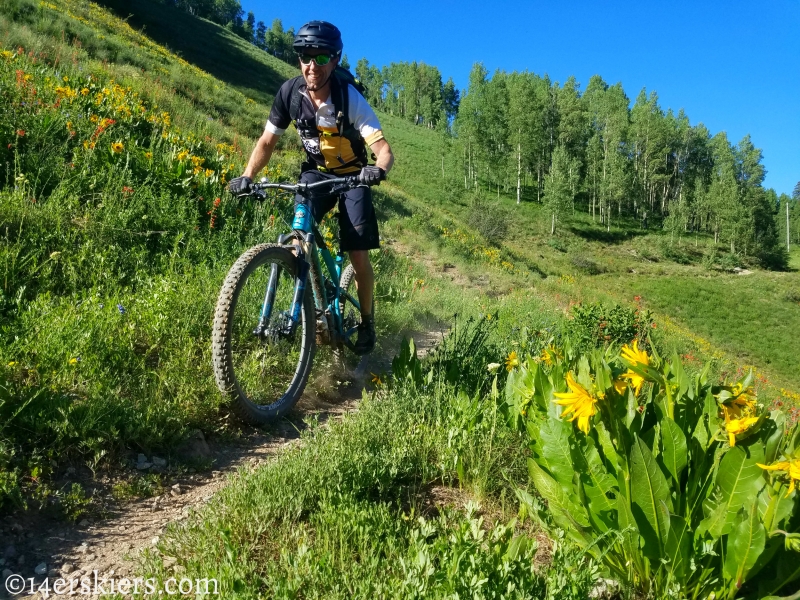 Distance: Varies
Level: Easy
Description: The wagon trail is a newer trail that traces the old wagon route up Kebler Pass. Largely paralleling the road, most of the trail is neither too steep nor too technically demanding for a beginner rider. The Wagon trail is also well-suited to beginners because it works equally well in either direction. Look for the Wagon trail on the north side of Kebler Pass road, and choose which sections you would like to ride.
---
Lupine Trail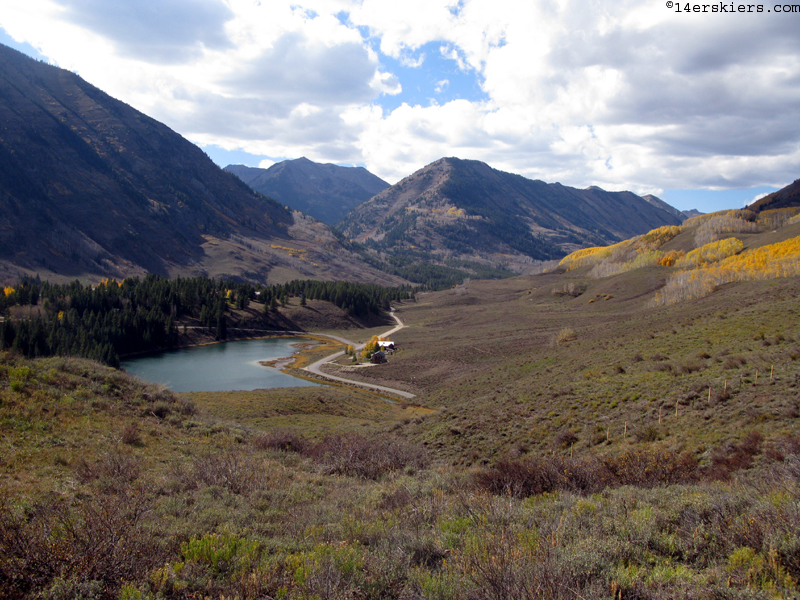 Distance: 18 miles, including the lower loop
Level: Easy.
Description: While the Lupine trail is easy for riders with experience, brand-new riders may have some trouble with some of the sidehill sections. Still, the Lupine trail remains well suited for beginners, with only a smattering of technically demanding rocks and roots compared to most trails in the valley. Start at the Saddle Ridge subdivision in Mount Crested Butte (no parking here), and finish the ride with either a road ride back to town along the Slate River, or add the Lower Loop trail for more fun.
---
Lower Loop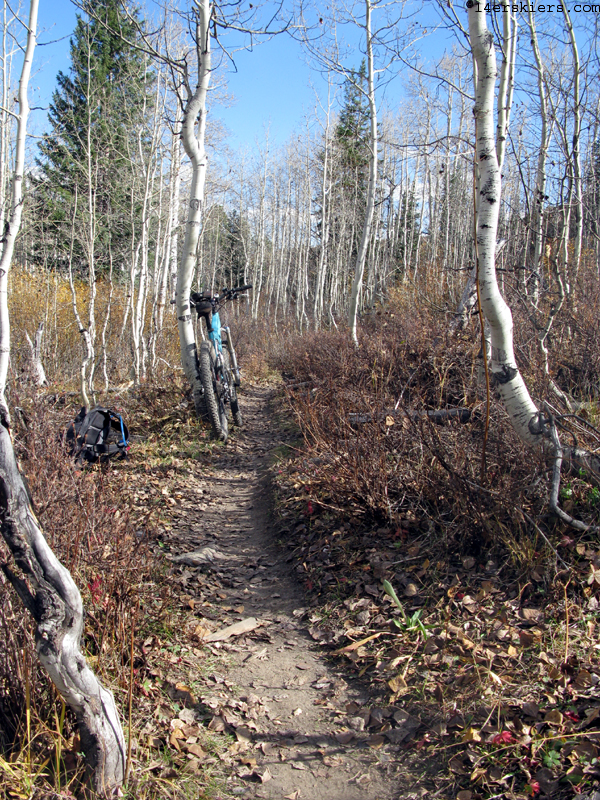 Distance: Varies
Level: easy
Description: Speaking of the Lower Loop, this is another good beginner ride. There are actually several trails that comprise the lower loop trail system. The GB loop is very steep and exposed, and not at all suitable for beginners. The "Lower Lower" loop is probably the best one to start on. These trails generally work well in either direction. Occasional rock gardens will challenge aspiring mountain bikers. This ride starts right from town.
---
Cement Creek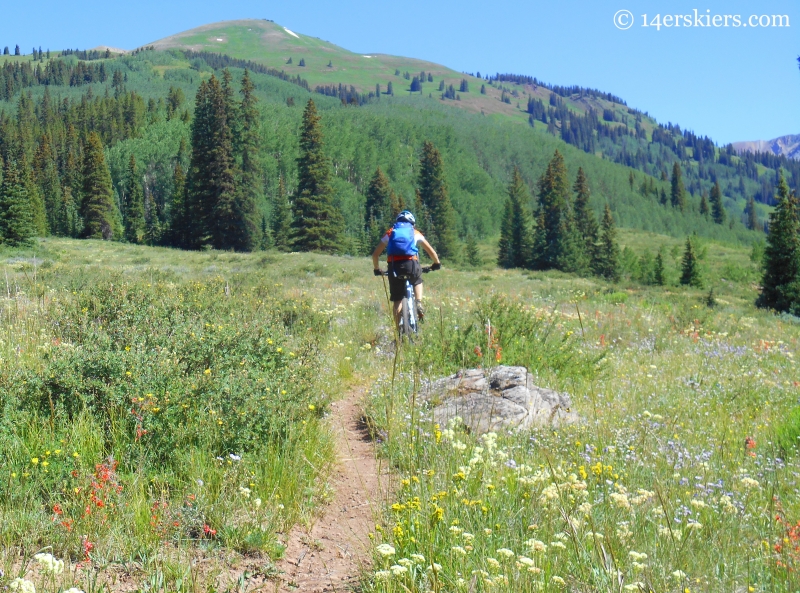 Distance: varies
Level: easy
Description: The Cement creek trail follows the road and creek of the same name for several different sections of trail. The lowest sections of trail are more difficult- but since they're so close to the road, it's easy to use the road if the trail proves too difficult. The upper section is one of Crested Butte's best-built trails. Leaving the road at a switchback just past the Deadman's parking lot, the first quarter mile is very difficult, even for experienced riders. Past that, however, the trail gets easier and traverses through flower-filled meadows.
---
Crested Butte Mountain Resort Frontside Route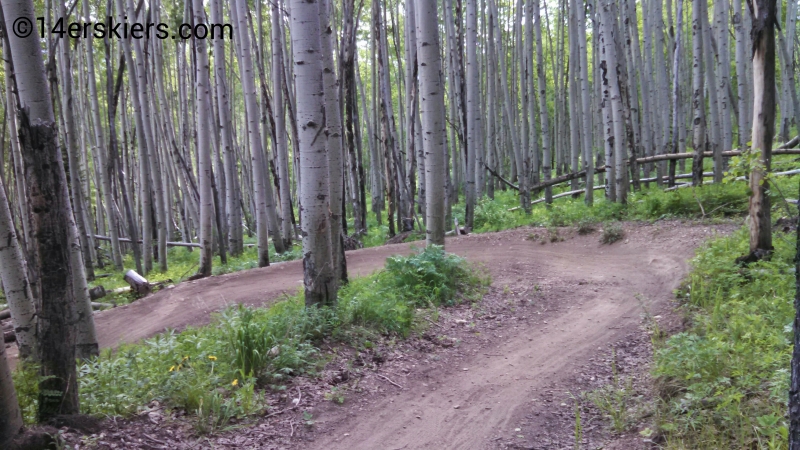 Distance: Varies
Level: Easy.
Description: If you don't want to pay for a lift ticket at Crested Butte Mountain Resort, this would be one good loop to try. From the base area, go up on "up, up and away" to either Columbine or Painter Boy, then head down Awakening. Or, from the top of Painter Boy, continue up to the top of the Red Lady lift, and enjoy the twists and turns of Hot Dogger.



---
Crested Butte Mountain Resort Backside Route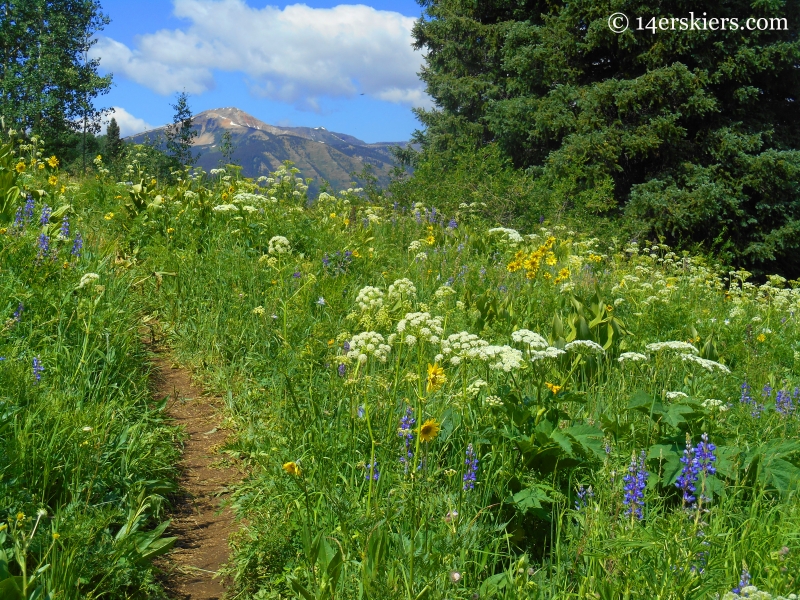 Distance: Varies
Level: Easy.
Description: If you don't want to pay for a lift ticket at Crested Butte Mountain Resort, this would be another good loop to try. From the Snodgrass trailhead, head up Prospect road, and then look for the Prospector trail starting near the bottom station of the Gold Link chairlift. Or, simply head up the road itself. For the descent, head down the Meander trail. Parts of this trail are sidehilled, but the area is so beautiful, give it a try!



One other option for a beginner ride is to take any of the dirt roads in the Crested Butte area. Gothic, Washington Gulch, Slate River, and Kebler Pass are all great roads to work on your endurance as well as your skills.
Thanks for your support!

Frank
loves snow more than anything... except his wife.  He ensures his food is digested properly by chewing it 32 times before swallowing.He is a full-time real estate agent serving
Crested Butte and Gunnison
and would be honored to send you his
monthly newsletter.
Latest posts by Frank Konsella (see all)
Summary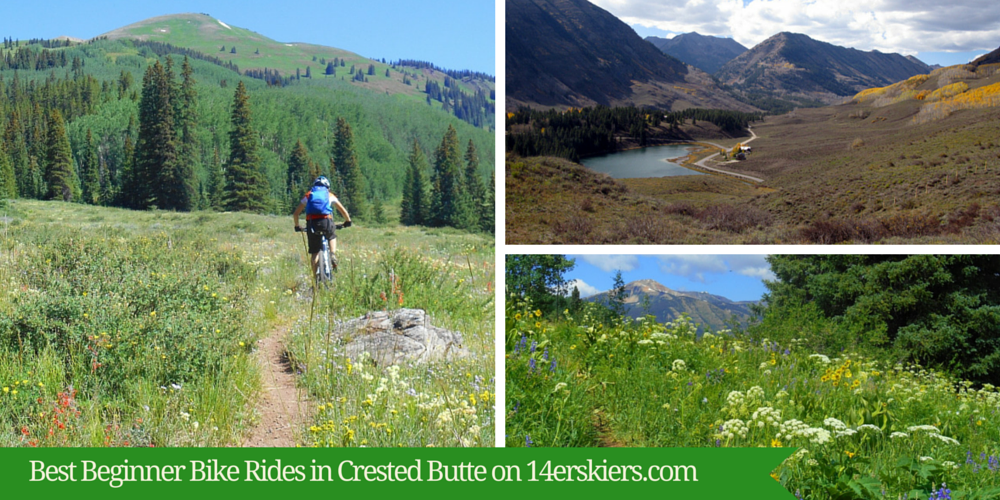 Article Name
Best Beginner Mountain Bike Rides in Crested Butte
Description
Looking for the best Crested Butte beginner trails? Read descriptions, get directions, and learn about the best beginner mountain biking in Crested Butte!
Author