Better Than Intuition Liners? Palau Liner Review
(Last Updated On: August 6, 2012)
Yes, it's only August, but it's that time of year again to start thinking about next season's gear. Here at 14erskiers home base, we're already noticing that tiny bit of crispness in the air, signifying the approaching change of season as we head towards Autumn.
Last spring, I was given the opportunity to use and review a pair of Palau Alpine Air Breath liners in my Tecnica Cochise AT boots. Palau is a French company, and their liners come stock (or have in the past) for boot manufacturers such as Dynafit and Garmont, as well as Tecnica's Cochise Light model. Here in North America, the gold standard for aftermarket boot liners seems to be the offerings from Intuition, which both Brittany and I have considerable experience with (In my case, the Powerwrap model). So, how did these Palau liners stack up?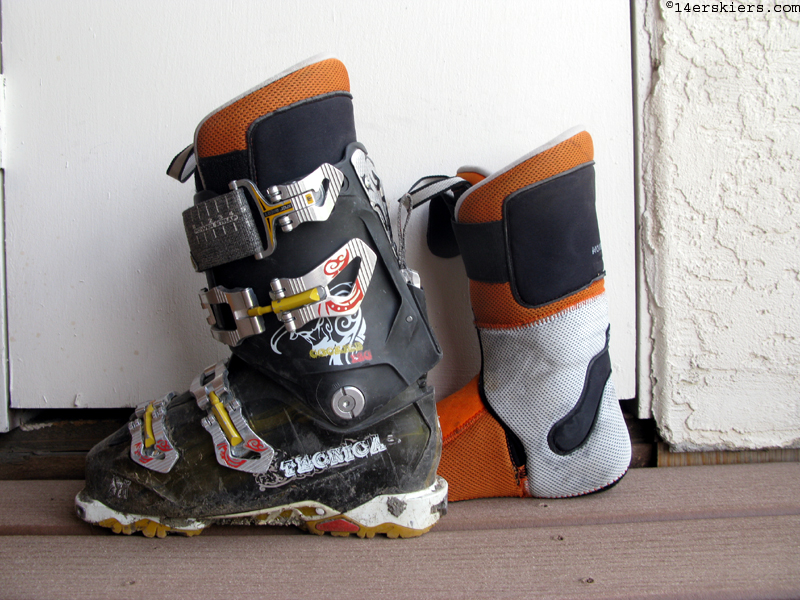 Out of the box, the first thing you'll notice is that these liners (like Intuitions) are light. Palau's advertised weight for these liners is 400g- I am not sure which size that represents, nor did I find a scale to weigh my own since that isn't our main concern here at 14erskiers, but it was obvious to me that replacing my stock liners with the Palaus dropped some weight for my boot system.
The tongue can be fixed into a perfect position thanks to Velcro. For years, racers have actually cut their tongues out in order to position them inside their shells at an optimum position. I, for one, am a huge fan of this performance feature on the Palaus.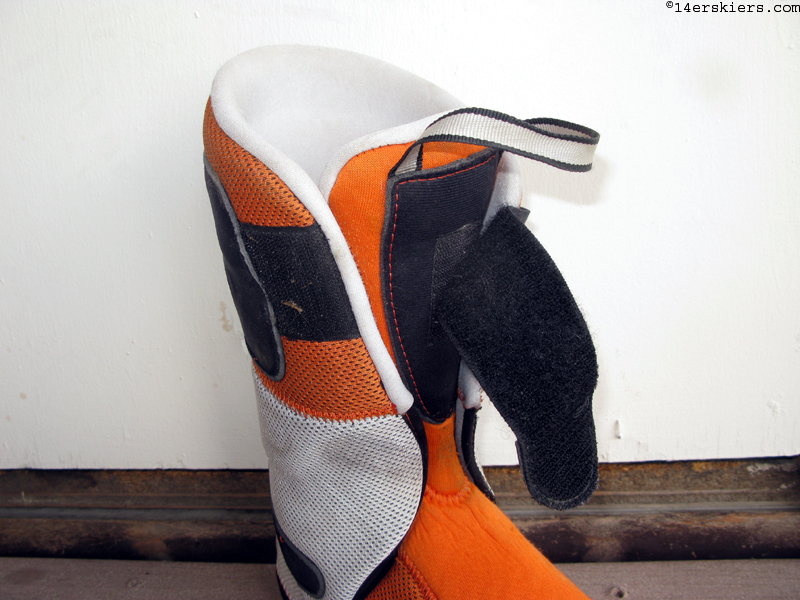 Another obvious feature right out of the box is the cut of the liners which allow for a tremendous amount of fore-aft movement, as shown in the following photos: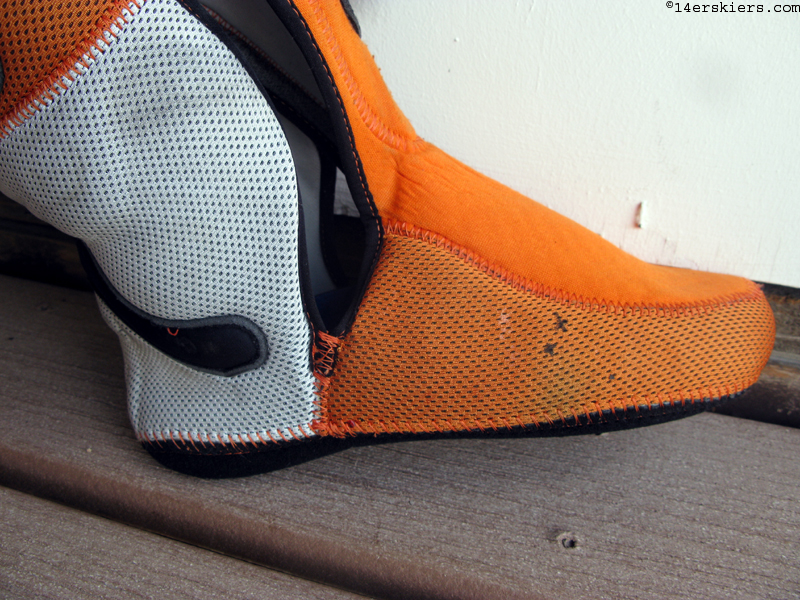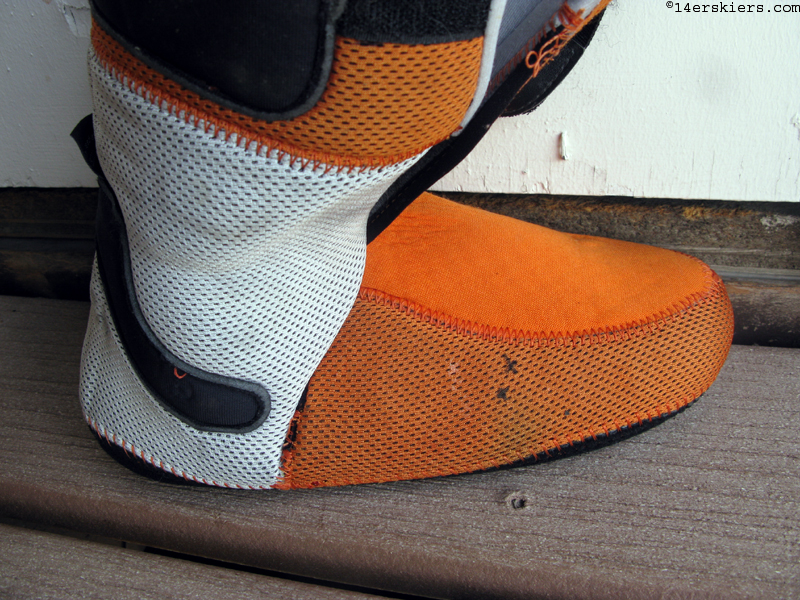 This is an important feature for many of today's modern AT boots which feature a high range of movement. Another great feature of the Palaus is the "pre-installed" ankle "L-pads". I frequently use these pads on stock and aftermarket liners to help take up room between the Achilles tendon and the ankle bone, but happily the Palaus already have them.
The liners are thermomoldable, much like other liners- heat them up, put them in your shells, and let them cool as they form to your feet and shells. From the first run, these liners were comfortable, and they took a boot that I already believe to be the best skiing AT boot on the market to another level completely. Responsiveness with these liners was excellent- in fact I would even consider these liners for my alpine boots, which is something I normally reserve only for the amazing zipfit aftermarket liner (zipfits are not a valid option for AT boots). Like many liners of this type, the Palaus are warm- warmer than the stock liners by quite a bit. Despite this, they breathe fairly well, and they have not developed a stench by any means.
MSRP for these liners (they are available directly from Palau on the first link of this review) is 95 EUR, which is currently about $117 US dollars. Depending on model, this is up to $100 less than Intuitions (Palau 1, Intuition 0). Intuitions are made in China, which I personally try to avoid due primarily to China's occupation of Tibet and other political reasons. Palaus are made in France (Palau 2, Intuition 0). I found Intuitions to pack out quickly- the Palaus have not (Palau 3, Intuition 0). I found both touring and downhill performance to be superior in Palaus (Palau 5, Intuition 0). Intuition durability is superior to that of the Palau liner. My Palaus developed this tear in the flex area in a relatively short amount of time. In the future, Palau will need to reinforce this area.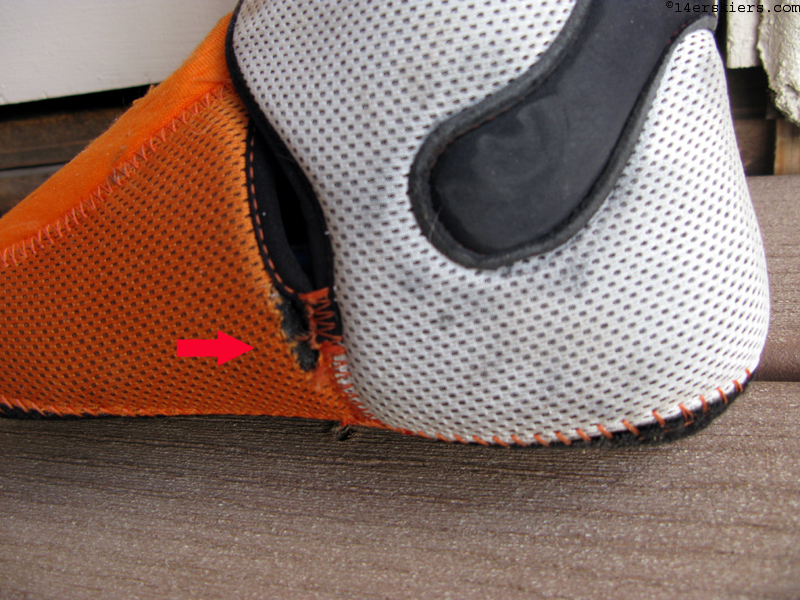 (Palau 5, Intuition 1). As you can tell, I was exceptionally pleased with the Palau liners. The popular opinion on Intuition liners is that they are the gold standard, but to be honest I never found them to be that incredible outside of their incredible weight savings, something the Palaus share. If you're in the market for an aftermarket liner, check out Palau.
________________________________________________________________________________________________________________

Frank
loves snow more than anything... except his wife.  He ensures his food is digested properly by chewing it 32 times before swallowing.He is a full-time real estate agent serving
Crested Butte and Gunnison
and would be honored to send you his
monthly newsletter.
Latest posts by Frank Konsella (see all)